This is my first year with an artificial Christmas tree, a flocked tree, and one from King of Christmas. So far I have really been enjoying it. It was super easy to set up and it looks so beautiful. I'm not missing the falling pine needles this year or the daily waterings. And I can light a candle for that beautiful pine scent… An artificial tree also allows us to put it up much earlier, lasting the entire month of December.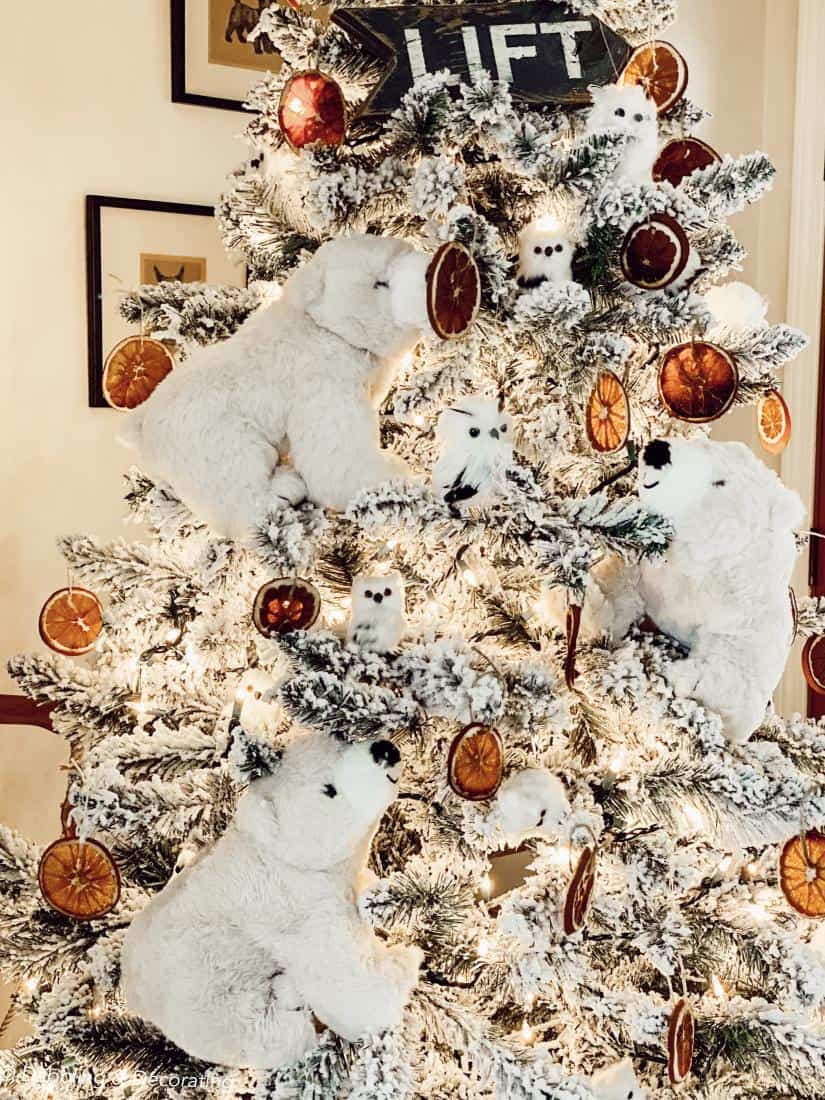 The Cutest Owl Christmas Tree
I first came up with the idea to have an-all white owl Christmas tree when I found a large white owl antiquing last summer.
I just love how adorable owls are.
I found packages of white owls affordably on Amazon here.
This post may contain affiliate links which won't change your price but will share some commission."
And now I'm noticing them in antique stores everywhere too!
How to Dry Christmas Oranges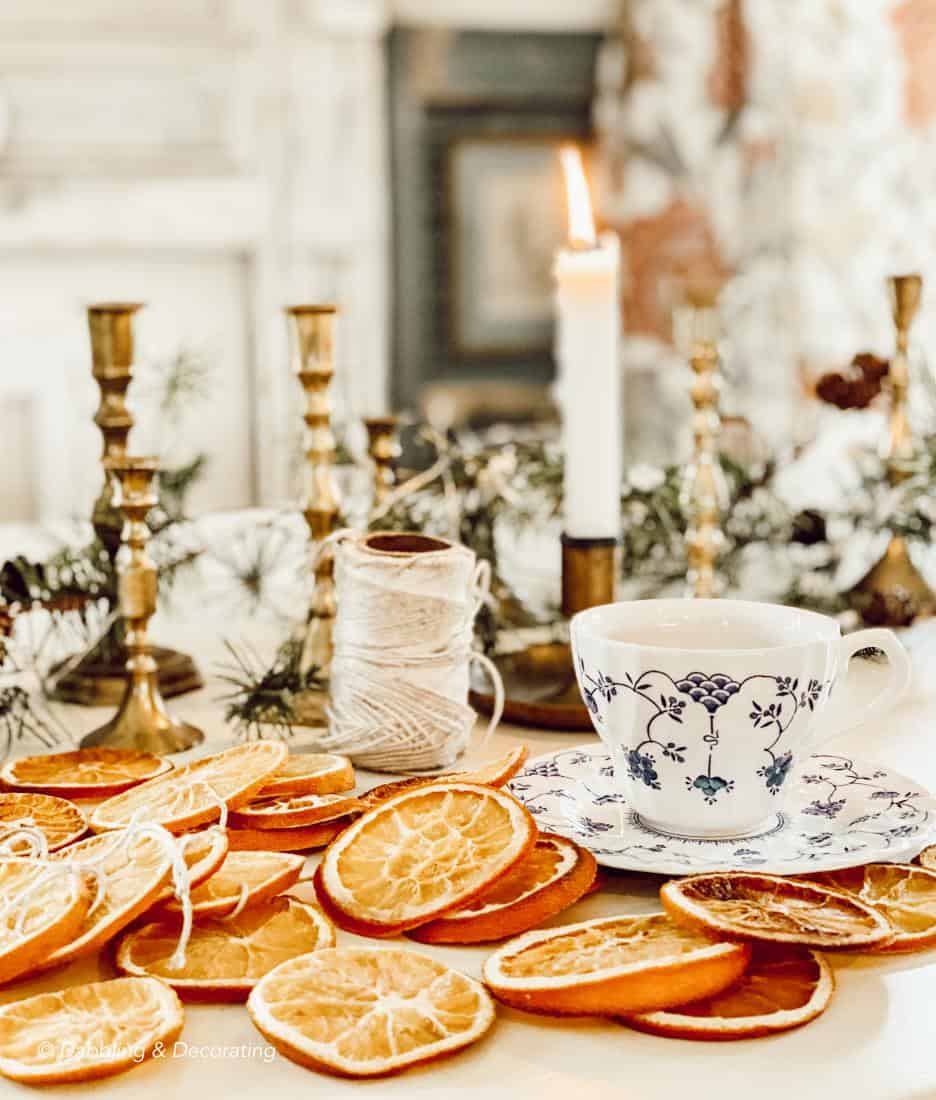 I made these orange slices out of fresh oranges by slicing three-four oranges and baking them in the oven on a cookie sheet at 225 degrees for 4 hours, turning them once.
I then used some twine to hang them on the tree. I love the pop of color they add to the tree and how amazing the house smells when baking the oranges.
You may purchase your own dried oranges HERE and twine HERE.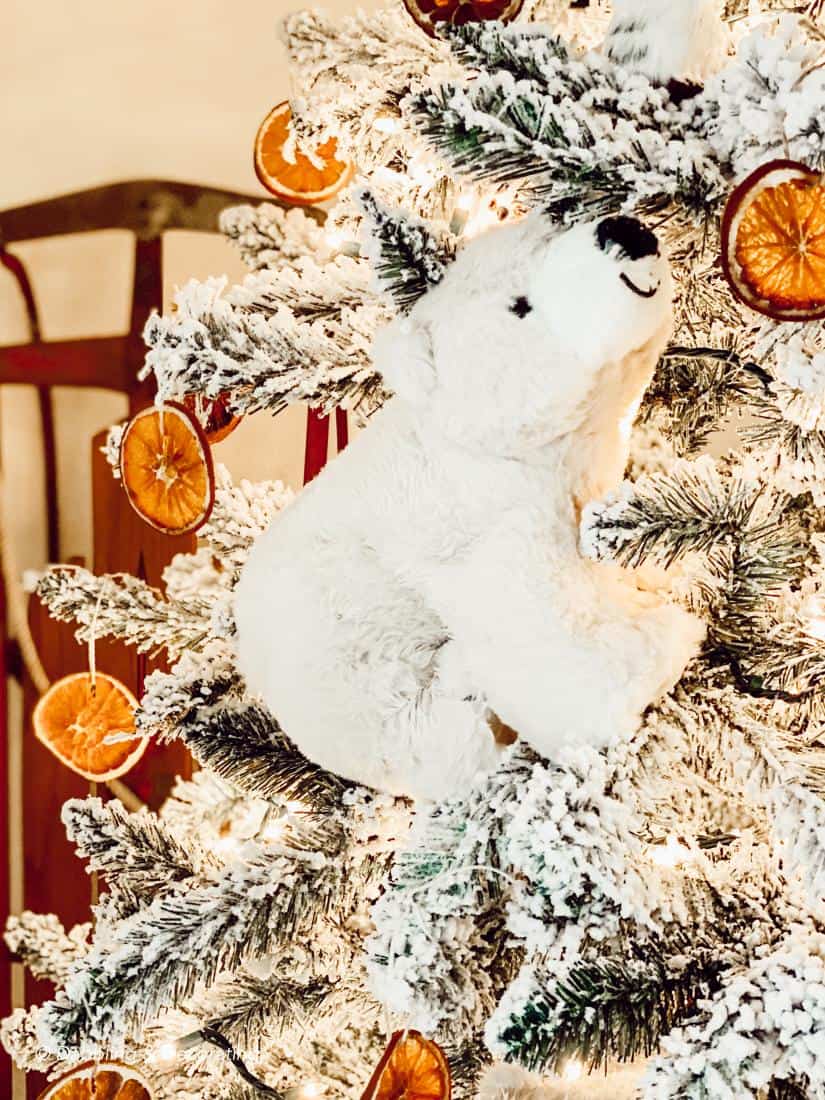 White Fluffy Polar Bears
And then there were polar bears!
I found four of these medium-sized fluffy polar bears on Amazon here. Aren't they absolutely adorable??

You may also enjoy Setting a Winter Table with Vintage Blue Bottles.
And 15+ Christmas and Holiday Thrift Store Makeovers.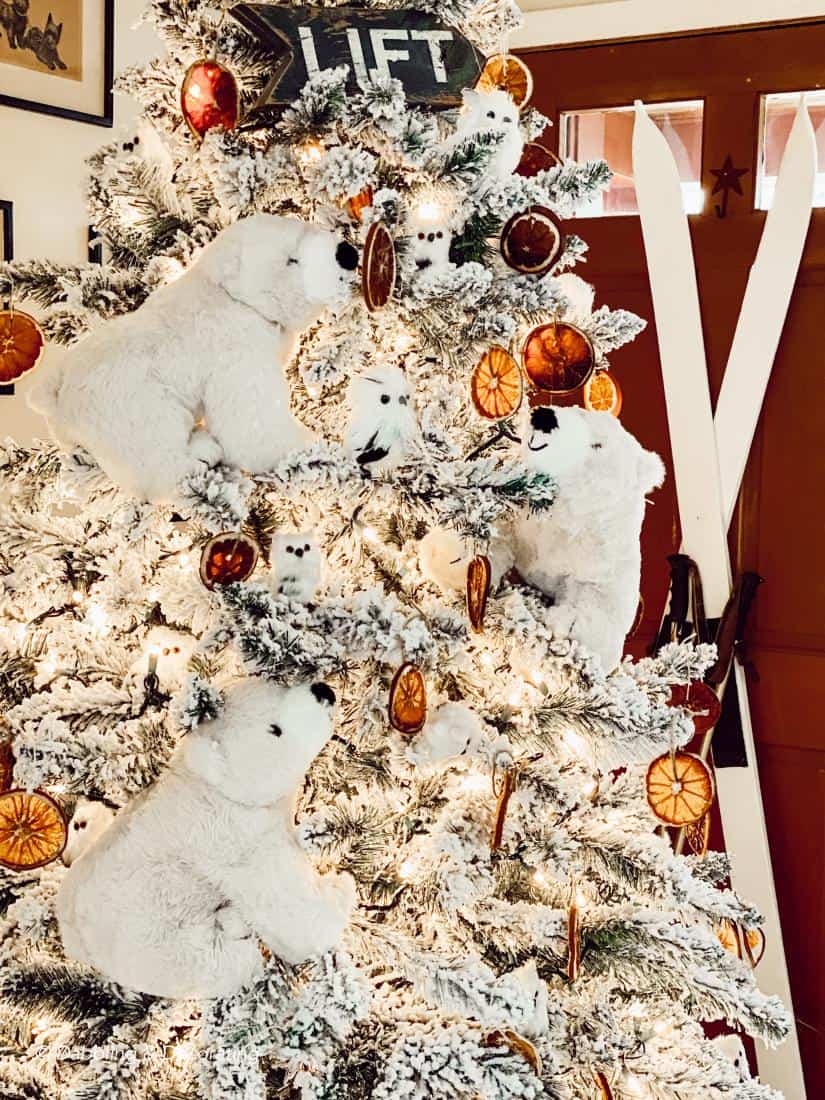 Vintage Skis and Sleds
And then vintage, always vintage!
Vintage skis are so classic for the holidays. These skis are an old pair I picked up thrifting and I painted them white for versatility. I have used these all over our home from the front door to our bookcases in the sunroom. And now here in the guest hallway to accentuate this year's Christmas tree.
Last year, a dear old friend of mine that I grew up with contacted me with her mother's passing and gifted me this vintage sled along with another pair of green and red vintage skis. They are such treasures to now have and display at our home here in Vermont.
You may enjoy this Vintage Ski Lodge Decor Series filled with vintage sleds, skis, and more.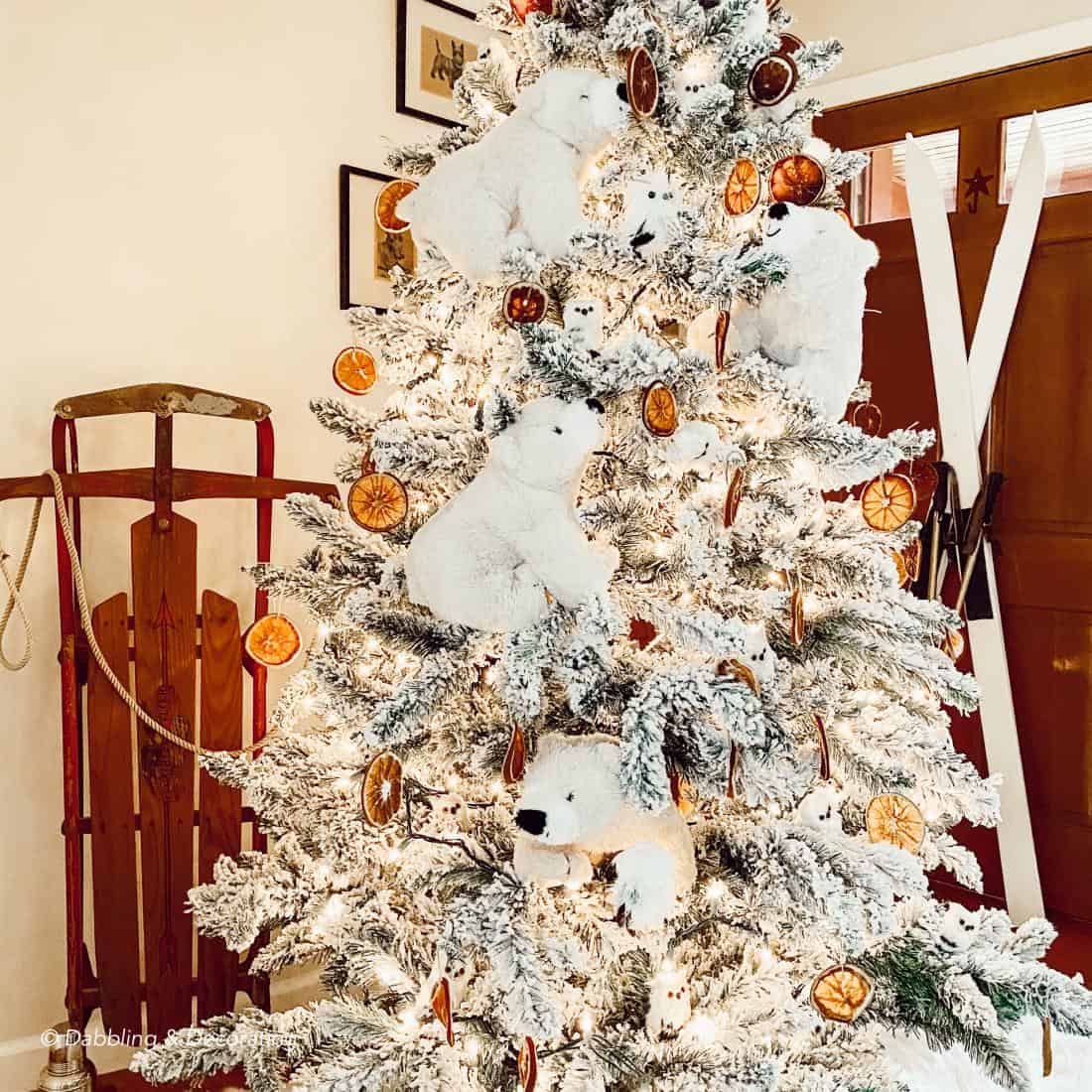 And one of my favorite purchases are these vintage blue skates, and look at the box they came in!
I found these on eBay two years ago. Just priceless.
I think I'm going to move the skates to the front door inside of a wreath with a spotlight on them for the holidays. Our door is a nordic blue and will match the figure skates beautifully.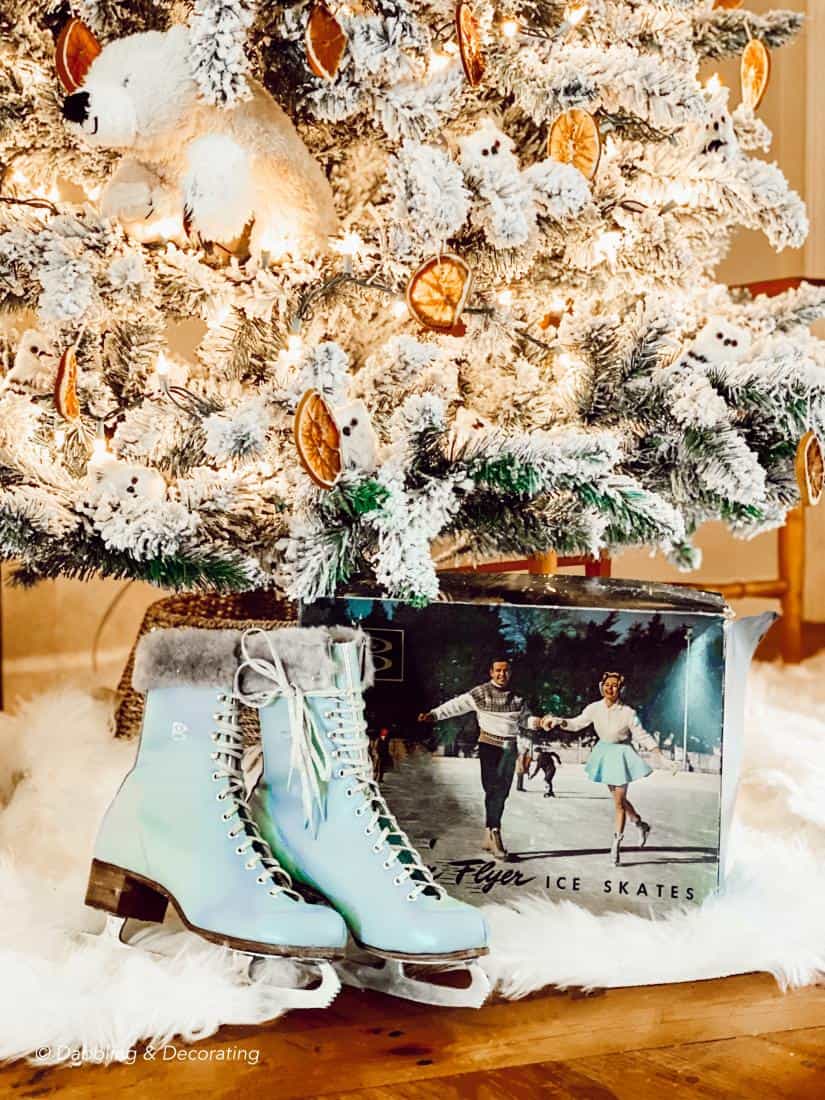 SHOP VINTAGE ICE SKATES

You may also enjoy the Celebrate Holiday Preparations With Christmas Plaids, Checks, and Hot Chocolate Mugs post.
This LIFT sign was a gift from a few years ago from my mother and I love how it fits into the tree, pointing to the door and the skis.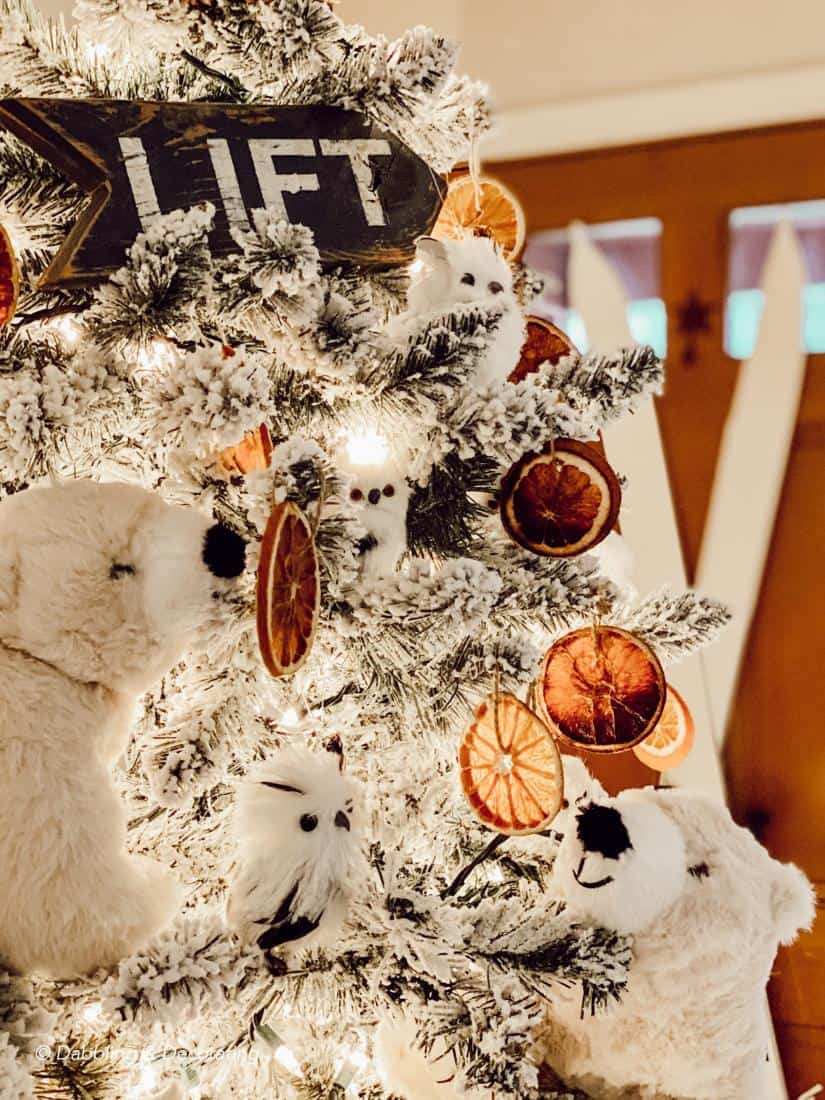 After a weekend spent antiquing I found these vintage cross-country skis for only $19.
There was no way I could pass these up.
So the Christmas tree is already getting a switcheroo!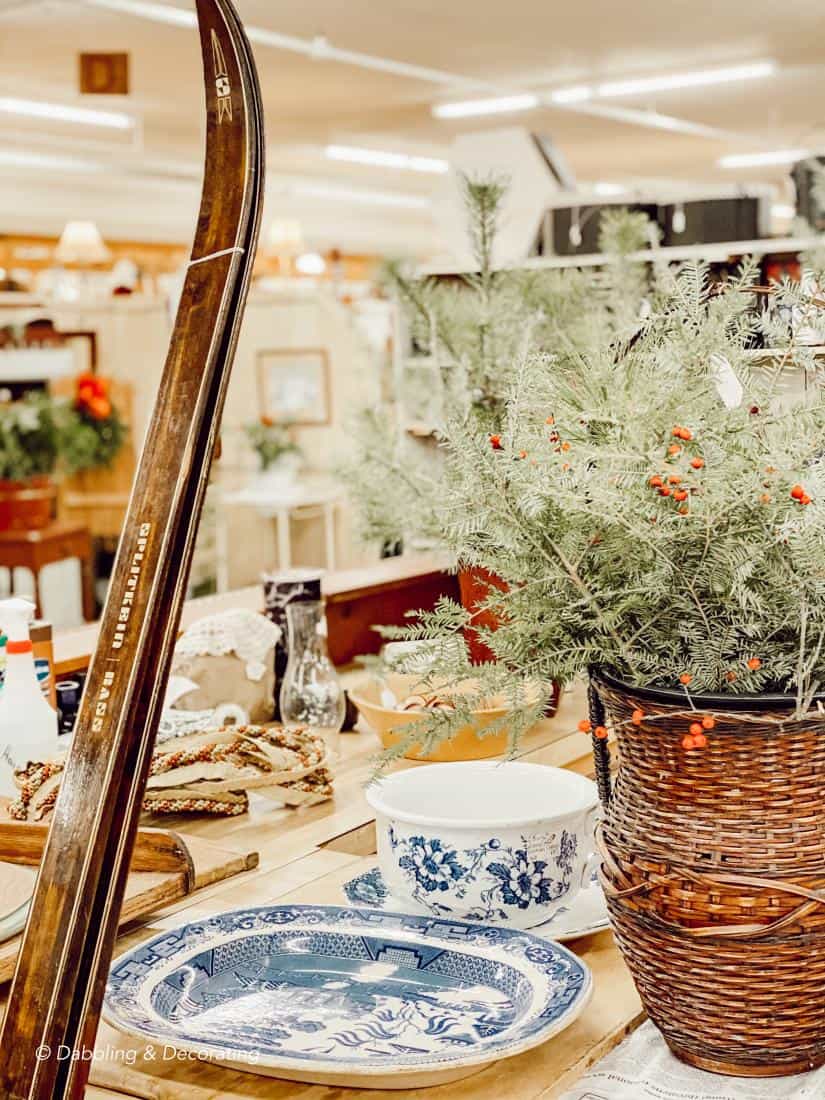 You can find vintage skis in secondhand shops, antique stores, thrift shops, and more.
On average you can expect to pay about $100 a pair.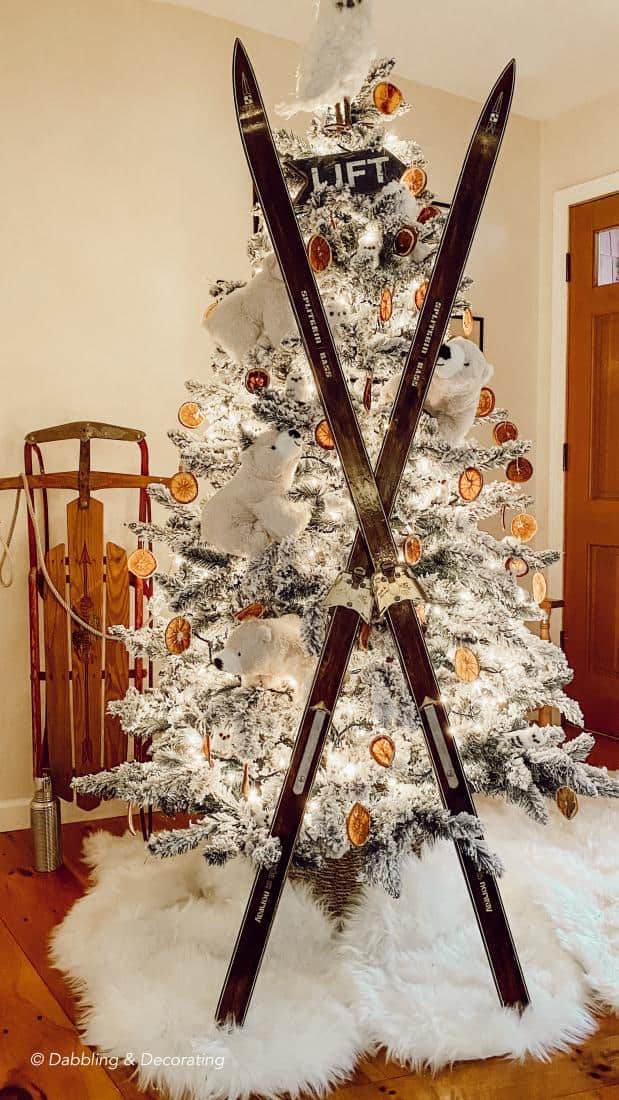 As much as I love the polar bears and owls, I think the $19 skis made the tree.
What do you think?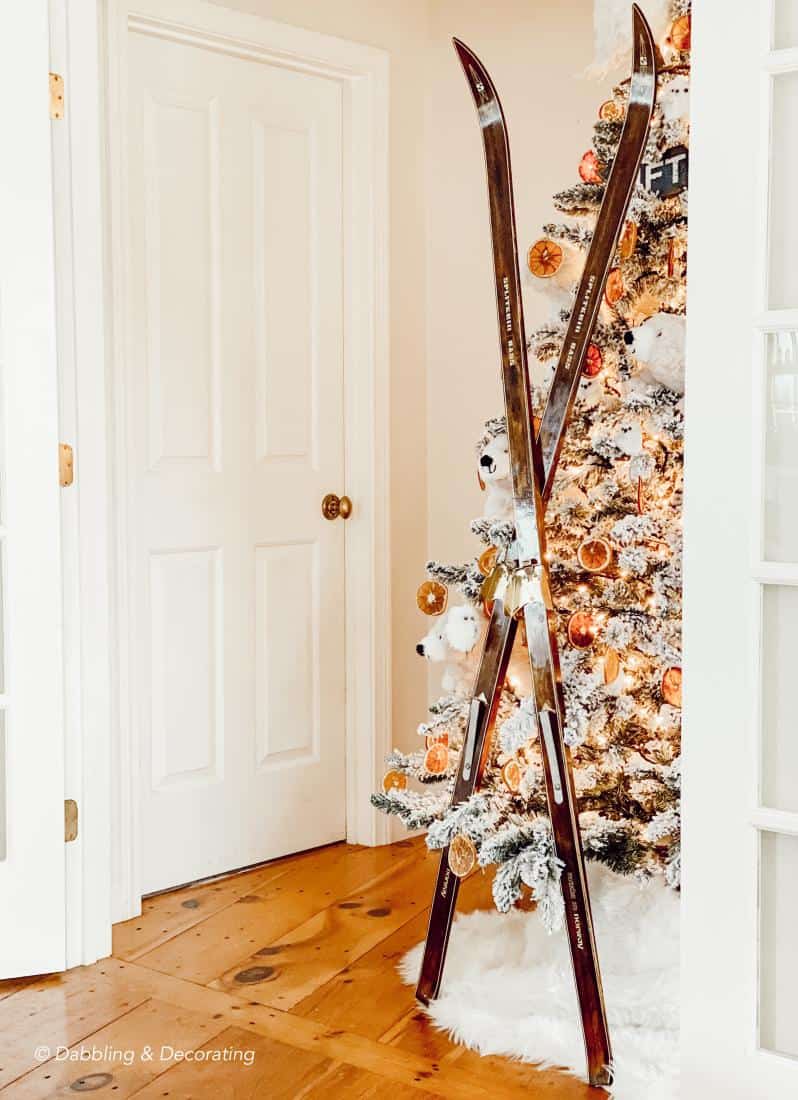 This was also the first time we placed the Christmas tree in the guest suite hallway. A hallway we do not use often in the winter.
And it was perfect, as I could close the French doors and shield Ella out, our Bernese Mountain dog, from stealing the polar bears and owls…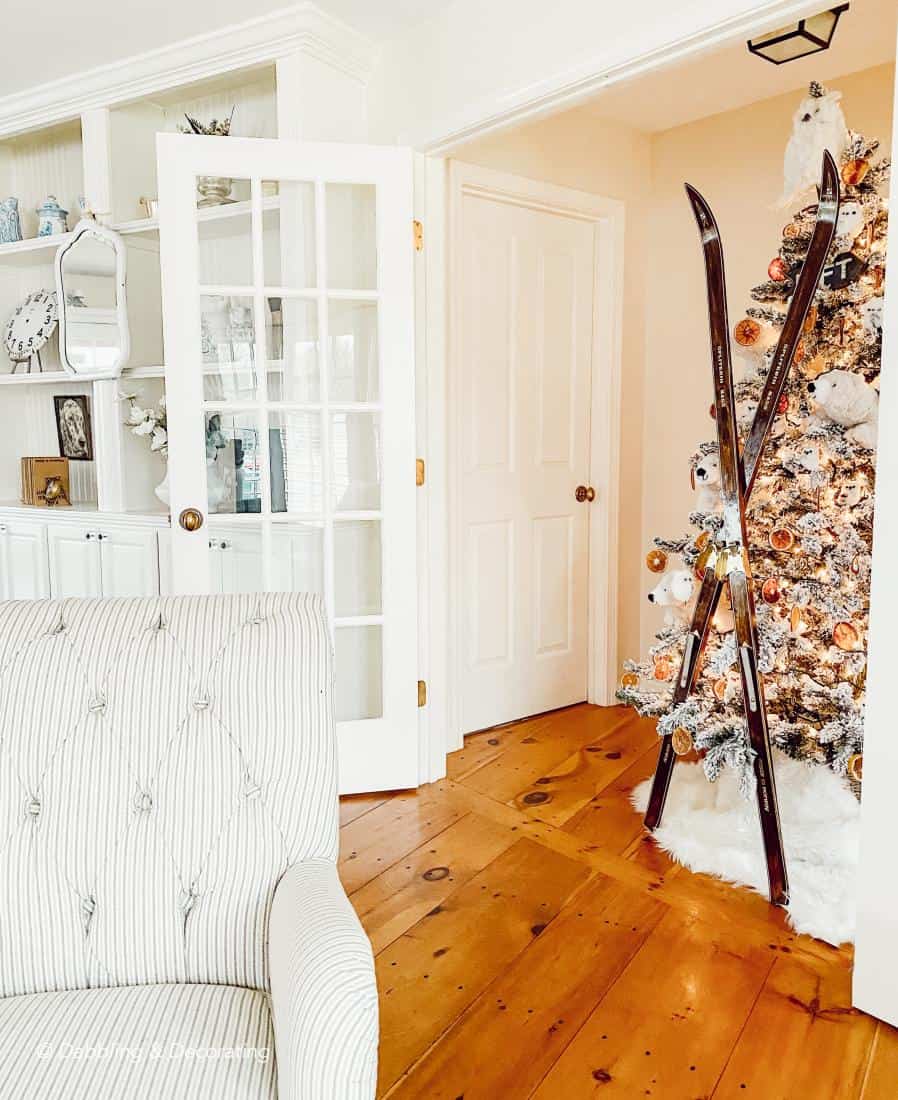 You may also enjoy this post on creating this Christmas Book Tree of Knowledge and,
Simple Christmas Decor in the Sunroom.
Christmas Decorating – Where to Begin?
3 Christmas Wreaths at the Front Door.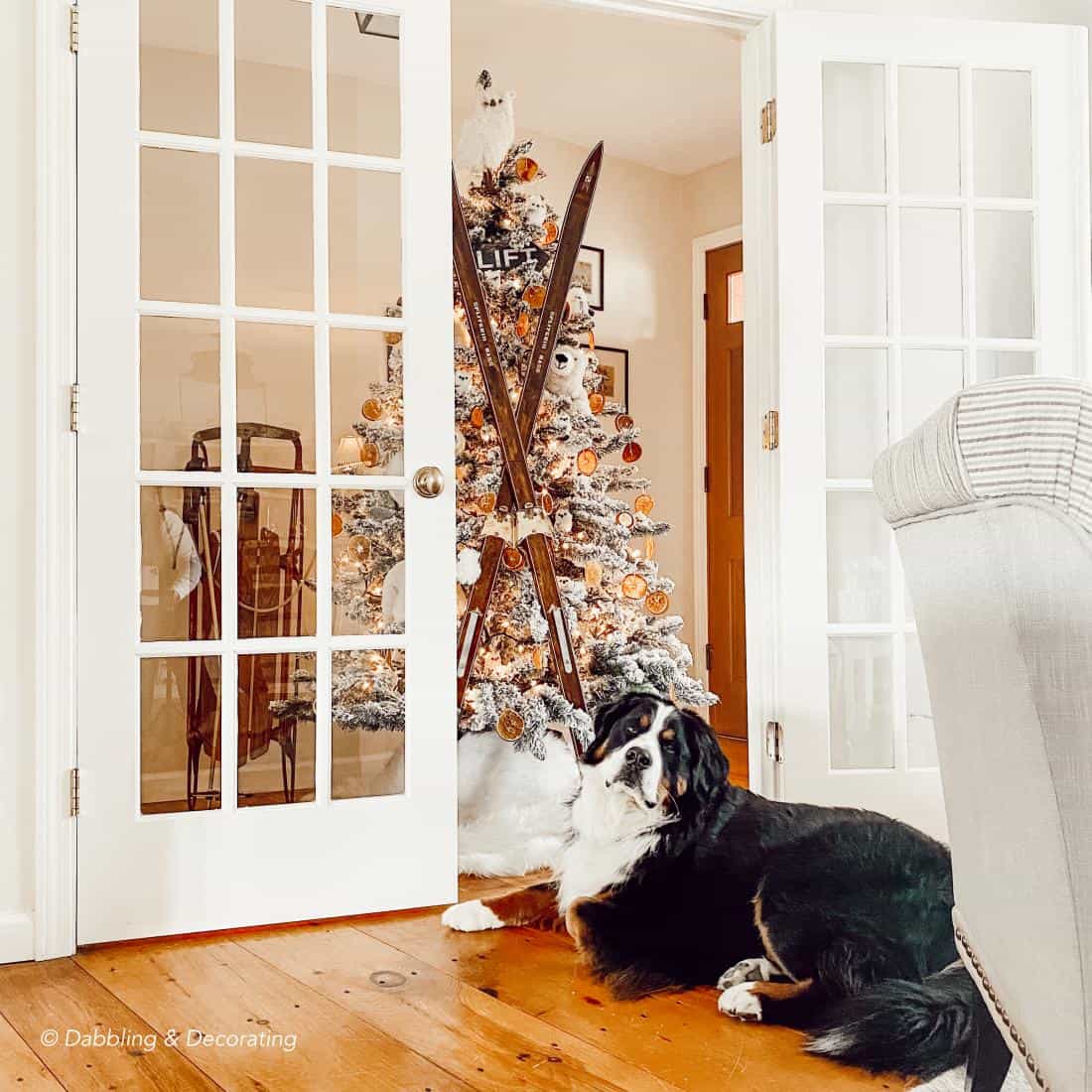 I'm so glad you dropped by, and if you are new to my blog, welcome! I hope you enjoyed your visit with us here today at our Home in Vermont.
Be sure also to check out our Home in Coastal Maine, where we spend summers and weekends when we are craving a walk on the beach or a visit with old friends.
Please join me as a regular here at Dabbling & Decorating by signing up for my Saturday morning newsletter and never miss an update!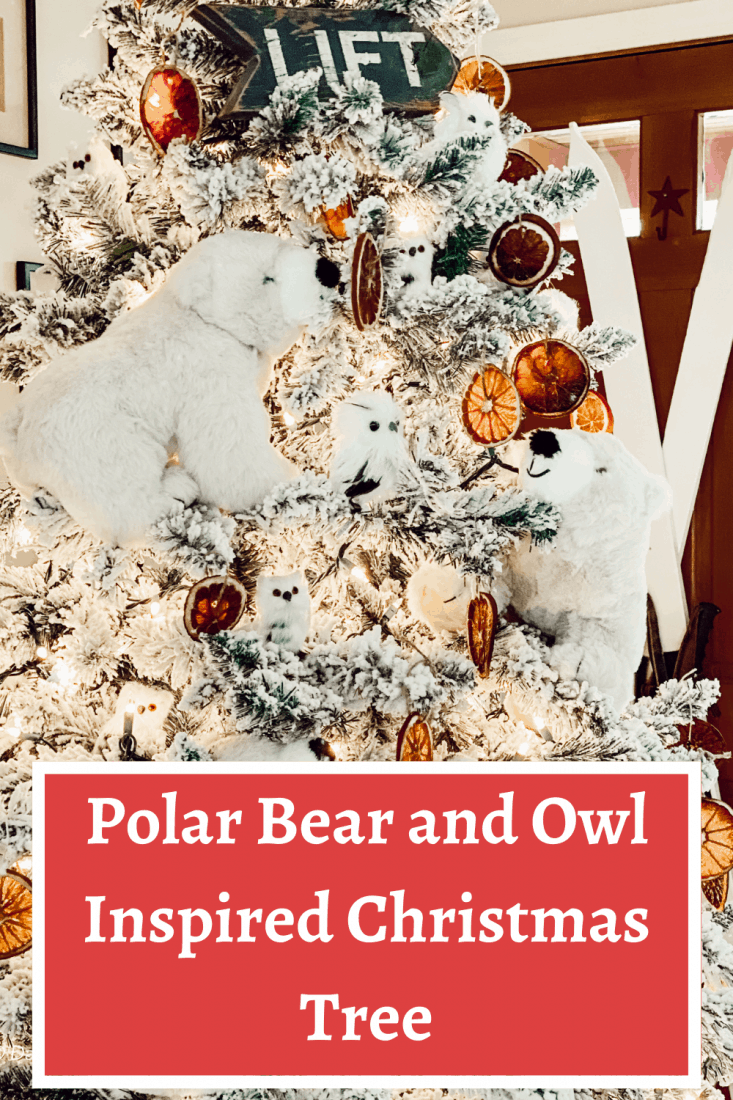 I've created the above custom pin just for this post! Hearing from you makes my day and your comments mean so much to me! Please join me on Instagram & Pinterest to see more!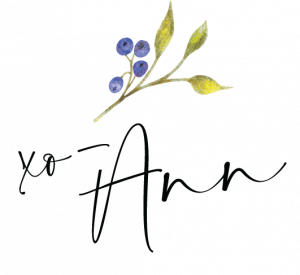 Bricks 'n Blooms // White Arrows Home // The Ponds Farmhouse
My Thrift Store Addiction // Down Shiloh Road
My Thrift Store Addiction // Down Shiloh Road
Dabbling and Decorating // The Tattered Pew // J Dub By Design
Simply2Moms // Blue Sky at Home
County Road 407 // Shiplap and Shells // Follow The Yellow Brick Home
The Flowering Farmhouse // My Wee Abode // Calypso in the Country
Cottage on Bunker Hill // This is Simplicite
YOU MAY ALSO LIKE