Nothing says New England or the holidays like a pair of vintage skis!
Am I right?
Vintage Skis
Last year I found these cross country vintage skis at The Stone House Antique Center in Chester, Vermont while out "Thrifting with the Gals".
They were a steal at just $18.
I find vintage skis at antique shops, flea markets, thrift stores, eBay, Etsy, second-hand shops, and more.
You can expect to pay around $100 – $200 a pair and if you are lucky you may find them at ski swaps, thrift stores, or from a friend more affordably.
I've even purchased vintage skis and painted them to fit the design I was working with.
Here I've rounded up a few vintage skis and poles for you to shop.
This post may contain affiliate links which won't change your price but will share some commission."
SHOP VINTAGE SKIS AND POLES
(click on any of the images to shop the products)

This year I hung one of each of these cross-country vintage skis on a front porch column.
Then secured it with a fishing line around the pole so they won't blow away in the extreme weather that we can get here in Vermont.
This way they are secure and you can't see the fishing line.
Then I added a gold vintage ski pole to each ski for that added ski lodge charm.
Evergreens
Here I filled these DIY plastic upcycled urns with evergreens from our backyard along with some faux red and blue berries, and magnolia leaves all found at our local hardware store Christmas sale.
The evergreen urns face out and the vintage skis and poles face inward.
Check out these Blue and White Chinoiserie Pots with Evergreens too!
This way we can enjoy the mountain views along with the vintage skis and evergreens.
Vintage Ski Boots
Check out this post with ski lodge vintage ski boots too, this may be my favorite!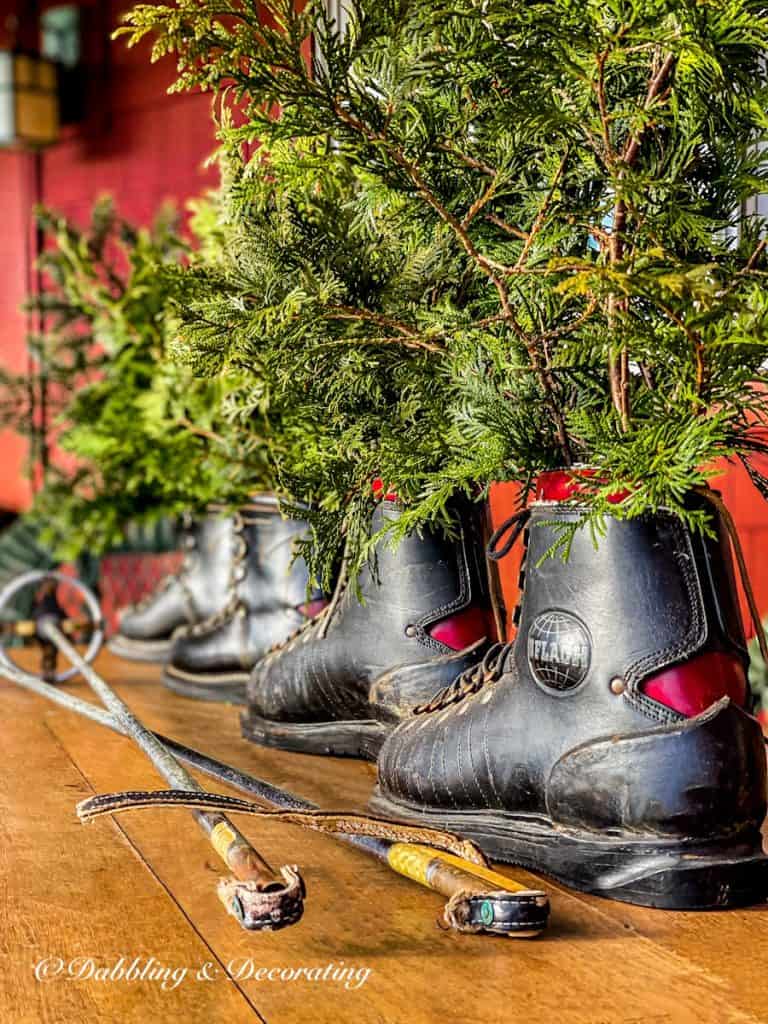 You may also enjoy the post, Cozy Winter Dining Room with Ski Lodge Decor | Get the Look.
Cozy Ski Lodge Fireplace
And this post with our cozy ski lodge fireplace for the holidays!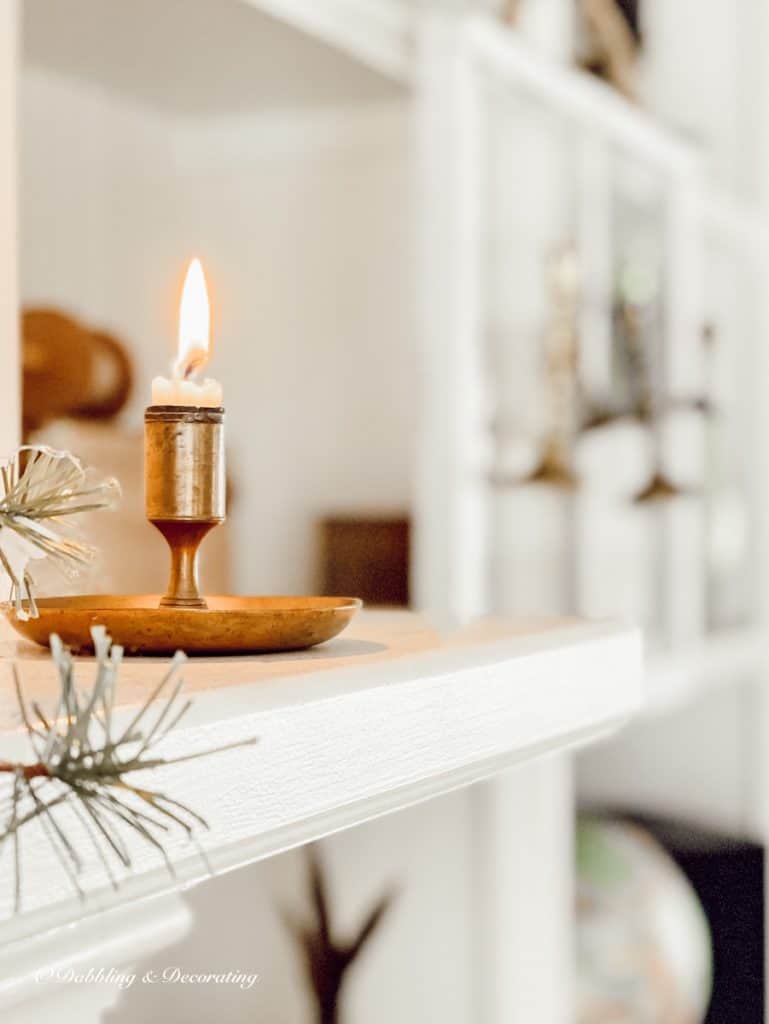 Ella, our Bernese Mountain Dog can't wait for your arrival.
Check out more of this "Vintage Ski Lodge Series" here.
And I just found this Vintage Toboggan to add to my collection.
Happy Holidays!
SHOP VINTAGE SKIS AND POLES
(click on any of the images to shop the products)

I'm so glad you dropped by, and if you are new to my blog, welcome! I hope you enjoyed your visit with us here today at our Home in Vermont.
Be sure to also check out our Home in Coastal Maine where we spend summers and weekends when we are craving a walk on the beach or a visit with old friends.
Please join me as a regular here at Dabbling & Decorating by signing up for my Saturday morning newsletter and never miss an update!

I've created the above custom pin just for this post! Hearing from you makes my day and your comments mean so much to me! Please join me on Instagram & Pinterest to see more!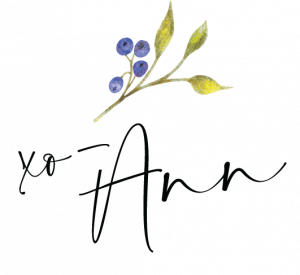 You May Also Like