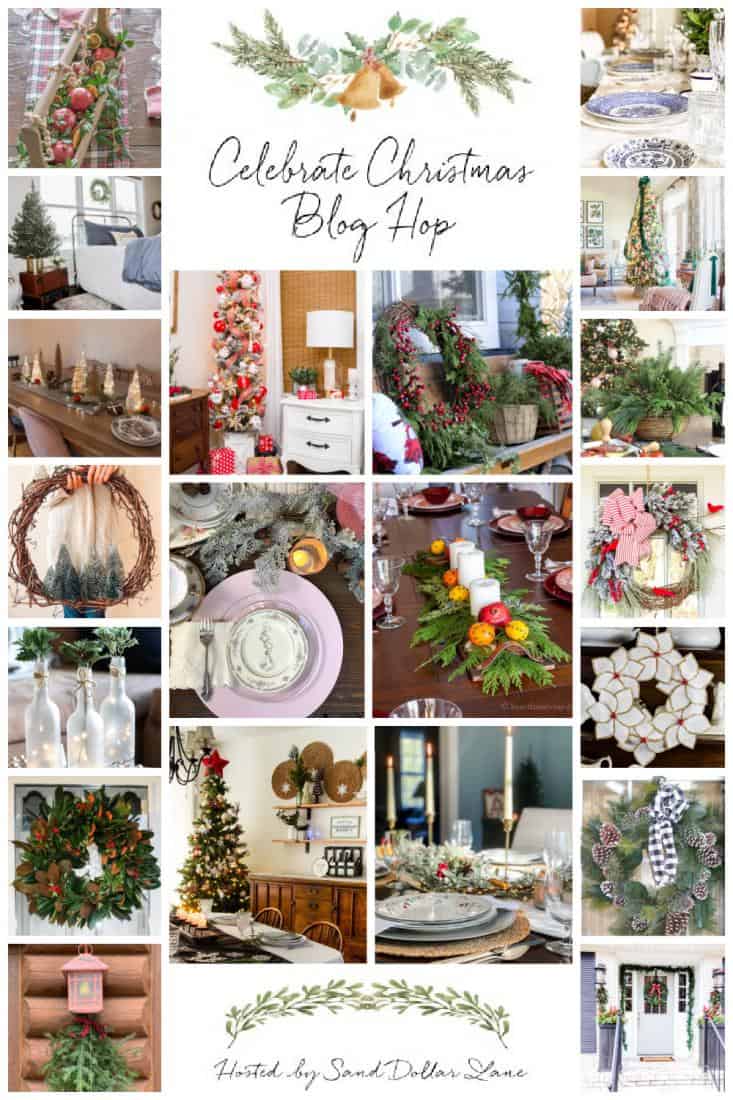 I'm excited to be joining an amazing group of home decor bloggers here today on this Celebrate Christmas Blog Hop sharing everything from a Christmas tablescape, trees, wreaths, and doors hosted by Leen over at Sand Dollar Lane. Grab a cup of coffee and get ready to be inspired, friends! If you are coming over from Lynne at My Family Thyme, welcome! Doesn't Lynne have such a beautiful home in Connecticut?
Today I'm excited to share my collected blue and white vintage tablescape with you. This year I have been thrifting for blue and white tableware to create tablescapes and decorate our bookshelves with. It turned out not to be as easy as I thought it was going to be though. I had found the antique shops this past year to be fairly scarce and overpriced. Definitely causation of the pandemic. Therefore, I reverted to some online shopping and I am slowly getting there. Today I want to share my first (of many I hope) collected antique blue and white table setting with you.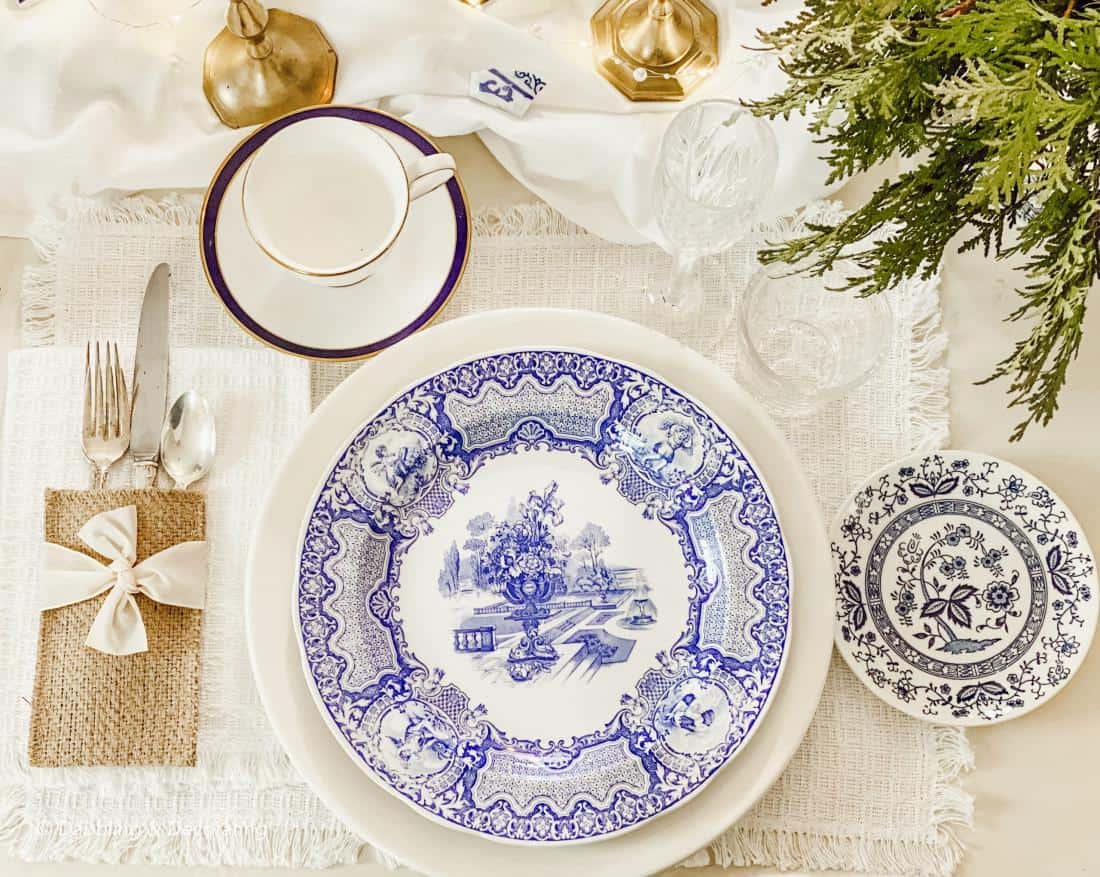 This dining room table is made up of mostly vintage tablewares, however, there are a few newer pieces that I mixed in like the Lenox coffee cups and saucers that were part of our wedding china. The glassware, linens, and silverware pouches are also new. Everything else is either vintage or antique.
Here I share the 6 patterns on the blue and white dinner dishes that I purchased from Replacements Ltd. Which I highly recommend if you are looking for old dish patterns.
I also got lucky this weekend and found a couple of very affordable blue and white vintage pieces while out antiquing. I brought them home to create this centerpiece paired with some simple backyard greenery.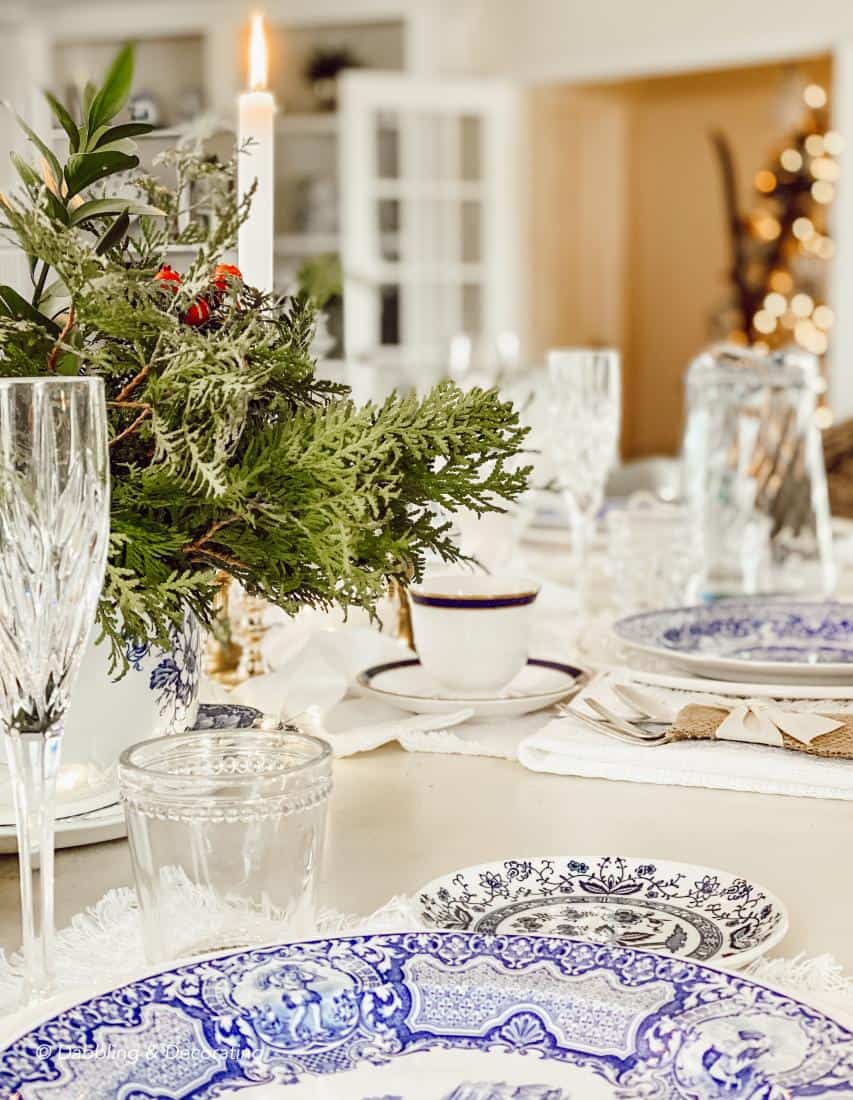 The blue and white chamber pot, and the plate it rests on, do not match and that is what I love about a collected table. Looking for different china patterns in antique stores is so fun for me. Especially when I find them for under $10!
I filled the rest of this Christmas tablescape with vintage brass candlesticks that I had collected over the years too. Some with and without candles. I also used two white curtain drapes for the center to soften the look of the table.
Last year I ordered a blue and white vase, which arrived broken, unfortunately. I saved the large broken pieces and scattered them around the candlesticks for a little more blue and white charm.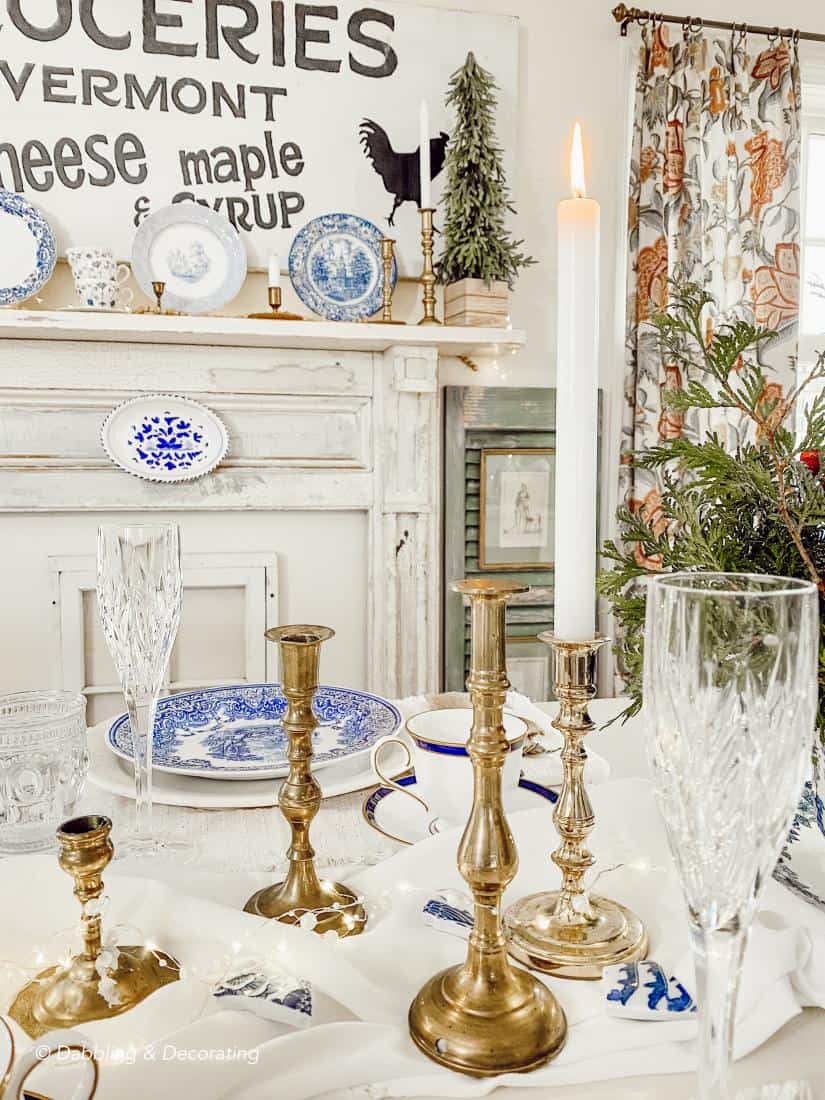 I also added some inexpensive battery-operated twinkle lights to the center that I purchased at Michael's Stores. A simple artificial Christmas tree with white lights adds Christmas charm propped up in the dining room corner in an old crock that was my mother's to accentuate this Christmas tablescape.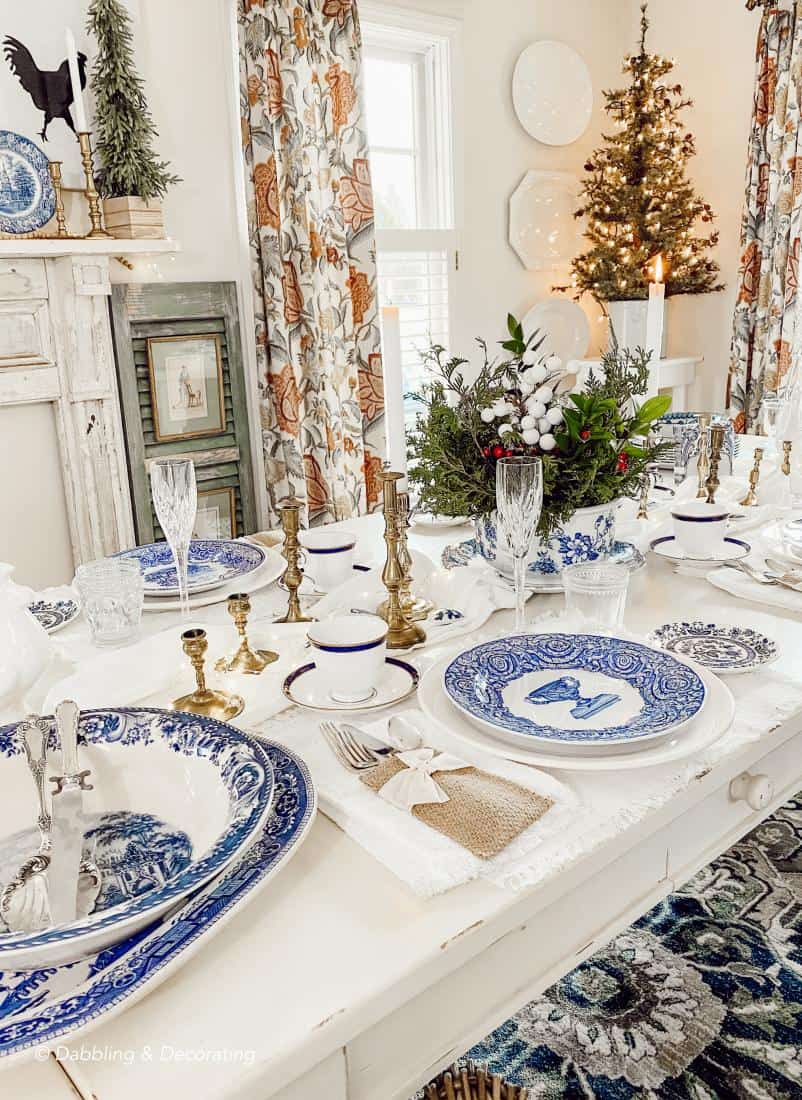 The sterling silverware was a wedding gift to my parents back in the 1940s, and like my mother, I enjoy using the silverware with our everyday tables as well. And how adorable are these silverware pouches? Cutlery Couture is the company that makes and sells these cuties and is one of my favorite finds for the year! I was first introduced to this fabulous company by Mary over at Farmhouse Fixer when she gifted me 8 lobster silverware pouches while we were in Maine over the summer.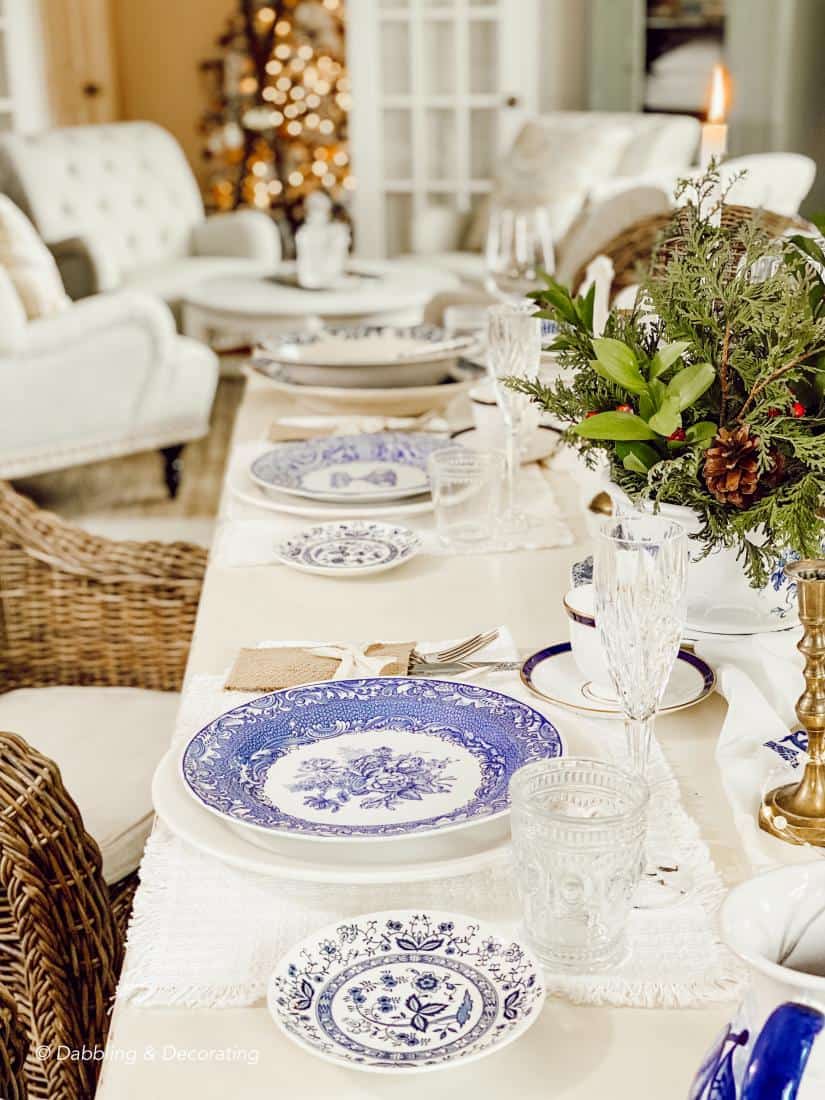 PIN THESE IDEAS TO TO YOUR FAVORITE PINTEREST BOARD!
The vintage mantel was a piece I found on Facebook Marketplace last year and is one of my favorite finds. I luv decorating it for all the seasons. For the holidays I chose to showcase this local sign that I also found on Facebook Marketplace when we first moved to Vermont a few years ago and it has hung in our home entryway for years now. I thought it deserved a place over the mantel for the holidays. Paired with more collected blue and white plates, teacups, brass candlesticks, faux Christmas trees, battery-operated twinkle lights, and wooden beads.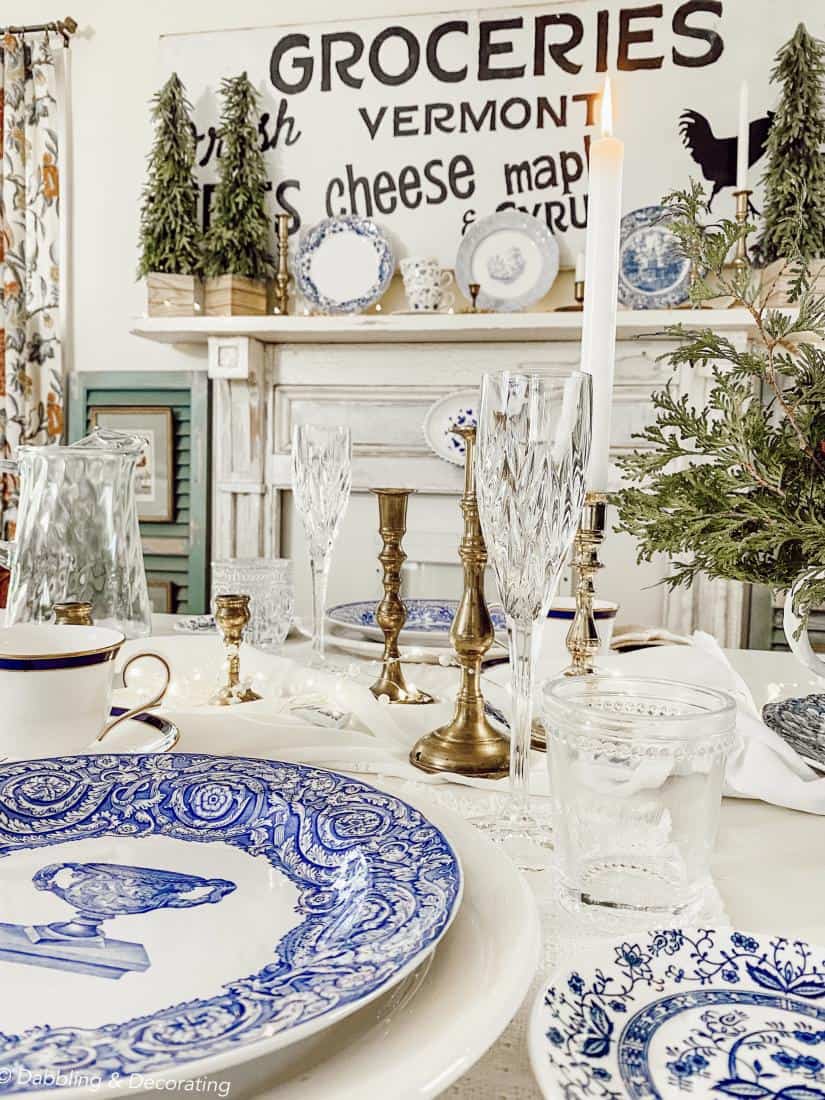 Check out this year's polar bear and owl-inspired Christmas Tree!
And you may also like this "Setting a Winter Table with Vintage Blue Bottles"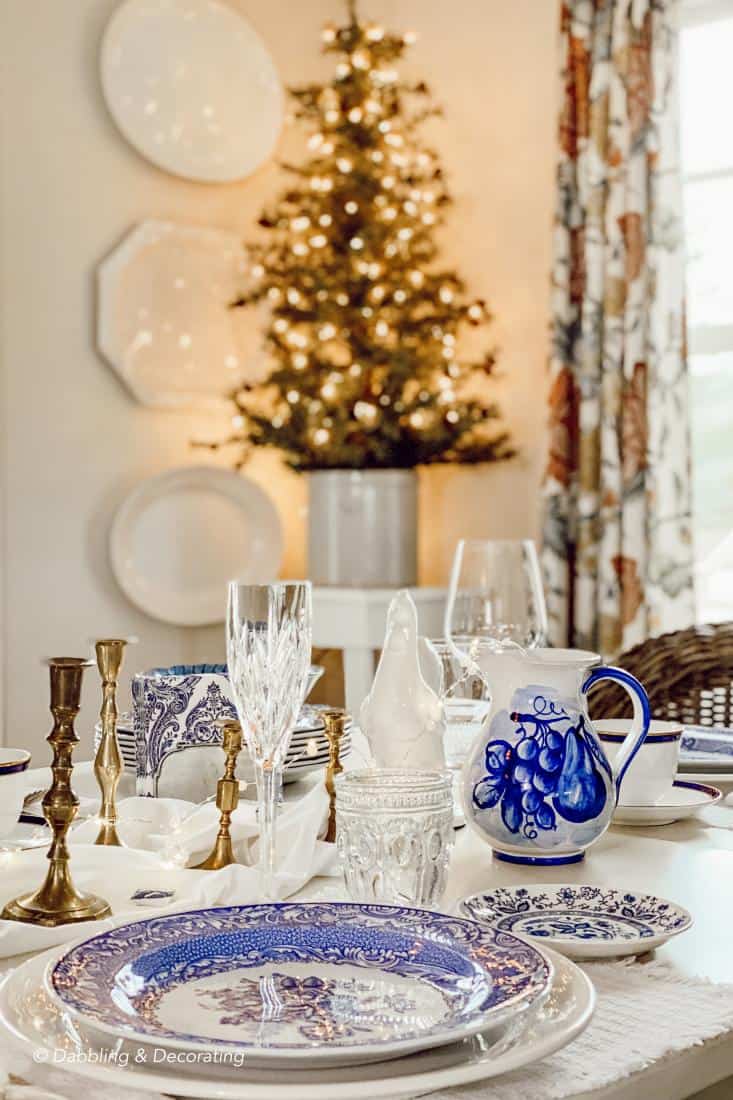 Looking for more Christmas decorating ideas? You may like our three-wreath front door Christmas tradition at our home in Maine.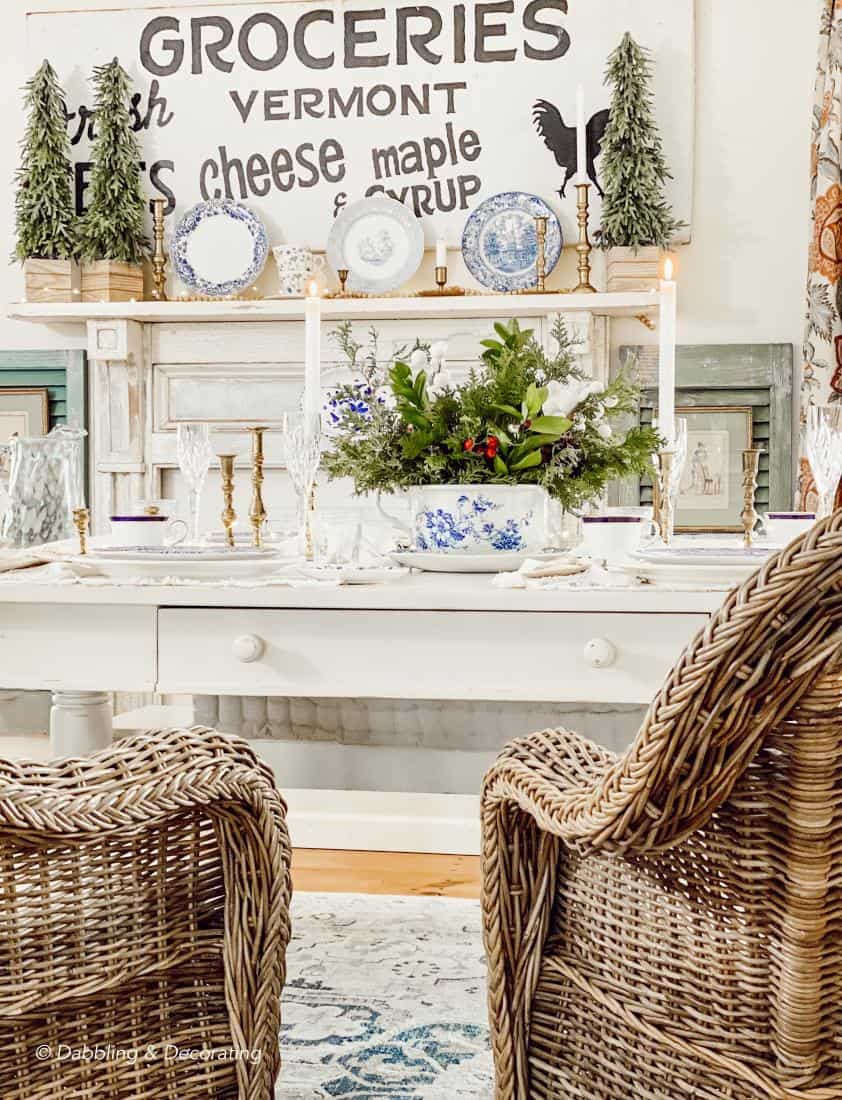 I'm so glad you dropped by today friend, and if you are new to my blog, welcome! I hope you enjoyed your visit with us here today at our home in Vermont. Please join me as a regular here at Dabbling & Decorating by signing up for my newsletter below and never miss an update!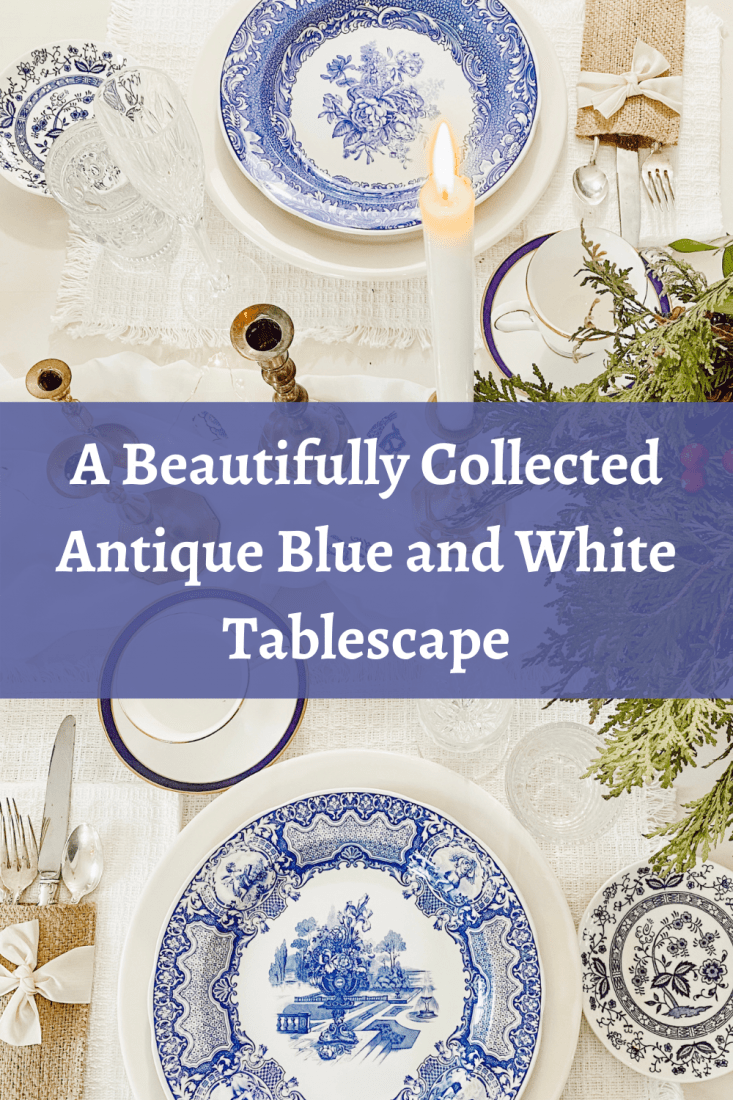 I've created the above custom pin just for this post! Sharing is Caring! I would luv to hear from you too ~ Your comments mean so much to me and truly make my day… Please join me over on Instagram & Pinterest to see more!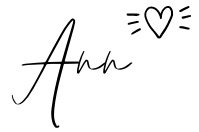 YOU MAY ALSO LIKE
Next up on the Celebrate Christmas Blog Hop is Suzy over at Worthing Court Blog. Suzy is an Interior Designer wannabe and creates the most beautiful spaces! Today she's sharing her front door wreath with you.