Do you love cozy porches with unique characters? Join me today for iced tea on our porch and let's talk cozy antiques and spring porch ideas!
This post may contain affiliate links which won't change your price but will share some commission."
I started this week out right with a day trip to one of my favorite antique stores and came home with this Vintage Haul for The Porch.
Don't you just love days like that?
When you find just what you're looking for and the bonus was most of it was 40% OFF!
And the next best thing to vintage shopping is when it's time to decorate with it all.
Am I right?
So I'm excited to have you join me here today as we begin decorating our cozy antique spring porch at our Vermont home with this week's vintage finds.
You may also appreciate How To Create An Inviting Front Porch with Wicker Furniture. A post that talks all about this new wicker green furniture on our porch, which is where this spring porch began.
You may also enjoy these Scandinavian Spring Homes When Less is More!
Vintage Lemonade Set
First up, I found this vintage lemonade set for just $19.00.
However, I enjoy iced tea a bit more than I do lemonade so that is what I will be serving up while you join me here today on our cozy antique spring porch.
I would say this set is from back in the 1970s sometime, based on its flower patterns.
Beverage carts and coffee bars are so popular today in home decor. I think it's because they create a commonplace for us to gather.
So why not add a simple vintage set like this one to your spring porch this year for you to enjoy with family and friends?
SHOP VINTAGE LEMONADE SETS
Scroll and Click on Image to Shop

Iced Tea & Lemonade Recipes
Here are a few recipes for you to enjoy with your new vintage lemonade set.
Do you like this wicker table?
I found it out antiquing this past summer for $45 in Maine.
The top comes off and it can be used as a serving tray.
I love this feature and it's the real reason I bought it. Plus, I like the colors and the wicker for our antique-inspired spring porch.
You may also enjoy the post, Set the Table with Vintage Autumn Warmth and 7 Ways to Add Autumn Spirit to Your Front Porch this Fall.
Antique Crock
Ok, can we talk about this antique crock now?
I have always wanted to collect antique crocks, but they are always so darn expensive. I inherited two large beautiful crocks from my mother that I use all the time, and I thought that would be enough.
Until I saw this beauty priced at $100 and on sale for $60. That was a bargain for an antique crock in my book!
SHOP ANTIQUE CROCKS
Scroll and Click on Photo to Shop.

And I knew just what I wanted to do with it…
Fill it with purple flowers for spring, on the porch of course!
I adore the color combination of purples and dark woods together. The contrast is just stunning.
At the local supermarket I grabbed:
2 bouquets of tulips.
2 bouquets of greenery with baby's breath.
2 bouquets of pink Lily of the Incas.
1 Potted Chrysanthemum.
to create these two beautiful flower arrangements for our spring porch coffee table. Which I will still need to bring inside at night, unfortunately, as our temperatures here in Vermont are still on the cool side.
You may also enjoy these 7 OLD GALVANIZED BUCKET PLANTER IDEAS.
You may also enjoy How a Penny Can Keep Tulips From Drooping.
And these 17 Simple Tulip Arrangements You Can Create Today.
A Big Old Antique Trunk
When I set out antiquing earlier this week, my main objective was to find a big old antique trunk that I could use as a coffee table with our new wicker furniture on the porch.
I wanted a trunk that was very large and tall. One that I could use as a work table, for entertaining, and of course, storage!
And there she was, sitting pretty at the absolute last booth I went to in a sea of vintage vendor booths… And it was in the 40% OFF booth too. Woo Hoo!
Once I got it home and onto the porch, I used my new favorite find, Restor-A-Finish in Mahogany, and wiped the entire trunk down with it. Boy did it look amazing!
But I didn't stop there, I then rubbed it down with Feed-N-Wax to make it look even more beautiful and to protect it from the elements.
This is the same process I used on this old wallpaper table and this Wardrobe Closet Makeover.
I love how cozy the antique trunk looks on the porch and the added storage space, well it's just awesome!
SHOP ANTIQUE TRUNKS
Scroll and Click on Photo to Shop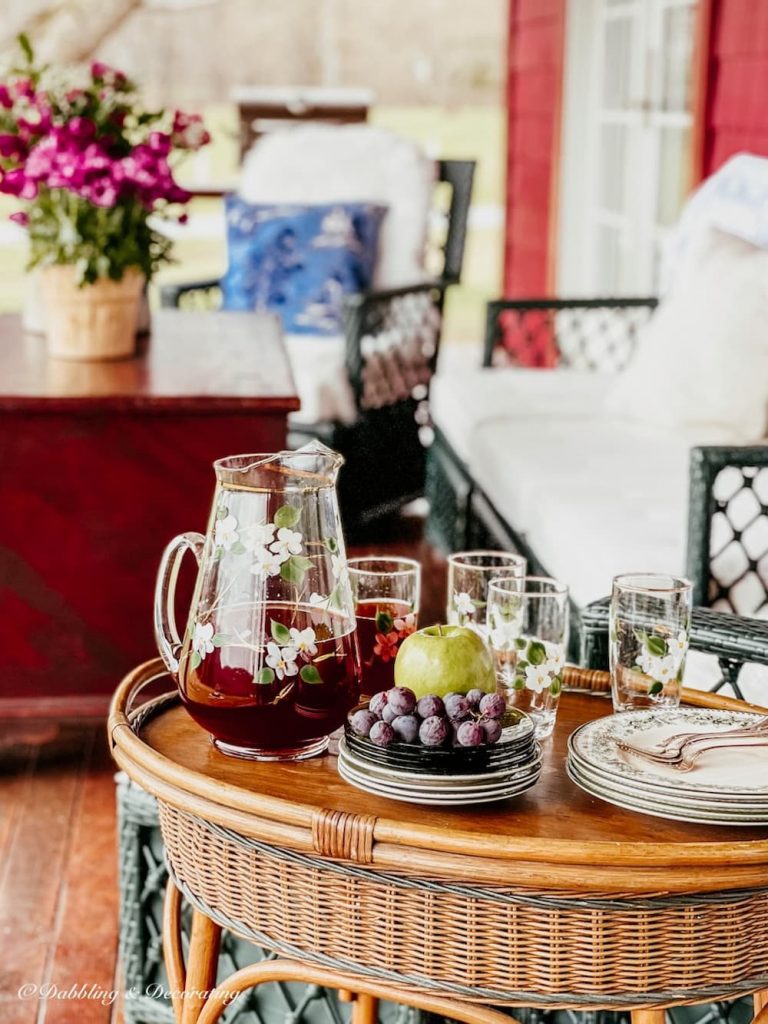 I'm so glad you dropped by, and if you are new to my blog, welcome! I hope you enjoyed your visit with us here today at our Home in Vermont.
Be sure to also check out our Home in Coastal Maine where we spend summers and weekends when we are craving a walk on the beach or a visit with old friends.
Please join me as a regular here at Dabbling & Decorating by signing up for my Saturday morning newsletter and never miss an update!

I've created the above custom pin just for this post! Hearing from you makes my day and your comments mean so much to me! Please join me over on Instagram & Pinterest to see more!


YOU MAY ALSO ENJOY