Would you like to add tulips to your decor this spring? Check out these 17 simple tulip arrangements that you can create at home today!
How to Make a Tulip Arrangement
Tulips have to be one of the easiest flower arrangements to design, honestly!
This time of the year you can find tulips in most supermarkets, and Trader Joe's is always a good bet too.
Orange
Pink
Red
And my favorite, classic white!
To start choose one of your favorite vases and cut the stems to fit the vase's height. Cutting the stems is always a good idea in general, as it helps the tulips gain access to the water.
Tulip Arrangements for a Rustic Look
Here I found this copper bucket while out "Thrifting with the Gals". And then decorated our mantel with terracotta pots and orange tulips for spring. I simply placed a handful of the tulips into a glass jar filled with water and placed the vase into this thrifted bucket.
Tulips in Crocks
One of my favorite tulip arrangements ever was this Antique Crocks with White Tulips I created a couple of years back for Saint Patrick's Day.
I love the combination of vintage crocks with white tulips and greenery. They go together so eloquently.
And you may also enjoy this Vintage Teacup Spring Mantel idea too.
Tulips in the Bedroom
Just this past week I shared How to Create an Inviting Guest Bedroom adding orange, pink, and white tulips to a breakfast tray and bedside table.
You may also enjoy these 7 OLD GALVANIZED BUCKET PLANTER IDEAS.
Table Centerpiece Tulip Arrangements
And of course table centerpieces are always a fabulous way to display spring tulips like this Spring Table Setting Ideas | Green with Envy.
White pitchers of all shapes and sizes accentuate the colors of tulips so beautifully.
Here I displayed a bouquet of tulips as a centerpiece on a small vintage table in our country kitchen in Maine in the post 6 Best Country Kitchen Counter Decor Ideas in partnership with Wayfair.
A vintage blue and white teapot was the foundation for this vibrant tulip arrangement.
Easter Tulip Centerpiece Arrangement
Here I painted a bucket that I bought from Michael's and spray painted it blue for this Simple Easter Tablescape with MacKenzie-Childs.
And this is How to Style a Timeless Spring Table with my favorite, white tulips.
How about 75+ Blue and White Vintage Gift Ideas for Women!
Old Champagne Bucket
I think my favorite vase yet for tulip arrangements has been this thrifted $8 old champagne bucket. You can find these at flea markets, thrift shops, second-hand shops, and there are many available over on Etsy and eBay too.
Old trophies also work well!
Here I used it to decorate this Fabulous Vintage Hutch Makeover.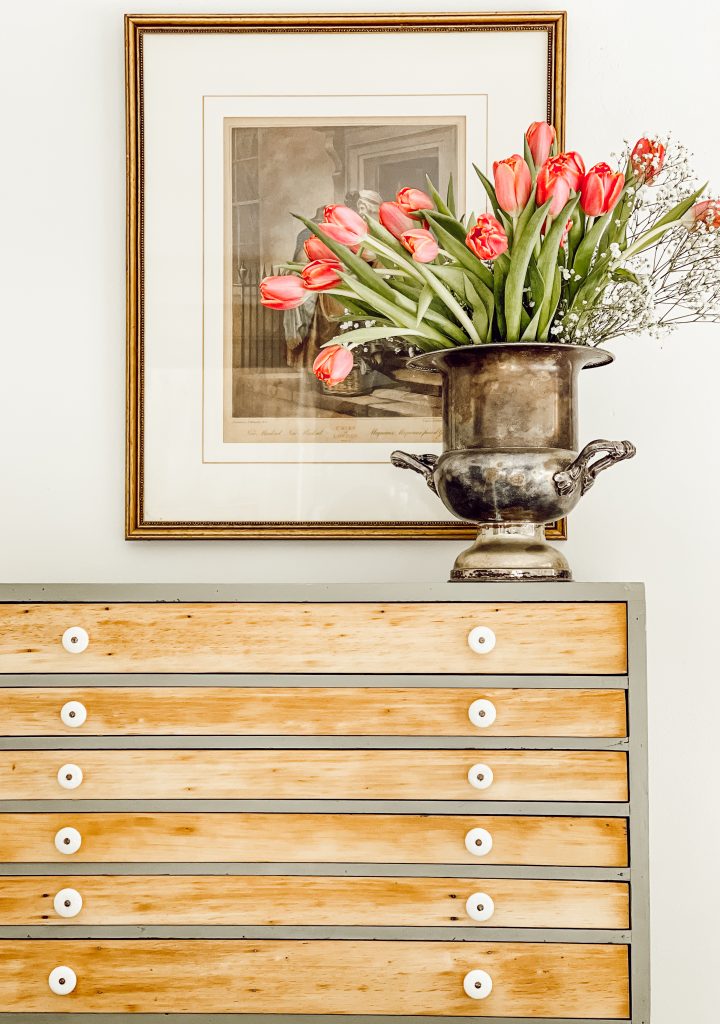 SHOP OLD CHAMPAGNE BUCKETS

Tulip Arrangement Tip
And you won't want to miss How a Penny Can Keep Tulips From Drooping!
You may also enjoy the post, How to Grow Paperwhites Pretty in Green Stoneware For Saint Patrick's Day.
These vibrant tulips with Terracotta Pots and an Apothecary Cabinet are doing a happy dance in our sunroom.
And this setting was decorated a little more softly here with pink tulips on the same Green Chippy Apothecary Cabinet.
Tulips look fabulous in these newly collected vintage McCoy pots too!
SHOP VINTAGE MCCOY POTS

Windowsill Tulips
I love these simple white tulips with greenery in my mother's vintage white teapot in this post 5 Easy Ways to Decorate a Windowsill.
Tulip Craft Arrangement
And how about an easy How to Craft Colorful Ice Candle Holders using faux or real tulips too?
Bucket of Tulips
Check out this bucket of tulips in the post, Best Breakfast Nook Ideas for Morning Brunch too.
I hope you found some tulip arrangement inspiration here today!
One of my favorite flowers to decorate with next to the lilac, which I can't wait to start Decorating with the Color Purple very soon. Happy Spring!
You may also enjoy Riding out the Rain with These Fabulous Umbrellas while April's showers bring us May flowers.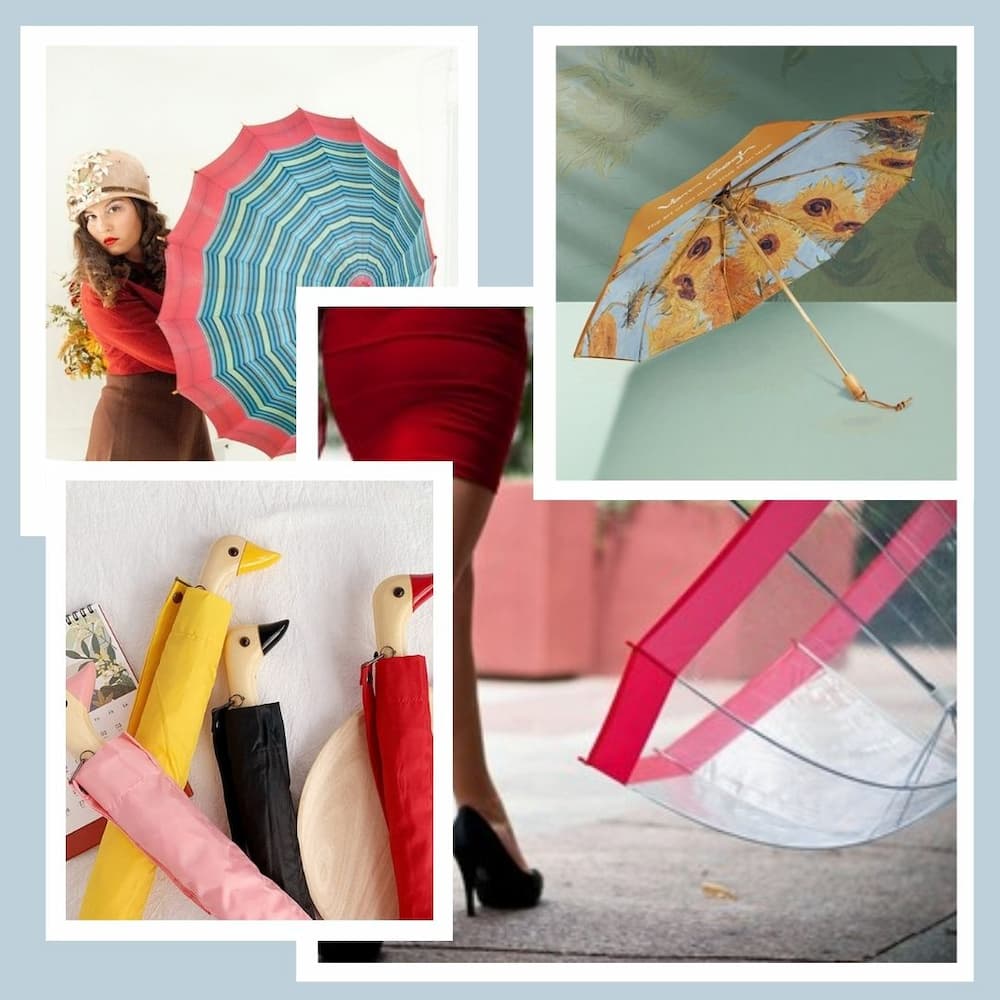 I'm so glad you dropped by, and if you are new to my blog, welcome! I hope you enjoyed your visit with us here today at our Home in Vermont.
Be sure to also check out our Home in Coastal Maine where we spend summers and weekends when we are craving a walk on the beach or a visit with old friends.
Please join me as a regular here at Dabbling & Decorating by signing up for my Saturday morning newsletter and never miss an update!

I've created the above custom pin just for this post! Hearing from you makes my day and your comments mean so much to me! Please join me over on Instagram & Pinterest to see more!
YOU MAY ALSO ENJOY