The leaves here in Vermont have almost all fallen and November is just around the corner. This is what we call the off-season here, as we begin our fall yard clean-ups and prepare for the winter months ahead filled with roaring fires, blankets of snow, and fun days on the ski slopes. And this sunroom is my favorite spot to cozy up and read a book this time of the year.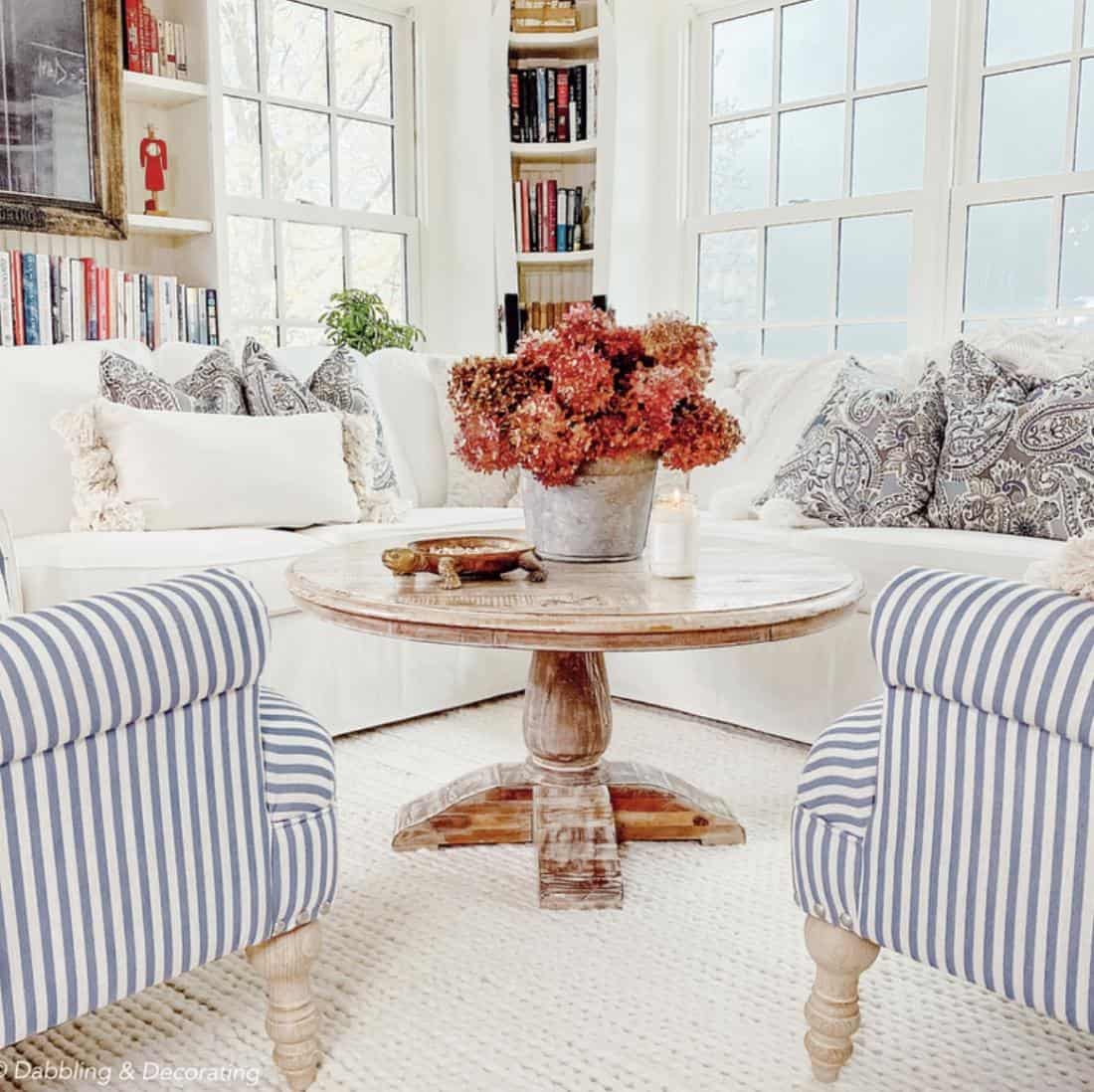 This is the time of year I love to change up my decor, starting in the sunroom. I began by selling a couple of chairs that were just not working for me anymore on Facebook Marketplace and replaced them with these two blue and white pinstriped chairs in our sunroom.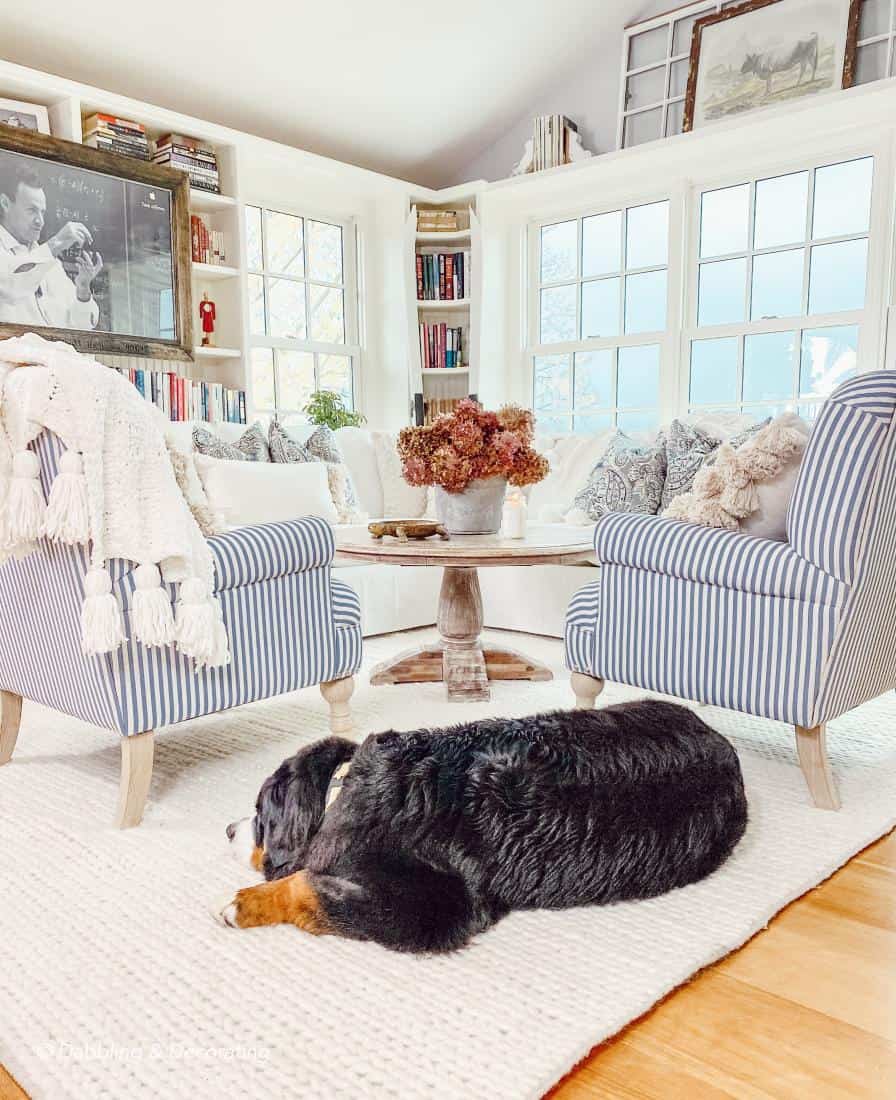 I really wanted to add a cozy winter white braided rug, that I was able to find affordably on Rugs USA. Winter whites are one of my favorite colors to decorate within the winter and this rug is just beautiful. This sunroom is a low-traffic room in our home, therefore it was the perfect room where I could add a white rug without worrying too much about it.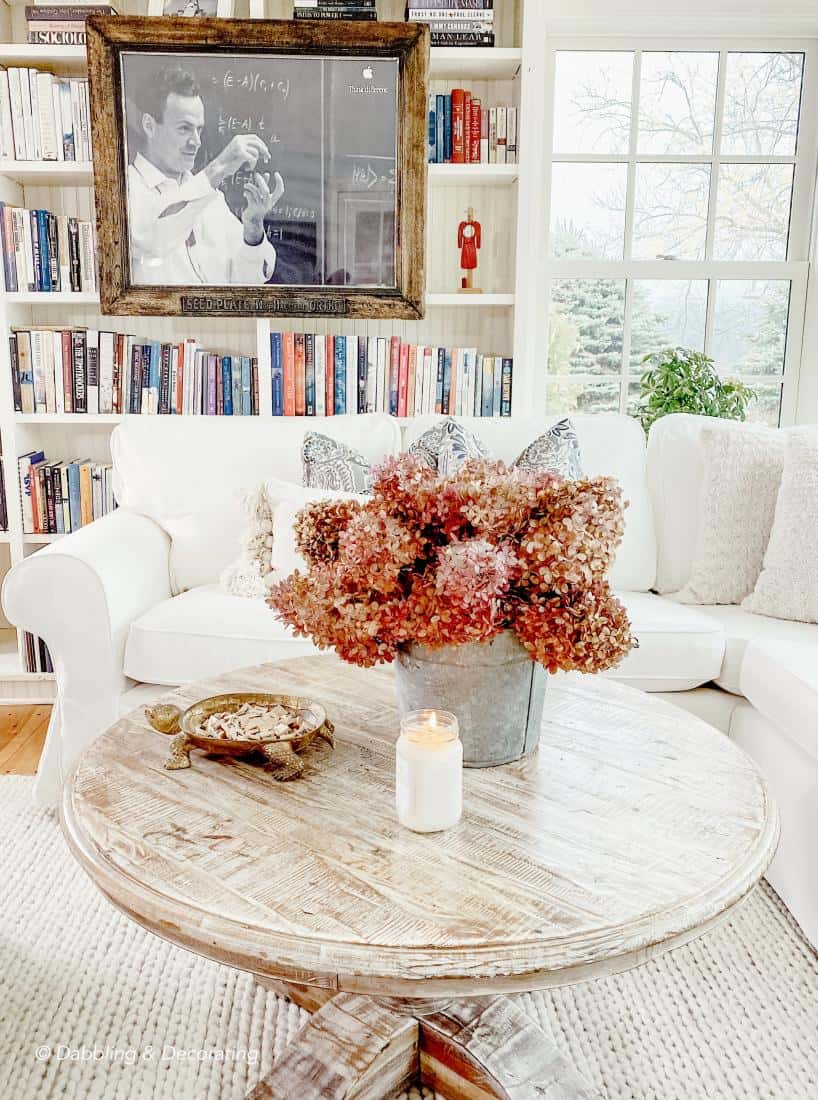 Here I grabbed an old tin bucket, clipped back the last of my backyard hydrangeas, and gathered them together for a simple coffee table centerpiece. I also enjoy adding Antique Candle Co's fall and Christmas candles in every room! The scents are absolutely amazing and accented beautifully in antique ball jars.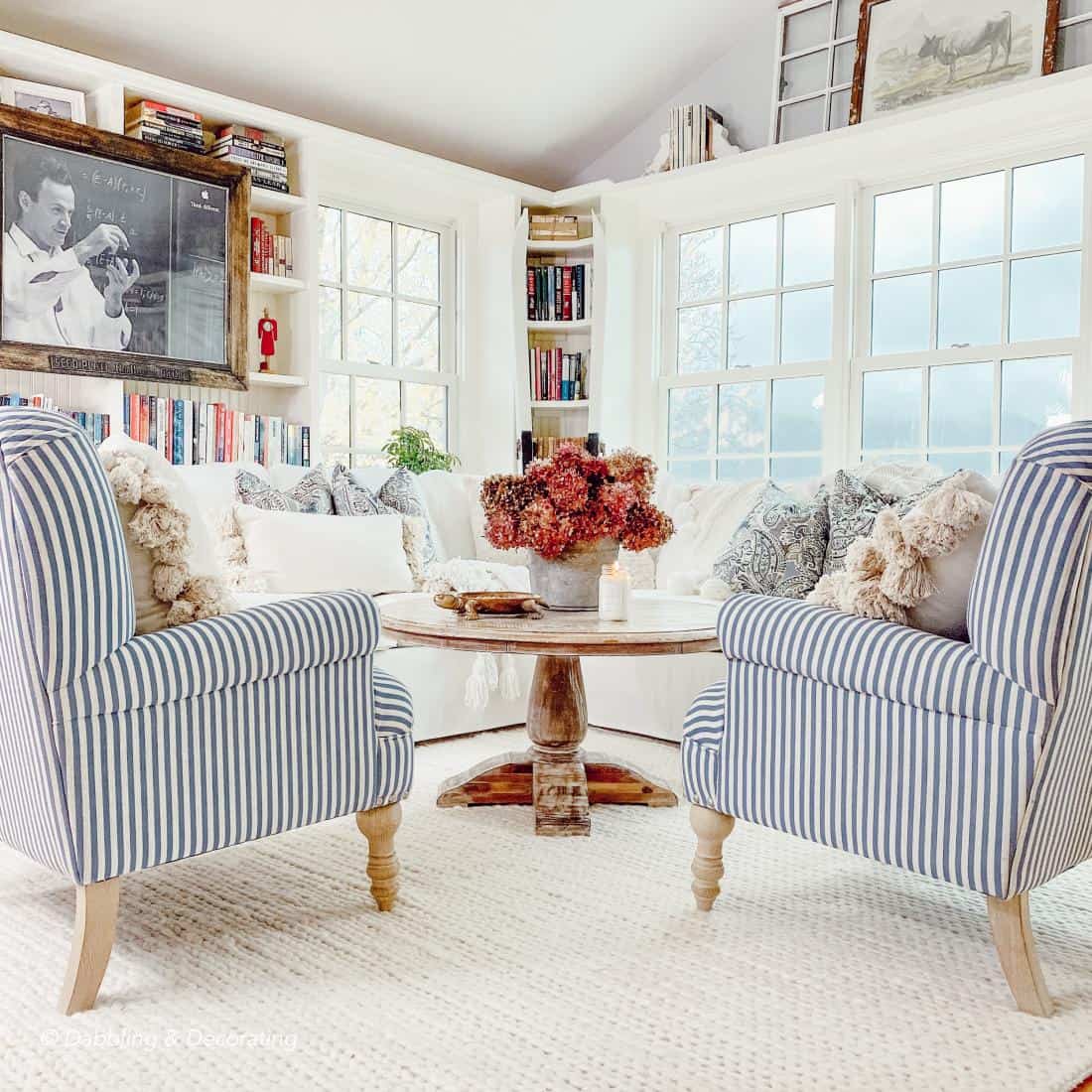 The day I took these photos, it was very stormy outside with really low cloud coverage and pouring rain. You can see a tad of that here out the sunroom windows. This is such a fun room to watch the stormy weather roll in over the Green Mountains of Vermont.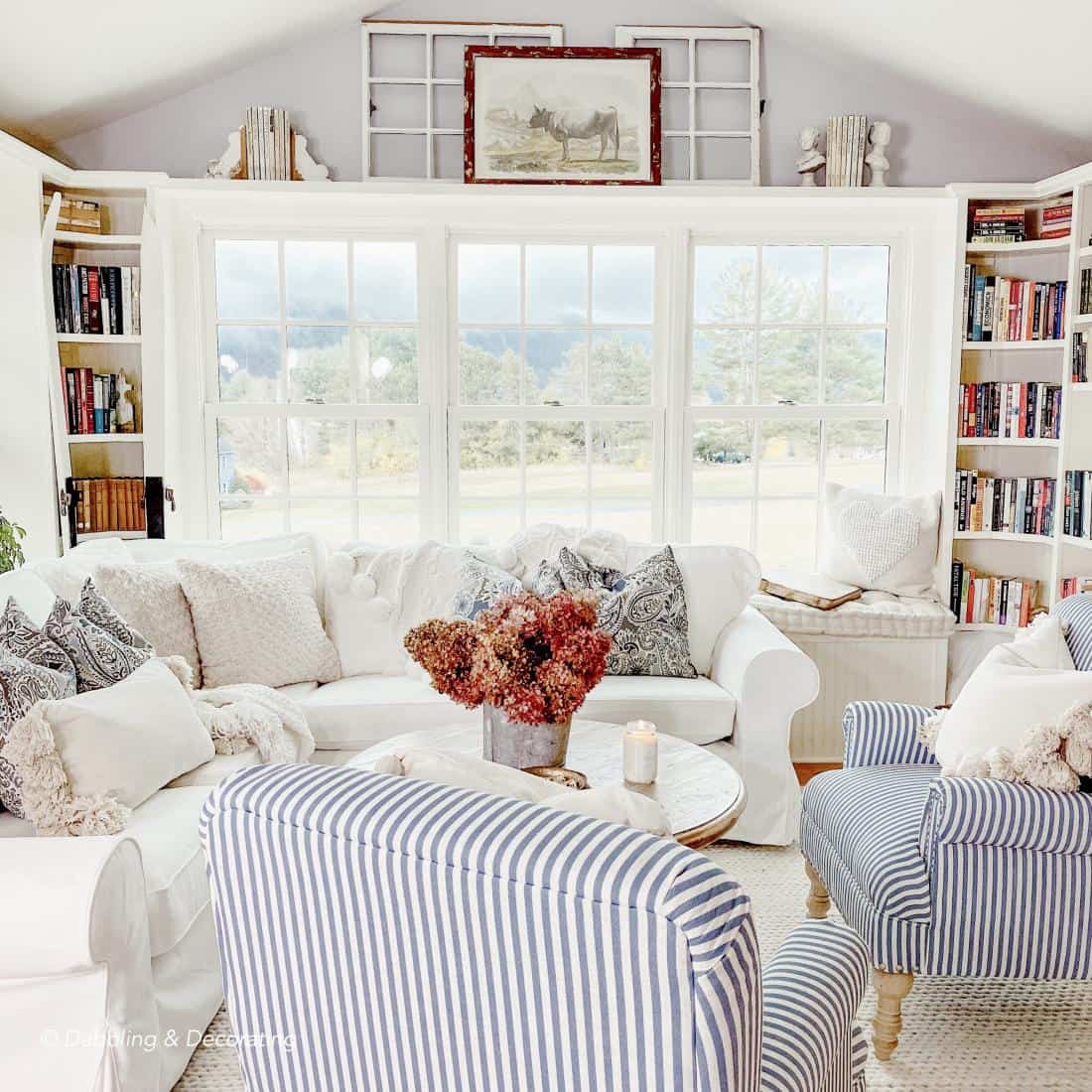 I accented the ledge up top with a vintage cow picture that I found antiquing, layered with old window frames, books, and other thrifted pieces like these corbels and busts. And if you look closely at the left bookshelf you can see where I added two old white skis that add to that vintage winter charm.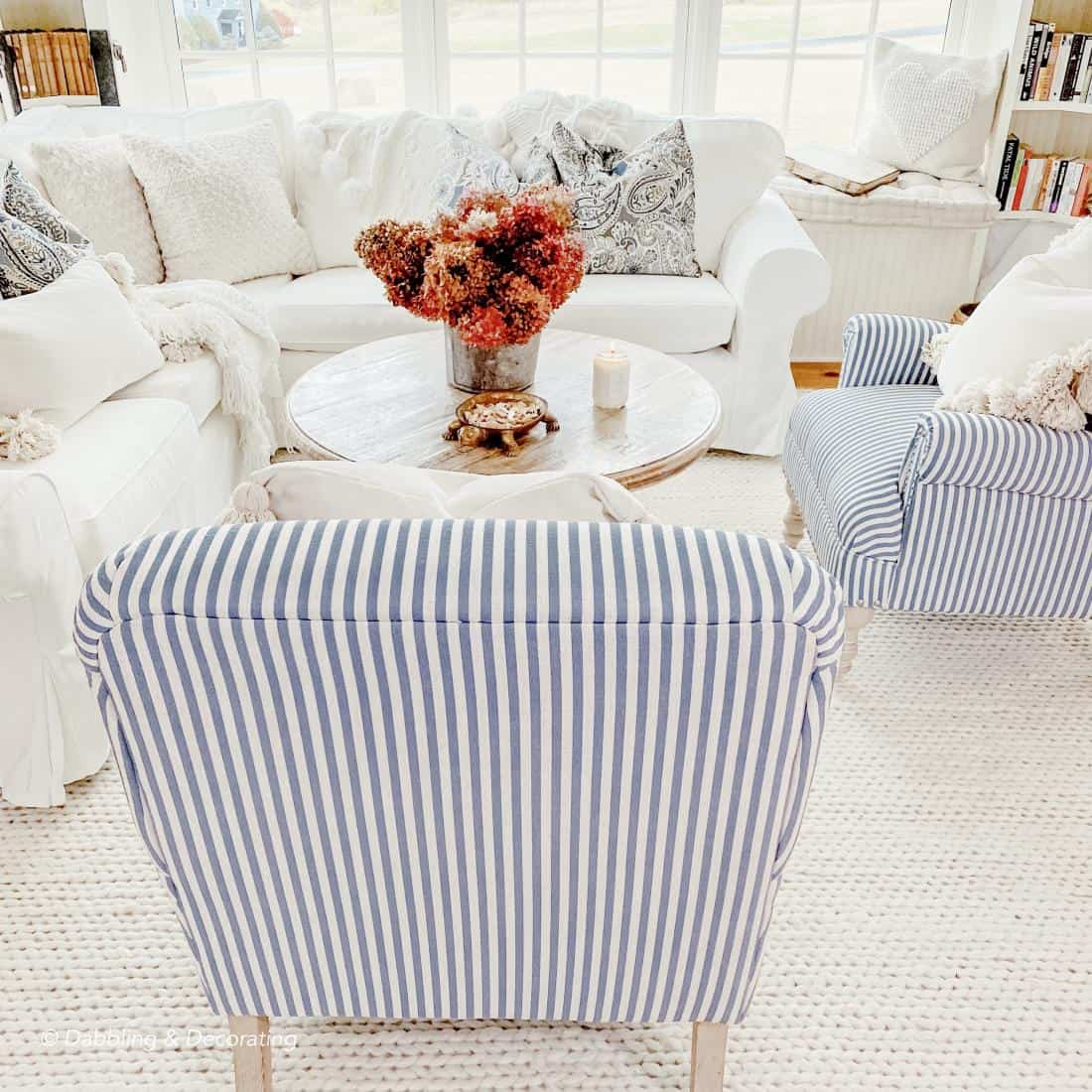 Adding accent pillows to a room creates that cozy and warm vibe that I crave in the off-season. I like to find new pillow covers to switch out the look for the various seasons. I love the blue and gold ones I found for this season here on Amazon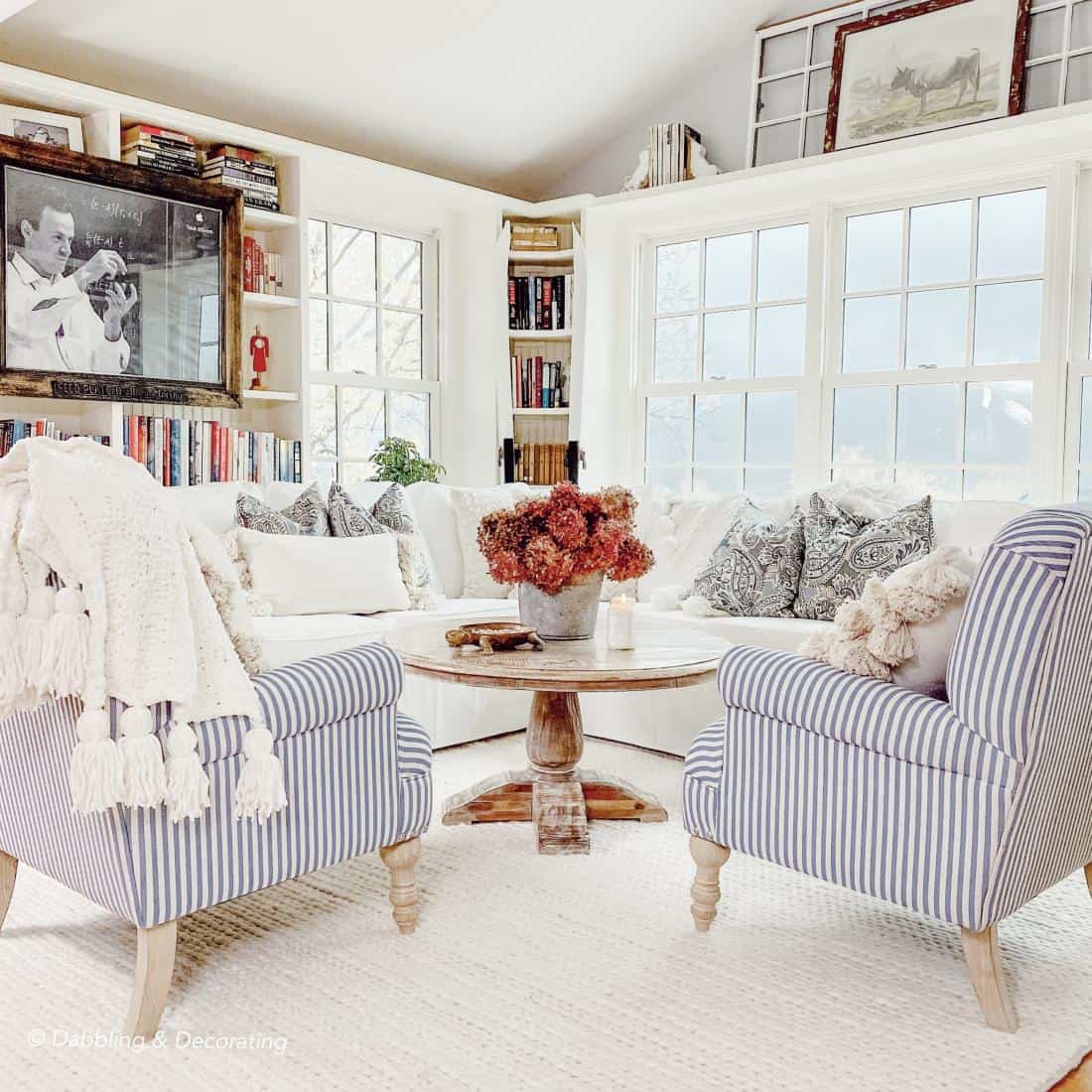 The framed photo on the left bookcase is a picture of Richard Feynman that I picked up while working for Apple inc. a few years back before retiring to Vermont. The frame is an antique that I found at an antique store on the coast of Rhode Island and the two were a perfect fit together. The picture offers up historical relevance for me while adding vintage texture for this sunroom with the wall-to-wall bookcases.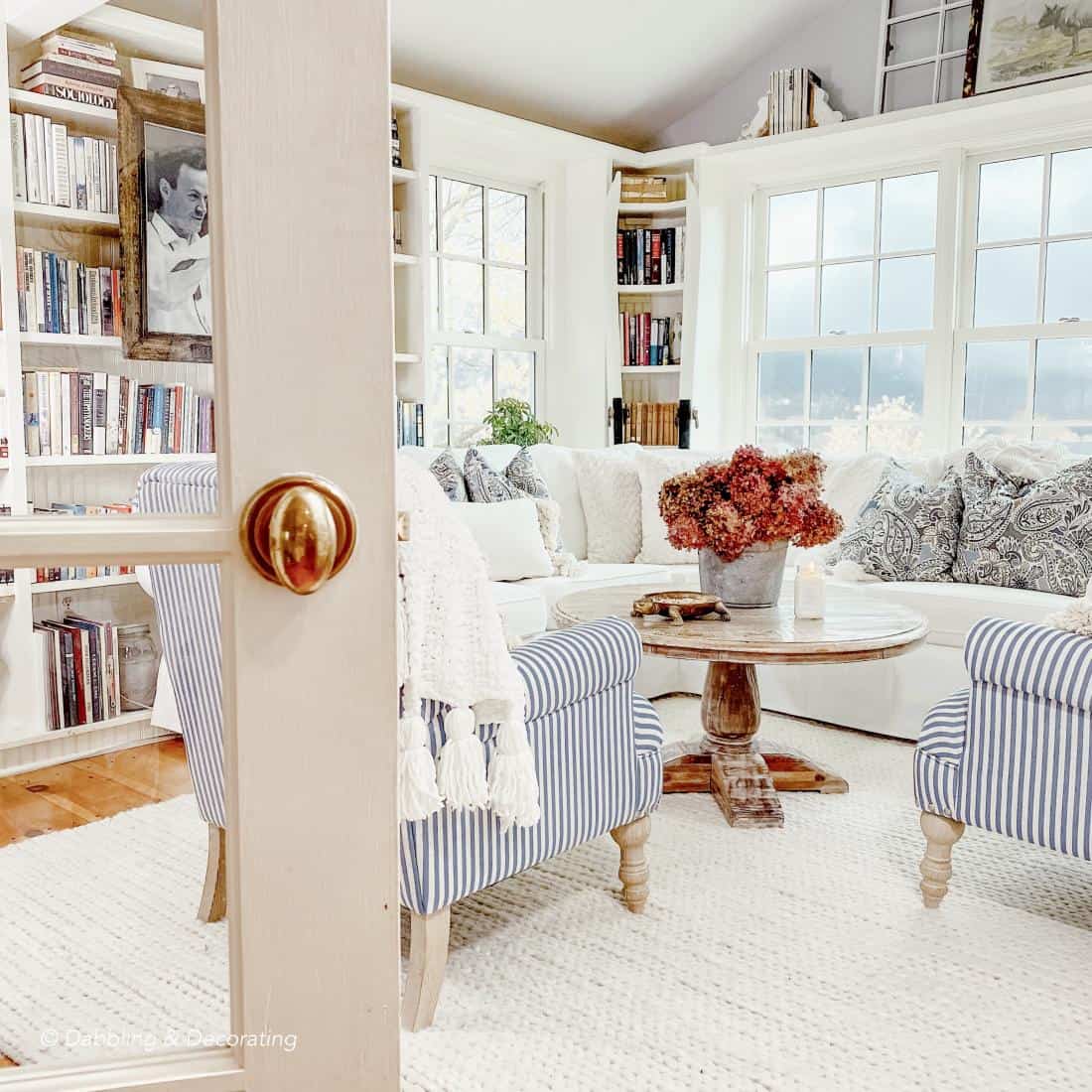 See this sunroom updated today in the post, 4 Season Sunroom Makeover with Grand Mountain Views and Sunroom Home Office Inspiration: Triple Purposed with Craft Space.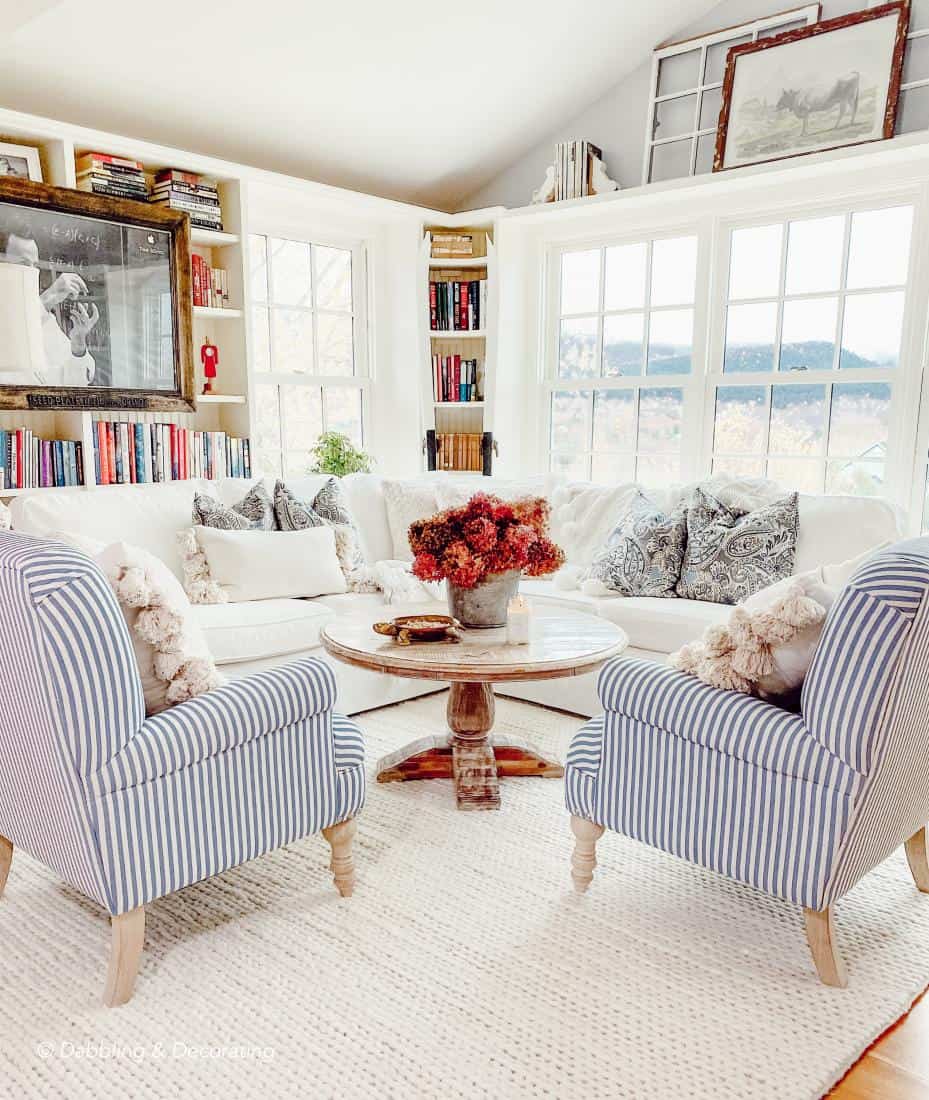 The white sectional couch is the Ektorp white sectional, purchased from IKEA. It is slipcovered, which can easily be taken off and washed. To learn more about this sectional click here.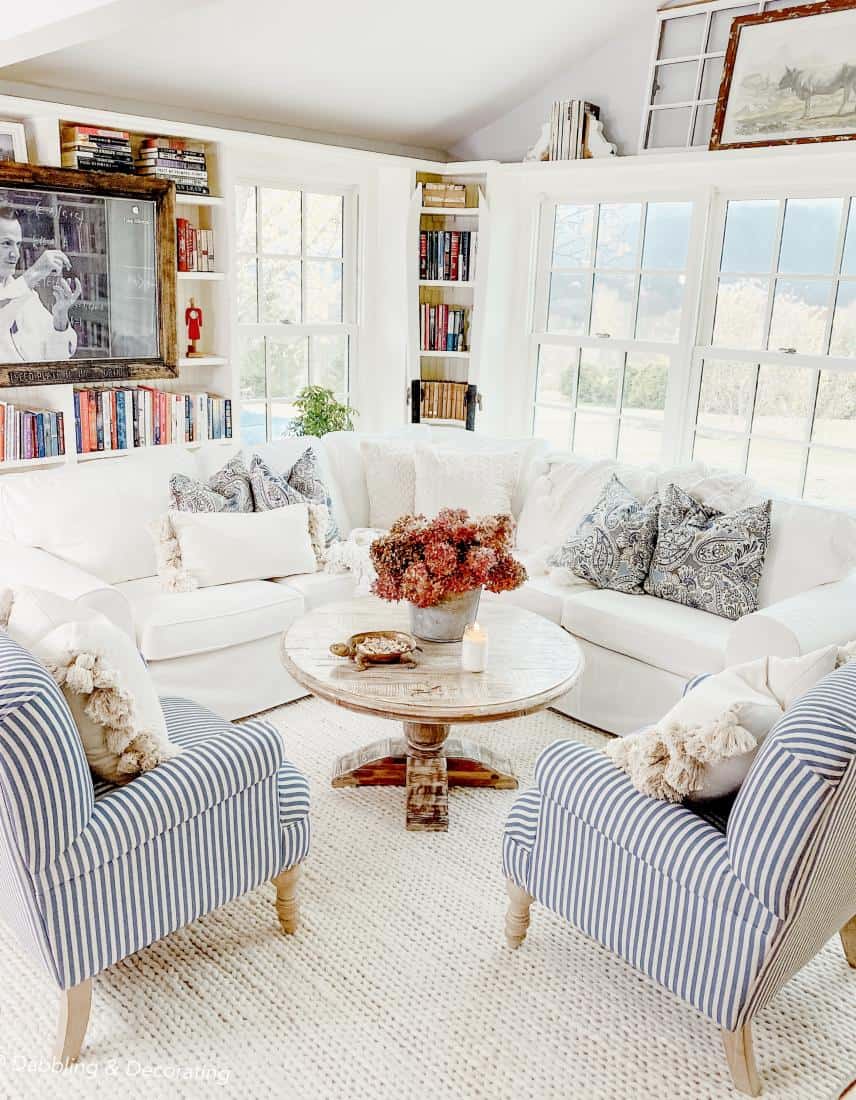 Check out this cozy fall sunroom last year.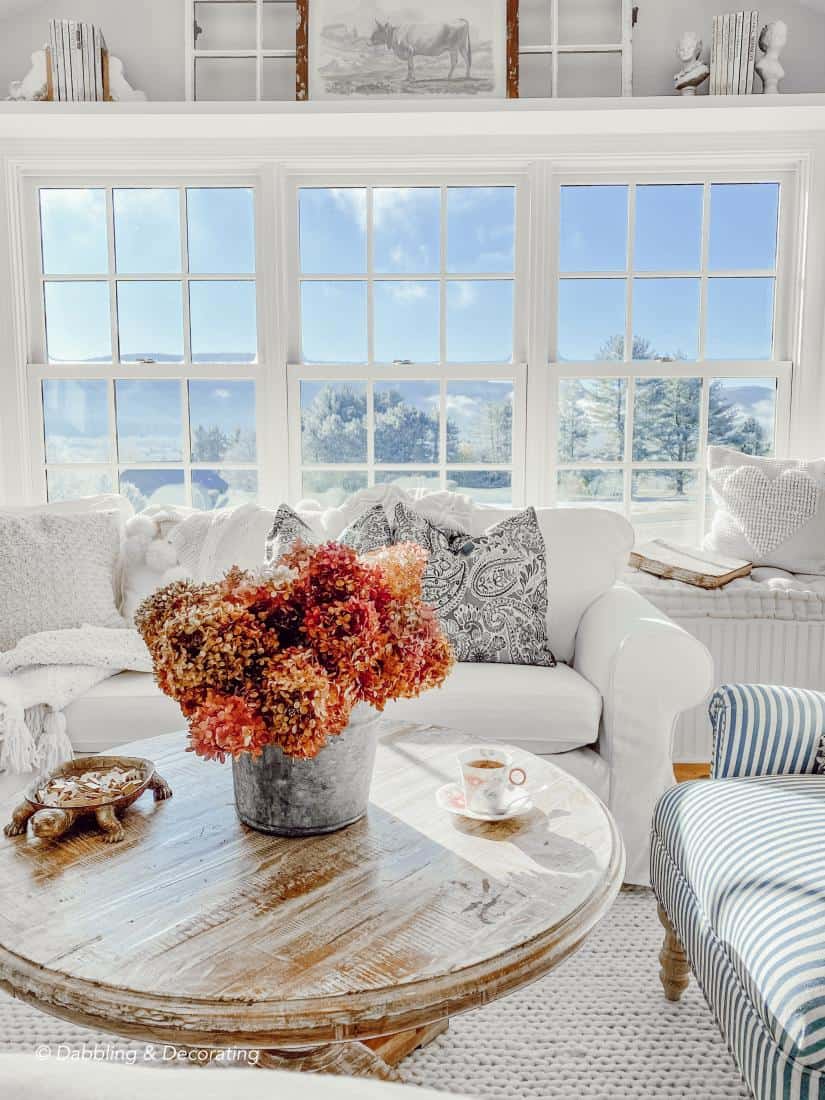 I'm so glad you dropped by, and if you are new to my blog, welcome! I hope you enjoyed your visit with us here today at our Home in Vermont.
Be sure also to check out our Home in Coastal Maine where we spend summers and weekends when we are craving a walk on the beach or a visit with old friends.
Are you looking for more thrifty and vintage home decorating ideas? Start getting your weekly vintage decorating ideas today! Joining over 3,000 subscribers…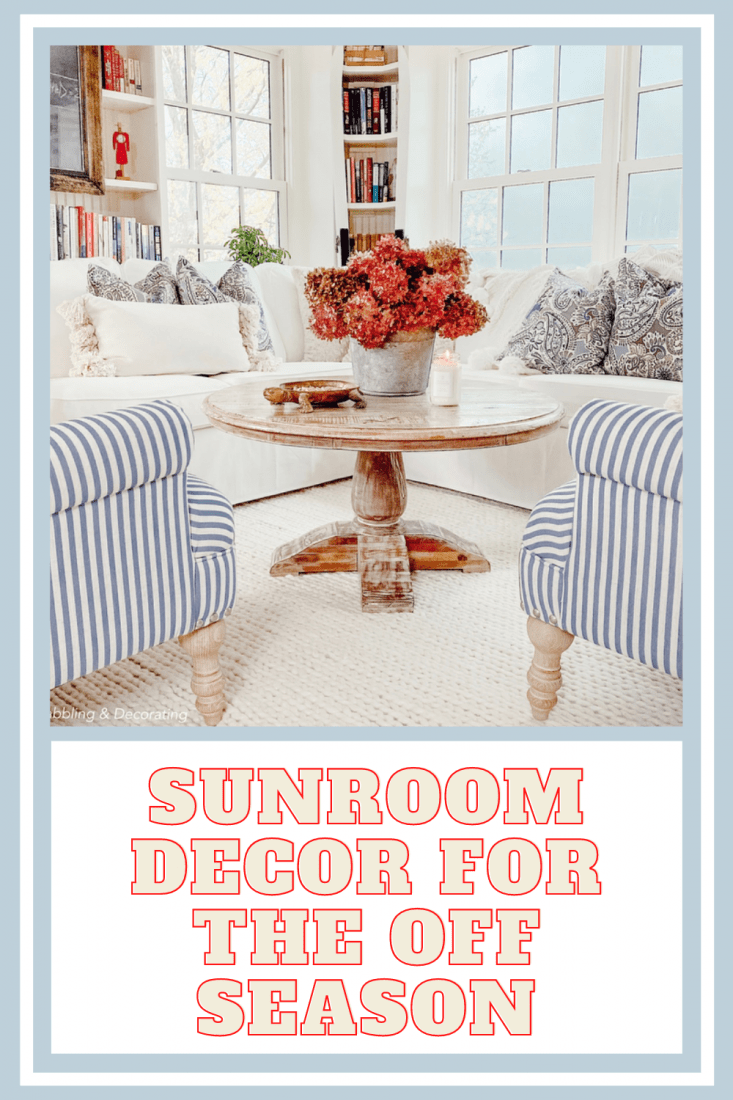 I've created the above custom pin just for this post! Hearing from you makes my day and your comments mean so much to me! Please join me over on Instagram & Pinterest to see more!
YOU MAY ALSO LIKE