Are you ready for spring and looking to get inspired with some fresh spring home decor ideas? Then you've come to the right place today, friend! Today I'm sharing our Coastal New England vintage-styled bedroom elegantly decorated with blue and white seersucker bedding from Schweitzer Linen!
And I'm so excited to be part of the Bloggers Best Spring Home Tour hosted by Kelly from The Tattered Pew and Mansa from This is Simplicite. If you stopped by from Pasha over at Pasha is Home welcome to our home here in coastal Maine. I just love Pasha's Wunderlust and creative home ideas!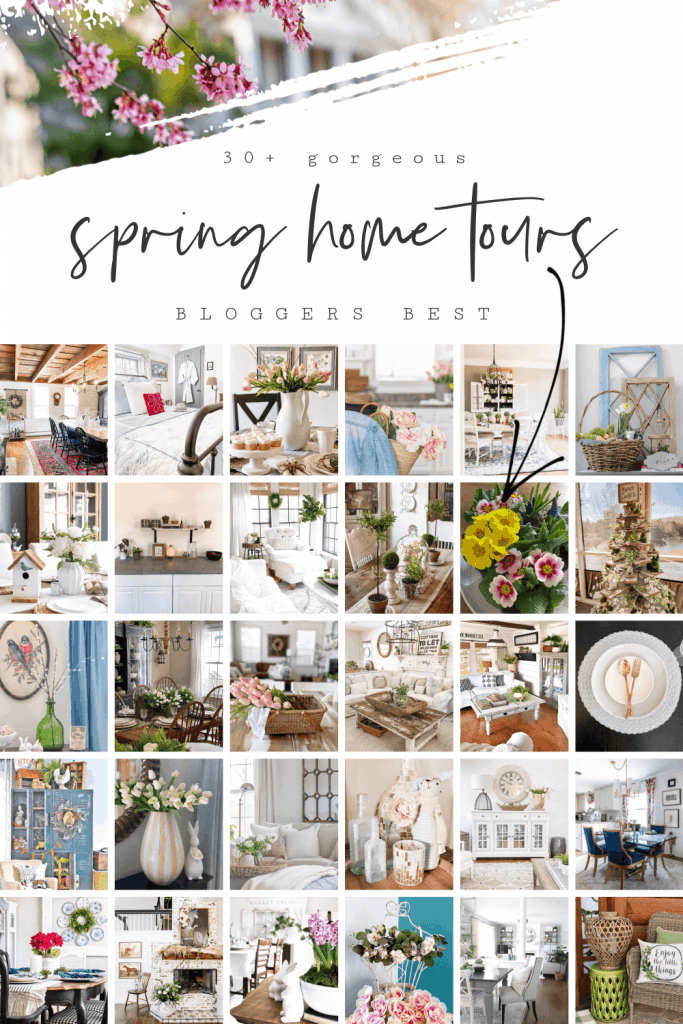 This is a home we inherited from my parents a year ago and have been renovating and redecorating. Join me here to see more. And today I'm sharing a guest bedroom in the home with new seersucker bedding from Schweitzer Linen. A dreamy bedroom set that is perfect for both spring and summer.
Seersucker
When I think of seersucker I think of men in blue and white pinstripe suits, ladies dressed in pink and white pinstriped summer dresses, and children in shorts, enjoying a coastal lifestyle. When Schweitzer Linen reached out to me to collaborate, I was dreaming over their blue and white seersucker bedding for our coastal Maine home. And today I'm very excited to share our guest bedroom with this beautiful seersucker bedding.
You may also enjoy this DIY License Plate Hat Rack and Wall Decor I made for this room too from vanity license plates that I found in my father's old shed.
Seersucker Bedding!
Seersucker is a thin, puckered, all-cotton commonly striped or chequered, used to make clothing for spring and summer wear. Common items made with seersucker include suits, shorts, shirts, curtains, dresses, and robes. The most common colors for it are white and blue; however, it is produced in a wide variety of colors, usually alternating colored stripes and puckered white stripes slightly wider than pinstripes. Source, Wikipedia.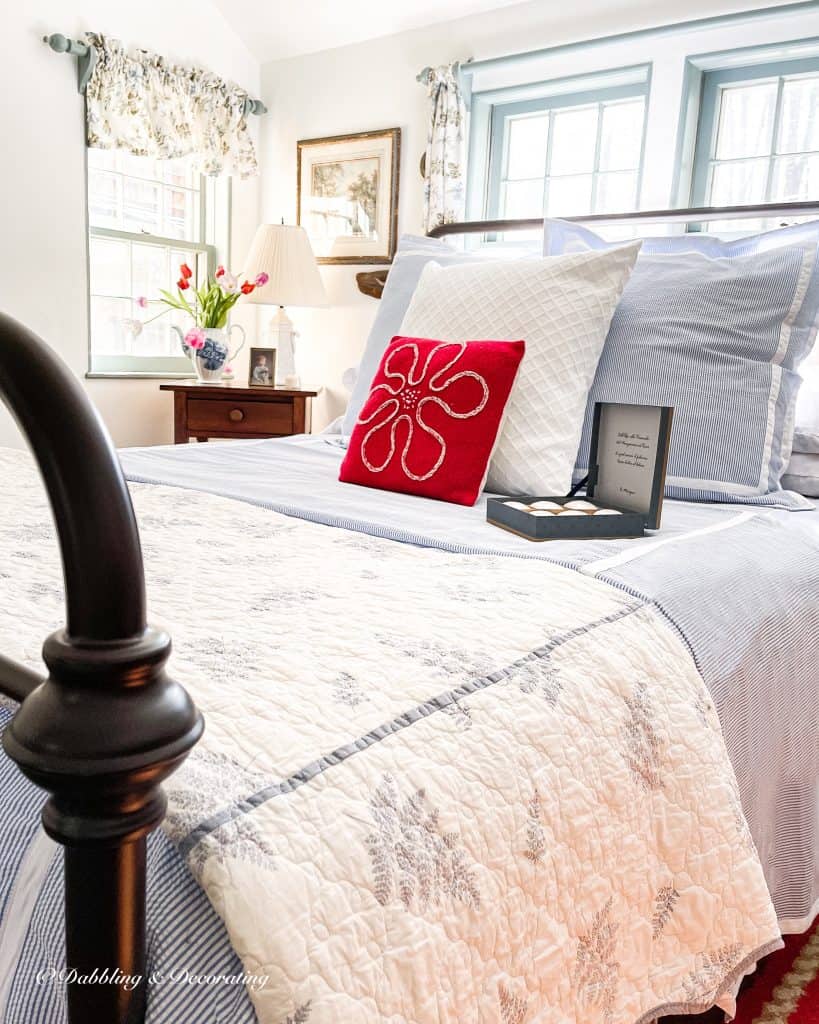 Schweitzer Linen has been established as the premier supplier of high-quality, luxury linens in Manhattan, NY for over 50 years. One of their fabulous strengths is the ability to produce a fully customized product. Schweitzer Linen can take your color schemes and design ideas and execute them to give your master bedroom, your guest rooms, or your dining table the stunning effect you are looking for – all with the finest fabric it is possible to find!
Easy care and shrink resistant, Portland is made from cotton and poly/cotton blend. The blanket covers, duvet covers, and shams come in white with blue stripes each featuring a white border and trim. Imported from Italy.

You may also enjoy the post, Coastal Bedding Ideas For Your Beach House.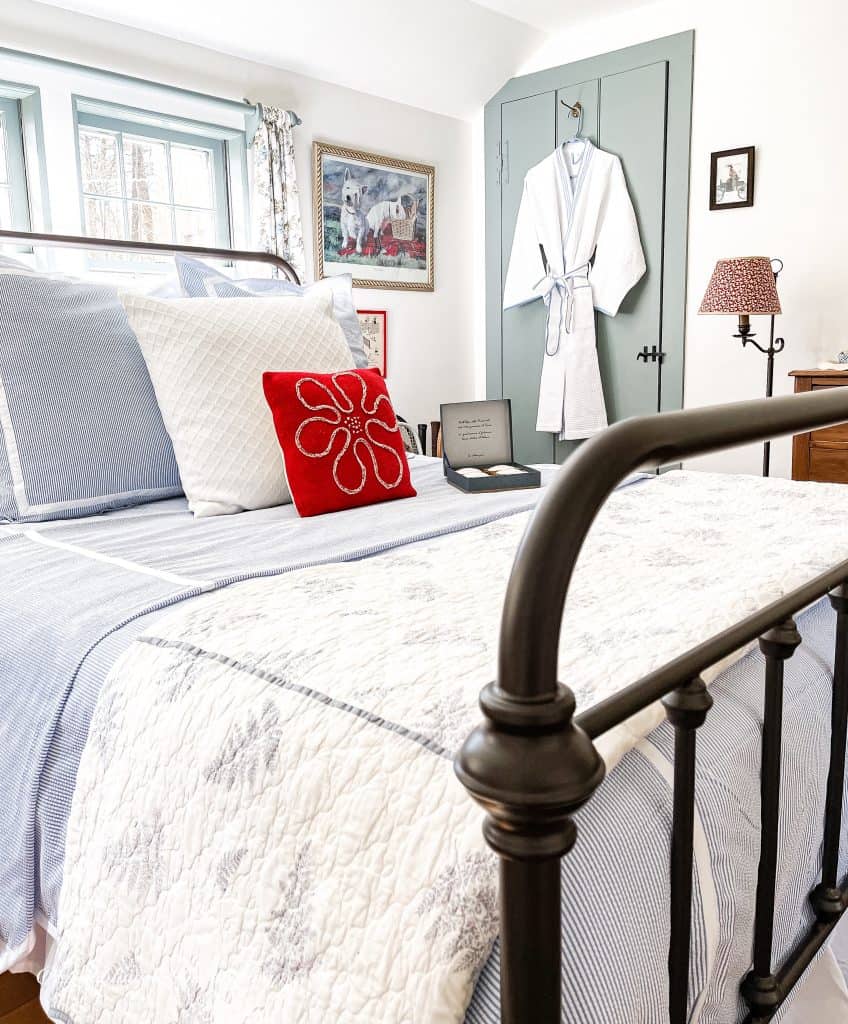 At the bottom of the bed, I added a vintage blue quilt that I found in an attic trunk. Marrying up the new seersucker bedding with touches of vintage charm.
You may also enjoy A Bernese Mountain Dog & The Gift of a Whale post.
Soaps made by Rancé added to any guest bedroom or bathroom are sure to please any of your guests. These beautiful all-natural hand-pressed soaps revitalize even the most delicate skin. Made in Italy for more than two centuries and they smell simply amazing. Adding these kinds of details to your guest bedroom will surely be noticed!
A favorite of mine to add to a guest bedroom is a bathrobe. Guests never think to pack a robe and to have one available is thoughtful. This Fresca Robe is unisex and oversized with three-stripe blue piping that matches the coastal style seersucker bedding.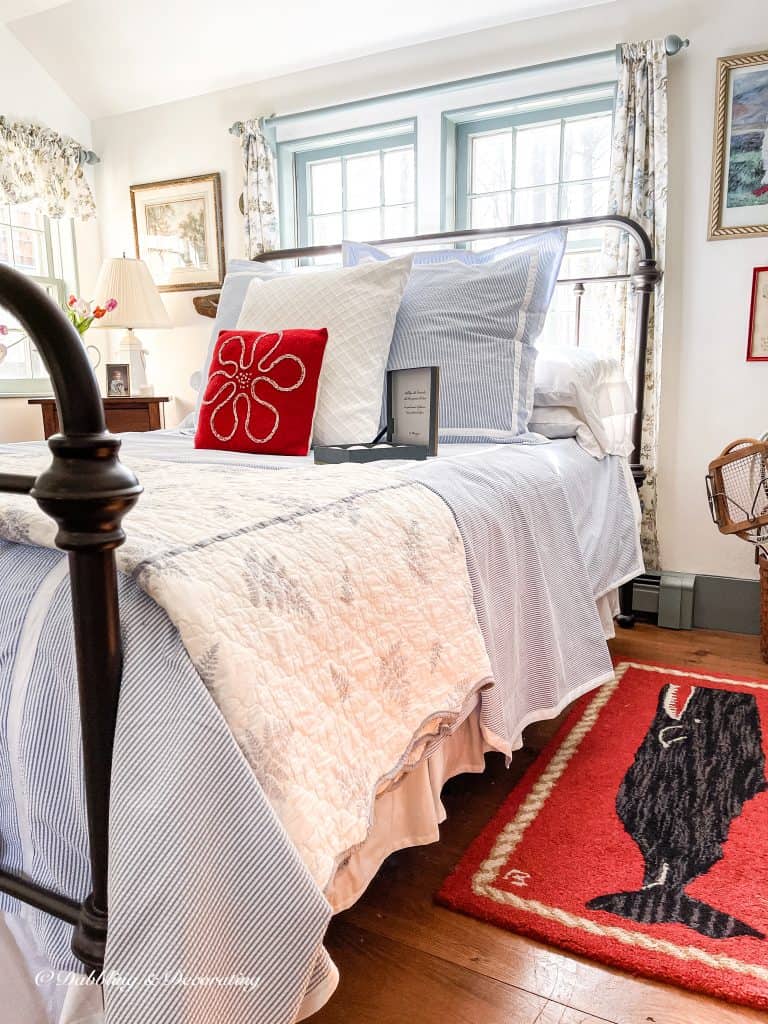 You may also enjoy seeing "How to Create an Inviting Guest Bedroom" and Schweitzer Linen's Fiore bedding collection at our home in Vermont too.
I love how Schweitzer Linen's seersucker bedding matches beautifully with the vintage touches of the home.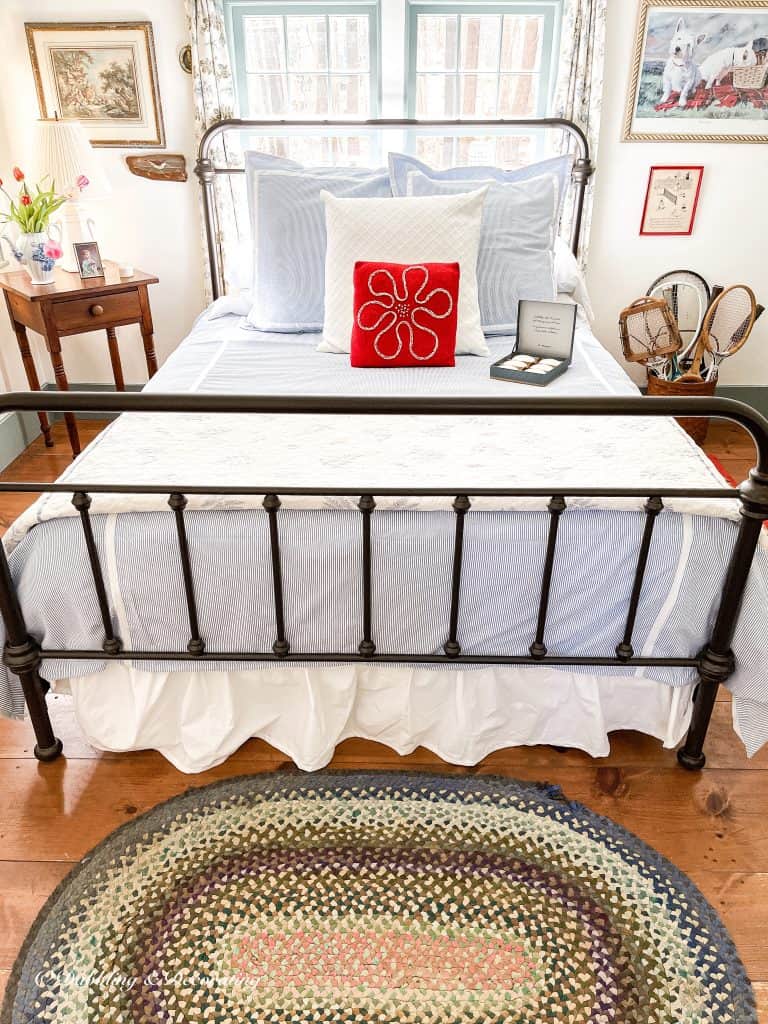 An old braided rug, made by my mother, lies at the end of the wrought iron bed. And I added some colorful spring tulips to the antique nightstand in a thrifted teapot.
In the corner sits a basket of my father's old tennis racquets. A collection of his that he used until he stopped playing at the age of 86. Such a treasure to have.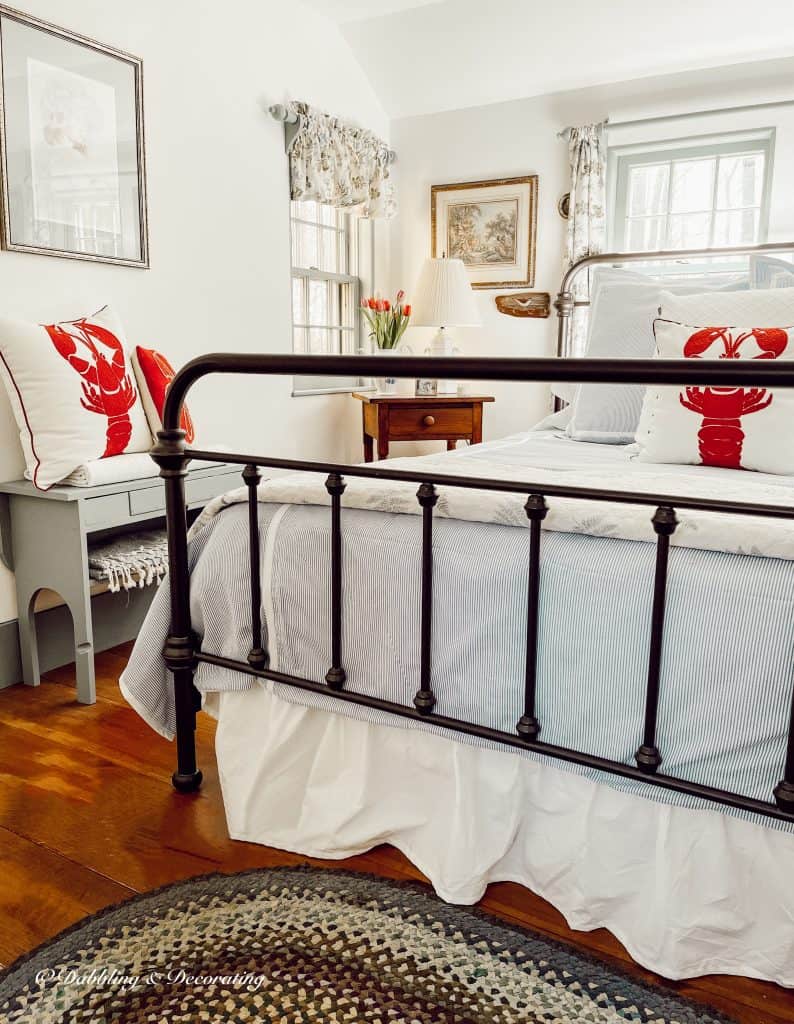 The floors in this guest bedroom still need to be refinished to match the floors throughout the house. Something we hope to have completed sometime this spring. We will leave them stripped and apply polyurethane, for a brighter look. To see more of our coastal Maine home visit my featured blog series "In My Mother's Home".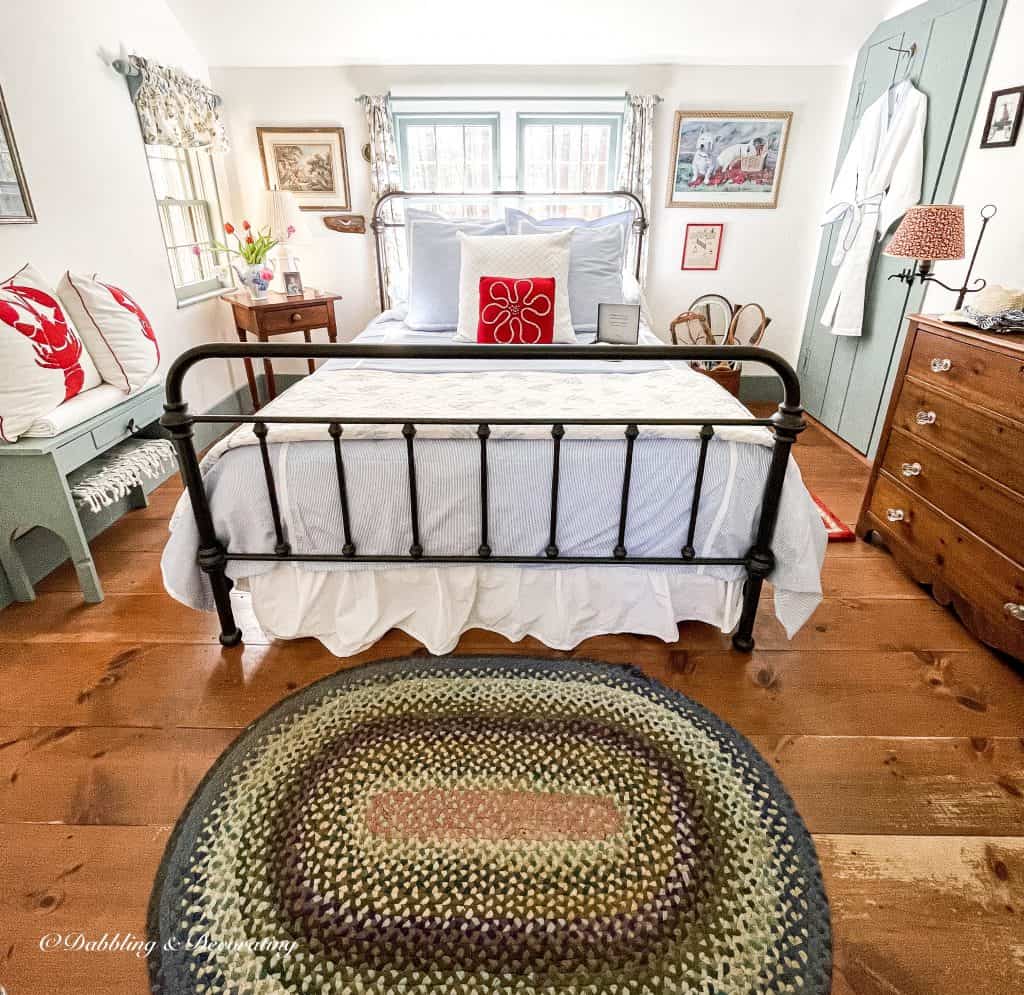 I'm so glad you dropped by today, friend, and if you are new to my blog, welcome! I hope you enjoyed your visit with us here today at our home in coastal Maine.  Please join me as a regular here at Dabbling & Decorating. Sign up for my newsletter below and never miss an update!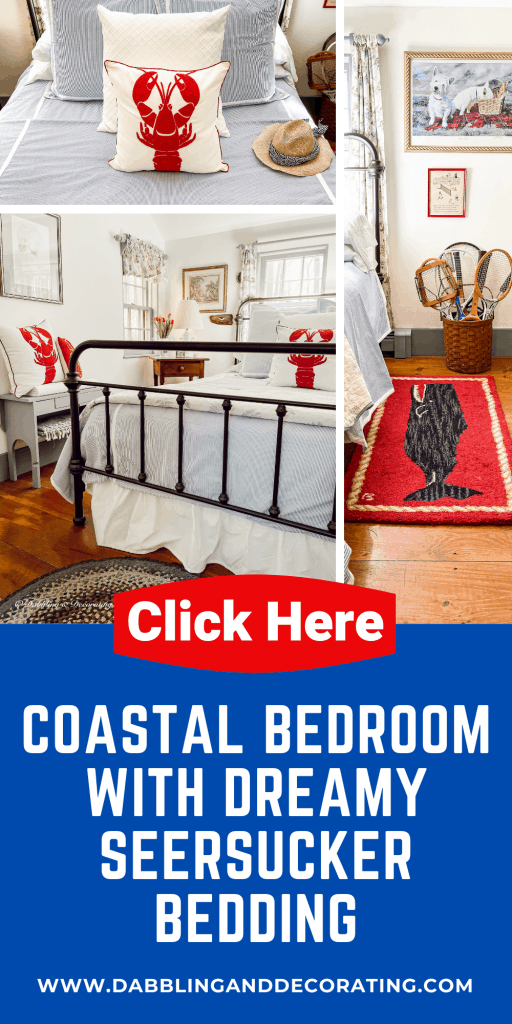 I've created the above custom pin just for this post! Sharing is Caring! I would love to hear from you too~ Your comments mean so much to me and truly make my day… Please join me over on Instagram & Pinterest to see more!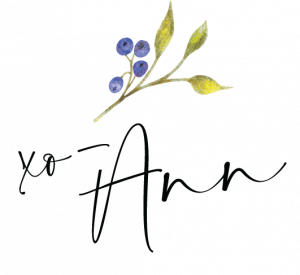 Next up on today's tour is Crissy over at The First Day of Home. Crissy is such a talented crafter and DIYer. I know you will love what she is sharing with you today!
Bloggers Best Spring Home Tour
This week I'm joining some of my lovely blogging friends for the Bloggers Best Spring Home Tours! All week long we are welcoming you into our homes decorated for spring. You can visit each tour by clicking on the links below the images!
Monday's Tours

Tuesday's Tours

Wednesday's Tours

Thursday's Tours

Friday's Tours

YOU MAY ALSO ENJOY