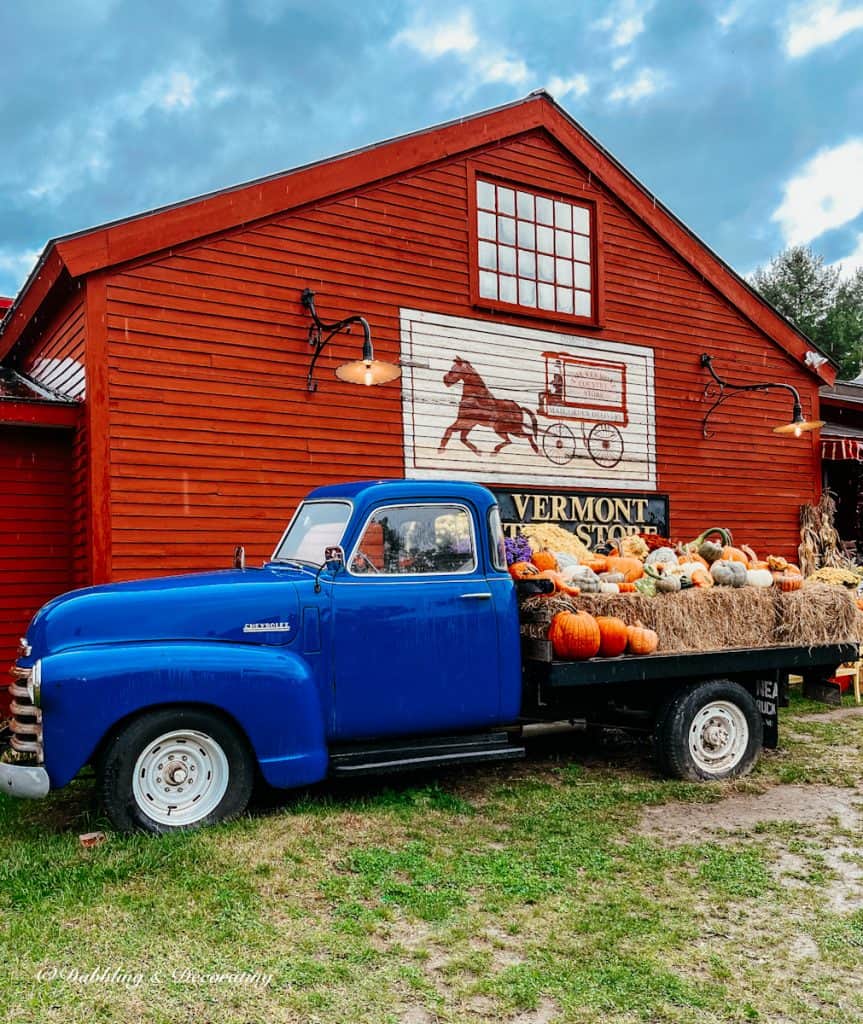 Today I drove over and spent the day at The Vermont Country Store in Weston, Vermont. The Vermont Country Store, are purveyors of the "Practical and Hard to Find" since 1946. They feature heritage products and brands from the past. They have two locations in Vermont, one in Weston and the other in Rockingham. You may also visit their online store and shop online or thru their catalogs. It is truly a step back in time.
The Vermont Country Store is owned by Lyman Orton and their sons Cabot, Gardner, and Eliot. 7th and 8th generation Vermonters and 4th and 5th generation storekeepers.
Fall in Vermont is always special with all the beautiful mountain foliage. And so is a trip to The Vermont Country Store. It has such a quaint and New England feel to it that just makes you happy.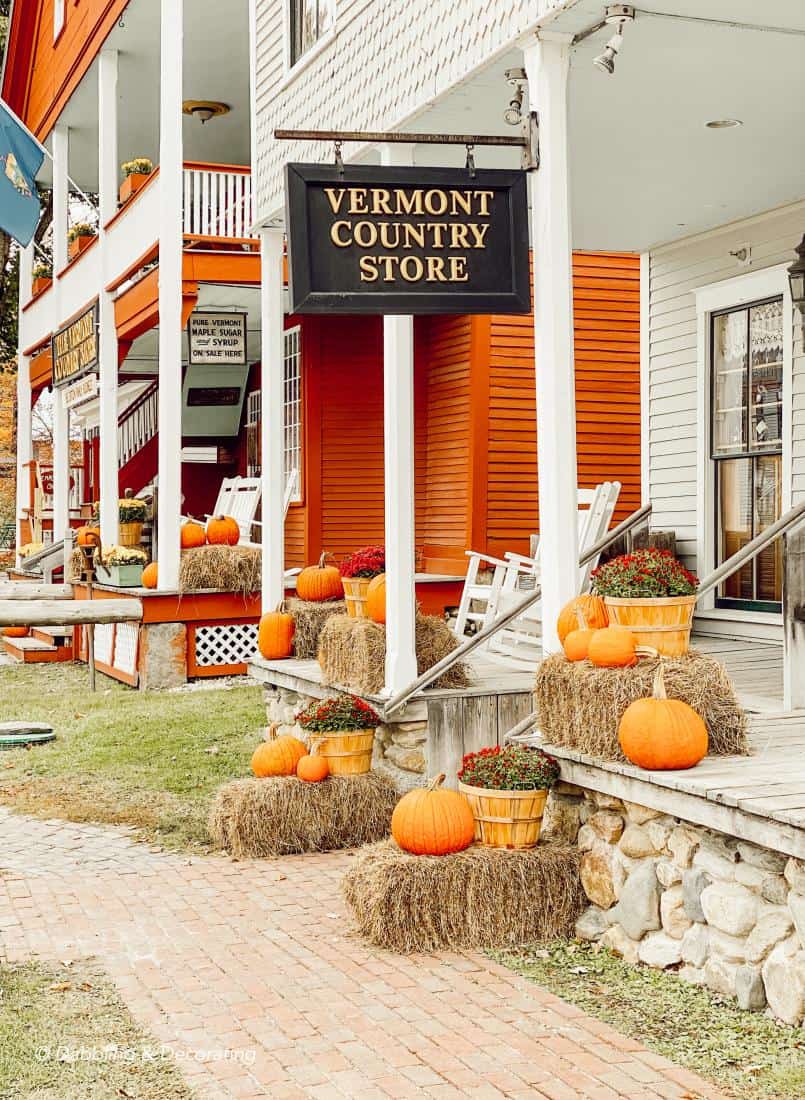 Upon entering you may choose one of their cutest little carts and bag to shop with.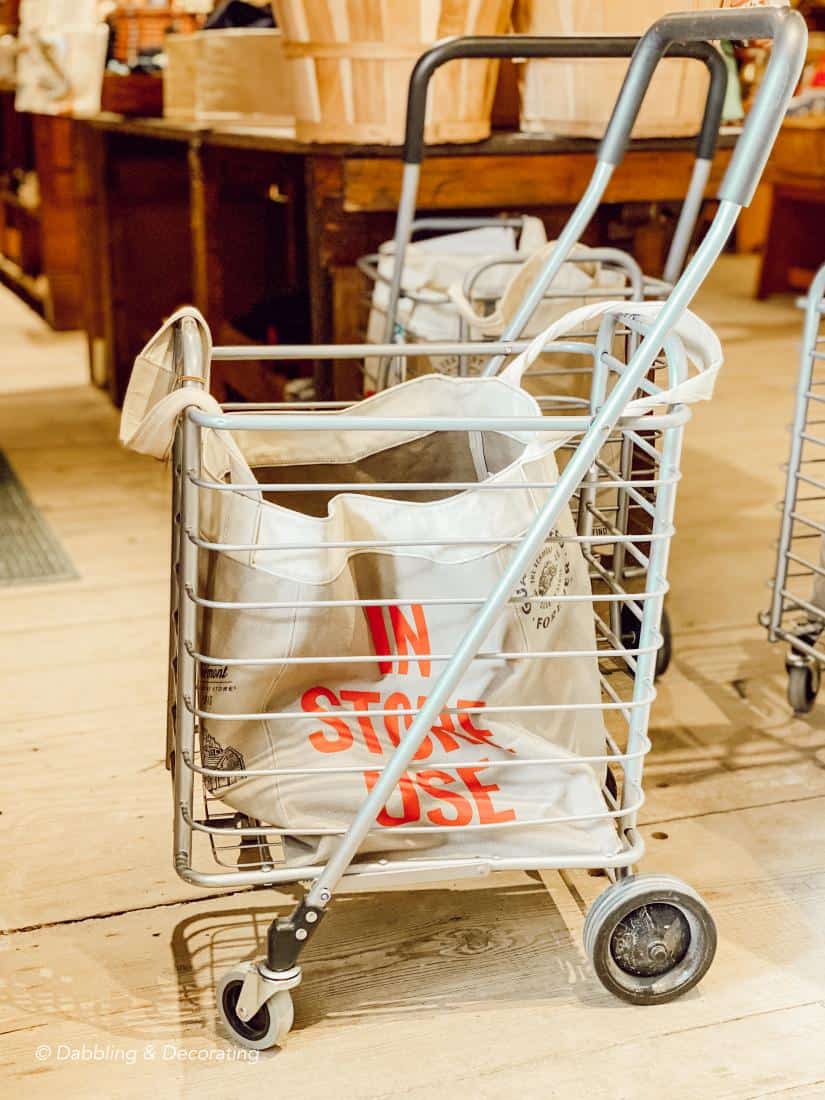 Grab a cold Coca-Cola too from one of the old-fashioned Coca-Cola coolers.
This store is broken into different sections for you to shop.
Women and Men's Clothing / Bath and Soaps / Pets / Toys / Bedroom & linens / Kitchen / Cleaning Supplies / Maple Syrup / Candy / Cheese, Crackers & Dips / Christmas. There are many other miscellaneous products scattered within as well.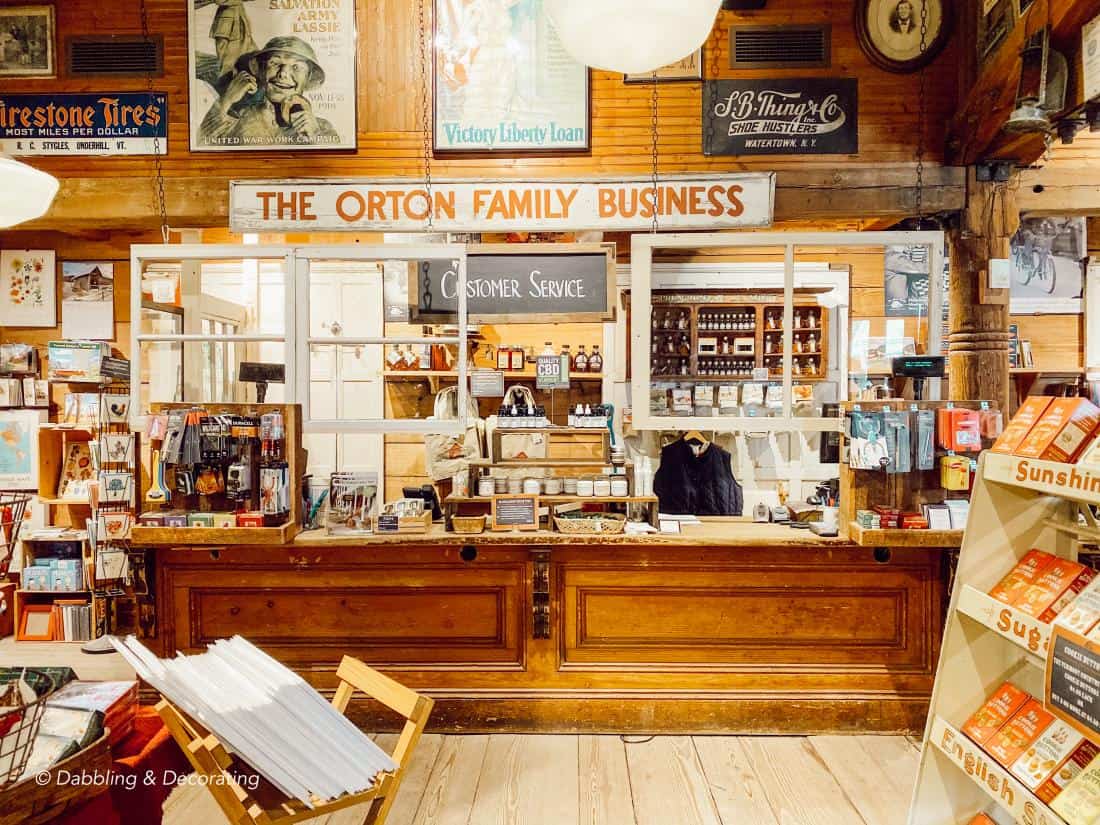 Looking for some more Fall ideas? You may like this simple Autumn or Thanksgiving Table at our home here in Vermont.
Hiking and Gathering for Fall Home Elements.
Our Vermont home sunroom decorated for fall.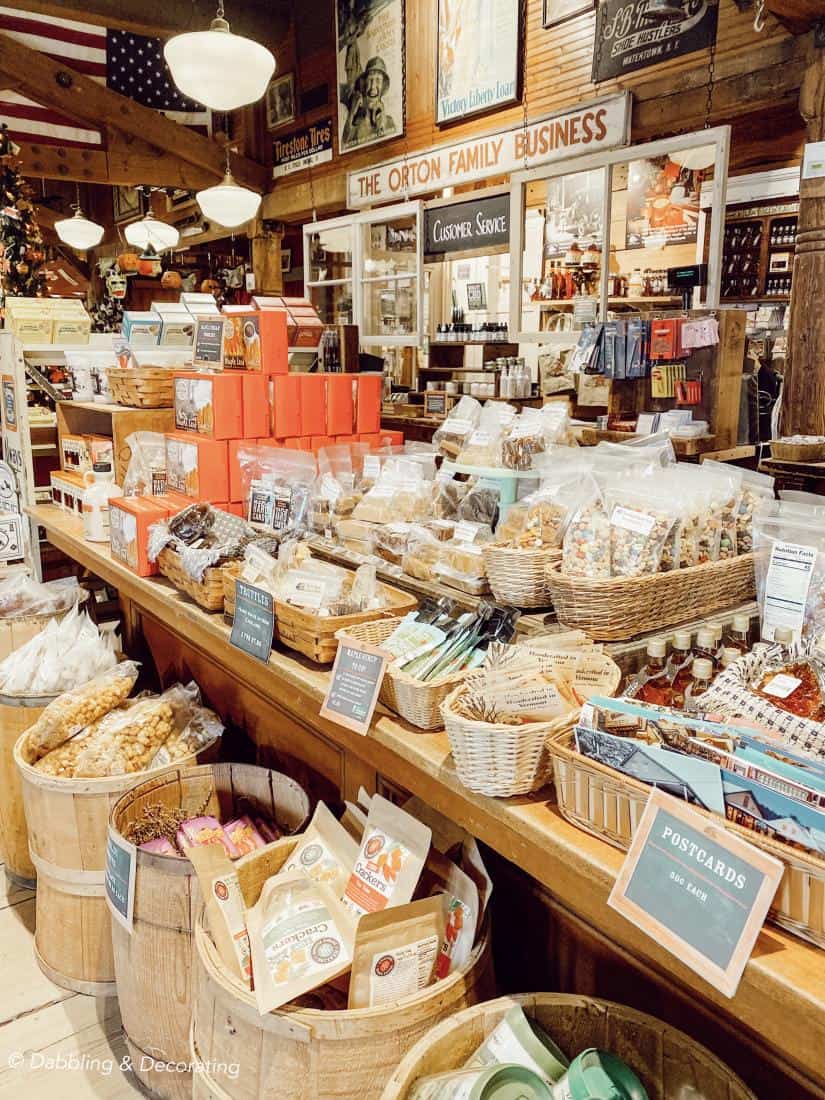 The Vermont Country Store is chock-full of goodies from days gone by. You will discover products you'll remember from your childhood that you will not believe. Like these bottles of Lemon Up! Be truthful, do you remember this shampoo from the '70s if you are old enough to remember?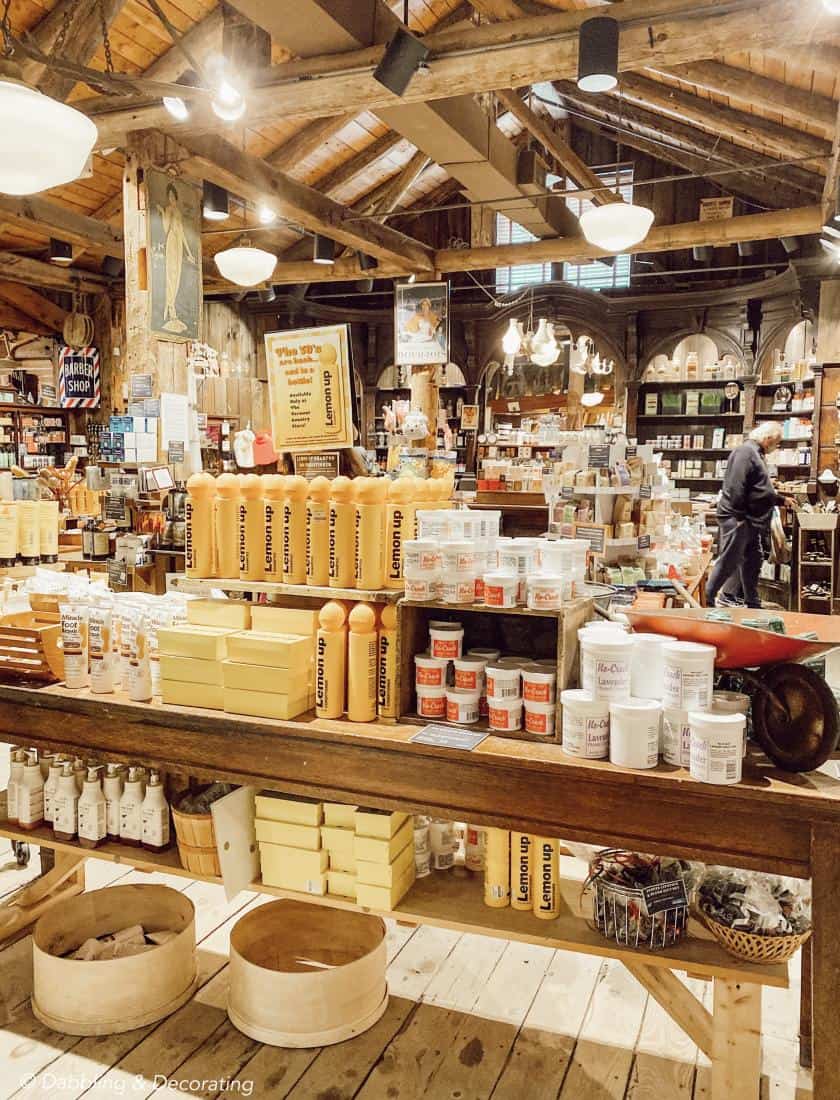 And where do you ever see people weighing themselves in public? I had to wait for the line to go down before taking this photo of this old-fashioned scale where people actually wait in line to weigh themselves.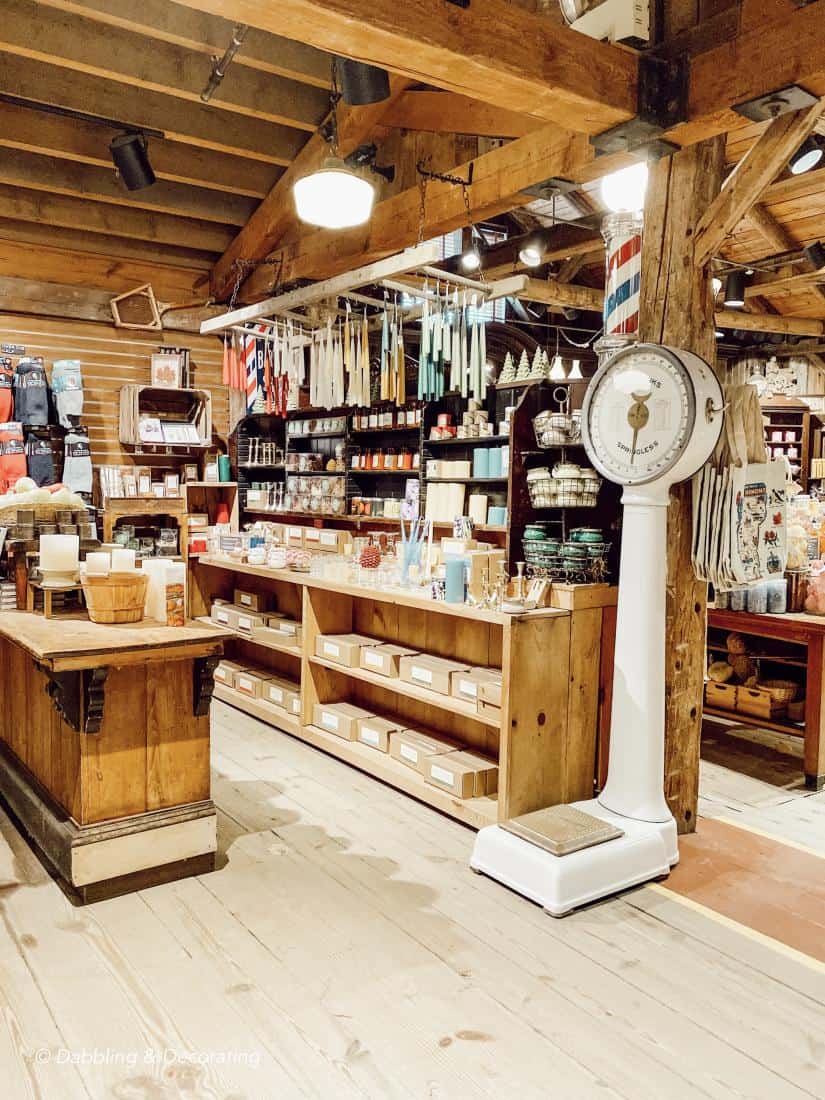 Reduce Reuse
Another section worth mentioning is the "Reduce Reuse" section of recycled products. And isn't this building absolutely beautiful with all its wooden beams and flooring? It's filled with all the character of an old New England home or barn filled with products that warm you up on a Vermont fall day! I promise!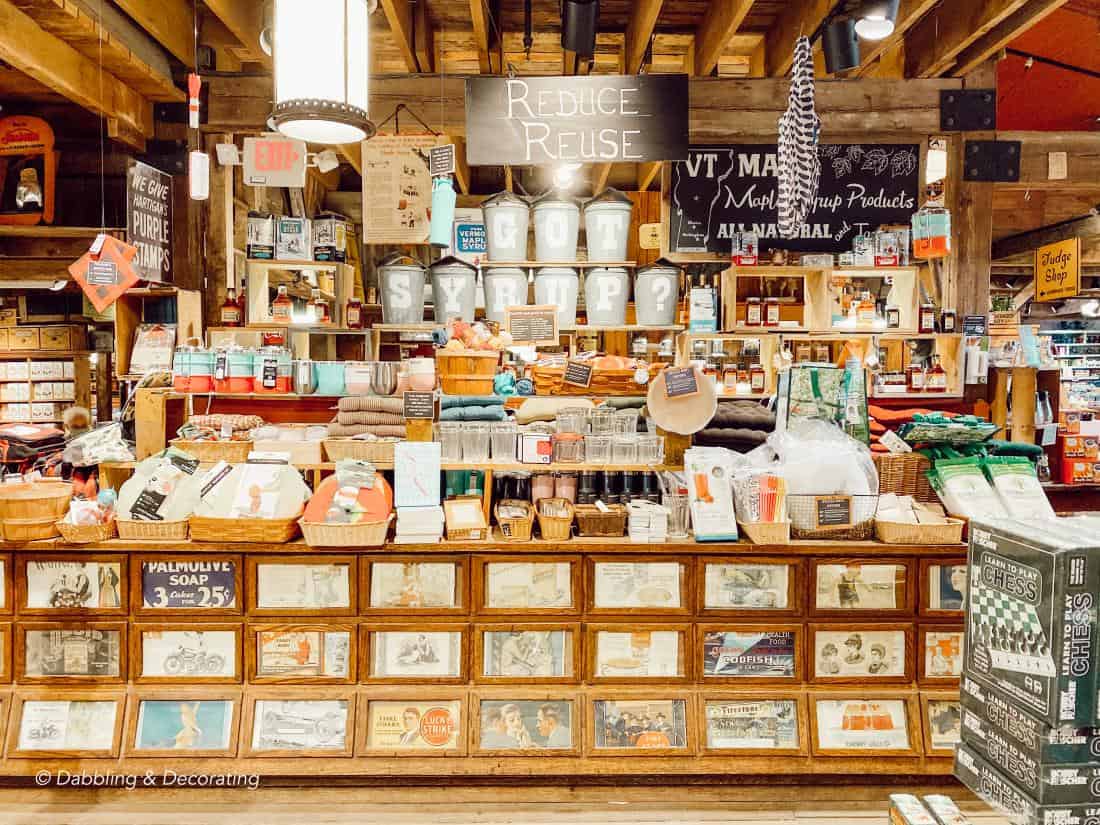 Old Fashioned Penny Candy Counter
The old-fashioned penny candy section is ominous really, with a full candy counter where you can create your own assorted candy bags. Homemade chocolates of all kinds and you will find all the candies from days gone by here too. Super delicious!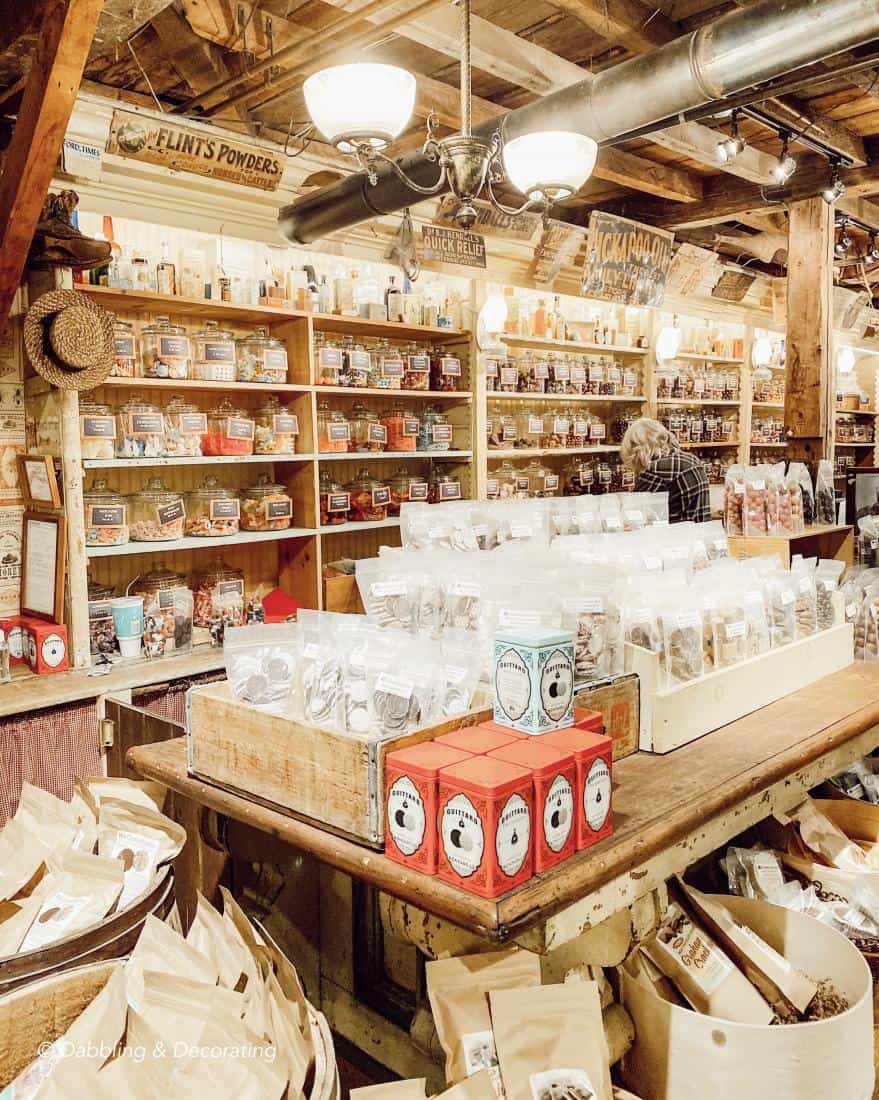 No country store in Vermont is complete without its own cheese room! The cheese room at The Vermont Country Store also includes dips, sauces, pickles, and pasta. It's such a delight.
How to Build the Perfect Cheese Board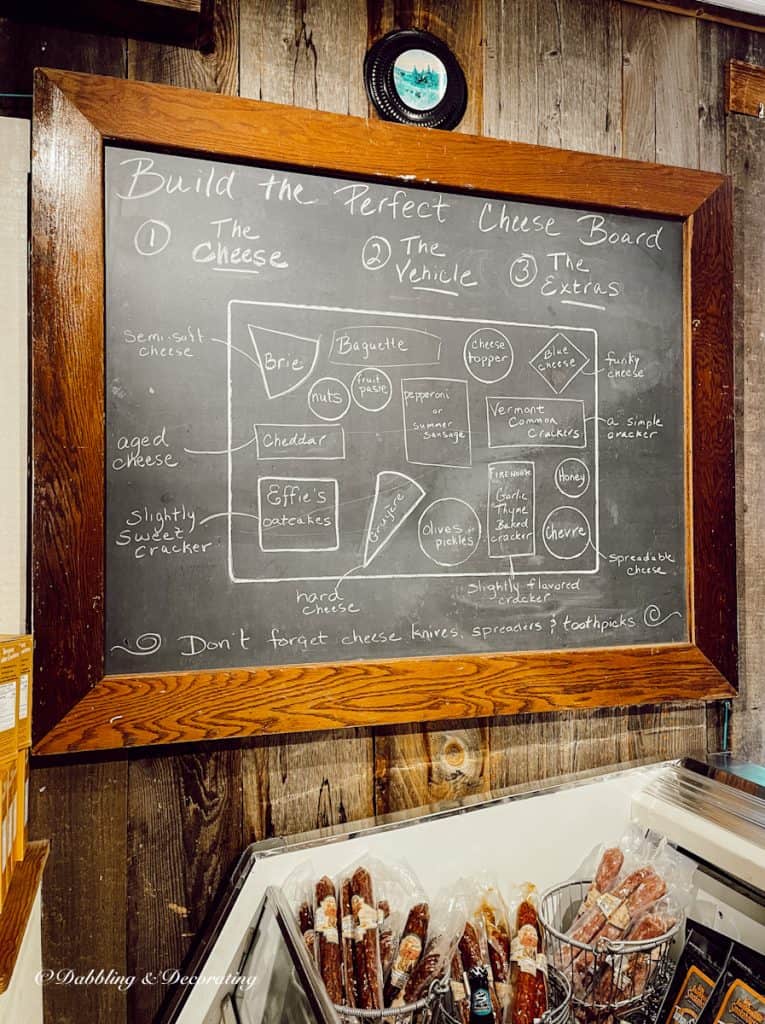 Check out the post, How to Assemble the Perfect Cheese Platter | Vintage Style inspired by my visit to The Vermont Country Store.
You may also enjoy our Vermont Fall Foliage Home Tour.
Cheese Room
*Pre-pandemic you could taste all the cheeses and dips, which was so much fun.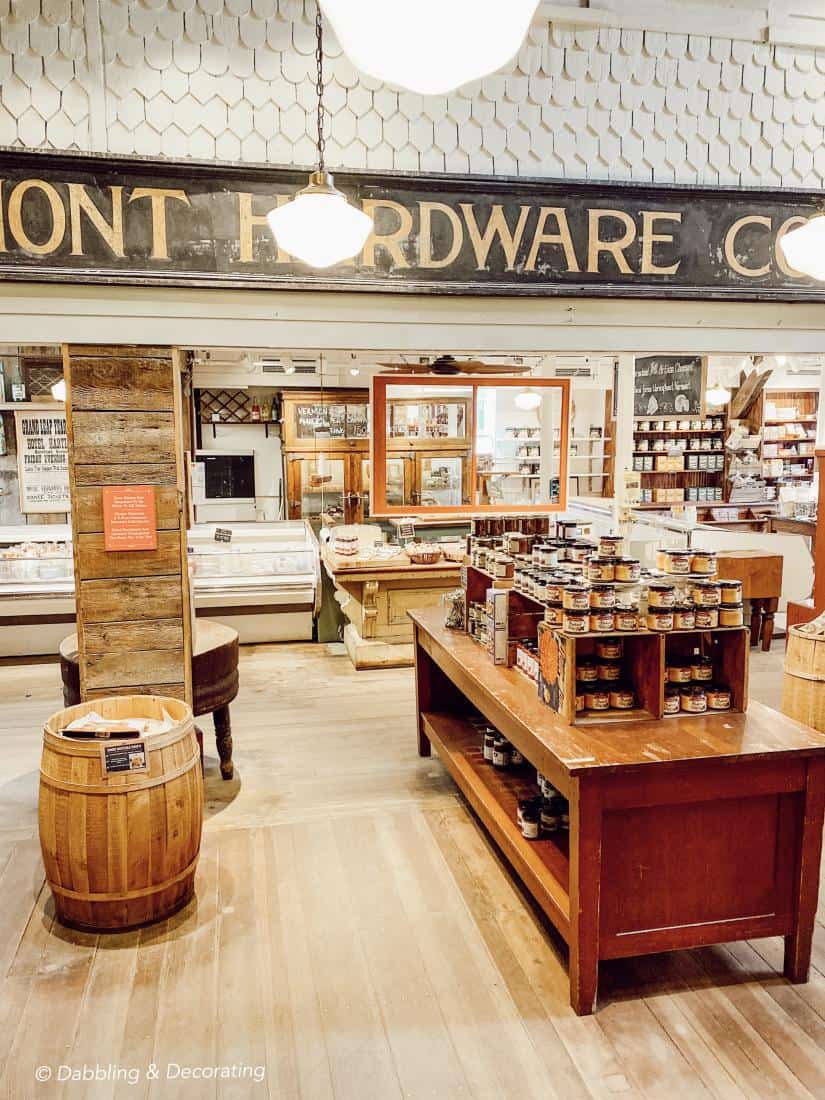 Vermont Maple Syrup
And we can't forget all the Vermont maple syrup. Vermont is the nation's leading producer of maple syrup. Producing over 2 million gallons of syrup in 2020, Vermont generated over 50 percent of the country's maple syrup, which stems from more than 1,500 sugarhouses statewide. And if you haven't tried Vermont's rich maple syrup paired with Vermont cheddar cheese, you are seriously missing out!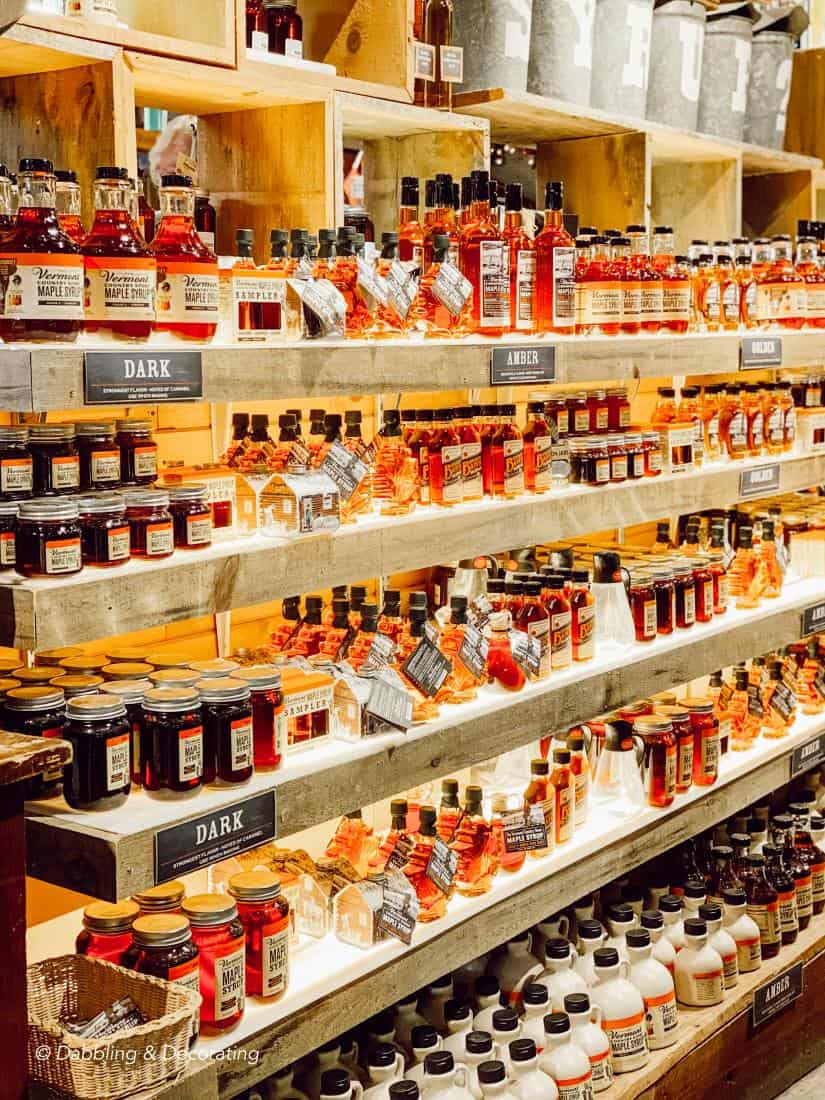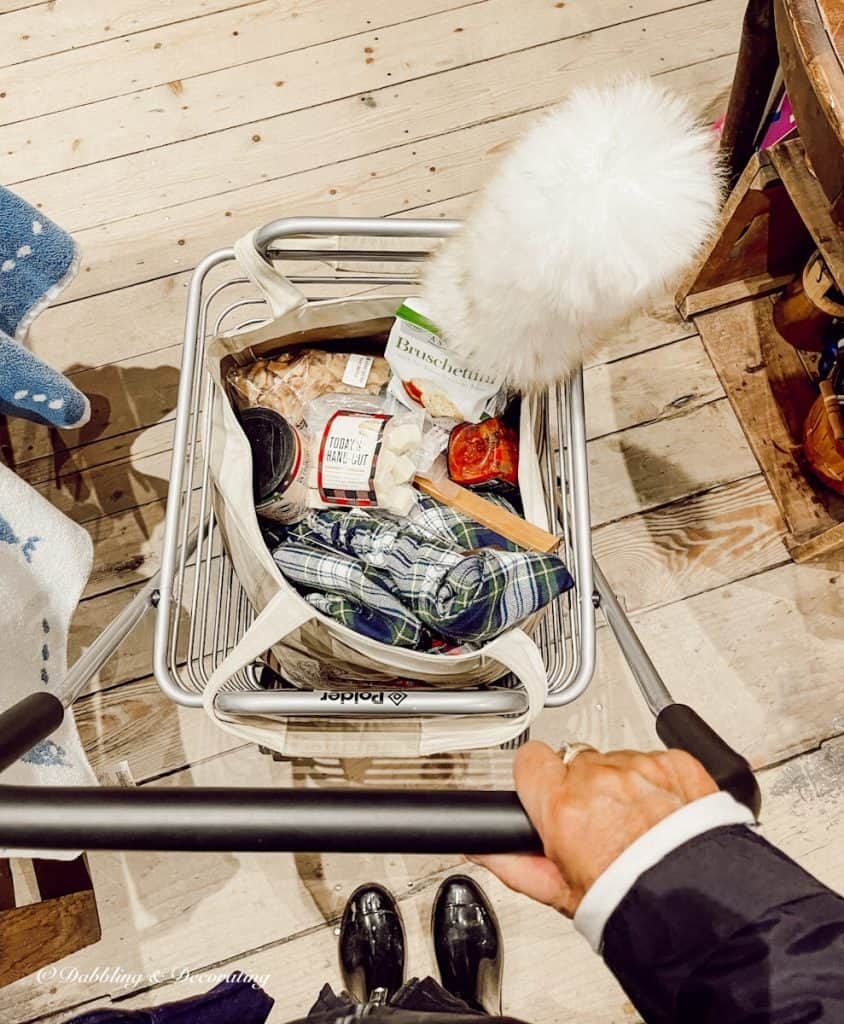 Mildred's Grill at The Vermont Country Store
And upon leaving you'll want to grab a homemade dish made with all the cheese, syrups, dips, etc. at Mildred's just outside the steps of The Vermont Country Store.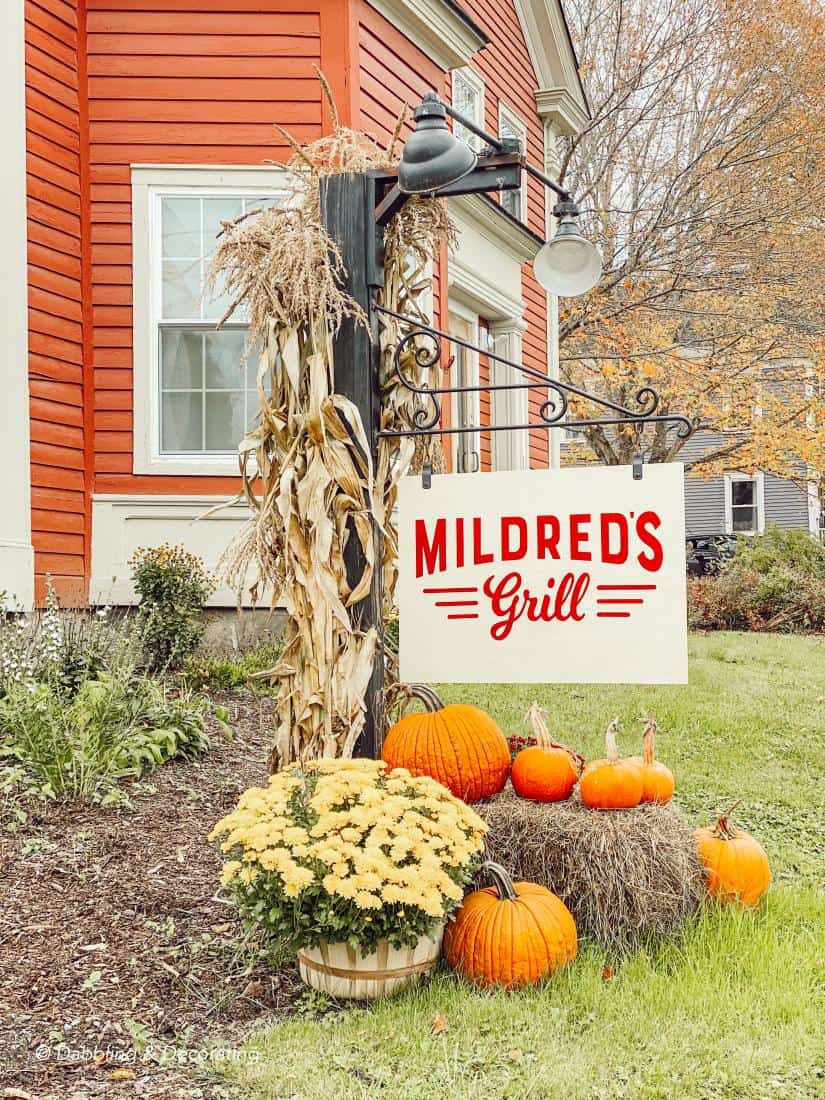 You may also enjoy the post, Sugar Glider Kitchen School with Gesine Bullock-Prada of "Baked in Vermont", Insights from a Novice.
Fall at the Vermont Country Store 2021
This year I returned to The Vermont Country Store for an inspiring fall trip that I shared with Thrifting with the Gals!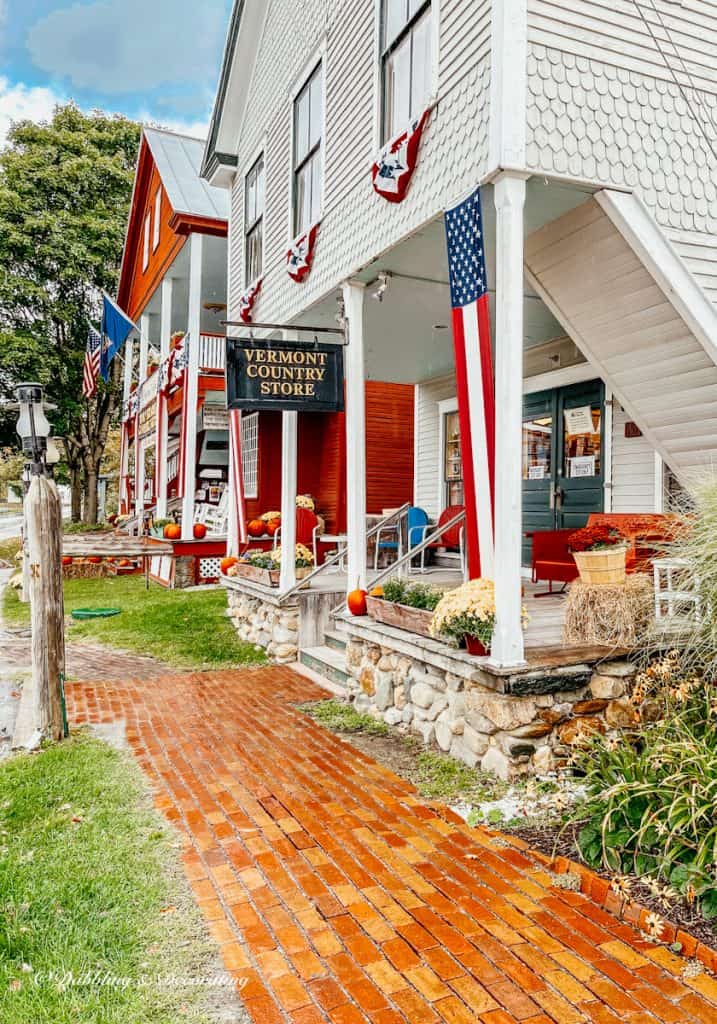 I've created the above custom pin just for this post! Hearing from you makes my day and your comments mean so much to me! Please join me on Instagram & Pinterest to see more!
Christmas at the Vermont Country Store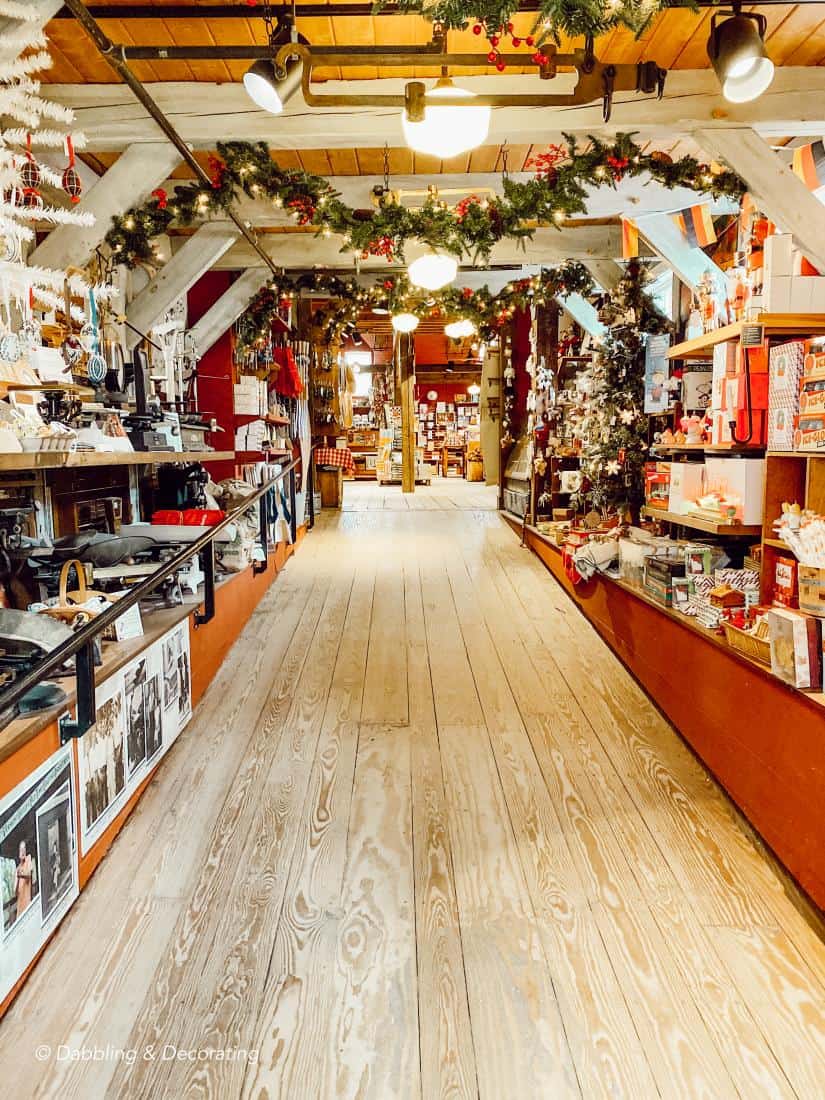 This Week's Guest Host on the Blog