When I want to be inspired, there's absolutely nothing like a visit to the homes in Sweden. But I couldn't just stop there!
And with all the vintage ski lodge decor this year, I thought a "Homes in Sweden" round-up would be such a natural fit.
As I sit here at our home in the mountains of Vermont between Christmas and New Year, I look to my Nordic friends today for winter decorating ideas because;
Homes in Sweden Embrace
Minimalism
Abundance of candles
Crackling fires
Comforting foods
Reds and blues
Snow
Vintage
And of Course The Swedish Mys
"Pronounced mees"
Like the Danish have their Hygge, the Swedes have their Mys, "Hygge is much broader than mys," said Malin Lindqvist, a Swedish fabric designer. "The essence of mys is the feeling of warmth, like being wrapped in a woolen blanket amid lighted candles while sipping a steaming mug of tea with a purring cat on your lap."
My 10 Favorite Homes in Sweden
Most of these homes are shared on Instagram along with a few infamous blogs like this first one here…
This Norway home could not be more inspiring if it tried. You will find yourself immediately immersed in Nordic coziness, stunning style, and oh-so-warm and inviting!
This home in Sweden inspired our Nordic blue door on our red home here in Vermont. A favorite of mine to follow on Instagram.
You may also enjoy seeing our Christmas Home Tour of 2022.
This home is actually in Finland but one of the most inspiring Nordic homes ever. Oh, how I would love to visit Susanna's red home and enjoy one of her daily coffee cups with her! Join Susanna over here on Instagram.
This post may contain affiliate links which won't change your price but will share some commission."
Shop Homes in Sweden on Etsy
(click on any of the images to shop the products)

Lisbeth embraces the darker antiques and vintage style that is again so welcoming and Nordic in style. You will just adore Lisbeth's Instagram account here from her beautiful home in Norway.
Sebastian is a blogger and interior decorator who shares apartment living in Stockholm along with his family home out in the country. Sebastian embraces all things colorful and vintage. And his breakfasts are like no other. My favorite all-time Instagram stories too!
Mary shares her life in blue from a rented apartment in a 60s building in Gothenburg Sweden. Join Mary here on Instagram and immerse yourself in all things blue.
Nina believes decorating is all in the details. She shares the most beautiful winter scenery from her home in Sweden. Amazing outdoor winter inspiration!

Trude shares a beautiful vintage style from her home in Sweden. Her neutral decor is paired with beautiful pops of pastel colors that will certainly have you swooning!
Therese decorates her home in Sweden with dear heritage, flea market finds, and other old things that just feel good to her.
10. Homes in Sweden
And my #10 favorite home in Sweden is the actual Instagram account "Homes in Sweden". Where daily inspiration from their favorite homes in Sweden is shared!
Now let's check out these same 10 favorite Scandinavian homes decorated for spring!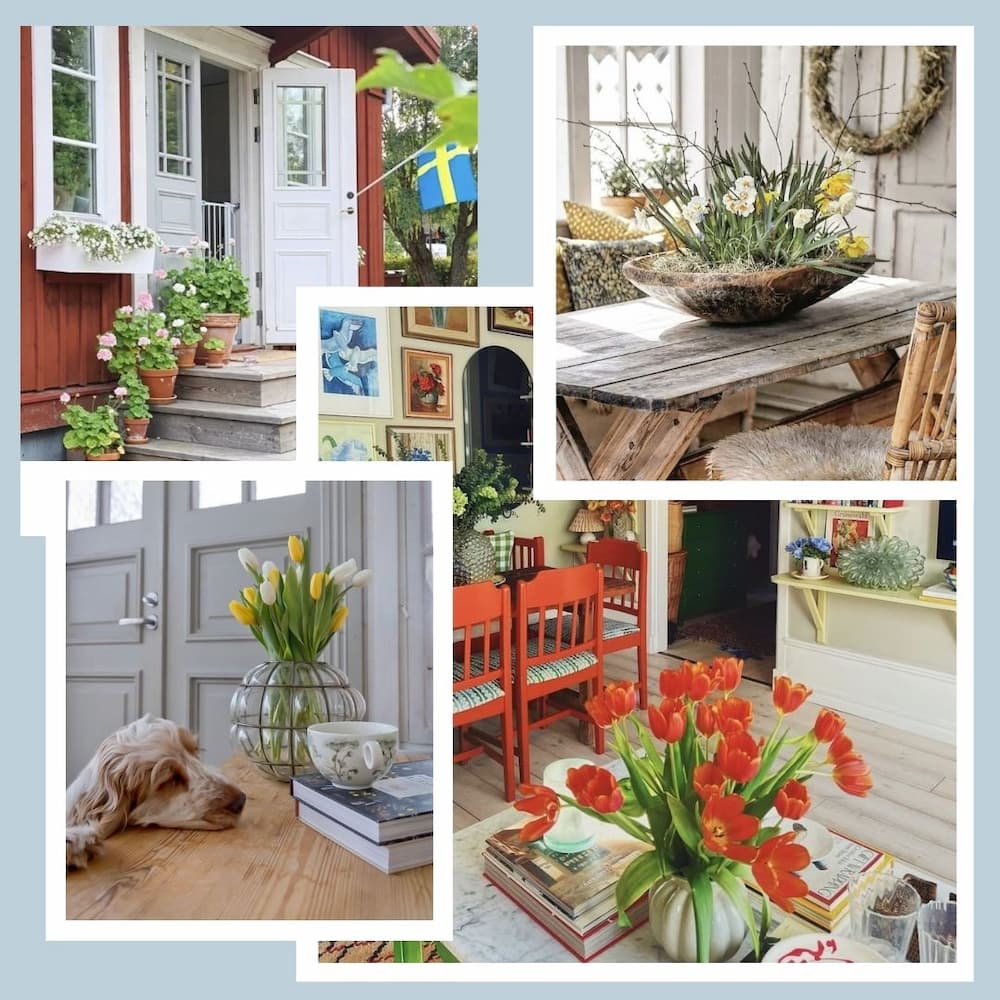 And these 10 Scandinavian cottages decorated for summer!
I'm so glad you dropped by, and if you are new to my blog, welcome! I hope you enjoyed your visit with us here today with these 10 favorite homes in Sweden.
Be sure to also check out our Home in Coastal Maine too where we spend summers and weekends when we are craving a walk on the beach or a visit with old friends.
I've created the above custom pin just for this post! Hearing from you makes my day and your comments mean so much to me! Please join me on Instagram & Pinterest to see more!
YOU MAY ALSO LIKE
Shop Homes in Sweden on Etsy
(click on any of the images to shop the products)