Do you ever look at all those old salvaged windows at second-hand shops and wonder what could I ever do with these? Well, today I'm sharing 16+ easy salvaged window decorating ideas that you can easily implement right away in your own home.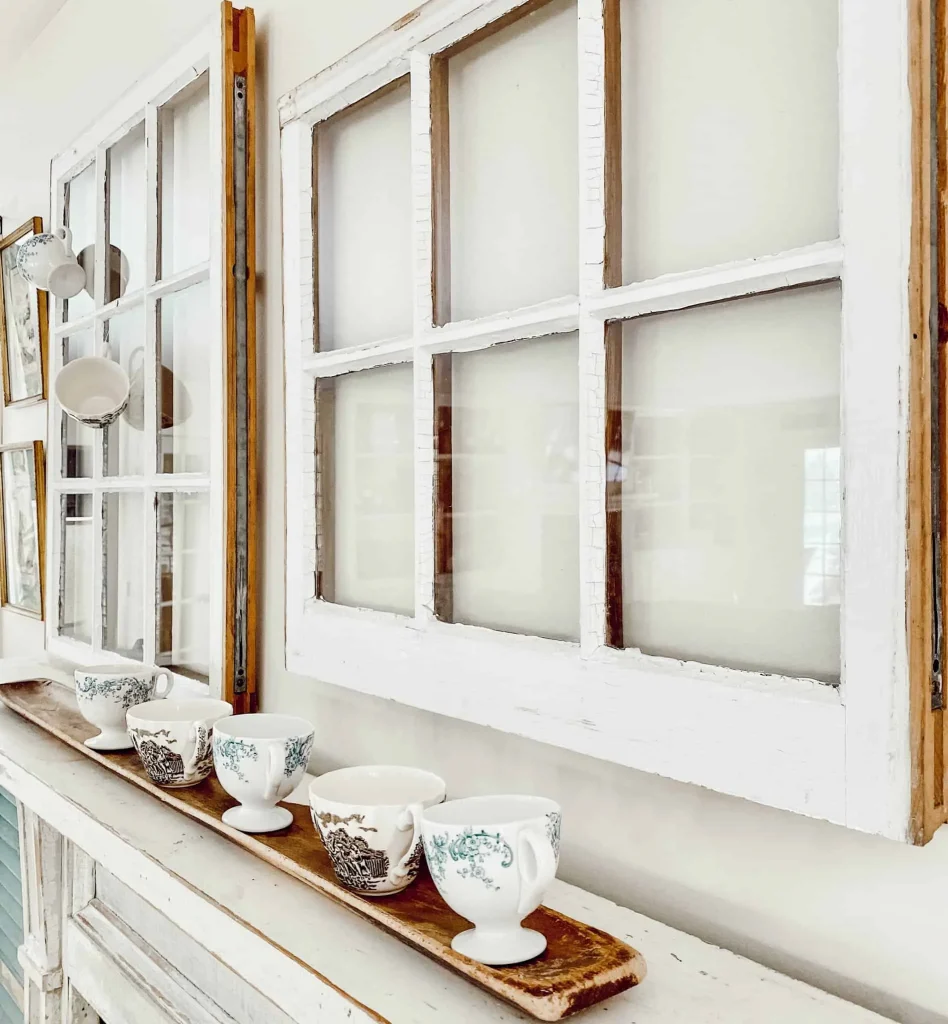 Salvaged Windows
Salvaged windows come in all shapes and sizes and are available at almost all antique, vintage, second-hand, and thrift shops. Etsy and eBay also offer a large assortment.
You can expect to pay from $15.00 to $100 for a salvaged window depending upon its age, character, style, etc…
This post may contain affiliate links which won't change your price but will share some commission."
SHOP SALVAGED WINDOWS
(click on any of the images to shop the products)

5 Easy Salvaged Windows Decorating Ideas
My favorite salvaged windows project this year was this one that I designed using brass candlesticks. You could also use pewter, wood, or silver candlesticks too.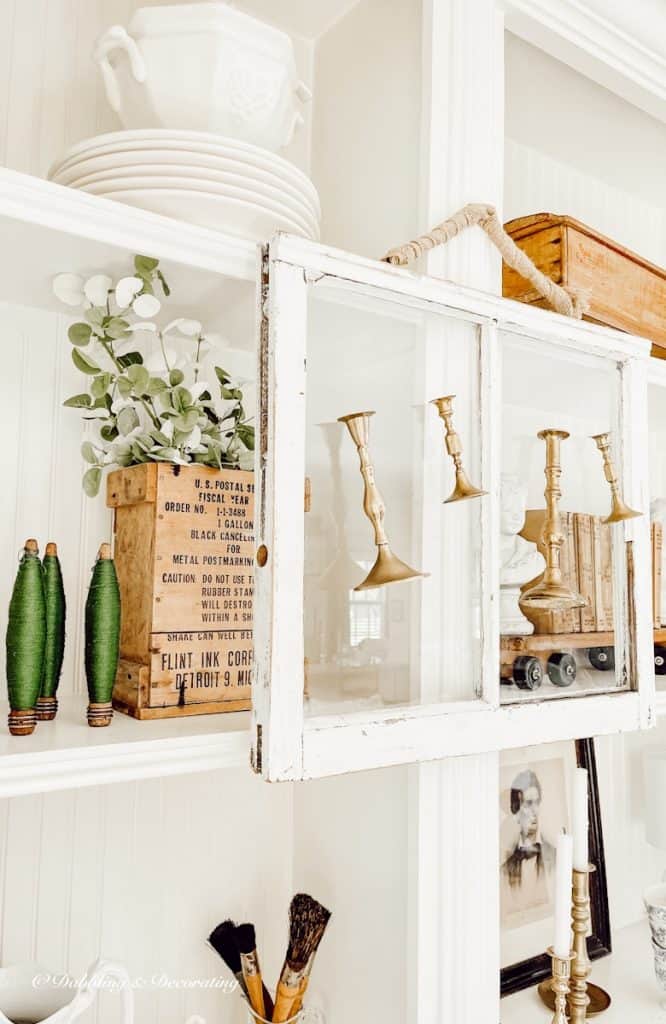 Here I made two similar salvaged windows and hung them on each side of our builtin bookshelves.
Check out this Salvaged Windows & Brass Candlestick blog post here for all the details!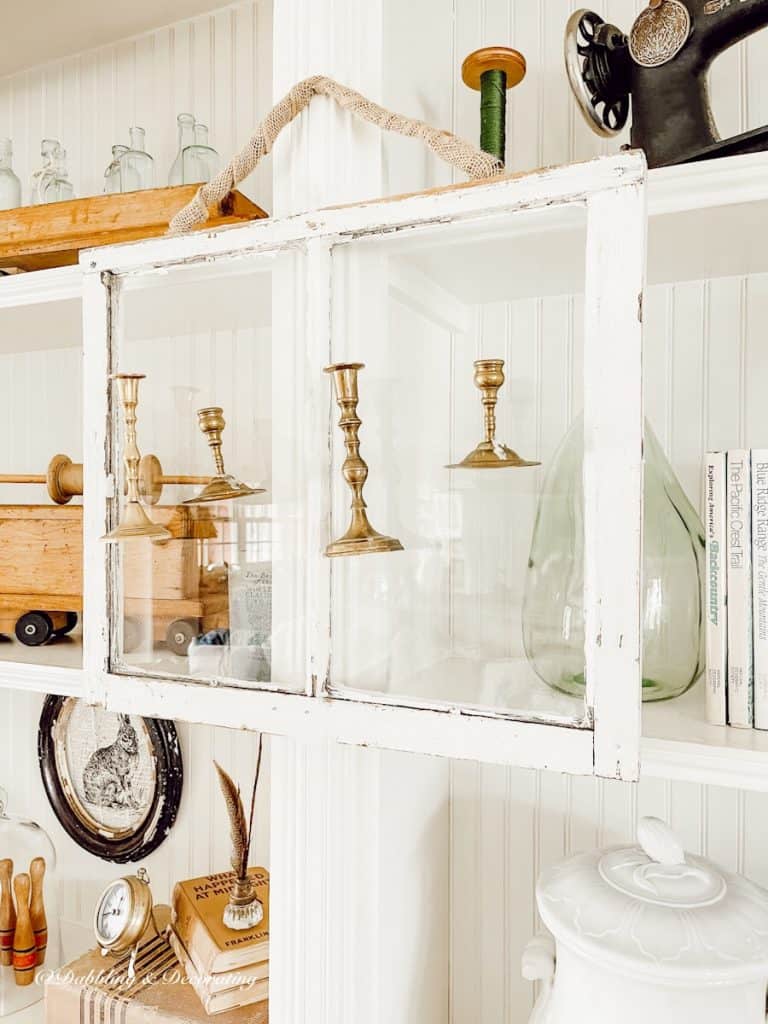 SHOP VINTAGE BRASS CANDLESTICKS
(click on any of the images to shop the products"

I found these adorable blue and white small plates while out "Thrifting with the Gals", and using the same technique with fishing line and thumbtacks, I hung the small dishes on these salvaged windows that hang over our dining room mantel.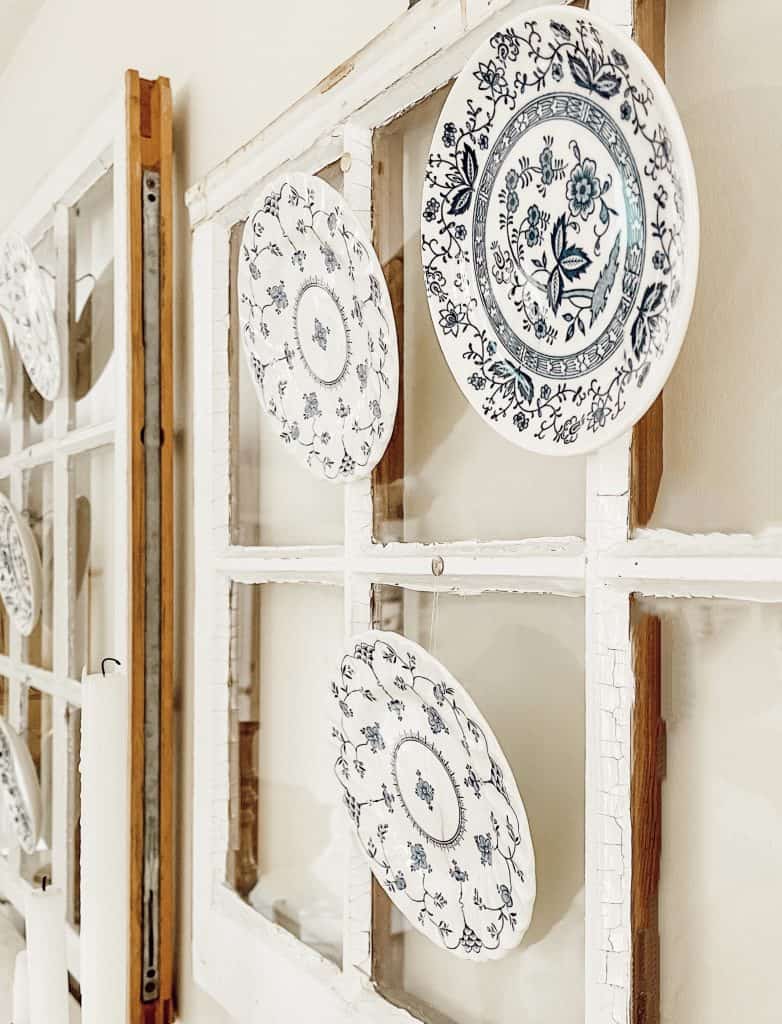 Join me on the blog post A Very Simple Vintage Plates and Windows DIY for all the details with a full tutorial.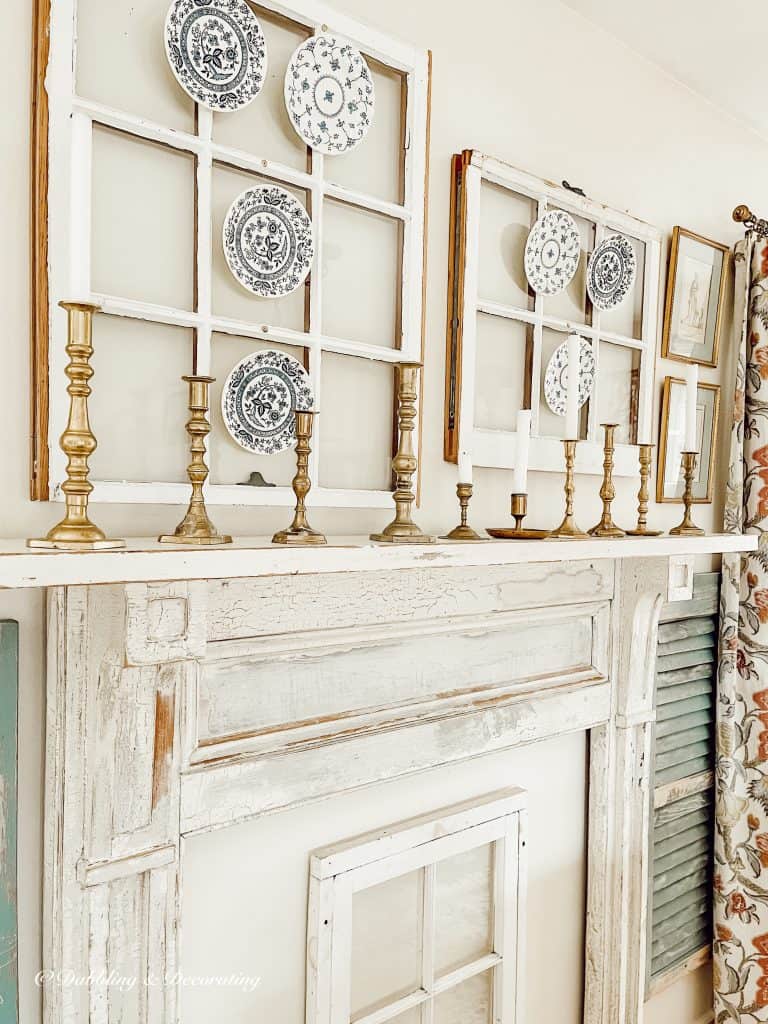 SHOP SMALL BLUE AND WHITE PLATES
(click on any of the images to shop the products)

Check out these salvaged windows and vintage plates surrounded by spring tulips and terracotta pots here too.
How about some hanging teacups? Are you seeing the trend?
Check out this blog post, A Vintage Teacup Spring Mantel for all the details on this vintage window design.
You may also enjoy This Season's Thrifting Trends.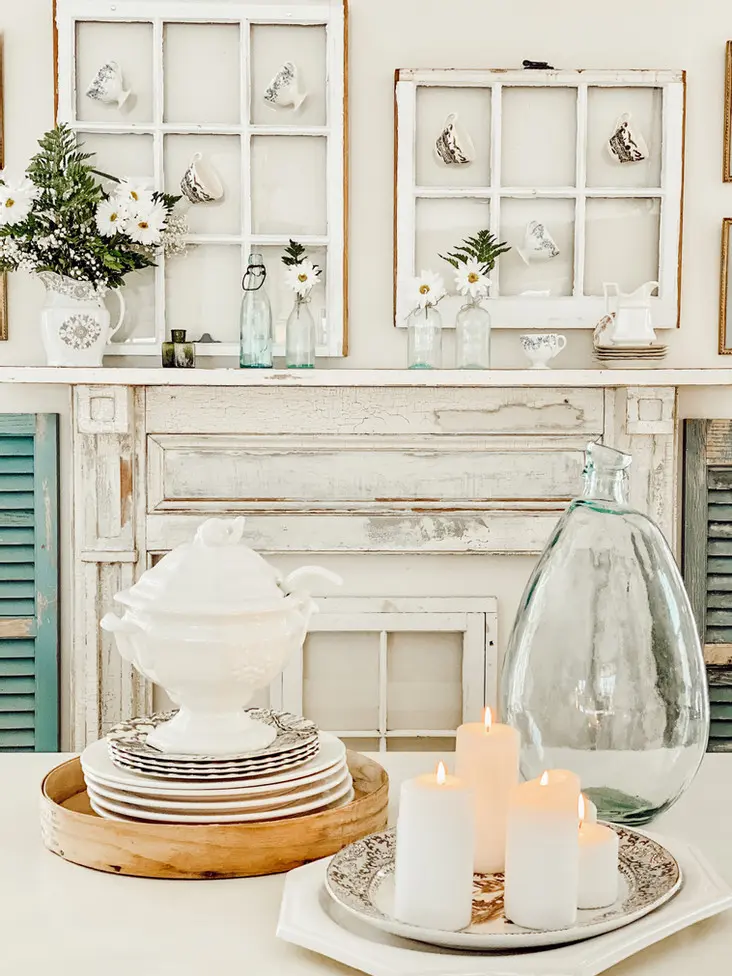 SHOP VINTAGE TEACUPS
(click on any of the images to shop the products)

And you may also love this Antique Crocks & White Tulips post alongside the teacup and salvaged windows.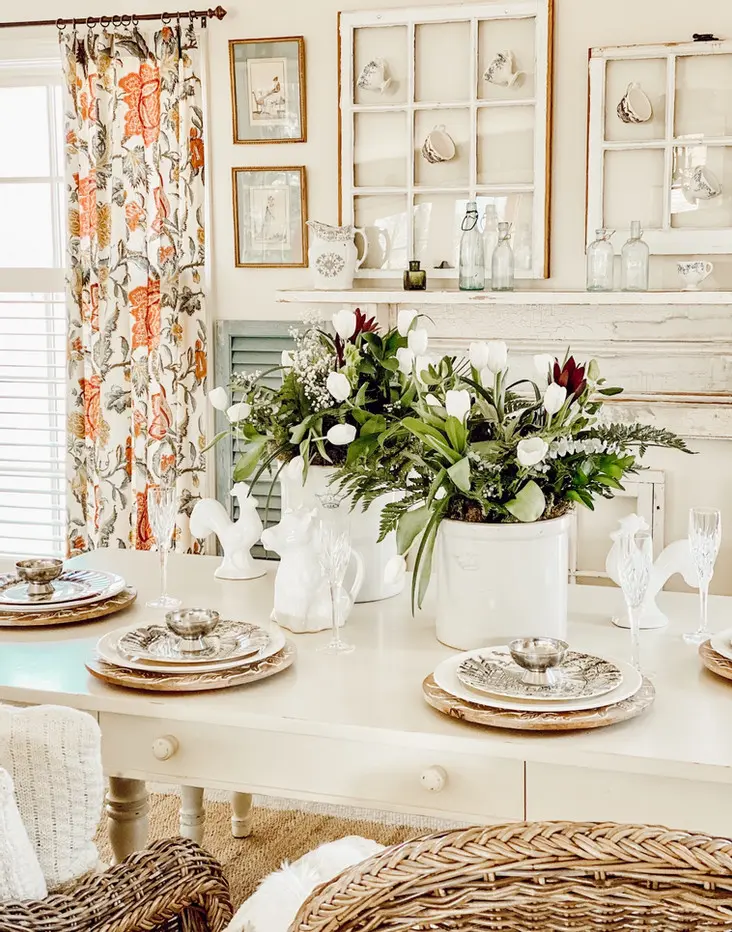 This was my first attempt at using old windows and fishing lines with these framed botanical prints.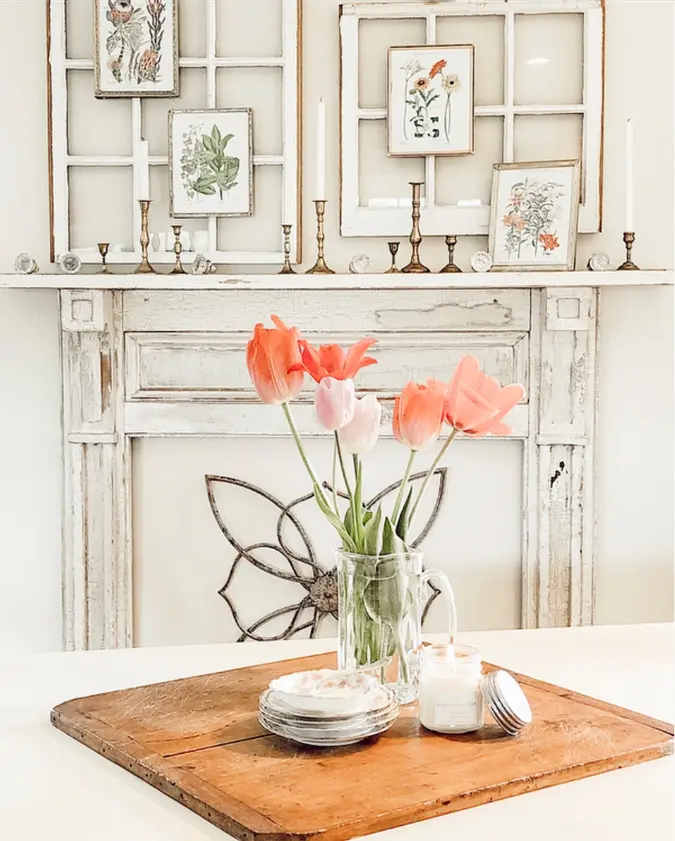 This salvaged windows DIY was really fun to create using pages from an old book for the botanical prints and then hanging them over our mantel coined, "The Vintage Botanical Mantel".
Here's a simple idea using salvaged windows and vintage tennis racquets to decorate for a Patriotic holiday.
Here the old windows are layered over our mantel with leaning vintage tennis racquets and a few red apples for coloring. Check out more here.
You may also enjoy this post on Decorating with Flea Market Vintage Frames here.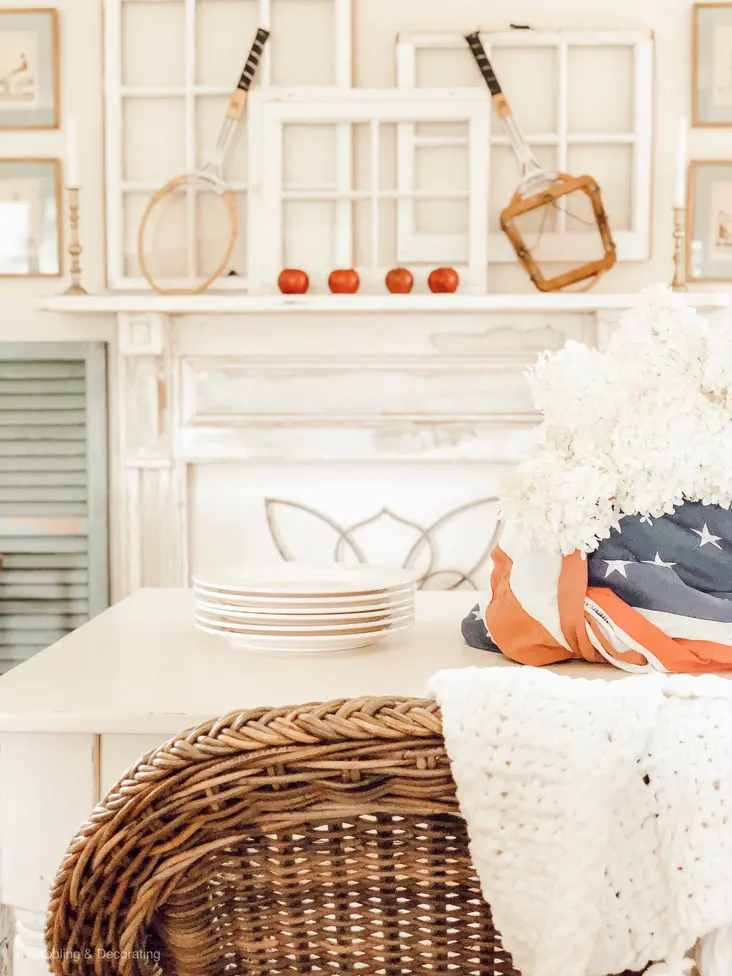 SHOP VINTAGE TENNIS RACQUETS
(click on any of the images to shop the products)

9 More Easy Salvaged Windows Decorating Ideas For You
I'm so glad you dropped by, and if you are new to my blog, welcome! I hope you enjoyed your visit with us here today at our Home in Vermont.
Be sure to also check out our Home in Coastal Maine where we spend summers and weekends when we are craving a walk on the beach or a visit with old friends.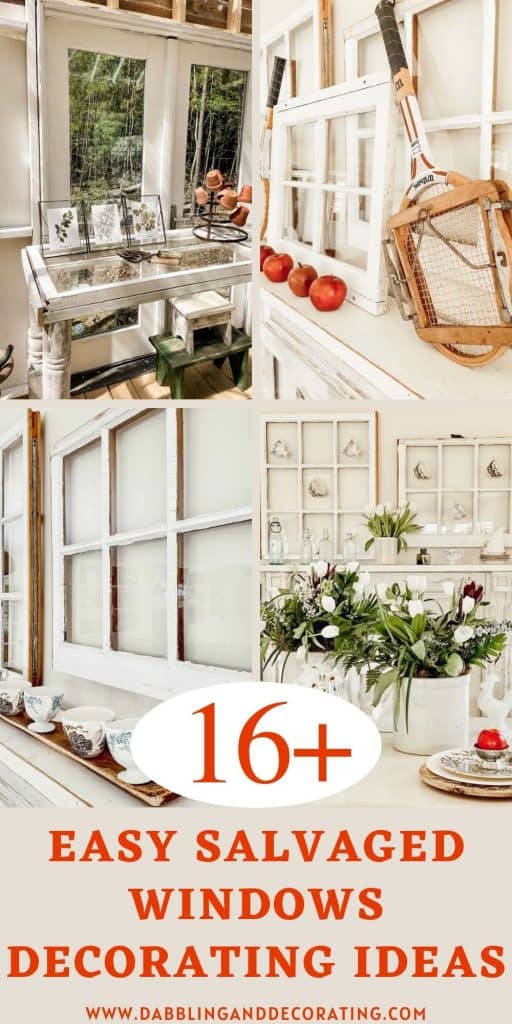 I've created the above custom pin just for this post!  Hearing from you makes my day; your comments mean so much to me! Please join me over on Instagram & Pinterest to see more!
YOU MAY ALSO ENJOY