Immerse yourself in beautiful Scandinavian homes decorated for spring with all the outdoor natural elements of the northern countries, where less is always more!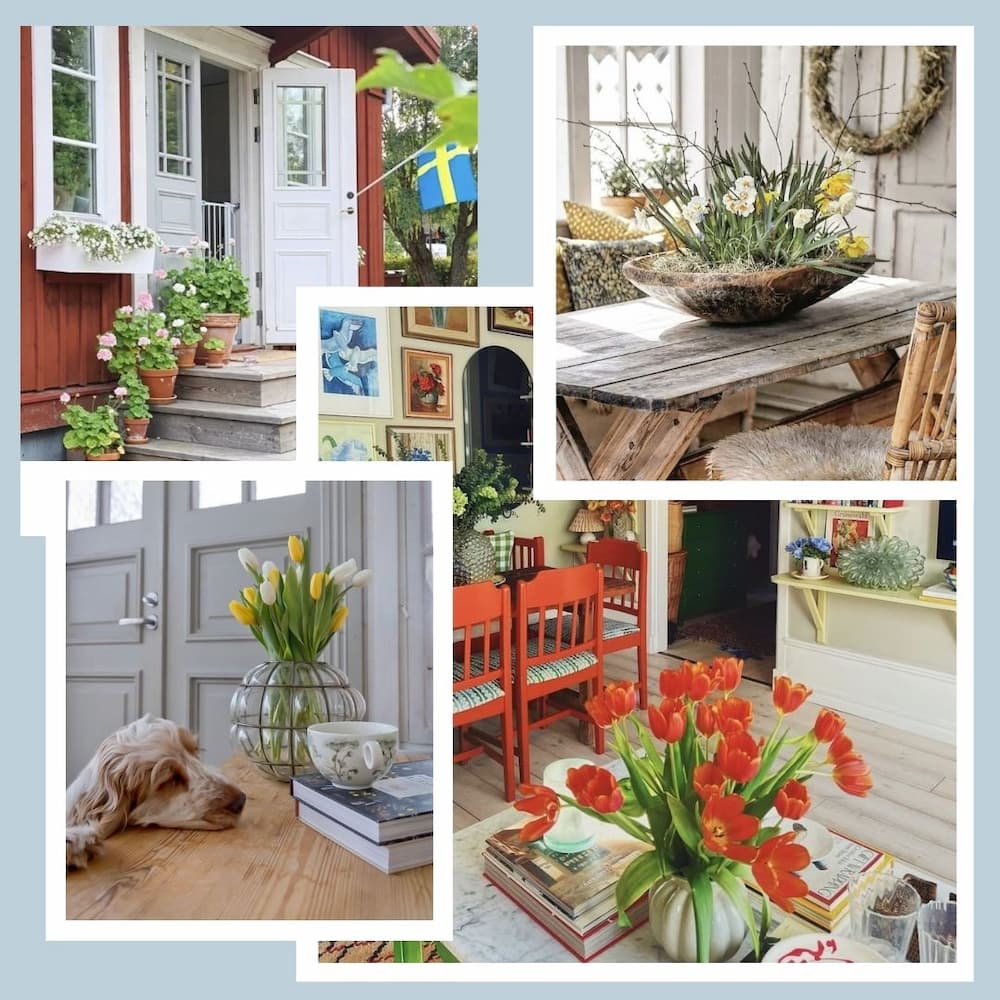 This past winter I shared the post, Homes in Sweden | My 10 Favorite with you and it's quickly becoming one of your favorite blog posts.
And like you, I swoon over Scandinavian homes and decor styles too.
So let's revisit these same 10 homes and how they transition from their cozy north country decor into spring.
Scandinavian is a term for belonging or relating to a group of northern European countries that includes Denmark, Norway, and Sweden.
creamy sauces
pretty houses
furniture so nice, everybody wants it
real winters
a very relaxed mentality
high humanitarian standards
a thing for fish
beautiful old cities with large, cleanly designed architecture
Scandinavian design is marked by a focus on clean, simple lines, minimalism, and functionality without sacrificing beauty.
This Norwegian home is an absolute favorite of mine. Simple, yet fabulous outdoor elements are displayed to perfection throughout this Scandinavian spring home.
The neutral colors paired with the checkered patterns, absolutely love it!
This home in Sweden always reminds me of our home here in Vermont. I think it's how she adds the Scandinavian spring home touches, like flowers when there's still snow on the ground outside.
She captures this feeling beautifully!
Susanna's 1880's house is so inviting, again with her morning coffee, flowers, and her Cocker Spaniel, Dumbo!
You may also enjoy the Firelight, Evergreens, and Snow: The Christmas Bottle Project of Swedish Homes post.
Lisbeth incorporates her gorgeous antiques with yellow spring flowers and of course, warmed up with her Scandinavian-baked goodies.
Sebastian incorporates the magnificent colors of Sweden into his city home in Stockholm. Sharing his glorious breakfasts, adorable puppy, Herman, and numerous vintage collections.
Follow Sebastian Bergstrom on Instagram too.
Don't miss these adorable Scandinavian summer cottages too!
SHOP THE SCANDINAVIAN HOME DECOR LOOK
Scroll and Click on Images to Shop

Mary decorates her 1960's apartment with beautiful blues! Have you ever thought of a blue and white chessboard like this one? What a creative coffee table display.
Nina is thrilled to say goodbye to winter and welcomes spring into her Scandinvanian home with all the beautiful blues and yellows of the season.
Goodbye Winter…
Hello Spring…
Trudi's Scandinavian home looks so soft and calming decorated with her pastel colors for spring. The contrast with her antique furniture is so inviting, don't you just want to pull up a chair at one of her tables and sit for a spell?
Everything about Therese's home is elegant and oh so charming. I've always admired the pink geraniums that our friends in the north country embrace from the outdoors to their indoor windowsills lined with these beautiful flowers.
And my #10 favorite is the actual Instagram account "Homes in Sweden".
Where daily inspiration from their favorite homes in Sweden is shared!
I'm so glad you dropped by today, and if you are new to my blog, welcome!
I've created the above custom pin just for this post!  Hearing from you makes my day, and your comments mean so much to me! Please join me over on Instagram & Pinterest to see more!
SHOP THE SCANDINAVIAN HOME DECOR LOOK
Click on Each Image to Shop

YOU MAY ALSO ENJOY