It's late February and Spring has definitely not arrived to Vermont. The wind is howling and the snow is falling. It's like a mini blizzard outside! A perfect day to refresh our dining room's vintage mantel for Spring, ha! Seriously though, I have the itch to switch, my husband is away, and I have the home all to myself for a few days. Let the decorating begin!
If you've been following along with me, I found some wonderful Spring antique finds this past week. Click here to see the blog post. And I can't wait to put them to use. I hope you like what I came up with friends, a simple teacup DIY. I started by removing everything from the dining room table and vintage mantel.
I could then see clearly, that I wanted to incorporate these antique teacups onto the mantel somehow. However, they were just too small for the mantel itself. Then the idea struck me to hang them with fishing line onto the window panes. I tried a couple to start and I adored the look right away. You see, the teacups look Irish to me and with St. Patrick's Day around the corner I thought they would be perfect.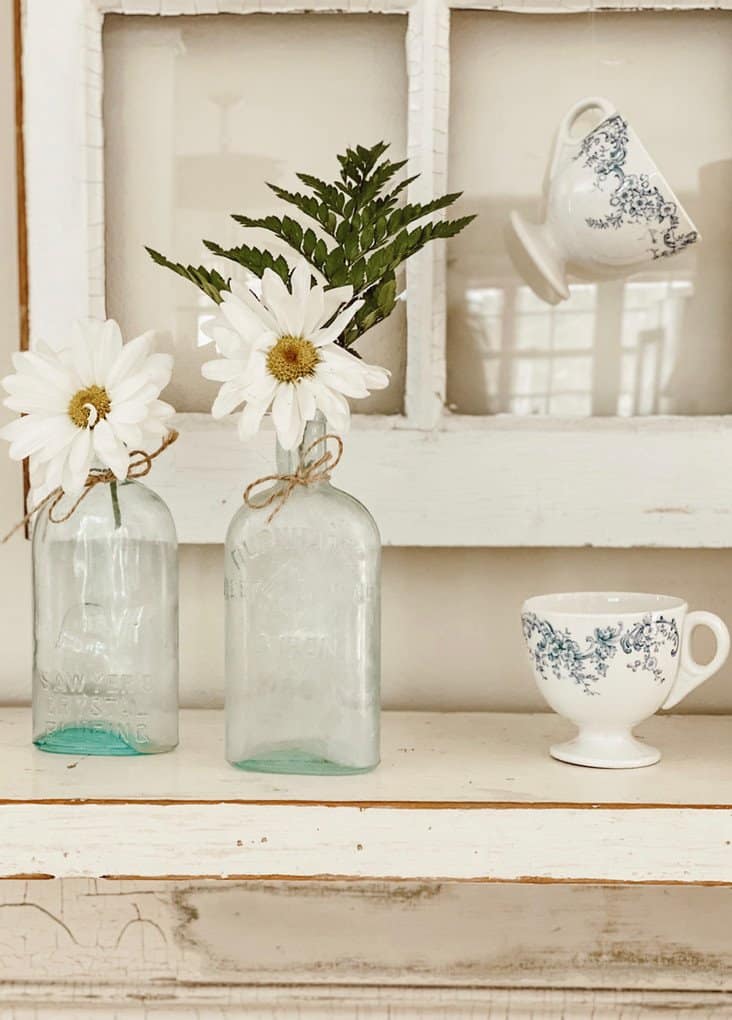 I hung the teacups with simple fishing line. You can find this at any hardware or tackle store and it is made to hold by the pound. The fishing line I used would hold up to 4 lbs. I cut the size I wanted, then knotted it 3 or 4 times to be sure they were secure before hanging. I hung each teacup with a simple thumbtack on the wood of the old windows. I posted a video tutorial in my story highlights on Instagram under Spring Mantel should you be interested in seeing more. Once the antique teacups were hung, I added some soft vintage touches to the mantel along with some daisies and greenery, which added to that Irish vibe for St. Patrick's Day and Spring.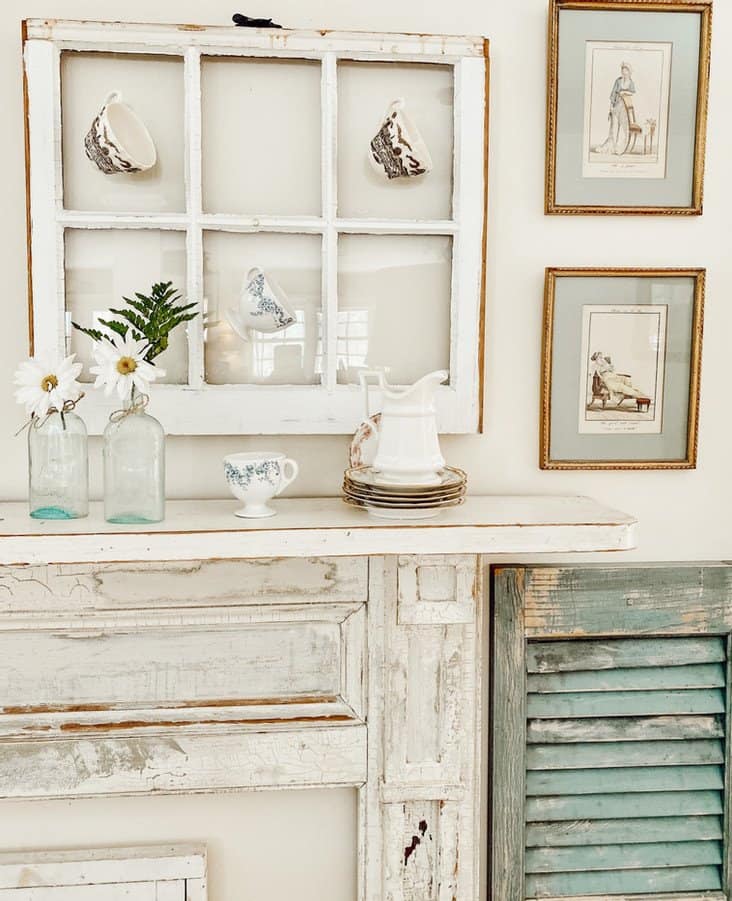 Antique teacups and dishes do not need to be expensive.
You can easily find them at your local thrift or consignment shop for sometimes under a dollar!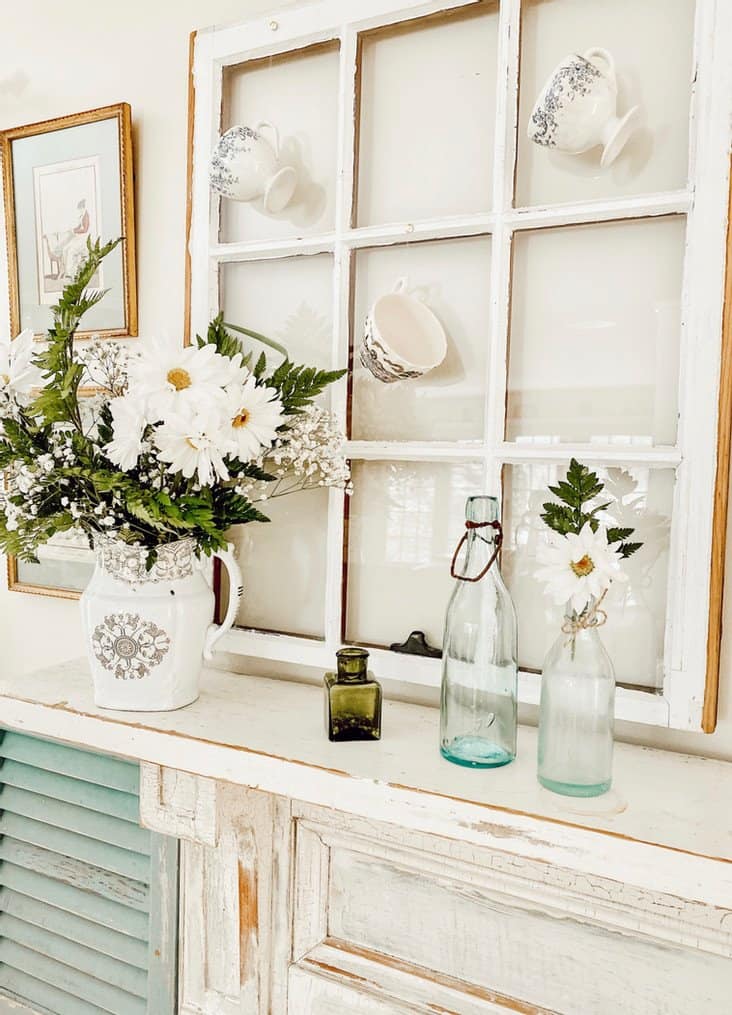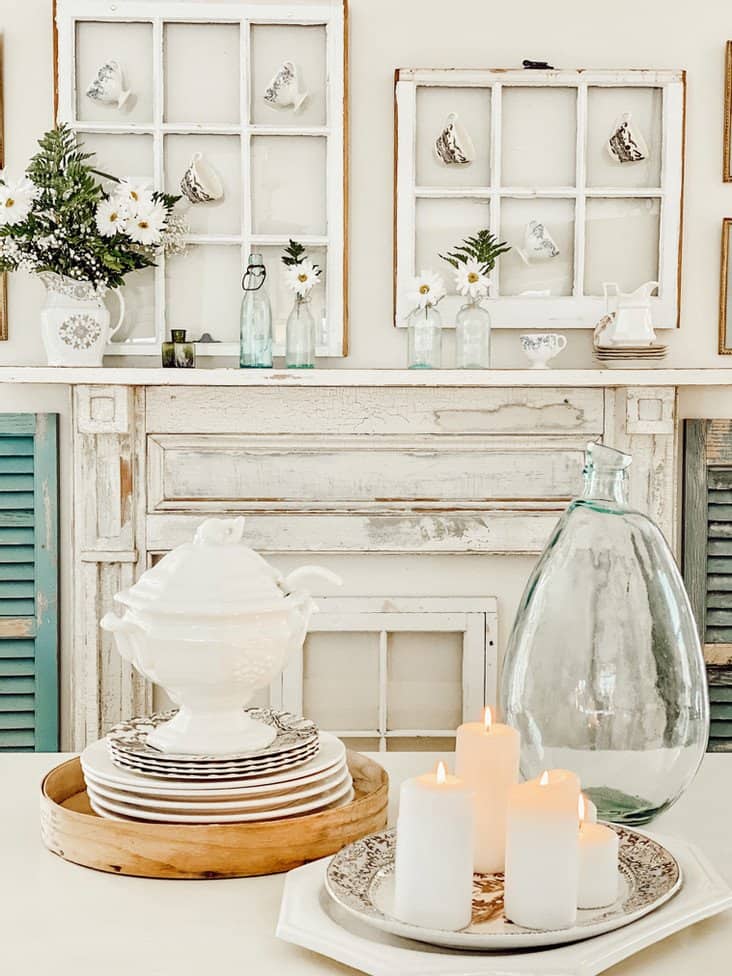 On the dining room table I simply stacked a mix of antique and classic dishes, along with a platter of simple white candles for ambiance. A super simple way to decorate a table for everyday use. And if you didn't know, I have been crushing and collecting anything that has that light blue antique vibe. I just adore it! Like this large blue bottle that I found at HomeGoods.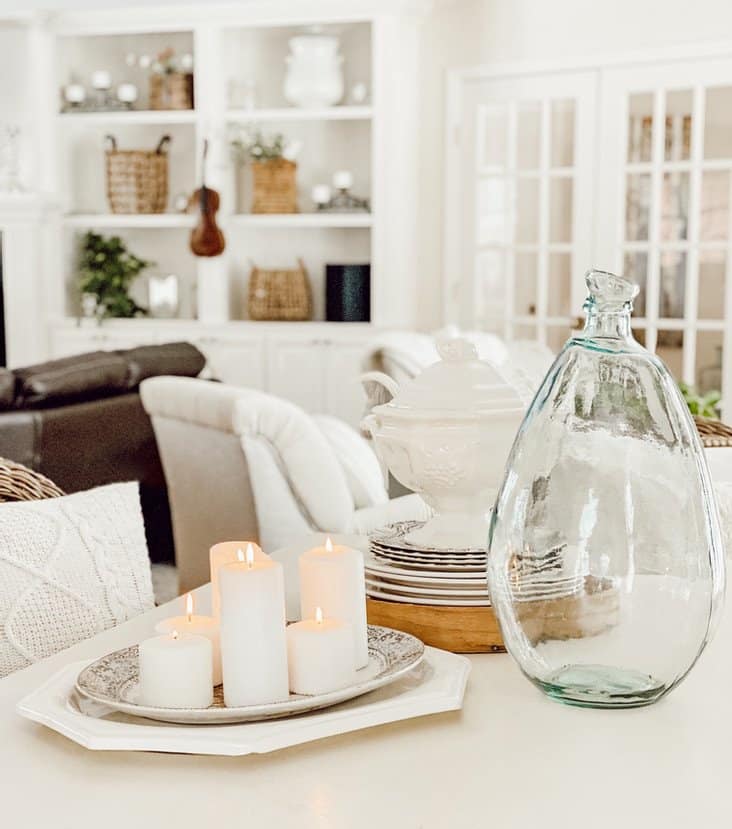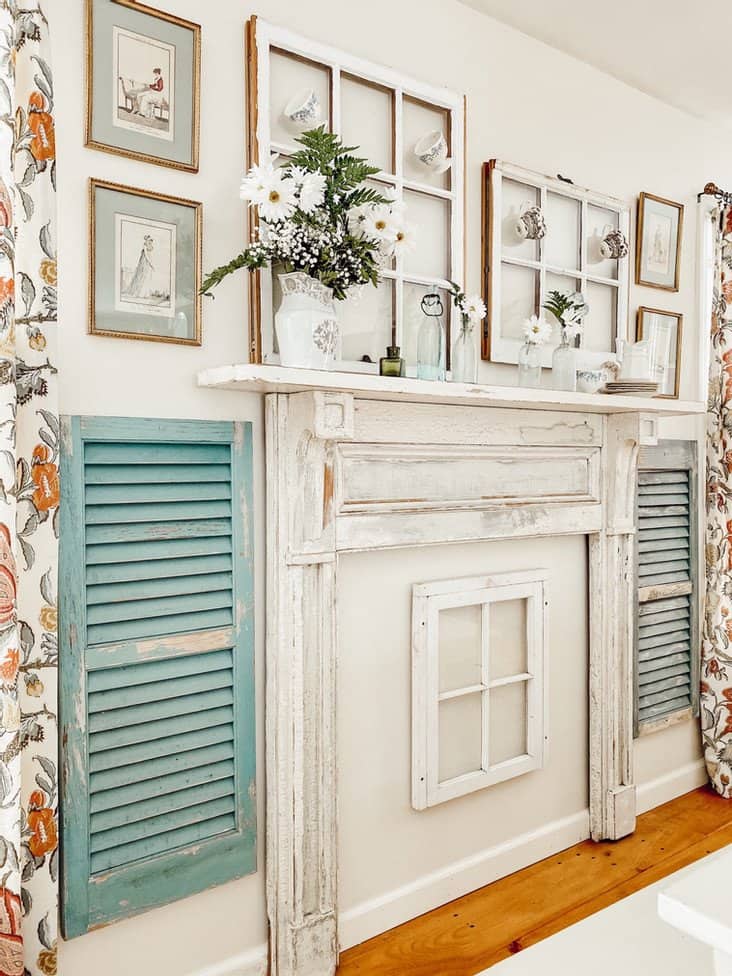 A couple of Irish sweater pillows and blankets add a little more Irish to the mix for the upcoming Saint Patrick's Day.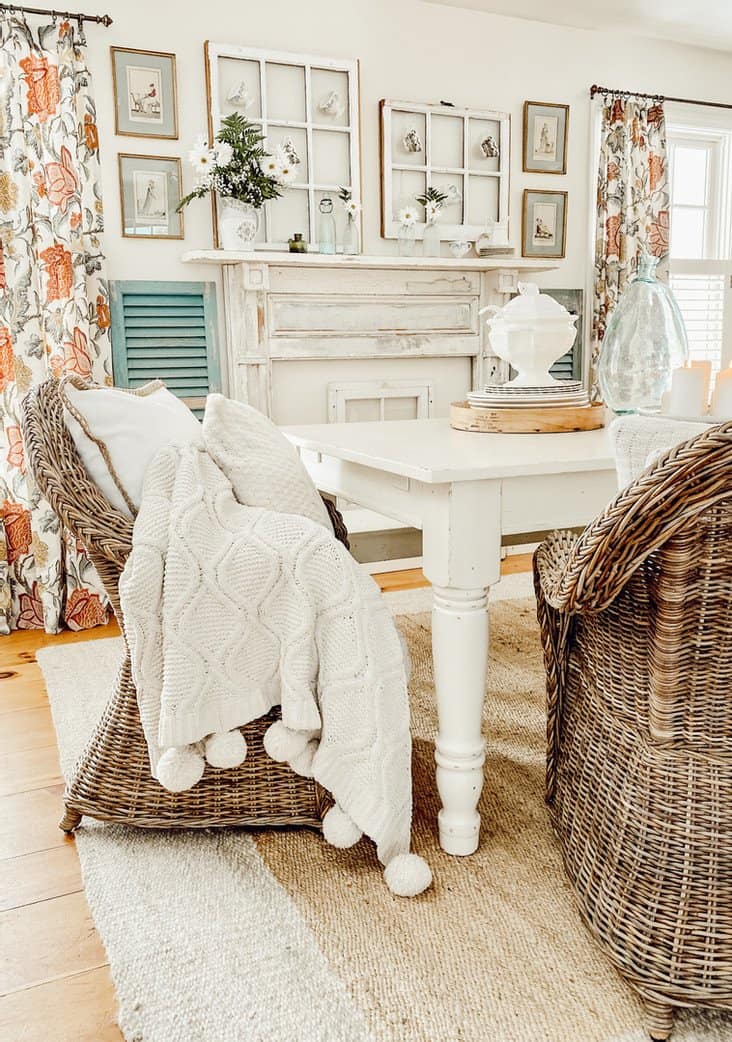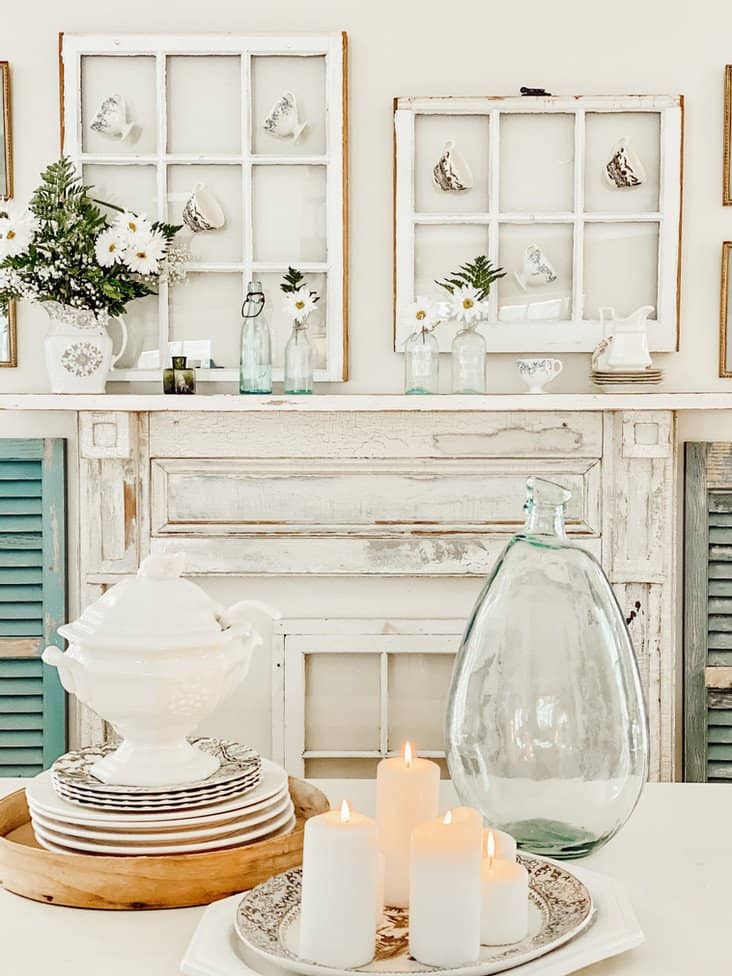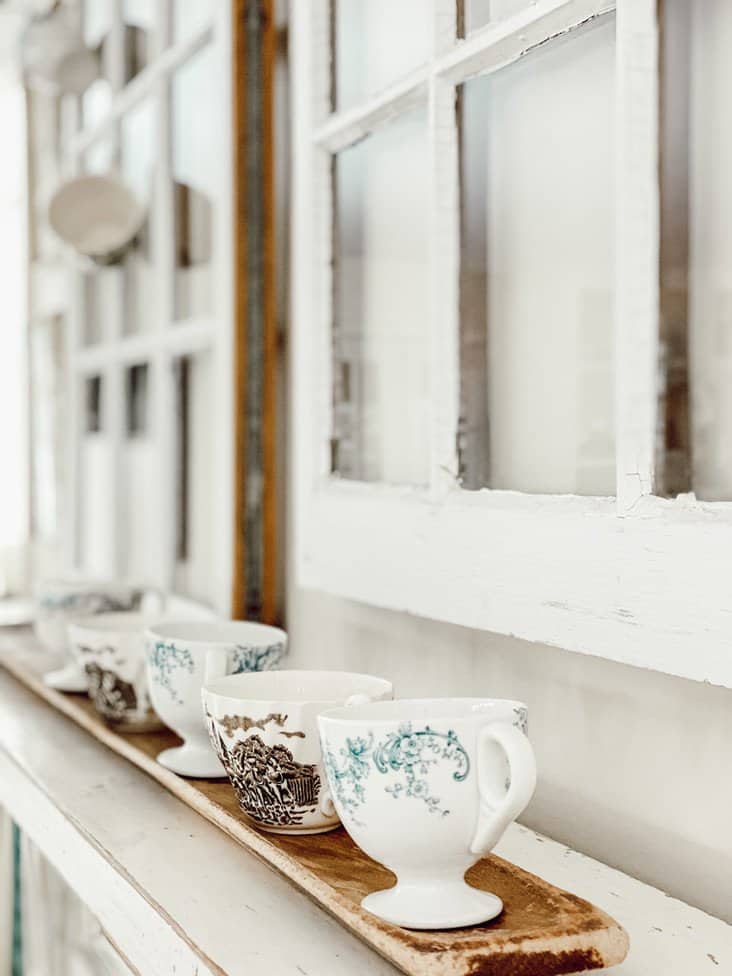 I am so happy that you dropped by today friends, and I sure hope you'll be back to visit with us again soon!
BE SURE TO SAVE THIS "A VINTAGE TEACUP SPRING MANTEL" POST TO YOUR FAVORITE PINTEREST BOARD!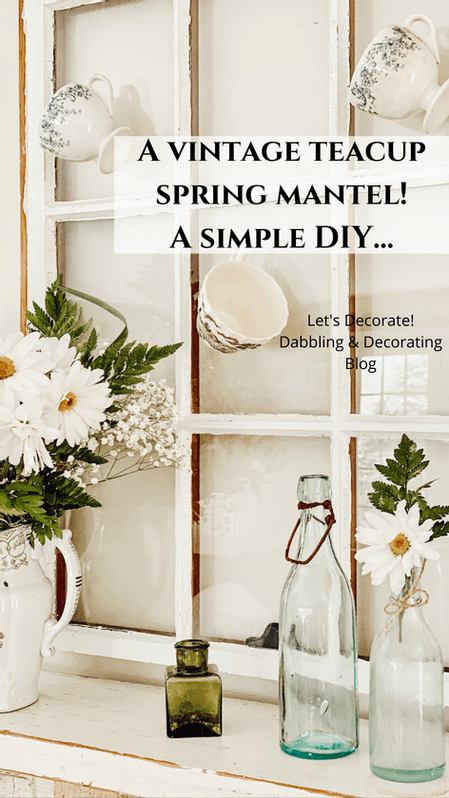 I've created the above custom pin just for this post!
Sharing is Caring!
I would luv to hear from you too~
Your comments mean so much to me and truly make my day…
Please join me over on Instagram & Pinterest to see more!
Styled by Ann
in Vermont