Drop by and take in the views
inside this 4 season sunroom.
An impressive room makeover with
Wedgewood Gray & Chantilly Lace paint
colors accented with grand mountain views.
The Project | 4 Season Sunroom Painting Makeover
After having our interior open-floor plan painted back in November (see more in the post, Pretty in Stardew Blue Paint | A Home Interior Makeover Before and After) it was time to tackle the other side of our home, which includes a 4 season sunroom, master bedroom, and bath.
This is my favorite room in the home.
But over time it's become a mishmash of decor and in desperate need of a new paint job.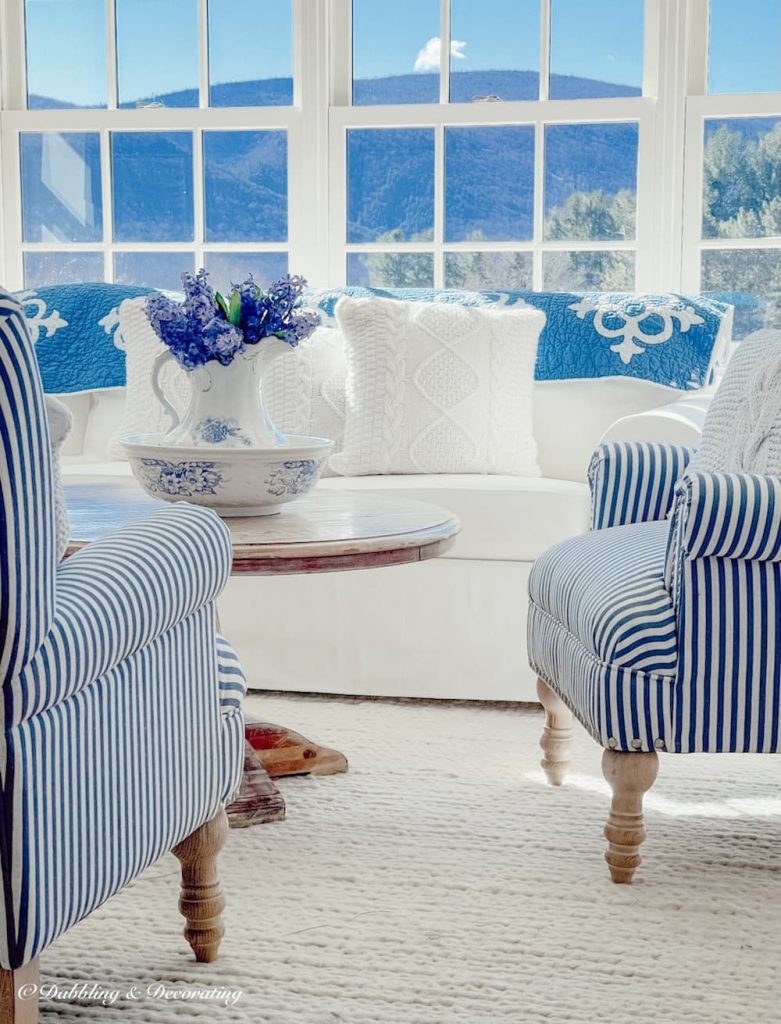 This sunroom is all about the grand mountain views directly out the windows. And I wanted to bring some of those glorious outdoor scenic colors indoors to our 4 season sunroom. Creating a cozy, bright, and enjoyable space to blog, read, and appreciate the ever-changing mountain views.
You may see more of these seasonal views in the post, Our Year-Round Vermont Mountain Views.
Choosing the Paint Color
The Green Mountain views are forever altering with each day's weather pattern. But the overall consistent colors are greens and blues. That is how I came to choose Benjamin Moore's Wedgewood Gray to accent the built-in shelving and BM's Chantilly Lace white for the walls and trim.
This will create a contrast with our open-floor plan model where the built-ins are the Chantilly Lace and the walls Stardew Blue. The white walls will create a bright open space in the 4 season sunroom and the Wedgewood Gray would add color and depth creating a frame around the windows, thus drawing your eyes outside to the views.
What Color is Wedgewood Gray?
Wedgewood Gray is a combination between soft greens and blues. It works well with spaces that have a combination of natural and artificial light. There is so much depth in the Wedgewood Gray, as seen in this pleasing 4 season sunroom makeover.
Sunroom Before
The walls were Bunny Gray and the trim was Acadia White. It had all become so dingy and I couldn't wait to makeover this space!
Sunroom Painting Preparations
The sunroom needed a lot of mud and patching.
The ceiling had split badly at its peak and a support beam was in desperate need of repairs too. Our painter used US Gypsum 90 Ez Sand and a blow dryer to patch it all with 4 coats at about 9 hours' time.
This post may contain affiliate links which won't change your price but will share some commission."

The ceiling and walls were then all sanded down in preparation for the sunroom's painting.
It will all be spray painted, consistent with our open-floor plan project.
A roller and brush will not be used at all.
This post is focused on our 4 season sunroom makeover only, as I'll be updating the Master bedroom makeover in a second post, focused on the addition of wallpaper.
Here's a video of the overall preparations, don't get too dizzy…
And here is how all the windows were prepped for the trim's spray painting.
With Masking Liquid H20.
We had almost 150 window pains to mask off for trim painting between all the doors and windows in this 3-room makeover space.

Check out our first sunroom makeover 5 years ago now and one of my first blog posts ever, when Ella our Berner, was just 8 weeks old in the post, A Sun Room Makeover.
Ella was sassy even at 8 weeks old…
Painting the 4 Season Sunroom
After all the preparations were finished on day 4, it was time to first paint the ceilings.
Did you know a painter's labor is 80% surface preparation and 20% painting?
You may see more of this sunroom's furniture and decorating transformations over the past 5 years HERE.
4 Season Sunroom Makeover with Wedgewood Gray and Chantilly Lace
Today's the day!
Jay, our painter finished up and we were headed back to Vermont for the final reveal of our sunroom's makeover with Benjamin Moore's Wedgewood Gray and Chantilly Lace.
Two Major Accents in this 4 Season Sunroom:
Window Mountain Views
The first attribute is the mountain views seen through a wall of windows. My goal was to frame out these windows using BM's Chantilly Lace while drawing your eyes outside towards the mountain views.
Chantilly Lace was the perfect color to accomplish this look.
The sitting bench below the windows was also painted with Chantilly Lace making it part of the overall window frame.
Built-In Bookshelves
The second major feature in this 4 season sunroom is the built-in bookshelves. Once painted in Acadia White, are now warm with color in Benjamin Moore's Wedgewood Gray.
A complete reversal in color where the walls were the color and the built-ins were white in this "Before" space.
The Wedgewood Gray is a dependent color just like the Stardew Blue that we recently painted our open floor plan with. Changing from shades of blue to hues of green depending on how the light flows throughout the room.
A forever shifting color just like our mountain views that transition daily with the weather and seasons.
The warm soft wood pine flooring also adds a natural glow to this small 4 season sunroom.
A small white slipcovered IKEA Ektorp Sectional that we bought a few years back (no longer available, unfortunately) will serve as the sunroom's main piece of furniture.
You can still find the replacement slipcovers over on Amazon though as an FYI.
A wallpaper sample leans up against one of the built-in bookshelves and will match beautifully with the adjacent master bedroom.
The wallpapering is now complete and you can see it all in the post, 3 Wallpaper Bedroom Designs Emblematic of a Cozy Vermont Inn.
Upon returning home, I washed all the slipcovers on the sectional to start anew. And with the warm weather we're experiencing, I was able to hang them all out on the clothesline to dry!
I don't think I'll ever buy another large furniture piece that does not have washable slipcovers.
Best invention ever!
Spray Painting Interior Tip
One thing about choosing to spray paint your home's interior, it's oh-so dusty! Even though everything is wrapped and protected, it does require a pretty major cleanup at the end.
I recommend asking your painter if a full cleanup is included in the estimate and if it's not, plan on either doing it yourself or hiring someone to come in. The windows are all in need of a good cleaning, the wood floors needed mopping, and lots and lots of dusting. It can be a good day's work.
Once the slipcovers were fresh and clean I positioned the sectional sofa facing outward towards the window's view.
Sunroom Rug Choice
Next, this 4 season sunroom needs a new rug.
I'm leaning towards a vintage pink rug. The challenge will be in finding one large enough to fit this space. Vintage rugs can be on the small size or the extra large size in my experience. And I want it to be something that will not clash with the new wallpaper going into the adjacent master bedroom.
I love the vintage rugs offered up at Revival, along with their room tool that shows you how a particular rug will look in your space. Like this red and blue rug, which I never ever would have thought of for this sunroom space. You may enjoy seeing this Revival vintage rug at our kitchen in Maine.
See more of this room today in the post, Sunroom Home Office Inspiration: Triple Purposed with Craft Space.
I'm so glad you dropped by, and if you are new to my blog, welcome! I hope you enjoyed your visit with us here today at our Home in Vermont.
Be sure also to check out our Home in Coastal Maine where we spend summers and weekends when we are craving a walk on the beach or a visit with old friends.
Are you looking for more thrifty and vintage home decorating ideas? Start getting your weekly vintage decorating ideas today! Joining over 3,000 subscribers…
I've created the above custom pin just for this post! Hearing from you makes my day and your comments mean so much to me! Please join me over on Instagram & Pinterest to see more!
SHOP THIS POST

YOU MAY ALSO ENJOY