I just love sunrooms in homes! They can be used for so many things like libraries, offices, breakfast rooms, reading rooms, etc… There are so many options, it's so hard to pinpoint just one that you want to use it for. I've been struggling with decorating our sunroom for a while mostly because it was painted in all green, even the ceiling!! I procrastinated painting this room for so long, as it's almost wall-to-wall bookcases. UGH right? But after waiting so long, It was time for a sun room makeover. I really wanted to use this room in the spring and summer months as my reading and blogging room. So I emptied all the bookshelves and we got started. I went with Bunny Gray from Sherwin Williams and Alabaster white for the bookshelves and trim, which matches the trim throughout our home already. But honestly, there's not much wall space in this room at all!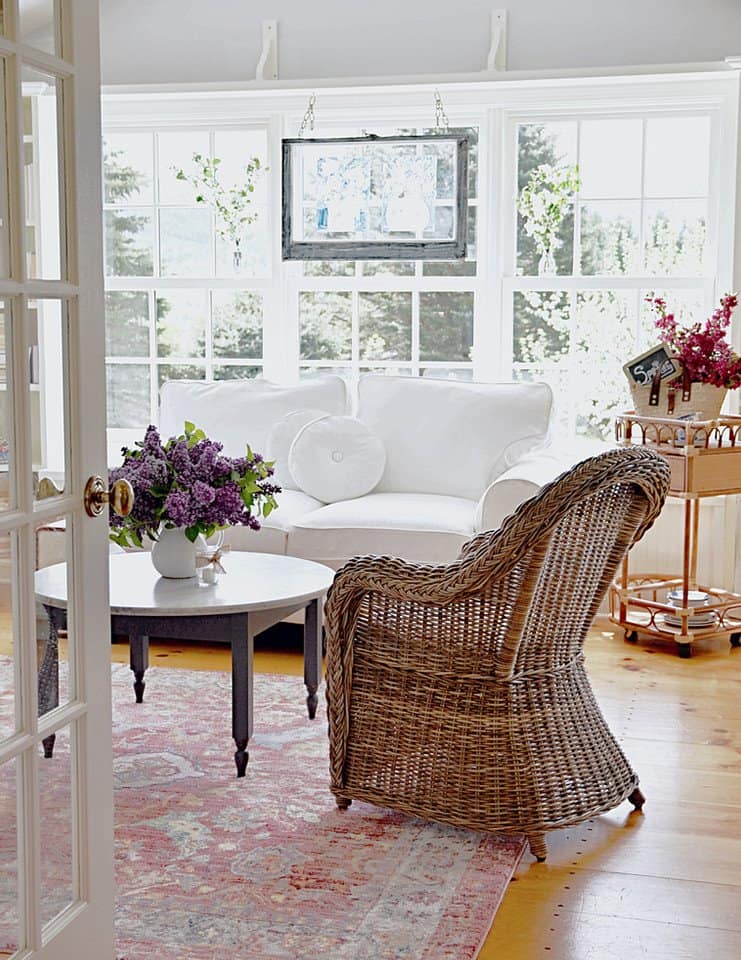 I added this square pink rug that I purchased from OverStock.com for under $200. And I brightened up the room with the IKEA's Ektorp white slipcover that covers a yellow loveseat that I already had for under $150. The slipcovers really do not fit perfectly, however, I really don't think anyone will notice. And the price was right!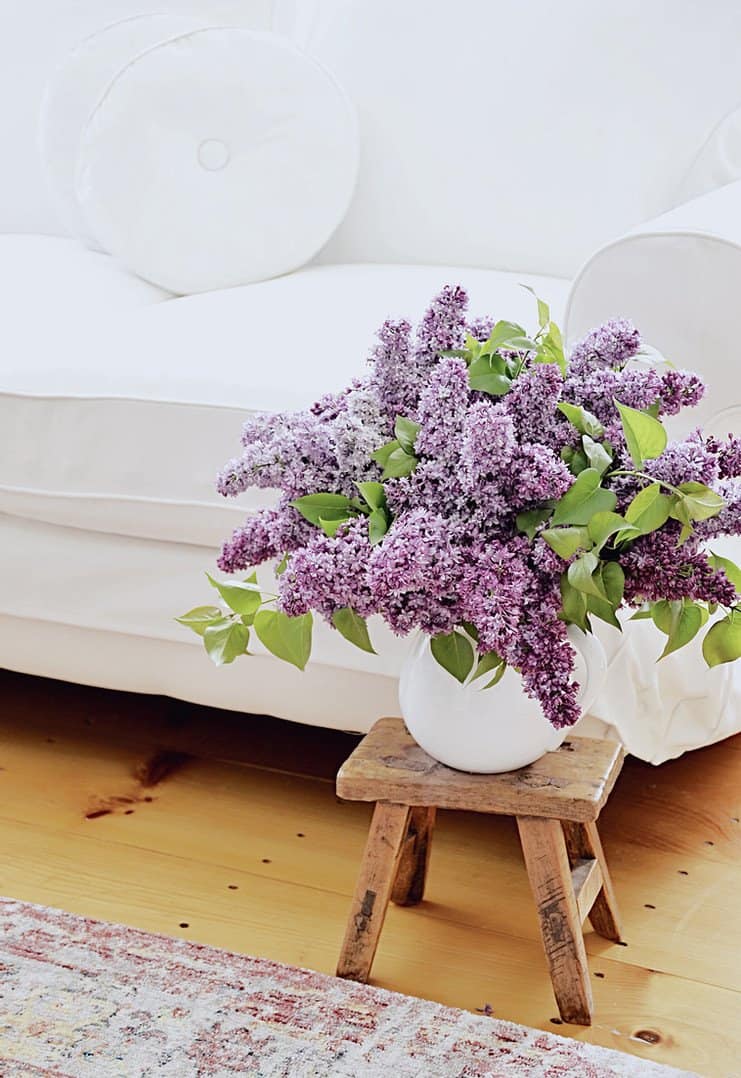 Lilacs are just gorgeous this year and I picked these, courteous of my neighbors from Ireland! The color is so beautiful with the pink rug and the gray and white accents.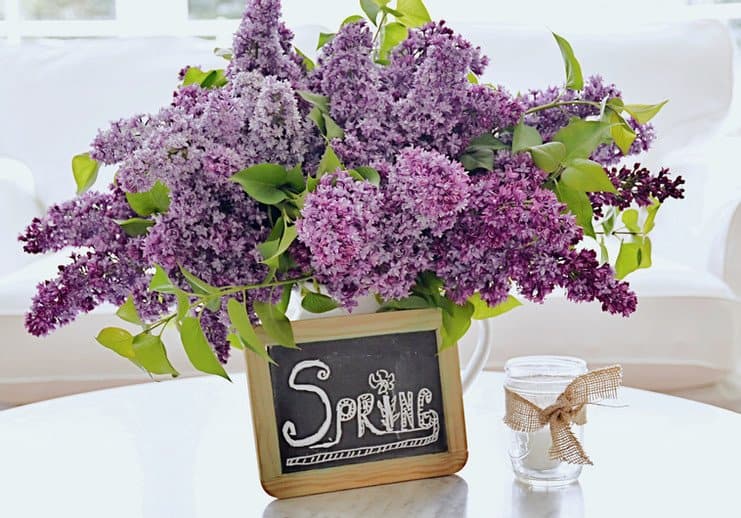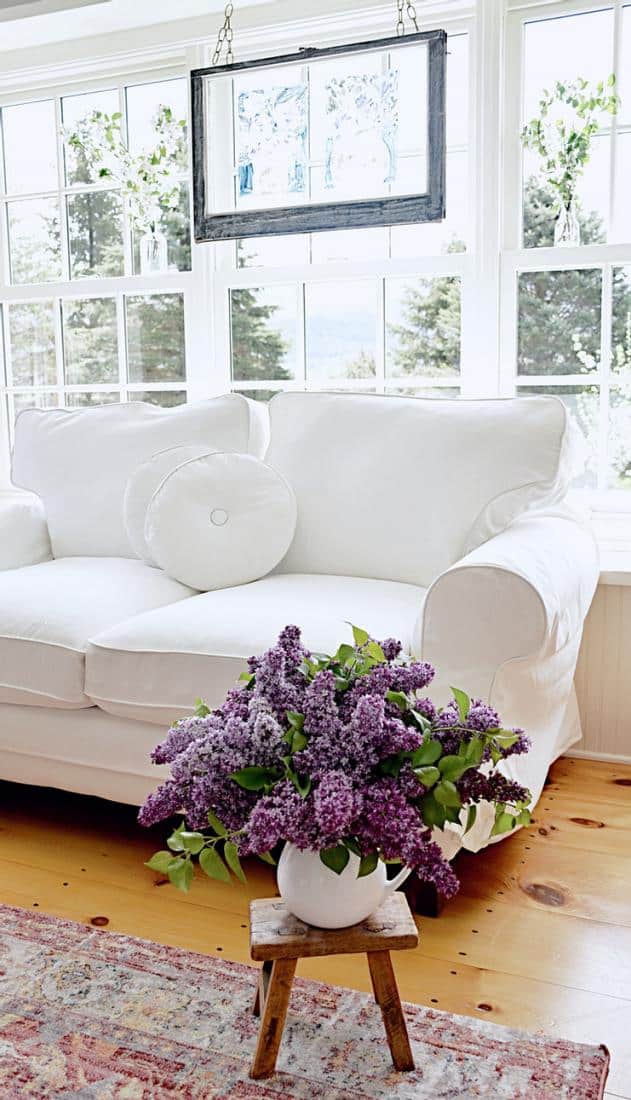 I found this vintage painted window years ago at an antique shop, while I was traveling in Rhode Island. I never did much with it and now I just love it hanging in the sunroom window! I framed it with white flowers in vintage jars from our apple trees that are just starting to bloom.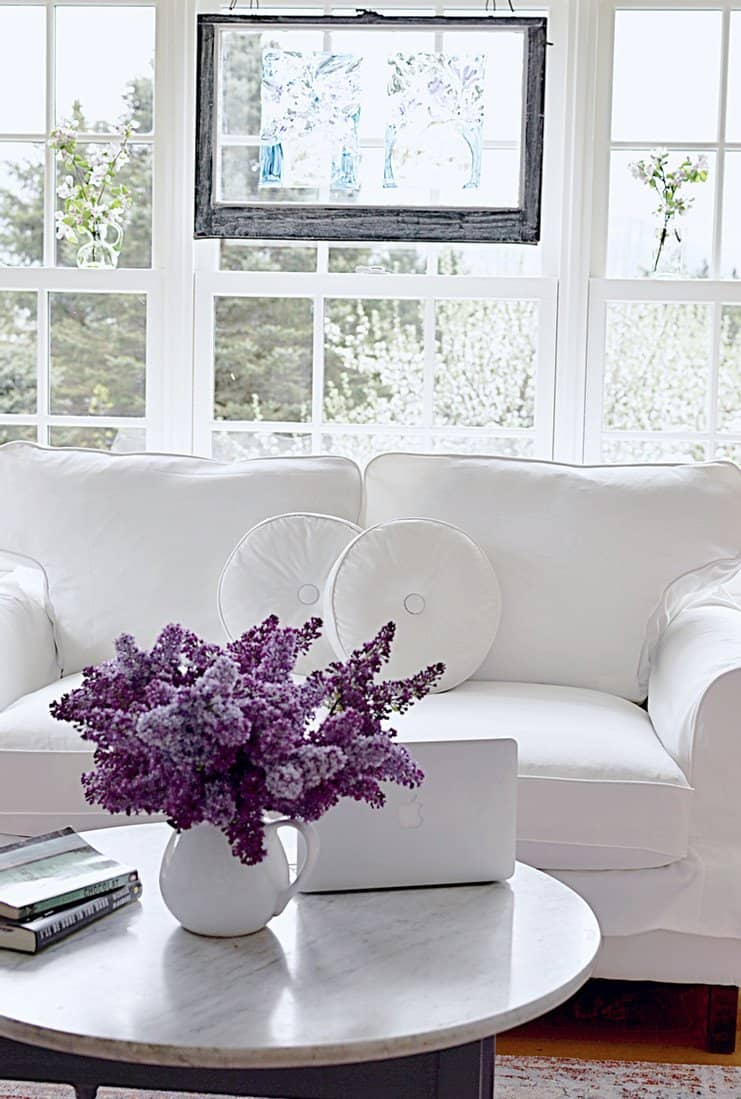 I added the white retro leather pillows that I found at a yard sale.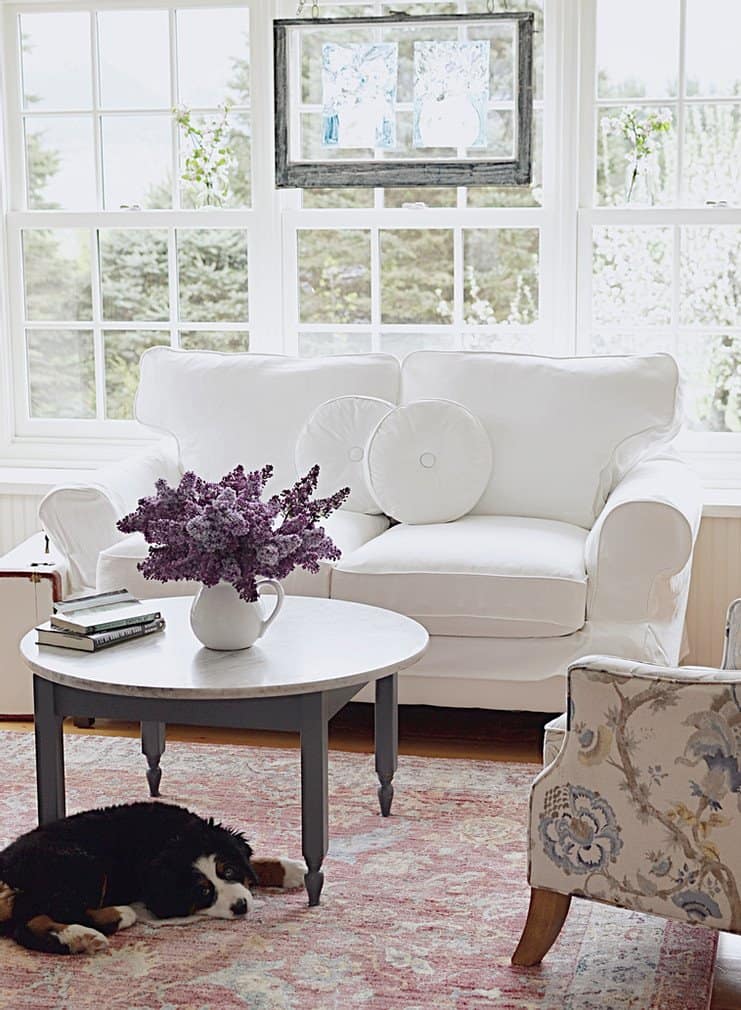 There were two gray, blue, and gold chairs from Pier 1 Imports in this room and I decided to move them into my dining room and replace them with two wicker chairs from my dining room set. All Ella approved…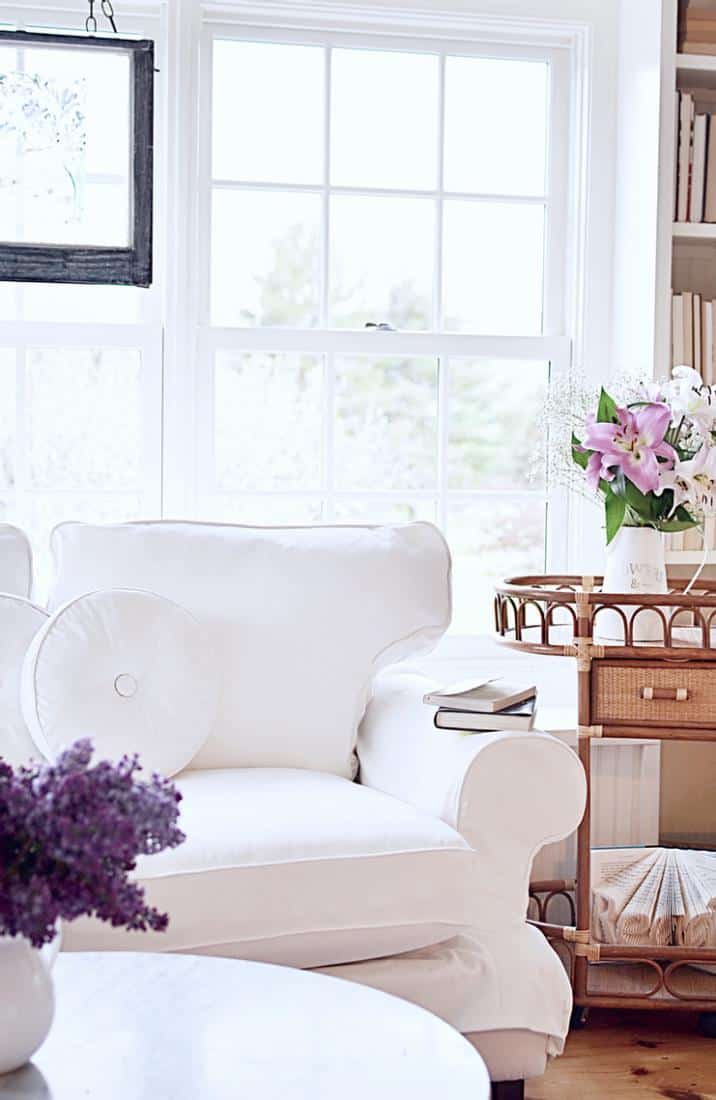 A vintage wicker beverage cart that I found on eBay was added in one corner. The sun room makeover was really coming together nicely.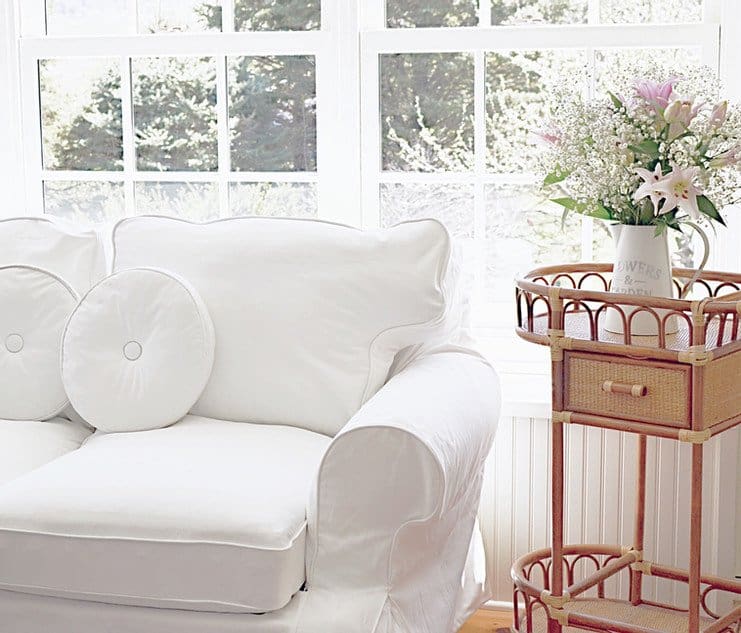 Do you love lilacs? Join me on my most recent post, Decorating with the Color Purple!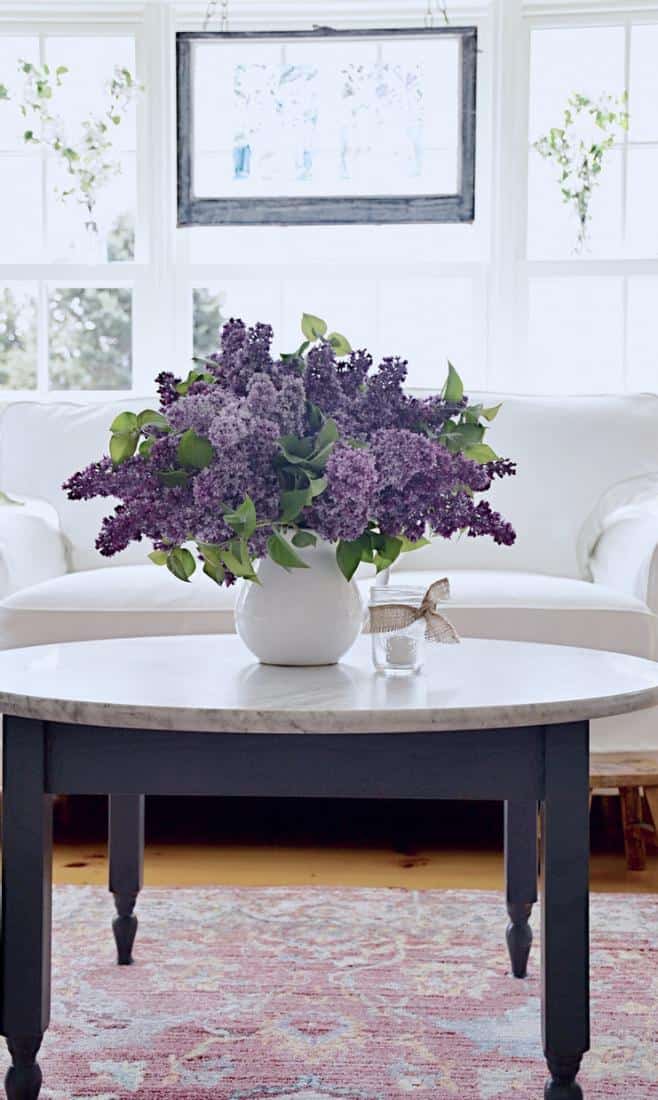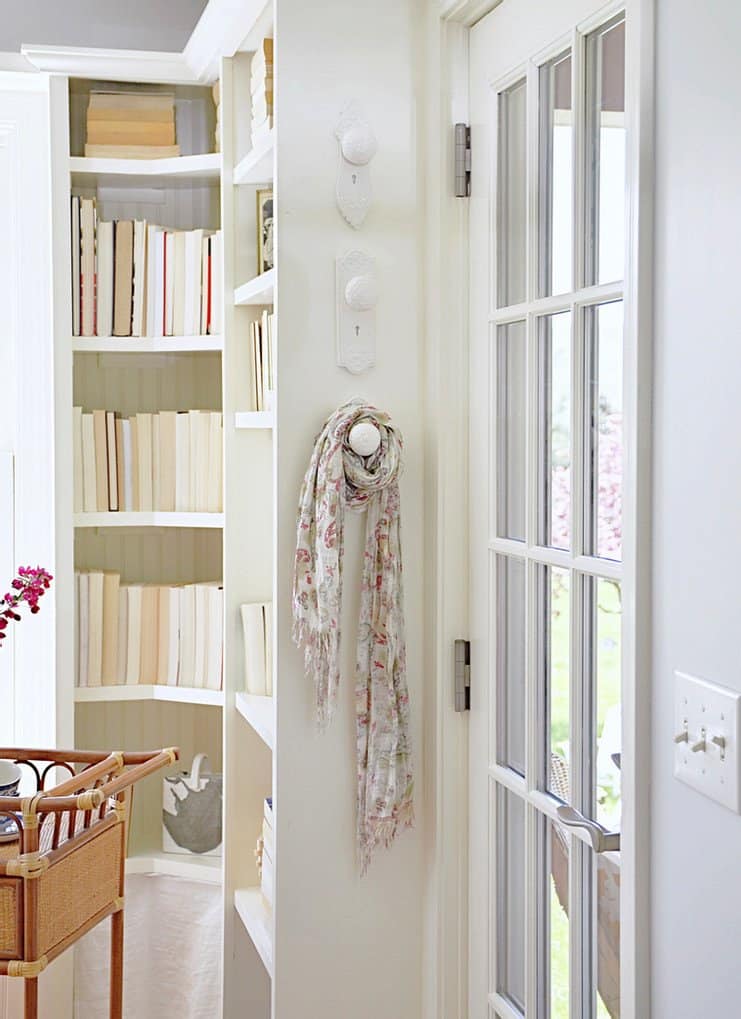 In an effort to keep this room light and bright, I turned the books the opposite way on many of the shelves. I found these beautiful white porcelain door knob hangers here on Amazon. They are adorable!! I also hung a white linen cloth on the bottom shelf to hide our wireless router and cable box… (#reallife)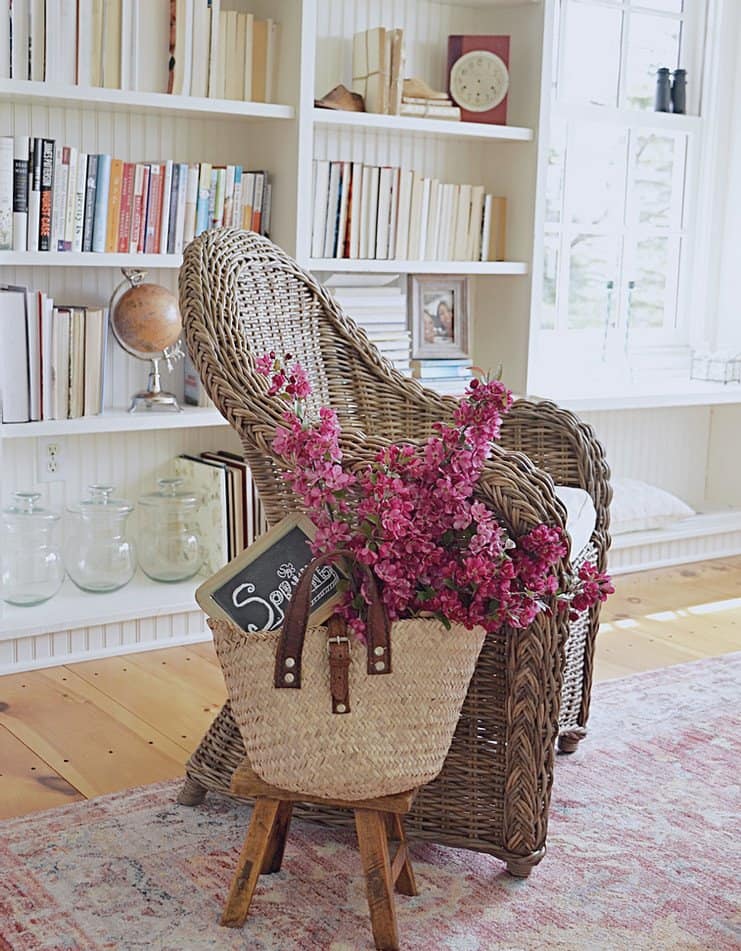 More flowers from our blooming apple trees!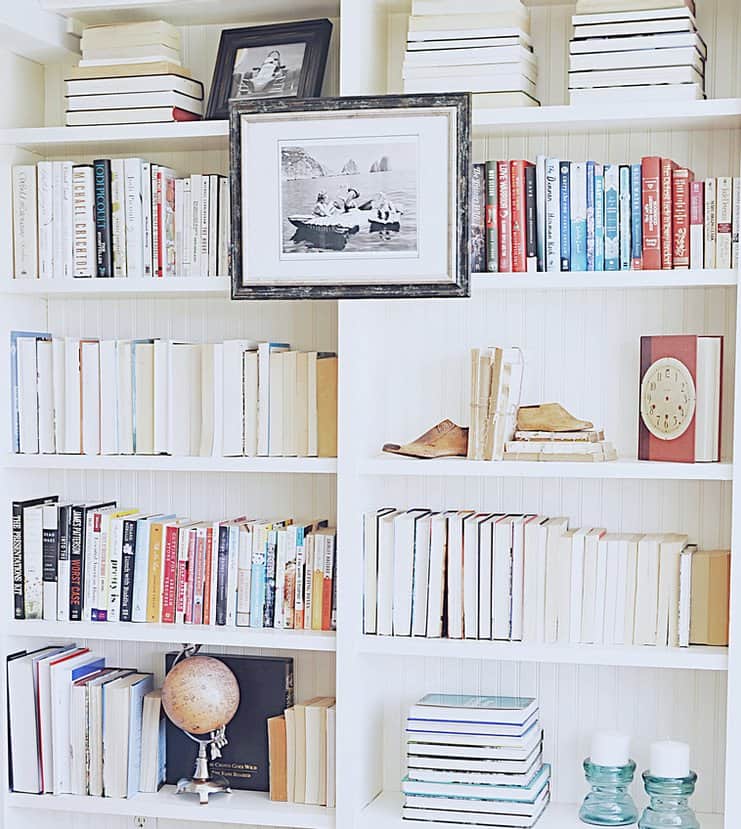 I have already rearranged these bookshelves a couple more times…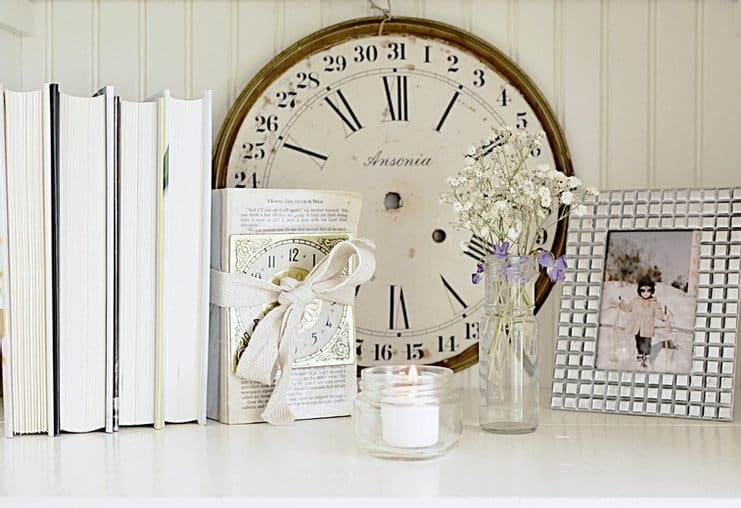 I love vintage clock faces and I got the idea to decoupage them onto vintage books. The inspiration came from Carol @artandsand, a decor friend of mine on Instagram. Go check her out! She has an amazing IG account showcasing her beautiful small cottage on the coast of California.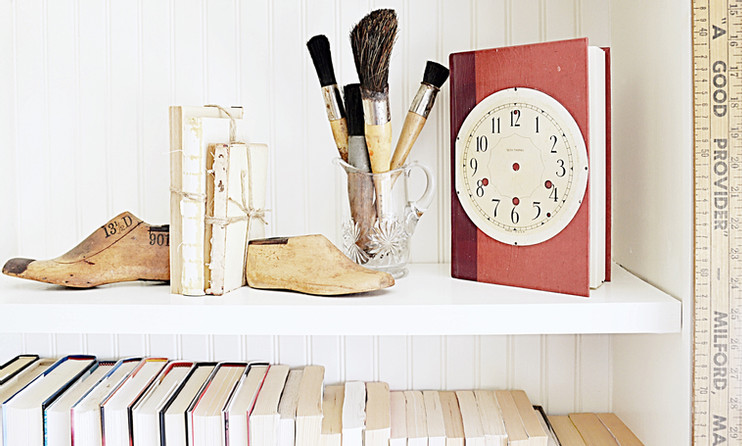 I added this vintage mirror gallery wall right as you enter the sunroom.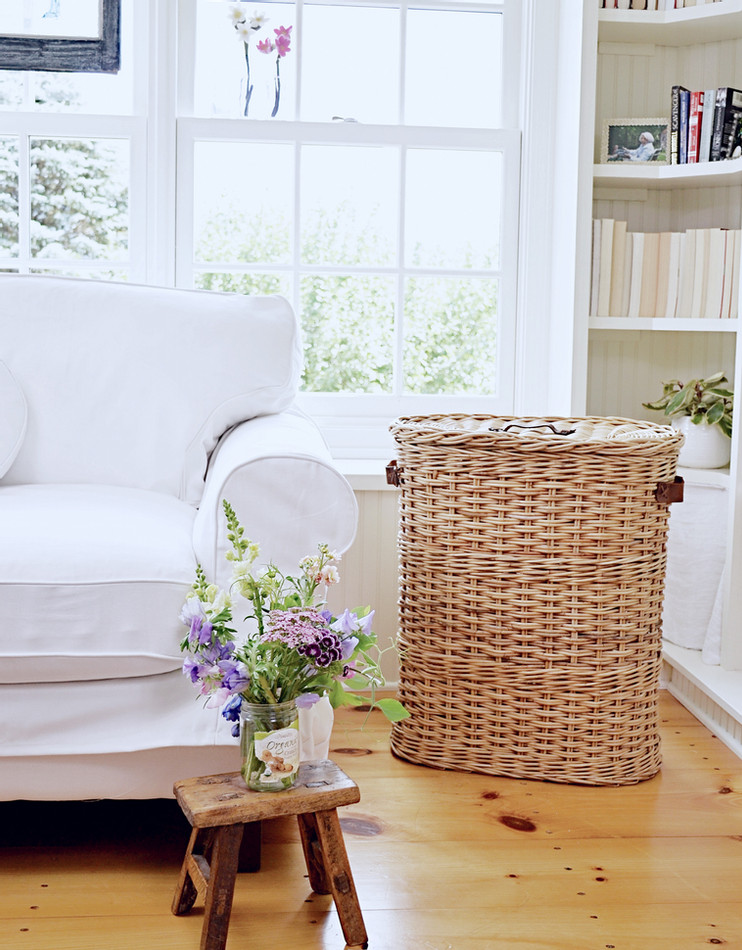 Before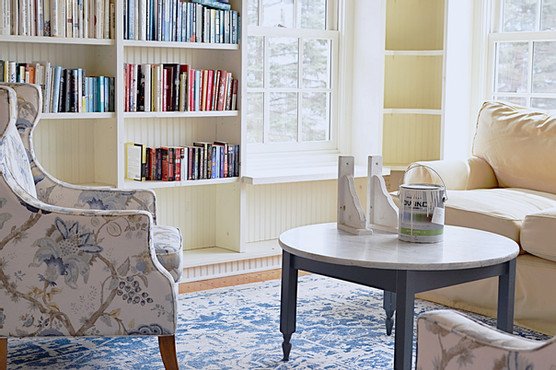 The bookcases were so marked up and really dingy.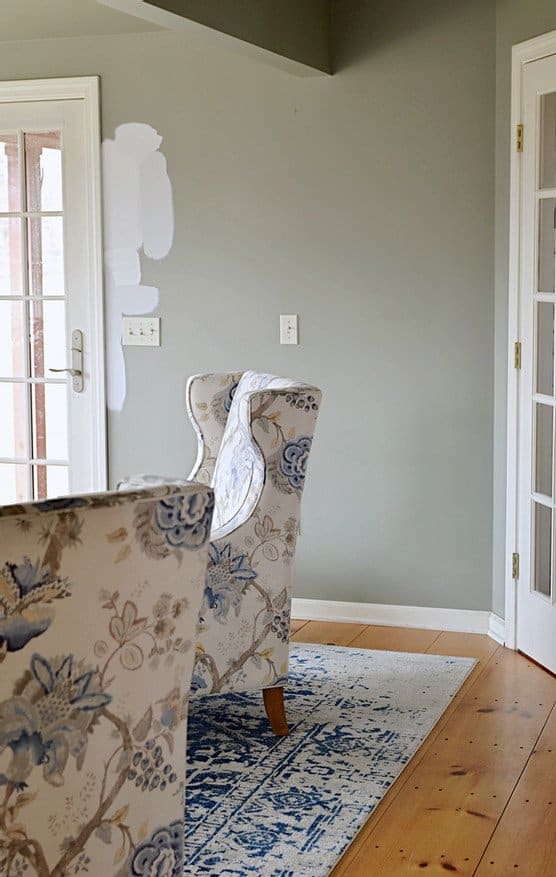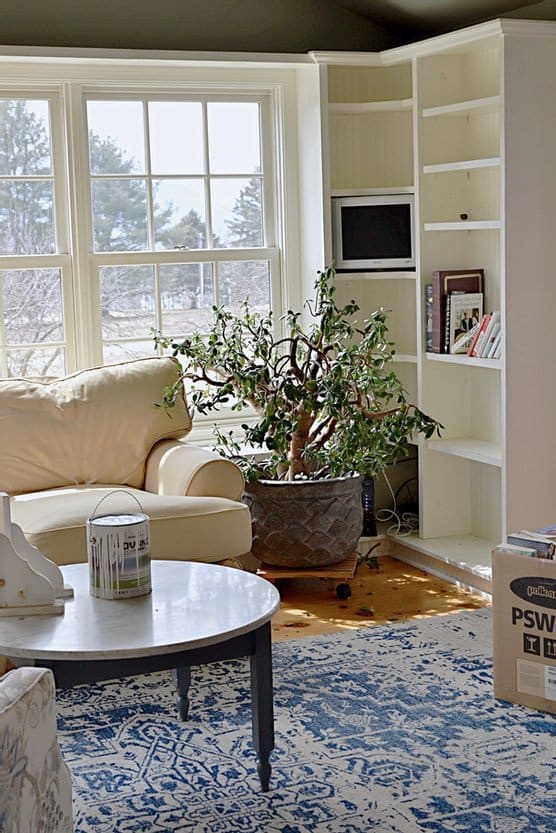 To learn more about Vision Boards and to view the one I used for this room you may visit my previous post here. Now I'm on to restyling our master bedroom and bathroom! Stay tuned here…
We are so grateful that you stopped by!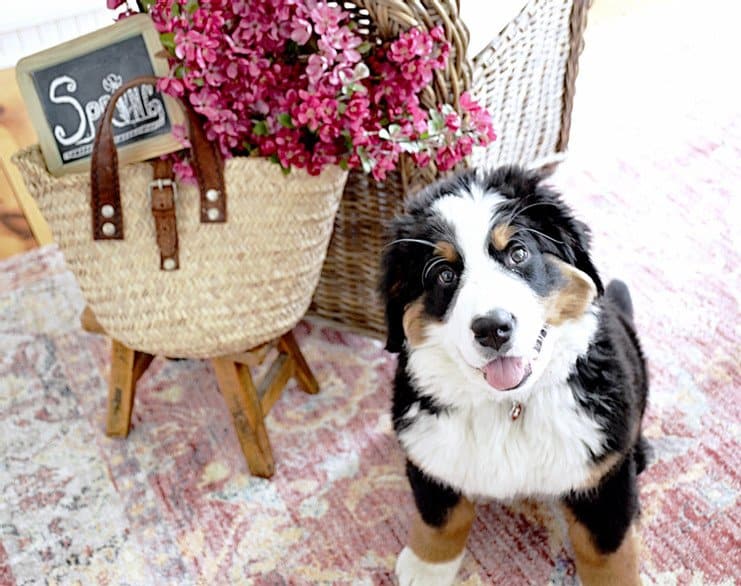 Pin It!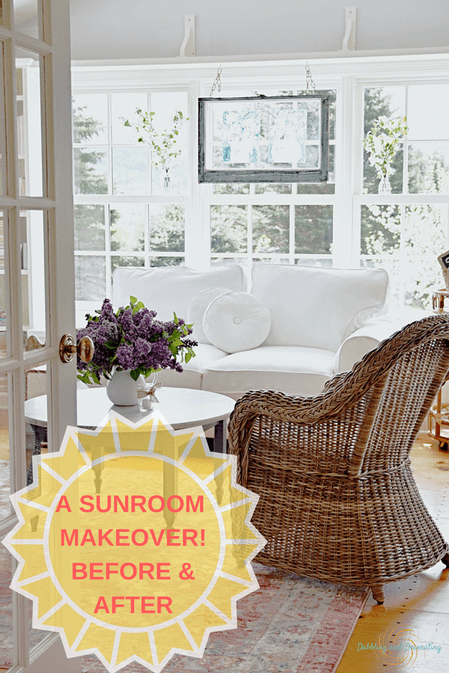 If you like this post, I would love for you to share it on Pinterest! I've created the above custom pin just for this post! Sharing is Caring! I would love to hear from you too! Your comments mean so much to me and truly make my day… You may also join me on Pinterest and Instagram to see more! Thank you so much for stopping by and I truly hope this brought you some decorating inspiration!!!!