How to assemble a small charcuterie board and platter with selected Vermont cheeses and maple syrups, all with a wonderful vintage flair.
We all love an amazing charcuterie board, don't we? Living in Vermont, we get our fix of cheese every day, and our go-to place for all things cheese is always the Vermont Country Store, along with our local farms like Taylor Farms in Londonderry, Vermont.
Doesn't this make you want to go shopping for cheese?
In a quaint store with your own small charcuterie board in mind?
Collecting your favorite cheeses, dips, crackers, spreads, pickles, and more.
You get it, I know you do, right?… If not, check out my more recent visits to the Vermont Country Store here.
What to Serve on a Small Charcuterie Board?
Here are a few of my absolute favorites from Vermont:
Let's head back to the house to create this small charcuterie board with thrifted and vintage dishwares where Ella, our Bernese Mountain dog, awaits us…
We'd also love to have you join us on our Vermont Foliage Home Tour.
What is the Best Cheese Platter?
For today's small charcuterie board | vintage style, I chose a large cutting board with a handle that will also serve as a base for this vintage blue and white ironstone platter, which was my mother's.
This post may contain affiliate links which won't change your price but will share some commission."

I'm also going to use 4 small October blue and white antique bowls to accent it all for the dippings. I found these bowls at Vermont Vintage Market Days for about $2.80 a piece last weekend.
What to Include on a Small Charcuterie or Cheese Board?
I photographed this chalkboard while visiting The Vermont Country Store at their Weston location a few weeks ago. And it will be my guide today in creating a small charcuterie board.
How Do You Make a Small Charcuterie Board?
Arrange your selected cheese platter or board as you want it to be presented.
Spread all the provisions around the platter or board for a good visual.
Use these 3 easy steps mentioned above on the chalkboard to start arranging your small charcuterie board.

The Cheese
The Vehicle
The Extras
4. Make it your own!
Autumn in Vermont Small Charcuterie Board
With it being autumn here in Vermont, I'm going to add apples collected from a neighbor's tree, topped off with some old-fashioned apple cider in thrifted colored amethyst goblets.
Accented and displayed with vintage flair.
The Cheese Platter
This blue and white vintage ironstone platter is loaded with our favorite cheeses.

The uncut cheeses are topped off with white farmhouse animal cheese markers that I won in a Christmas grab many years ago, and an inherited sterling silver knife accompanies the cheese.

I scattered a few crackers for taste, with the focus remaining on the cheese.
The apples are always cut last so as not to let the air brown them out too quickly.
SHOP THIS POST
(click on any of the images to shop the products)

Extras Complimenting The Simple Cheese Platter
Apple slices and Pumpkin Pie Cookie Buttons from the Vermont Country Store.
Pure Soft Maple Sugar Candies are delicious, following the indulgence of these small charcuterie boards.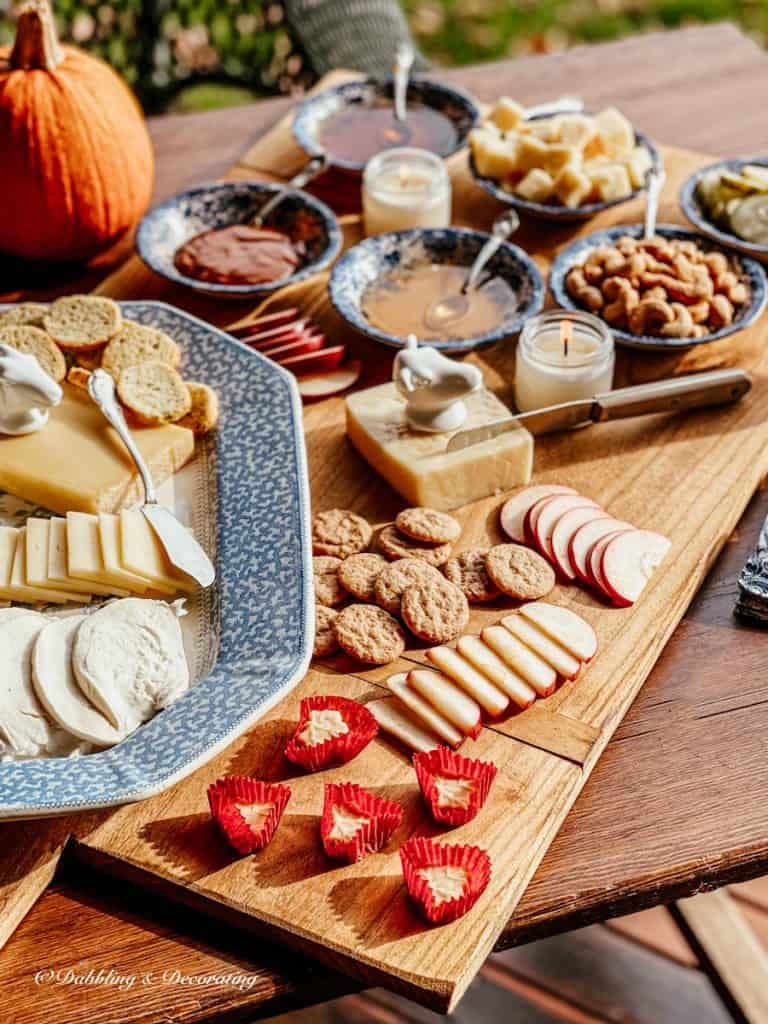 Antique Candle Co coffee candle scents smell heavenly amongst the cheeses.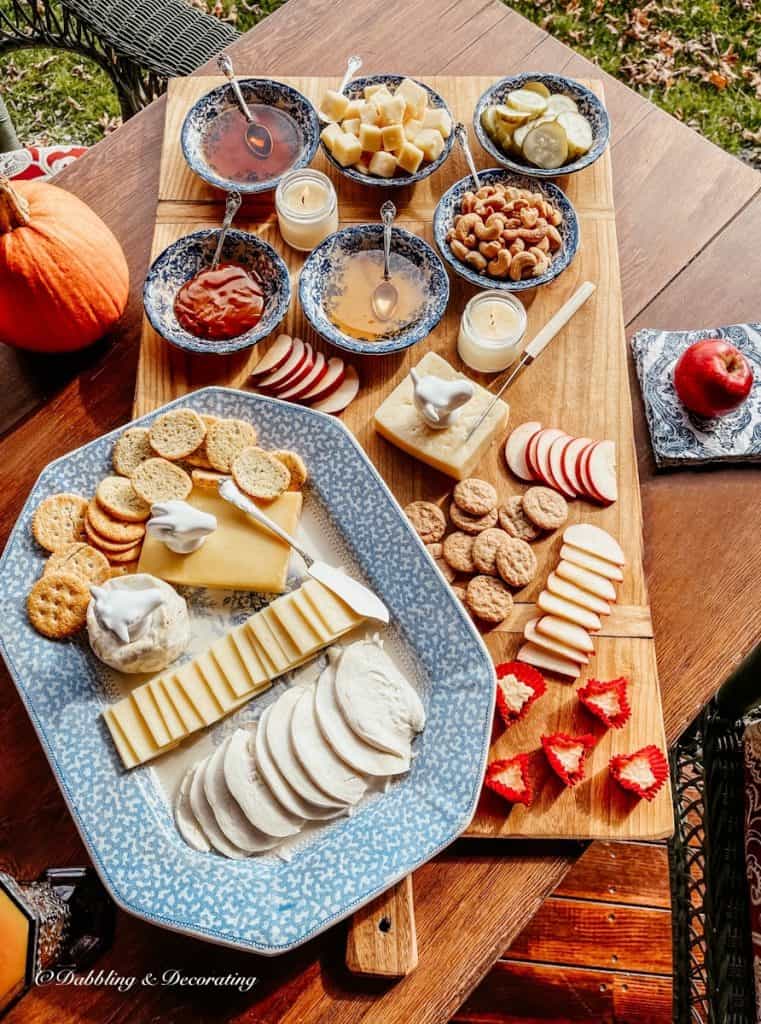 This was so fun and yummy, friends! Thank you so much for suggesting it to me!
I sure hope this isn't our last alfresco for the season!
You may also enjoy this Fall Dessert Table with A Pecan Pie Surprise.
I'm so glad you dropped by, and if you are new to my blog, welcome! I hope you enjoyed your visit with us here today at our Home in Vermont.
Be sure to also check out our Home in Coastal Maine, where we spend summers and weekends when we are craving a walk on the beach or a visit with old friends.

I've created the above custom pin just for this post!  Hearing from you makes my day; your comments mean so much to me! Please join me over on Instagram & Pinterest to see more!
SHOP THIS POST

YOU MAY ALSO ENJOY