What is a Coastal Grandmother? And why is it trending? Welcome to my mother's home in Coastal Maine, an authentic Coastal Grandma summer home tour.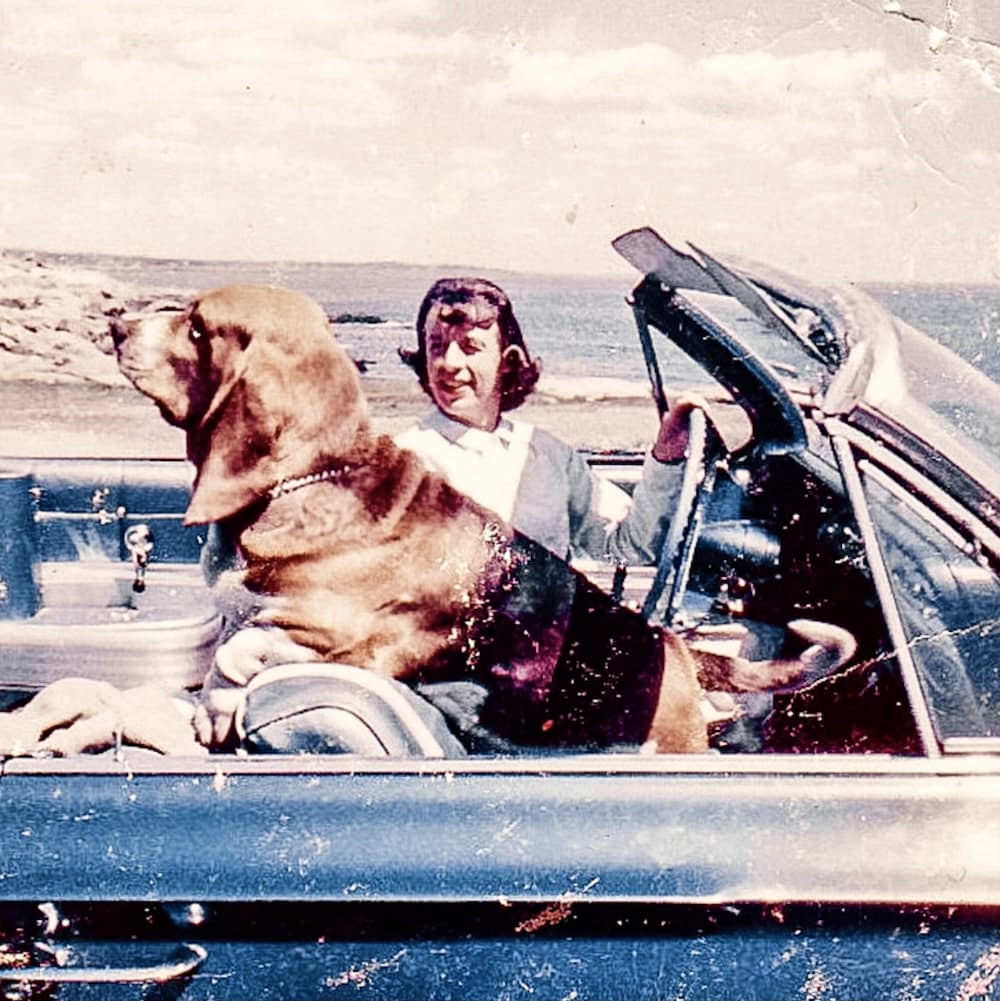 Bloggers' Best Summer Home Tour 22
Welcome to the Bloggers' Best Summer Home Tour 22 hosted by my friend, Kelly over at The Tattered Pew. 30 inspiring bloggers opening up their homes to you along with amazing summer decorating ideas.
If you are joining me here today from Shawna over at Willow Bloom Home, welcome! I just love Shawna's beautiful modern farmhouse charm from her amazing home in Ottowa Canada and how she brings the outdoors inside.
What is a Coastal Grandma?
Influencer Lex Nicoleta coined the term and explains all about the "Coastal Grandmother" style in her short video here:
It's basically all about living your best life with a chic yet comfortable fashion sense, and the same in home decor. The Coastal Grandmother surrounds herself with all the things she loves.
My mother definitely lived her best life here in Coastal Maine and now her home is ours to enjoy, which I'm excited to share with you here today.
A home we inherited almost 3 years ago now and have been renovating and restyling ever since. You may visit our Coastal Maine Home Tour to see the before and after renovations and follow the blog series "In My Mother's Home" too!
Love of Coastal Maine
Have you ever been to Maine? It's a beautiful state with an amazing rocky coast, beaches, quaint towns, fishing communities, and always plenty of lobster.
Mainers enjoy swimming in cold ocean water, ok freezing ocean water… Tretorn sneakers, faded pastel clothing, lobster buoys and lobster traps in our decor, silver bracelets, antiquing, beachcombing, summer nights on the beach, big hats, and lots of suntan lotion.
And if you live on the ocean, you may be seen in a sweatshirt in the summertime too.
Or cozy up on the beach in the evenings with my favorite blanket, by Maine's Chappy Wrap.
This post may contain affiliate links which won't change your price but will share some commission."
SHOP CHAPPY WRAP BLANKETS
Scroll and Click on Image to Shop

Outdoor Thrifted Lobster Table
Backyard lobster bakes are always a must when in Maine.
You may also enjoy this Authentic Maine Lobster Themed Table Setting in our main dining room.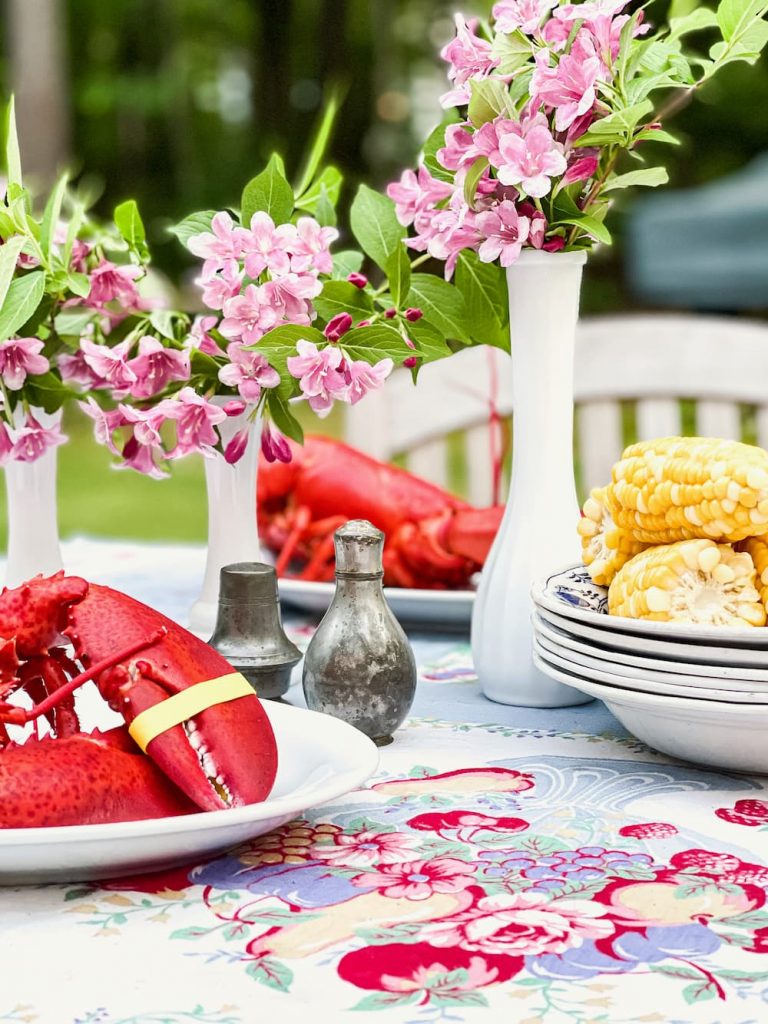 Lobster is a messy summer tradition for sure but it's so worth it!!
Here I set up an all-thrifted backyard lobster table for friends and family.
You may see more of this table HERE!
You may also enjoy the post, Entertain with Red, White, and Blue! Easy Summer Table Trimmings.
Outdoor Vintage Beverage Table
This Charming Antique Table and Chairs for Two I found while out "Thrifting with the Gals" a couple of years ago.
And I love using it outdoors as The Cutest Little Outdoor Beverage Table.
Enhanced with collected glassware, a bouquet of fresh-cut flowers from the backyard, an infused water station, and a candle for ambiance.
You may also enjoy How We Restored our Aged Cedar Shake Siding and Beautiful Essex Green Coastal House Trim.
Easy Summer Style
Early last week, I hosted my friend Molly from Molly in Maine, who is right now launching her new blog!
Everything Dawn had just gifted me this handcrafted Faux Berry Mousseline Tarte and I created this welcoming dessert table for Molly's visit.
But don't worry we had other snacks to munch on too…
I have wanted one of these "fakery bakeries" for some time now and I'm so excited to display it here in our dining room and in the kitchen throughout the summer.
You may see more of this TABLE READY FAKERY BAKERY here.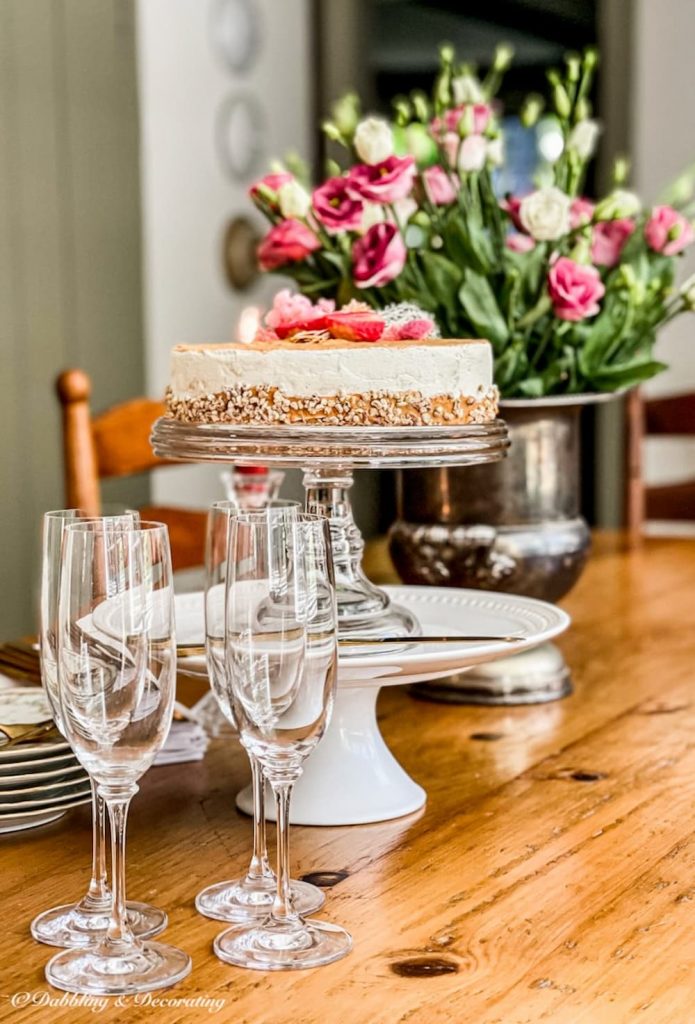 SHOP CAKE STANDS
Scroll and Click Image to Shop

Patriotic Summer Touches
Summer hasn't quite arrived here in Maine just yet so we are still gearing up for the hustle and bustle of Coastal Maine's busiest season, kicking off annually on the July 4th weekend.
A Patriotic Basket Full of Hydrangeas centers the table for the upcoming holiday weekend.
SHOP PATRIOTIC HOME DECOR
Scroll and Click on Image to Shop

A Coastal Grandmother Loves Her Dogs
A coastal grandmother always has a dog by her side. At least that's how I view her. A love of dogs on the couch, in the bed, and riding in the car by her side.
Large dogs, small dogs, all dogs!
This is Ella, our Bernese Mountain Dog on one of her many Cozy Couch Moments in the main living room.
You may also enjoy the Quaint Nautical Decor Corner With a Vintage Wow Factor, post and A Bernese Mountain Dog & The Gift of a Whale post.
And this was my mother's basset hound, Boozer in her convertible at the Nubble Lighthouse sometime before I was even born. I hope you're getting a feel for the Coastal Grandmother…
You may enjoy reading about our family's Coastal Maine Heritage – Embracing My Roots too.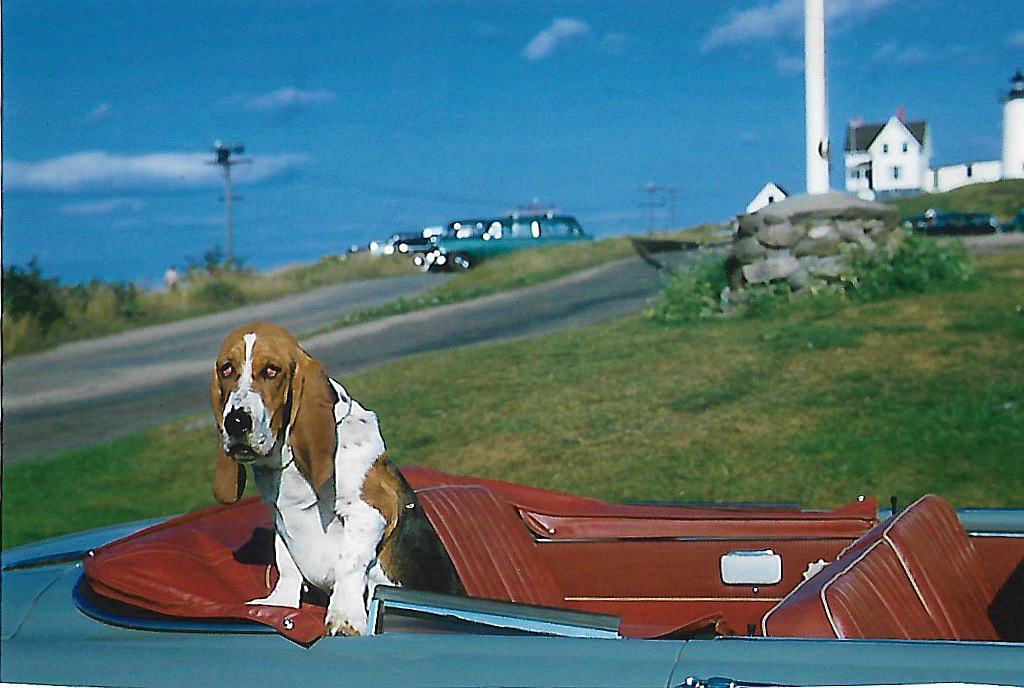 Coastal Grandmother Heirlooms
Coastal Grandmothers love to stay busy. They are social, community involved, and family-oriented.
I treasure the heirloom quilts today that my mother made alongside all of her dear lifelong friends.
You may also enjoy VINTAGE VIBE AESTHETICS TO TREASURE.
Today these heirloom quilts are displayed in the guest bedroom on the first floor of our home.
You may also enjoy How to Fold and Display Heirloom Quilts or SMALL COTTAGE GUEST BEDROOM, VINTAGE AND DELIGHTFUL.
My mother also loved making braided rugs, which are now displayed on the newly refinished soft pine floors throughout the home. See more in the post, Vintage Braiding Rug Stand | A Mother's Day Reflection.
You may also enjoy this DIY License Plate Hat Rack and Wall Decor I made for this room too from vanity license plates I found in my father's old shed.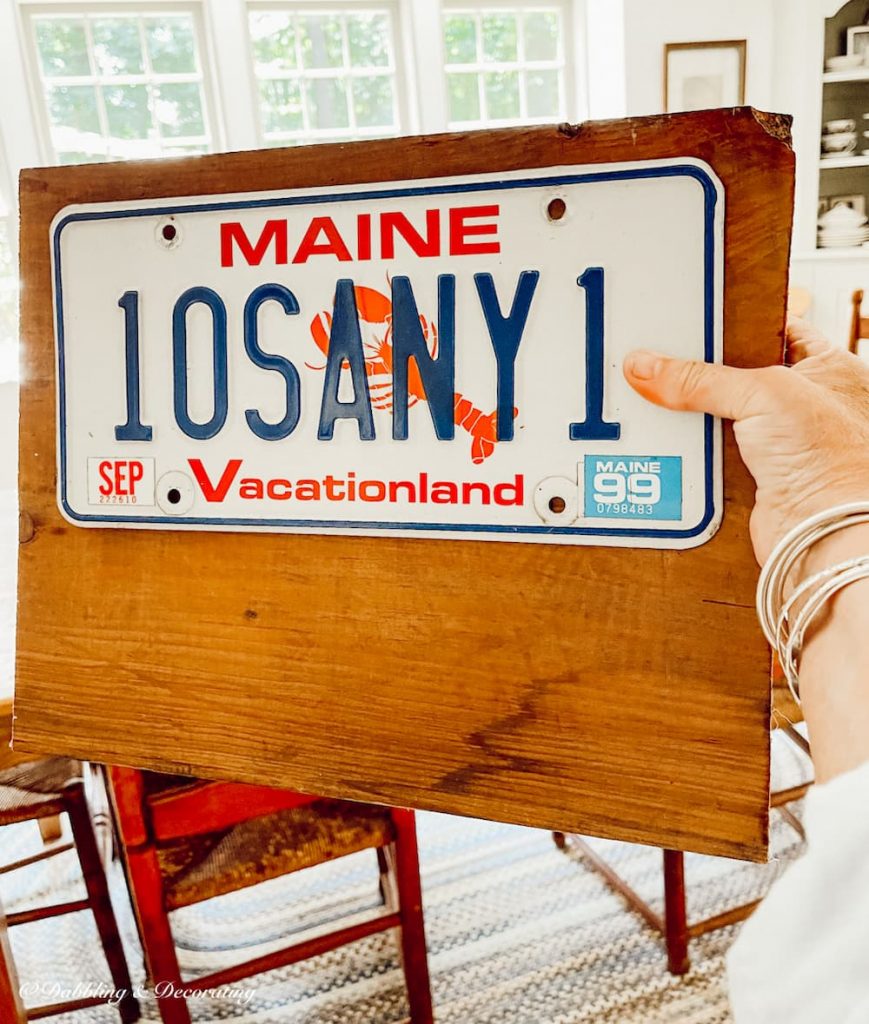 I recently found this video of my mother around 1975 playing tennis with her dear friend Judy Seedner at their home on the ocean in York Beach, Maine. A home I spent a great deal of my childhood at, with my best friend at the time, Jenny Seedner. The best of #coastalgrandmothers!
And I know you are going to love this DIY License Plate Hat Rack and Wall Decor that I made out of old vanity license plates, 10SANY1?
A Summer Table Setting
Collected McCoy, blue and white dishes, pewter goblets, colored glassware, and more beautify our vintage dining room table for summer.
See more of this thrifted and collected table "In My Mother's Home" HERE.
You may also enjoy last year's COASTAL MAINE HOME TOUR.
7 Old Galvanized Bucket Planter Ideas
Don't you just love this galvanized red bucket?
I picked it up last year while out "Thrifting with the Gals" and I had forgotten all about it!
Geraniums remind me so much of a Coastal Grandmother as I reflect on the days when my mother would ride out to their gift shop at the Nubble Lighthouse daily to water the red geranium window boxes.
You may also enjoy the post, White & Green Rustic Summer Flower Planters Sure To Charm You.
Check out these 6 ideas for decorating with old galvanized buckets that I shared last week.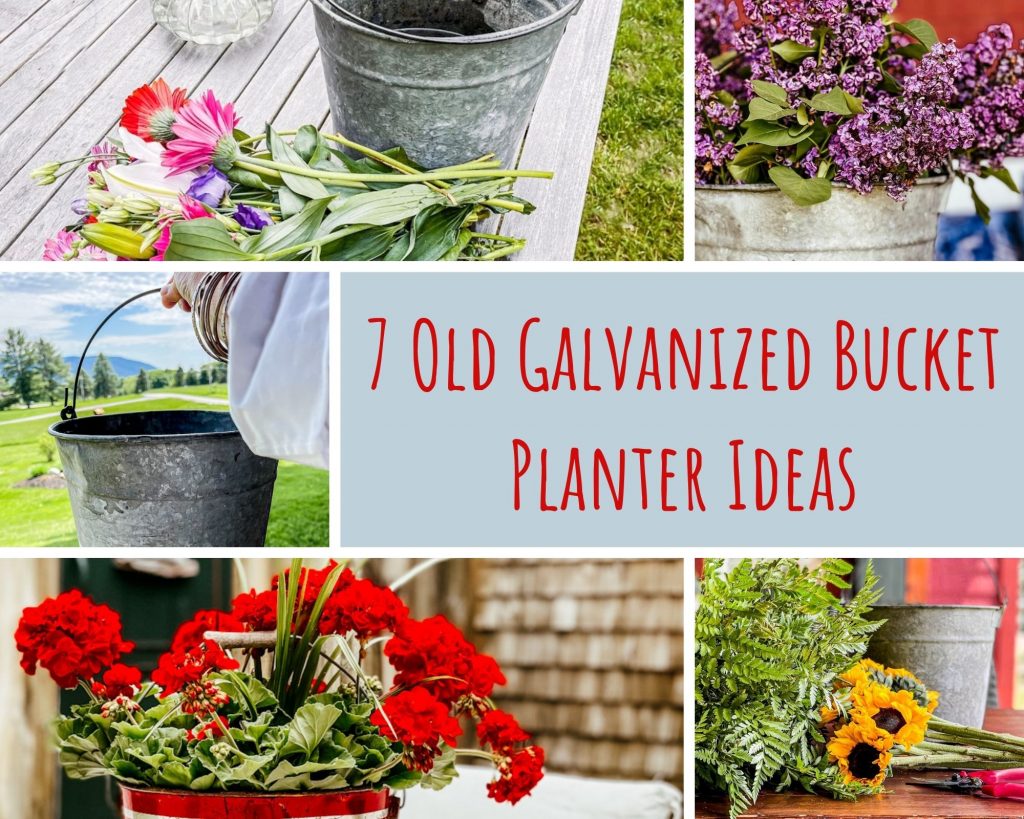 You may also enjoy these RED GERANIUM TIME-HONORED WINDOW FLOWER BOXES.
A Coastal Grandmother's Charm Bracelet
Do you remember when charm bracelets were so popular and then there were the Pandora bracelets?
I think every Coastal Grandma I know has or had a precious charm bracelet.
And at the end of last summer, I found this long-lost charm bracelet that was my mother's and I wrote and shared all about it in this post Embracing Summer's End.
START YOUR OWN CHARM BRACELET TRADITION
Scroll and Click on Image to Shop

You may enjoy seeing our Behind the Scenes Photo Shoot with Country Sampler Magazine this summer too.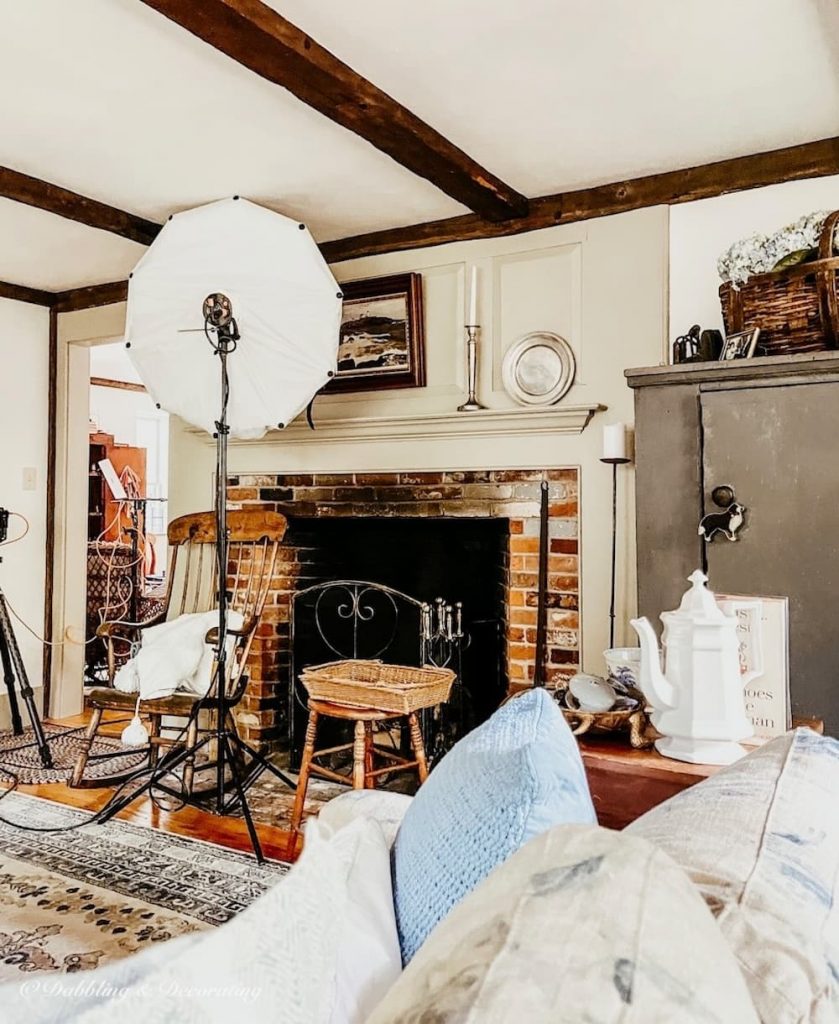 Antiquing and Thrifting
Now, not all coastal grandmothers love to go antiquing and thrifting, but mine sure did. And I do too! Join me every month here on the blog for a round-up of all my coastal thrifting this summer in the series "Thrifting with the Gals".
Or daily over on Instagram with my sidekick, Ella!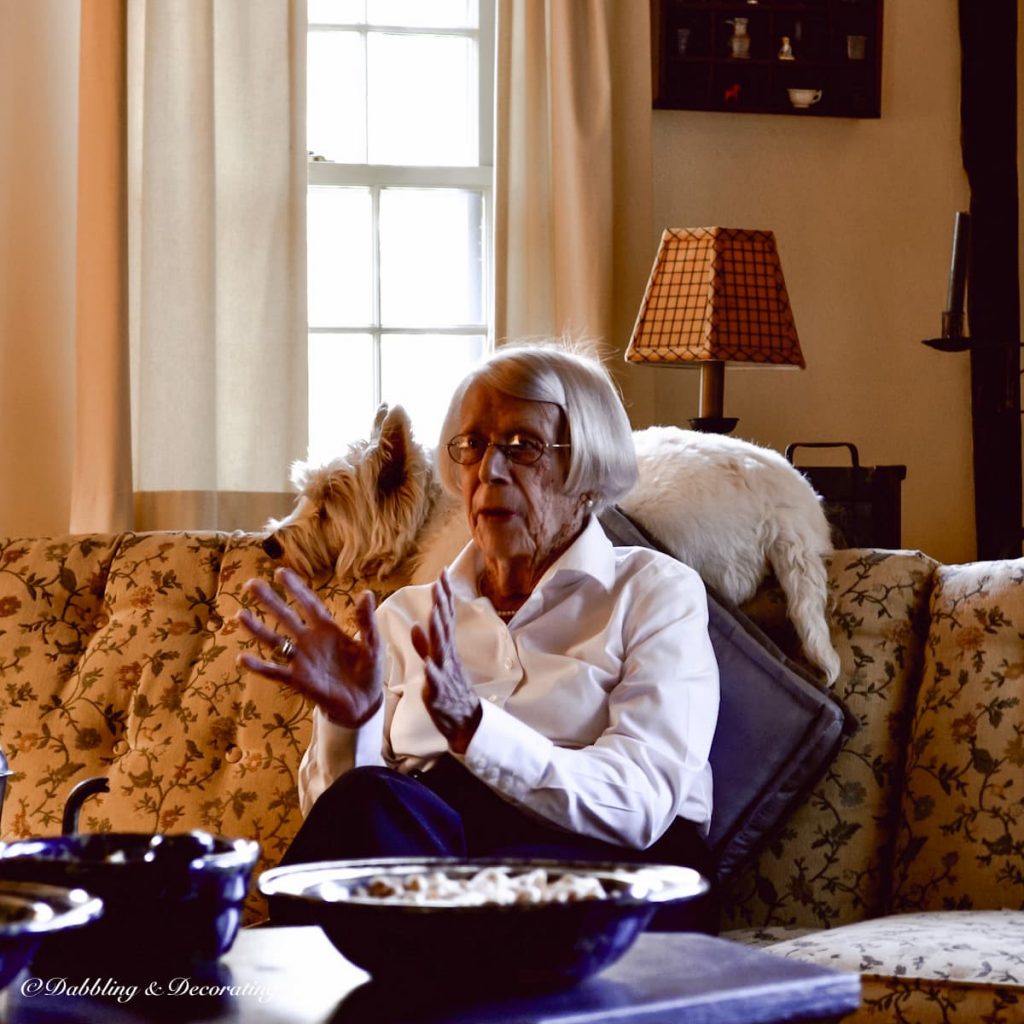 Take Our Video Home Tour of Earlier this Spring
I'm so glad you dropped by, and if you are new to my blog, welcome! I hope you enjoyed your visit with us here today at our Home in Coastal Maine.
Be sure to also check out our Home in Vermont too, where we spend winters enjoying the coziness of home in the Green Mountains of Vermont.

I've created the above custom pin just for this post! Hearing from you makes my day and your comments mean so much to me! Please join me over on Instagram & Pinterest to see more!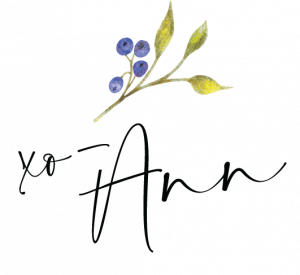 Next up on today's Bloggers' Best Summer Home Tour 22 is Michelle from Thistlekey Lane. And you are going to be so impressed. I adore Michelle's beautiful and simple summer decorating ideas. We've been on many of these blog hops together, and she's definitely a favorite!
Bloggers' Best Summer Home Tours
I am joining some of my blogging friends this week for the Bloggers' Best Summer Home Tours. Thirty talented and creative women will open their homes up for you to tour all week. You can visit each summer home tour by clicking the links below.
Monday's Tours

The Tattered Pew / Cottage On Bunker Hill / She Gave It A Go
Cottage In The Mitten / Stonegable / My Wee Abode
Tuesday's Tours

Thistle Key Lane / Midwest Life & Style / White Lilac Farmhouse
My Thrift Store Addiction / Willow Bloom Home Blog / Dabbling and Decorating
Wednesday's Tours

Bricks 'n Blooms /Amy Sadler Designs / Peacock Ridge Farm
White Arrows Home / Pasha Is Home / The Ponds Farmhouse
Thursday's Tours

Simply2Moms / Country Peony / Southern Home and Hospitality
Shiplap and Shells / Eleanor Rose Home / Cloches and Lavender
Friday's Tours

Le Cultivateur / Lora Bloomquist Create & Ponder / Noting Grace
My Family Thyme / Vintage and Grace Living / County Road 407
YOU MAY ALSO ENJOY