I found these old vanity Maine license plates in a family shed. Let me show you how I turned them into an adorable hat rack and wall decor.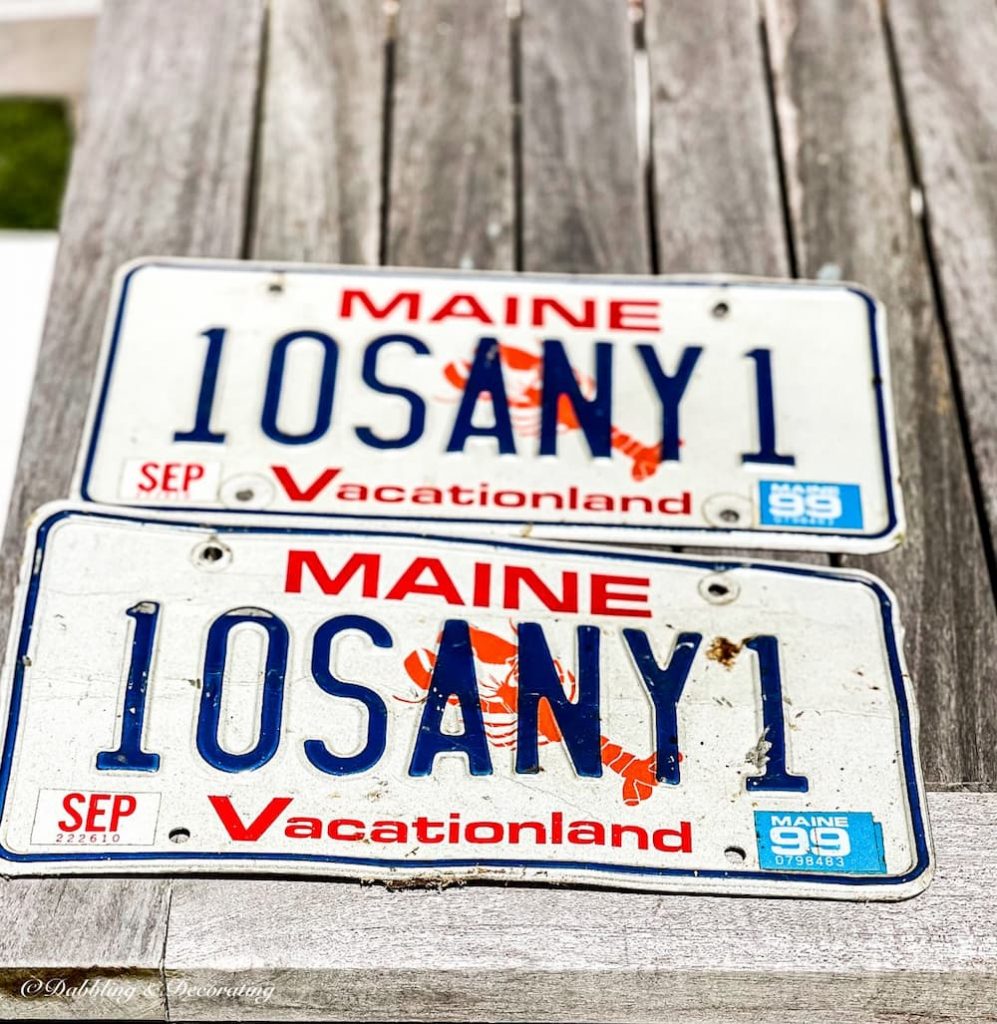 This post may contain affiliate links which won't change your price but will share some commission."

This week we tackled cleaning out an old shed on our property here at our home in Maine. A shed that was my father's for years and where he made furniture, and kept many of his collectibles like these old vanity license plates, pictures of all his DIY projects, and more.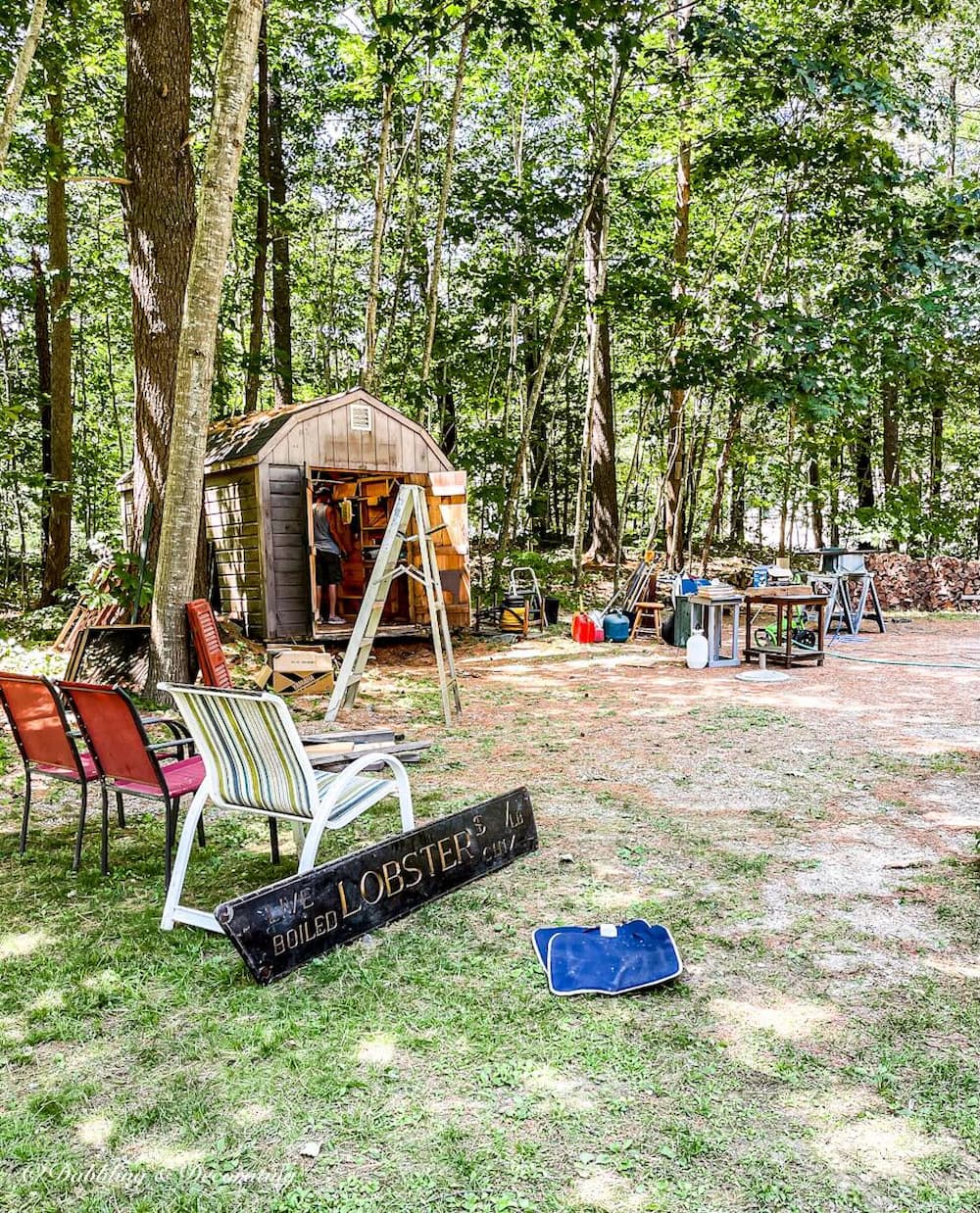 He was a big tennis player, playing until he was 86 years old. So I was thrilled when I found these license plates amongst his things. I knew right away I wanted to create something fun with them to display in our guest bedroom, where a collection of his tennis racquets also resides.
You may see more of this guest bedroom in the post, Small Cottage Guest Bedroom, Vintage and Delightful.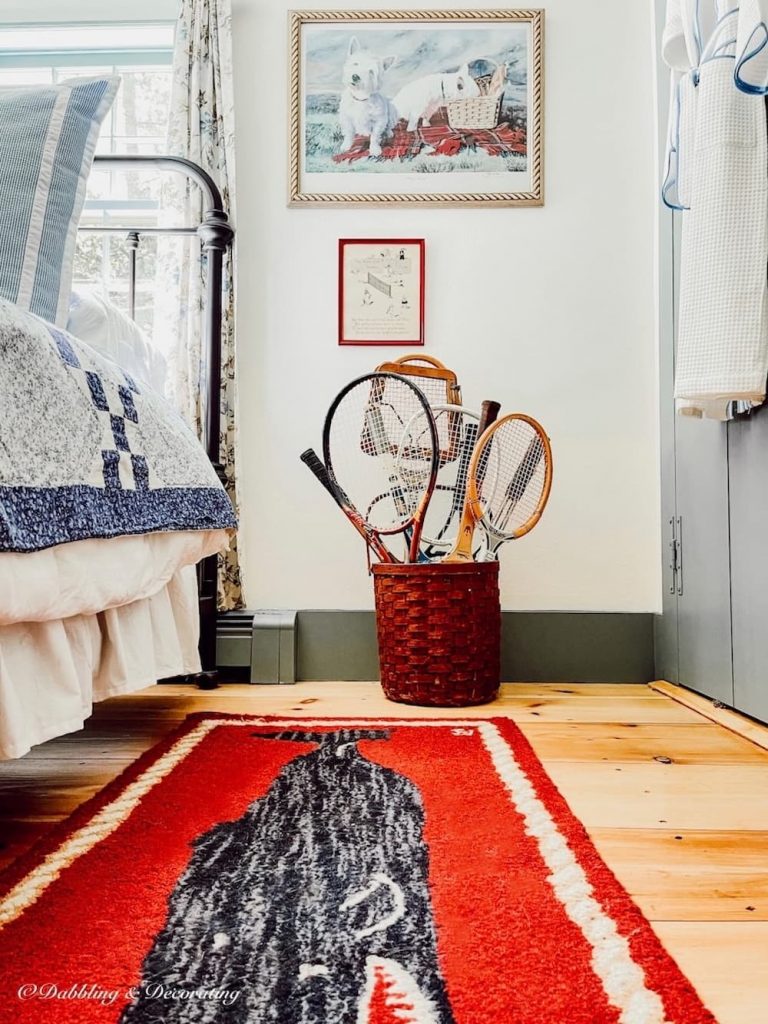 How to Make a License Plate Hat Rack
I first found these vintage hooks on Etsy sold by Parkwood Treasures.
I really liked their white vintage cottage vibe.
And it was a bonus too that they came with the original mounting screws.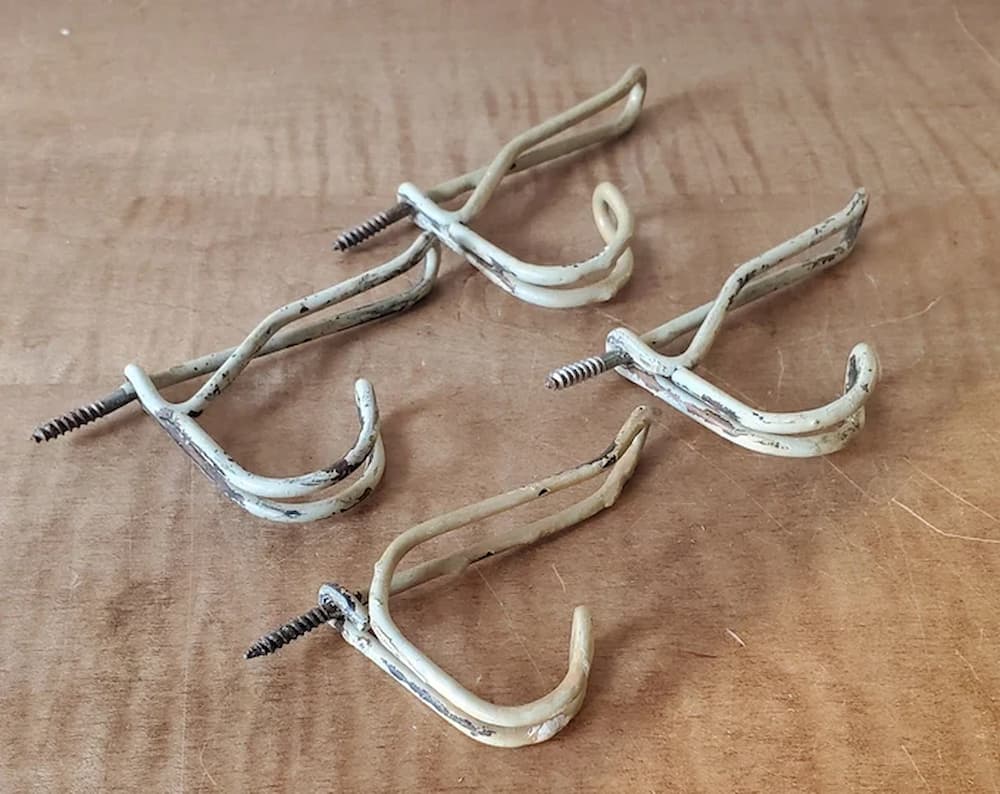 There are so many vintage wire hooks to choose from here:

Then I painted an old board the same custom blue as the trim in this bedroom.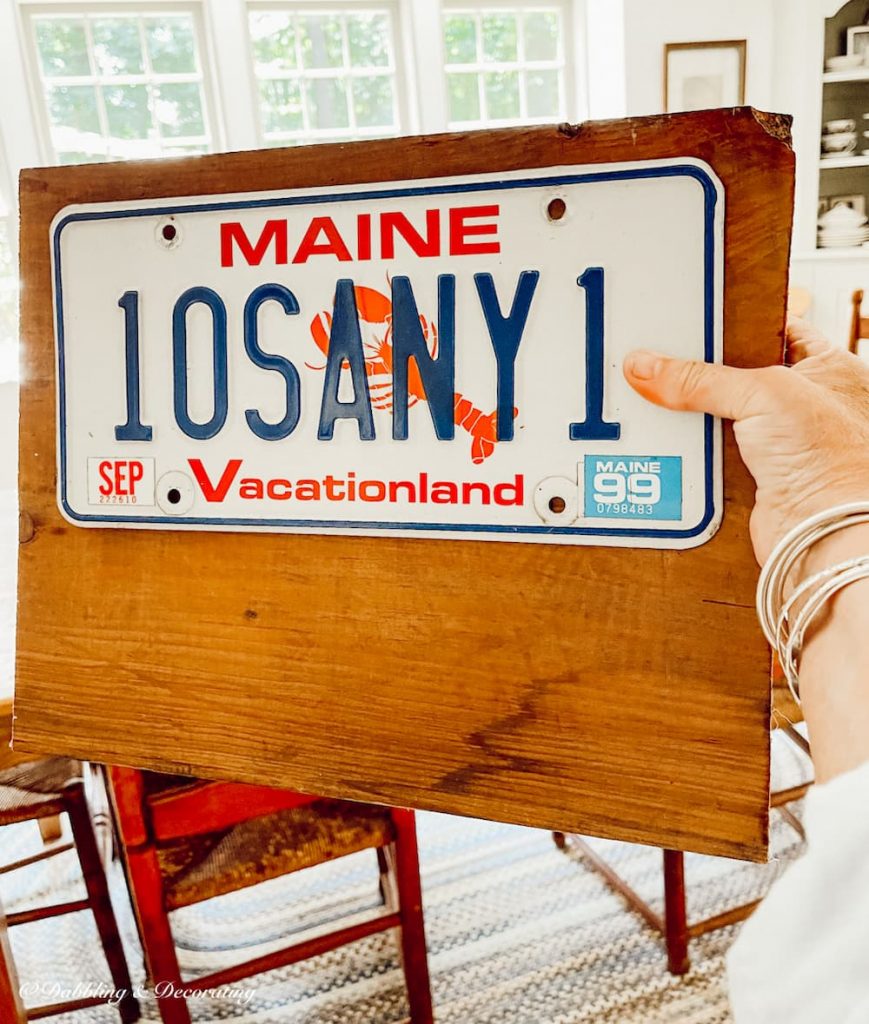 I've included the custom paint formula here in case you would like to duplicate it.
It's a beautiful shade of antique blue.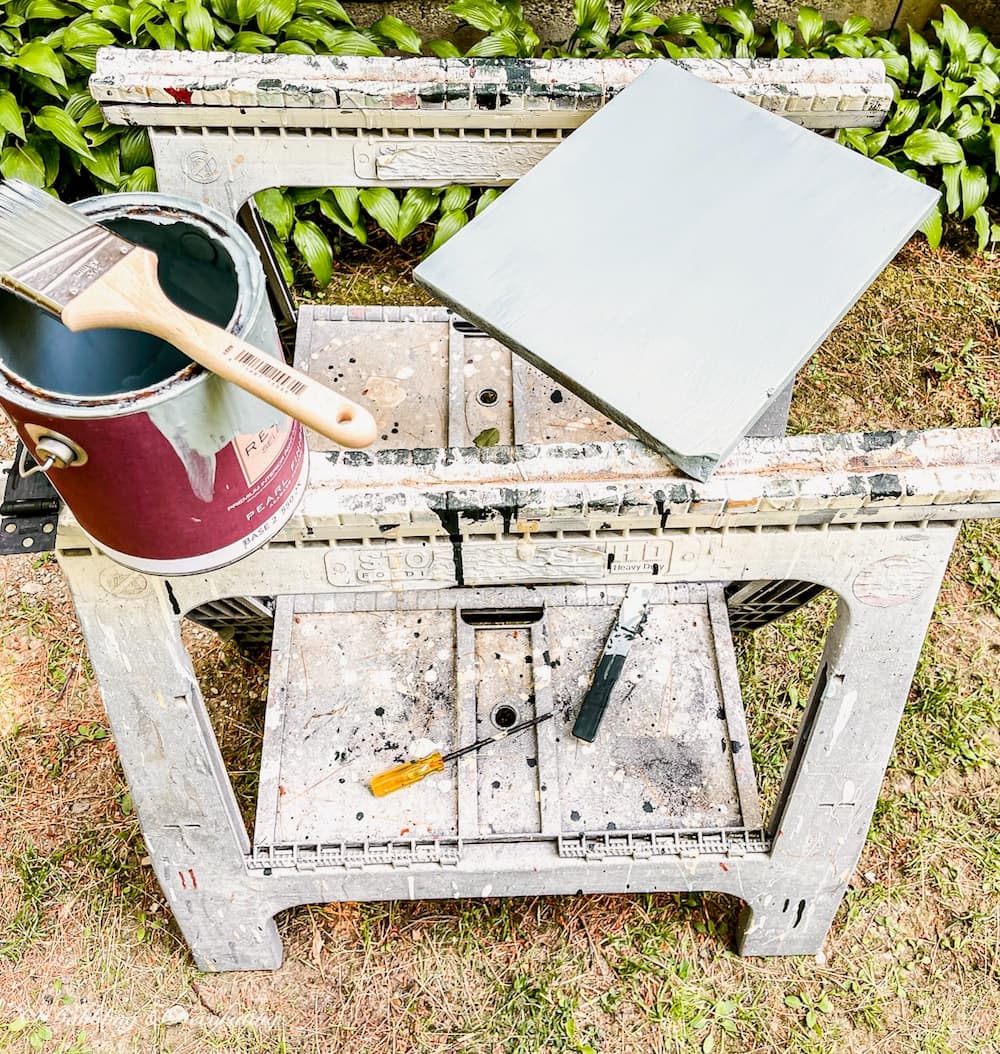 Once the vintage hooks arrived in the mail, I mounted the license plate along with three of the four hooks.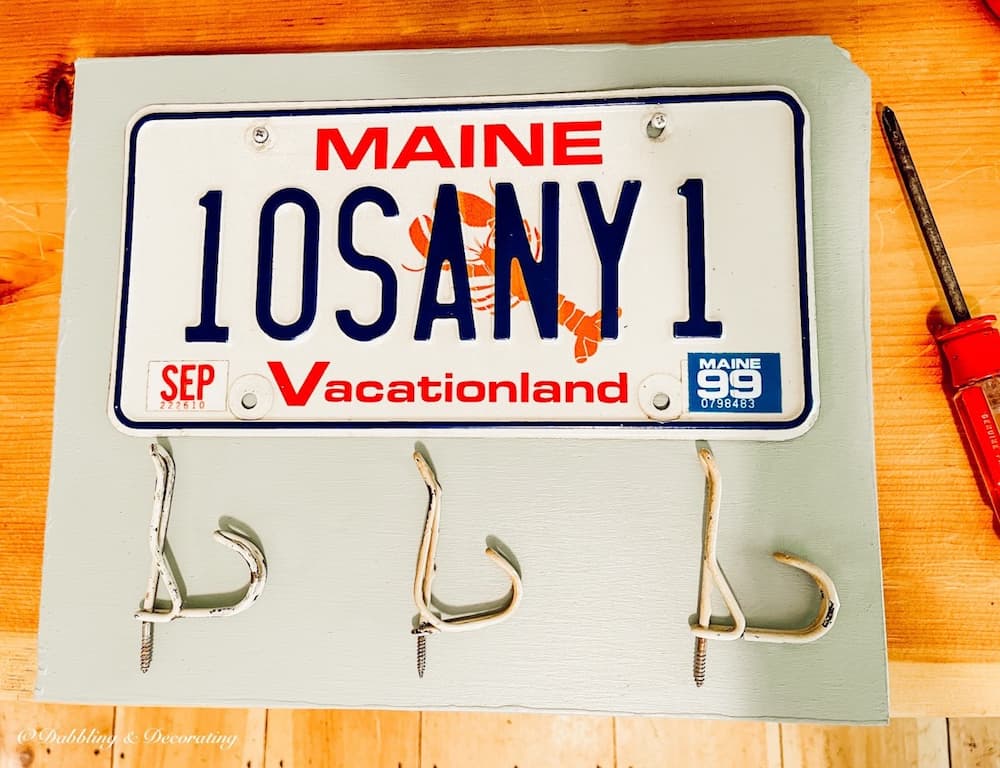 I then hung my new license plate hat rack up in our guest bedroom with two Command Strips just to be on the safe side.

You may also really enjoy making these Dishy Kitchen Hooks You Can DIY in Minutes.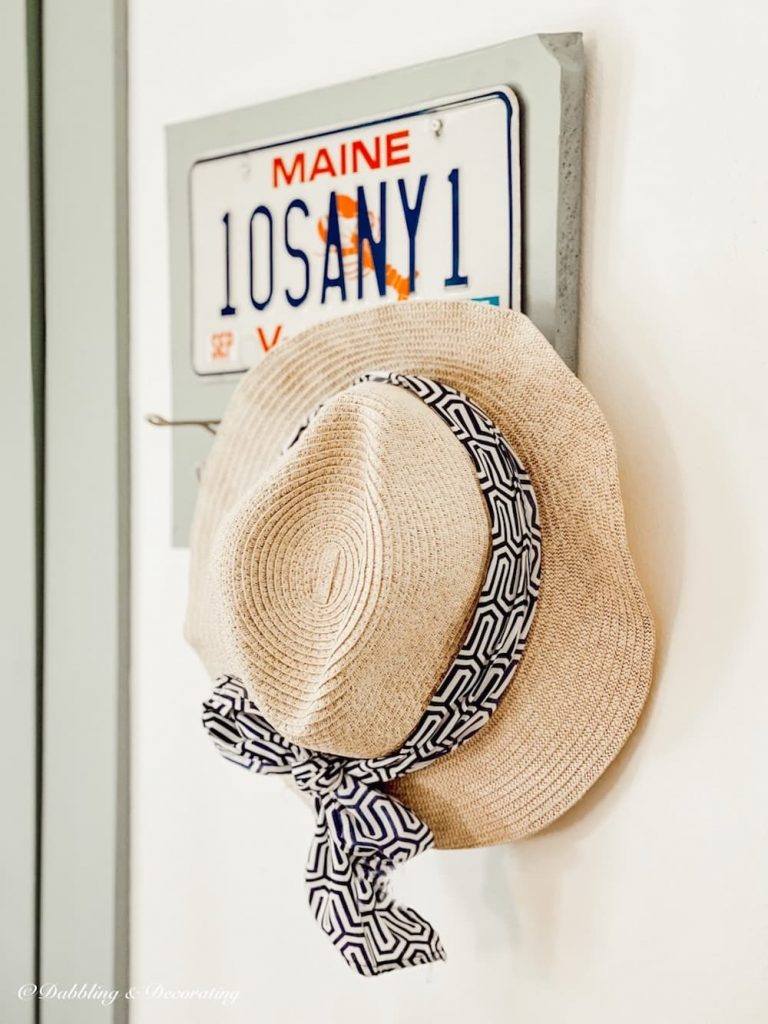 You may also enjoy This Summer's Thrift Store Decor Finds.
And check out what else I found with a tennis theme in the post, Antiquing Down East, A Day's Jaunt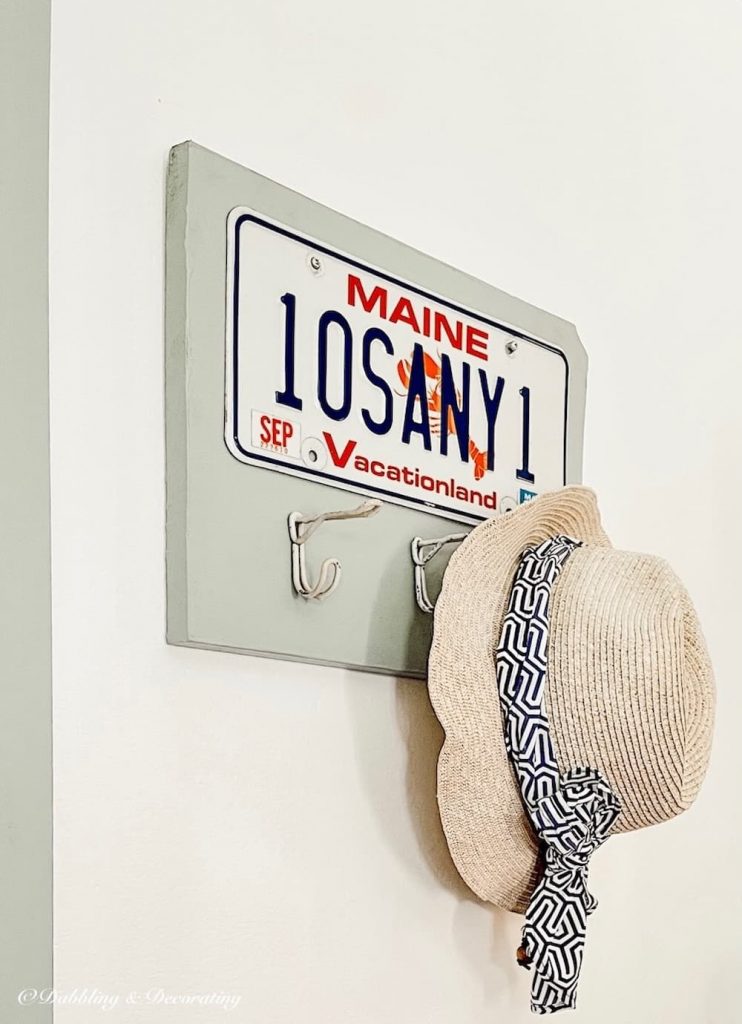 You may also enjoy the post How to Fold and Display Heirloom Quilts like this collection here that my mother made and Vintage Braiding Rug Stand | A Mother's Day Reflection.
License Plate Wall Decor
And after creating this license plate hat rack I found two more vanity plates in the shed with my father's initials on them.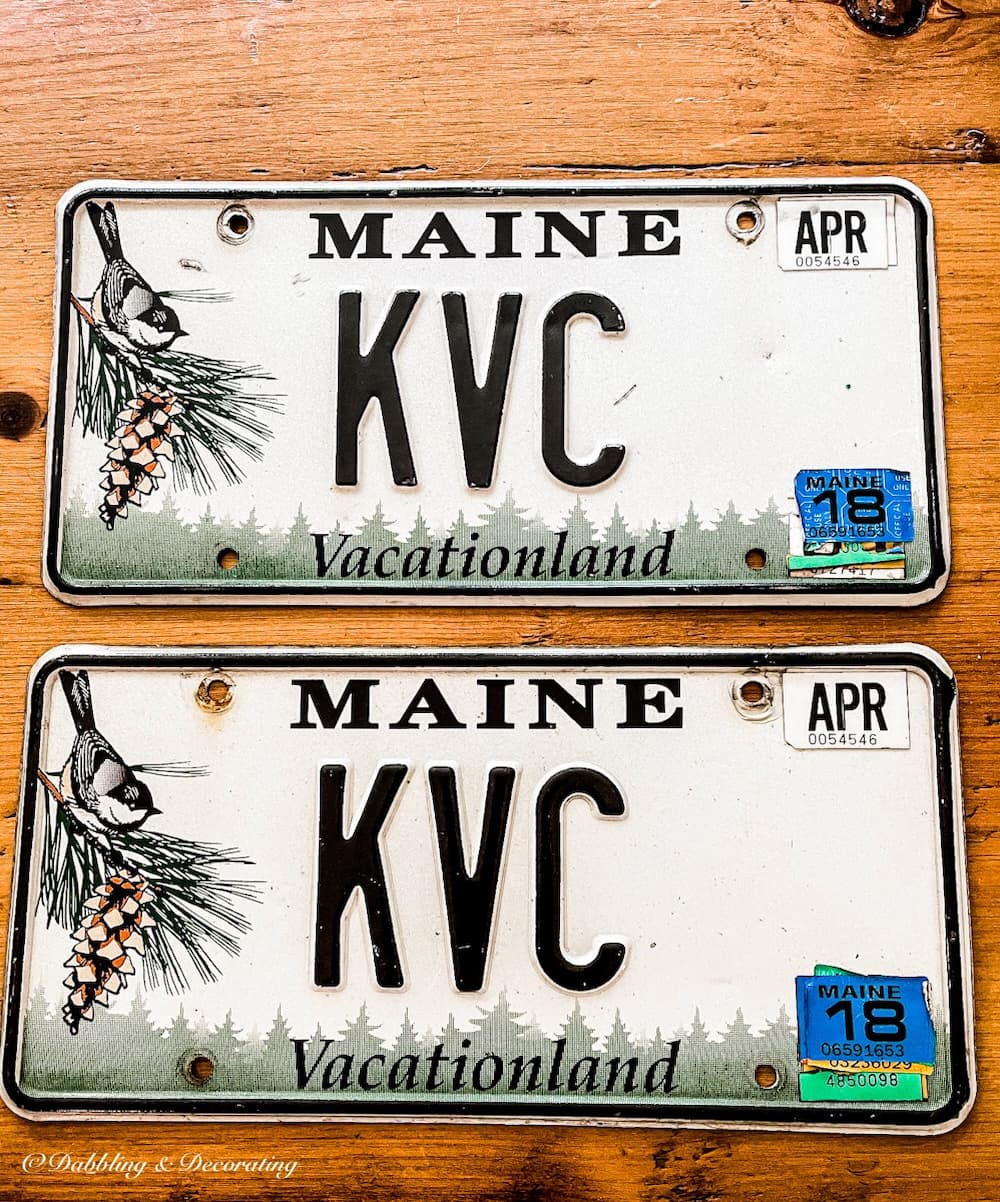 And created this easy hanging license plate wall decor using simple twine.
Tie a piece of twine on your top license plate between the top two holes of the plate to create a hanger.
Choose the measurement for the spaces you want between the license plates. I used 1 1/2 inches.
Then tie a piece of twine between the bottom of one license plate into the top holes of the next license plate. Super easy!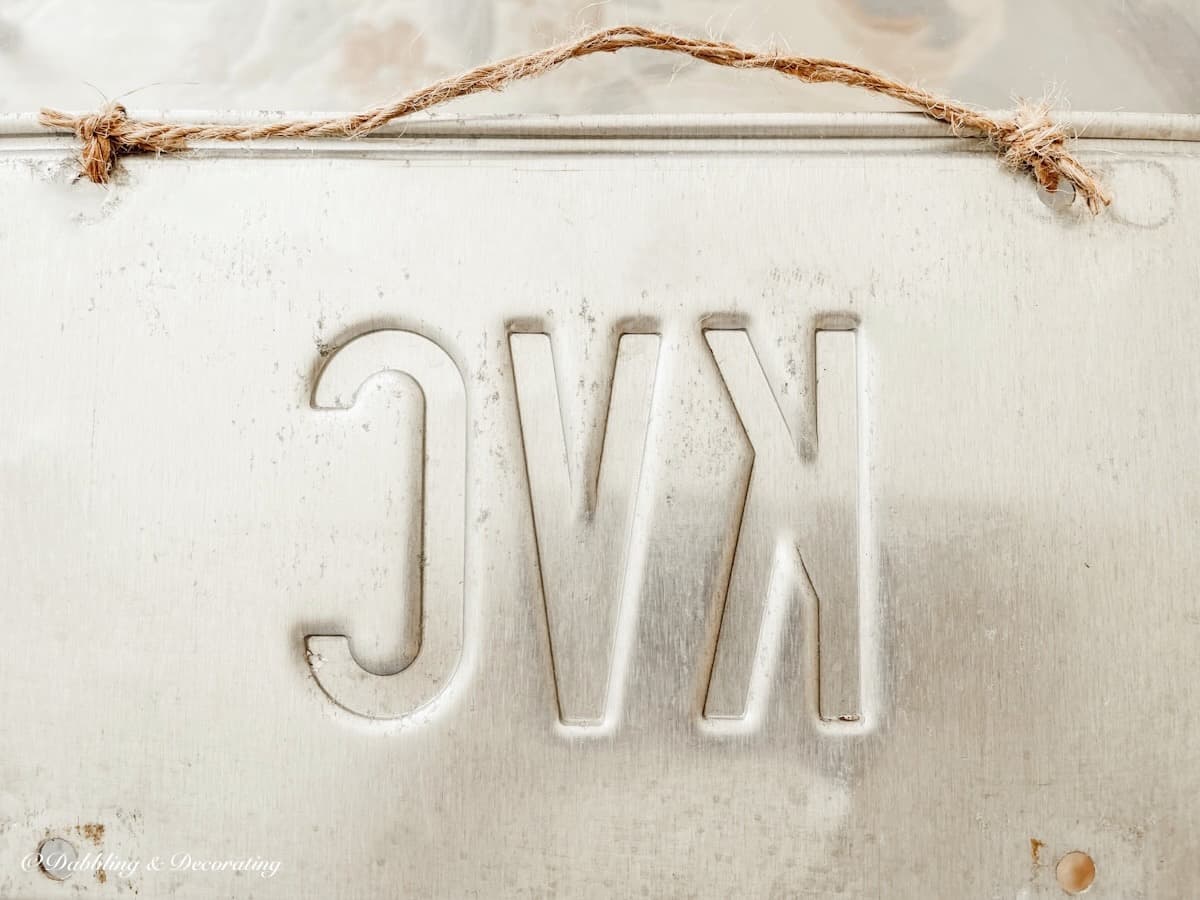 When it was finished I hung our license plate wall decor on the cedar shake siding just outside our back door.
You may also enjoy this post, 15 Cool DIY Projects to Start this Summer.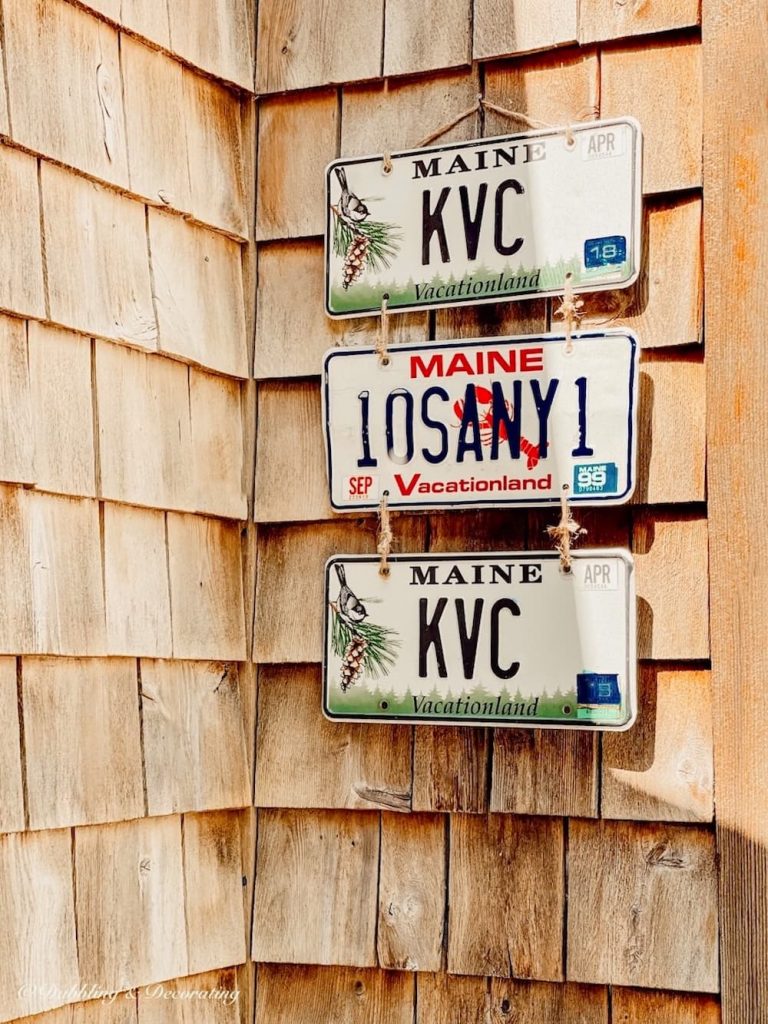 I love the contrast with the old cedar shakes.
Do you like cedar shakes? Check out How We Restored our Aged Cedar Shake Siding here.
And you may also enjoy the post, Adored One-of-a-Kind Handmade Birdhouse Restored.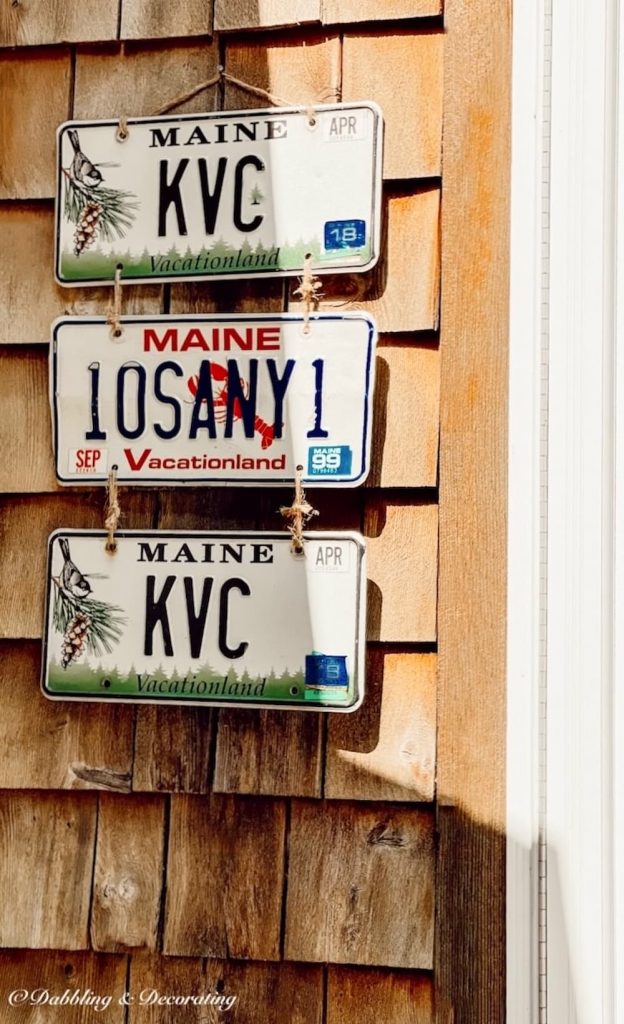 I'm so glad you dropped by, and if you are new to my blog, welcome! I hope you enjoyed your visit with us here today at our Home in Coastal Maine.
Be sure to also check out our Home in Vermont too, where we spend winters enjoying the coziness of home in the Green Mountains of Vermont.
Please join me as a regular here at Dabbling & Decorating by signing up for my Saturday morning newsletter and never miss an update!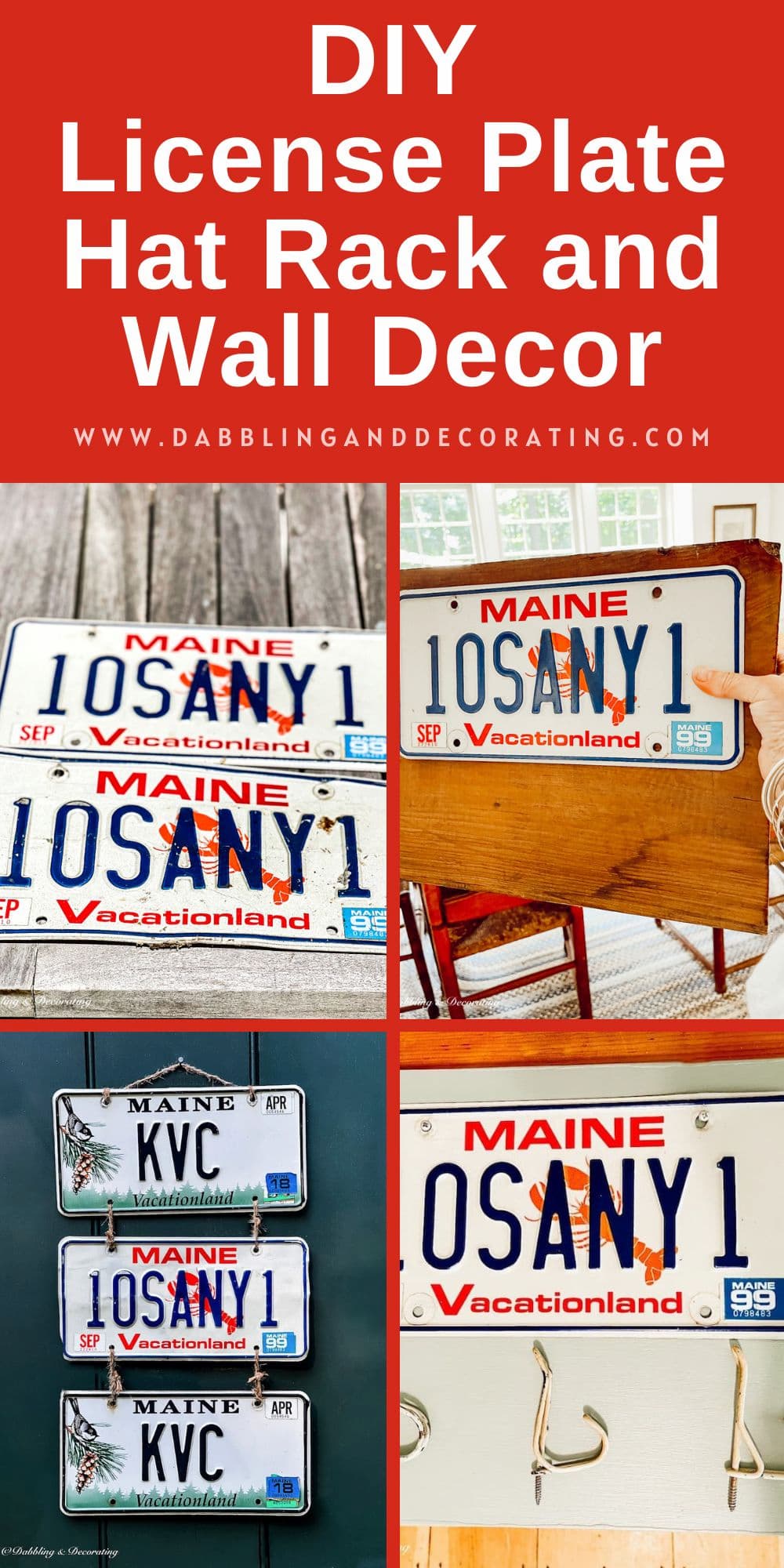 SHOP THIS POST
Click on Image to Shop

YOU MAY ALSO ENJOY