I can not believe it's been over a year now since we renovated our New England Colonial House, left to us by my late parents. Today I'm excited to share a tour of the living room with you that showcases my parent's collected antiques along with a few of our own thrifted finds and some new pieces mixed in.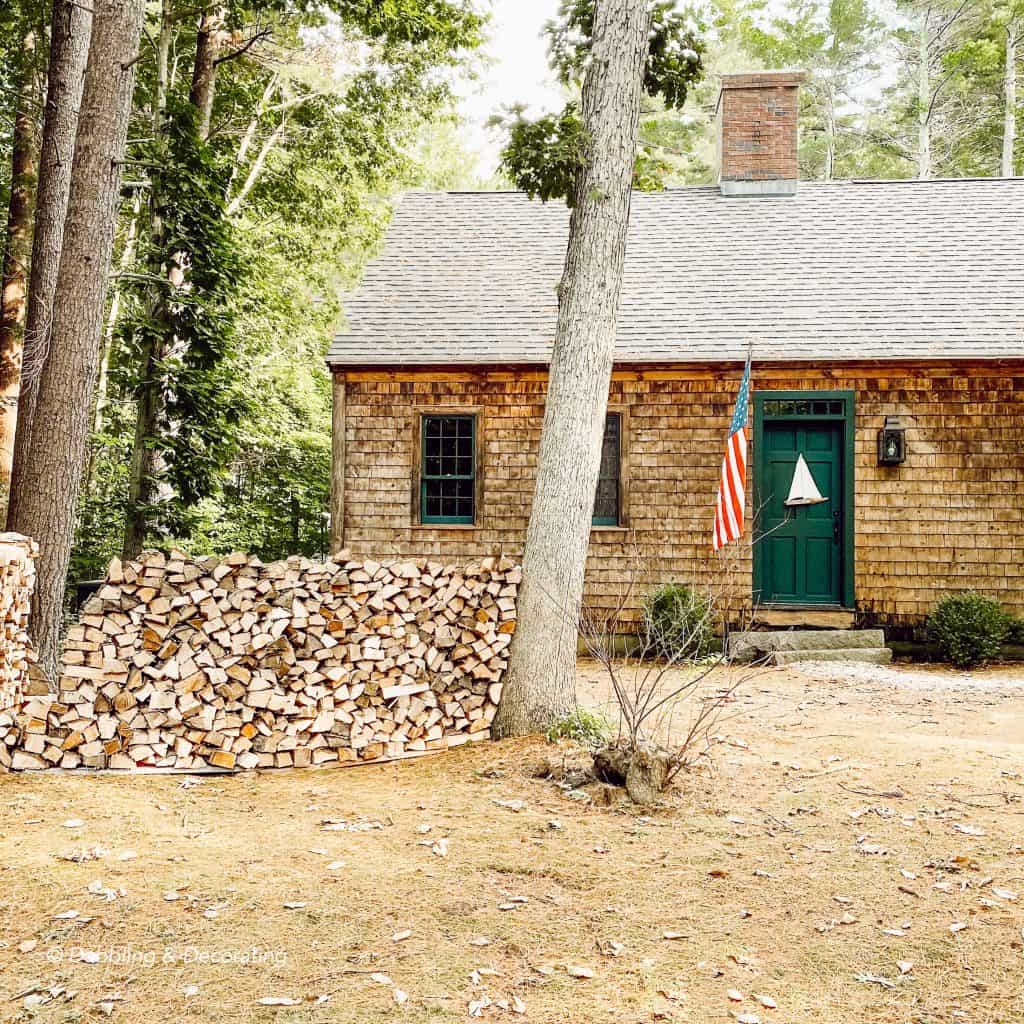 Join me over on the Maine Home Tour page to learn more about this dear New England colonial house.
The Living Room
Today's post is dedicated to the living room, a room decorated with collected antiques combined with new furnishings to accentuate the style of this old New England Colonial house.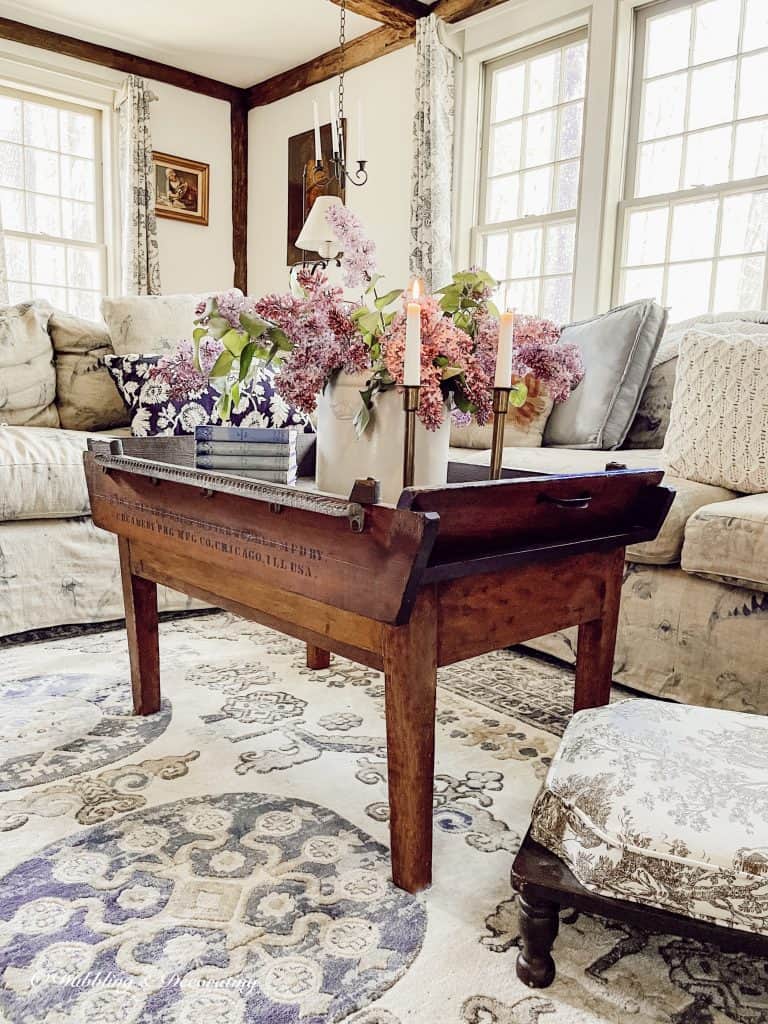 The coffee table was a treasure that my mother found antiquing decades ago. It served as the family coffee table as I was growing up and remains a main feature of the living room today.
Check out My Coastal Maine Heritage | Embracing My Roots for our family's story of three generations growing up in Coastal Maine.
The rug is new from Boutique Rugs and the blue and gold colors fit beautifully with the room without having to break the bank. Be sure to check out Boutique Rugs to find very affordable and classic rugs like this.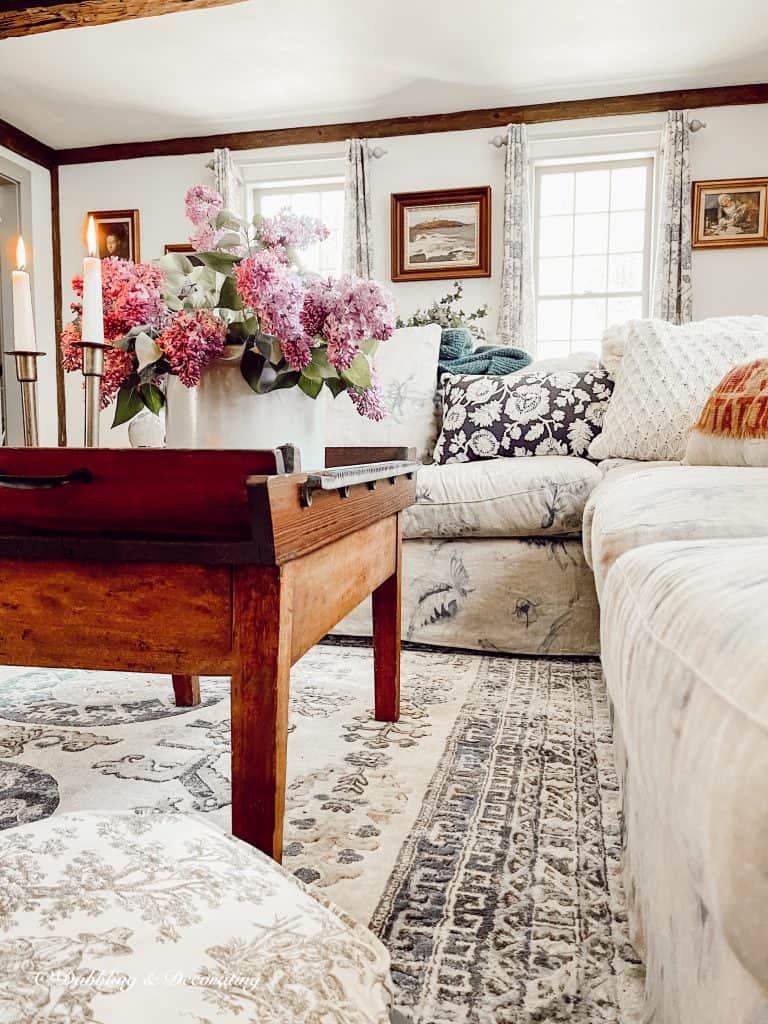 The side of the table reads No 2 Wizard Dairy Butter Worker MFD BY. Creamery PKG MFG Co. Chicago. ILL USA.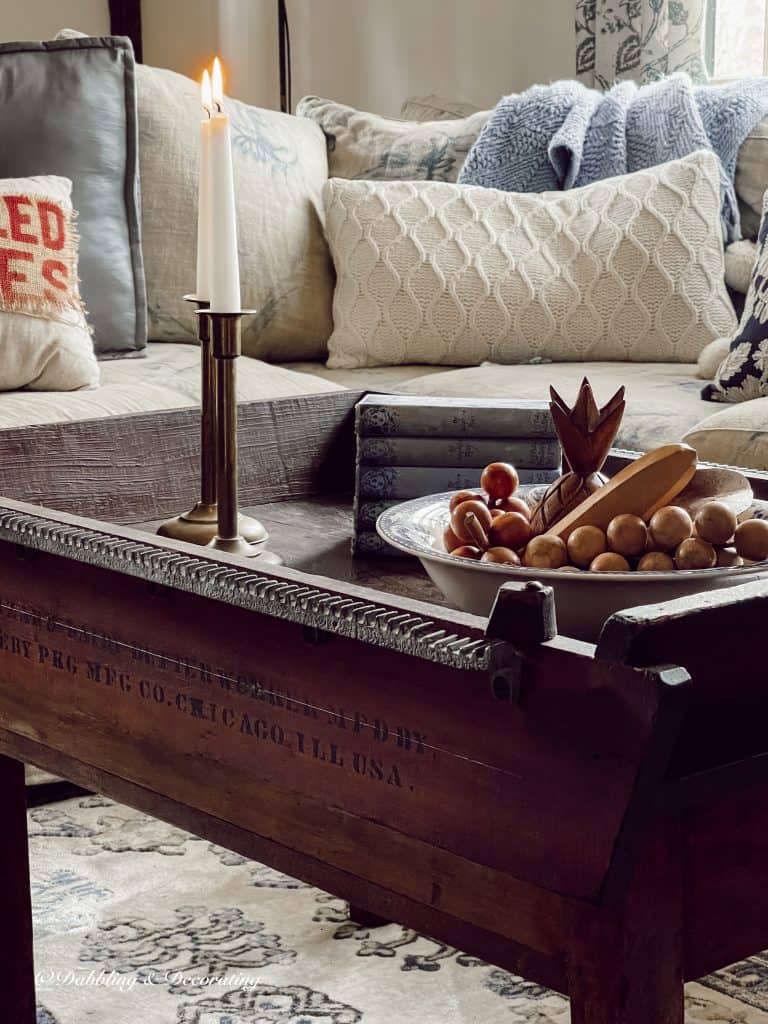 My mother always said it was an old butter churn and the wheels sat on the side rails. Unfortunately, I have never been able to find out very much more about this piece. Please let me know if you've seen one of these before and know more about it.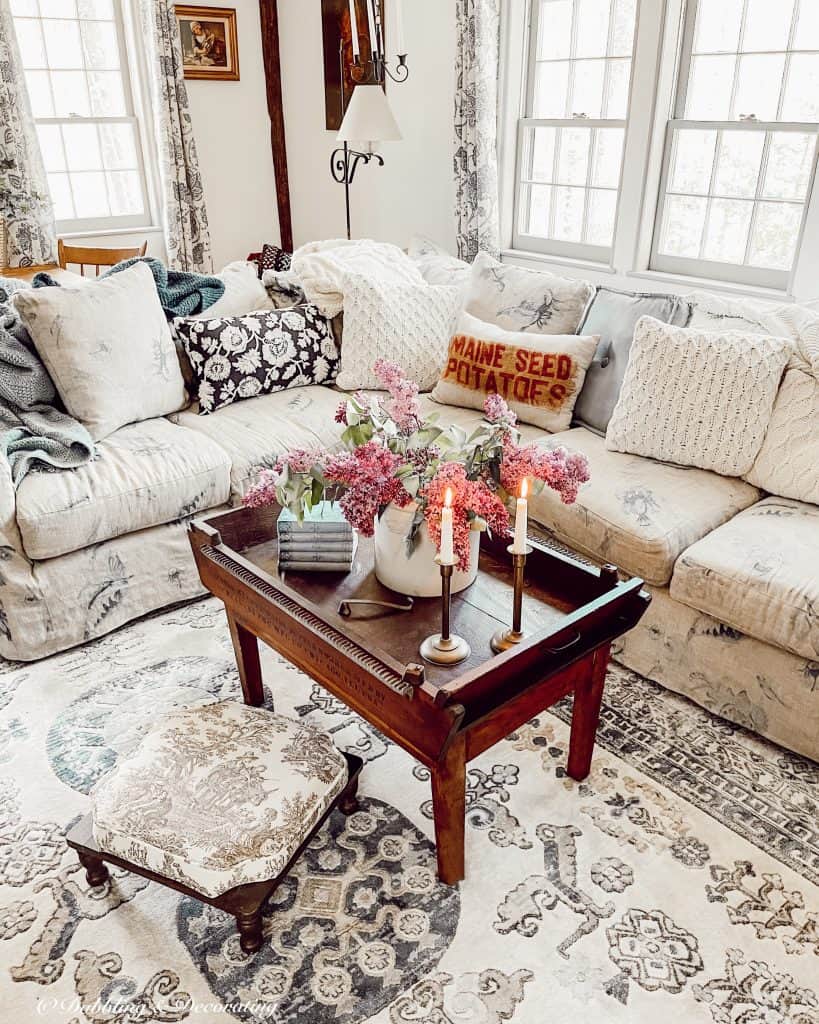 Centered around the antique coffee table is a sectional purchased from Four Seasons Furniture through a local dealer, The Weekender House. It is a navy and light tan linen slipcover, which will wrinkle and wash nicely over time. It can also be replaced easily to change with the style of the room. I chose this style of pattern as it felt very classic to an old New England Colonial home. AND because it's all so easily washable, we are very pet friendly too…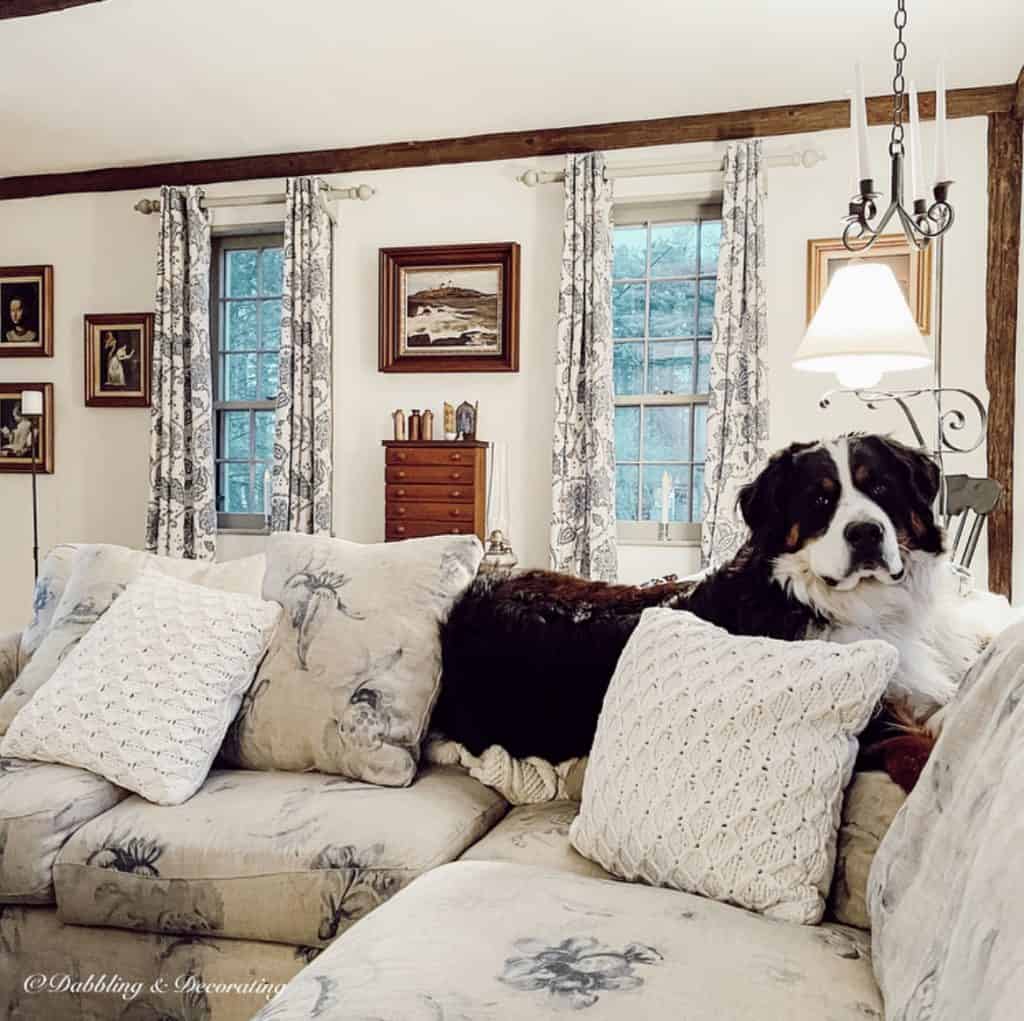 Adding my mother's hand-knitted blankets along the sides with accent pillows just adds to the charm and comfort of it all.

Inexpensive blue and white curtains hang from the windows without darkening the room, which was definitely in my plan. The pattern adds just the right amount of texture along with a flattering and traditional style for this space.
Antique pictures and treasures collected over the years adorn the newly painted white walls. You may see all the details of the restoration in the blog post, Old Family Home Restored.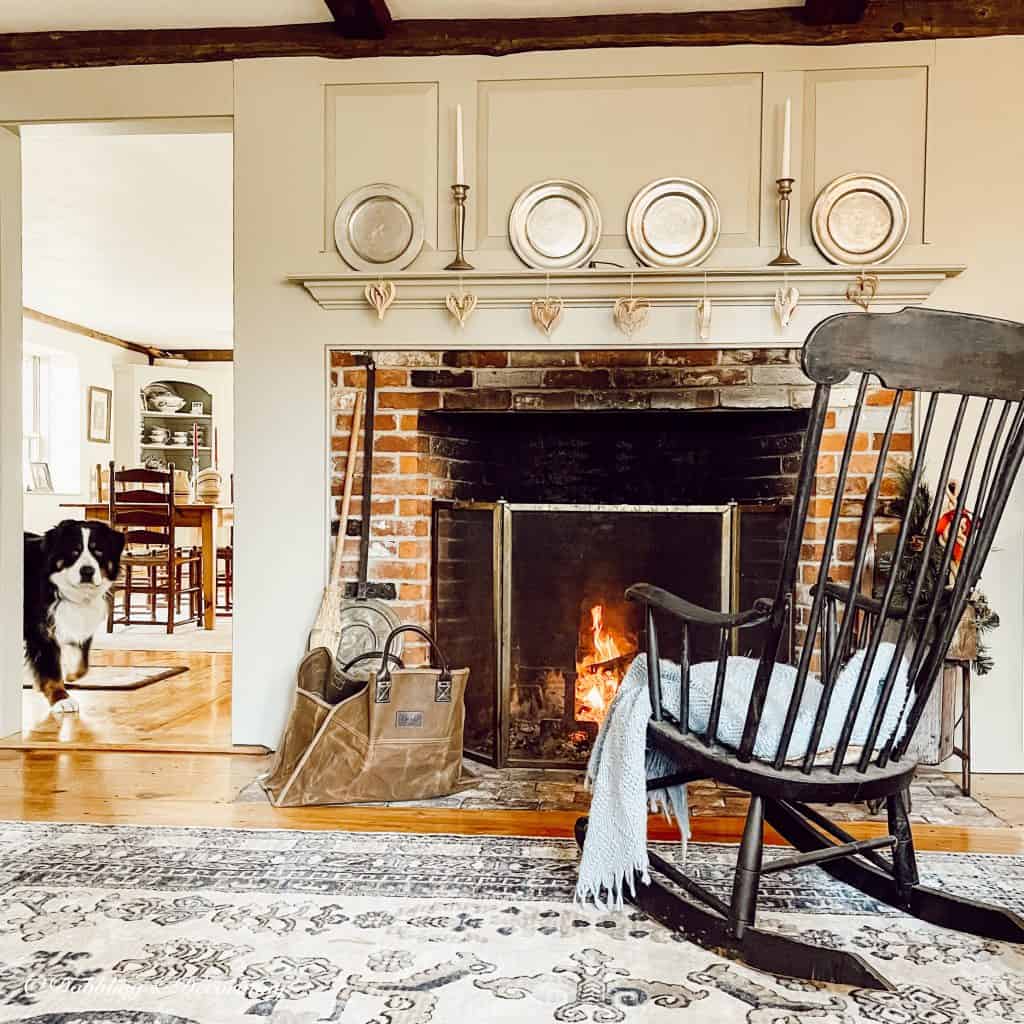 Having an old working brick fireplace is such a treat in the living room. We light it up every morning for coffee, in the cooler months, and sometimes we even enjoy it all day and evening too.
Check out My Cozy Fireside Table Here.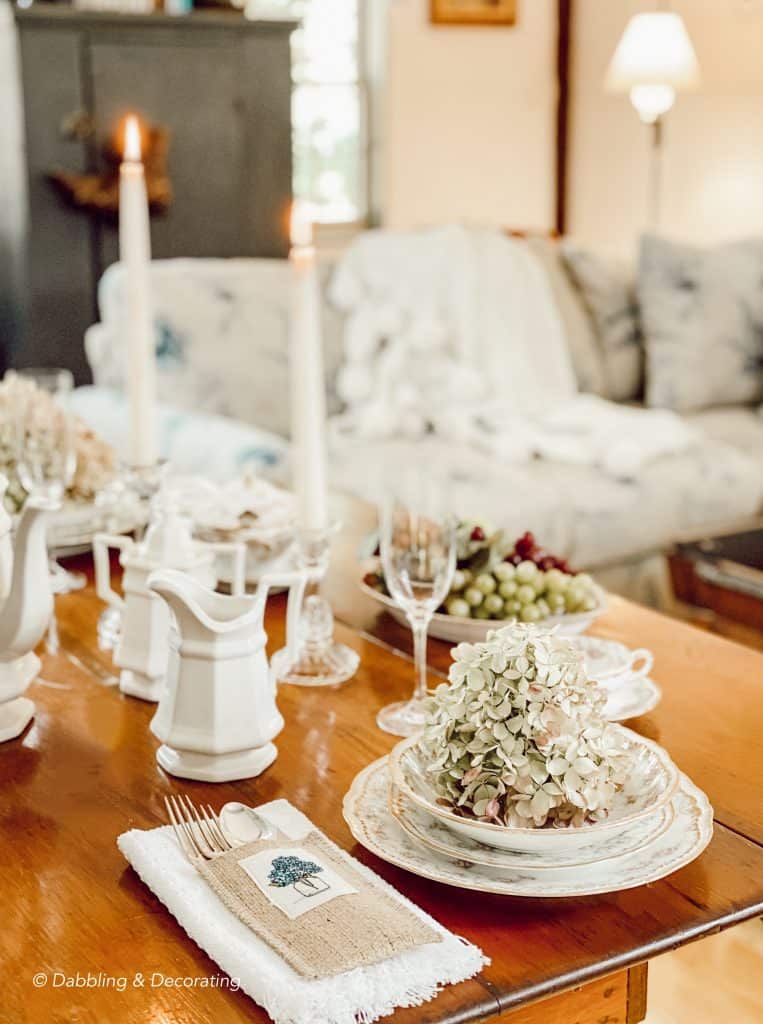 And our Morning Coffee by the Fireplace Table.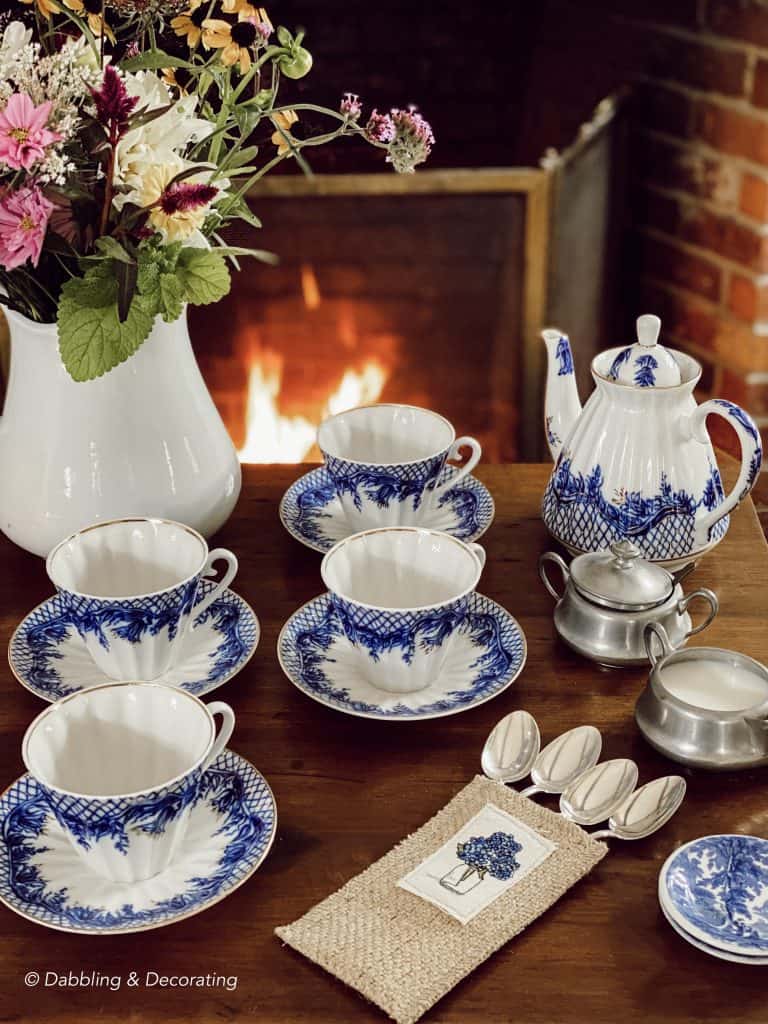 My mother's collected pewter warms the fireplace mantel along with an antique copper bed warmer given to my parents many years ago by my aunt as an anniversary present.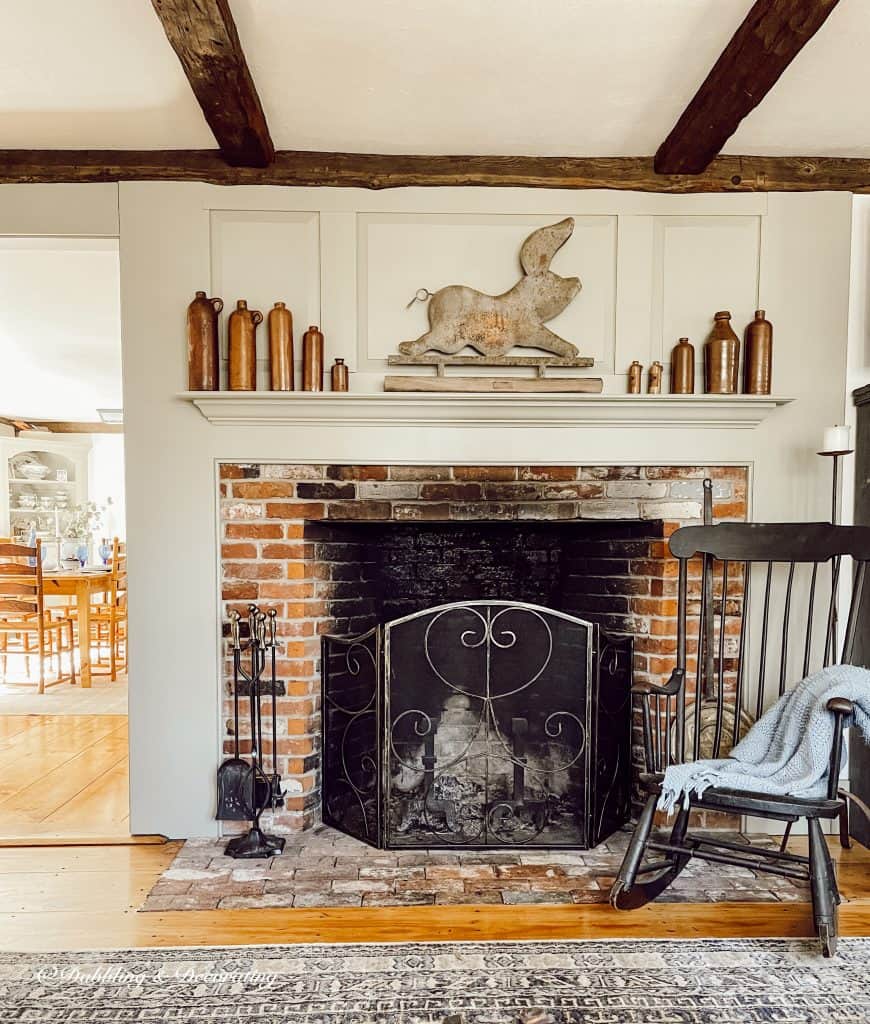 Thrifting with the Gals
While I was out "Thrifting with the Gals" one week in Kennebunk, Maine, I found this reproduction flying pig that we coined "Olivia Dabbles". To compliment her she is now surrounded by my mother's antique jug collection.
You may see more of Olivia Dabbles and the antiquing adventures here.
You may also enjoy this Charming Antique Table for Two I also found antiquing.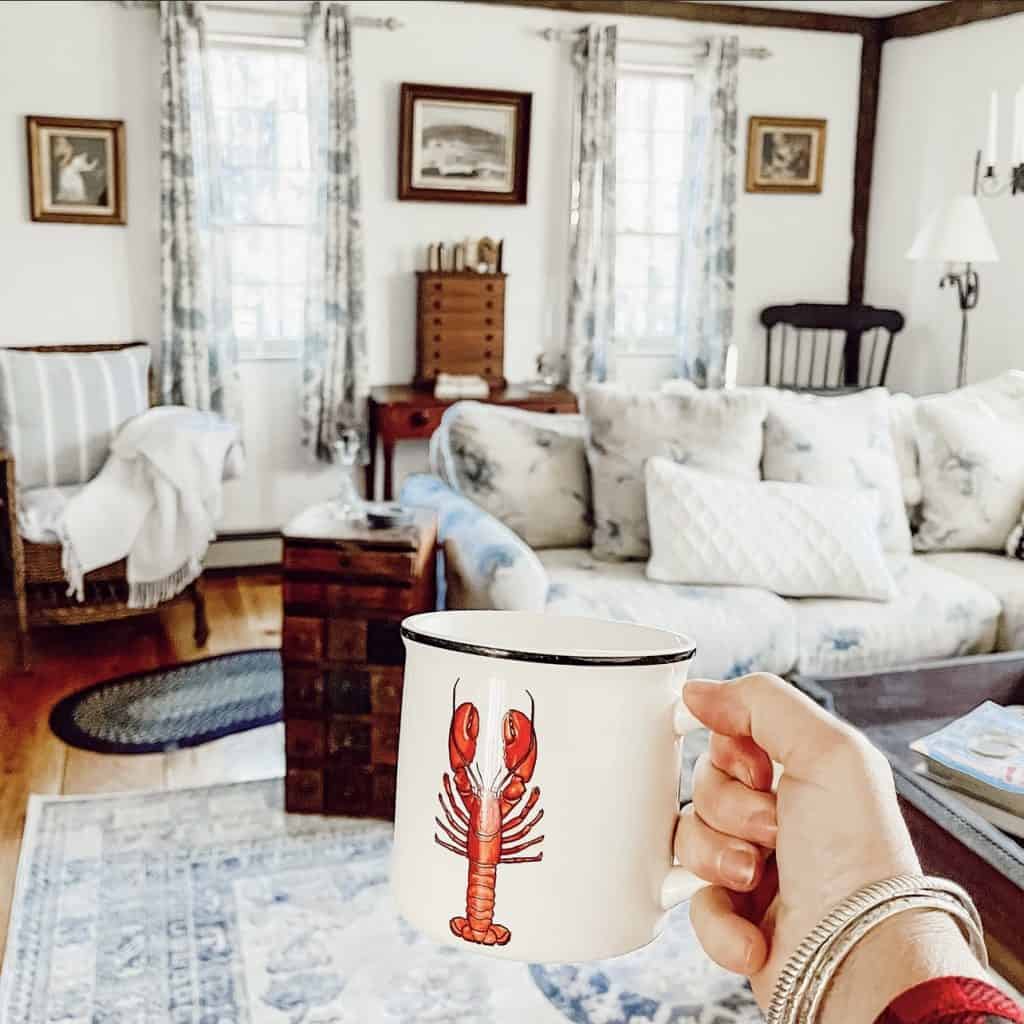 A basket of backyard greens softens a vintage table space behind the sectional on a spring day here in coastal Maine.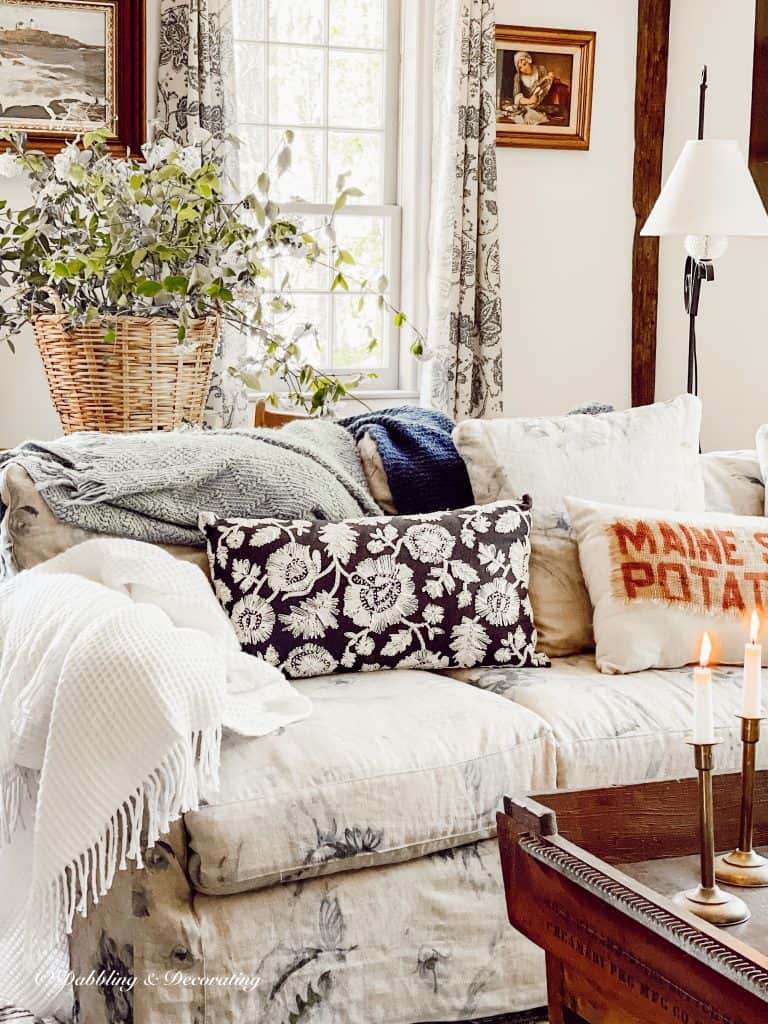 You may enjoy the post, Vintage Braiding Rug Stand | A Mother's Day Reflection.

I'm so glad you dropped by, and if you are new to my blog, welcome! I hope you enjoyed your visit with us here today at our Home in Vermont.
Be sure also to check out our Home in Coastal Maine where we spend summers and weekends when we are craving a walk on the beach or a visit with old friends.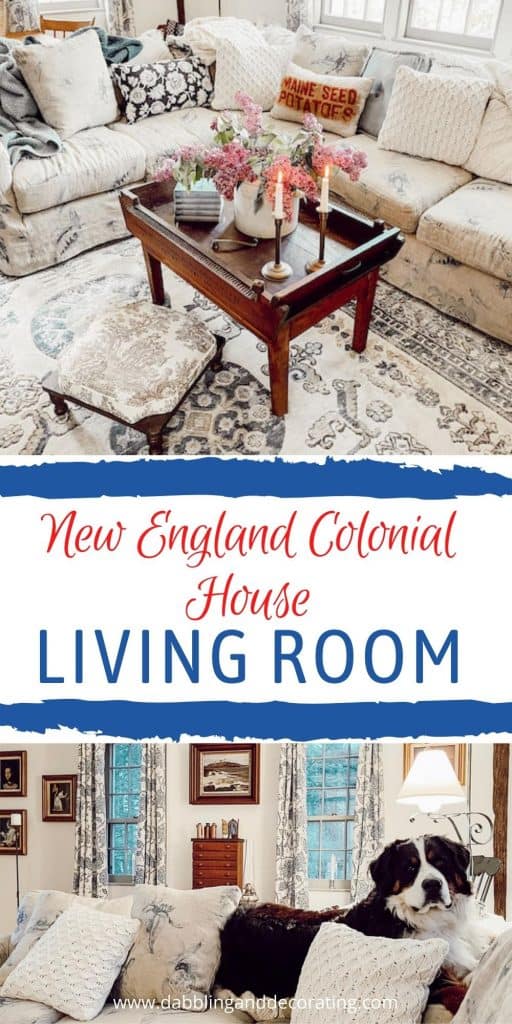 I've created the above custom pin just for this post! Hearing from you makes my day and your comments mean so much to me! Please join me over on Instagram & Pinterest to see more!
YOU MAY ALSO ENJOY