Looking for small bedroom ideas? Love that vintage cottage style? Join me on a tour of our little guest bedroom inspired by family antiques.
This small guest bedroom is on the first floor of our home here in Coastal Maine. A home we inherited from my parents almost 3 years ago now. To learn more, join me on our home tour.
And it just happens to be my favorite room in the home. Welcome!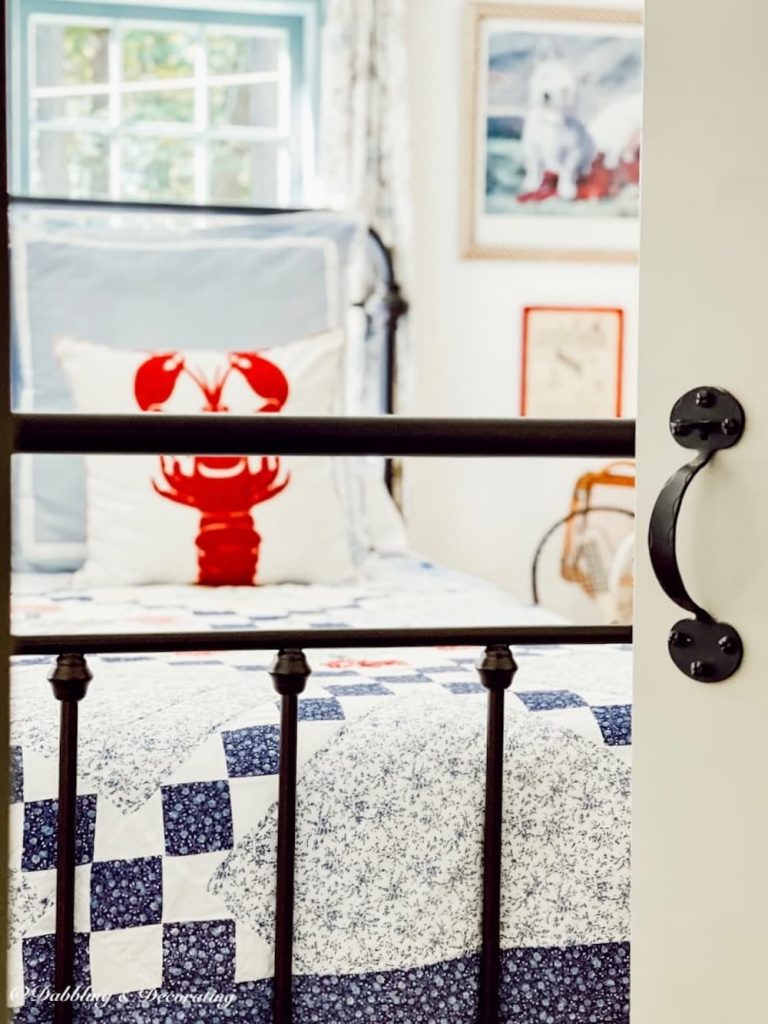 Welcome to the Anything Goes Summer Blog Hop!
Hosted by my friend, Pasha over at Pasha is Home Blog. If you are joining me today from Kristin over at White Arrows Home, welcome! Kristin and I are thrifting buddies in the monthly series "Thrifting with the Gals". Don't you just love Kristin's gorgeous log cabin?
Wrought Iron Bed
I found this wrought iron bed on eBay very inexpensively. It fits this small guest bedroom beautifully.
The openness of the wrought iron provides a sense of vintage charm without a heavy look, which many bed frames can have. Perfect for a small cottage guest bedroom.
This post may contain affiliate links which won't change your price but will share some commission."

Family Heirlooms
When we decided to renovate this home I wanted to incorporate as many family heirlooms throughout the home as I could. And this small cottage guest bedroom certainly holds plenty of these treasures. Making it simply delightful and gratefully vintage.
Quilts
My mother enjoyed making quilts alongside her dear lifelong friends. And today that collection is displayed on one of her old vintage dressers in this small cottage guest bedroom.

You may see more of these quilts in the post, How to Fold and Display Heirloom Quilts.
Here you will see the original flooring too. This past winter we had these small cottage bedroom wood floors stripped and refinished giving them a blonder and brighter look.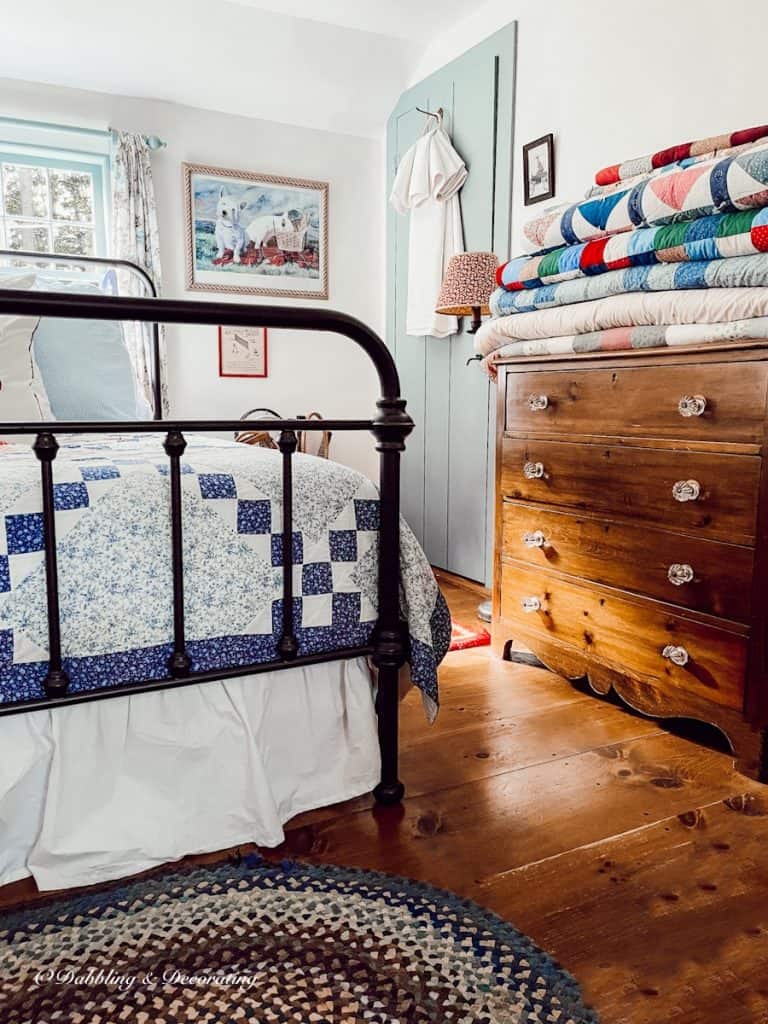 Soft Pine Wood Flooring
The flooring in this small guest bedroom is natural soft pine wood.
We are very fortunate to have a handyman and caretaker living right around the corner from us, who refinished the wood floors throughout the entire home.
The floors were stripped and sanded and then covered with polyurethane to attain this lighter and natural blonde look.
Throw Rugs
My mother learned to braid rugs from her mother, and she also taught me how to braid rugs from a very young age. I even have this braided rug and stand, that was the last rug my mother was making a very long time ago, as I found it hidden up in the attic.
What an heirloom to treasure right?
The braided rugs my mother made are now scattered throughout the home like this one here at the entrance into this small guest bedroom.
And I picked up the red whale rug from Vermont's Chandler 4 Corners out of our hometown in Manchester, Vermont.

You may also enjoy the post, 75+ Blue and White Vintage Gift Ideas for Women.
And Coastal Bedding Ideas For Your Beach House.

You may enjoy the post, Vintage Braiding Rug Stand | A Mother's Day Reflection.
A Basket Full of Tennis Racquets
My father loved tennis! He played until he was 86 years old. And if asked, he would tell you that the only reason he stopped playing was "Because he didn't have any competition anymore…"
Here he is at 77 years old. And it's funny because back then I worked for a class ring company and he's wearing one of the t-shirts we used to give away with the class rings:)
You may also enjoy this DIY License Plate Hat Rack and Wall Decor I made out of my father's vanity license plates that I found in his old shed!
And check out what else I found with a tennis theme in the post, Antiquing Down East, A Day's Jaunt.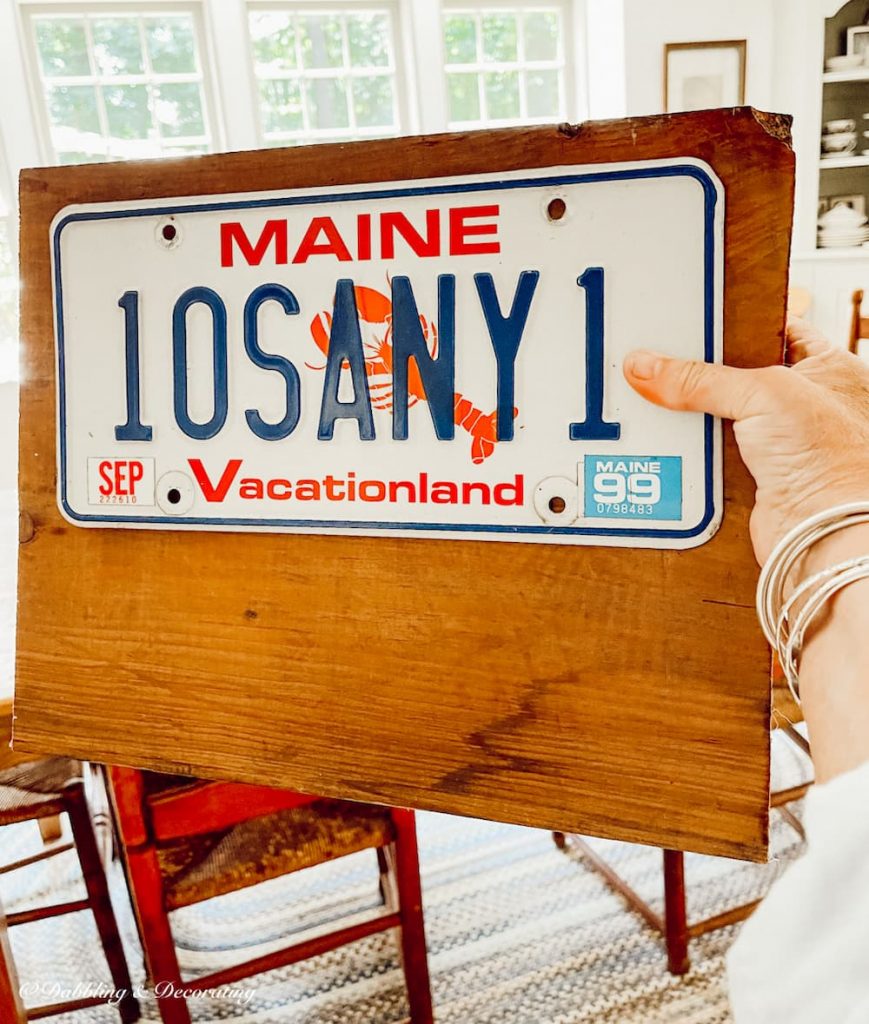 An old basket sits next to the side of the bed with a collection of my father's old tennis racquets that he played with throughout the years. Plus a couple that I may have picked up here and there while out "Thrifting with the Gals".
I honestly can not believe that my father saved all his racquets over the years. I found them all hanging up in his outdoor shed.
Above the basket of tennis racquets in this small cottage guest bedroom are 2 thrifted photos.
The Westies picnicking, I thrifted and gave to my parents as an anniversary present years back when they had their Westie, Jessie.
The second small red-framed photo is "The Kitty Cat Tennis," which my mother thrifted.
This small cottage guest bedroom wall is simply a gem.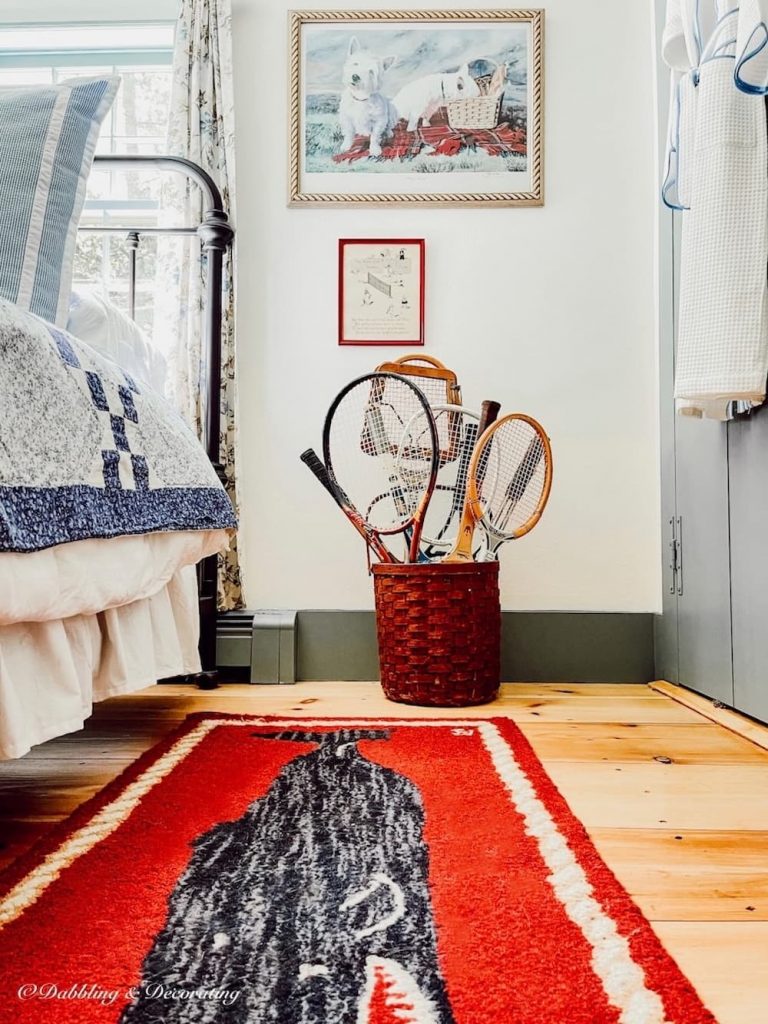 Small Guest Bedroom Closet
While out thrifting one day I found 18 Thrifted Black Velvet Clothes Hangers. They are so cute for our friends and family to use in the closet when they are visiting.
Extra pillows, blankets, soaps, and guest bathrobe are also stored here with a full-length mirror attached to the back of the closet door.
You may also enjoy the post This Wardrobe Closet Will Make You Rethink the Way You Store Clothes if you are looking for more small cottage guest bedroom storage ideas.

My Mother's Sewing Machine
My mother's old sewing machine sits on one of her antique desks that is also filled with her sewing paraphernalia. Next to a stack of her quilting magazines and books.
The nostalgia makes this room so comforting and inviting.
A Barrel of Driftwood
A thrifted wooden barrel filled with collected driftwood from the local beach in the corner brings some of the outdoor elements inside.
And we ask our friends and family visiting to add to this collection if they like.

Antique Bedside Table
An antique bedside table is decorated with old-fashioned collections that I have found while out "Thrifting with the Gals".

Vintage Bedroom Wall Oars
This past week I picked up this two-piece vintage wooden oar at one of my favorite shops in Portsmouth, NH, NEST Portsmouth. You may see more and bookmark for later My Favorite Second-Hand Shops from Vermont to Maine here.
I thought they would be so cute hanging on the wall in this guest bedroom.
We marked and hung the vintage oars very easily with 2 12lb holding weight capacity Command Strips.
Two on each oar.
This bedroom is small so it's hard to get a good angle of the oars on this wall, unfortunately. But I hope this gives you an idea…

You may also enjoy the post, COASTAL GRANDMOTHER SUMMER DECOR "IN MY MOTHER'S HOME".
Oh and I just found these vanity license plates in my father's old shed and made this DIY hat rack.
Guest Bedroom Paint Colors
I'm often asked about the paint colors in this small guest bedroom. The walls are "Simply White" by Benjamin Moore. In my opinion, it's the perfect home white.
And the trim is a beautiful blue formula that I'm sharing with you here.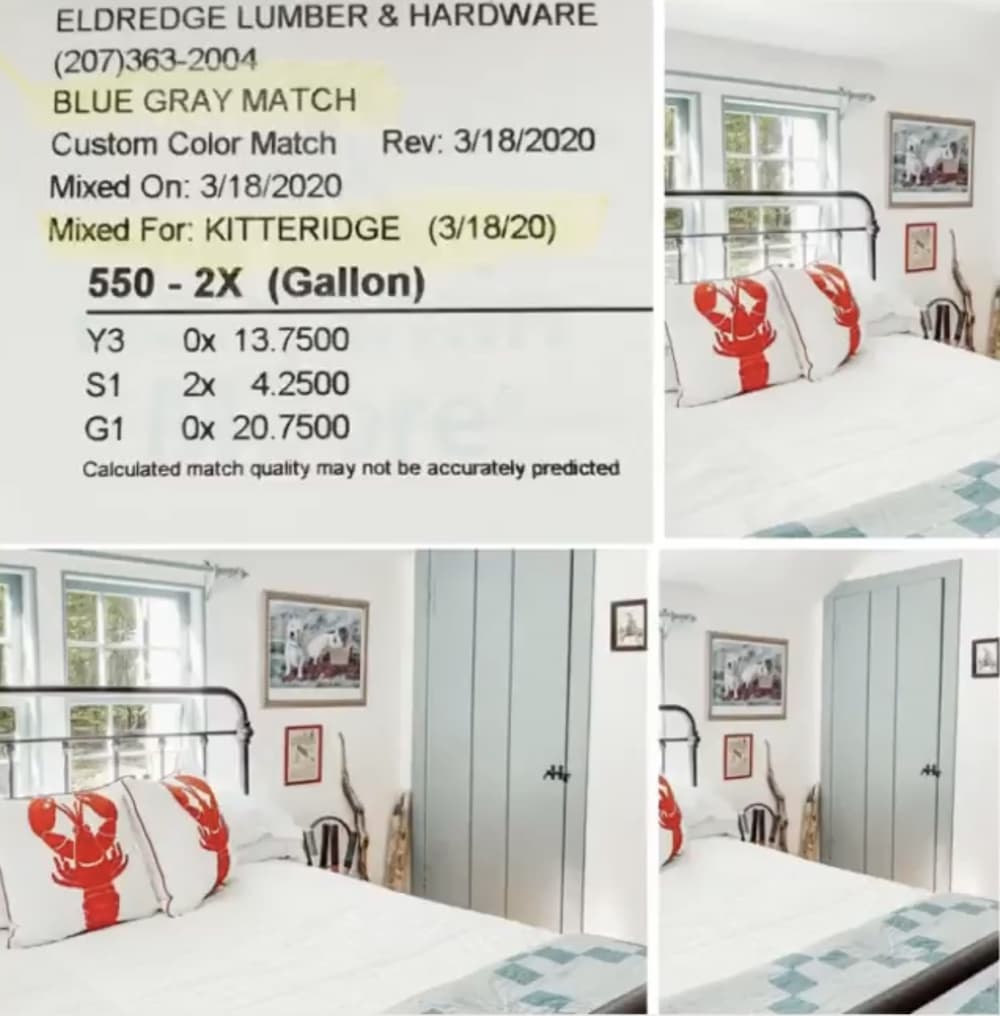 You may also enjoy the post, 5 Cozy Cottage Christmas Guest Bedroom Swaps.
And we just keep changing and decorating!
You're going to also love this brand new white crisp bedding in this cottage-style guest bedroom in the post, Summer-Ready in Maine!
I recently added a vintage church collection basket and an old rope winder I found while antiquing Down East this past summer to this guest bedroom. See more in the post, Vintage Shopping, A Church Collection Basket, and Wild Oats.
I'm so glad you dropped by, and if you are new to my blog, welcome! I hope you enjoyed your visit with us here today at our Home in Coastal Maine.
Be sure to also check out our Home in Vermont too, where we spend winters enjoying the coziness of home in the Green Mountains of Vermont.

I've created the above custom pin just for this post!  Hearing from you makes my day; your comments mean so much to me! Please join me on Instagram & Pinterest to see more!
SHOP THIS POST
Click on Image to Shop

Next up on today's tour is another thrifting buddy of mine, Robyn from Robyn's French Nest. Robyn is sharing Five Simple Things That Look Good on Your Summer Mantel. And I know you won't want to miss it. Robyn has the most beautiful farmhouse style from her home in Florida.
Summer Inspiration from Eleven Talented Bloggers
Small Cottage Guest Bedroom, Vintage and Delightful // Dabbling & Decorating
Five Simple Things That Look Good on Your Summer Mantel // Robyn's French Nest
Five 4th of July Party Ideas That Will Sparkle // Pasha is Home
DIY Summer Disco Ball Planter // Tater Tots & Jello
Lemon and Floral Summer Kitchen Decor // Willow Bloom Home
Five Minute Simple Summer Centerpiece // Midwest Life & Style
5 Affordable Summer Decor Ideas for a Small Front Porch // Simply 2 Moms
Seven Amazing Ways To Have A Memorable Summer // Cottage in the Mitten
DIY Star Neutral Wreath for Summer // The Pond's Farmhouse
An Outdoor Summer Tablescape Using Blues and Terracotta // The Tattered Pew
5 Ways to Set An Everyday Summer Table // White Arrows Home
YOU MAY ALSO ENJOY