I've been holding on to an old pine dresser that we bought from Eddie Bauer about 21 years ago. It was very beaten up and definitely not going to match my new bedroom decor (full makeover post to come). However, we do use it, so it has to stay! Therefore, I decided on a dresser makeover to match the new trim in our bedroom, and add some antique charm to it, of course!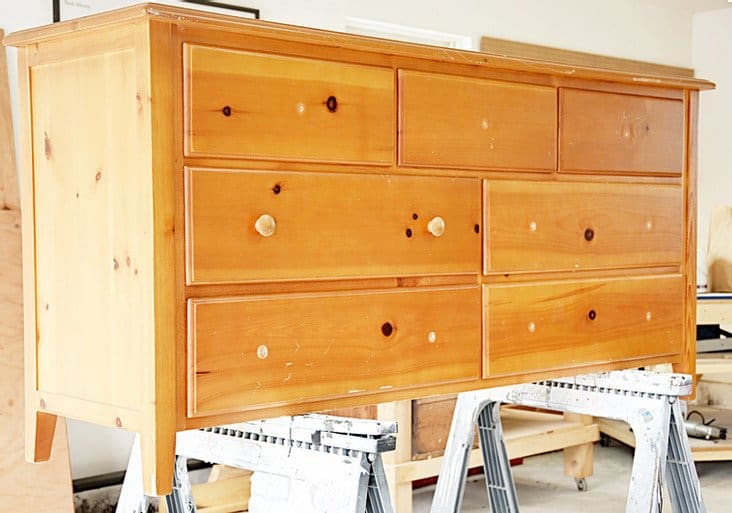 I used a quart of C2 gloss Alabaster White paint, C2 One Primer interior/exterior, and a paintbrush.
I like the Alabaster white, as it has a bit of an antique look to it. It's not a stark white.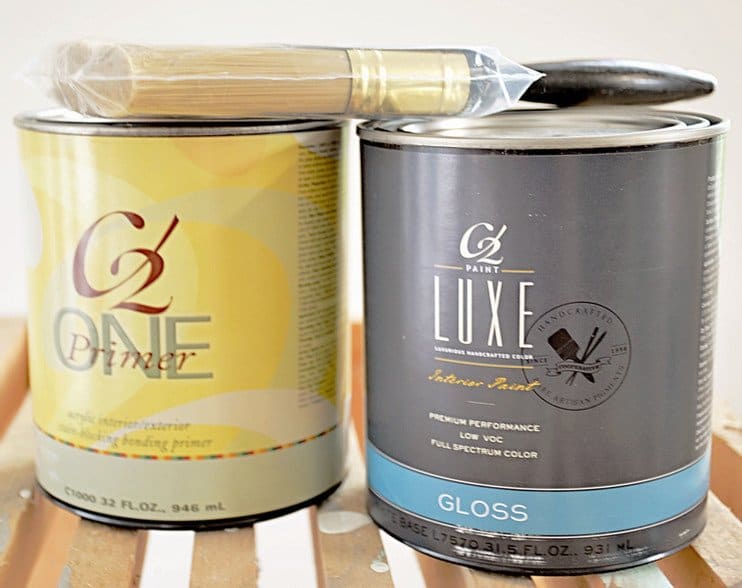 I painted one coat of C2 Primer on first, let it dry for about 3 hours, and then applied the first coat of the C2 Alabaster paint.
It appeared quickly that after the first coat, it was going to need a few more. 5 to be exact!
I waited about an hour only between coats for it to dry. And 24 hours before I brought it inside.
After 5 coats of paint, there was still a half of a quart left! Bonus for later bedroom projects…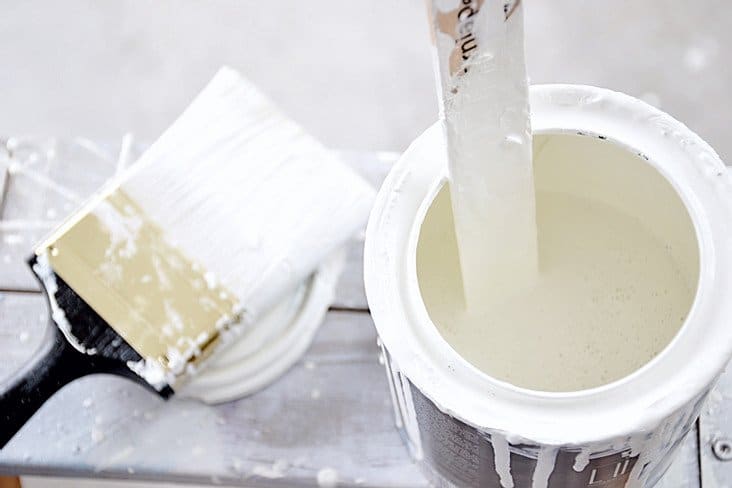 I ordered 2 of Rugjut 6pcs Kitchen Replacement Antique Brass Cabinet Cupboard Pulls. These knobs are no longer available unfortunately so I found a replacement for them here. Drawer Dresser Ring Handle Knobs from Amazon to replace the existing wooden knobs.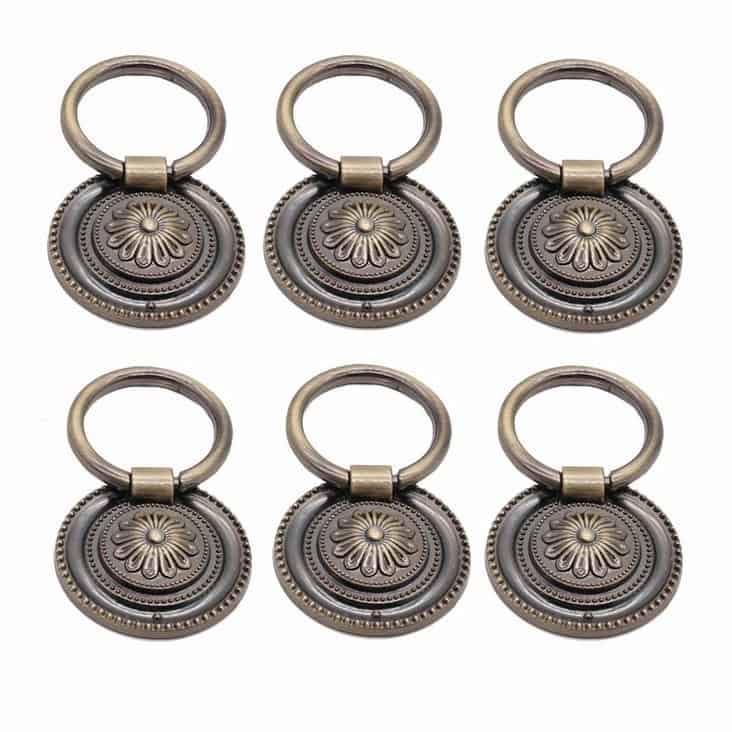 I thought I might stencil the drawers, but I really liked the clean look of it without any stenciling.
What do you think?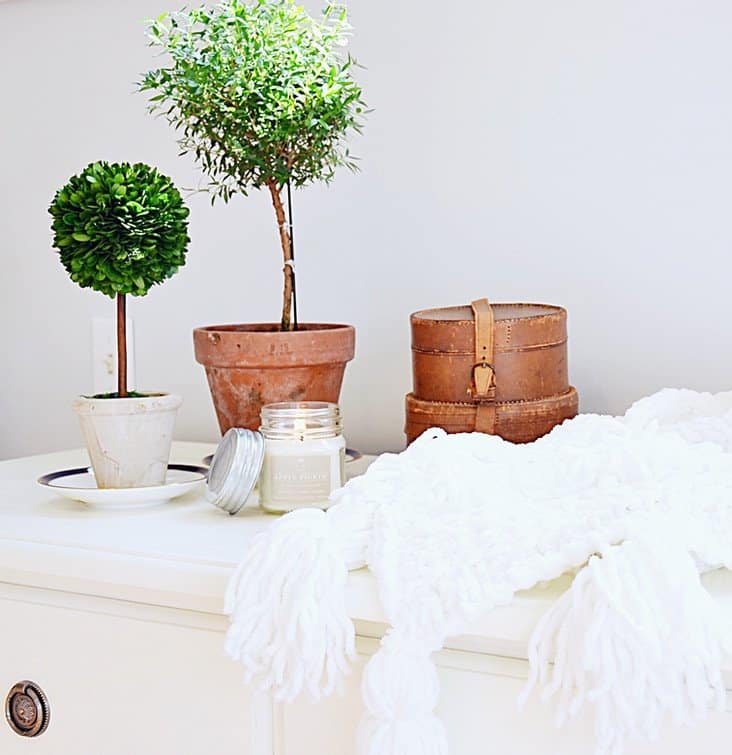 You may also enjoy this Wrought Iron Bench Makeover.
You may also enjoy this post, Vintage Dresser Refashioned | Something Old Something New.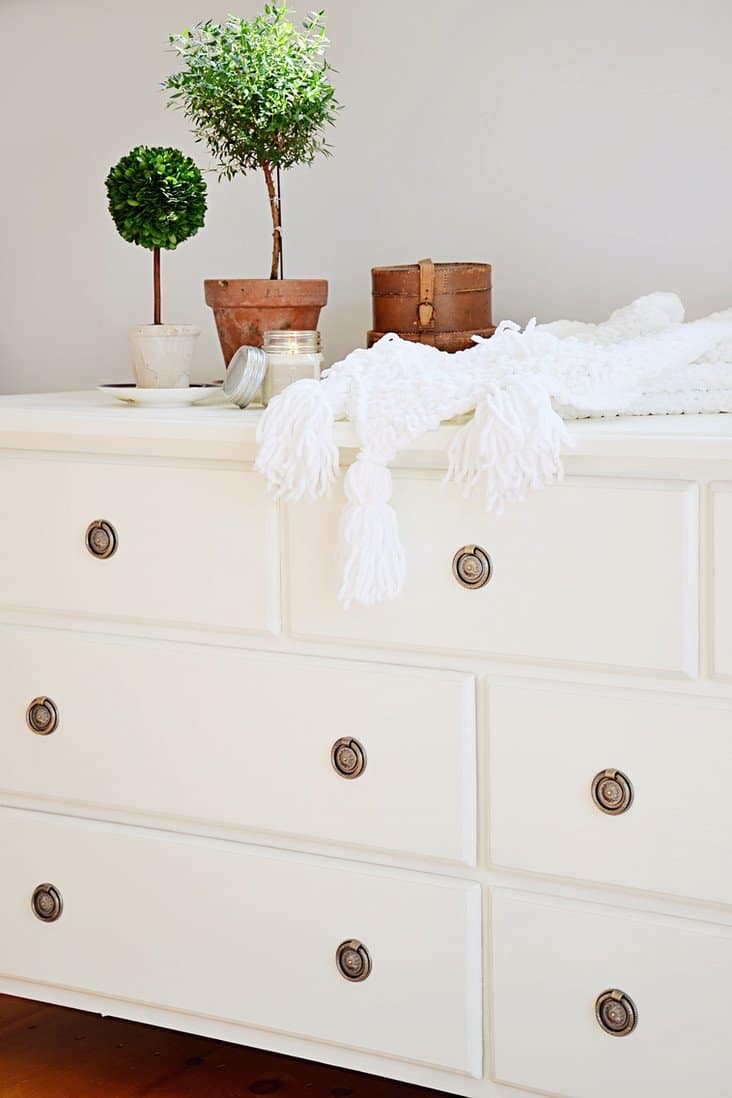 This was really an easy project, however, it's things like this that remind us how simple it can be to transform a piece of furniture that we already have into something new like this dresser makeover.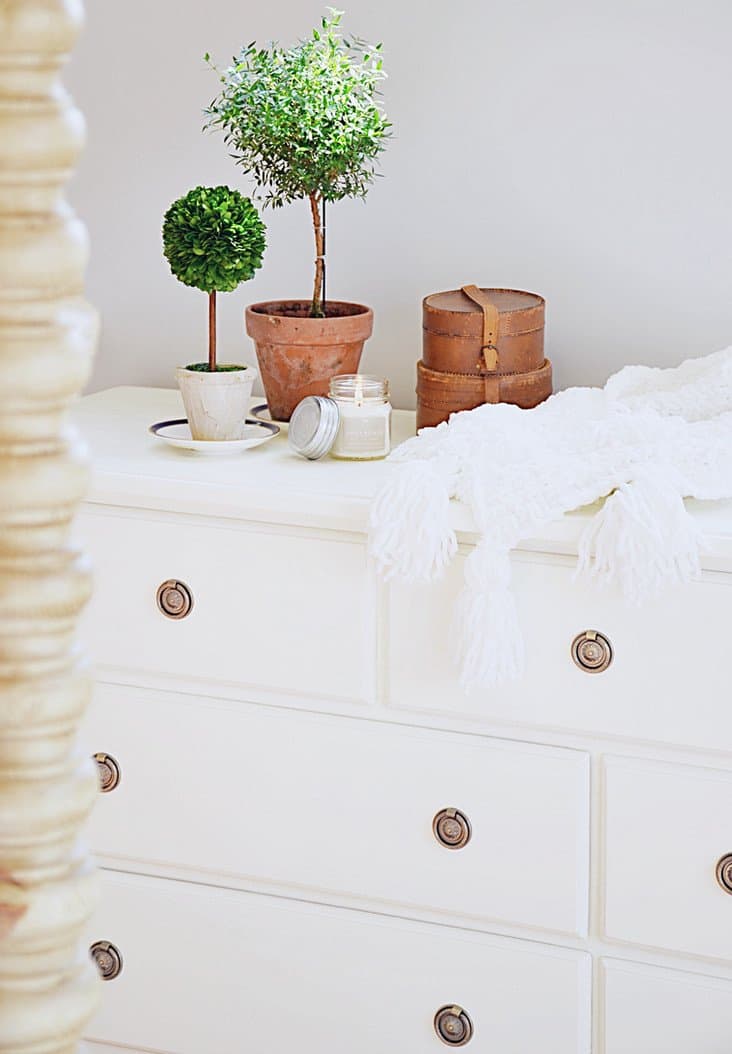 The candle I have burning is from Antique Candle CO. They are my absolute favorite candles ever!!
I was lucky enough to be able to partner with them recently and I highly recommend
you check them out. I promise you will luv them.
You may also choose from different vintage containers, which I also adore.
The white blanket I made, a new hobby of mine, knitting.
I luv the large pompoms and the soft look it adds to almost any room.
I'm so glad you dropped by, and if you are new to my blog, welcome! I hope you enjoyed your visit with us here today at our Home in Vermont.
Be sure to also check out our Home in Coastal Maine where we spend summers and weekends when we are craving a walk on the beach or a visit with old friends.
Please join me as a regular here at Dabbling & Decorating by signing up for my Saturday morning newsletter and never miss an update!
BE SURE TO SAVE THIS "BEDROOM DRESSER MAKEOVER" POST TO YOUR FAVORITE PINTEREST BOARD!
I've created the above custom pin just for this post! Hearing from you makes my day and your comments mean so much to me! Please join me over on Instagram & Pinterest to see more!
YOU MAY ALSO LIKE