If you are like me, you have a bunch of those cheap vases that come with supermarket flowers, flower deliveries, etc. I never really knew what to do with them, and they were just taking up so much space in my cabinets. In an effort to collect more blue and white antique pieces this year, I realized I could speed up this process by purchasing some paper napkins and Mod Podge and creating my own pieces with those old cheap vases I had hanging around. Friends, this is such a simple decoupage DIY, you will become addicted and start looking all around your home for things to transform using paper napkins and Mod Podge!
Supplies You Will Need
Your own Vase, Pitcher, Platter, Bowl, etc.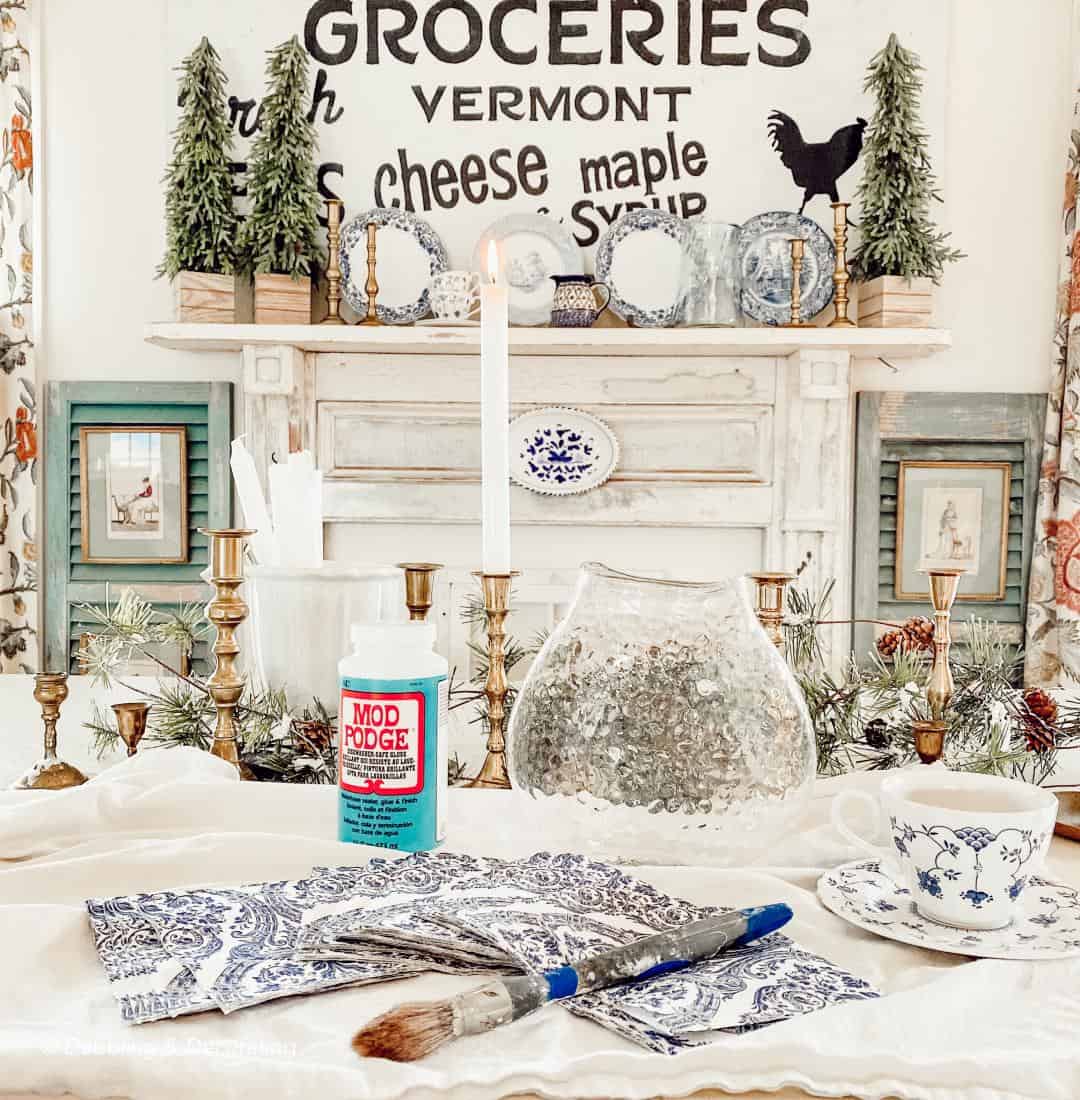 Choose your favorite color and style of paper napkins. I'm trying to add more blues and white to my decor, so I chose these classic blue and white napkins from Amazon. I also chose this particular Mod Podge, as it is dishwasher safe!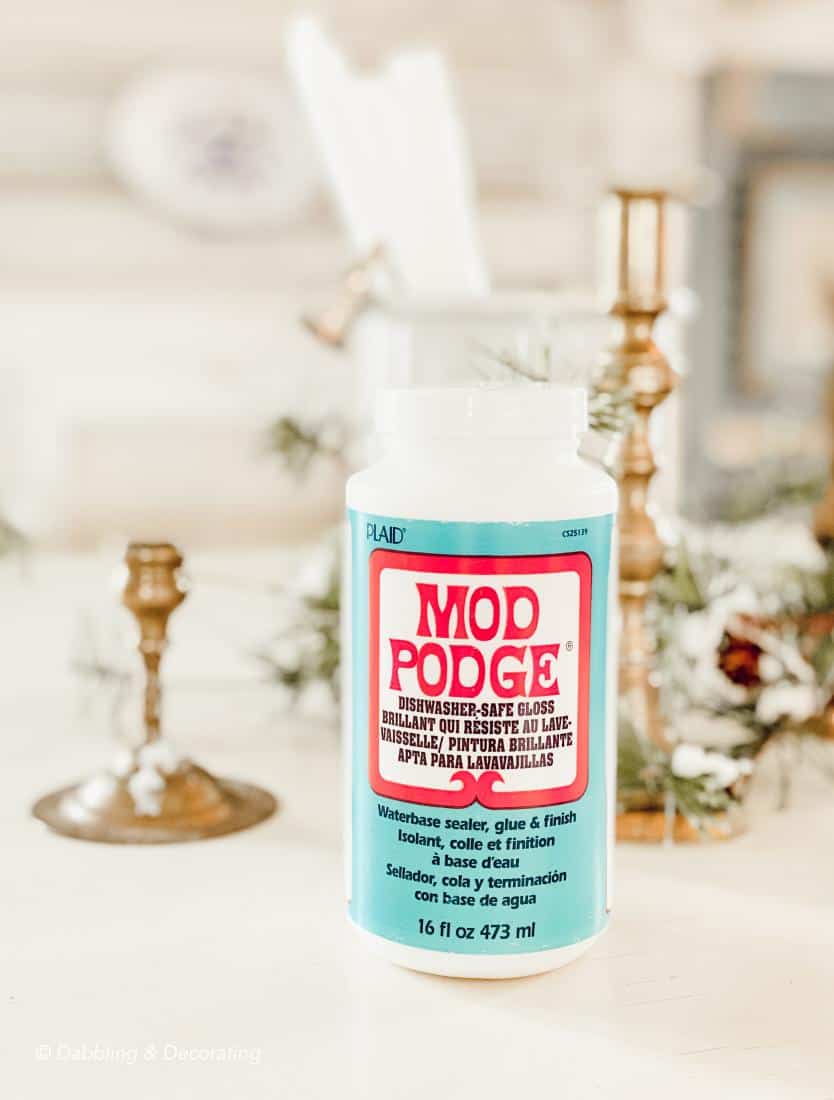 You'll want to start by laying the napkin flat and choosing the pattern on the vase. I chose to have the medallion on this pattern centered on the vase. This medium-sized vase used only two paper napkins.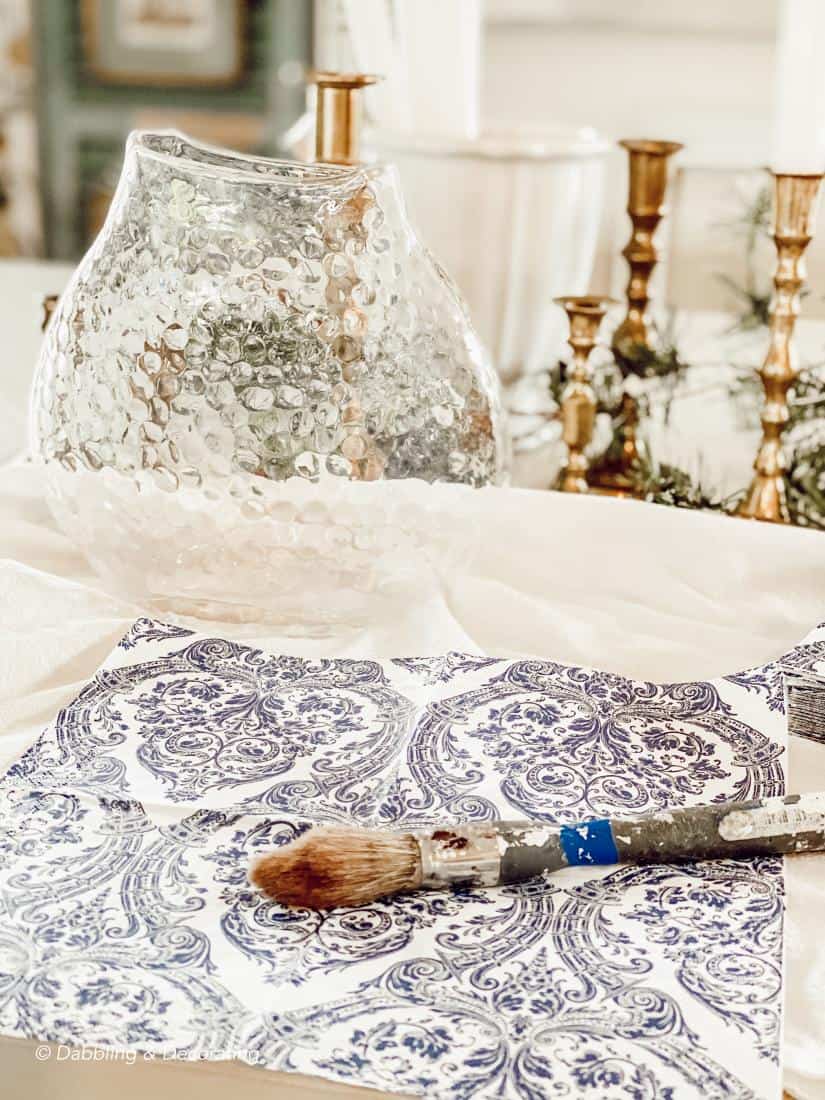 Apply the Mod Podge with the paintbrush to the first side of the vase, then position the napkin onto the vase, spreading and smoothing it out evenly. You can also use the wet paintbrush to help flatten it all out. Mod Podge is so easy to work with; you really can't make a mistake. Just be careful not to tear the napkins as you decoupage them with the paint brush.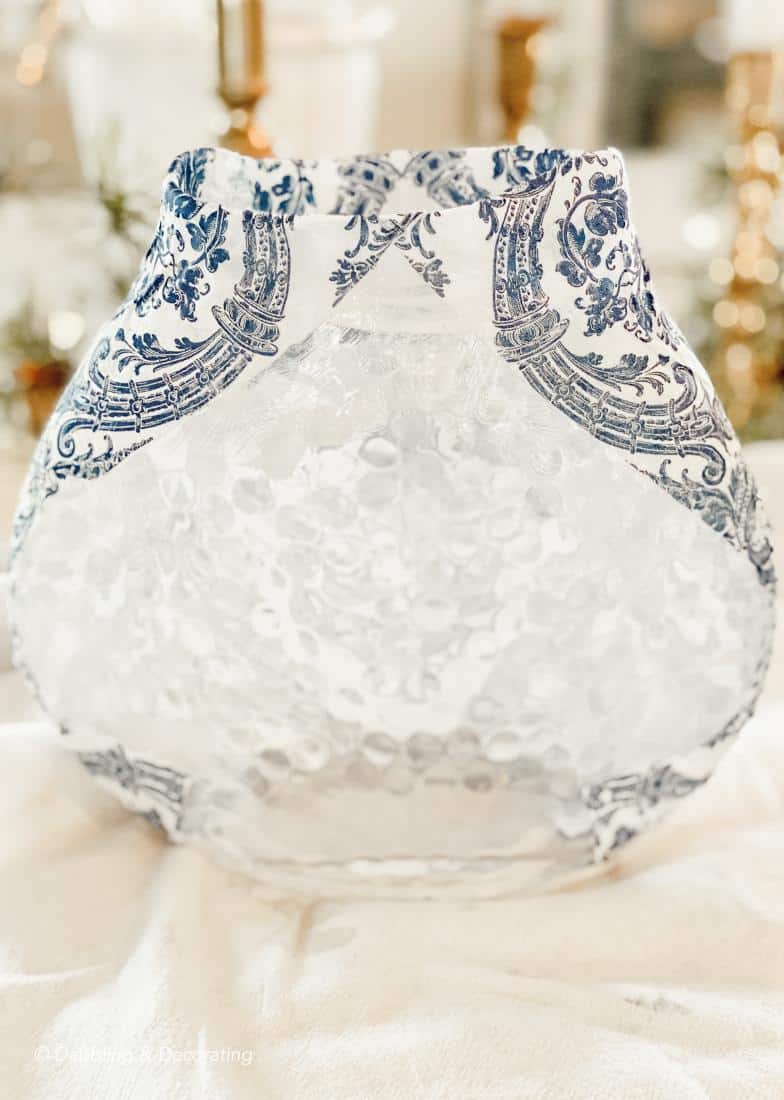 Next, spread the Mod Podge onto the second side and repeat.
You may also really enjoy making these Dishy Kitchen Hooks You Can DIY in Minutes.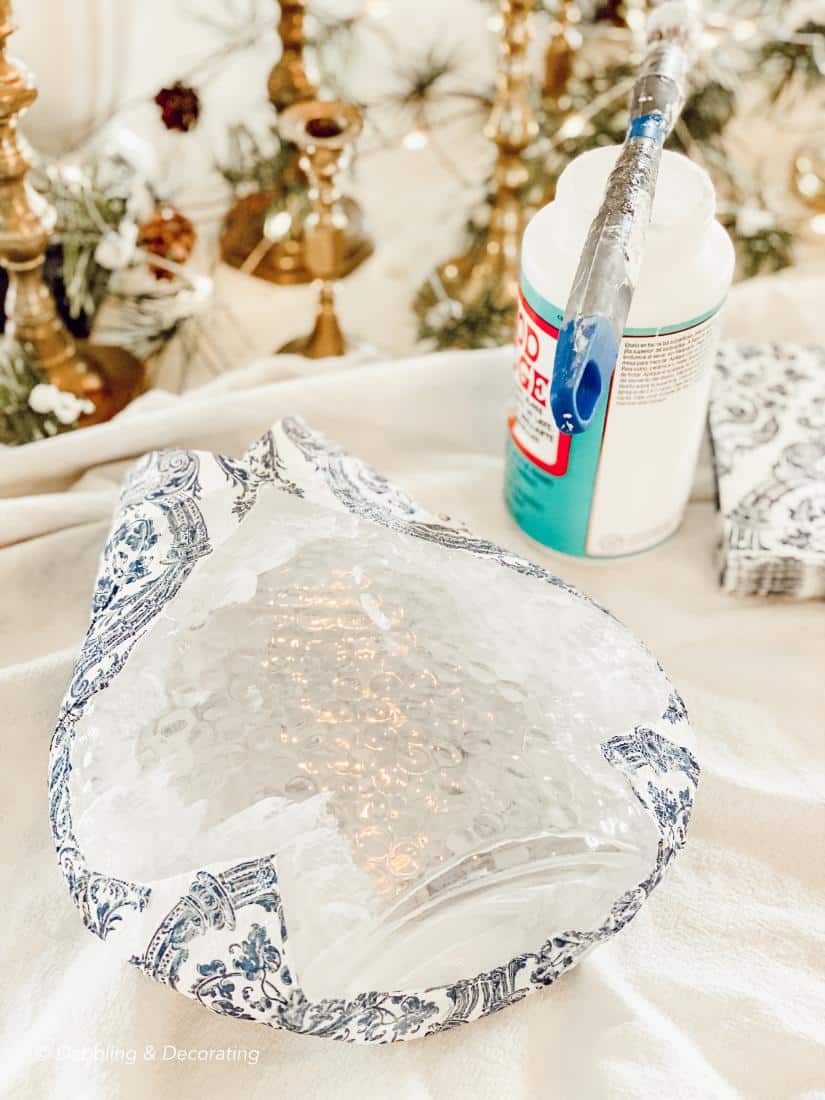 Here is the vase after both sides have been applied with the paper napkins. Now, you'll want to paint over the applied napkins with the Mod Podge three times, waiting about 2 hours between applications. Apply more if you like. Directions are also provided on the back of the jar. As an FYI, I found this type of Mod Podge took much longer to dry than the usual Mod Podge which is not dishwasher safe. It definitely needed to be procured overnight after three coats.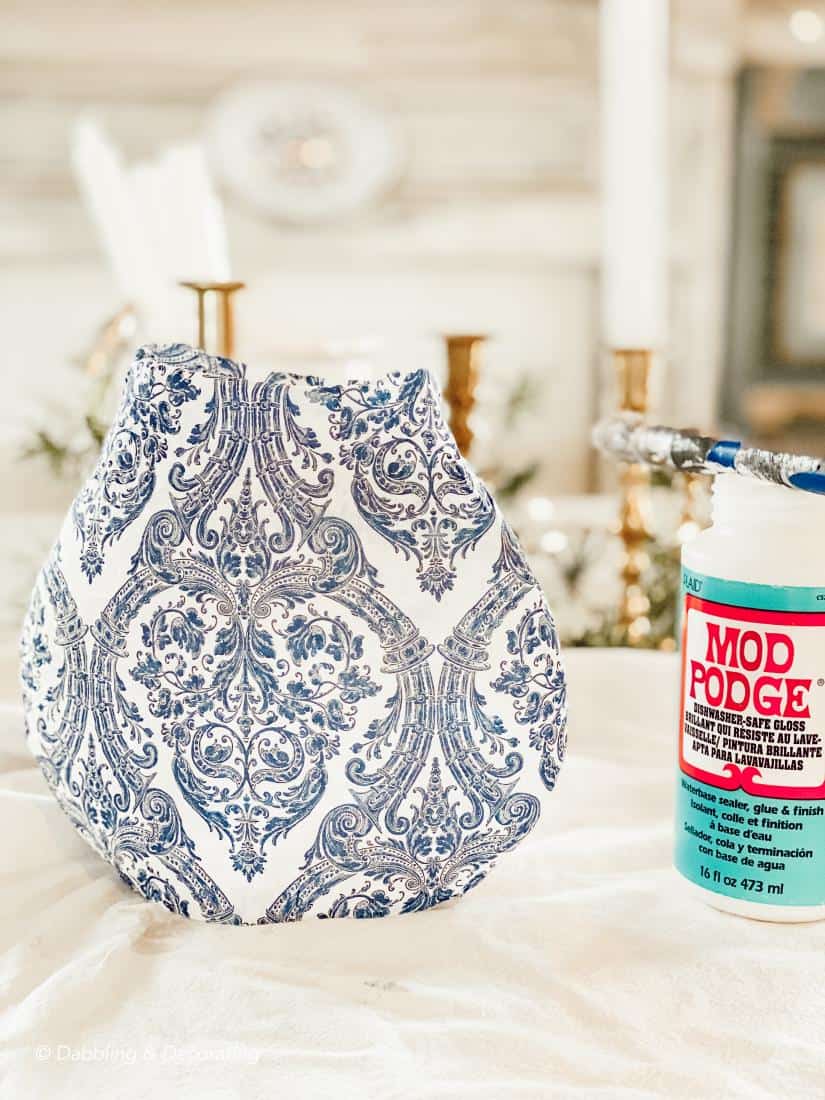 SAVE THESE IDEAS TO YOUR FAVORITE PINTEREST BOARD!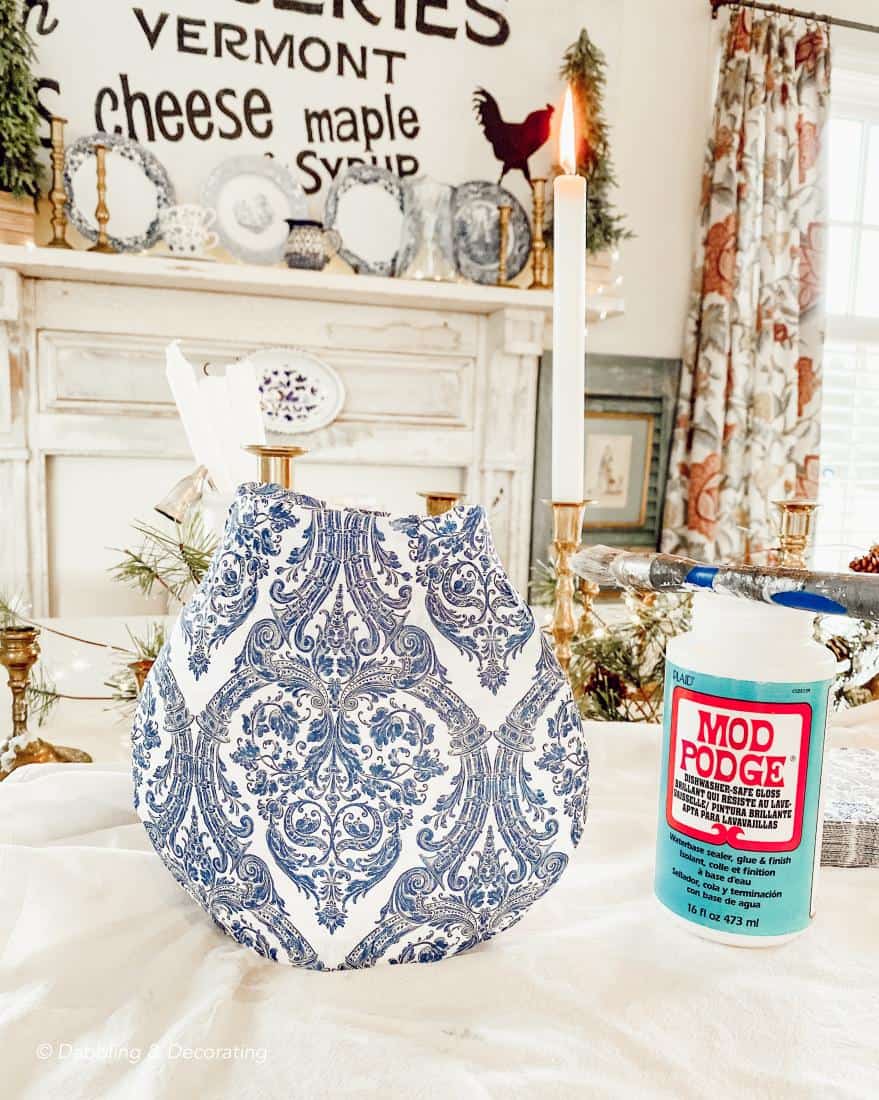 Check out my video covering this project!
Now, let's take a look at the decoupage vase styled with flowers on the table for the upcoming Thanksgiving holiday!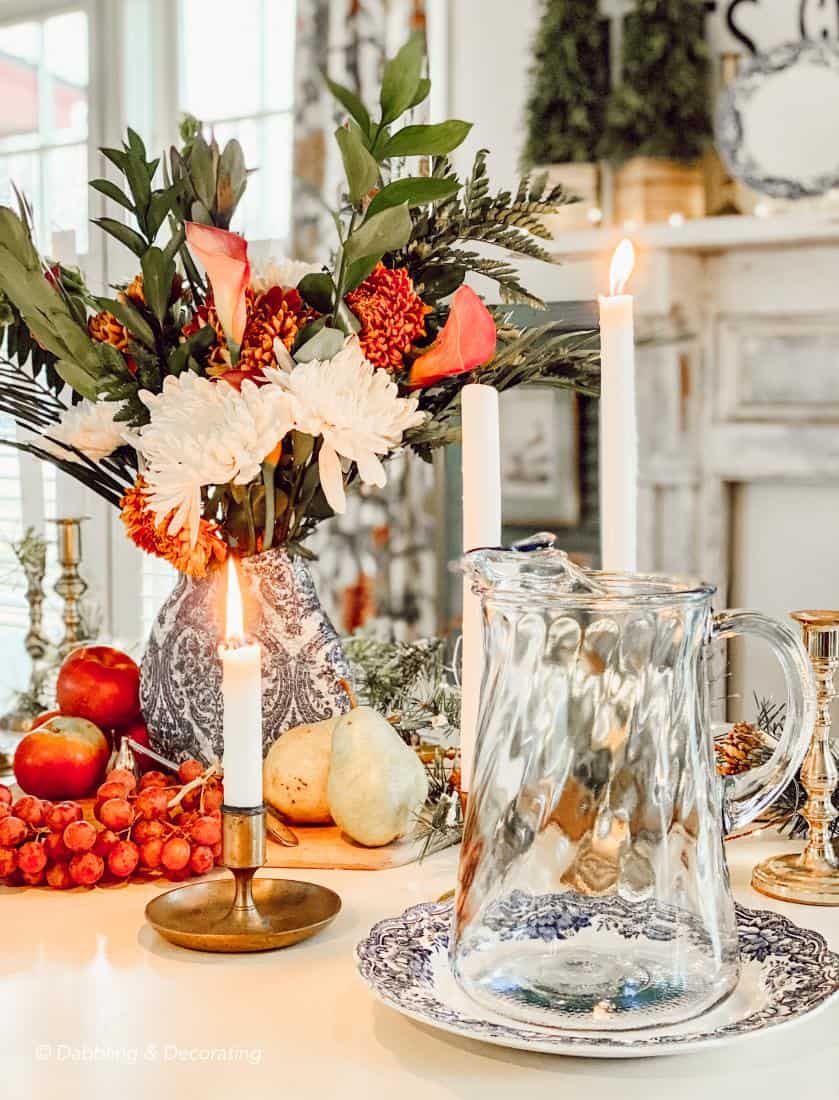 I added flowers from our local market to the vase, along with some thrifted brass candlesticks, a blue plate, a pitcher, and a teacup. What do you think?
I love how this decoupage vase turned out; it was so simple to make. Next time, I would purchase a variety of paper napkin patterns to create a fun blue and white collection with the various patterns.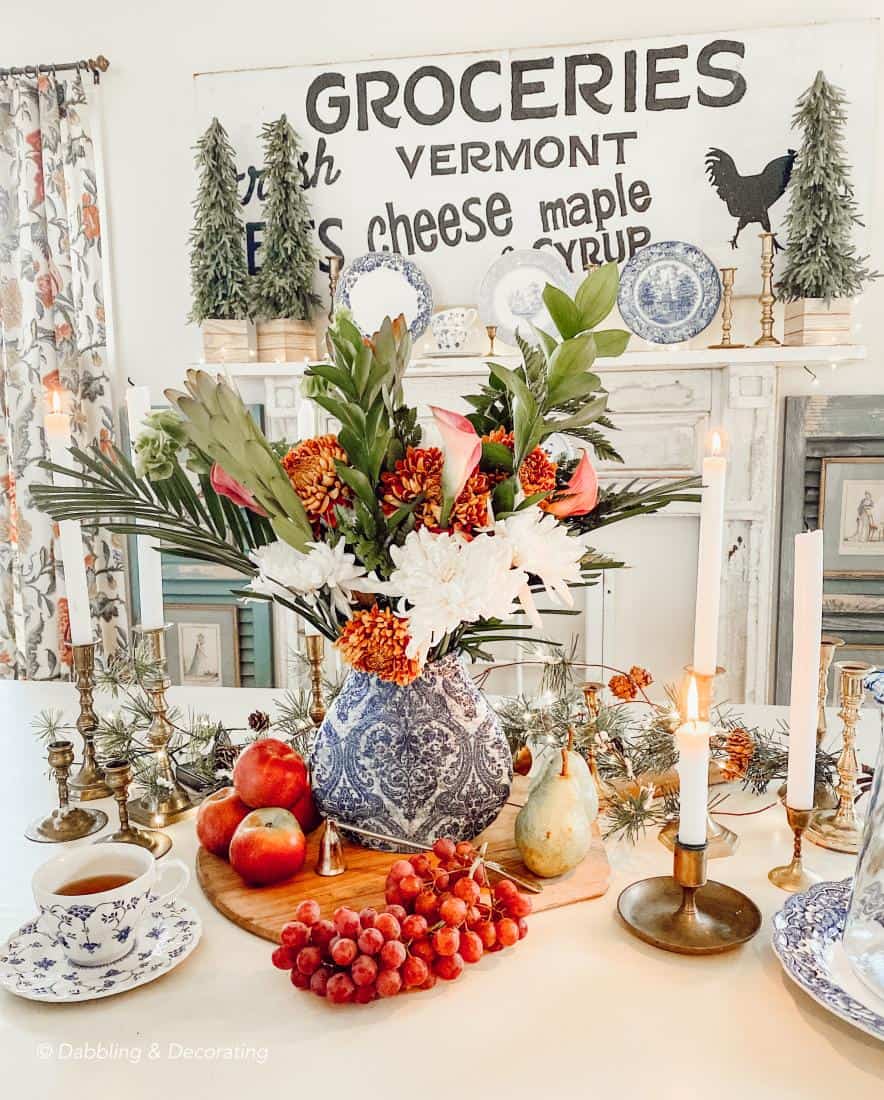 Check out more fun DIY projects from around our homes here.
I'm so glad you dropped by, and if you are new to my blog, welcome! I hope you enjoyed your visit with us here today at our Home in Vermont.
Be sure also to check out our Home in Coastal Maine, where we spend summers and weekends when we are craving a walk on the beach or a visit with old friends.

I've created the above custom pin just for this post!  Hearing from you makes my day; your comments mean so much to me! Please join me over on Instagram & Pinterest to see more!
You May Also Enjoy