Are you looking to makeover an old hutch or cabinet? Check out this fabulous vintage hutch makeover with vintage cabinet hardware and charm.
When I saw this wonderful vintage hutch posted on Facebook I knew we were meant to be friends…
Paula over at Breakaway Design and Antiques in Wells, Maine always has the most creative and beautiful furniture makeovers. I love visiting her second-hand shop to simply get inspired.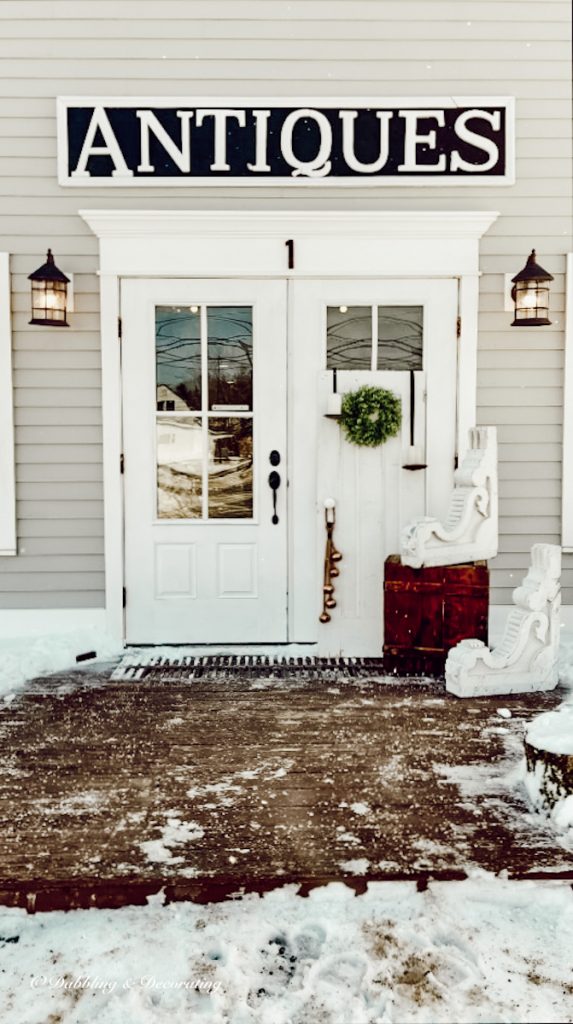 Vintage Cabinet Makeover
Paula of Breakaway Designs and Antiques found this vintage hutch just north of Lincoln Maine.
It had been used for art supplies and crafts and had a small towel rack on the side that was removed for this vintage hutch makeover.
I love asking and learning about the pieces I find out thrifting and I appreciate Paula sharing these photos and stories with me.
Unfortunately, we didn't have any before photos to share. But I bet she was still adorable before this beautiful makeover.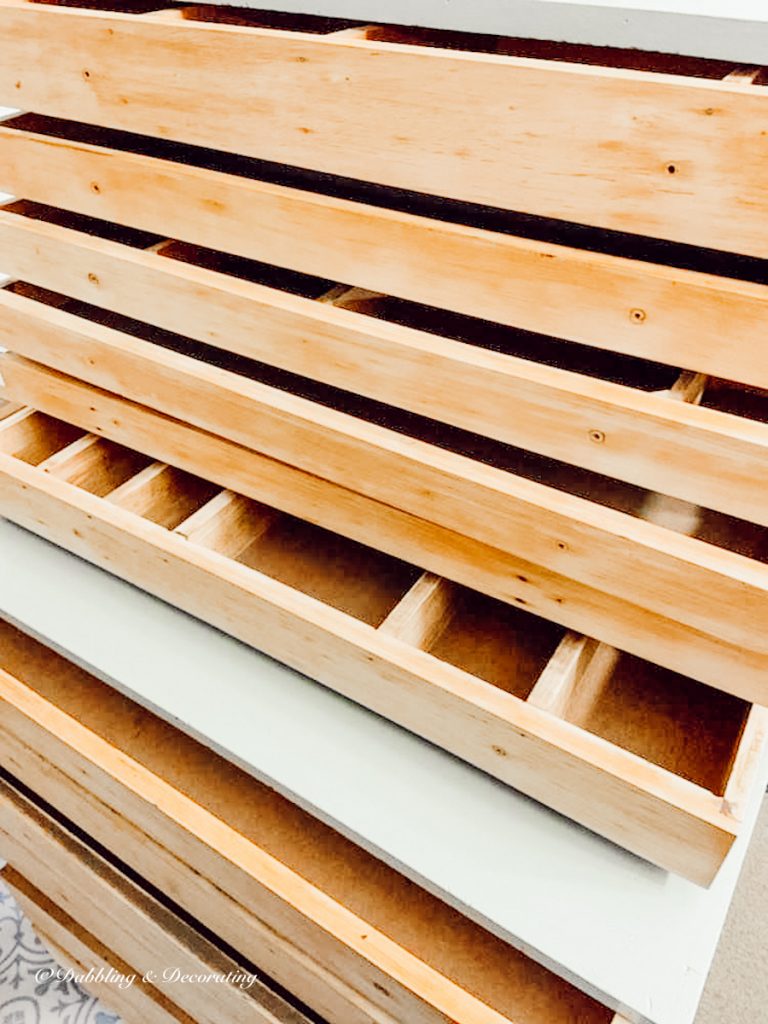 Vintage Cabinet Hardware
White Knobs
These adorable white knobs are from a furniture repair shop south of Peabody, MA that has been in business for over 50 years. Breakaway Designs and Antiques bought more than half of their inventory while visiting and I hear that 2 pieces will be in their shop by this summer!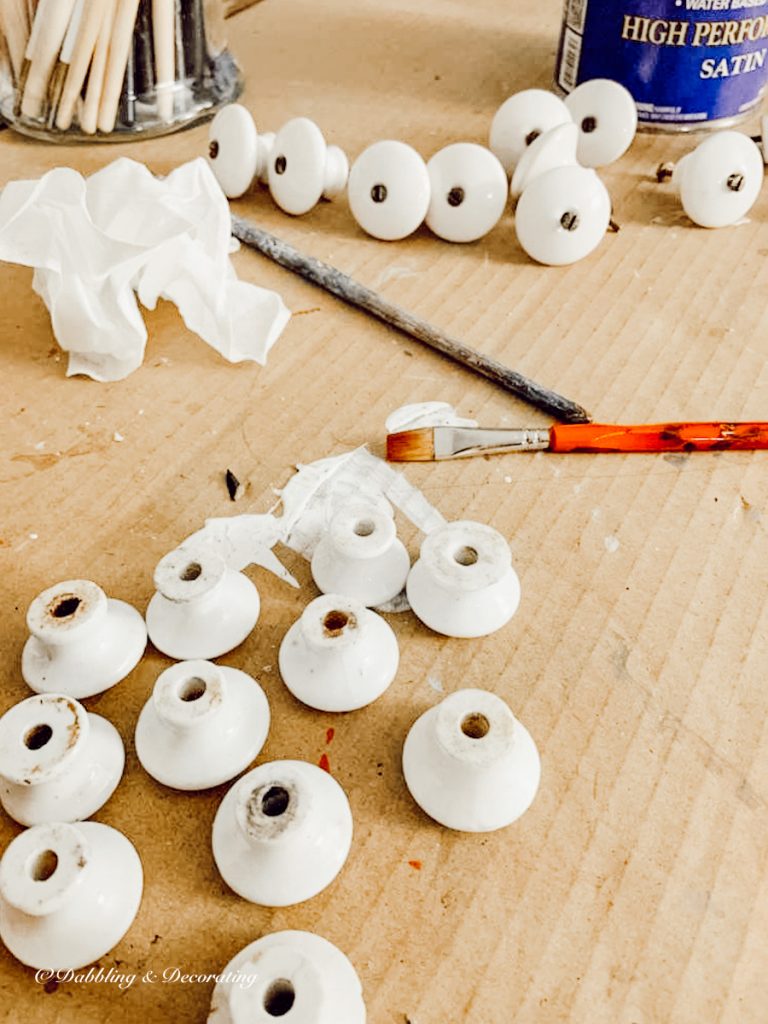 Love, love, love these white chippy knobs with this vintage hutch.
This post may contain affiliate links which won't change your price but will share some commission."
SHOP VINTAGE KNOBS

Casters
I love that the hutch has added vintage casters on the bottom.
It not only makes it easier to move around, but it adds the height that I think this piece really needed.
Love them so much!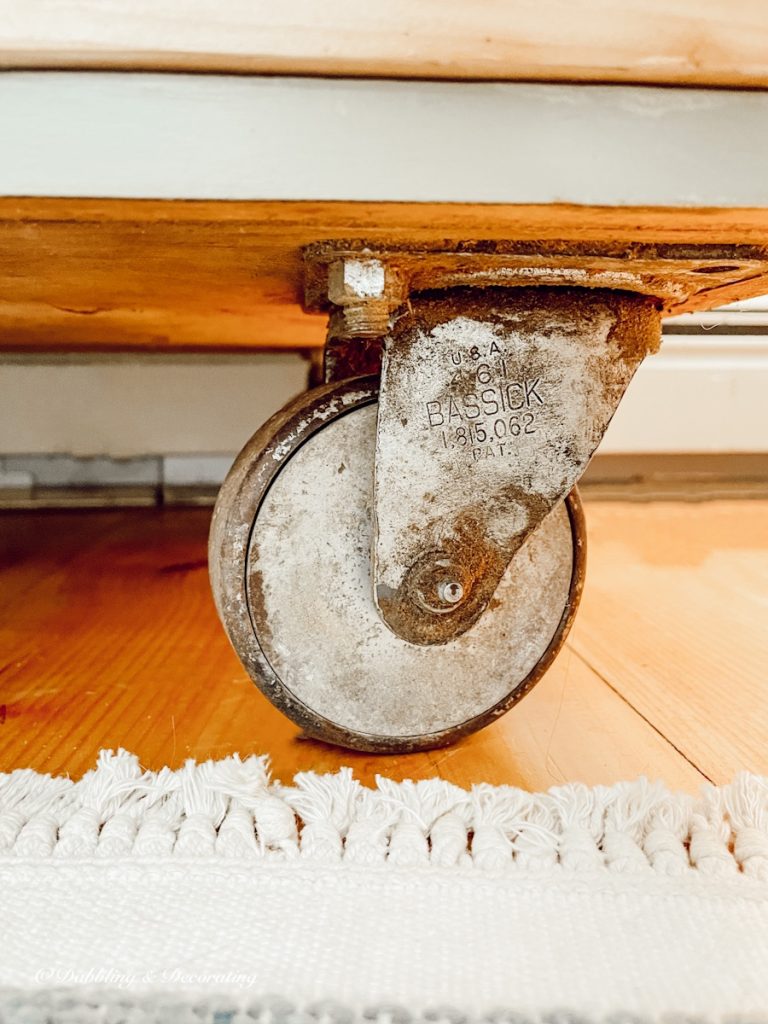 SHOP VINTAGE CASTERS

Check out my 4 Top Thrifting Goals for 2022 HERE. Do you think I'm sticking with them? Have you ever made thrifting goals?
Welcome Home Fabulous Vintage Hutch
I grabbed a best girlfriend and we brought this beauty into our sunroom. I wasn't sure if it was going to work, honestly. Those darn radiators along the wall matched with the hefty depth of the cabinet, it was iffy at best!
So we got busy rearranging chairs, pictures, the coffee table, and the round vintage rug. Isn't that how it often goes?
And I just love it, at least for now. I hope you like it too!
How to Decorate a Vintage Hutch
Start with Flowers
A bouquet of your favorite seasonal flowers or faux flowers sets a great foundation.
Here I added a couple of dozen supermarket tulips in an $8 old tin champagne bucket that I found out "Thrifting with the Gals".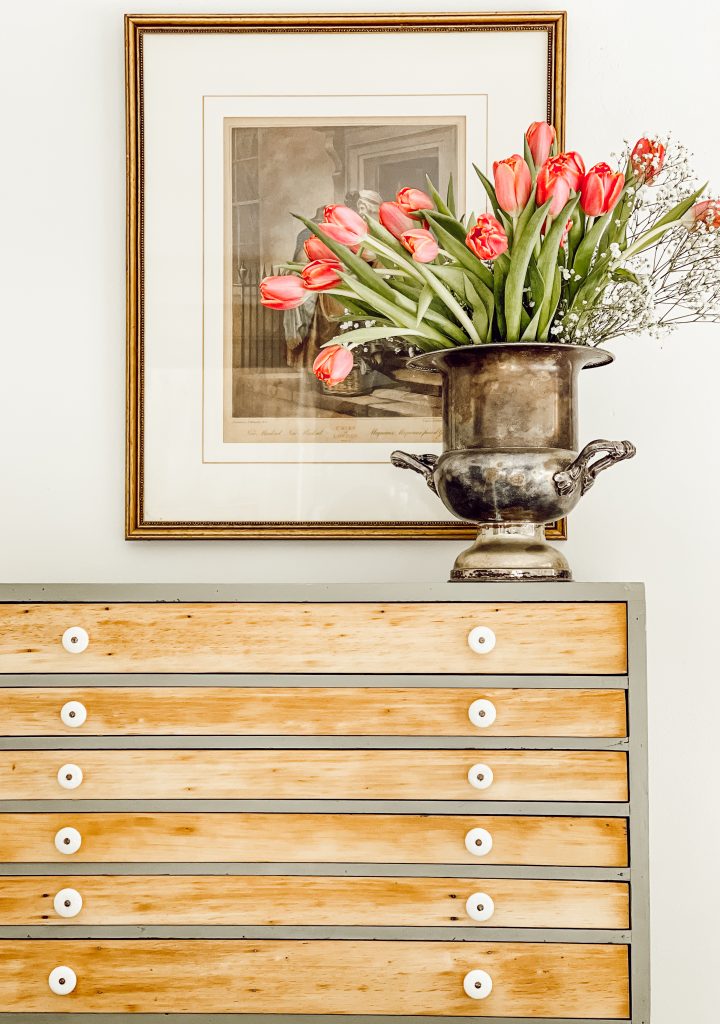 You may also enjoy the post, The Cutest DIY Shelf Liners in an Old Pine Hutch.
Family Heirlooms
I like sharing memorable family heirlooms to enjoy while sitting here in our sunroom.
Like these vintage binoculars and bird books that were my father's.
I have fond memories of growing up on the ocean with my father pulling them out and showing me the whales out in the ocean. Or the stranded surfer who went out beyond his limits…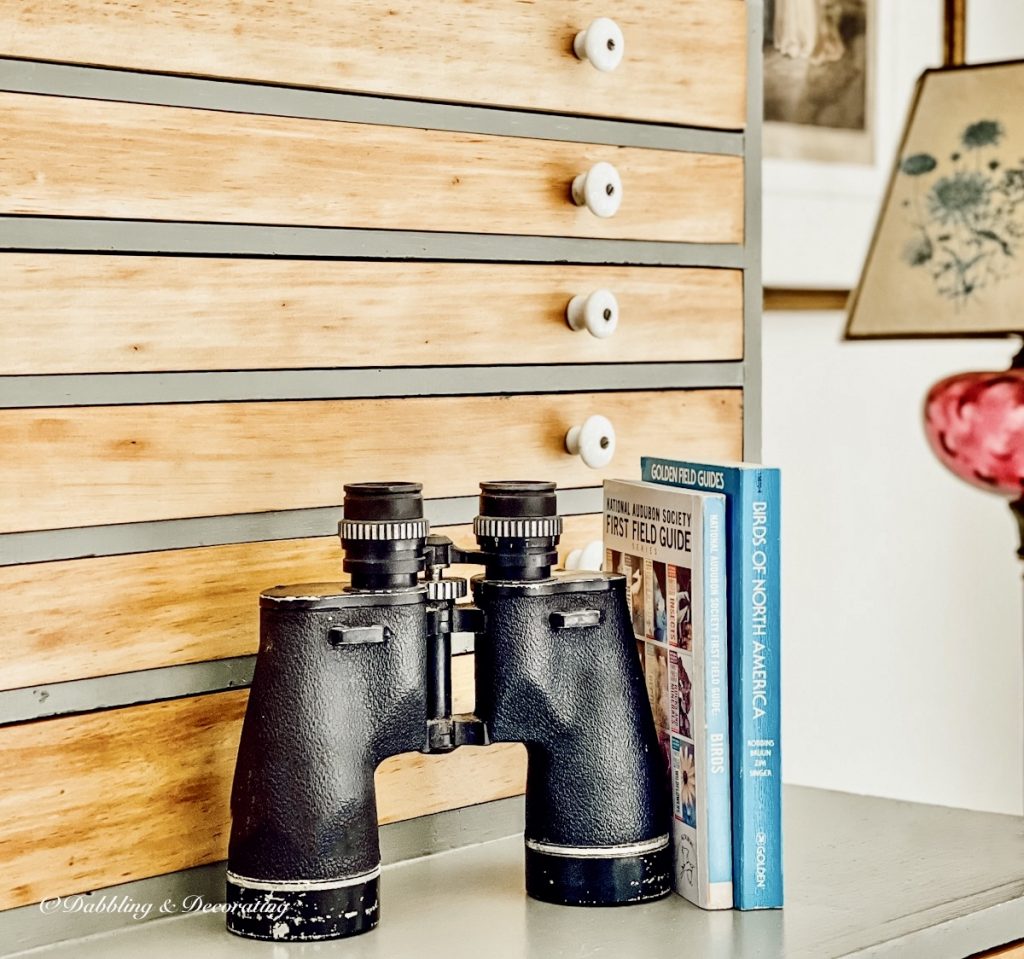 Some family photos and a basket of sand dollars that I also found out "Thrifting with the Gals" this past summer.
You may also enjoy This Season's Thrifting Trends.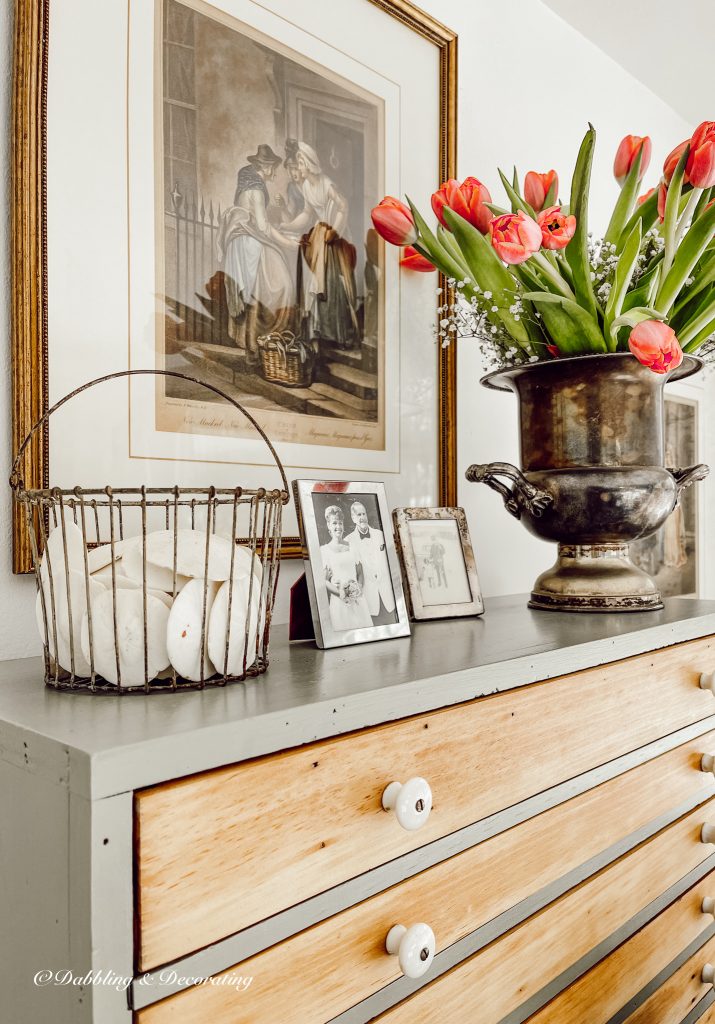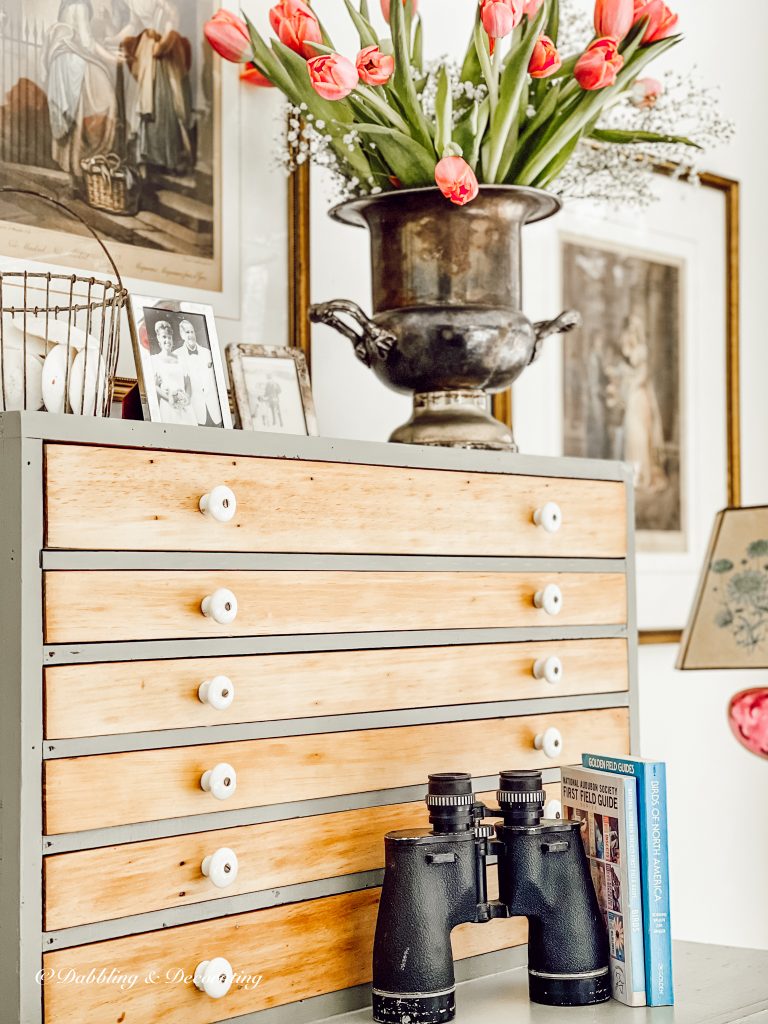 You may enjoy my friend Rachel over at The Ponds Farmhouse DIY Faux Apothecary Cabinet HERE too!
And Kim from over at Shiplap and Shells shares the post Making Our 100-Year-Old Cabinet Into the Perfect Bedroom Built-in
I'm so glad you dropped by, and if you are new to my blog, welcome! I hope you enjoyed your visit with us here today at our Home in Coastal Maine.
Be sure to also check out our Home in Vermont too, where we spend winters enjoying the coziness of home in the Green Mountains of Vermont.
Please join me as a regular here at Dabbling & Decorating by signing up for my Saturday morning newsletter and never miss an update!

I've created the above custom pin just for this post! Hearing from you makes my day and your comments mean so much to me! Please join me over on Instagram & Pinterest to see more!
SHOP THIS VINTAGE HUTCH STYLE

YOU MAY ALSO ENJOY