It's beginning to look a lot like a Vintage Christmas! I'm excited to share our vintage-styled bookshelves with you today from our home in Vermont.
Newly and freshly painted with Benjamin Moore's Chantilly Lace. A genuinely pure white. What a difference it has made.
If you've been following me over on socials, you know that we recently just finished spray painting the interior of our home. Wow, and what a process that was! Here's a sneak peek in case you missed it, and I'll be blogging all about it with plenty of "Before and Afters" coming to the blog very soon.
Wasn't that something? And that was just the ceiling…
So now, with freshly painted bookshelves in play, I couldn't wait to get them all decorated for our vintage-styled Christmas ahead and share it all with you here today.
Collecting Favorite Vintage Christmas Treasures
I love collecting unique vintage treasures while I'm out "Thrifting with the Gals" at vintage pop-ups, markets, antique shops, second-hand shops, etc… I found these musical instruments at Sage Farm Antiques a few weekends ago while staying in Maine. You may see more in the post, A Vintage Christmas Haul and 3 Holiday Wreaths. I immediately thought they would be a fabulous foundation for this year's Christmas decorating. See them all decorated today in the post, How to Decorate with Old Musical Instruments.
And after painting our walls with the blue color Stardew, I chose this blue velvet ribbon for my holiday decor. Little blue velvet bows add a sweet yet nontraditional color theme for our vintage Christmas at home. You may also enjoy seeing last year's Cozy Winter Neutral Built-Ins.
You may also enjoy the post, Pretty in Stardew Blue Paint | A Home Interior Makeover Before and After.
Vintage Blue Skates
Oh, and those vintage blue skates with fur that I found on eBay a couple of years back look so cute, displayed on the mantel next to the velvet blue ribbon.
Here they are from last year under our Christmas tree. Look at that box they came in, too…
You may also enjoy the post, 32 Antique Christmas Decor Treasures to Look for in 2022.
This post may contain affiliate links which won't change your price but will share some commission."
SHOP VINTAGE SKATES

Ok, let's get back to vintage Christmas bookshelf decorating…
Simple, Soft Blue Christmas Touches
I love soft blues, which will be our color theme for this year's vintage Christmas. Just a few soft blues scattered throughout our bookshelves, not too much that is the key!
I also found this vintage spool with soft blue threading at Sage Farm Antique's recent pop-up weekend. You may also enjoy this Sage Farm Antiques Early Evening Buy Event.
And my friend Rachel from The Pond's Farmhouse posted on How To Repurpose Vintage Wooden Spools DIY.
Paired with some blue and white china and an old crock with a blue rooster on it.
Some of your popular vintage Christmas questions answered…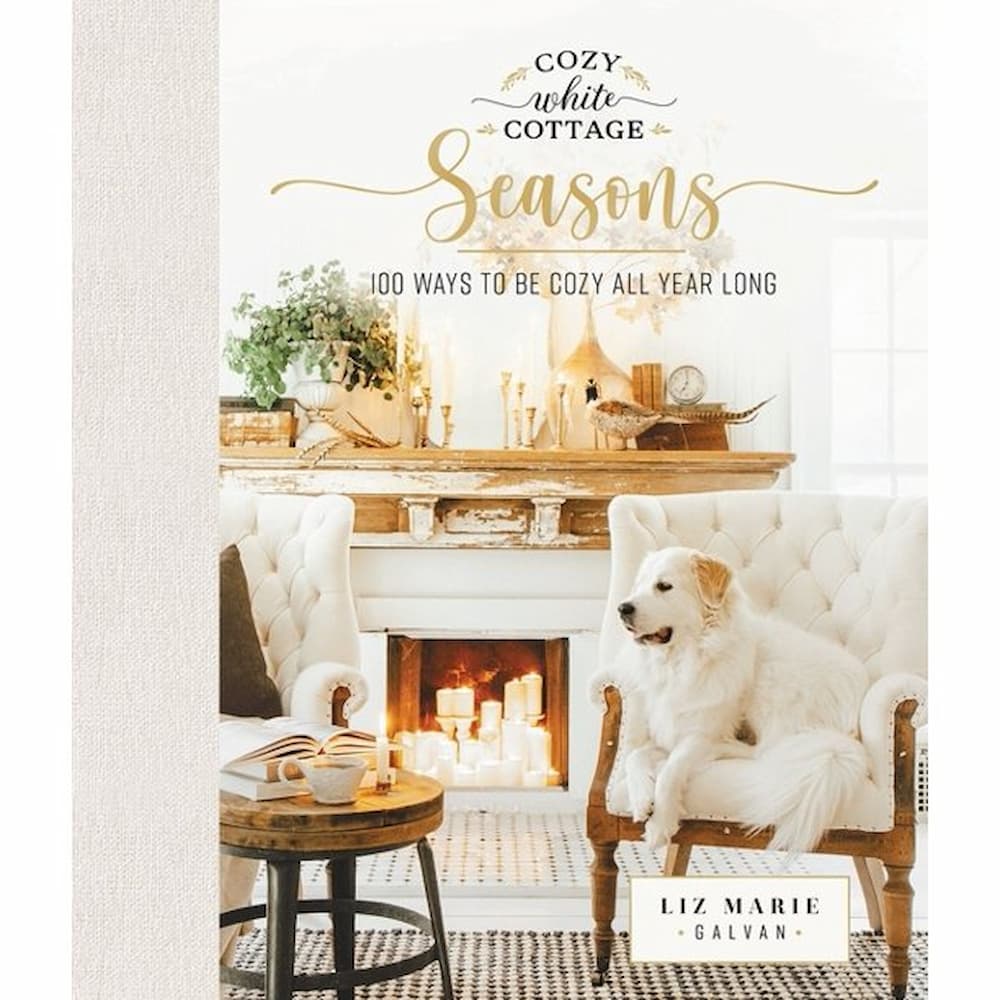 What are some unique Christmas gift ideas?
Check out these 10 Best Housewarming Gift Ideas and 75+ Blue and White Vintage Gift Ideas for Women. And one of my favorite gifts to give can be found in the post, Ride out the Rain with These Fabulous Umbrellas. Should any of these products be sold out, similar suggestions will be provided for your shopping convenience.
What are some fun Christmas party ideas?
Have you ever made an Ice Bucket before? Such a fun and festive Christmas party idea!
Back again to vintage Christmas bookshelf styling…
Vintage Ironstone Molds, Books, and Ornaments
Vintage Christmas ornaments in antique ironstone molds add color and character as bookends to this vintage Hardy Boy's book Collection.
SHOP VINTAGE MOLDS AND THE HARDY BOYS

Vintage Skis
Vintage skis are one of my favorite things to decorate with around the holidays, right into the winter months. Here is a set of wooden cross-country skis I found last year, "Thrifting with the Gals," for just $18.
I added the cohesive blue velvet ribbon and simply leaned them up against our vintage Christmas-styled bookshelves.
The white color we had before on these bookshelves was very yellow, Alabaster if I remember right.
The wood tone on the skis adds a cozy warmth matched with our now Chantilly Lace white bookshelves
SHOP VINTAGE SKIS
Wow, I can't believe how expensive vintage skis have become. I've compiled a few I found from over on Etsy for you. But myself, I wouldn't pay over $100 for a pair of vintage skis. Eeeeek…

It's time to bring out the chippy white busts… I think every vintage Christmas bookshelf should have a pair of chippy busts or one large bust. They are so original and characteristic of libraries and books alike.
What is a Bust?
"A bust is a sculpted or cast representation of the upper part of the human figure, depicting a person's head and neck, and a variable portion of the chest and shoulders." Source: Wikipedia
Here, I balanced my small girl and boy busts with vintage green books, green picture frames, and green vintage spools of threads to pull out just a few of the traditional Christmas colors.
SHOP SMALL VINTAGE BUSTS

Old Musical Instruments
Next, I added the old musical instruments that I found with blue velvet bows to a shelf, partnered with a few vintage music books. You could also add sheets of music, roll them up and tie them with Christmas bows…
Another way to add unique color to your bookshelves is to add collections of old artist paintbrushes that you can find reasonably priced at second-hand shops or buy new at your local craft shop.
In the upper right-hand corner, you can see my collection in an antique china bowl.
Bookshelf styling is all about displaying all the things that make you happy. And for me, that's collected vintage and antique finds with soft colors for the holidays.
The old printer press letters, VT represent our state of Vermont and the old black Singer sewing machine adds depth and character.
Add height to your bookshelves by stacking books, using architectural pieces, evergreens, flowers, etc…
It's always a challenge keeping bookshelves from appearing over-cluttered. Do you struggle with this too? It takes time, and practice makes perfect.
And I'm forever enjoying the practicing part…
Happy Holidays!
I'm so glad you dropped by, and if you are new to my blog, welcome! I hope you enjoyed your visit with us here today at our Home in Vermont.
Be sure also to check out our Home in Coastal Maine, where we spend summers and weekends when we are craving a walk on the beach or a visit with old friends.
I've created the above custom pin just for this post! Hearing from you makes my day and your comments mean so much to me! Please join me on Instagram & Pinterest to see more!
YOU MAY ALSO ENJOY