I've been wanting to put together the cutest little outdoor beverage table all summer long. But we've just had way too much rain, until now. The sun is shining, the rain is gone, and the humidity has broken.
So I decided to go thrifting in our attic to see what I could share with you this week for "Thrifting with the Gals"!
And it is there I remembered this thrifted table for two I found last fall and thought it would be so fun outdoors decorated as a beverage station. Thanks for joining me for thrifting in the attic today!
Flavored Water
I started by making a jug of flavored water. Do you ever make flavored water? I never had before.
I used what I had on hand to make this flavored water for my outdoor beverage table. Mint and cucumbers from our small backyard container garden, along with a handful of raspberries and blueberries. So good!
You are going to love this post about the 10 Best Herbs to Grow and Why by my friend Rachel over at The Ponds Farmhouse.
And be sure to check out this collection of favorite beverage recipes from my recent post It's all about the Glass.

This Vintage Beverage Station
This cute little beverage table was thrifted along with two matching chairs for $100 while I was out "Thrifting with the Gals" just a year ago this fall.
In fact, everything on this beverage table, including the table itself, was thrifted except for the water dispenser.
Vintage Dishware
My mother's little glass bowl filled with ice and her sterling silver spoon next to the flavored water dispenser is just the cutest. Clink, clink into the glass:)
I also added a bowl of strawberries and a few thrifted blue and white bowls to accompany the flavored water for visiting guests.
Flower Bouquet
Our neighbor has the most beautiful limelight hydrangea tree here at our home in Maine. I snagged a few of the branches and decorated them in a thrifted tin vase.
And check out more of this table from last winter decorated as a cozy fireside table and for coffee and with my mother's Russian china pattern.
There's just something about bringing an indoor table outdoors. Doesn't it feel cozy, warming, and inviting as an outdoor beverage table?
You may also enjoy the post, HOW TO CREATE AN OUTDOOR DINING OASIS.
Beverage Table Glassware
As the temperatures are cooling here in late August, I thought the colored glassware would be perfect. The amethyst and amber colors pair so well together.
The amber glasses were also my mother's and I thrifted the amethyst glasses just recently. Because it's all about the glass:)
SHOP VINTAGE AMBER & AMETHYST GLASSES BEFORE THEY'RE GONE!

Do you know what would also be really cute on a beverage table? This DIY simple ice bucket for entertaining.
You may also enjoy 10 Vintage Bar Styling Inspiration to Copy Now!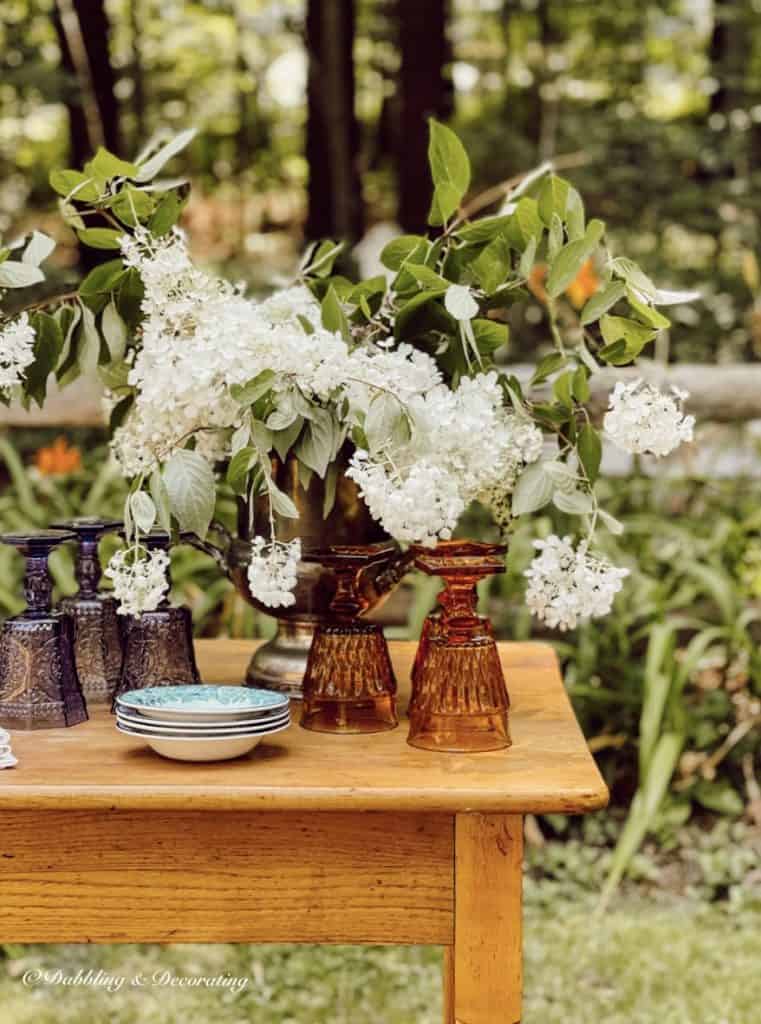 You may also enjoy this Outdoor Table for 2 with Mountain Views.
How We Get Ella to Pose for the Blog
Here I moved the cutest outdoor beverage table next to the picket fence in our backyard. This is as close to gardens as we have here in Maine right now.
At some point, we will add more landscaping that is easy for us to maintain.
The birdhouses and benches beyond the picket fence were all made by my father over the years. You may enjoy seeing more in the post, Adored One-of-a-Kind Handmade Birdhouse Restored.
If you liked this cute outdoor beverage table…
Head on over and check out Penny over at Penny Pennington Weeks where she celebrates country living. Penny shares how to plan a winter picnic for two that will have you swooning over her small table and chairs too!
You may also enjoy The Humble Joys of an Old Fashioned Picnic Basket.
And How to Fashionably Bring Your Dining Room Outside This Summer.
I'm so glad you dropped by, and if you are new to my blog, welcome! I hope you enjoyed your visit with us here today at our Home in Coastal Maine.
Be sure to also check out our Home in Vermont too, where we spend winters enjoying the coziness of home in the Green Mountains of Vermont.

I've created the above custom pin just for this post! Hearing from you makes my day and your comments mean so much to me! Please join me over on Instagram & Pinterest to see more!
YOU MAY ALSO ENJOY