Here we are in early February, and I am hanging on dearly to our three Christmas Wreath Tradition on the front door of our home here in Maine! With a little tweaking of the bows and the addition of an old pair of ice skates, these old Christmas wreaths are going to be turned into Valentine's Day Wreaths!
Our Coastal Maine Home
You are welcome to join me over on the Maine Home Tour to learn more about this dear old family home that we inherited last year and have gratefully been renovating and decorating. Join me, too, for the featured blog series "In My Mother's Home," where you can follow along on all the renovations from start to finish.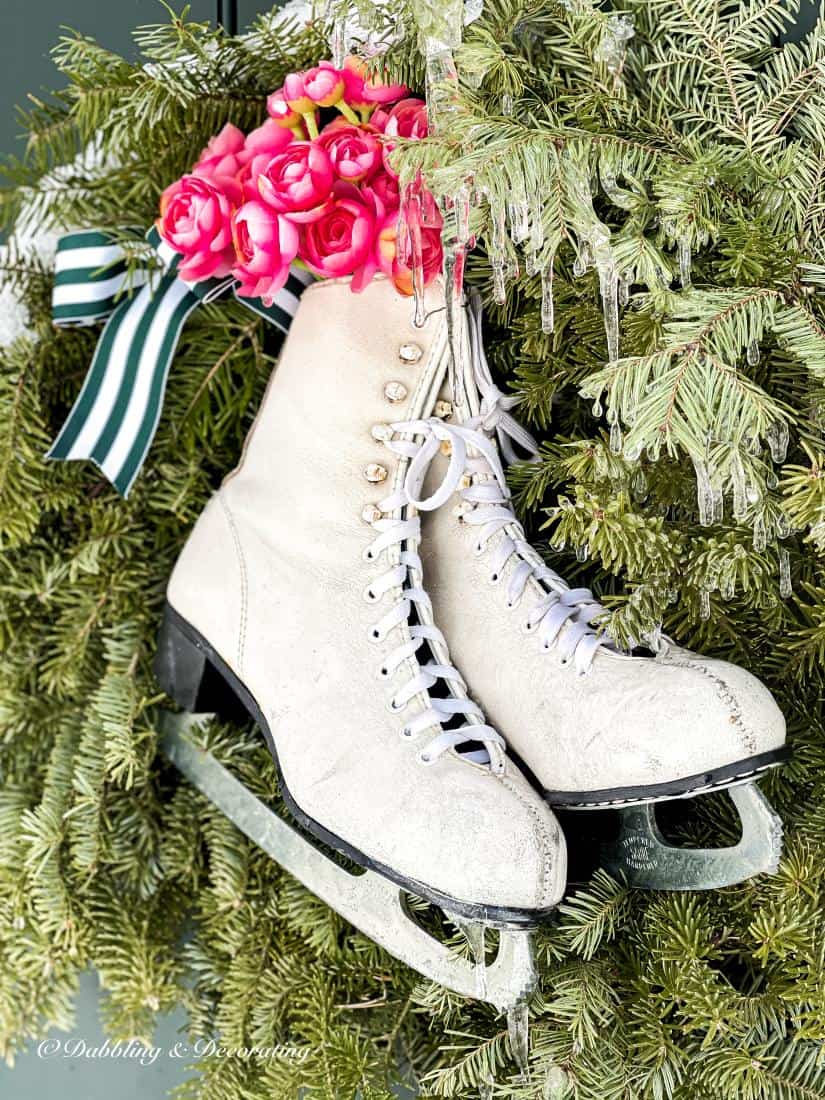 Thrifty Ice Skates, Pink Flowers, and Snow
Making a few simple changes to transform one's old Christmas wreaths into festive front-door Valentine's Day Wreaths is so rewarding and fun. I hung these old ice skates that I found thrifting to the middle of the three wreaths with wire from a craft store, and I found the bows on Amazon to match the Essex Green House Trim.
Soon after hanging, we welcomed a large snowstorm here in New England. This is one of the many reasons I try and keep my outdoor decor simple and durable! Look how the simple pink faux flowers just pop in that winter snow.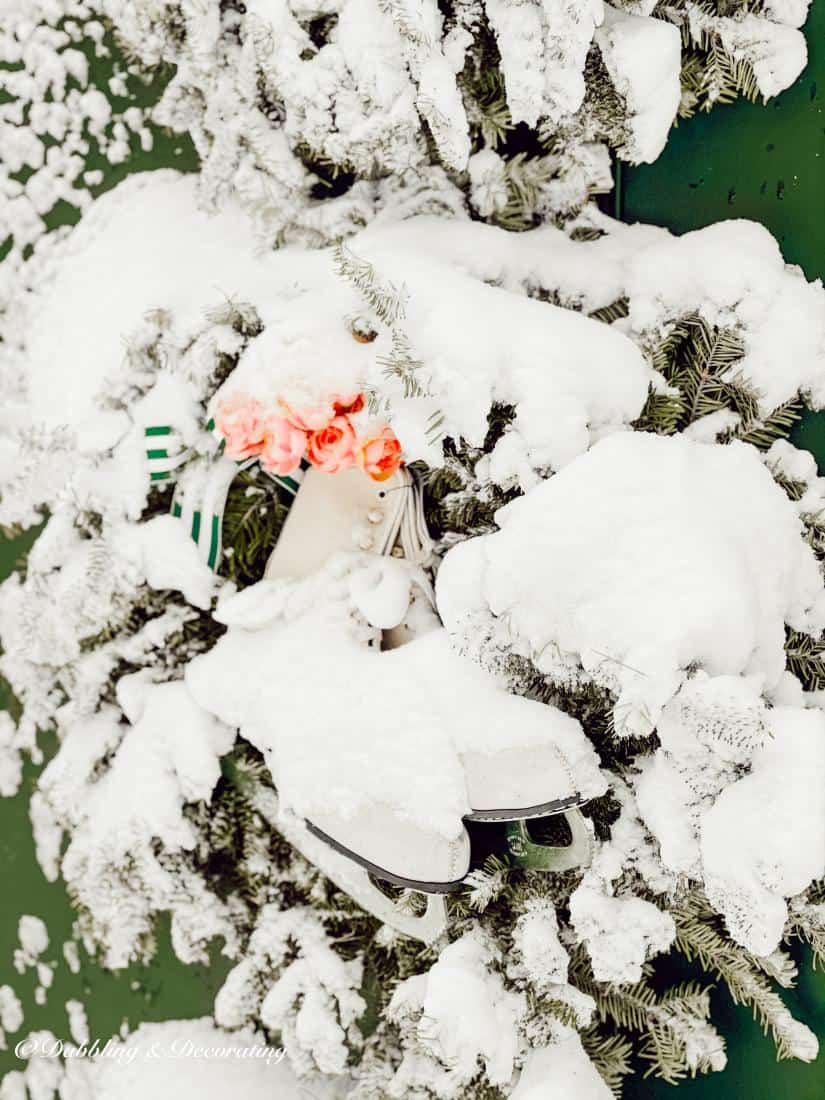 This little switcheroo cost me absolutely nothing other than the bows and thrifted ice skates. I found the pink faux flowers in the home's attic.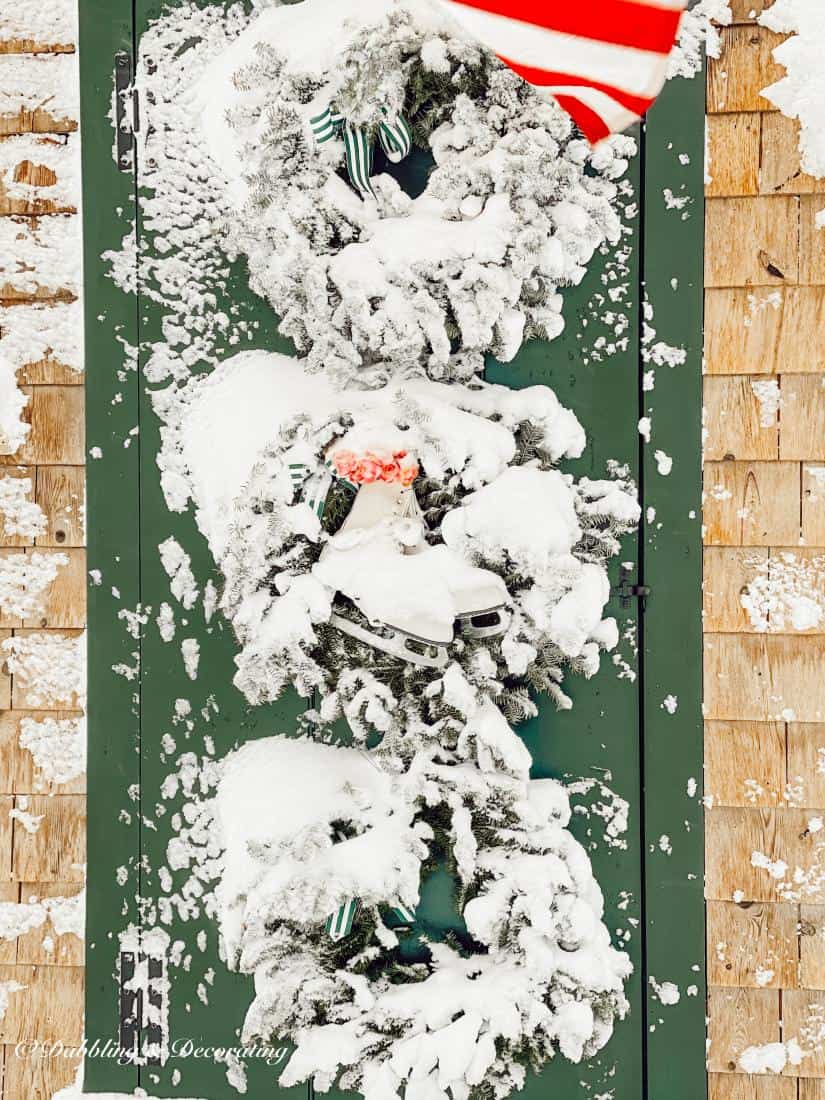 When the winter storm was over, it warmed up quickly. The icicles on the Valentine's Day wreaths started to form, and I became anxious for a beautiful bouquet of indoor flowers.
You may see more of the aftermath and scenery of our winter storm by visiting Beautiful Snow Day on the Seacoast post. You will not want to miss the video of the coastal Maine surf!! Mother Nature can be so very dramatic.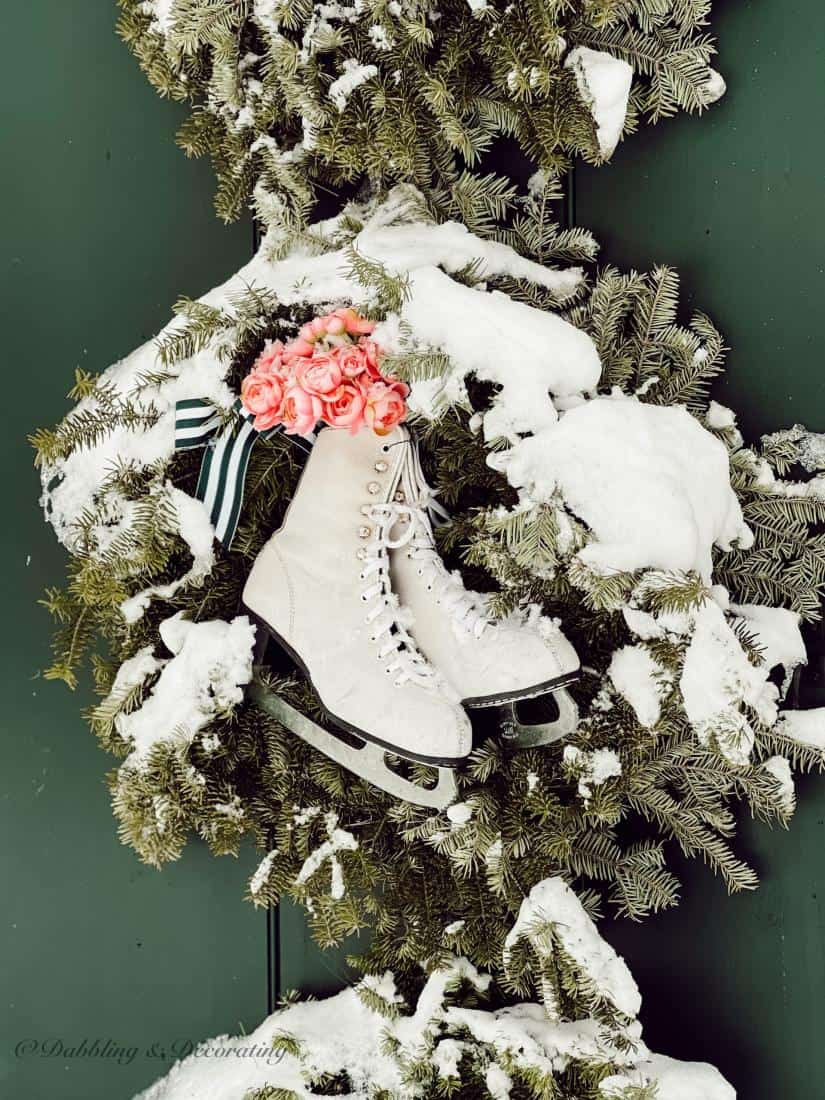 Looking for some more simple Valentine's Day home decorating ideas? Join me here!
And you may also enjoy this Romantic Table, Pretty in Pink.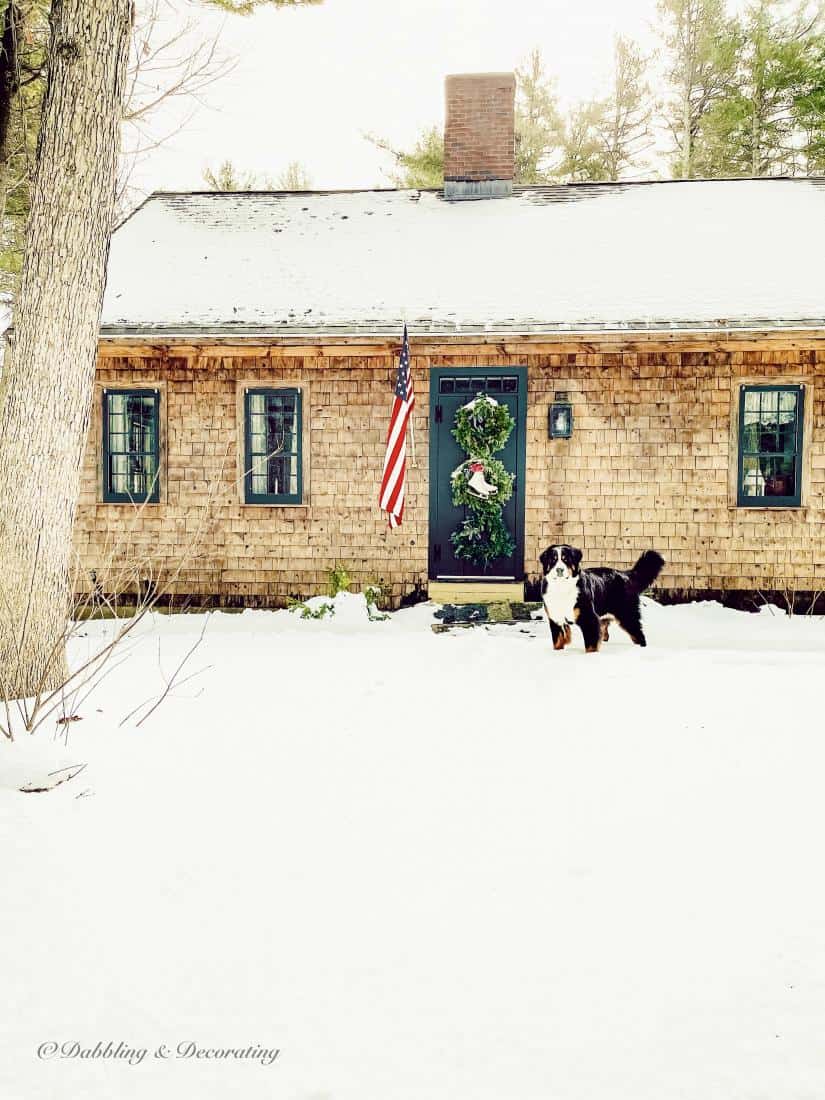 You may also enjoy this 3 Wreath Christmas Tradition On A 1930s Front Door post.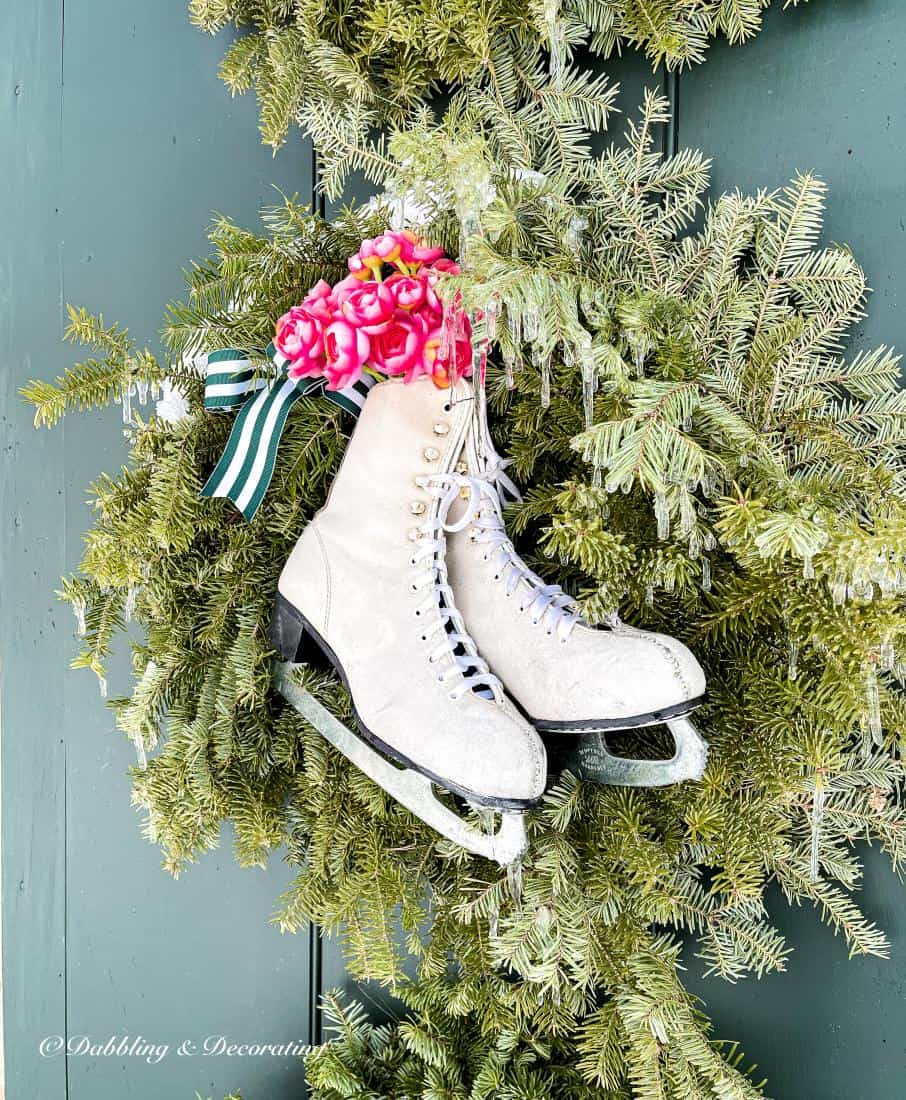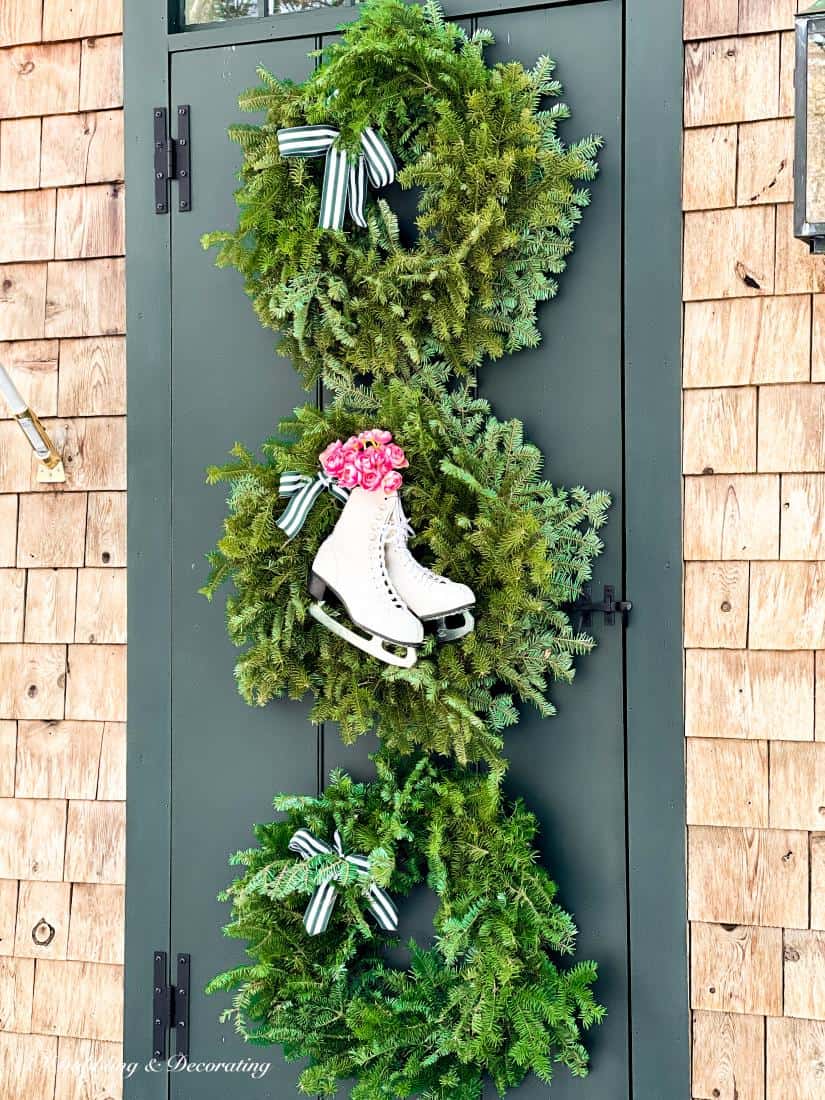 Have you discovered the app Waterlogue yet? It is an app that you can purchase on the iTunes store for $4.99 and it will turn any of your photos into an instant watercolor with one click. It's super fun, here's an example for you to enjoy.
The photo I took is above and the watercolor is below. This is such a fun app to work with for creating gifts for family and friends out of your photos together. I hope you enjoy it!
Valentine's Day Wreaths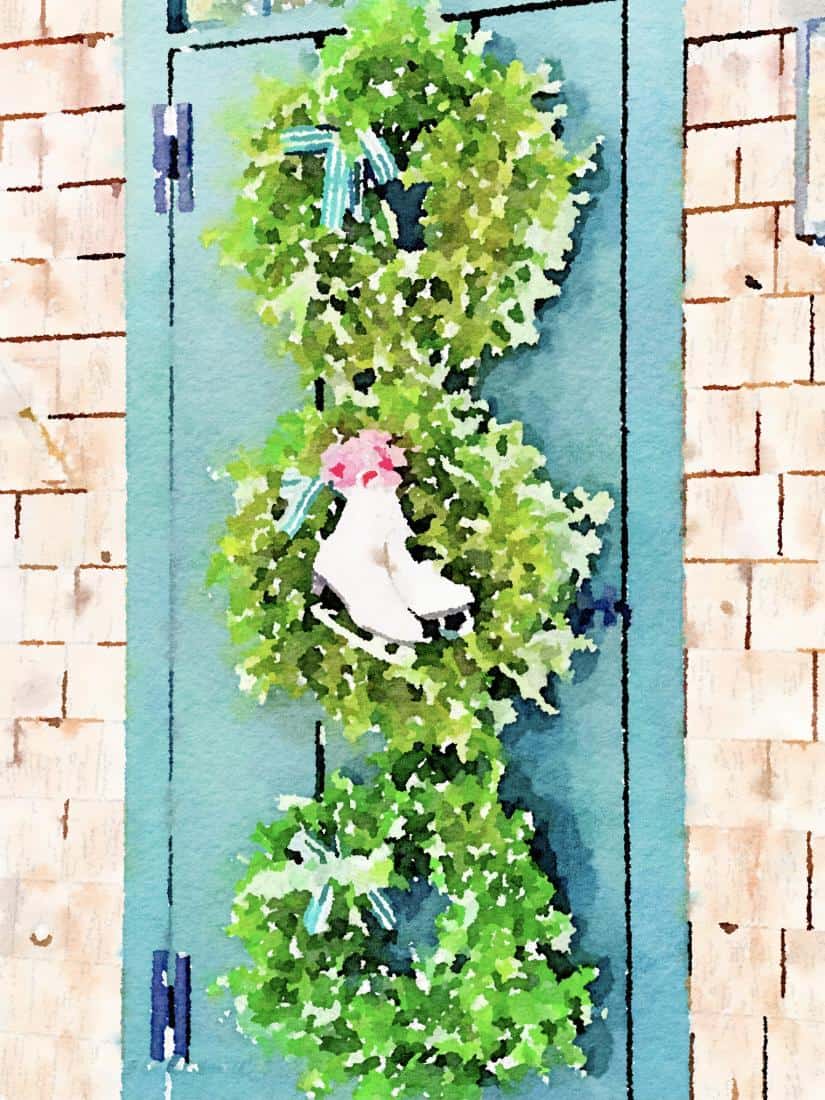 I'm so glad you dropped by, and if you are new to my blog, welcome! I hope you enjoyed visiting our Home in Coastal Maine with us today.
Be sure also to check out our Home in Vermont, where we spend winters enjoying the coziness of home in the Green Mountains of Vermont.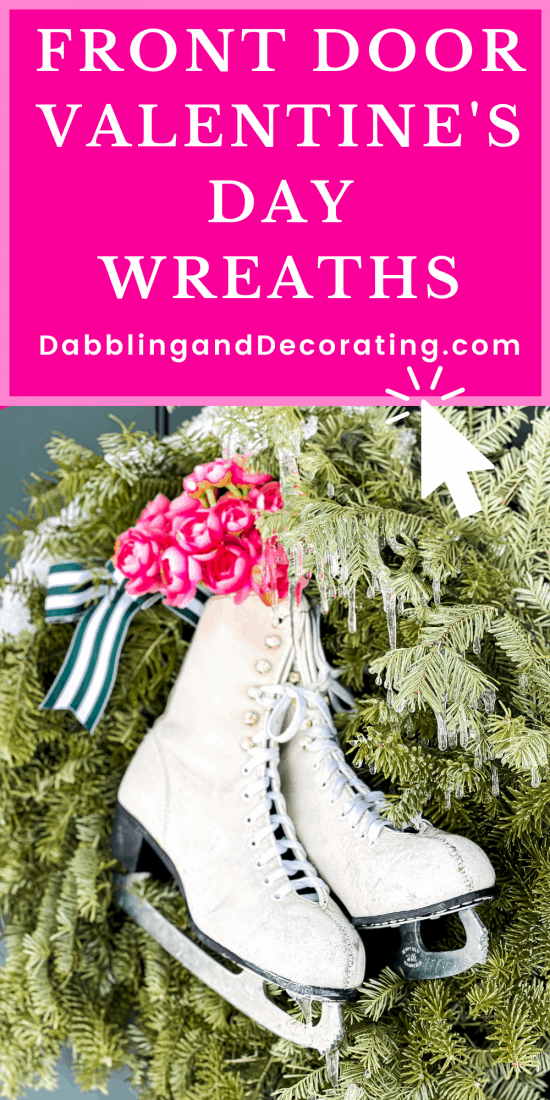 I've created the above custom pin just for this post! Sharing is Caring! I would love to hear from you, too~ Your comments mean so much to me and truly make my day… Please join me over on Instagram & Pinterest to see more!
YOU MAY ALSO LIKE