Hi friends! Can you believe it's almost Valentines Day? A holiday I enjoy with very simple home decorating touches. I put together this vintage-styled Valentines Day table centerpiece that we could enjoy through the holiday.
I hope you find some Valentines decorating inspiration here today!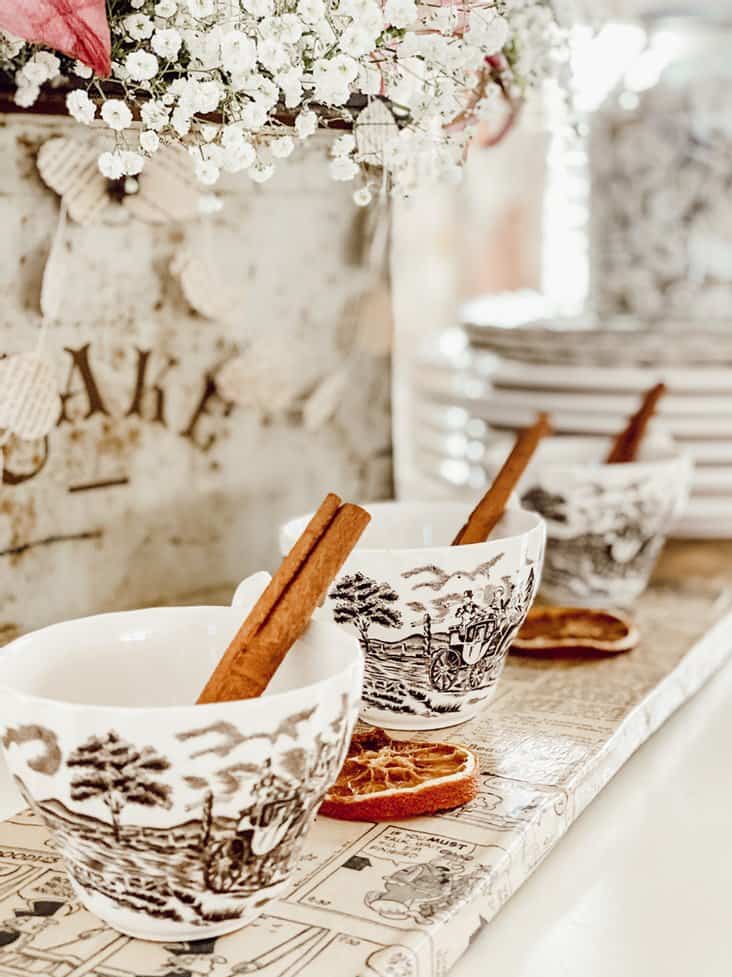 I have loved decorating with my mother's antique brown and white Transferware cups and plates this winter, and they did not disappoint for this Valentine centerpiece either. Along with a few cinnamon sticks and dried fruit scattered for some texture, color, and a potpourri scent.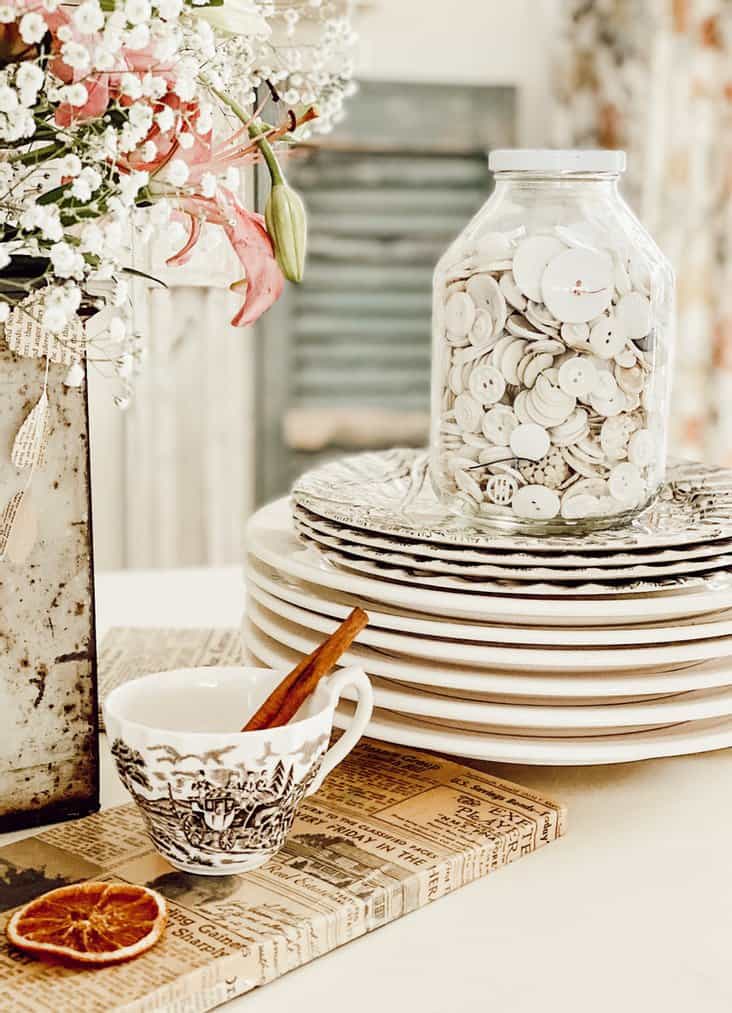 A simple stack of white plates topped with the antique transferware plates and a jar of white buttons. Yes, buttons! I think they simply look sweet and that's what Valentines Day is all about:)
I picked up a pink and white bouquet at our local supermarket. A bouquet that centers the table in this antique CAKE tin that was also my mother's.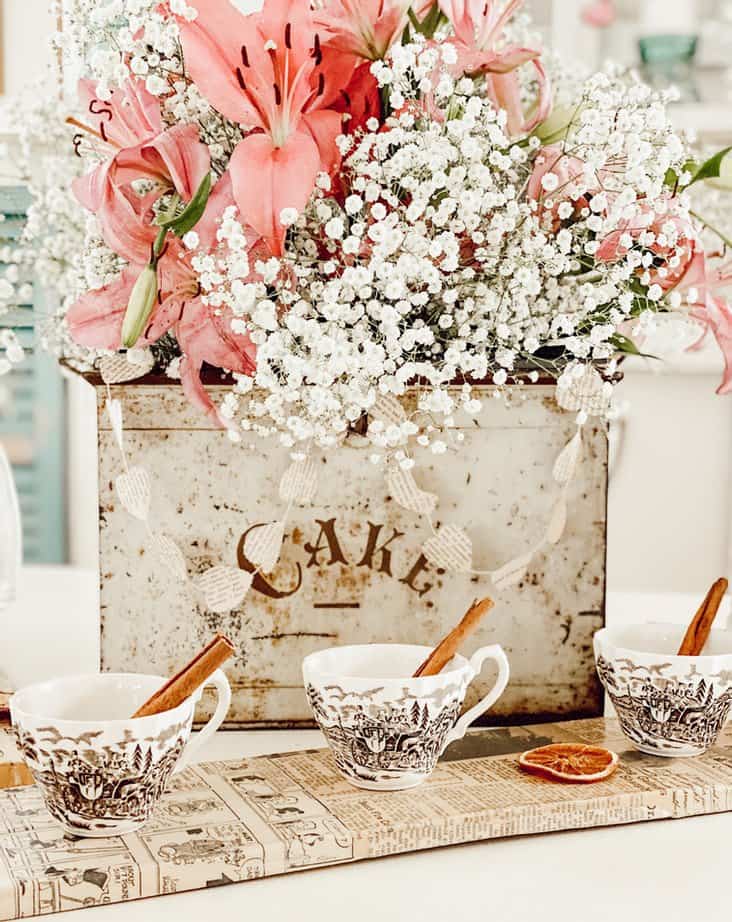 A small newspaper heart garland that I found on Etsy last year adds a soft Valentine's Day touch to the antique CAKE tin.
And do you notice the vintage wooden vintage newspaper platform that the Transferware cups are resting on?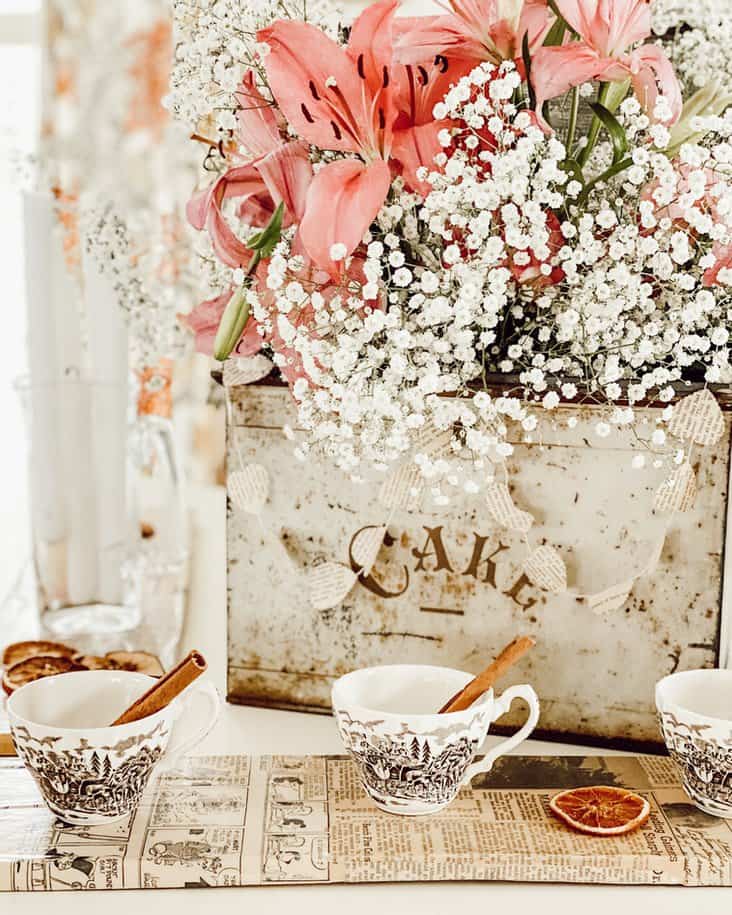 When I opened the CAKE tin there were old newspapers stuffed in it from 1974 that my mother had used when she used this tin to decorate with. They were a treasure to find for not only that reason but that my father was a composer at the Portsmouth Herald Newspaper in Portsmouth, NH and created the layout for this newspaper. So the newspaper in the tin was actually "composed" by my father in 1974!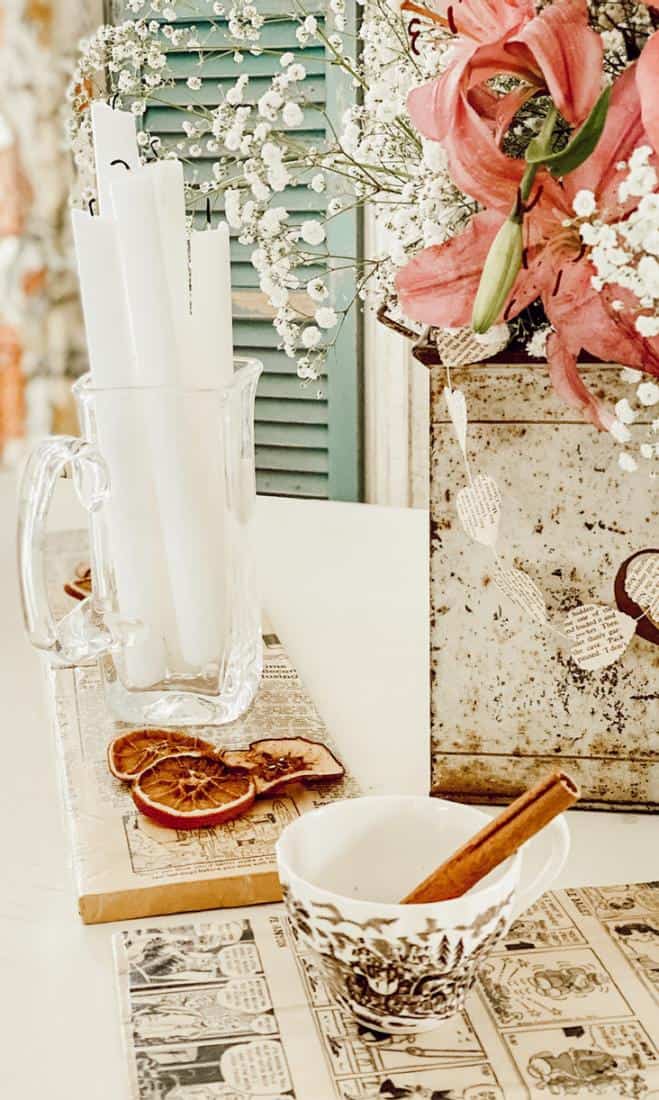 I definitely wanted to hang onto these old newspapers, therefore I created a simple DIY with three pieces of wood from our garage and Mod Podge. I cut out certain sections of the newspaper and wrapped the newspaper around the wood pieces and covered them with Mod Podge.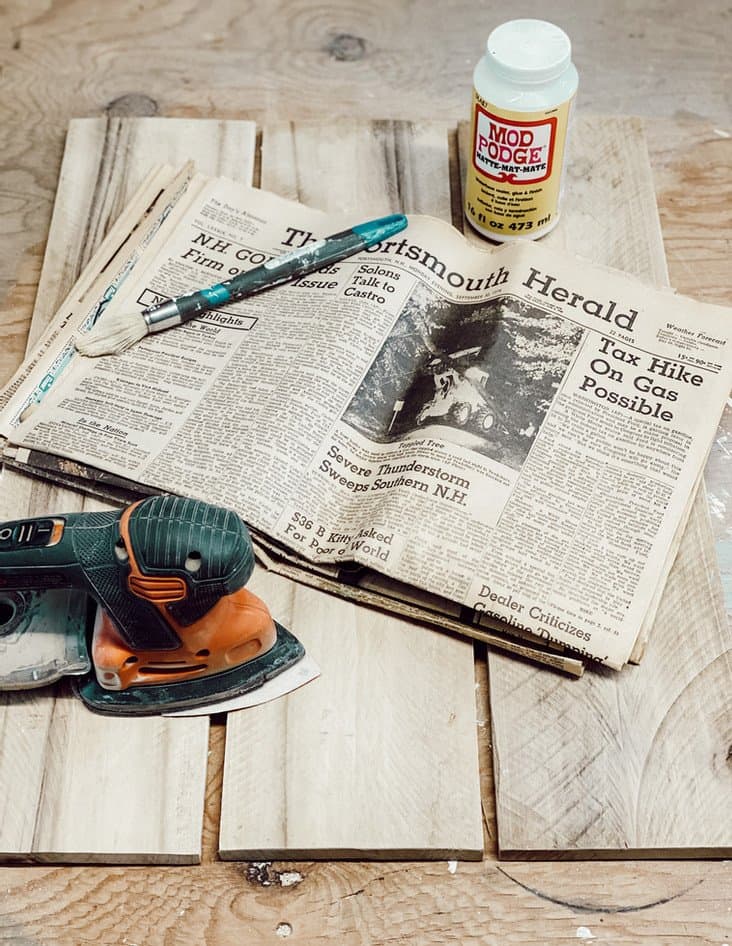 You may enjoy this post, Romantic Antique Table Setting with Thoughtful Design.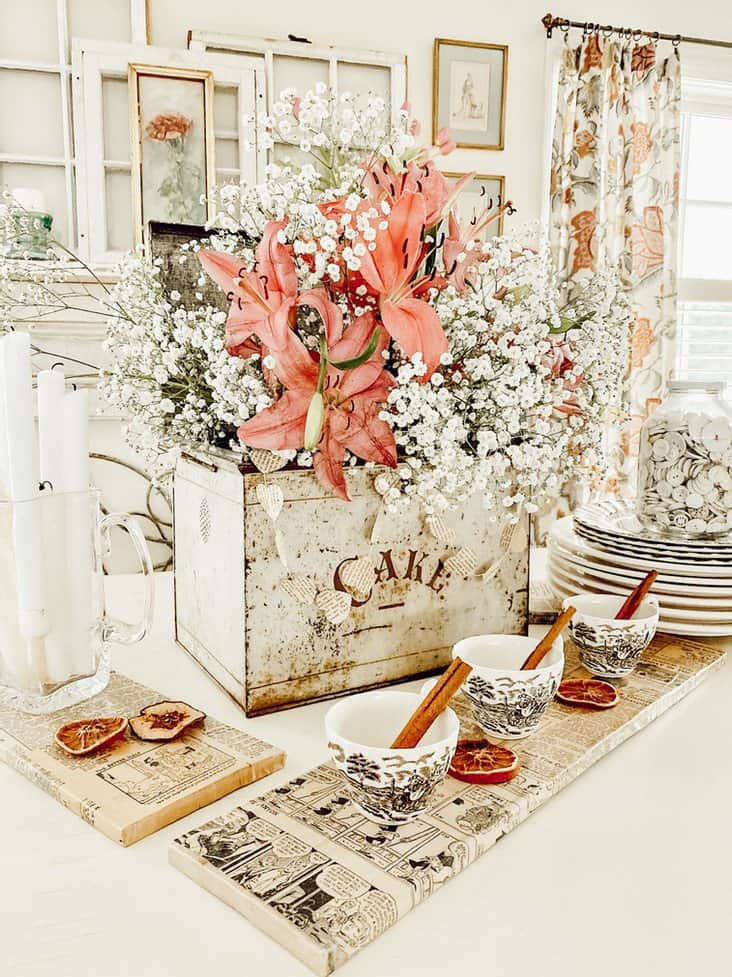 I'm using them here today for the Valentine's Day Centerpiece as a platform on the table, and I think I'm going to bring them to our newly inherited coastal Maine home and hang them on a wall somewhere in the home as a family remembrance.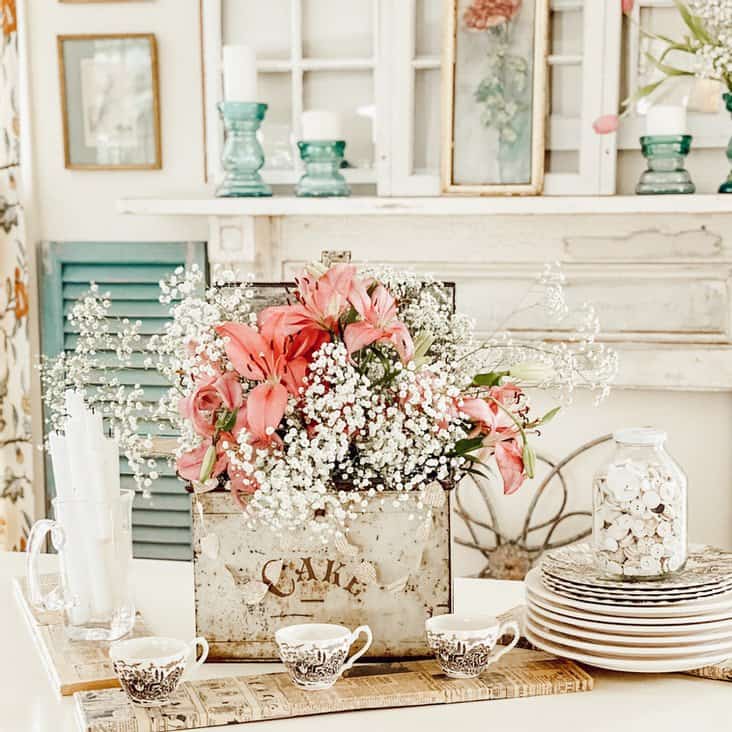 The soft blue glass candlesticks on the vintage mantel are my favorite candlesticks ever. I found these at one of my favorite gift shops in Maine, The Shops of Cape Neddick. They also transform into flower vases, where I added pink tulips to one of the larger glass candlesticks on the end.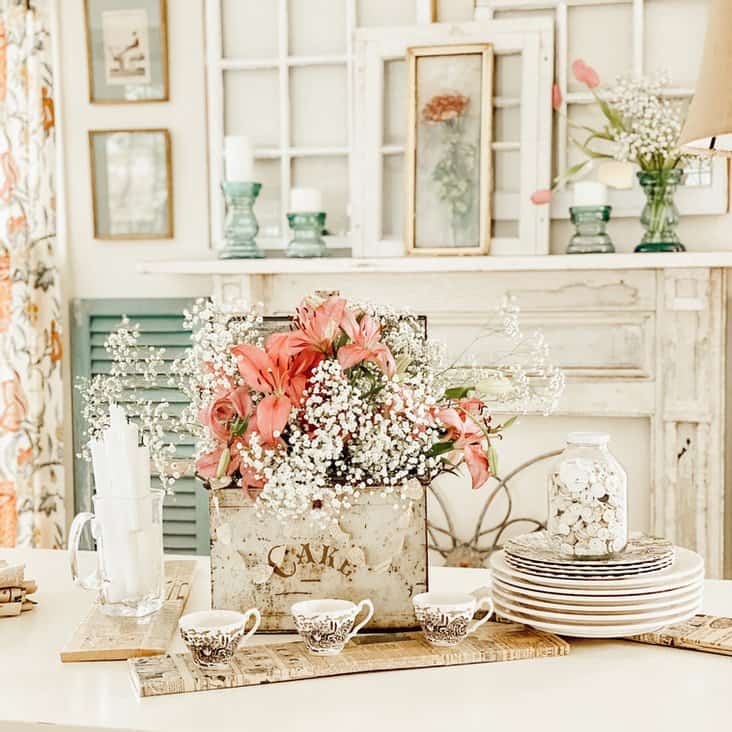 Don't mind our uncentered overhead table pendant light…
I really need to get on that and get it fixed:)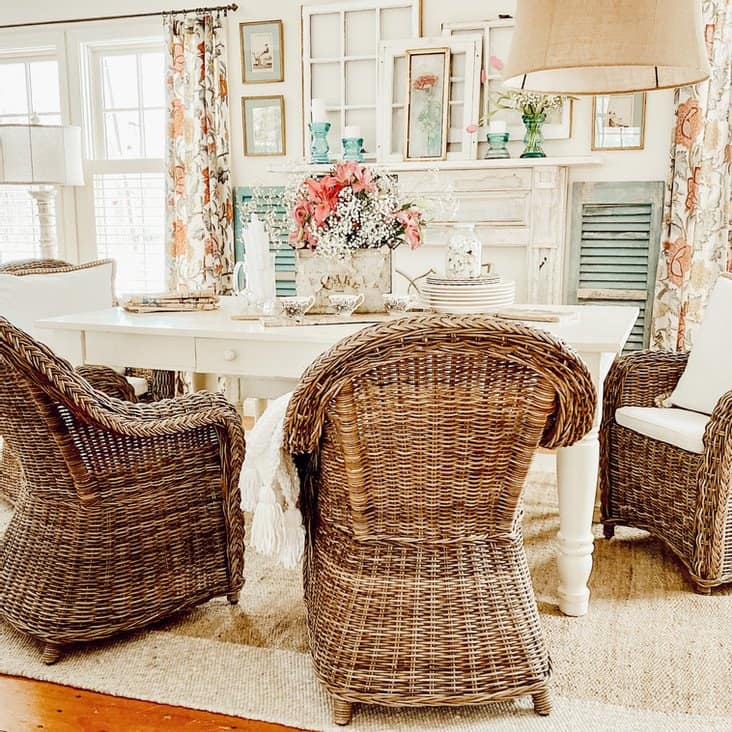 I am often asked where we got our dining room table from.
It is a Pottery Barn purchase from about 10 years ago along with the curtains and off-centered pendant light:)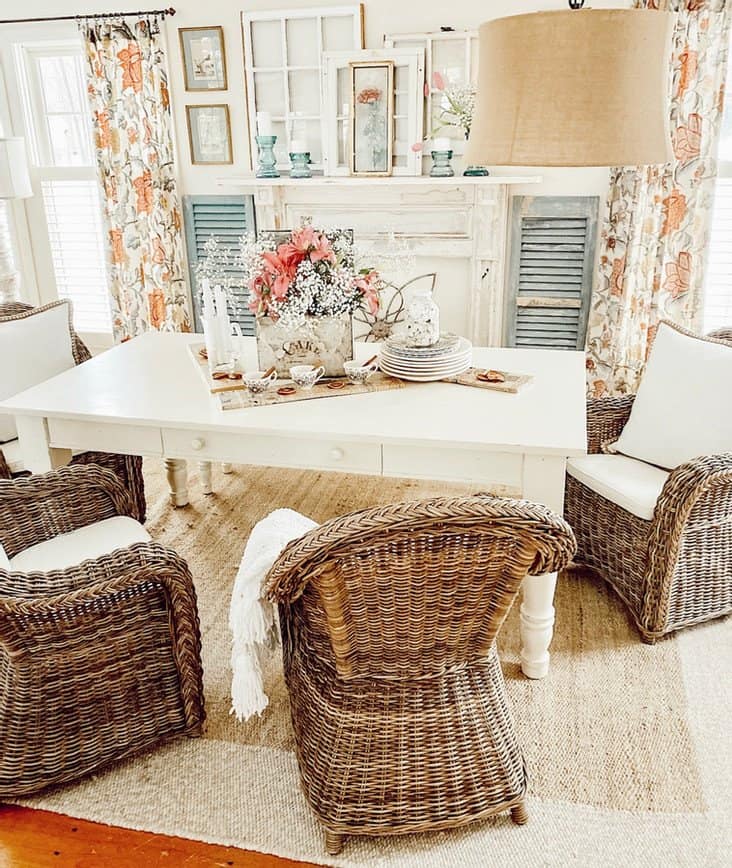 I'm so glad you dropped by, and if you are new to my blog, welcome! I hope you enjoyed your visit with us here today at our Home in Vermont.
Be sure also to check out our Home in Coastal Maine where we spend summers and weekends when we are craving a walk on the beach or a visit with old friends.
Are you looking for more thrifty and vintage home decorating ideas? Start getting your weekly vintage decorating ideas today! Joining over 3,000 subscribers…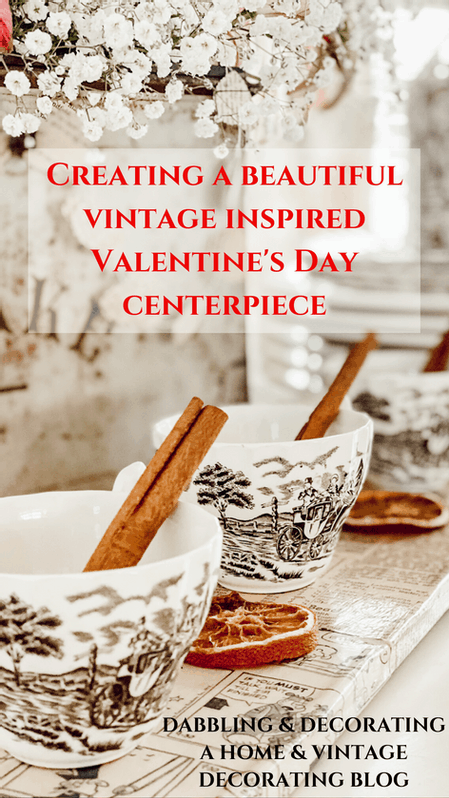 I've created the above custom pin just for this post! Hearing from you makes my day and your comments mean so much to me! Please join me over on Instagram & Pinterest to see more!
YOU MAY ALSO ENJOY