This week, while out "Thrifting with the Gals" I found these pretty in pink vintage dishware sets. Two different sets for under $50 each that pair beautifully together. That's when this romantic table setting was first thought of, with Valentine's Day in mind.
Vintage Pink Dishware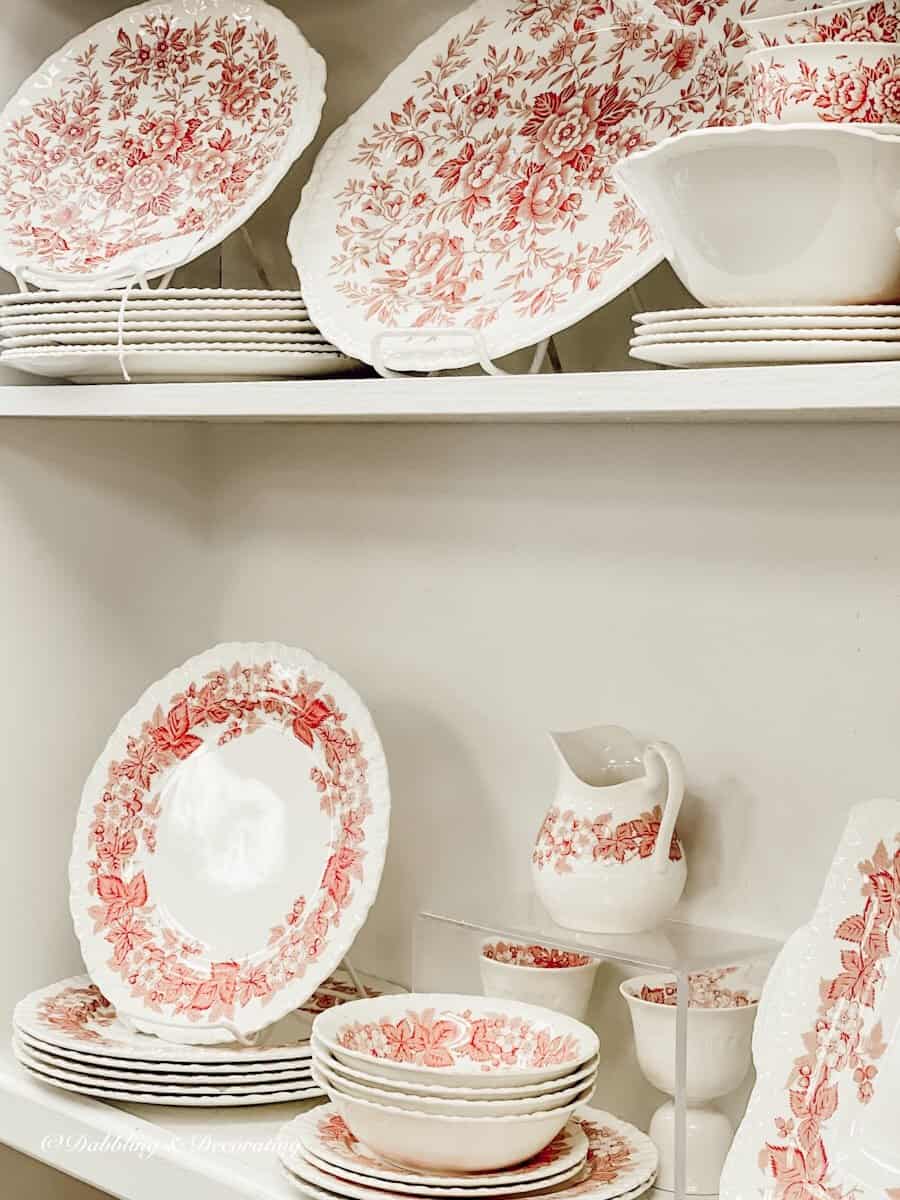 Printemps | Grindley England
The Printemps Grindley pattern are the dishes on the top shelf selling for $49 at The Fabulous Find in Kittery, Maine.
You may learn about the history of Grindley and their patterns here.
Bramble of Etruria & Barlaston Wedgwood
The dishware set on the bottom shelf is a set of Bramble of Etruria & Barlaston, a Wedgwood set selling for $39. And just look at how wonderful the two would pair together.
This post may contain affiliate links which won't change your price but will share some commission."
SHOP THESE DISH PATTERNS
(click on any of the images to shop the products)

I also picked up four green and white dishes at our local thrift shop for $1.00 a piece.
Kent by Josia Wedgwood & Sons Ltd. Thinking again, ahead to St. Patrick's Day.
They were not complete sets, however that was totally fine with me. Both sets included platters, bowls, creamers, and more. Perfect for creating a winter romantic table setting.
The pretty in pink color is so cheery, contrasting with all the new snow outside our dining room window on a Cozy Snow Day at Home in Maine.
Romantic Table Setting Hearts
I found these metal hearts from Art Under the Tree on Etsy. Such a nice and rustic touch to add for a romantic table setting.
SHOP METAL HEARTS
(click on any of the images to shop the products)

Romantic Table Setting Centerpiece
Flowers
I picked up a pretty in pink flower bouquet from Trader Joe's and created a centerpiece for this romantic table setting as my first pass.
Along with some vintage glass candlesticks and candles, both from my mother's collection here at the house.
You may also enjoy this Table Ready Fakery Bakery.
I just love this romantic table setting dressed pretty in pink.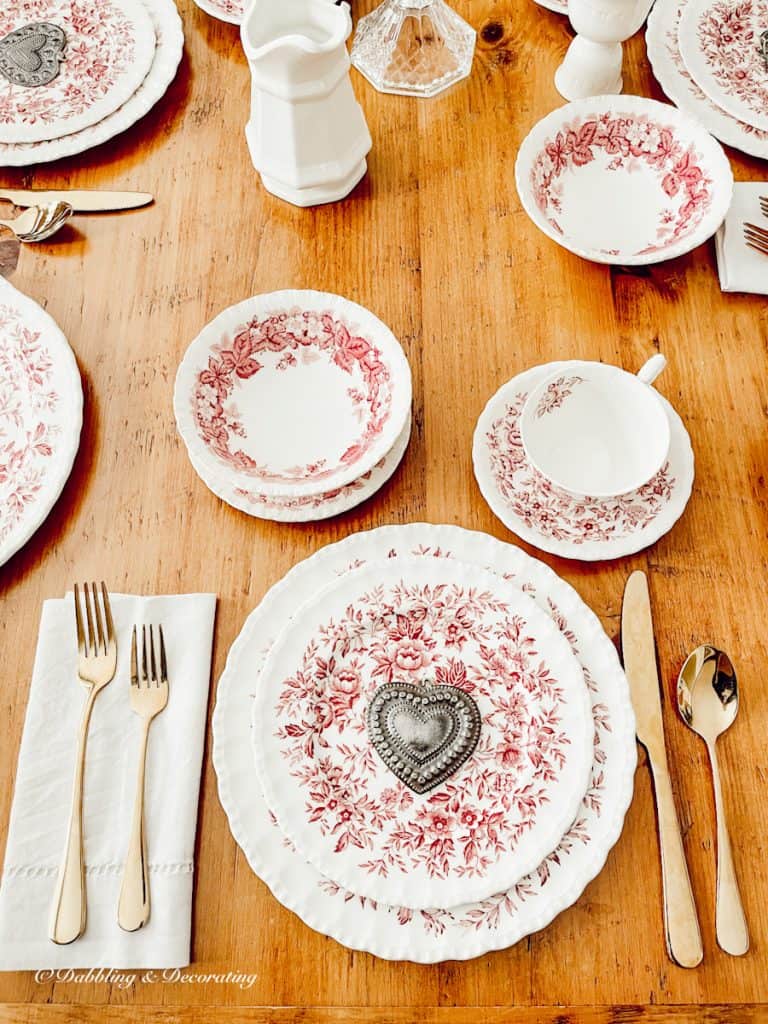 Winterberry
Then after looking out the window at this beautiful snowy winterberry bush, I cut some of the branches and replaced the flowers with winterberries on this romantic table setting.
They will last a lot longer too!
In addition, I added 6 of my mother's vintage clear goblets to this romantic table setting. Which is always another classic look.
SHOP ROMANTIC TABLE SETTING GLASSWARE
(click on any of the images to shop the products)

I love how this romantic table setting turned out. It feels so inviting and welcoming in our home here in Maine.
You may also enjoy last year's Simple yet Imaginative Mixed Pottery Winter Table here.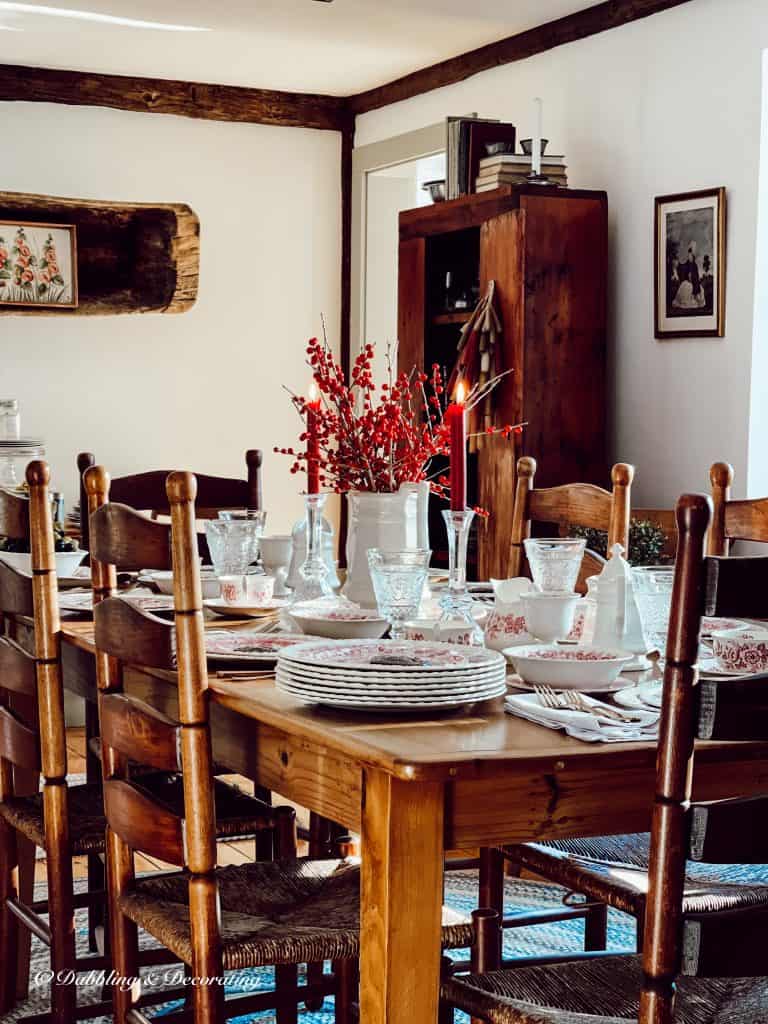 I hope you enjoyed today's thrifted romantic table, pretty in pink.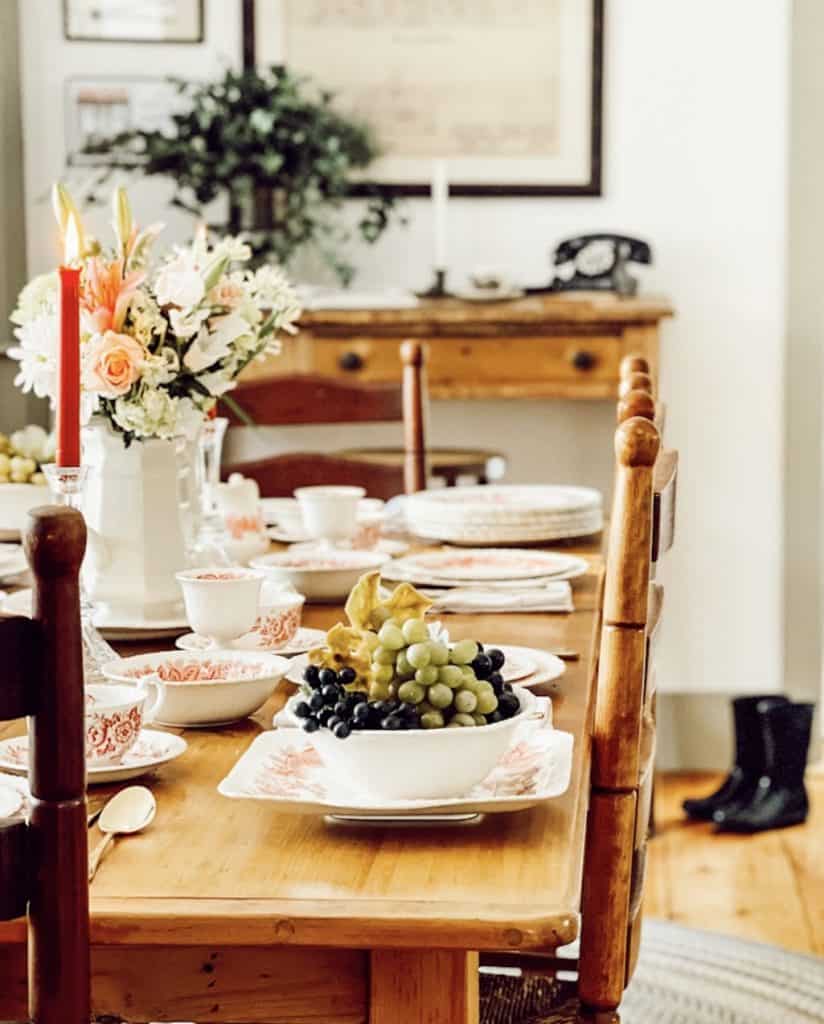 I'm so glad you dropped by, and if you are new to my blog, welcome! I hope you enjoyed your visit with us here today at our Home in Coastal Maine.
Be sure to also check out our Home in Vermont too, where we spend winters enjoying the coziness of home in the Green Mountains of Vermont.
Please join me as a regular here at Dabbling & Decorating by signing up for my Saturday morning newsletter and never miss an update!

I've created the above custom pin just for this post! Hearing from you makes my day and your comments mean so much to me! Please join me over on Instagram & Pinterest to see more!


SHOP THIS POST | Romantic Table Setting Pretty in Pink
(click on any of the images to shop the products)

YOU MAY ALSO ENJOY