Today I am excited to be joining a talented group of bloggers, as we share our collected spring tablescapes with you! If you are joining me from Rachel over at The Ponds Farmhouse, welcome! Rachel is such an inspiration to me with all her DIY's, vintage decor, and thrifting in a farmhouse between her two-family ponds down a mile-long dirt road in North Carolina. She creates a beautiful timeless table too, like this one here!
Today I want to welcome you to our Home in Coastal Maine! Be sure to check out its history and story and join me in the featured blog series In My Mother's Home.
When the girls and I got together to share spring tablescapes, I knew immediately that I wanted to share my mother's pink and white Theodore Haviland Limoges, France china collection In My Mother's Home. It's so beautiful and perfect for both Valentine's Day and spring!
I wrote this blog post on a cold snowy day in February here in Maine. Which had me craving fresh flowers. A quick trip to Trader Joe's, and I came home with these simply beautiful white tulips that I used for the centerpiece in an $8 thrifted pitcher.
Here I added a pink depression glass pitcher and matching glassware to the table that I also thrifted for $18. It paired perfectly with the antique china onto this styled timeless table.
You may also enjoy this Romantic Table Setting, Pretty in Pink.
I have always adored macrame. So when I found these macrame placemats at a local shop, I couldn't resist. I love the soft whimsical look it adds to the table.
You may also enjoy this Table Ready Fakery Bakery.
My mother's sterling silverware has always been a favorite of mine. However, today I wanted to try something a bit different. I added gold flatware instead, which matched beautifully with the gold trim on the Theodore Haviland china.
In the background here you can see another collected antique transferware dish collection, displayed in the corner hutch, which was also collected by my mother over the years. Check more of it out here! I love using this antique set in the fall and winter seasons paired with my mother's extensive pewter collection. Here you can see another timeless table I styled using both the transferware and the pewter together.
Candles are always a beautiful addition to a table. I added four glass candlesticks collected by my mother with simple white tapered candles to match the tulips.
You may enjoy this post, Romantic Antique Table Setting with Thoughtful Design.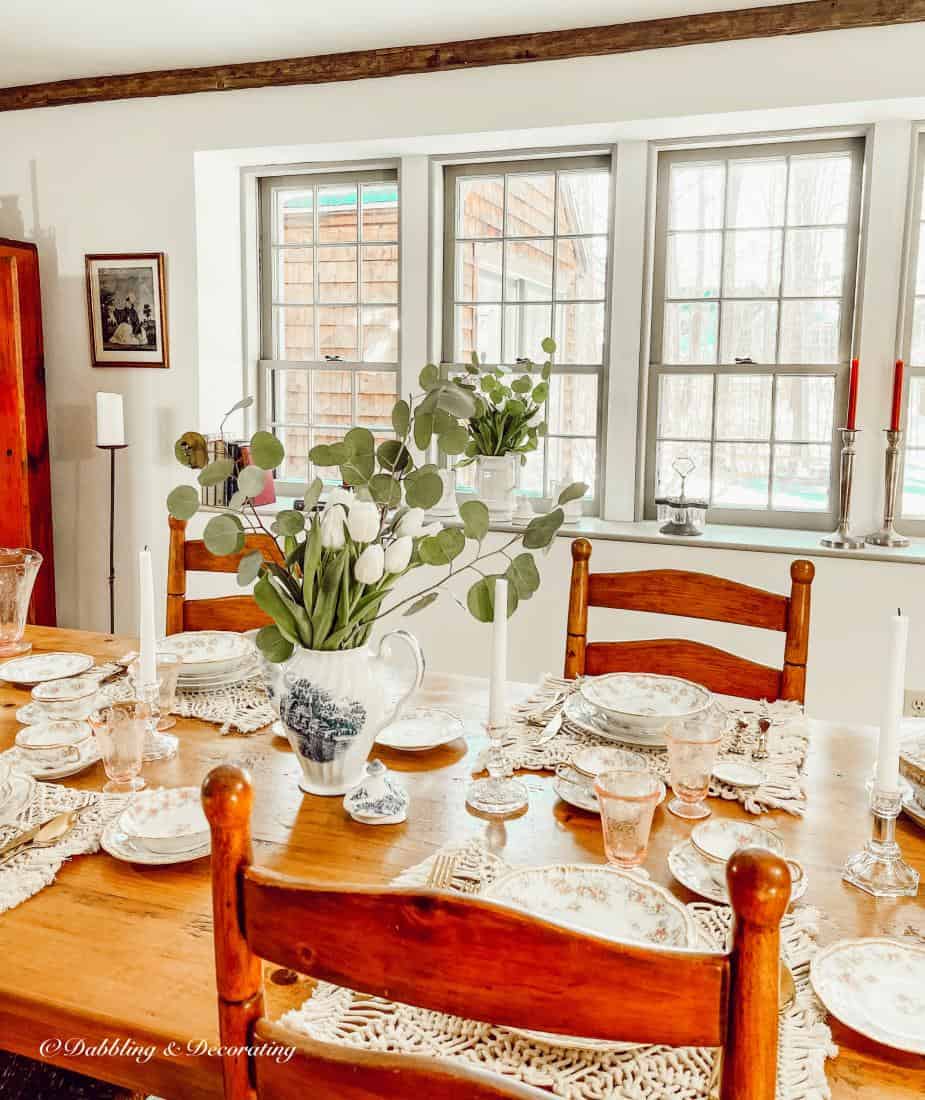 You may also enjoy these 12+ Marvelous Ways to Decorate with Green Home Decor too.
The light shining into this room off the snow outside just made me smile. Join me to see how I styled this cozy winter windowsill in the background of our dining room.
I'm so glad you dropped by, and if you are new to my blog, welcome! I hope you enjoyed your visit with us here today at our Home in Vermont.
Be sure also to check out our Home in Coastal Maine where we spend summers and weekends when we are craving a walk on the beach or a visit with old friends.
You may also enjoy the post, A Timeless Classic | Franciscan Desert Rose Table Setting.
I'm so glad you dropped by, and if you are new to my blog, welcome! I hope you enjoyed your visit with us here today at our Home in Coastal Maine.
Be sure to also check out our Home in Vermont too, where we spend winters enjoying the coziness of home in the Green Mountains of Vermont.
I've created the above custom pin just for this post! Sharing is Caring! I would love to hear from you too~ Your comments mean so much to me and truly make my day… Please join me over on Instagram & Pinterest to see more!
YOU MAY ALSO LIKE
BE SURE TO STOP BY AND VISIT WITH THE OTHER TALENTED BLOGGERS JOINING ME HERE TODAY!