This morning we woke up to a chilly, fog-intense, leaf-crunching, fall kind of day in the mountains. That kind of day where you want to spend all your time outdoors. And that is where this mountain view outdoor table for two was inspired, right here on our front porch in Vermont.
Simple, vintage, and rustic, with all the outdoor backyard charms of home.
Vintage Dishwares
Starting with these antique blue and white dishes that I found out "Thrifting with the Gals" at Vermont Vintage Market Days this fall.
See more on How to Style a Table with October Blues!
Colored Glassware
Colored glassware I've collected from second-hand shops complements the autumn colors on our mountain view outdoor table for two.
Check out these amethyst glasses here. Are they old or new? What do you think?
This post may contain affiliate links which won't change your price but will share some commission."
SHOP THIS OUTDOOR TABLE FOR 2
(click on any of the images to shop the products)

And the infamous cobalt blue glasses that I found for $15 a set, out thrifting, and share almost every morning on my Instagram feed along with our Vermont mountain views.
You may also enjoy the post, Set the Table with Vintage Autumn Warmth.
Setting an Outdoor Porch Table for Two
A line of small pumpkins from our neighbor's pumpkin patch and backyard-picked blueberry bush branches in thrifted amethyst bottles sets the stage for this outdoor table for 2.
Check out our Vermont Fall Foliage Home Tour to see more of autumn here in Vermont! Or this post on our Year Round Mountain Views.
And This Favorite Second Hand Table that I am so in love with a simple vintage wallpaper table that fits our long narrow porch perfectly.
Enjoy this Fall & Halloween DIY Grazing Table with MacKenzie-Childs as well.
Things don't always turn out like you plan, though…
We have very close neighbors where we live… And Ella, our Bernese Mountain Dog, being their biggest fan, spent the morning staring them down.
Through the fog, sunshine, and all, our mountain view outdoor table for two got a bit postponed…
Do you like these urns? They're plastic! Check out How to Upcycle Plastic Urns here.
Our friends came over, the fire pit was turned on, and we enjoyed this most beautiful fall day in the mountains while my cute little outdoor table for two was postponed. And that was just fine with us!
See more on our fire pit and patio conversational set in the post, Backyard Conversation Set and Fire Pit Patio Reveal.
However, this outdoor table for two still looked so cute sitting pretty on the porch. So much so that gathering around the fire pit got us to plan a fun welcoming for the kiddos on this upcoming Halloween Eve… Stay tuned.
Oh, and you may appreciate How to Refinish a Wood Table in Less Than 1 Hour! See how I refinished this wallpaper table, hint, it turned out beautifully!
SHOP THIS OUTDOOR TABLE FOR TWO
(click on any of the images to shop the products)

Cheese Platter
What's better than a cheese platter while you are in Vermont? Check out all our favorite local cheeses, dips, and farms on How to Create the Perfect Cheese Platter | Vintage Style here.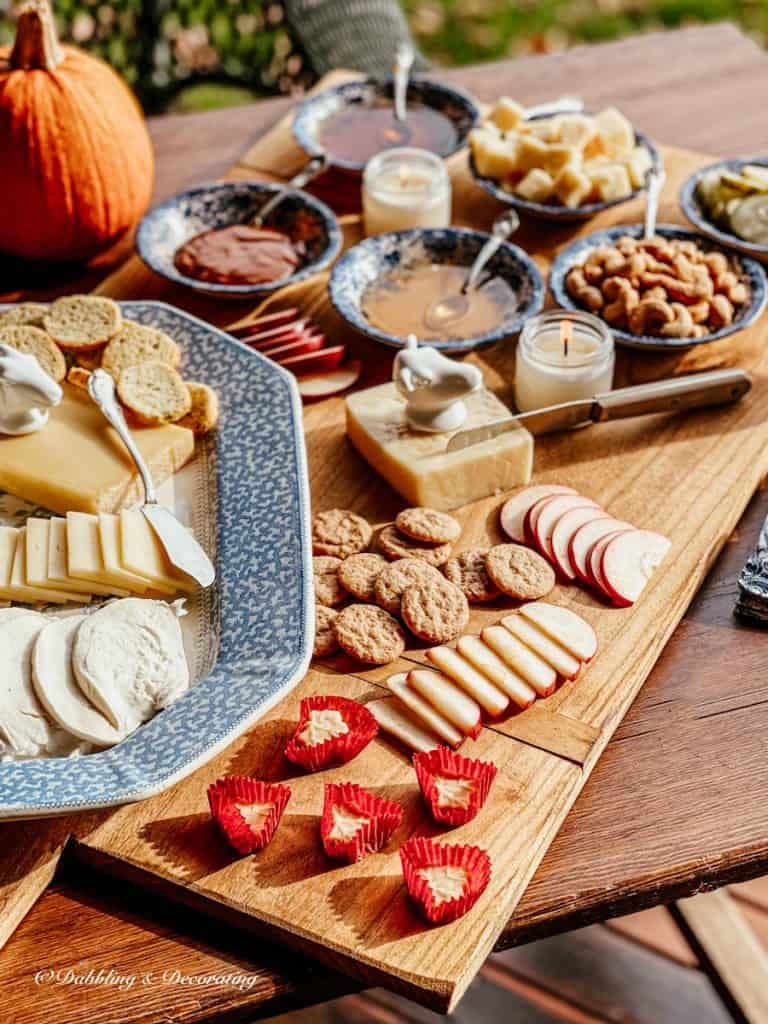 You may also enjoy How to Fashionably Bring Your Dining Room Outside This Summer.
You may also like this Fall Dessert Table with A Pecan Pie Surprise.
I'm so glad you dropped by, and if you are new to my blog, welcome! I hope you enjoyed your visit with us here today at our Home in Vermont.
Be sure to also check out our Home in Coastal Maine, where we spend summers and weekends when we are craving a walk on the beach or a visit with old friends.

I've created the above custom pin just for this post! Hearing from you makes my day; your comments mean so much to me! Please join me over on Instagram & Pinterest to see more!
YOU MAY ALSO ENJOY