Don't you just love spring markets? Join me for this "Early Evening Buy Event" at Sage Farm Antiques, "May You Bloom and Grow" this weekend.
Sage Farm Antiques is one of my favorite pop-up vintage Seacoast markets located in North Hampton, NH. And such a fun time to go out "Thrifting with the Gals".
Pin and/or bookmark My Favorite Second-Hand Shops from Vermont to Maine for later.
Have you ever attended an "Early Buy Event" before?
This is when vendors and dealers are invited to browse and shop an upcoming market prior to the opening day, which is this Friday thru Sunday should you be local and would like to attend.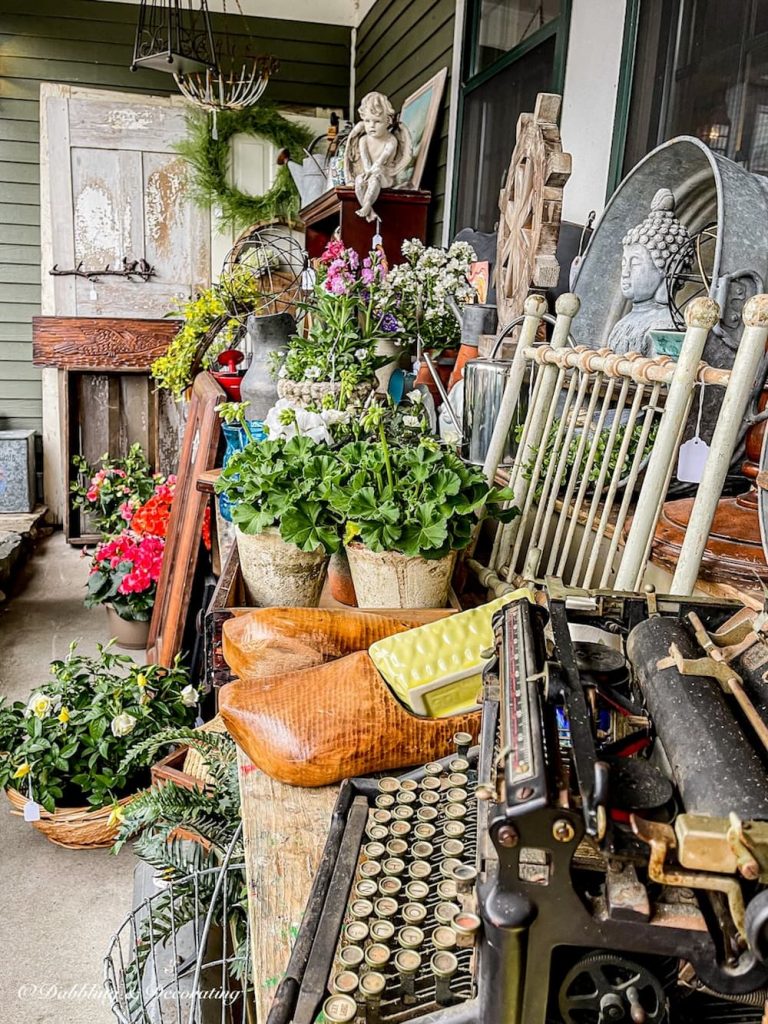 I invited one of my girlfriends (who found this fabulous hat there) to join me, starting with dinner out and a wonderful time browsing with music and refreshments at Sage Farm Antiques later that evening.
Tickets were $10.00 each, purchased ahead of time.
I also met up with my friend Jennifer from The Cottage on Bunker Hill who lives just around the corner from Sage Farm Antiques. Lucky Duck!
Jennifer and I have been on many blog hops together and chat all the time over on Instagram, but this was our first time meeting up in person.
She blogs all about easy ways to love where you live.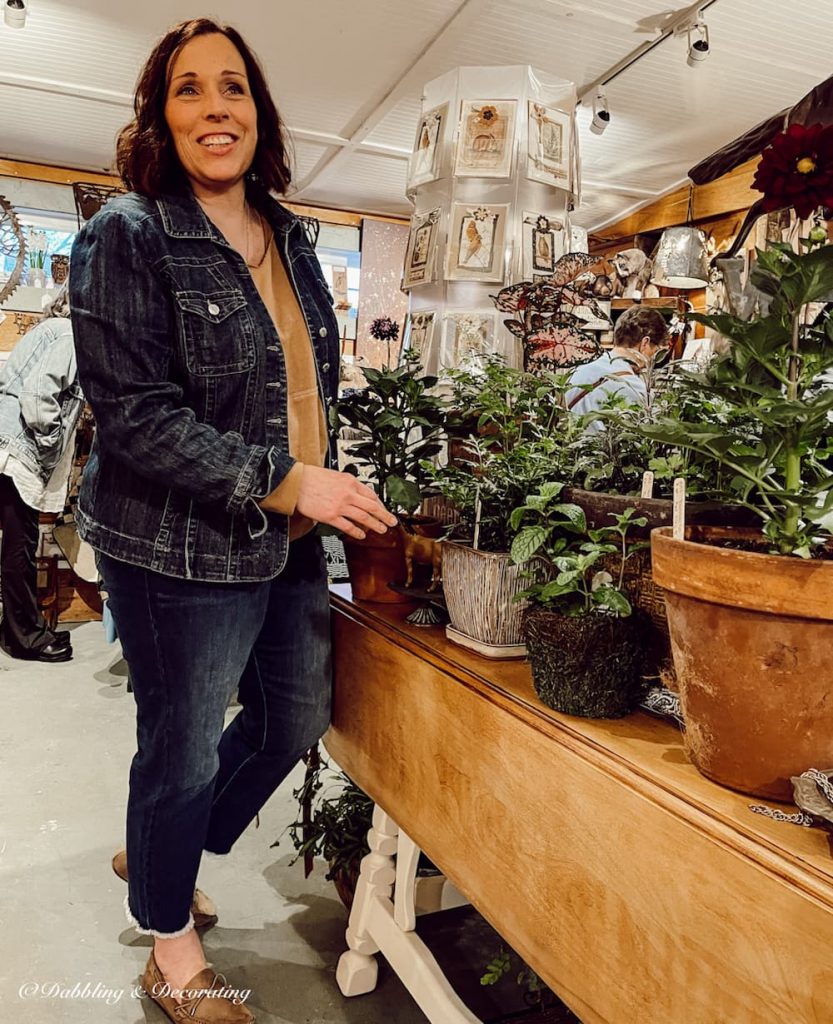 "One should never be the oldest thing in one's house."
Patsy Stone, Absolutely Fabulous
My favorite vendor booth this year was THE BARN AT TODD FARM by Tom Phaneuf.
Tom was selling the most beautiful french country linens, antique furniture pieces, and candles homemade by his niece. I wanted to take the entire booth home with me.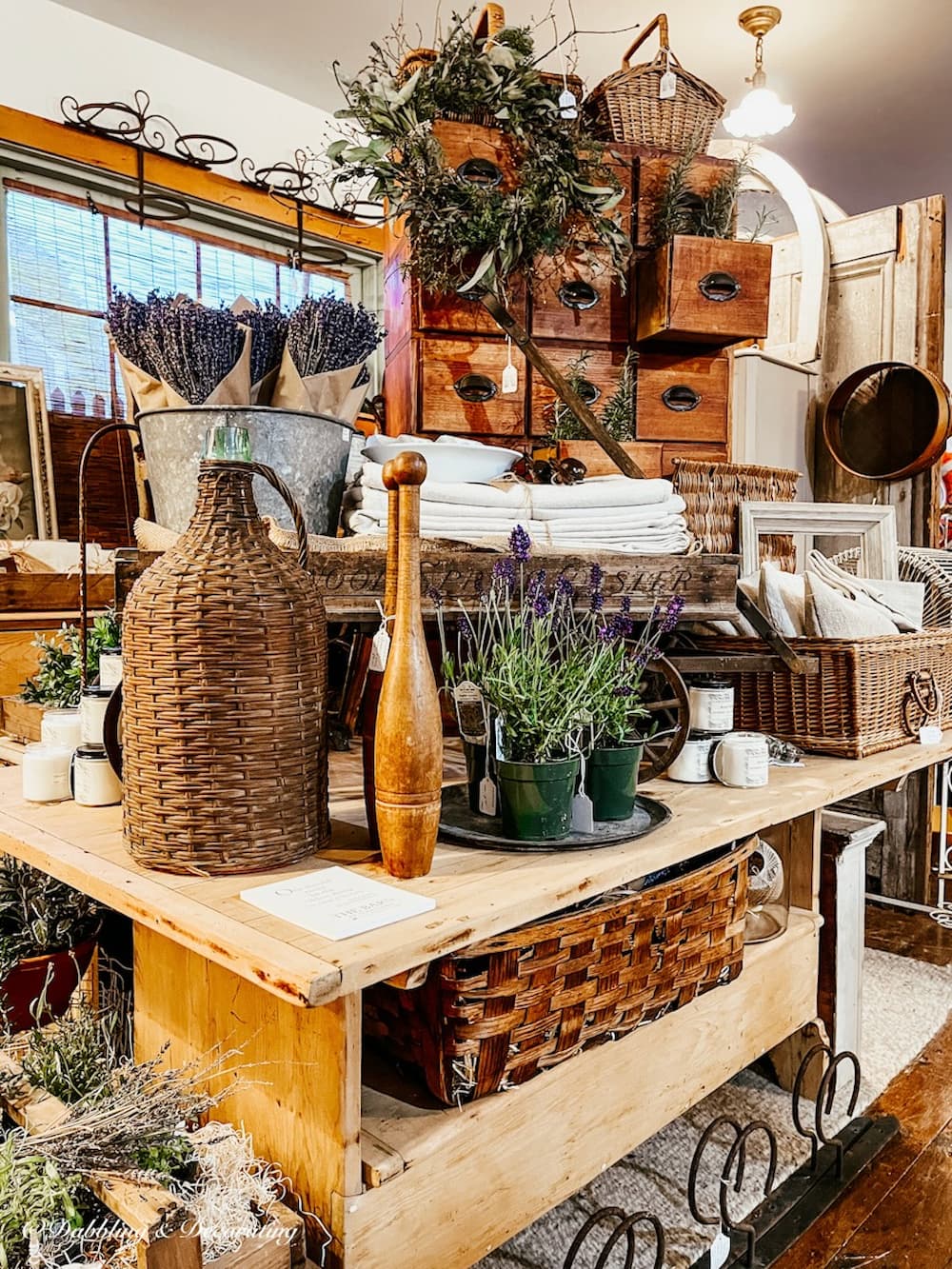 You may also enjoy the post, The Best Vintage Market and an Antique Haul.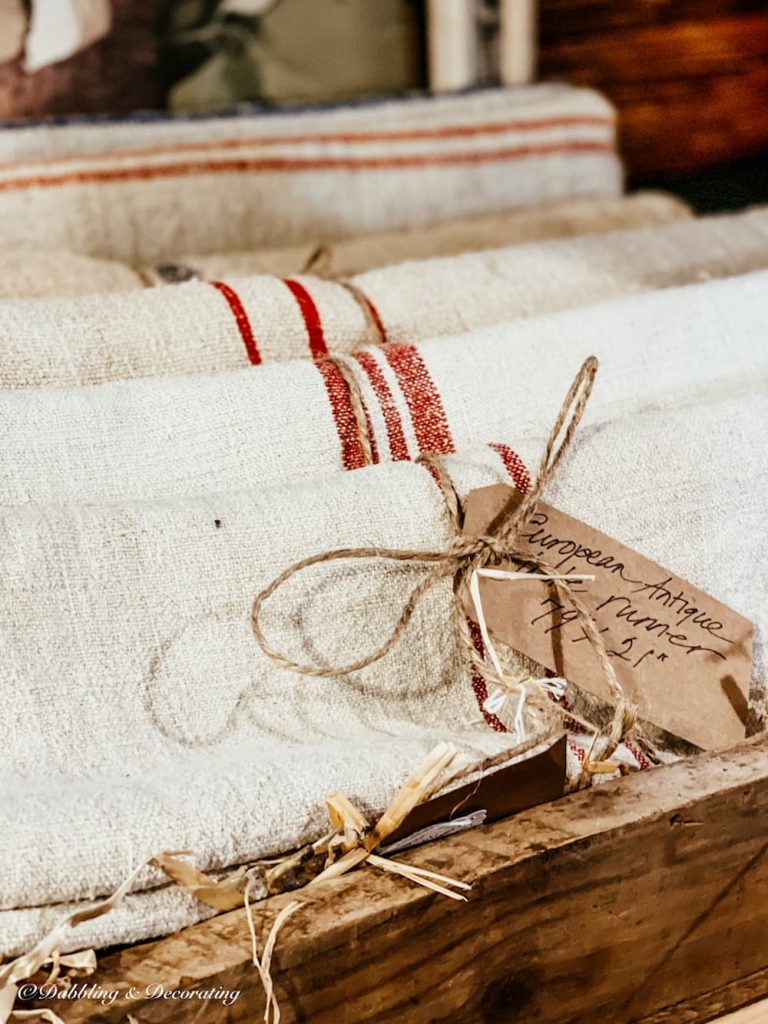 May You Bloom and Grow
With the theme of this vintage market being "May You Bloom and Grow", this was definitely the go-to place for weathered and patina terracotta pots.
And all your other vintage garden needs. Like these large $2.00 rustic patina garden stakes that my friend Jennifer over at The Cottage on Bunker Hill snagged.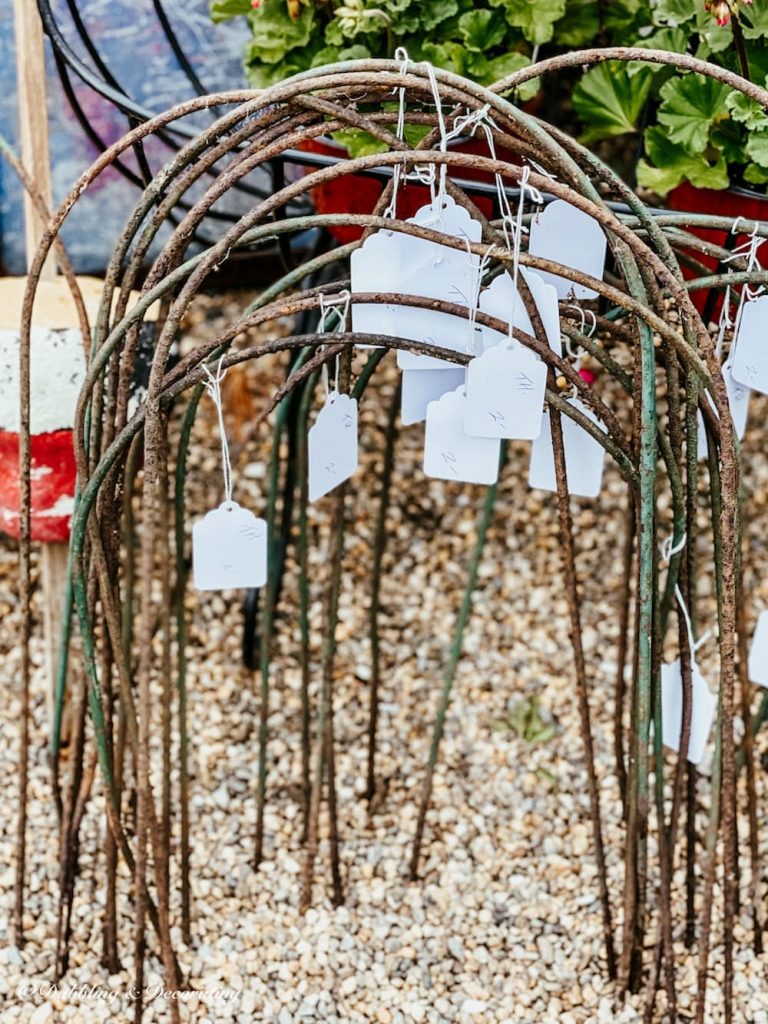 What's Hiding Inside?
The two barns were filled with beautifully styled vendor booths, vintage goodies, and home decor items like some of these favorites…
Grab a refreshment, listen to the music, and simply browse around if you like…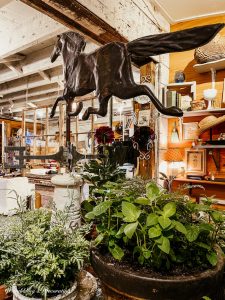 Mastering The Art of French Cooking
Have you seen the new tv series on HBO Max, Julia? Oh my goodness, this series is my favorite right now and Sarah Lancashire as Julia Child is absolutely amazing!
It had gotten quite dark outside by the time we left the Sage Farm Antiques "Early Evening Buy Event".
We had such a fun time and picked up a few goodies too.
You may also enjoy the post, The Best Vintage Garden Variety Market.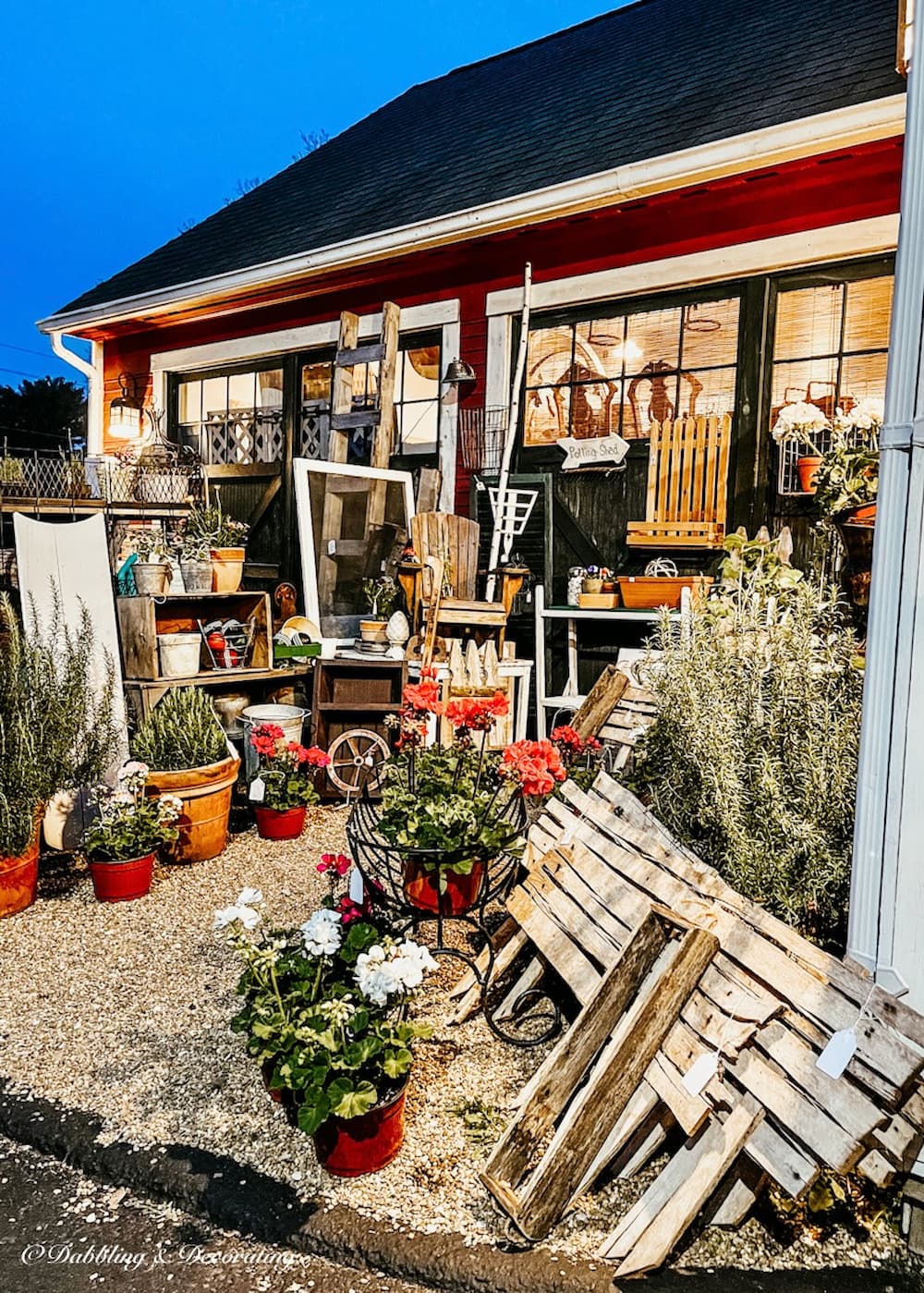 Vintage Finds
The first antique piece I picked up was this blue and white bowl for just $14.00 I can't resist old blue and white antiques such as this one, and for this price? Well, it now has a new home.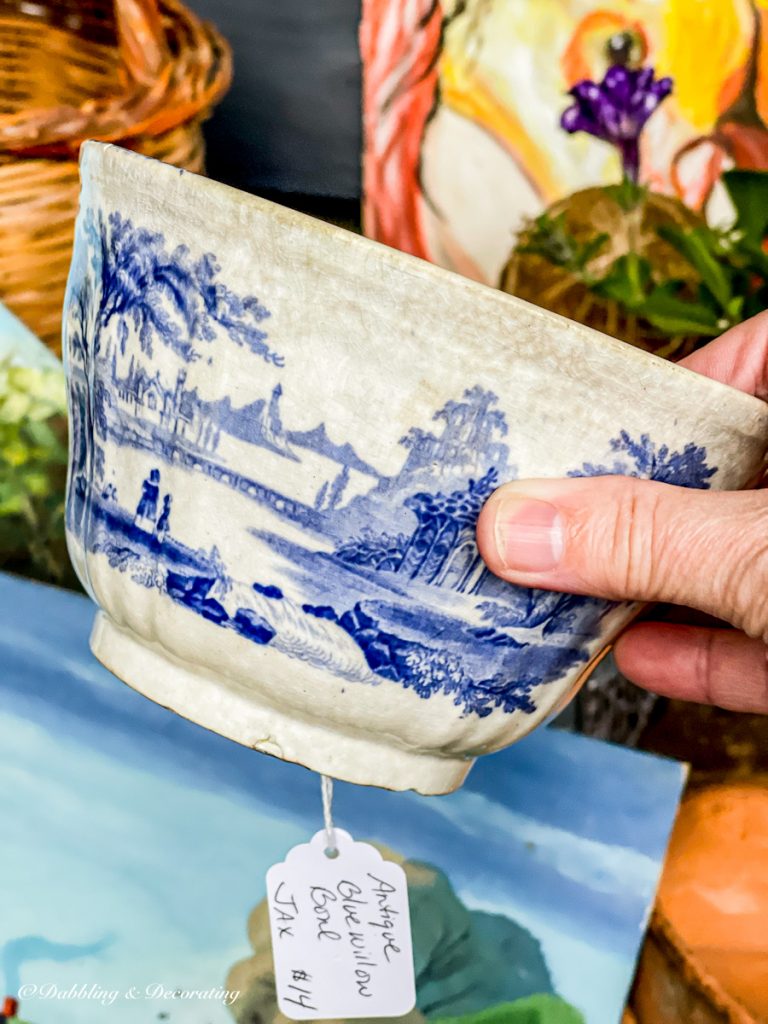 I've been looking for some antique green and white dishes to add to my blue and white collections, so when I saw this green and white crock bowl for $10, it also made its way home with me.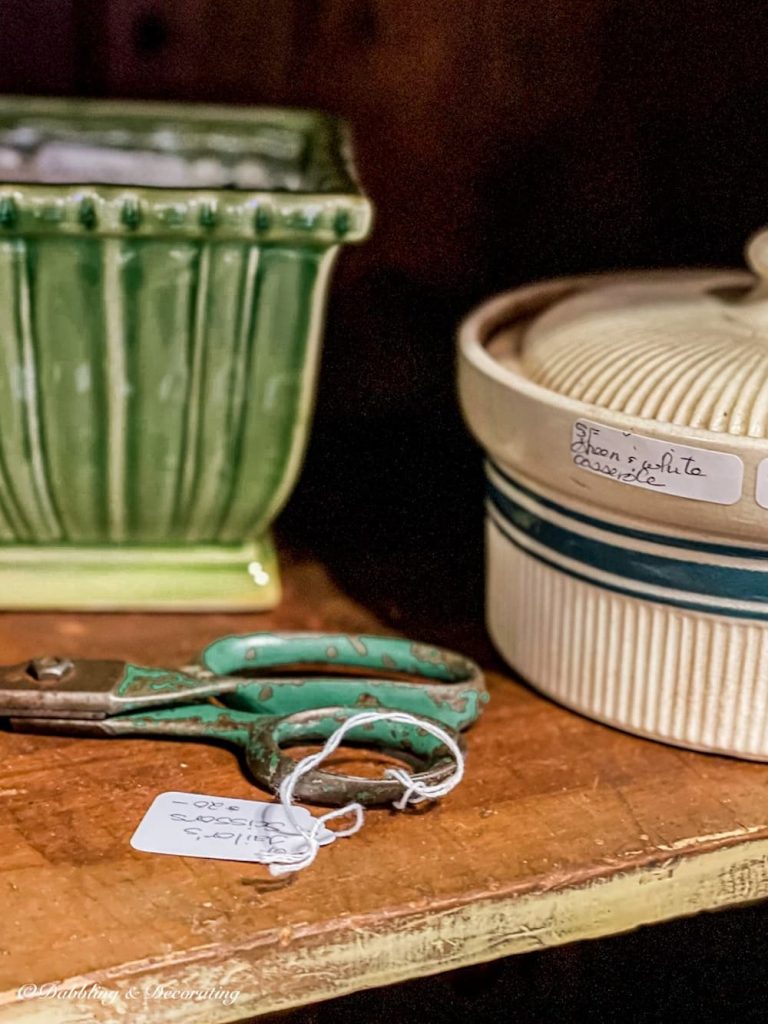 A couple of vintage picture frames caught my eye for $18 apiece.
I like the soft pastel colors, having our bathrooms in mind. My mother collected old pictures like this and I think they'll match those beautifully.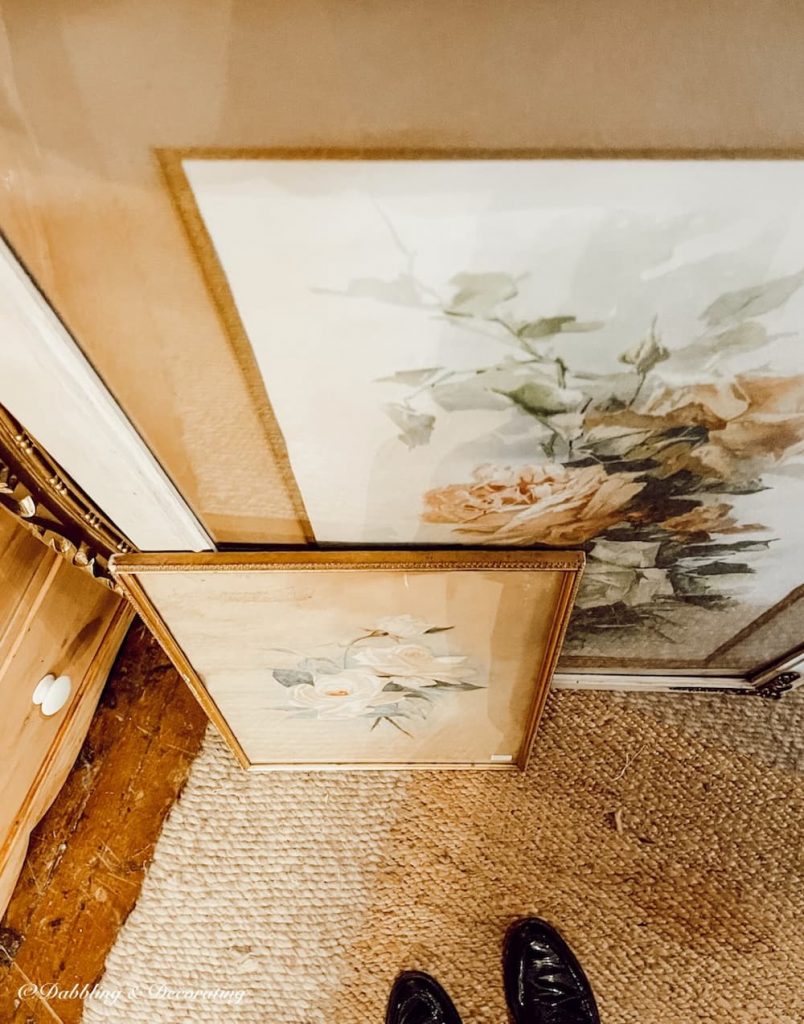 You may also enjoy the post, VINTAGE BAZAAR NEW ENGLAND, A SUMMER VISIT.
Sage Farm Antiques 2022 Schedule
Offers a monthly 3-day show with 20 vendors. Held at 5 Exeter Road, North Hampton, NH.
See them at Brimfield North in Deerfield, NH May 27-29 too.
July 1-3 | Seas the Day
Aug 5-7 | Sunwashed & Sandy
Oct 7-9 | Ode to October
Nov 4-6 | Autumn Glow
Nov 18-20 | Ho Ho Holidays
Dec 2-4 | Making Spirits Bright
Oh, and I loved how this rustic wire basket was displayed with geraniums, similar to the one I recently found on A Very Vintage Weekend.
I'm so glad you dropped by, and if you are new to my blog, welcome! I hope you enjoyed your visit with us here today at our Home in Coastal Maine.
Be sure to also check out our Home in Vermont too, where we spend winters enjoying the coziness of home in the Green Mountains of Vermont.
Please join me as a regular here at Dabbling & Decorating by signing up for my Saturday morning newsletter and never miss an update!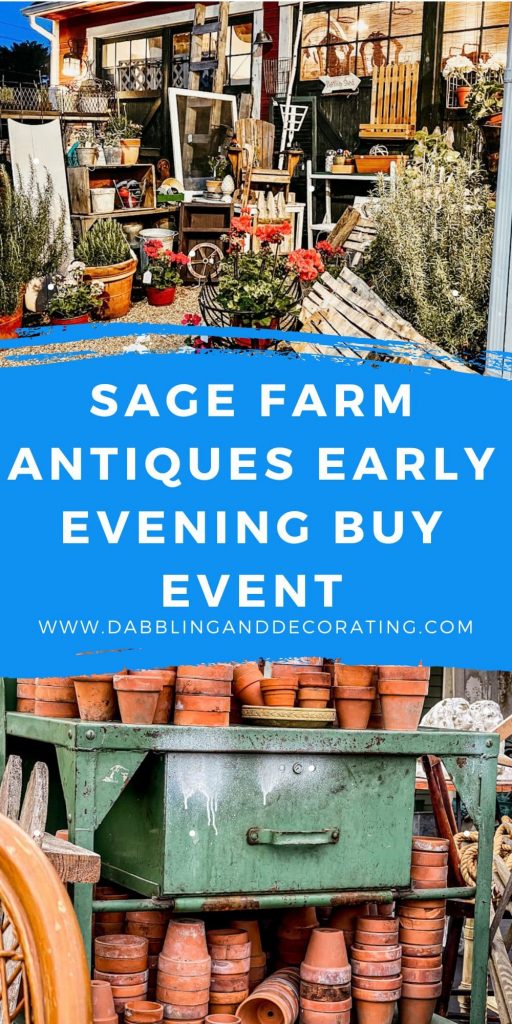 I've created the above custom pin just for this post! Hearing from you makes my day and your comments mean so much to me! Please join me over on Instagram & Pinterest to see more!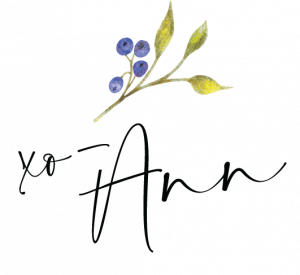 YOU MAY ALSO ENJOY