Today I want to share all about this cottage and vintage style master bedroom at our family home here in coastal Maine.  I say, this as this was quite a project pulling it all together.  This master bedroom is very small with a bathroom and a small closet.  AND we really needed to fit a king bed into this bedroom that was not built to fit a large king bed.  This home was built as a replica old home, therefore the rooms were built small as they were in the days before king beds even existed.
To learn more about our coastal Maine family home and all its restorations CLICK HERE for the home tour and the series "In My Mother's Home…".
I started by purchasing a white cottage-style king headboard and footboard on Facebook Marketplace for $200.   I then needed a metal bed frame with hooks for the headboard and footboard to pull it all together.  It took three tries to get the right one!  I couldn't believe how challenging these metal bed frames had become.  The hook metal bed frames are mostly a thing of the past, which I did not realize!  It even took me hiring a handyman to get the bed assembled, as the washers were not large enough and the bed wobbled A LOT!  Lesson learned. I don't think I would choose this route again as an FYI. 
I hope you like how it came out friends and you enjoy all the family treasures as much as we do.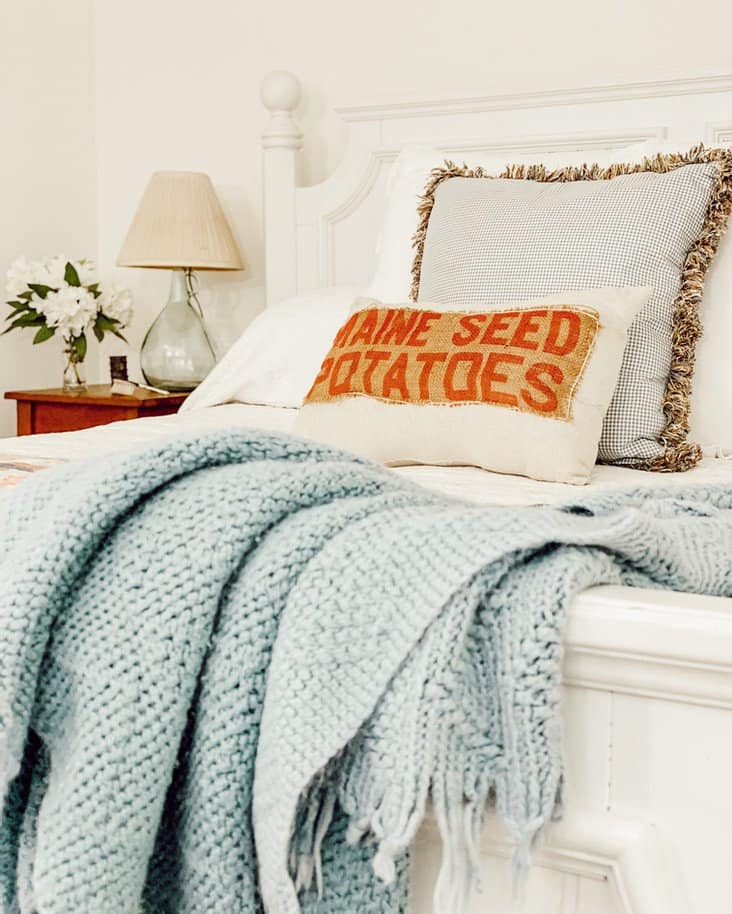 My mother luved to knit and I have many of her old knitted blankets and quilts. I chose this soft blue knitted blanket and multi-colored quilt to create that sense of coziness.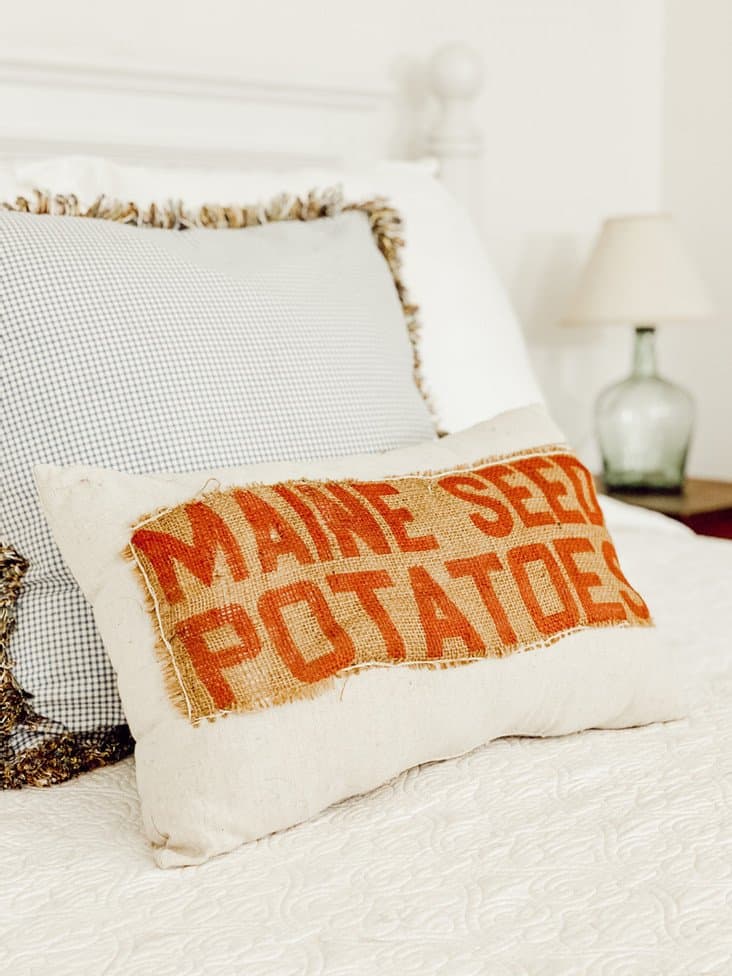 When I saw this hand made "Maine Seed Potatoes" pillow sitting outside of an antique shop in Wells, Maine, I knew right away it was a must-have! It would be so easy to make one too with a little burlap and some stencils. Hand made items to me, add such a sense of warmth and that coziness we all luv.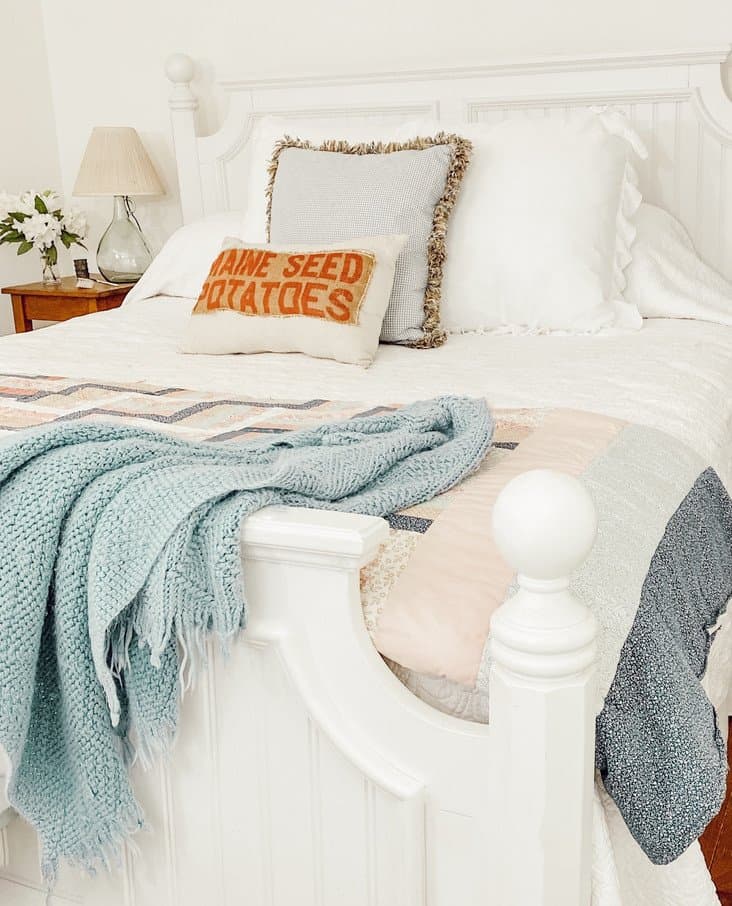 An antique Russian tea set that was my mother's sits at the foot of the bed on a bench that my father made and I recently repainted to match the master bedroom's trim.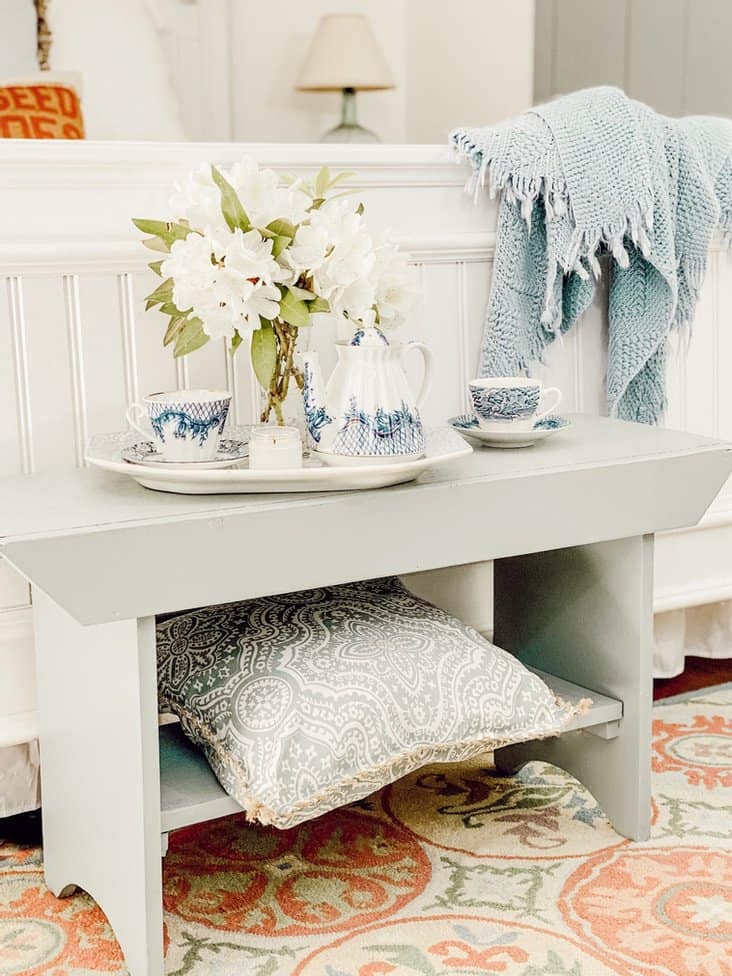 I found the old oval window that is hanging on the wall at a Vermont antique store while traveling to Maine. My beach hat adds a bit of texture to this unique vintage piece.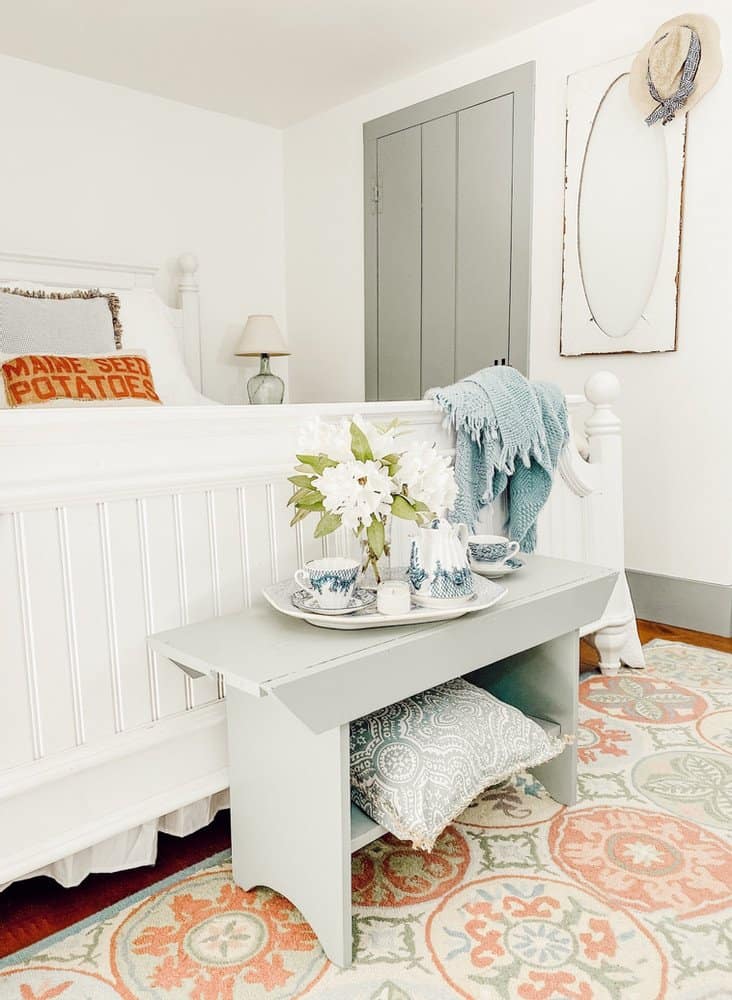 The soft colored rug I found in the attic and it was originally from Company C. I will keep the rug here for the summer, as this fall we will be having the bedroom floors stripped, sanded, and refinished to match the rest of the floors in the home with a simple polyurethane. To see more of the floors and restoration CLICK HERE!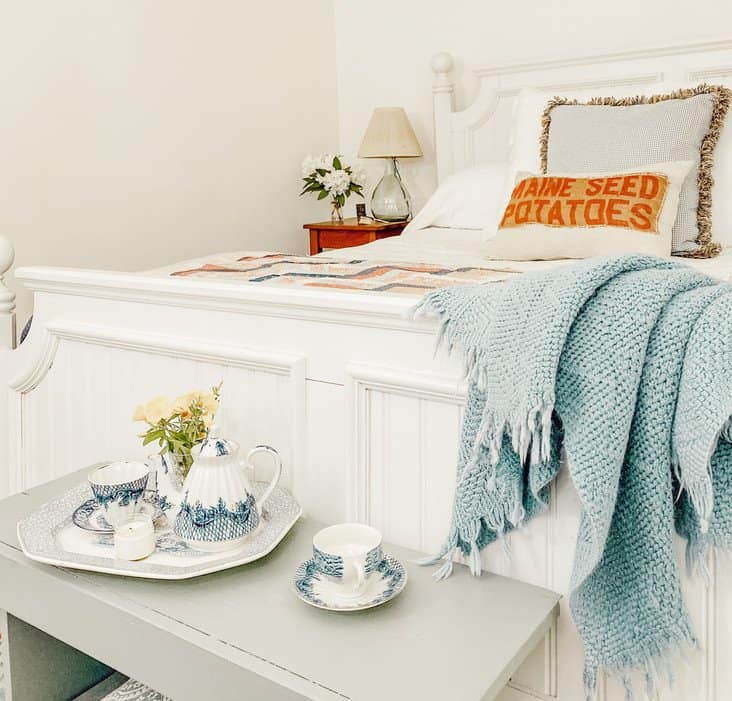 I decorated a couple of my parent's antique tables turning them into bedroom side tables along with a couple of their coastal blue glass lamps. I just adore these lamps and I am going to be on the hunt for a few more for around the house.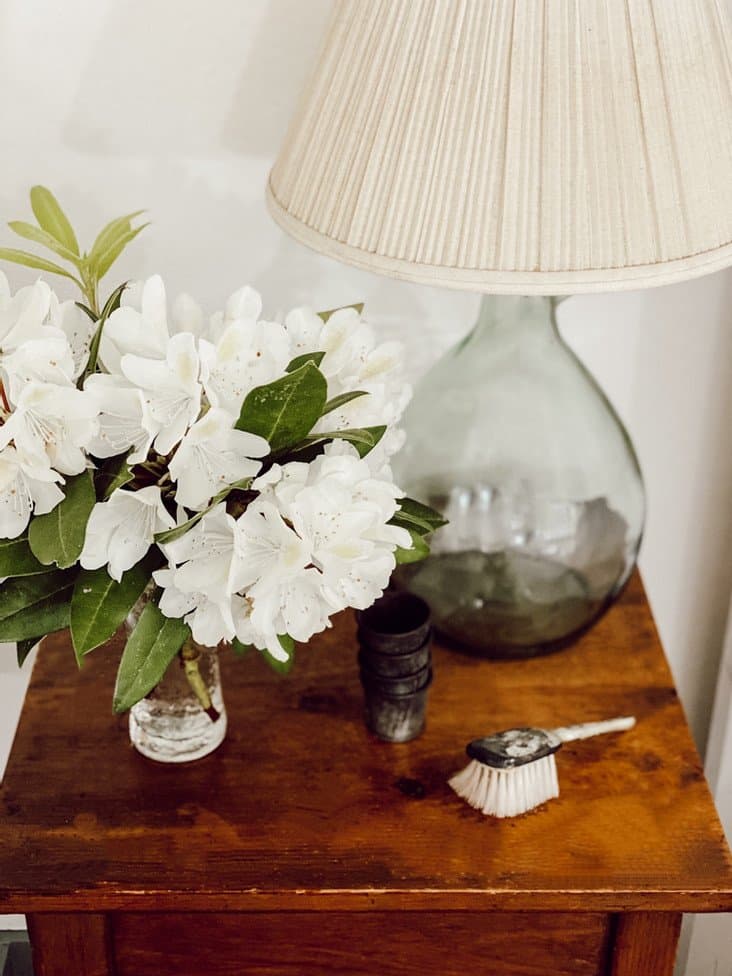 When I took the photos for this post, it was about 85 degrees here in Maine and the AC was on in the bedroom. Ella climbed into the bed to cool down and relax right as I was photographing…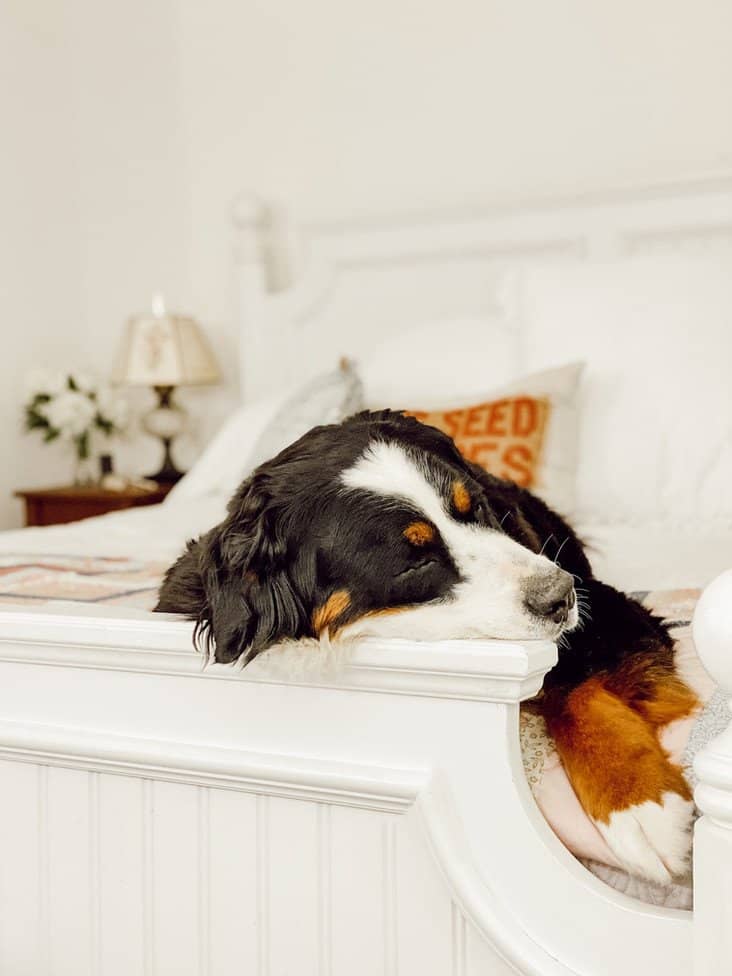 Here is a view with a different antique lamp.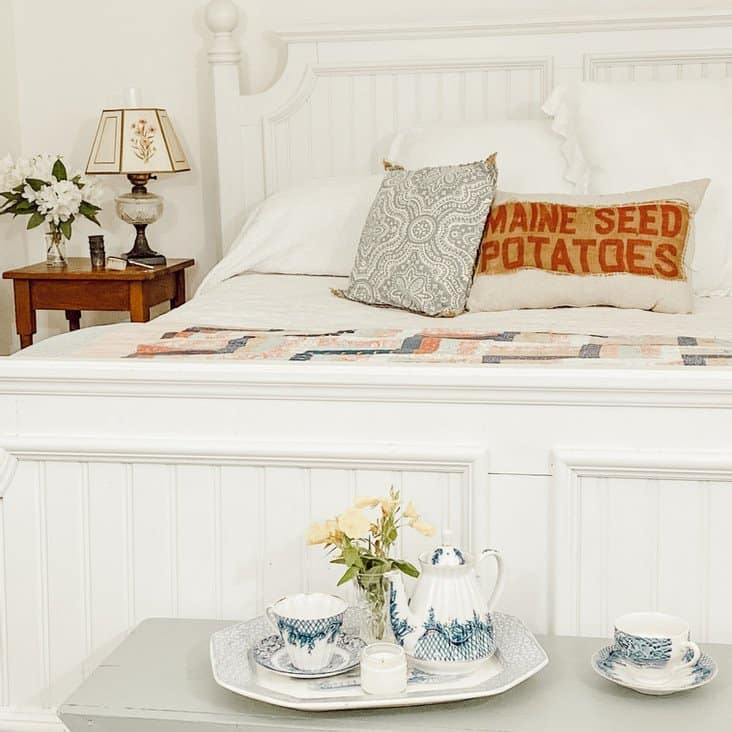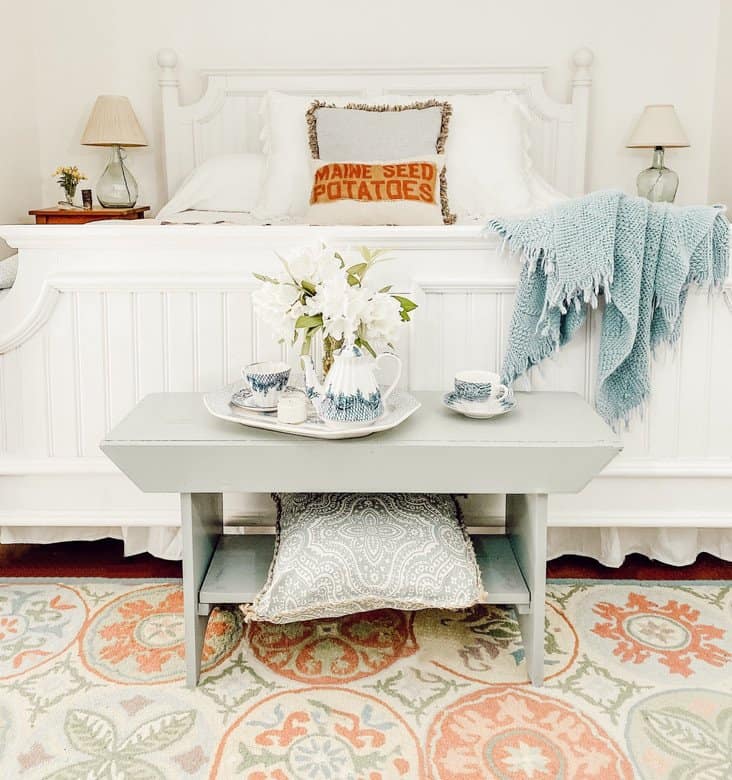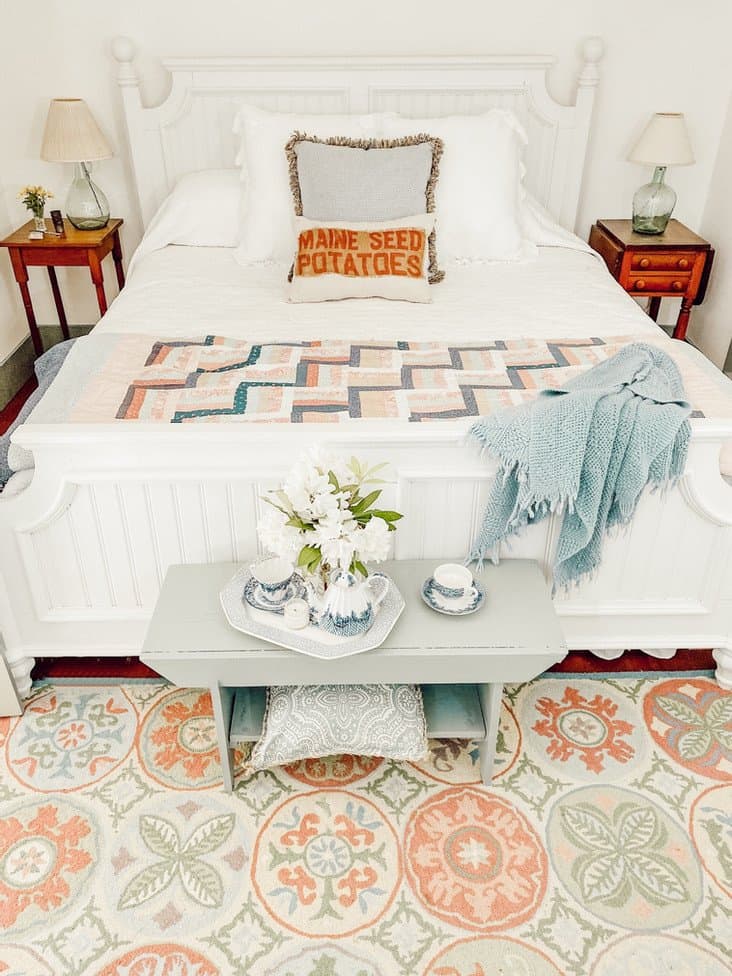 If you are new to my blog, welcome! I'm so glad you came to visit us here today at our coastal Maine home. I hope you will become a regular here at Dabbling & Decorating! Sign up below and never miss an update!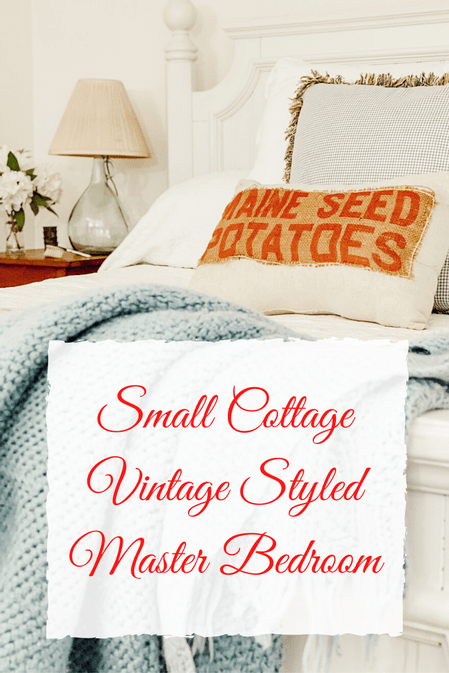 I've created the above custom pin just for this post! Hearing from you makes my day and your comments mean so much to me! Please join me over on Instagram & Pinterest to see more!