Hi friends, I have always dreamed about dining in front of a cozy warm fireplace in my own home. Dining, meaning anything from dinner to breakfast! As autumn arrives here in coastal Maine, I thought this post would be so perfect to close out our summer here as we get ready to move back to our place in Vermont. I'm setting two tables in front of our living room fireplace. Today's cozy fireside table and her collected Theodore Haviland, Limoges, France, China are set on my mother's antique dining table. The second is Morning Coffee by the Fireplace with Lomonosov vintage blue and white china.
Check out our Coastal Maine Home Tour here!
I'm also very excited to be sharing this post with the "Fabulous Fall Tablescape Tour," which includes some very talented blogger friends that you will definitely want to check out at the end of this post!
One of my favorite finds this past year has been these boutique silverware pouches made by Cutlery Couture. They design and make these adorable pouches, like the burlap one here with the blue hydrangea. They offer such a large variety, it's hard even to choose! I now have the blue hydrangeas, white bow, and lobsters Mary gifted me at Farmhouse Fixer on Instagram.
Dried hydrangeas sit on this fireside table and accentuate the Theodore Haviland, Limoges, France, China pink pattern. My mother collected this china pattern for years and used it as her daily dishware.
The furniture in the background is from Four Seasons. We waited for it to arrive the entire summer, which was well worth the wait. Four Seasons furniture is easy on and easy off slipcovered furniture. I chose classic linen with tan and blue for our living room here in Maine. The sectional is all down, and the linen slipcovers will wrinkle over time, showcasing a cozy and comfy vibe.
All the antiques in this room were my parents collected over the years. The old boots hanging on the antique hutch were a favorite, found antiquing with girlfriends one day many years ago. I remember my mother having all her girlfriends back to the house for a happy hour after a day of antiquing. And she couldn't stop talking about these antique boots—such wonderful memories.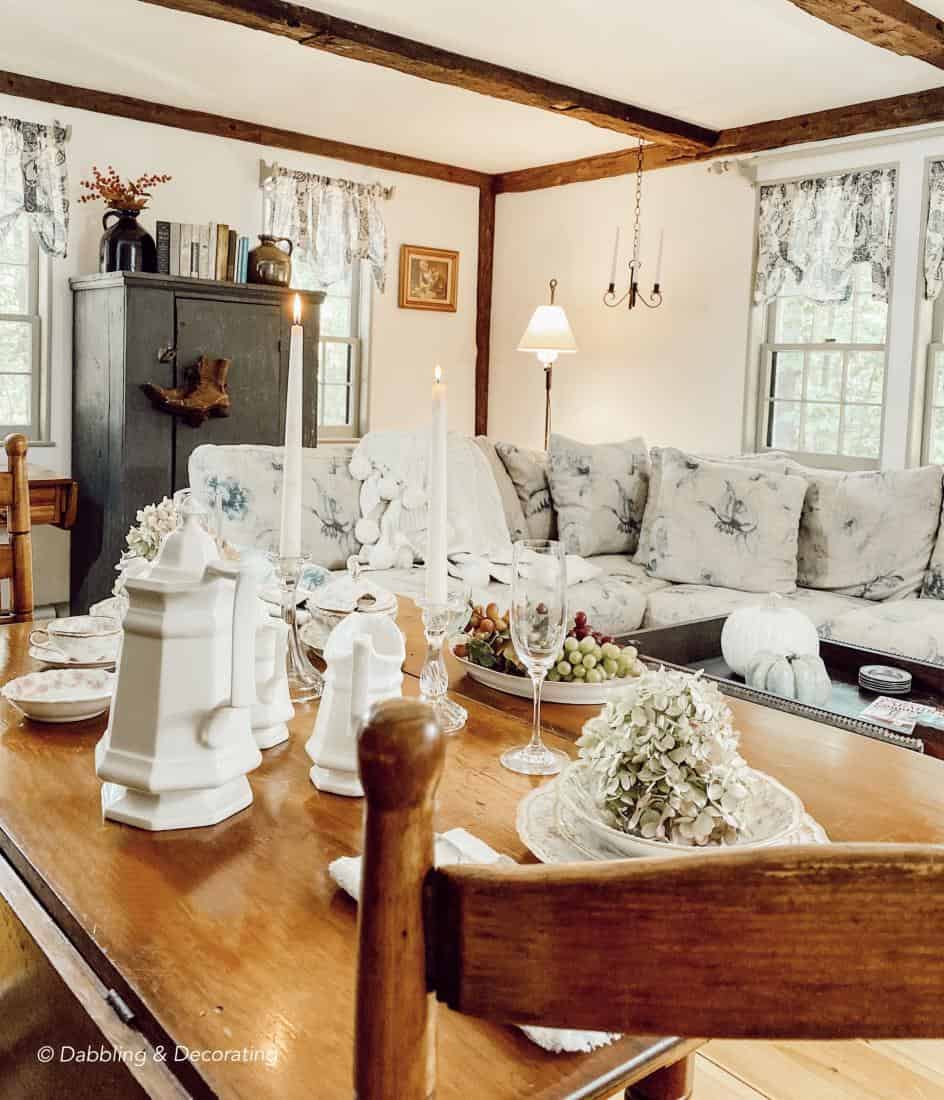 This living room is still a work in progress as we begin to make this home ours. I'm so thrilled you are here to follow along with us as we go along this journey.
I recently added these linen and blue curtains to this living room that match the style of the sectional until I found these drapes at an antique store, which you may see more of in the post, Leaning into Grandmillennial Style with Fabulous Drapes.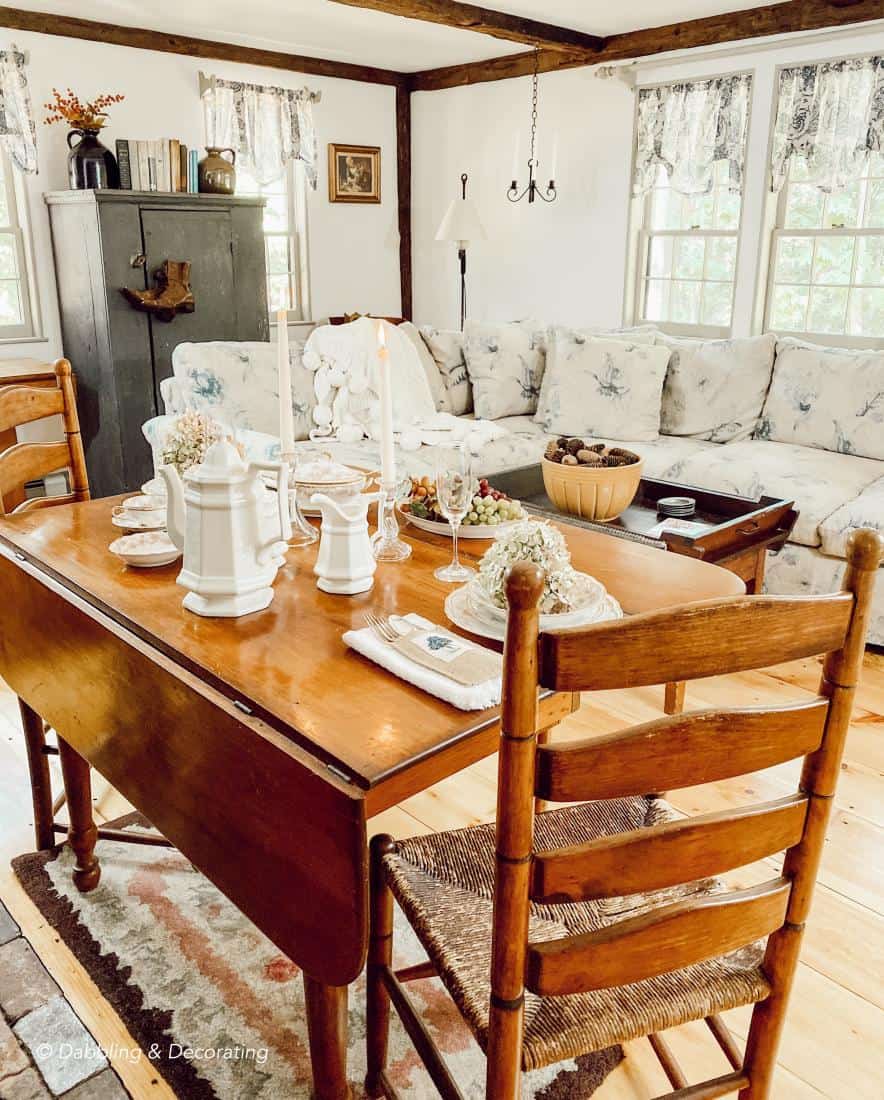 See how this living room looks a year later today.
You may also enjoy the Cozy Couch Moments post.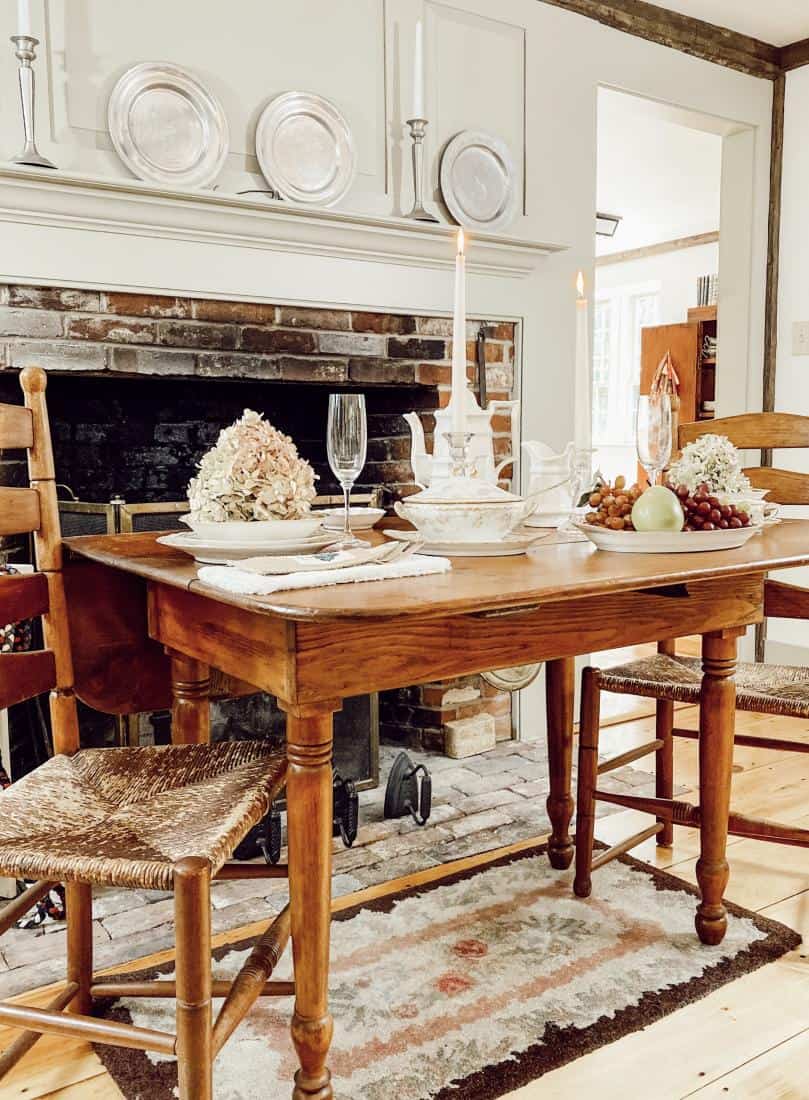 Now let's light the fire in the fireplace with a simple duraflame log. I love using these faux logs when I don't have time to make a fire or don't want to take on the work of starting one. These are so simple to light, and they burn for three hours. They are great for entertaining, too, as you don't have to maintain the fire in the fireplace!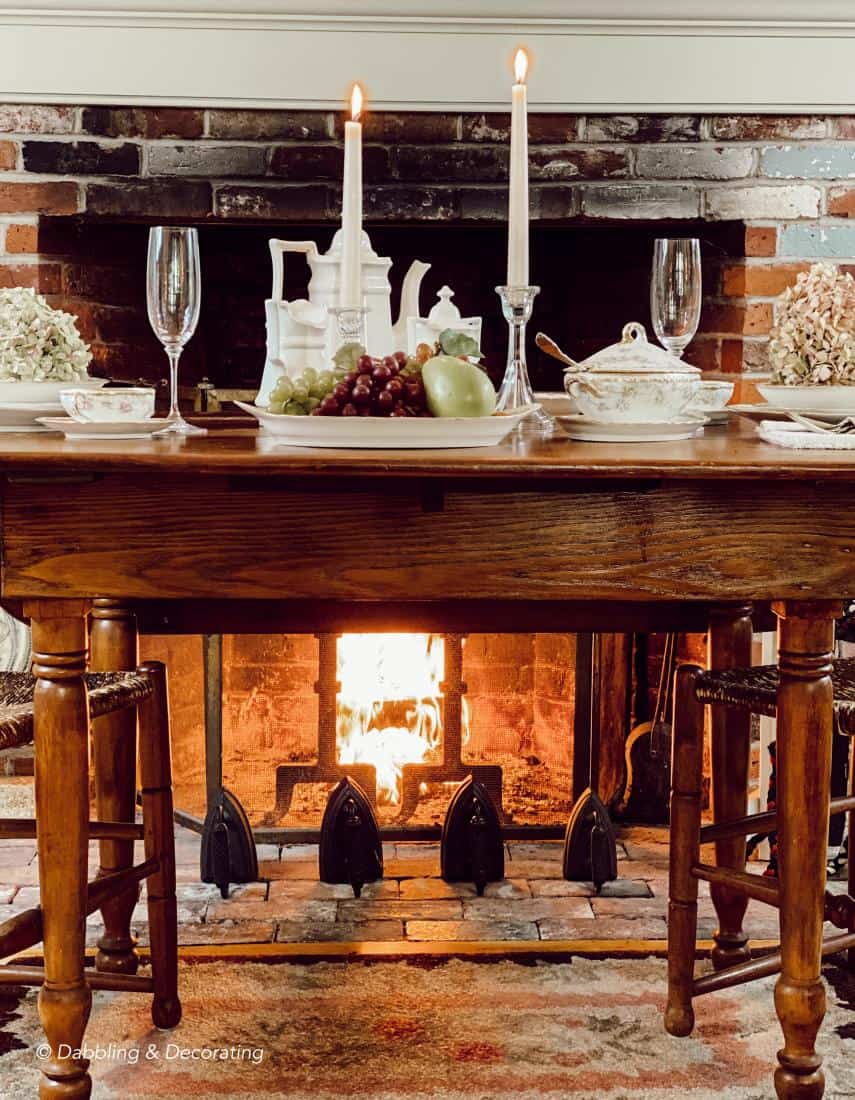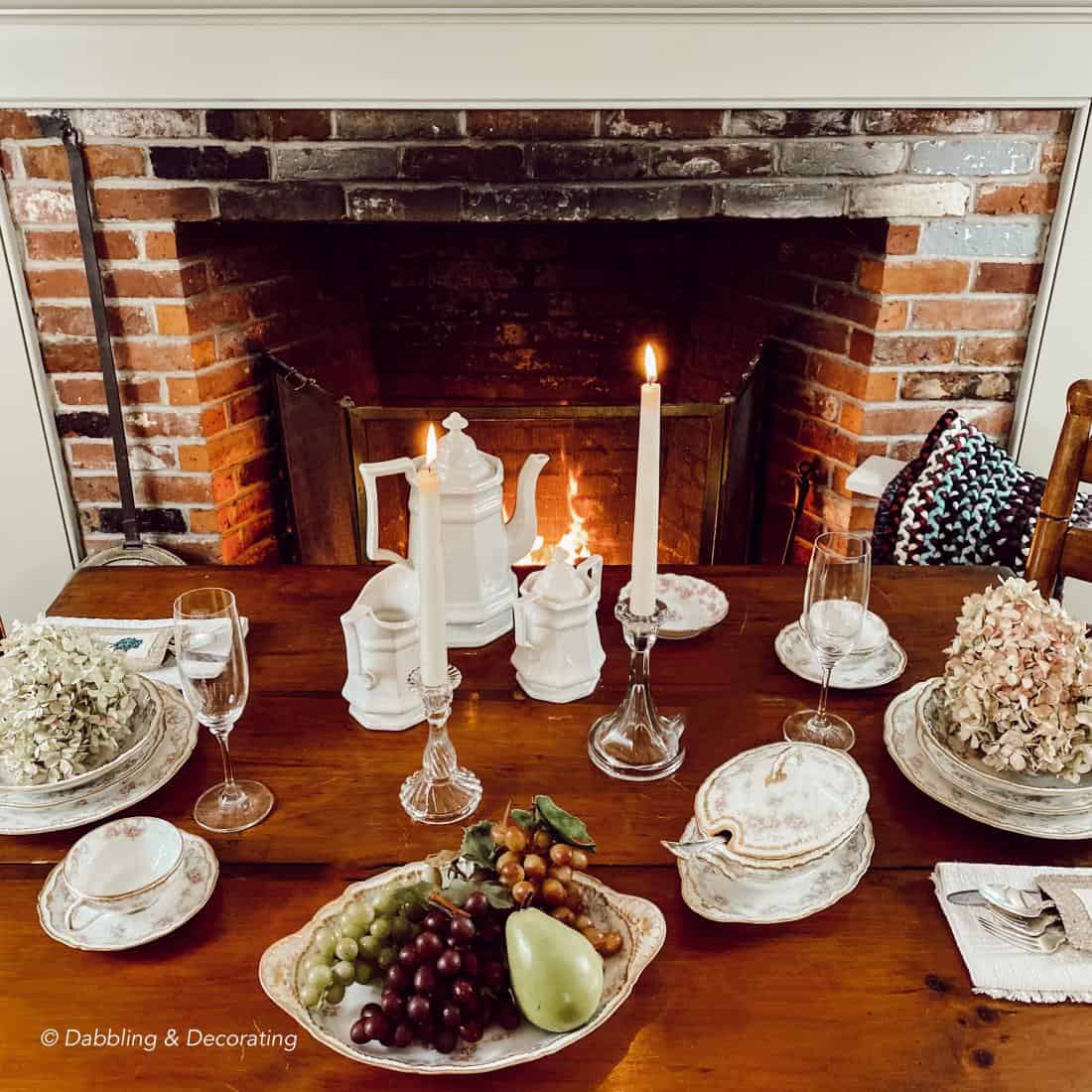 Antique Irons, pewter, and an antique bed warmer adorn this colonial fireplace in the living room. How fun is this cozy fireside table for two?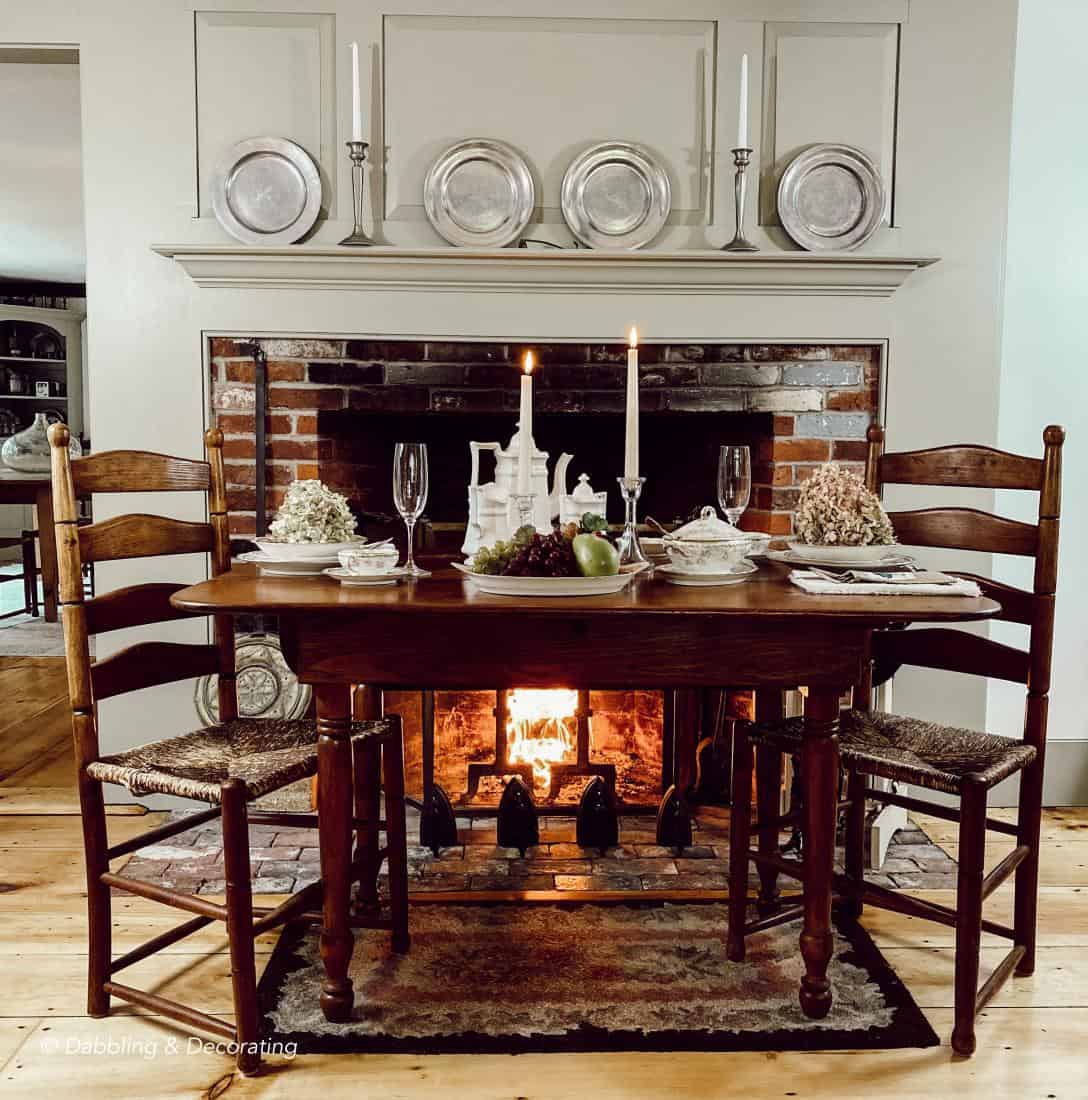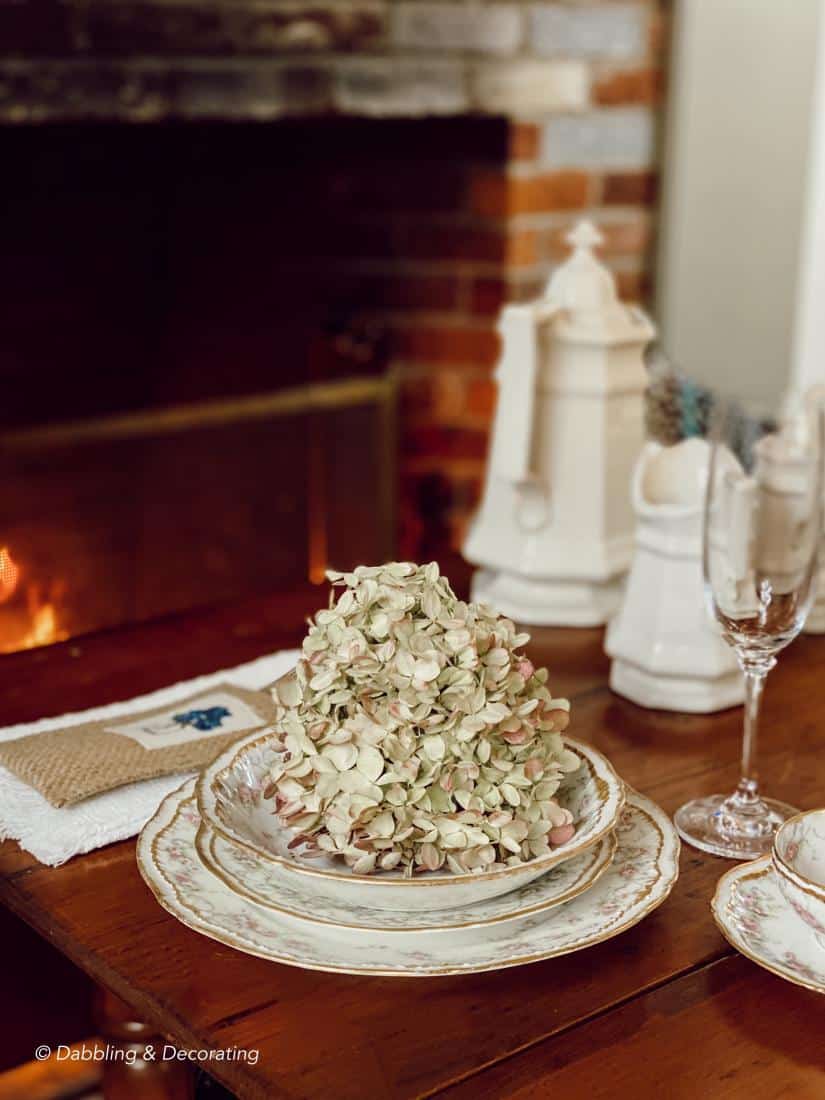 I'm so glad you dropped by, and if you are new to my blog, welcome! I hope you enjoyed visiting our Home in Coastal Maine with us today.
Be sure also to check out our Home in Vermont, where we spend winters enjoying the coziness of home in the Green Mountains of Vermont.

I've created the above custom pin just for this post!  Hearing from you makes my day; your comments mean so much to me! Please join me over on Instagram & Pinterest to see more!
Be sure to stop by and see all the other talented bloggers joining me here today below on our "Fabulous Fall Tablescape Tour" in collaboration with Cutlery Couture.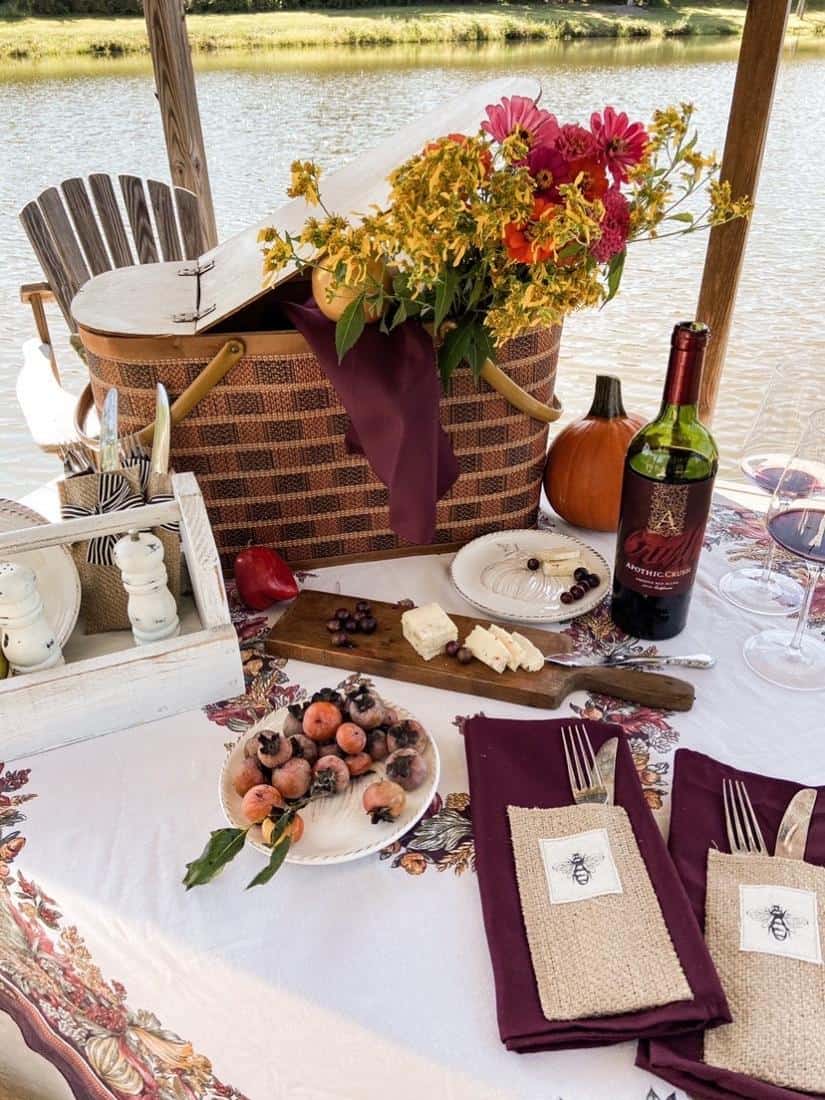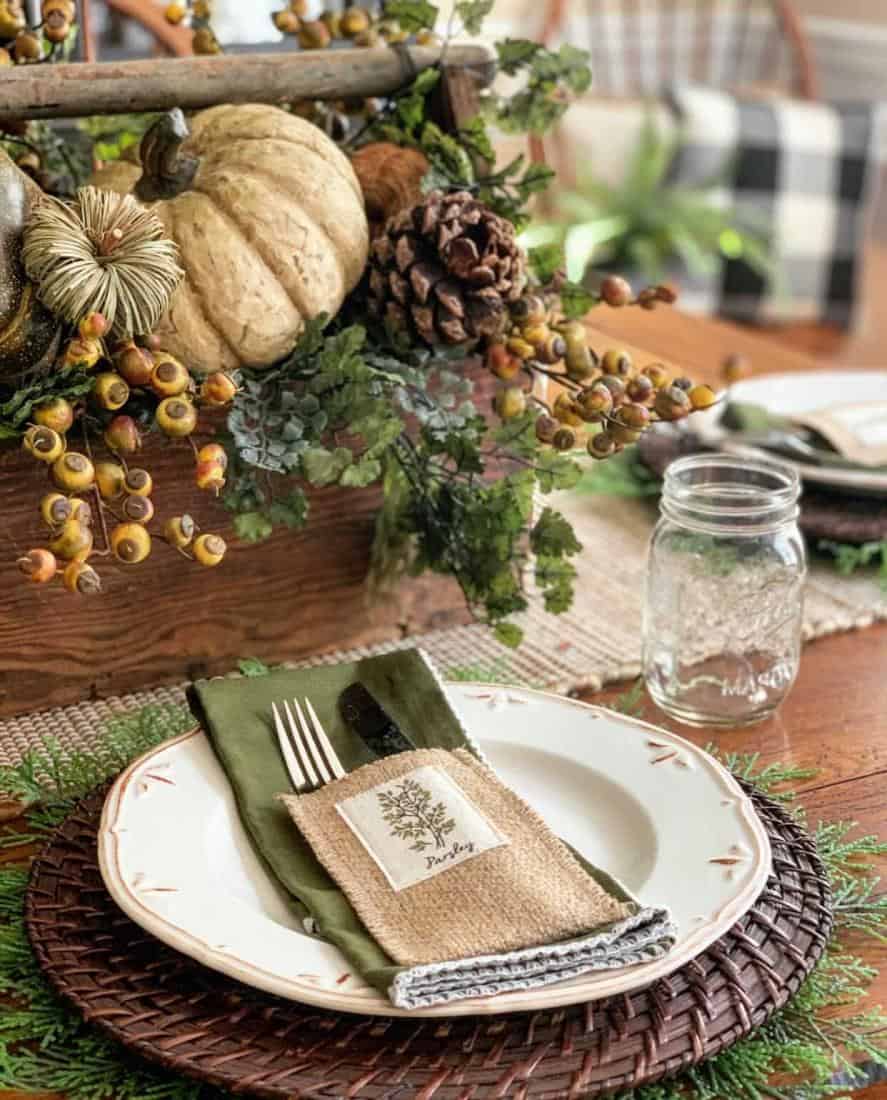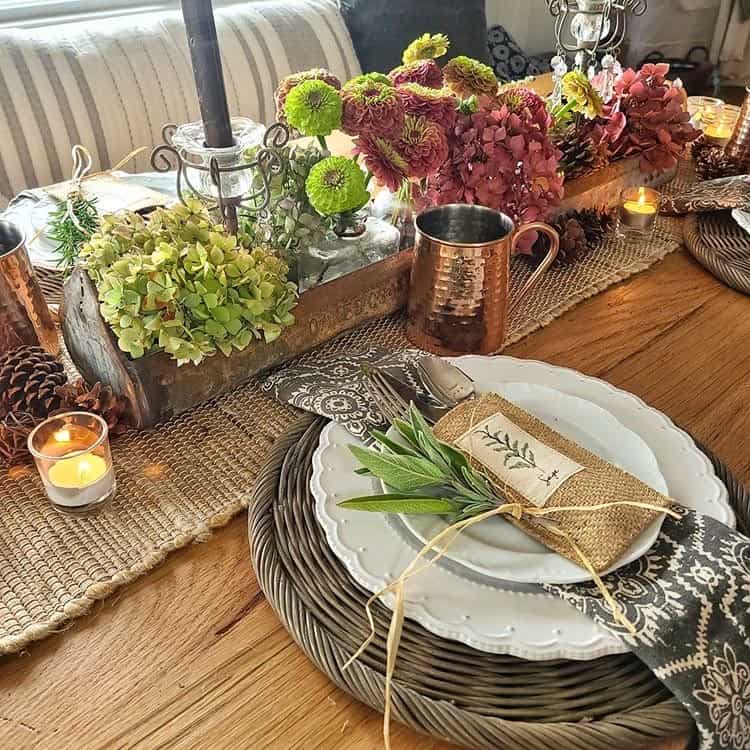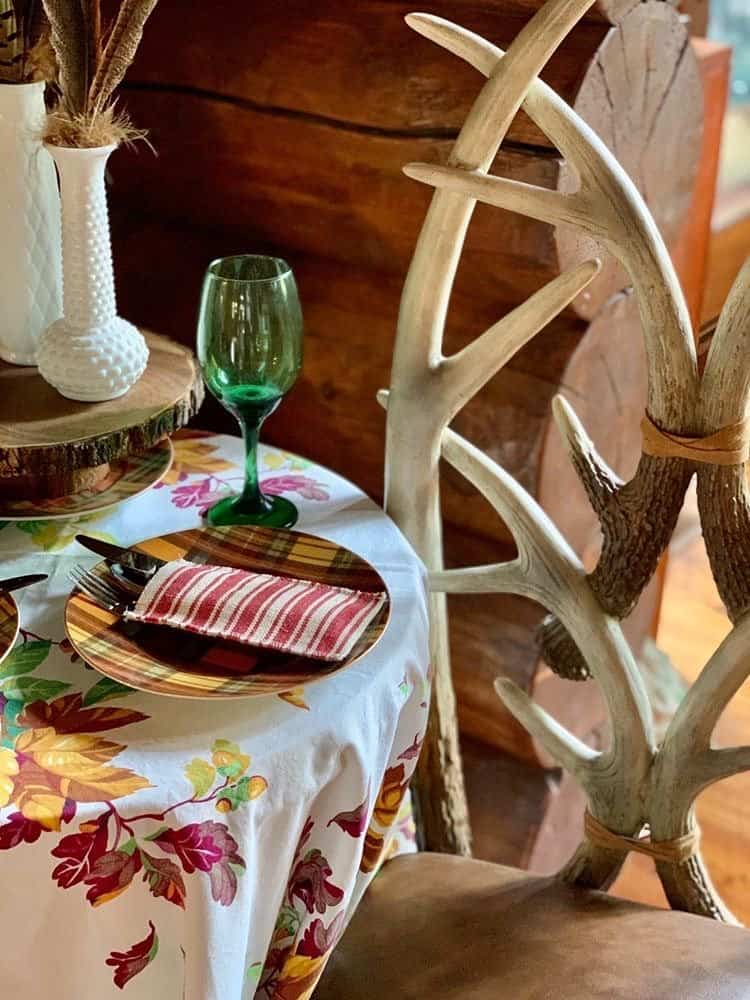 YOU MAY ALSO ENJOY