Are you looking for creative fall decorating ideas? Let me show you how I created this fall dessert table with a little Pecan Pie surprise.
It's Pie Season!
With fall just around the corner, I was excited when Everything Dawn reached out and asked if I would like one of her Pecan Pies to decorate with at our home in Vermont.
Doesn't it look so delicious!
Can you smell the aroma and that cozy feeling of gathering with friends or family for dessert?
Simple fall wildflowers in mason jars serve as the dessert table's centerpieces.
You may also enjoy the post, Set the Table with Vintage Autumn Warmth.
Today we were blessed with one of the first good rainy days we've had all summer long.
You may also enjoy the post, Picturesque Table Setting with Autumn Mountain Views.
And the mountain views never disappoint. In fact, they're even more adorning on a cloudy, stormy, and/or foggy day…
You may also enjoy the Refreshing Weekend Junket Home to Vermont post.
You may see more of our Our Year-Round Vermont Mountain Views here.
I picked up four of these wicker placemats thrifting on my way back from Maine.
You may also enjoy Summer's Interior Heirlooms and Musings.
You may also enjoy the post, 17 Fall Decor Fire Pit Ideas for a Cozy Gathering.
A few old brass candlesticks and a vintage lemonade set that I also picked up while out "Thrifting with the Gals", adds charm and warmth to our outdoor dessert table as our temperatures begin to cool off.
You may also enjoy A Vintage Haul for The Porch and the post, Cozy Antique Spring Porch Ideas too.
So What's the Pecan Pie Dessert Table Surprise?
Everything Dawn's cakes, pies, loaves of bread, and more are all handcrafted by Dawn.
That's right, it's faux!
Why you may ask?
Well, it's easy! Because it's all about the presentation. These "Fakery Bakeries" can sit on any table, countertop, coffee table, etc. adding all the Hygge of fresh baked goods while cozying up your home.
I can't wait to display our Pecan Pie all over the house and porch this fall at our home here in Vermont.
And even better, purchase one of Dawn's Autumn fragrant candles and add the wonderful scent of a pie baking in the oven too.
Enjoy this Fall & Halloween DIY Grazing Table with MacKenzie-Childs as well.
These would make such a nice housewarming or hostess gift, too.
Check out this Table Ready Fakery Bakery Faux Berry Mousseline Tarte that Dawn also gifted us for the summer. I just love this one, too!!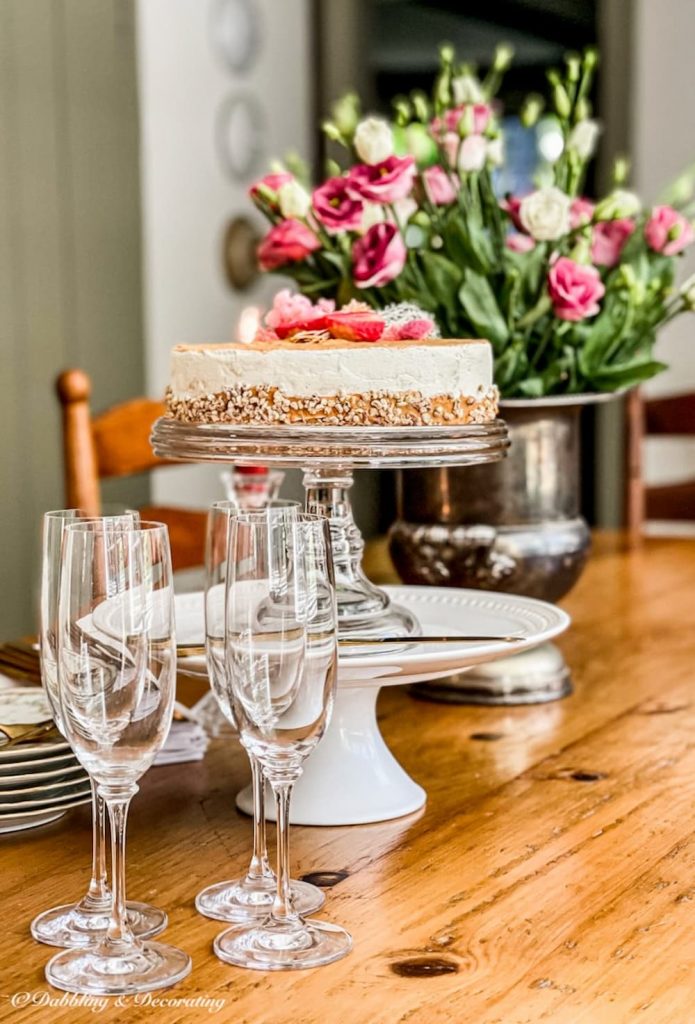 This post may contain affiliate links which won't change your price but will share some commission."

You may also enjoy the post, 7 Ways to Add Autumn Spirit to Your Front Porch this Fall.
You may also enjoy the post, Vintage Fall Centerpiece in 5 Easy Steps.
Oh boy and how about this tree cake that Dawn sent me for the Holidays? Even Ella was fooled…
I'm so glad you dropped by, and if you are new to my blog, welcome! I hope you enjoyed your visit with us here today at our Home in Vermont.
Be sure to also check out our Home in Coastal Maine, where we spend summers and weekends when we are craving a walk on the beach or a visit with old friends.

I've created the above custom pin just for this post! Hearing from you makes my day; your comments mean so much to me! Please join me on Instagram & Pinterest to see more!
SHOP THIS POST

YOU MAY ALSO ENJOY