Are you ready for some thrift store decor encouragement? This month's "Thrifting with the Gals" round-up is stockpiled with summer treasures.
About Thrifting with the Gals?
"Thrifting with the Gals" started with a group of friends who met over on Instagram and formed a special relationship through a mutual love of home decorating. We share a passion for all things vintage, thrifty, and cozy.
Our styles are all very unique from Kristin's log cabin in the Northwoods of Wisconsin, Rachel's farmhouse in North Carolina, Robyn's beautiful French Nest in Florida, and of course myself thrifting for our homes from Vermont to Coastal Maine.
And this month we're excited to welcome our friend, Jen from Midwest Life and Style as our guest host. Jen shares the most amazing recipes and just wait until you see how she creates cottage-style vignettes with vintage finds today.
A Vintage Oar
My first summer thrift store decor find was this vintage oar that breaks apart into two pieces. It was the color and richness of the wood that attracted me to this vintage find.
We hung this vintage oar separated and horizontal on the wall in this guest bedroom. I just love them!
You may see more of these oars and Small Cottage Guest Bedroom, Vintage and Delightful here.
And the second-hand shop and vintage shopping trip here:
Miniatures
I found these darling porcelain miniature teacups in a box where everything was marked for just $1.
I brought them home with me and quickly dug out my mother's old "What not Shelf" as she called it, and hung it up in our dining room along with a few of her other little treasures.
Every summer brings along a vintage bazaar or market doesn't it? And this summer's Vintage Bazaar New England didn't disappoint. It was a bit hot for my liking with temperatures topping out around 95 degrees. A bit warm for us here in New England…
Read all about this bazaar and what I found in the post, Vintage Bazaar New England, A Summer Visit.
You may also enjoy the 17 Best Summer Home Decor Accessories to Thrift and Mother Nature And An Antique Millinery Hat Mold posts.
A Few Days in Vermont
We were able to get back to our home in Vermont for the Fourth of July weekend. Honestly, It was very nice to escape the busy tourist weekend here in Coastal Maine.
While down at The Vintage Soul fluffing up my vintage booth I spied these 4 Blue Dishes on the 4th of July. They matched so well with our Backyard Conversation Set and Fire Pit Patio Reveal.
And if you really want to be inspired by thrifty and vintage decorating ideas check out these 10 Dreamy Scandinavian Summer Cottages. Just wow!
Back in Maine
After dodging the coastal crowds from the 4th of July weekend, we arrived back in Maine to enjoy the amazing summer weather we've been having. Temperatures in the 70s no humidity, and a few pop-up thunderstorms here and there to keep the lawn green.
Perfect for days and evenings on the beach. Notice the sweatshirt…
Until yesterday that is!
You may also enjoy the post My Favorite Beach Day Essentials and Beachcombing, Blue Mussels, and an Antique Bowl.
How to Fashionably Bring Your Dining Room Outside This Summer
A new blue and white thrifted tablecloth…
Inspired by this "How to Fashionably Bring Your Dining Room Outside This Summer" post.
Vanity License Plates
What are your thoughts on vanity license plates? I myself don't have one, but my father had a couple throughout his years.
Two of which I found while cleaning out his old shed last week.
I think you're going to love this DIY License Plate Hat Rack and Wall Decor that I created out of them.
Check out what I else found with a tennis theme in the post, Antiquing Down East, A Day's Jaunt.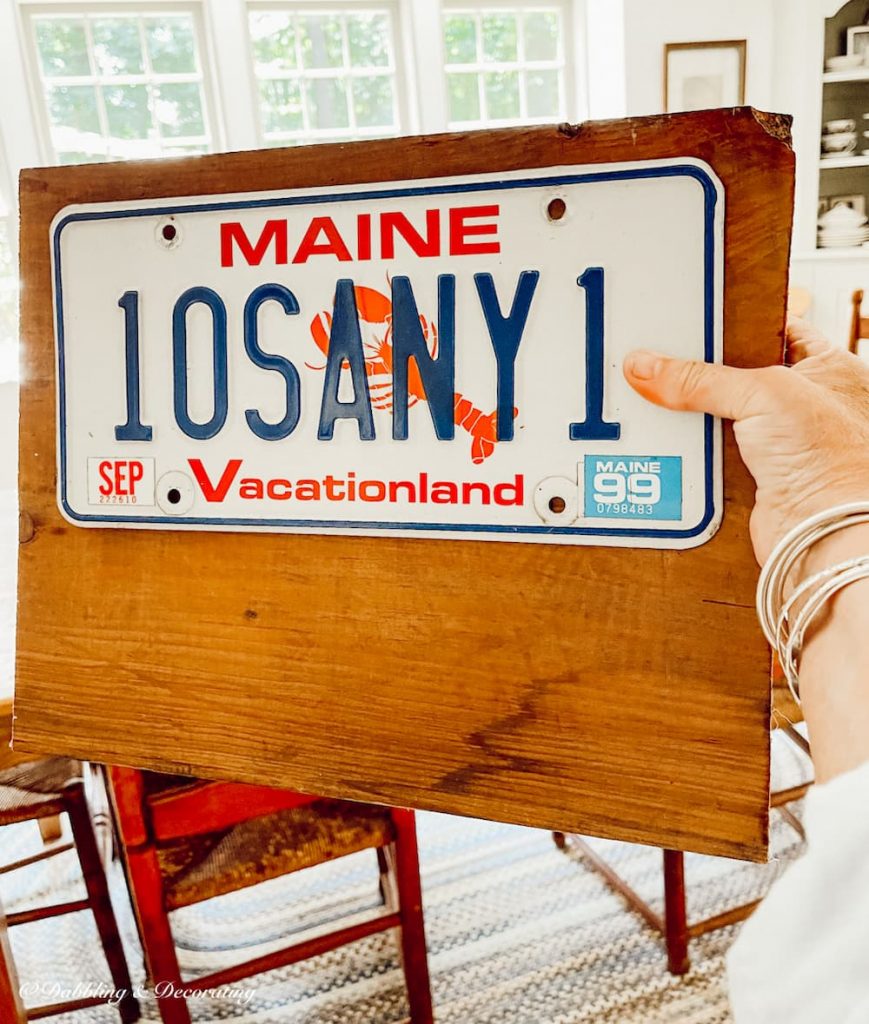 You may also enjoy this post, 15 Cool DIY Projects to Start this Summer.
A Trip to Habitat for Humanity
This past weekend we discovered Kennebunk Maine's Habitat for Humanity. Wow, it's a huge warehouse full of goodies!
We decided to make the half-hour trip after seeing a Facebook post for this little old oak dresser with an attached mirror.
I think it will look so cute in one of our small attic bedrooms.
We then enjoyed a walk around the downtown shops and lunch in the beautiful downtown of Kennebunk, Maine.
Stay tuned, as this little old dresser reveal is coming to the blog next week! Now in the post, Repurposed Oak Dresser with Mirror Quaint in the Attic.
More Vintage Tablecloths
Another quick thrifting outing, this time in Ogunquit, Maine brought me to this little red basket, milk glass lamp, and another vintage tablecloth.
Which of course inspired another table setting, this time Lobster-themed…
I will be finishing up today and posting here tomorrow morning.
And in case you missed it,
Save 25% OFF and a FREE Perfect Painter's Kit worth $25.00. If you've ever thought about buying an electric spray painter, this is the time! You may see more in the post My First Time Using a Paint Sprayer, What You Need to Know.
I'm so glad you dropped by, and if you are new to my blog, welcome! I hope you enjoyed your visit with us here today at our Home in Coastal Maine.
Be sure to also check out our Home in Vermont too, where we spend winters enjoying the coziness of home in the Green Mountains of Vermont.

Next up on this month's "Thrifting with the Gals" tour is Robyn from Robyn's French Nest. I can't wait to check out her post myself today, as she is talking all about how to shop for antiques and vintage when you are away on vacation!
Be Sure to Check out the Other Gals Summer Thrifting Tours Here too!
YOU MAY ALSO ENJOY