Are you ready to go thrifting this summer? Here are 17 of the best thrifty summer home decor accessories to look for at yard sales and thrift shops this summer.
And it's time for our monthly blog hop with "Thrifting with the Gals".
What is "Thrifting with the Gals"?
"Thrifting with the Gals" started with a group of friends who met over on Instagram and formed a special relationship through a mutual love of home decorating. We share a passion for all things vintage, thrifty, and cozy and get together every third Thursday of the month to share our thrifted and vintage decorating ideas from across the country. Learn more in the blog series here, "Thrifting with the Gals". You may see and meet more of the other gals joining me today at the bottom of today's post.
If you are joining me from Cindy over at County Road 407, welcome! Cindy is our monthly guest host and a regular here with "Thrifting with the Gals". From her home in Texas, you are going to love her post on, Look for These Lovely Finds Thrifting with the Gals This Summer.
17 Top Summer Home Decor Accessories to Thrift
What are some thrift store decor ideas?
Summer thrifting is the best and I had so much fun rounding up 17 of my favorite thrift store decor ideas for you today. From outdoor to indoor home decor accessories, these thrifted finds will set you on the right track for all your summer home decorating needs.
What are some good summer decor ideas for my house?
Let's get started…
1. Terracotta Pots
Old terracotta pots are colorful, chippy, and add texture to outside summer decor like benches, gardens, shelving, and more. Grab them up while they last. Because weathered terracotta pots are in high demand! And if they have a little green summer moss on them, even better~
2. Bright Colorful Chairs
Bright colorful chairs add charm and character to backyard tables in the summertime. Circle a small bistro table with these beauties, use them as extra outdoor seating, and place them in your gardens, sunrooms, etc…
What accessories are in style this summer?
3. Old Shoes and Pocket Books
Old boots, sneakers, and pocketbooks make for whimsical garden decor. Fill them up with your favorite plants and place them on your front door steps, in the garden, on a chair, etc…
You may also enjoy the post, White & Green Rustic Summer Flower Planters Sure To Charm You.
4. Ladders
Old ladders, specially painted in vibrant colors, what's not to love? Use them in the garden with terracotta pots displayed on the rungs, lean the ladder up against a barn, garage, etc… It's a great way to add color with functionality outdoors this summer.
You may also enjoy Memorial Day weekend finds in the post, Baby Adidas, Petite Cobbler Rack, & Watercolor Ski Drawings.
5. Vintage Lemonade Sets
I have a thing for vintage and retro lemonade sets. I love serving iced tea in old lemonade sets on the porch during the summer. I also use one in our new breakfast nook that you may enjoy seeing as well.
You may also enjoy this post, 15 Cool DIY Projects to Start this Summer.
Along with the post, 9 Summer Porches You'll Fall in Love With.
6. Blue and White Bowls
Small blue and white bowls are collector items. I'll thrift these little vessels right up. Wonderful for holding sea shells, sea glass, small driftwood, and other summer collectibles.
See more in the post, Beachcombing, Blue Mussels, and an Antique Bowl and Sage Farm Antiques Early Evening Buy Event.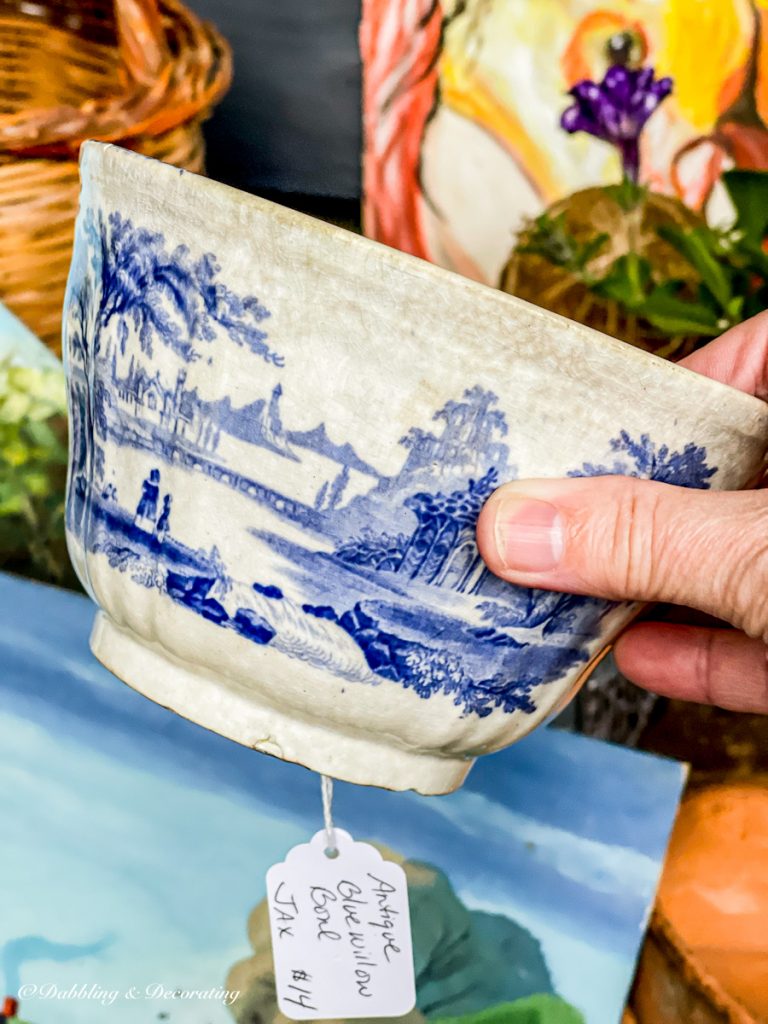 7. McCoy Vases
I've started my own vintage McCoy vase collection; see more in the post, Sunroom Home Office Inspiration: Triple Purposed with Craft Space. They come in all different pastel colors and make wonderful vases for all your summer flower arrangements. You may also enjoy the How to Create Beautiful Summer Weed and Wildflower Arrangements post.
You may also enjoy the 38 Antique Flower Arrangements & One Vintage Student Plant Press post.
8. Quilts
Quilts aren't just for cozy winter days. Quilts are alluring home decor accessories in the summer time too. Just look at this gorgeous vintage blue quilt in our sunroom last summer before we changed it all up; see more in the post, 4 Season Sunroom Makeover with Grand Mountain Views.
You may also enjoy the post, How to Fold and Display Heirloom Quilts.
You may also enjoy Mother Nature And An Antique Millinery Hat Mold post.
9. Blue and White Platters and Dishes
Blue and white platters are actually very affordable these days. I collected and created this vintage platter wall that you may enjoy seeing. Don't like the platters? Create a similar look with collected vintage blue and white dishes.
Or use them as serving trays with hors d'oeuvres and appetizers. You may enjoy this post, How to Assemble the Perfect Cheese Platter | Vintage Style too.
10. Galvanized Buckets
Galvanized buckets aren't just for holding water. They are super fun to use in summer flower bouquets. See more in the post, 7 Old Galvanized Bucket Planter Ideas.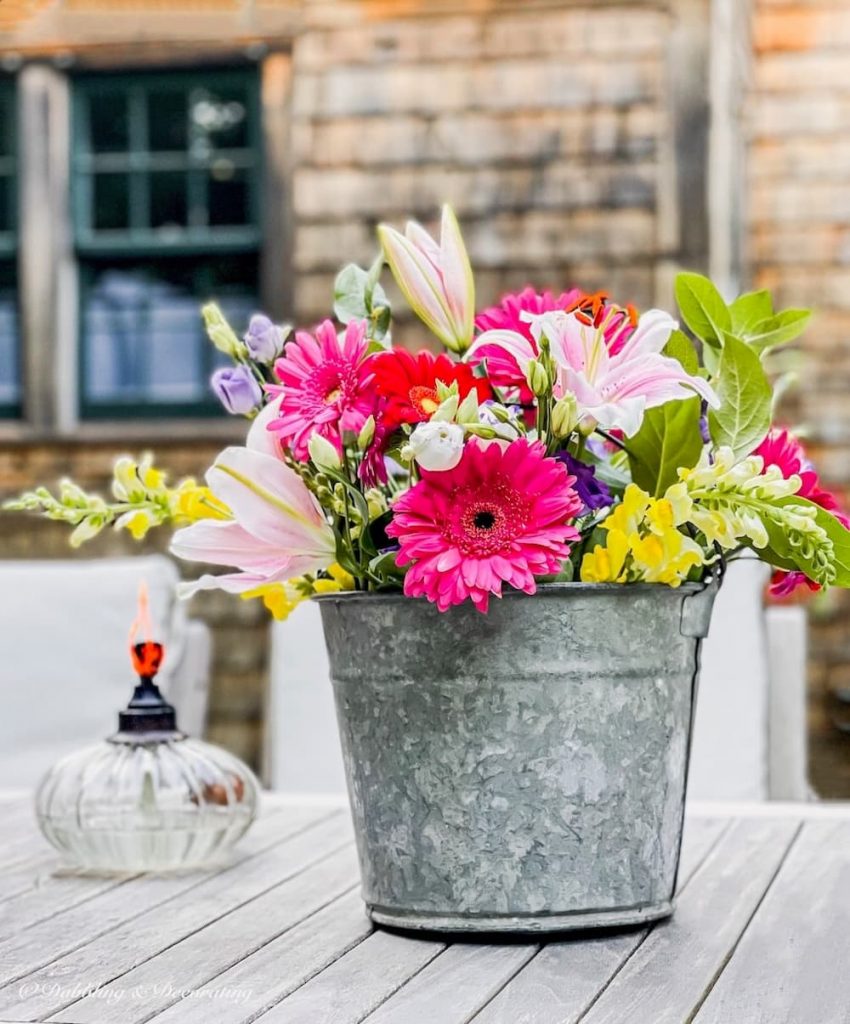 11. Old Roadmaps
Last summer, one of my favorite yet interesting finds was a bundle of old New England roadmaps. And I love them! They're super cute on a table in our guest bedroom. They make a great conversation piece on the coffee table too.
You may also enjoy 58+ Old Fashioned Bargains and 3 Summer Vintage Markets post.
12. Vintage Telephones
Thrift a few old telephones. They are darling on tables, desks, and in kitchens.
13. Vintage Boat Oars
Old boat oars make fantastic beachy summer home decor accessories, hung on the wall, leaning up in a corner, on the side of a house, and more. Thrift away…
14. Shutters
I love picking up old shutters to hang on walls, center a tablescape, hang pictures from, and more. Shutters are great for adding texture to your home decor.
15. Vintage Tablecloths
Tablecloths, in my opinion, are one of the best thrifted summer home decor accessories you could add to your interior and exterior decor designs. You can find them everywhere, they're inexpensive and add so much character to outdoor and indoor tablescapes.
Thrift them up!
See more in the post, How to Fashionably Bring Your Dining Room Outside This Summer. And you may also enjoy the post, How to Create an Outdoor Dining Oasis.
16. Old License Plates
Old license plates are great for making wall hangings for game rooms, garages, worksheds, and bedrooms. Here I made a couple of different wall hangings with my father's old vanity license plates. See more in the post, DIY License Plate Hat Rack and Wall Decor.
17. Old Trophies
Old trophies make for imaginative summer flower bouquets. From small to large, they definitely pack a punch. So collect away, as these will look fabulous anywhere in your home this summer!
Polish them up so they look brand new or keep them that fabulous old patina, the choice is yours!
I'm so glad you dropped by, and if you are new to my blog, welcome! Are you looking for more thrifty and vintage home decorating ideas? Sign up and start receiving ideas in your inbox today.
I've created the above custom pin just for this post! Hearing from you makes my day! Your comments mean so much to me! Please join me on Instagram & Pinterest to see more!
Next up on today's "Thrifting with the Gals" tour is Robyn from Robyn's French Nest. Robyn is sharing 34 affordable items to shop for this summer! You won't want to miss this post!
THRIFTING WITH THE GALS
This post may contain affiliate links which won't change your price but will share some commission."
SHOP THIS POST

YOU MAY ALSO ENJOY