St. Patrick's Day is right around the corner friends and so is Spring! YAY!! Today I'm so excited to be joining a few very talented ladies in sharing our antique crocks and how we decorate with our crocks for Spring, hosted by Cindy over at County Road 407 Blog. I hope you'll stop by and visit every one of them! If you are joining me here today from Christy Little @ Our Southern Home, welcome and I am so very glad you stopped by. Let's Decorate!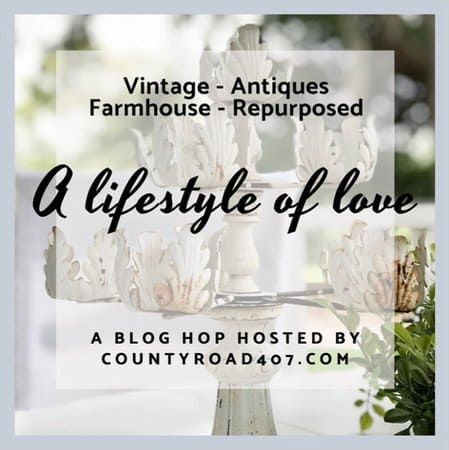 I knew right away I wanted to decorate my antique crocks with white tulips and greenery to incorporate both Spring and Saint Patrick's Day. Simple whites and greens just speak Irish to me, and throw in an antique crock, how could you go wrong? So where to begin? First, I gathered up the two crocks that I inherited from my mother and a couple of other small crocks I had around the house.
I ordered two dozen white tulips from our local florist, as we just don't have many floral options here in Vermont in March… No Trader Joe's, can you believe that? I was, however able to purchase some greenery, babies' breath, and, daisies at our local supermarket, which would be the foundation for the floral bouquets I had in mind.
I filled a glass vase with water and placed it into the middle of one of the crocks.  Then started to fill it with the various greens and baby's breath that I found in the floral section of our local supermarket.  Once I had the greens arranged in abundance, I started adding the white tulips one by one for a total of 12 into each crock.
Once the tulips were arranged the way I liked, I added an old copper penny to the vase, which will keep the tulips from drooping. It has to be an old copper one though. The new ones will not work. Such a great tip that I learned on Instagram! I then filled the rim with moss all the way around, which added an even more rustic and natural charm to the crocks.
I hope you like how they came out friends!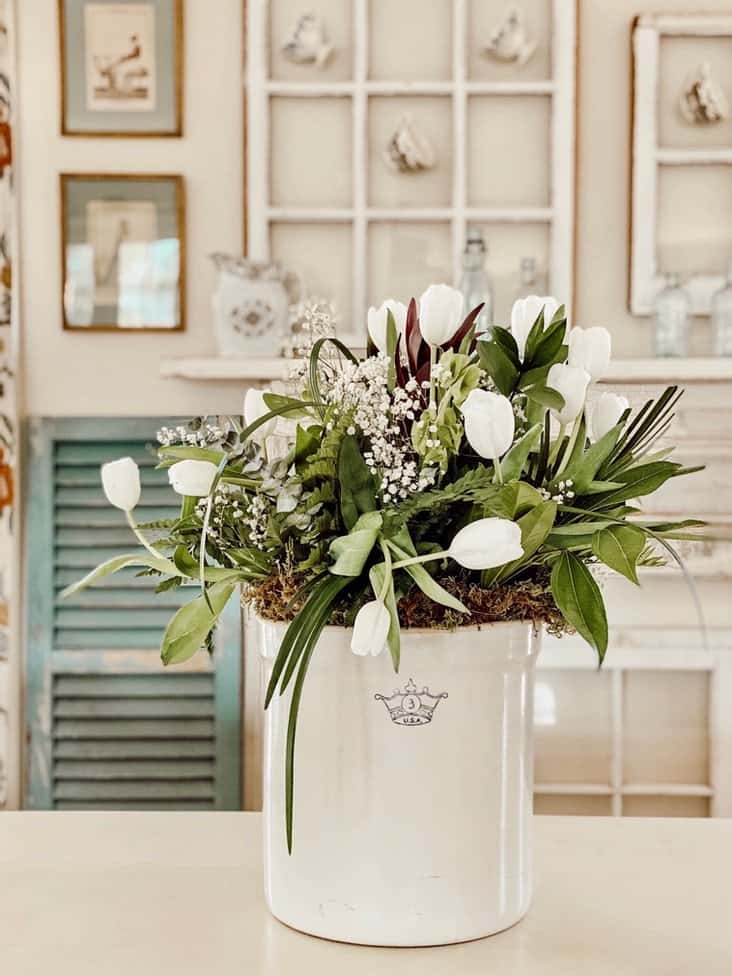 I also shared a post with all the details of this very simple DIY "Vintage Teacup Spring Mantel" here.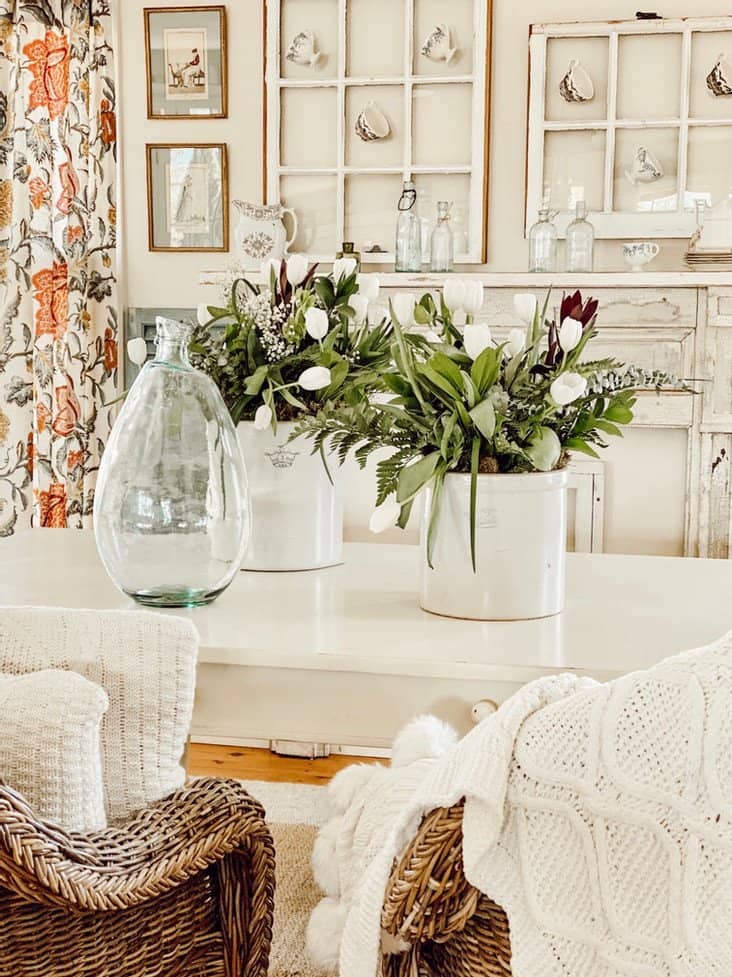 I accentuated the antique crock centerpiece on the table with a few antique dishes, chargers, champagne flutes, and a few scattered white ceramic farm animals. Keeping in mind that Saint Patrick's day is right around the corner, I added a few sweater pillows and blankets to the chairs.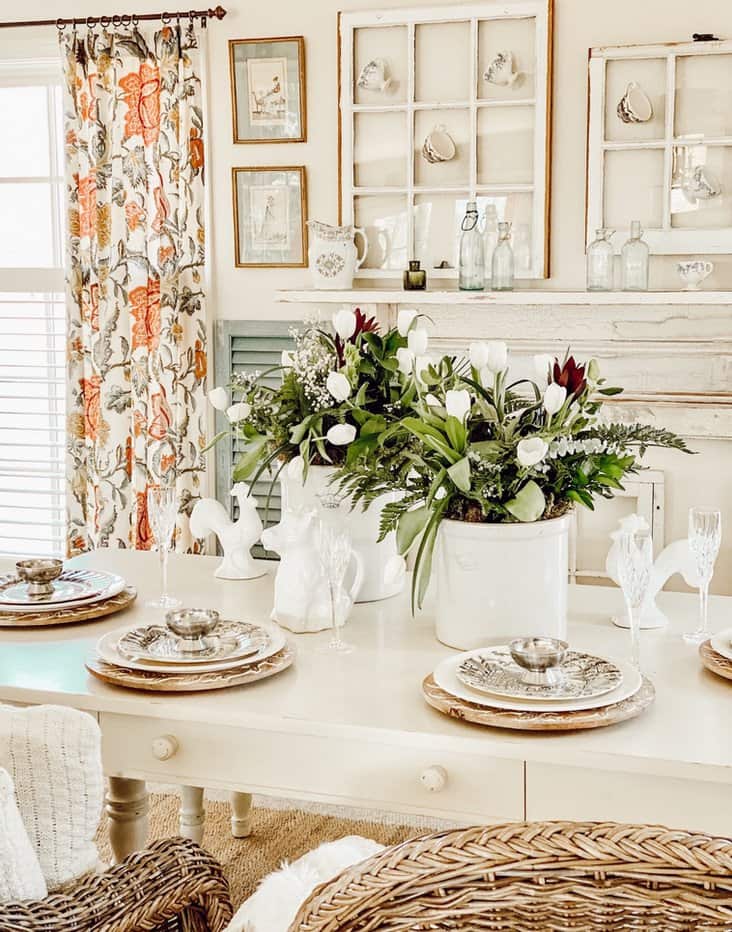 I also found and added a little brown crock filled with daisies to the collection of crocks on the table.
And a few old tin sherbert bowls that I found thrifting.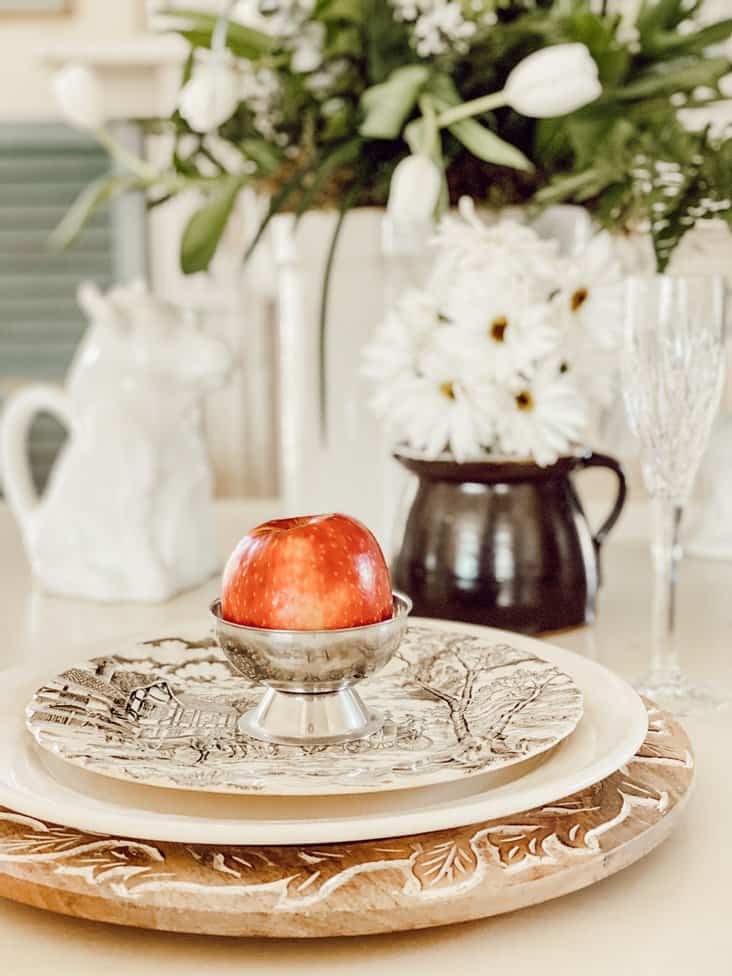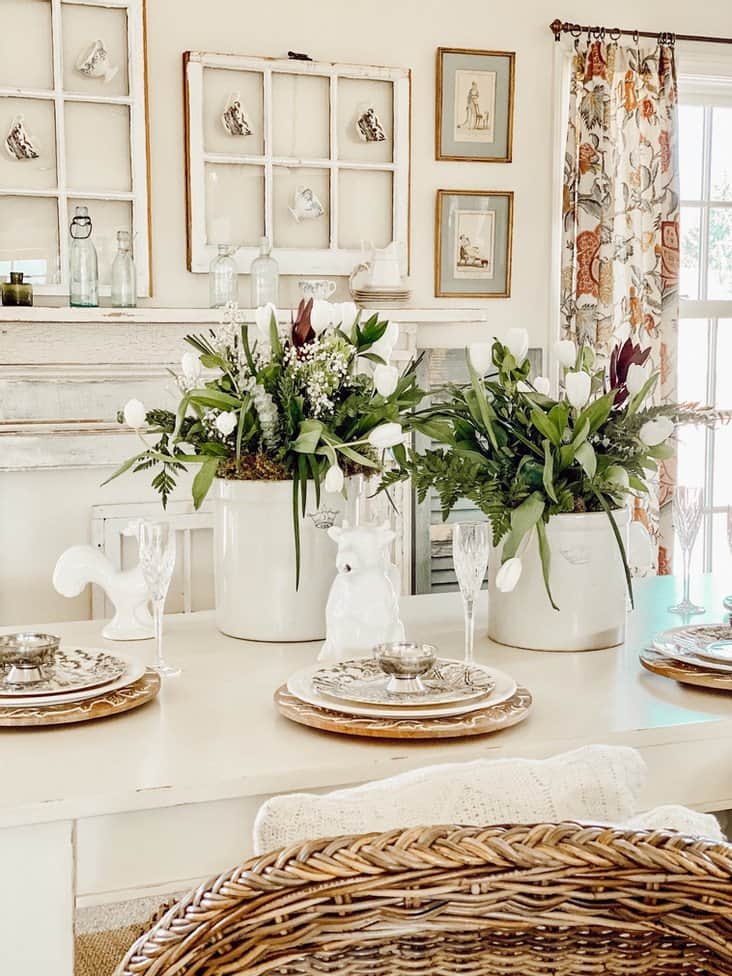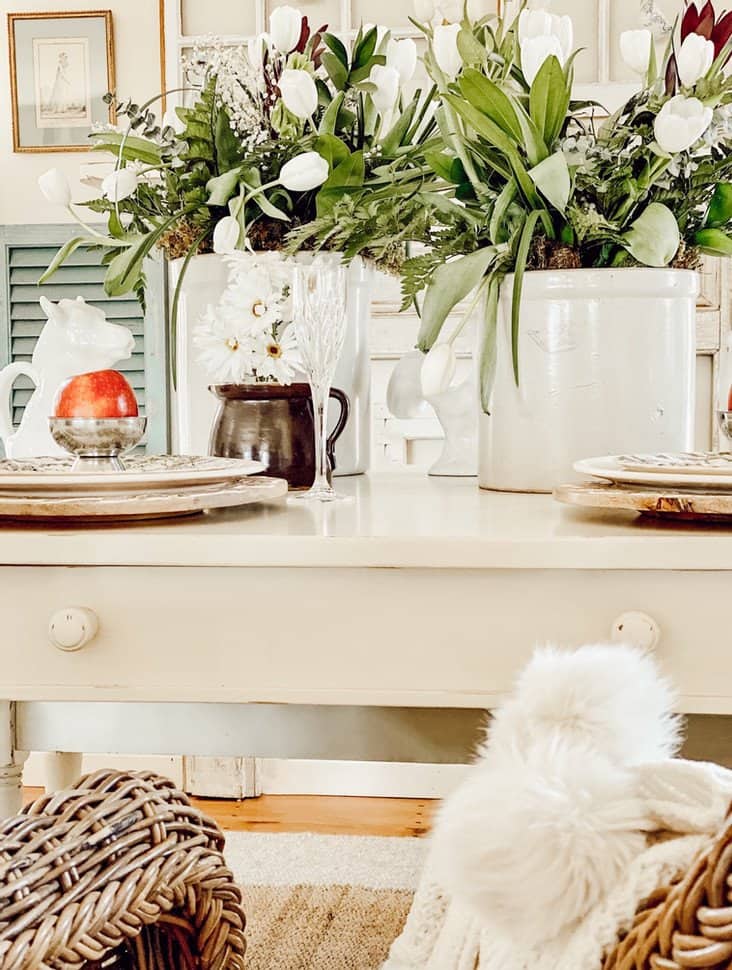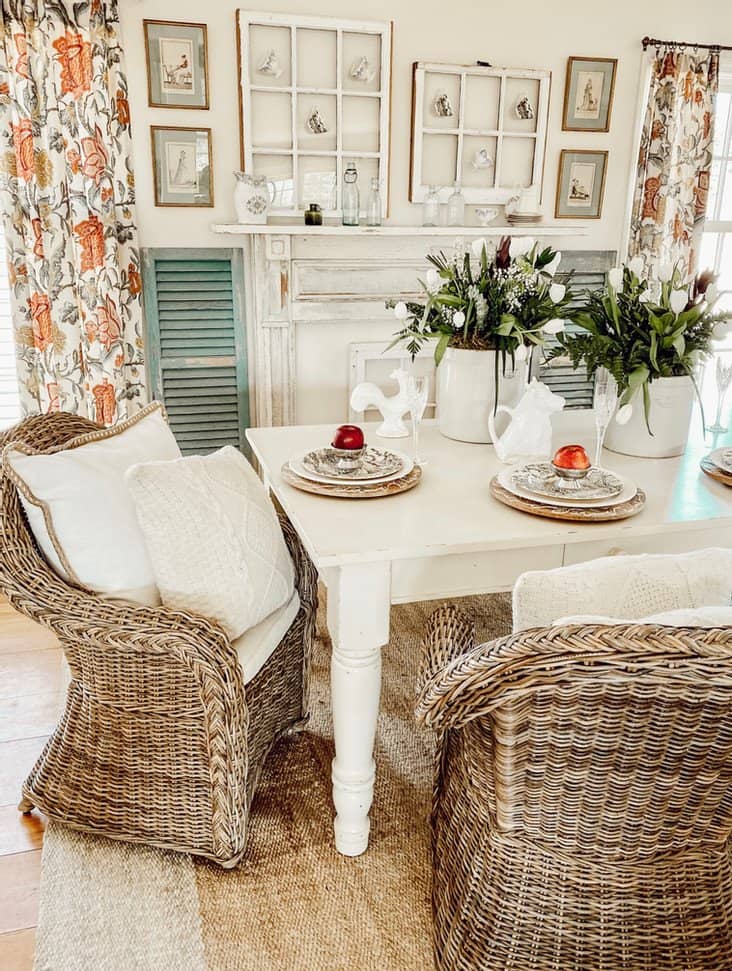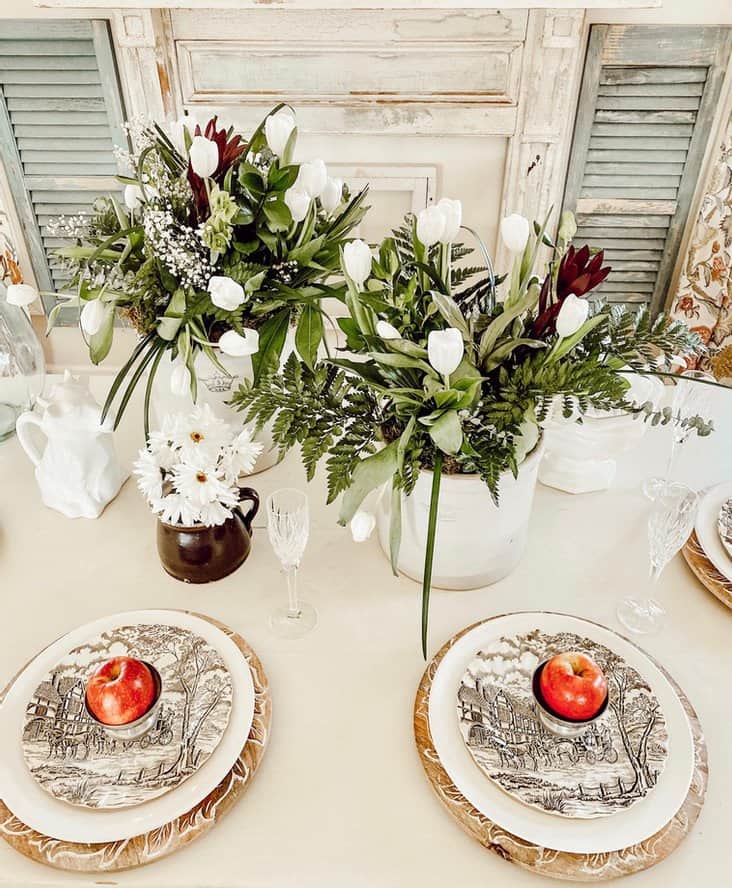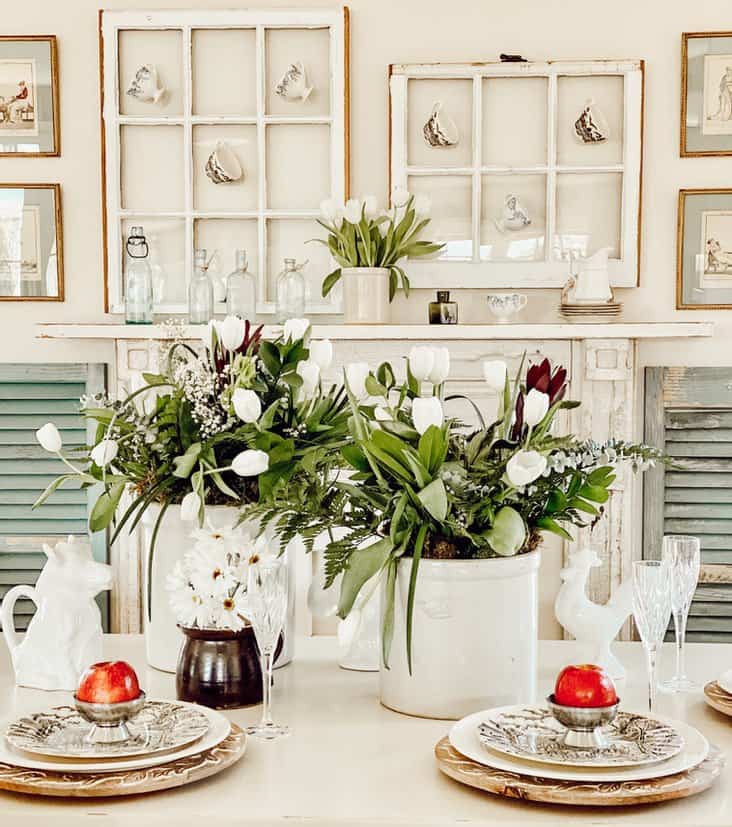 I am so happy that you dropped by today friends, and I sure hope you'll be back to visit with us again soon!
BE SURE TO SAVE THIS "ANTIQUE CROCKS & WHITE TULIPS" POST TO YOUR FAVORITE PINTEREST BOARD!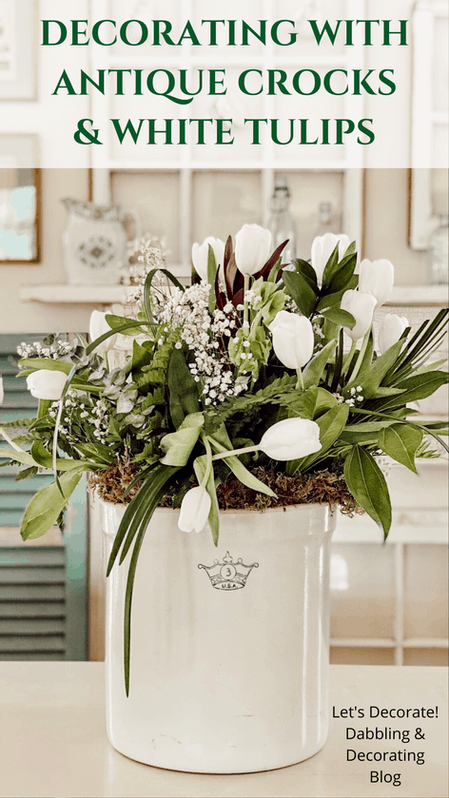 I've created the above custom pin just for this post!
Sharing is Caring!
I would luv to hear from you too~
Your comments mean so much to me and truly make my day…
Please join me over on Instagram & Pinterest to see more!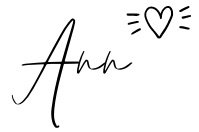 NEXT UP ON OUR BLOG HOP IS COCO OVER AT THE CROWNED GOAT. YOU DEFINITELY DON'T WANT TO MISS COCO'S BEAUTIFUL BLOG AND ANTIQUE CROCK IDEAS. SHE'S SO CREATIVE FRIENDS!
AND DON'T FORGET TO CHECK OUT ALL THE OTHER WONDERFUL BLOGGERS JOINING ME TODAY IN SHARING THEIR ANTIQUE CROCKS.
LINKS BELOW!