Thank you so much for joining "Thrifting with the Gals" over on Instagram every Wednesday and here on the blog every third Thursday of the month for our blog post-round-ups! We have been having so much with you all! I'm so grateful for you every day! I found the best thrift finds this month and I can't wait to share with you here today how I decorated with them all in our homes. Be sure to check out the other thrifting gals joining me here today too!
In mid-April, I set out on an average day to go thrifting with the gals. I stopped in at The Fabulous Finds shop in Kittery, Maine. A shop that is on my favorites list. I wasn't looking for anything special and I know that's usually when you find the good stuff. And boy was I right! I left with the best thrift finds on this day and the prices were simply amazing!
Joyce Sloan | Girl Talk
After a few minutes of being in the store, I spied this adorable Joyce Sloan "Girl Talk" print. I thought it would look so cute in one of the attic guest bedrooms at our home in Maine. It was professionally framed in a vintage frame, which I also loved. It was selling for $15. So I bought it and brought it and actually brought it back to Vermont with me.
After getting it home and taking another look at it, I decided to look it up online to see if there was any value in it. I seldom do this by the way… And this is what I found on a New York Auctioneer's website!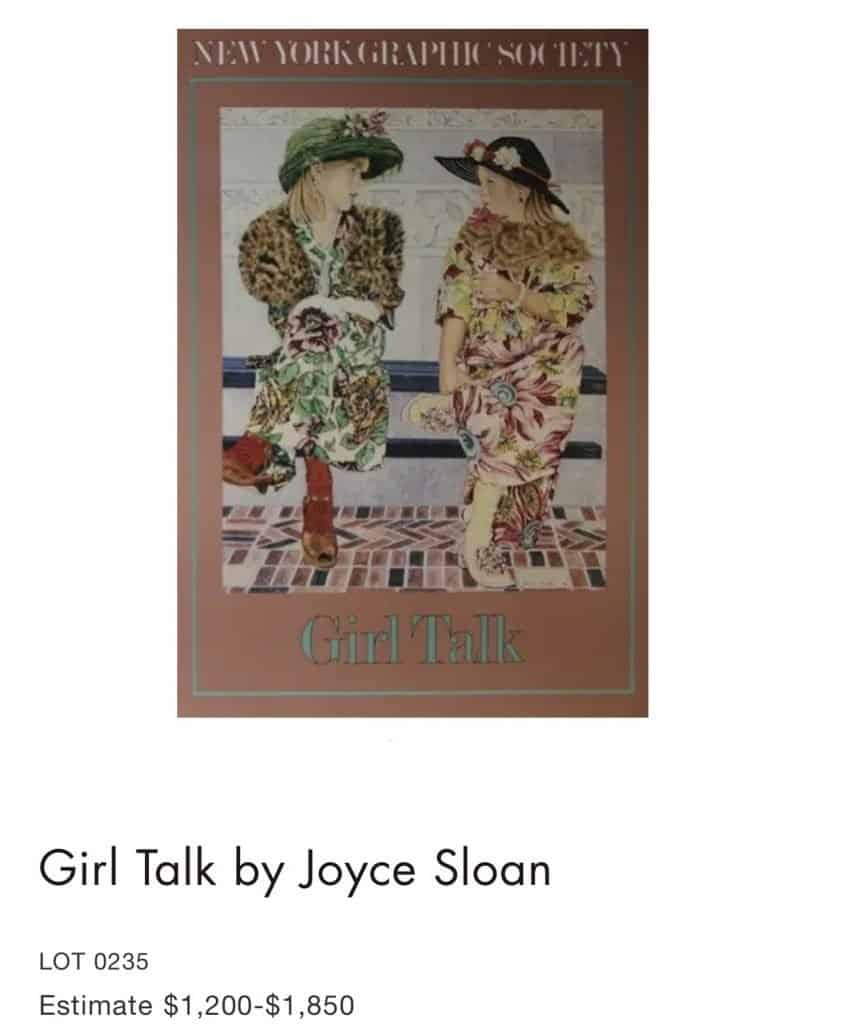 I was so excited I could hardly stand it. This has never happened to me before. I love it even more! Now, I can't be certain the one I have is actually worth this amount, but it sure is fun believing it is! Just the best thrift finds!
18 Black Velvet Clothes Hangers
These beautiful black velvet clothes hangers were $2 for a set of 6 and I bought three sets. I thought they would be beautiful in one of our guest bedroom closets. And it gave me the motivation I needed to clean and organize this closet too. Oh, and if you are looking for cleaning and organization closet ideas, you'll definitely want to check out Stacy's amazing closet makeover over at Bricks n' Blooms!

Stop by the blog post "Thrifted Black Velvet Clothes Hangers" to see more of this guest closet refresh.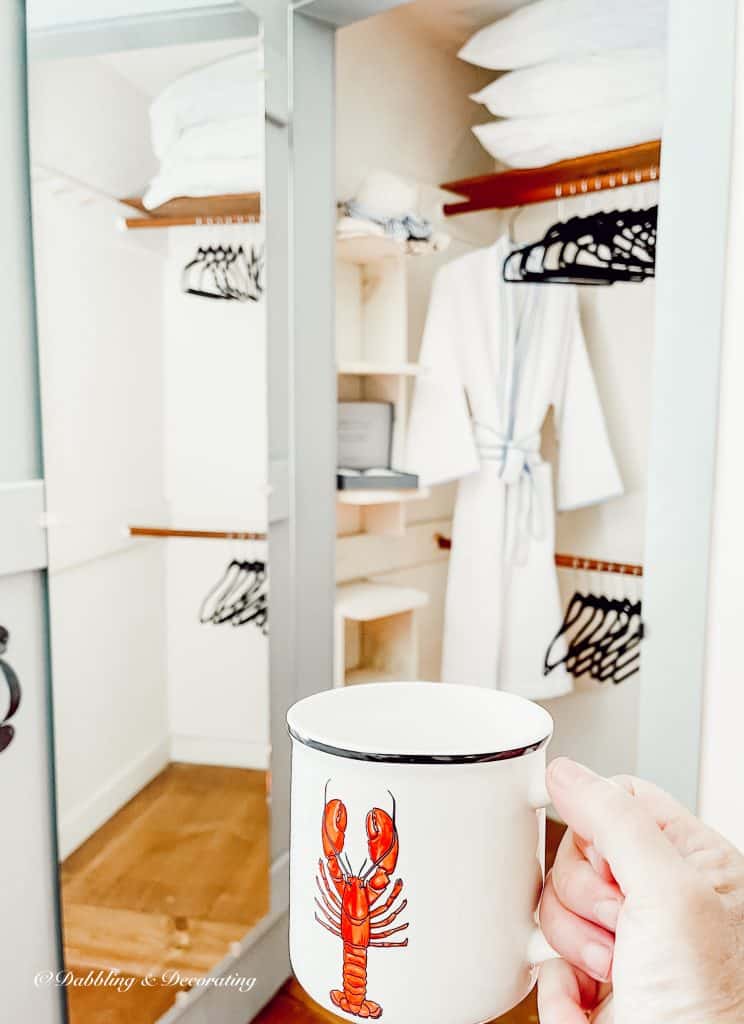 Fisherman's Blanket
This fisherman's blanket was only $12 at The Fabulous Finds. I couldn't believe the prices. And all I needed to do with this thrifty find was to throw it into the washing machine and it makes the perfect addition to our living room for those cool Maine nights in front of the fireplace.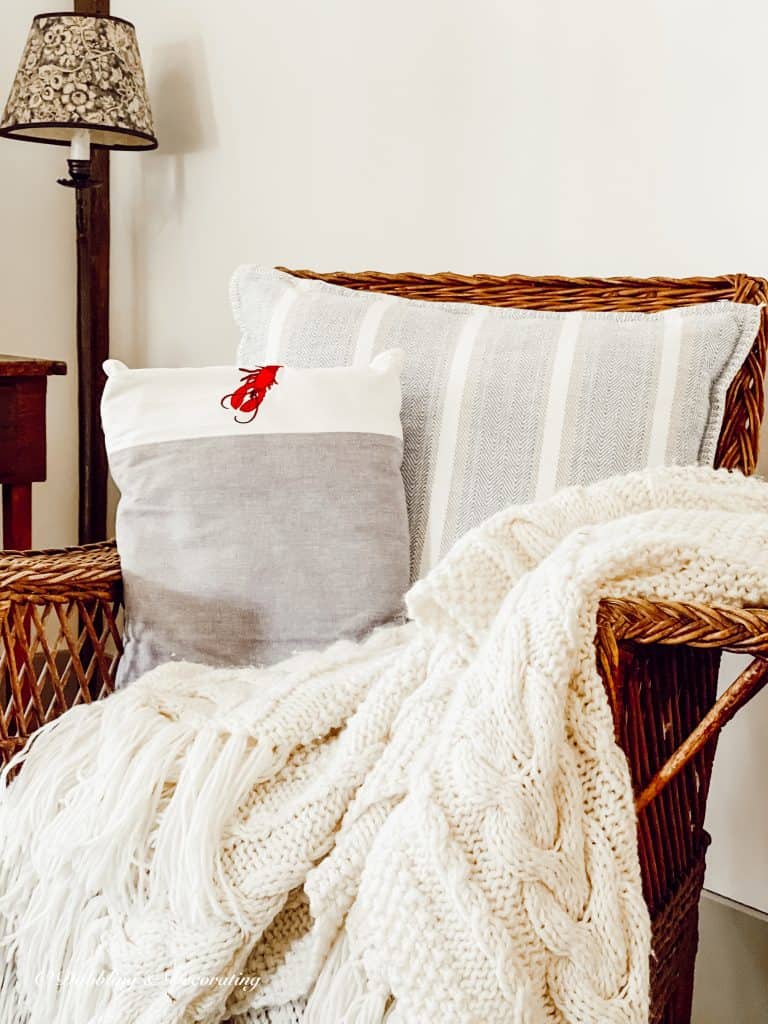 Ironstone Lids
There is a booth at The York Antiques Gallery that sells lots of ironstone pieces at very affordable prices. I picked up three lids for $20 and hung them here on the dining room wall. I hope to keep adding to this collection.
The table shown here was my mother's antique table and the tabletop pieces I found "Thrifting with the Gals". An ironstone mold, wooden spool, and blue and white frame. Join me over on the featured blog series "In My Mother's Home" to see more.
Check out how I decorated this space with Spring Lilacs too!
How did I hang these ironstone lids on the wall?
I used DISC adhesive plate hangers. I use these discs for hanging all my plates and lids. They are super durable and easy to use. They remove so easily too.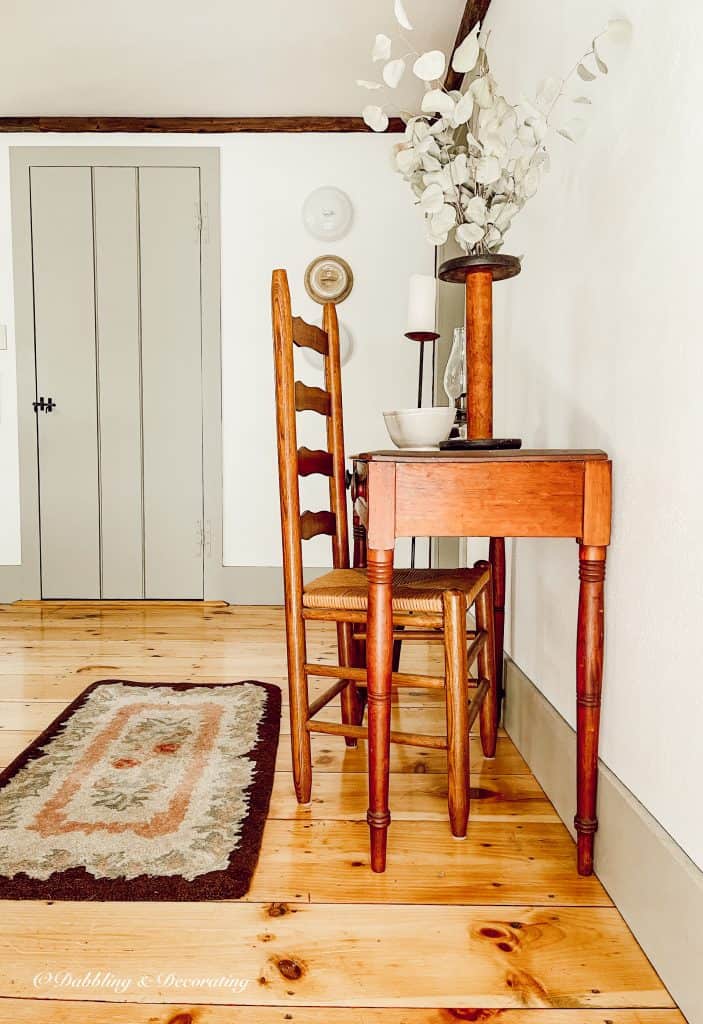 You may also enjoy the 13 + Best-Loved Vintage Antiques and Uniques post.
I have passed by this shop so many times and never ever stopped in, and I'm so sorry I never had. The gentleman running the store was as nice as could be and I got some great deals too!
I left this small and welcoming shop with a set of 5 vintage blue books for $5!
And a handful of wooden fruit for $5!
The coffee table is an antique butter churn that my mother collected before I was ever around, and served as our family coffee table for decades.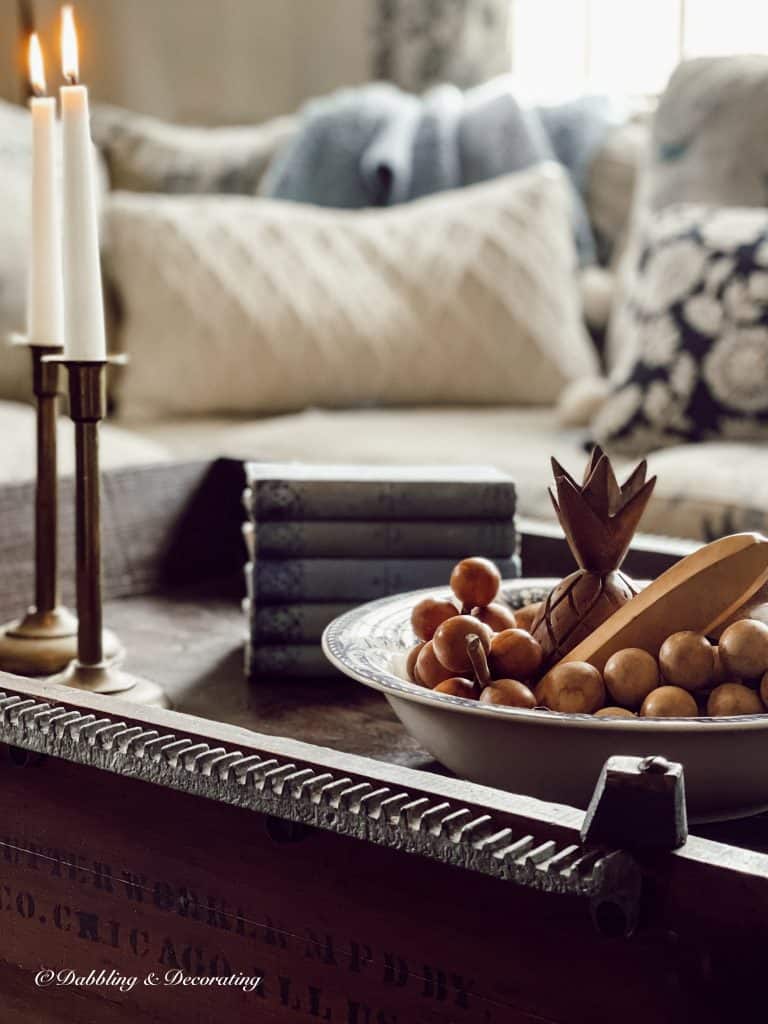 Two old rustic bottles for $15 add spring charm into our sunroom along with simple Forsythia branches from the backyard.
Vintage Market Days Vermont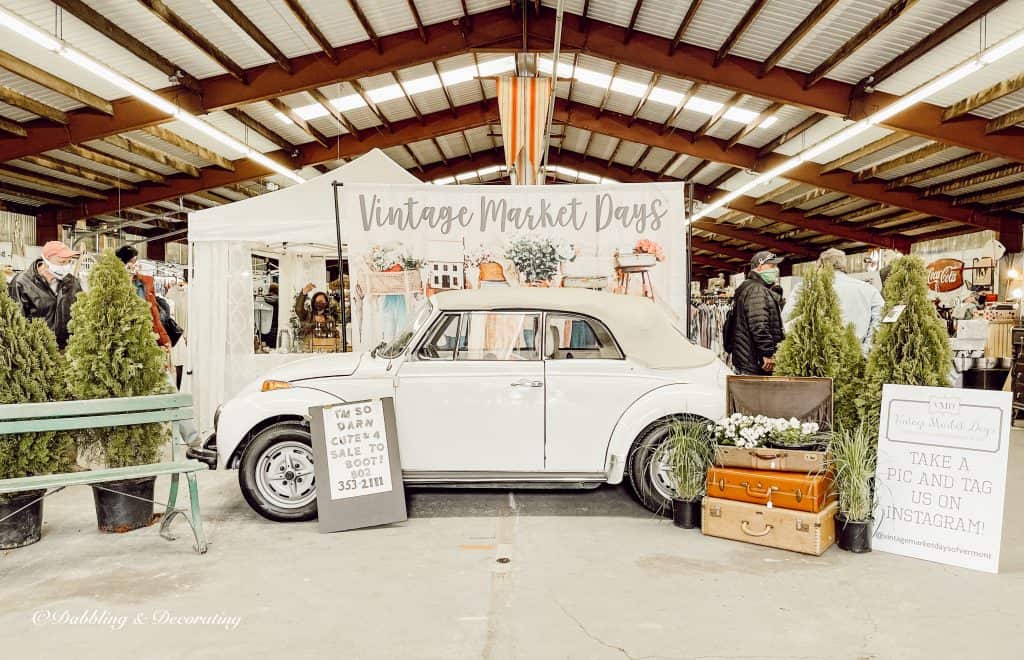 VMD's are one of my favorites markets to attend and they are held twice a year in the spring and fall here in Vermont. I left with so many fun ideas along with a $5 blue bottle, blue and white chamber pot, and a beautiful silver platter.
I fell in love with this vintage wire dish rack on the left at one of the booths. Unfortunately, it wasn't for sale… However, I was able to find these two on the right on Amazon.
Check out these other fun Ideas that I captured at the market!
Braided Rugs
I have been on the hunt for some authentic vintage braided rugs. But a lot of what I find were made with such dark colors. So I was thrilled when I found four of these small light and bright handmade braided rugs for $20 apiece at the Curiosity Shop in Rutland, Vermont. They look so sweet in our bathrooms in Maine.
Every spring I love to take a trip up to Kennebunk Maine to Snug Harbor Farms. Here is where I gather all my summer inspiration for the outdoors. I am so in love with their topiary greenhouse. And all the chippy, moss-covered terracotta that fills a complete barn on the farm. This is definitely a must-see if you find yourself out and about in Kennebunk, Maine.
I couldn't wait to get home and decorate the chippy green apothecary in the sunroom with some of Snug Harbor Farm's gorgeous topiary!
Sage Farm Antiques
Sage Farm Antiques is a pop-up market with 20+ vendors that opens up three days a month in North Hampton New Hampshire. It's definitely worth attending if you are in the area. There I found the week's best thrift finds, an 8 piece set of my favorite dishware pattern that I love displaying at our home in Vermont for just $25.
I also picked up a couple of old windows for $15 a piece that will also go back to Vermont with me, along with a child's wooden school desktop for $12. I used the wooden desktop to create this DIY outdoor planter shelf, inspired by my trip to Snug Harbor Farm.

It was a whirlwind month of thrifting for sure! I'm so glad you dropped by today friend, and if you are new to my blog, welcome! I hope you enjoyed your visit with "Thrifting with the Gals" today.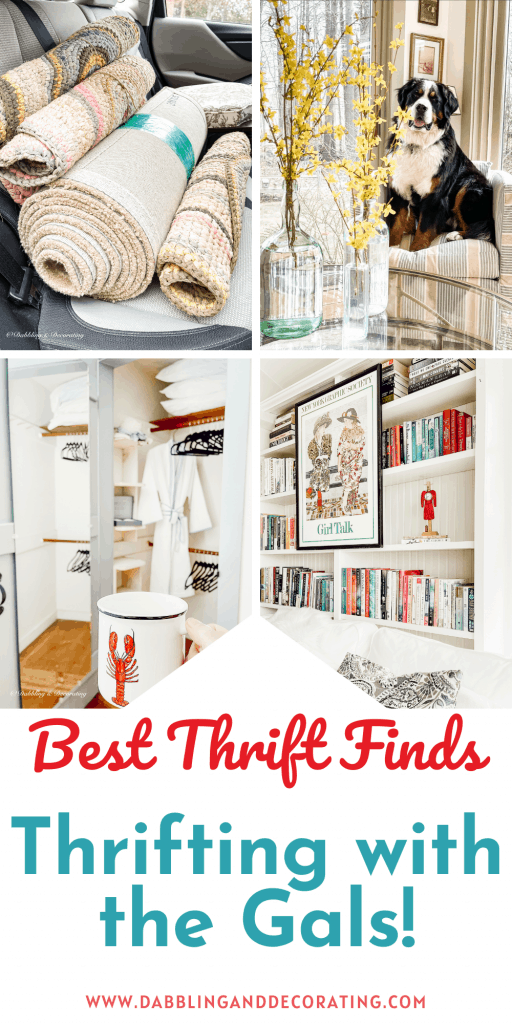 I've created the above custom pin just for this post! Sharing is Caring!  I would love to hear from you too~ Your comments mean so much to me and truly make my day… Please join me over on Instagram & Pinterest to see more!
Also Joining me this Week: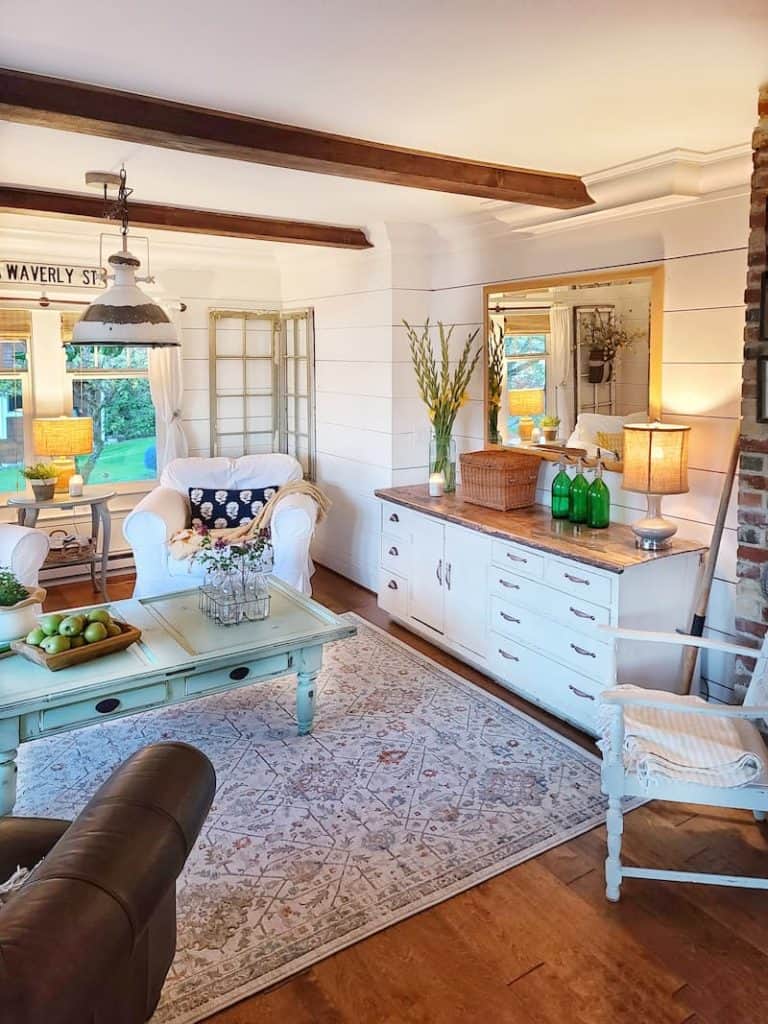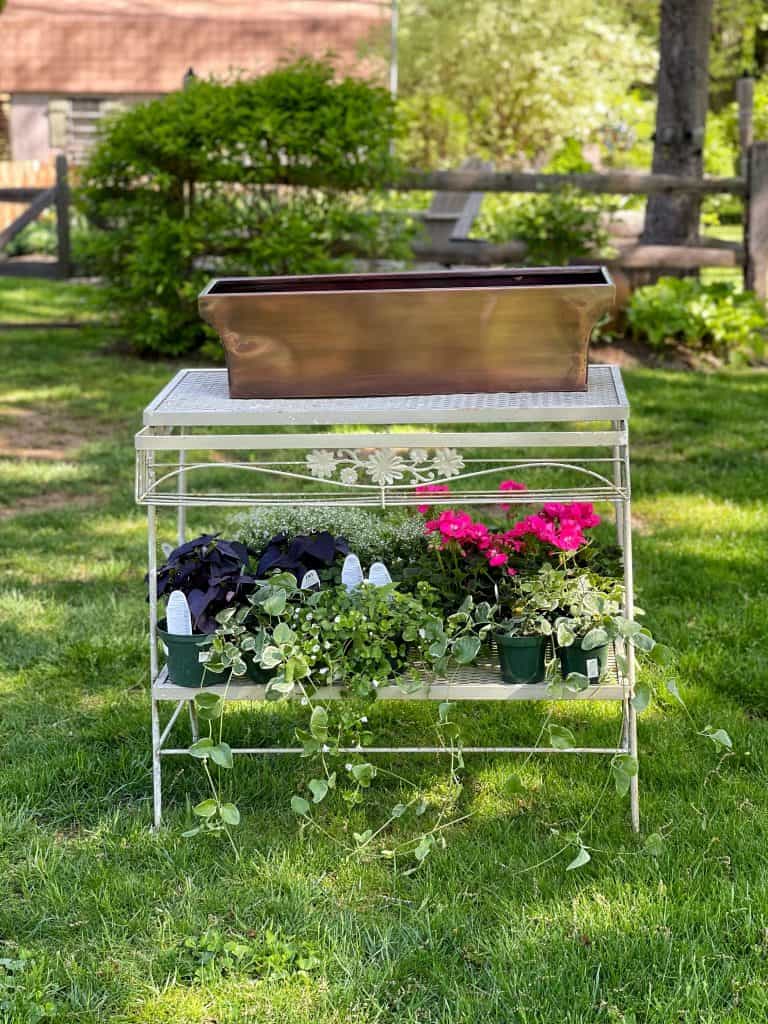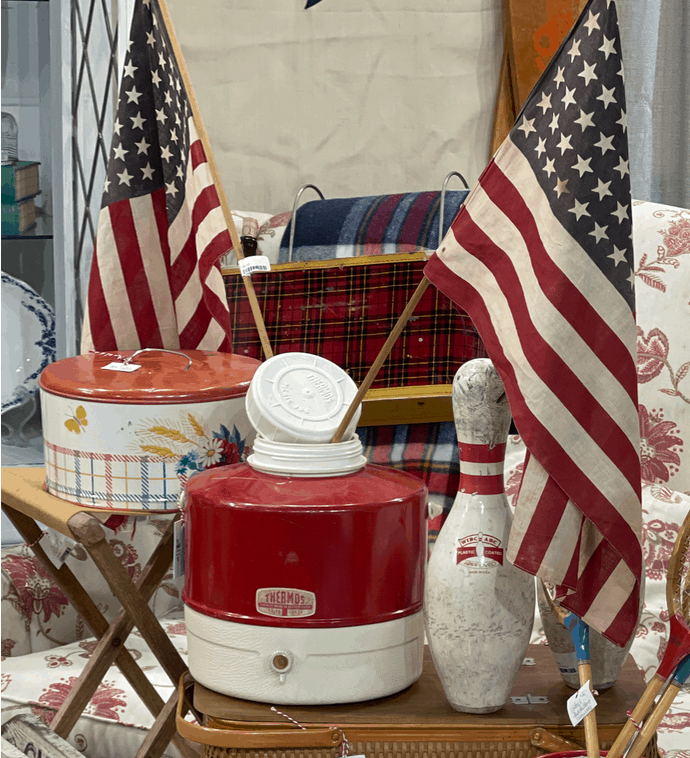 YOU MAY ALSO ENJOY