While out "Thrifting with the Gals" this week I came across some fabulous grandmillennial drapes showcased at York Antiques Gallery in York, Maine.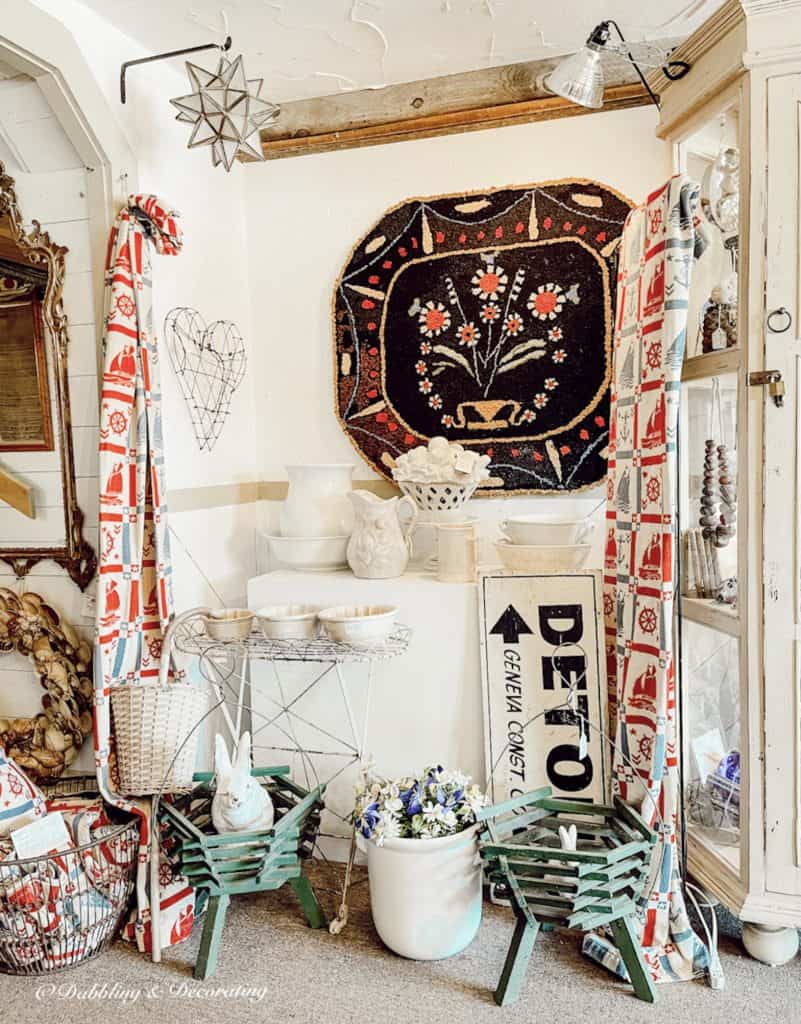 The coastal vibe, red, white, and blue colors, and this fabric!! Oh my, was I taken back by these drapes, friends.
There were three pairs selling for $150 a pair. A bit pricey, yet absolutely fabulous. I hadn't seen anything like these in all my thrifting travels.
And I recently discovered that they were custom-made in the 1950s for a boat. How amazing!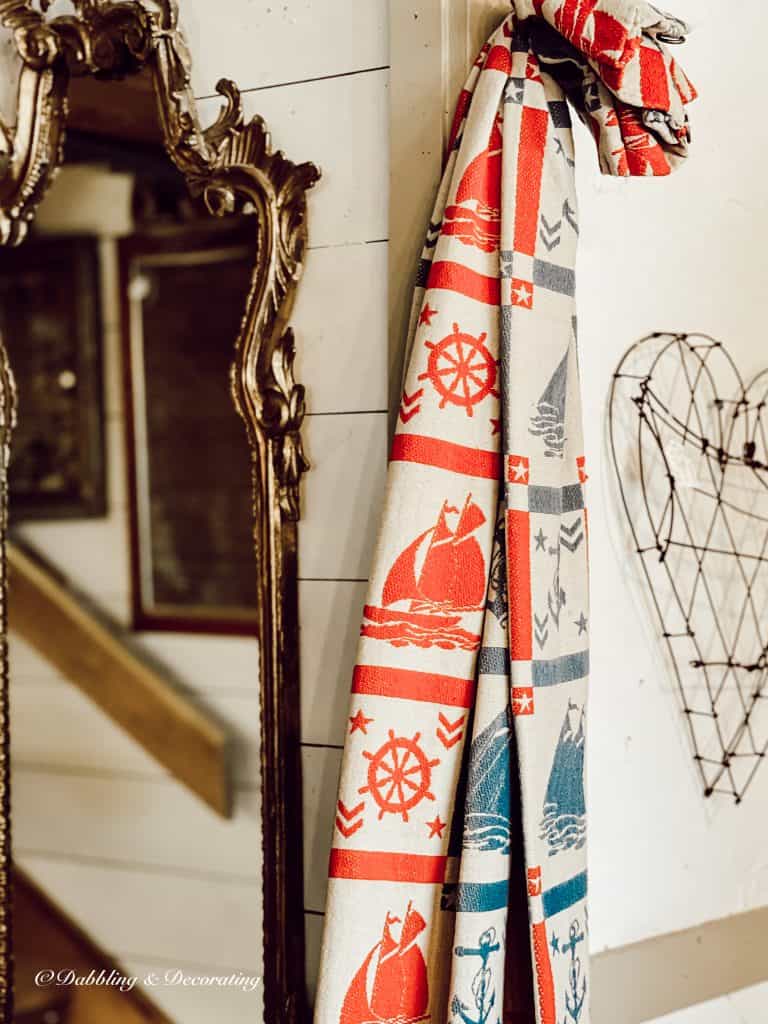 I decided to leave them be, but when I returned home, I just couldn't stop thinking about the fabulous grandmillennial drapes and how amazing they would look on the windows in our living room at our home here in Maine. Or not? I was either going to love them or hate them…
I saw these drapes as a statement piece in any room they were lucky enough to be in, so I really wanted to be sure. York Antique Gallery was kind enough to let me take a pair of these drapes home to try out overnight before purchasing them.
I knew within the first 5 minutes of hanging these drapes in our living room that it was time for me to start leaning into this grandmillennial style with these fabulous drapes.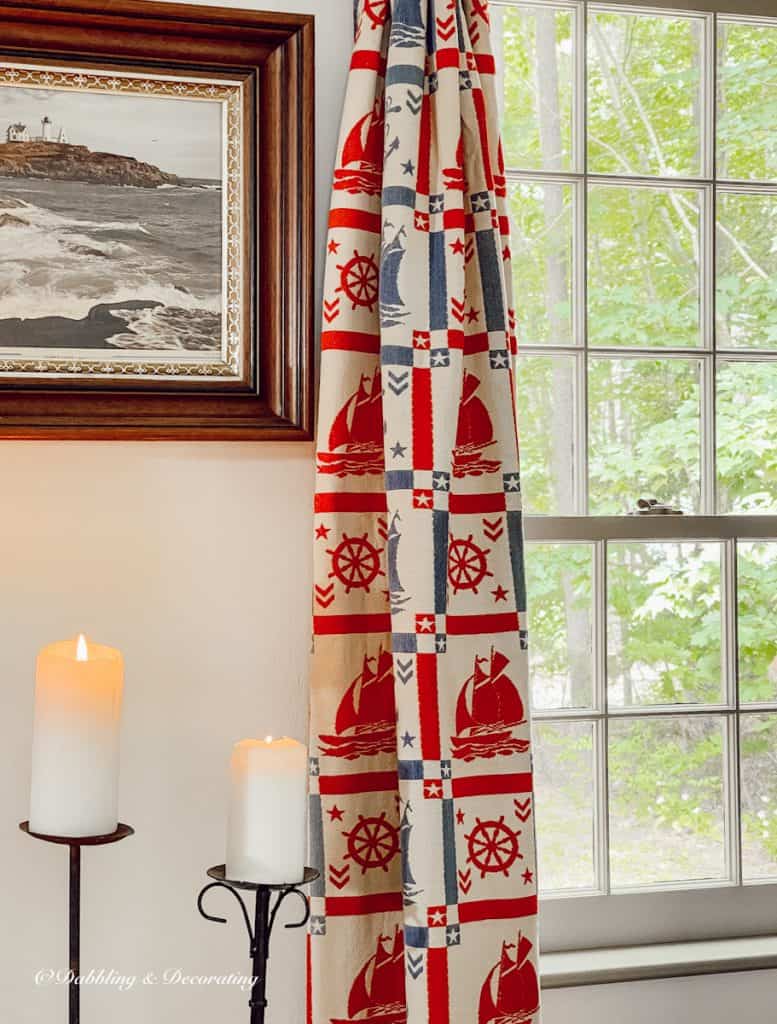 What is Grandmillennial style?
Think of it as 20 and 30-year-olds embracing their grandmother's decorating styles. Vintage quilts, crochet pillows, lots of bold patterns, china, flowered wallpaper, etc… "Grandmillennial Design Trend is an Ode to Old School" ~ Better Homes and Gardens.
How to Wash Granddmillennial Drapes
I was so excited to return the next morning and pick up the other two pairs that were waiting for me. I am so very grateful to York Antiques Gallery for allowing me to do this!
Once back home I washed the drapes on a gentle cycle with soap and cold water then hung them on the clothesline to dry.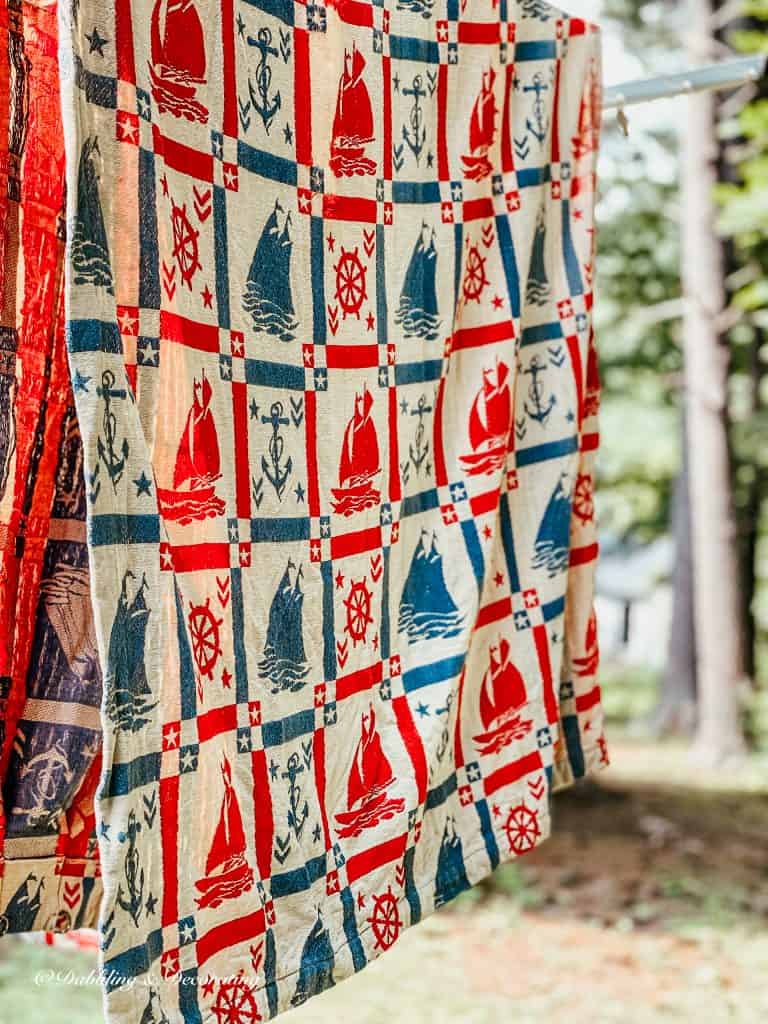 Smelling all fresh and clean, I applied spray and starch along with a hot iron to press the drapes.
Being an actual old and thrifted find, one of the drapes was in need of repair.
One thing about inheriting a family home is you have access to so many little things that can mean so much and bring back so many memories. Like this sewing kit, I found in the pantry closet with the tennis racquets that I used to fix one of the torn grandmillennial drapes with.
This post may contain affiliate links which won't change your price but will share some commission."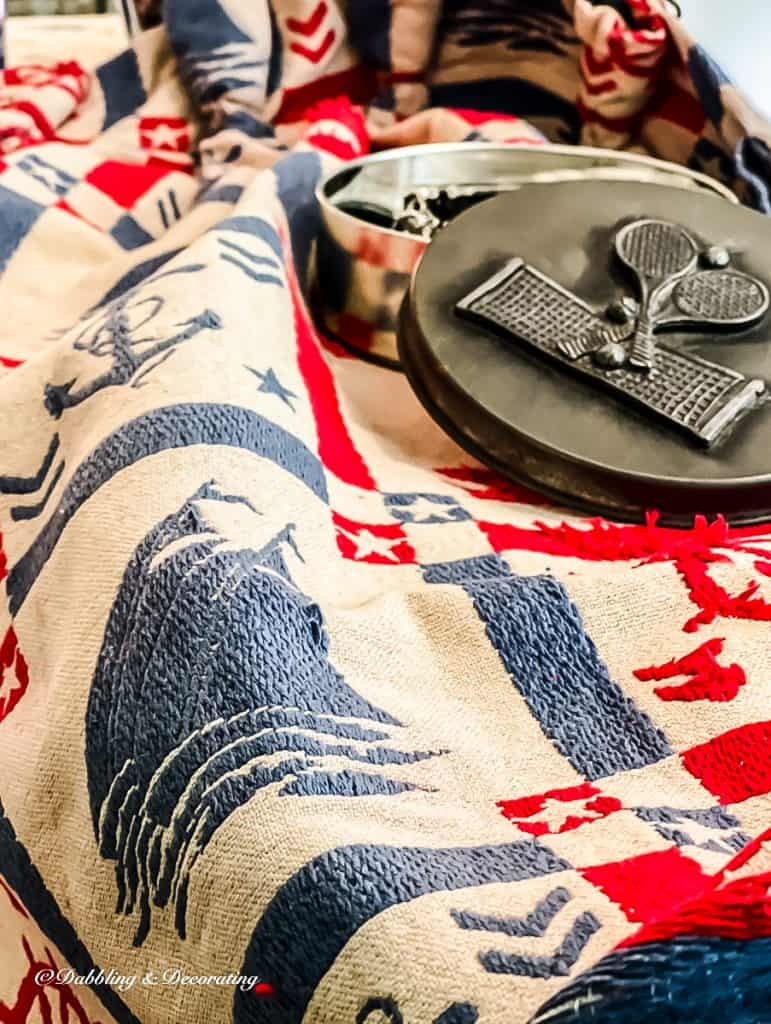 You may also enjoy the post, Coastal Bedding Ideas For Your Beach House.
SHOP NAUTICAL GRANDMILLENNIAL DRAPES BEFORE THEY'RE GONE

To hang the curtains, I purchased metal shower curtain rings and attached them to the hooks that were already on the curtains. They fit like a charm around our large custom wooden dowel curtain rods.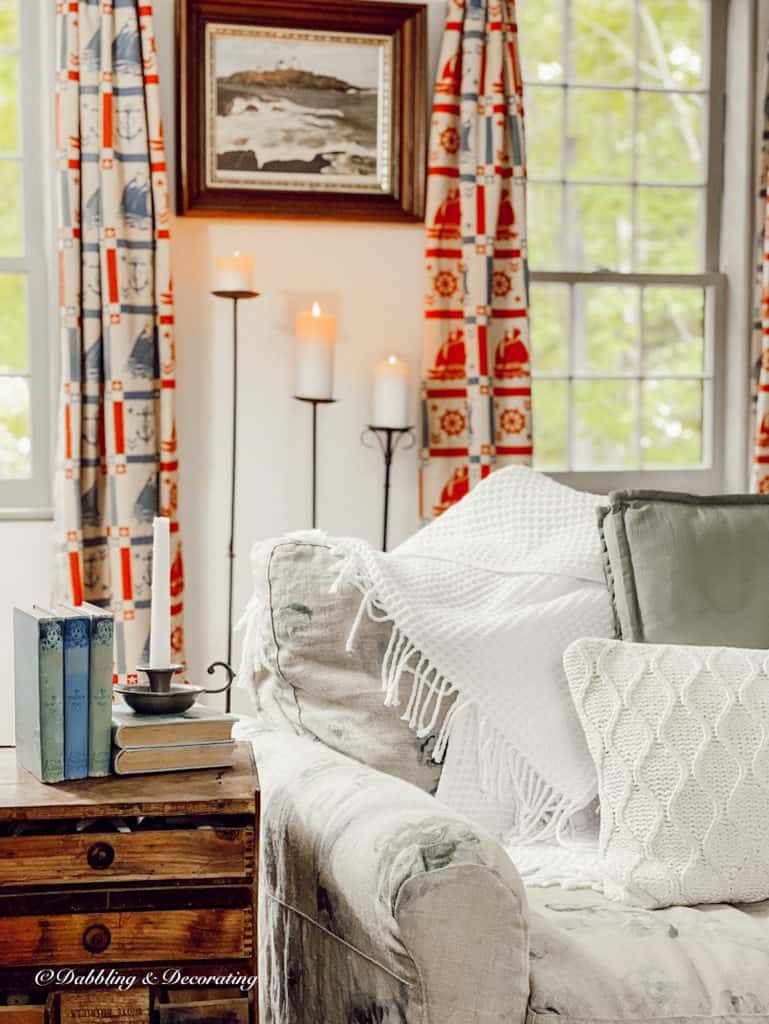 The heavy weight of the fabric and the coastal vibe of these grandmillennial drapes just make me so happy!
I adore the color they add to the living room and the drapes pair so beautifully with the classic linen sectional by Four Seasons Furniture.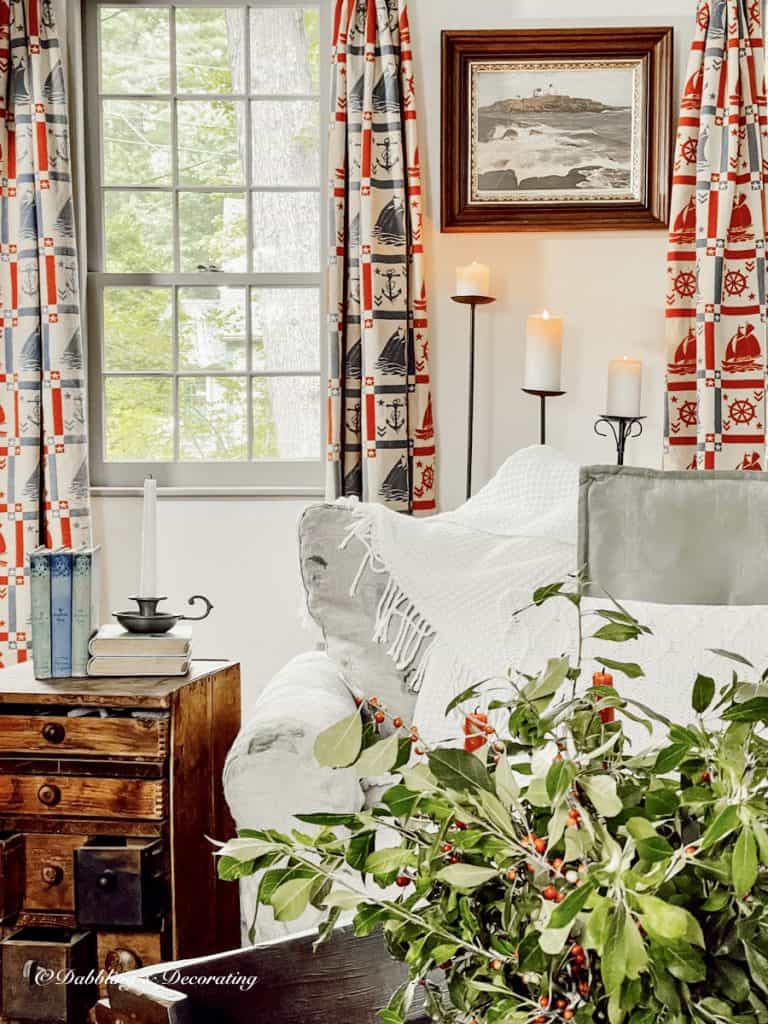 Now I realize, these drapes may not be for everyone… However, being here in coastal Maine and with the style of our home, I feel like they were meant to be.
And I feel so fortunate to have found three exact pairs.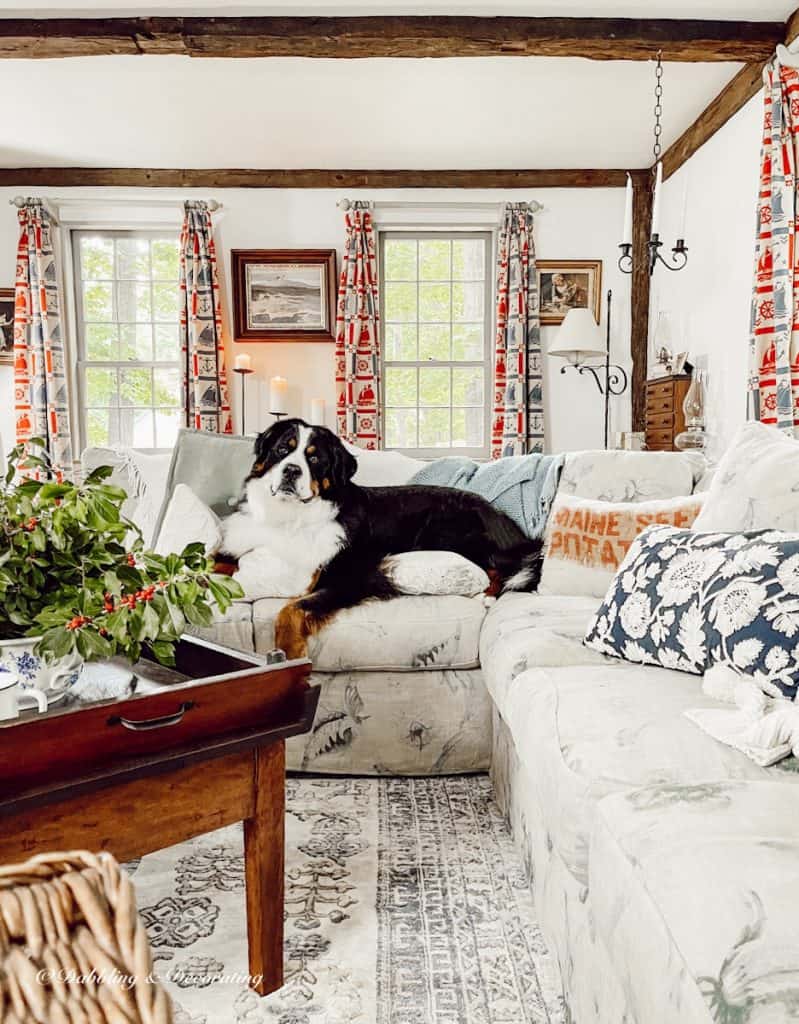 The grandmillennial nautical drapes make our living room super cozy while accentuating the home's antique qualities.
You may also enjoy This Season's Thrifting Trends.
And How to Fold and Hang Tie-Up Valance Curtains.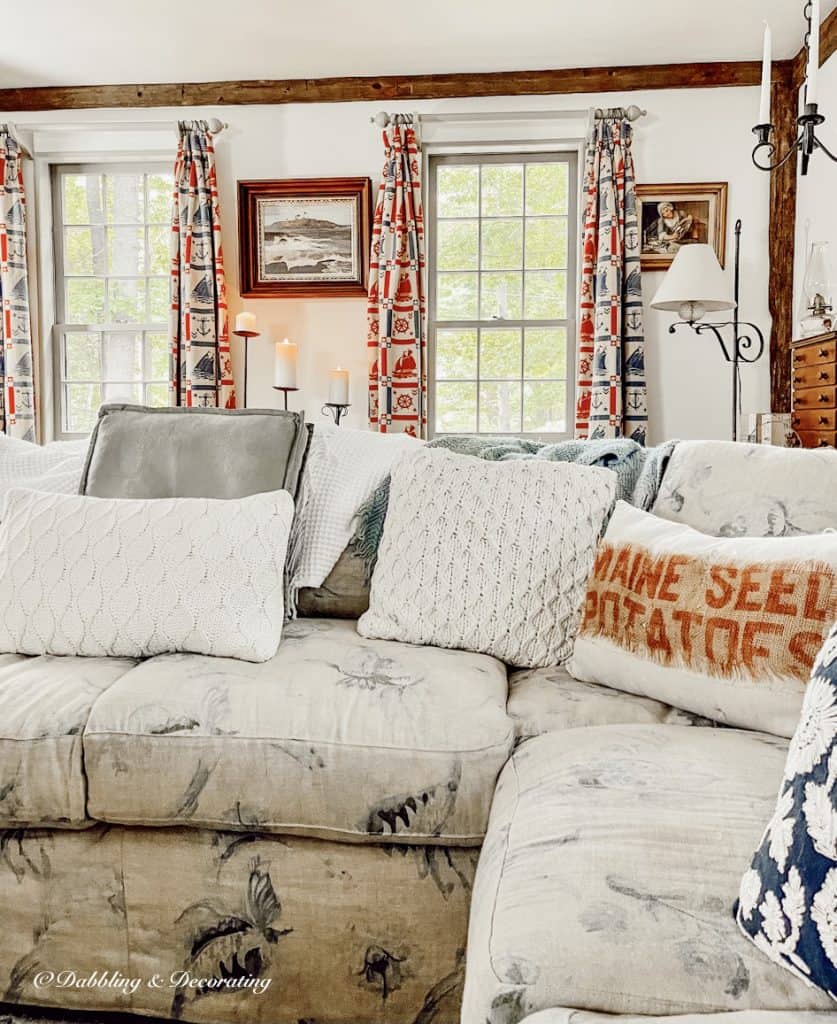 As summer turns into fall, the backyard winterberry bush is producing its winter berries. A few cut branches in an antique chamber pot on the coffee table add to the room's coziness for fall.
You may also enjoy the post, Embracing Summer's End! Where we say goodbye to summer and welcome in our favorite season of fall in Vermont.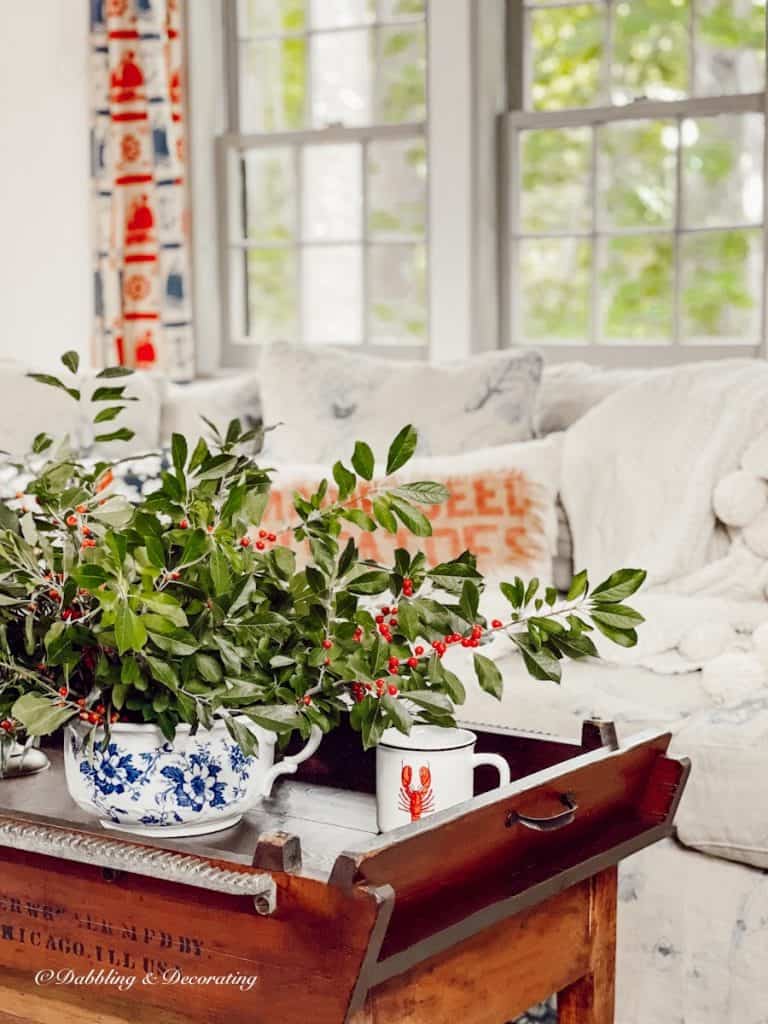 Fabulous Grandmellinnial Drapes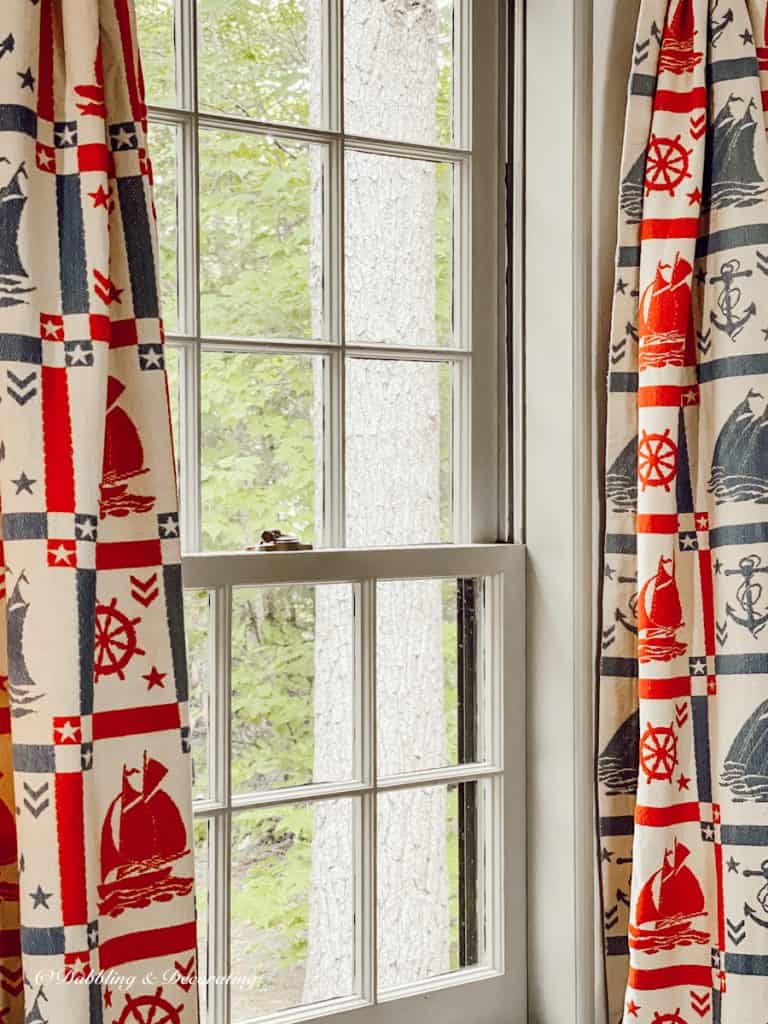 I'm so glad you dropped by, and if you are new to my blog, welcome! I hope you enjoyed your visit with us here today at our Home in Coastal Maine.
Be sure to also check out our Home in Vermont too, where we spend winters enjoying the coziness of home in the Green Mountains of Vermont.
I've created the above custom pin just for this post! Hearing from you makes my day and your comments mean so much to me! Please join me over on Instagram & Pinterest to see more!
YOU MAY ALSO LIKE