Embracing summer's end is always so nostalgic, isn't it?
As I took my last summer walk on the beach before heading back to our home in Vermont for fall and winter, I was gently reminded of my mother and all that my parents have given to me including a childhood here in coastal Maine.
Summer's End with a Charm Bracelet
You see, over the summer I discovered my mother's long-lost charm bracelet.
And as I walk the beach for the last time this summer, its jingling sound brings back all the best of memories!
Childhood days on the beach, suntan lotion, convertibles, tennis, gift shop, friends and family visiting, and lobster, always lobsters! Do you have any old summer memories you'd like to share?
What's on the Charm Bracelet?
State of Maine
A Date to Remember; with my birthdate on it.
Lobster Trap
VW Bug
Sled
High Chair
Two Sterling Baby Cups
Lighthouse
Serenity Prayer
Tennis Racquet
Eagle
Walking the Beach with a Special Long-Lost Charm Bracelet
This post may contain affiliate links which won't change your price but will share some commission."
START YOUR OWN CHARM BRACELET TRADITION
Scroll and Click on Image to Shop

What else do I like to take in before summer's end?
Summer's End at the Cape Neddick Lobster Pound
Stopping in at our favorite local establishments to say goodbye and give thanks for their service at summer's end is something we really enjoy.
The Cape Neddick Lobster Pound is a favorite of ours for casual dining, and we just adore the staff! A bouquet of flowers marks the end of summer for our favorite ladies here at "the pound".
Summer's End at the Ogunquit Playhouse
Catching one of the last of the season's matinees "Mystic Pizza," at the Ogunquit Playhouse with a girlfriend, followed by dinner and a walk on the beach with September's Harvest Moon. Priceless!
September's Harvest Moon
One of the most famous full moons of the year, September's Harvest Moon marks the beginning of autumn and summer's end on September 20.
The Harvest Moon is the full moon closest to the first day of autumn, which will follow just two days after its peak. This was the moon the night before it became full on September 19th.
This full moon is associated with fall, but it's actually the last one of summer in 2021
You may also enjoy Mother Nature And An Antique Millinery Hat Mold post.
SHOP MY FAVORITE BEACH DAY ESSENTIALS.

You may also enjoy this year's COASTAL GRANDMOTHER SUMMER DECOR "IN MY MOTHER'S HOME."
Summer's End Lawn
For all the ladies who mow their own lawns and create beautiful lines!

Summer's End Means Firewood
Getting the firewood ready for winter fires in the fireplace. See our home in Maine covered in winter's snow. What a difference, isn't it?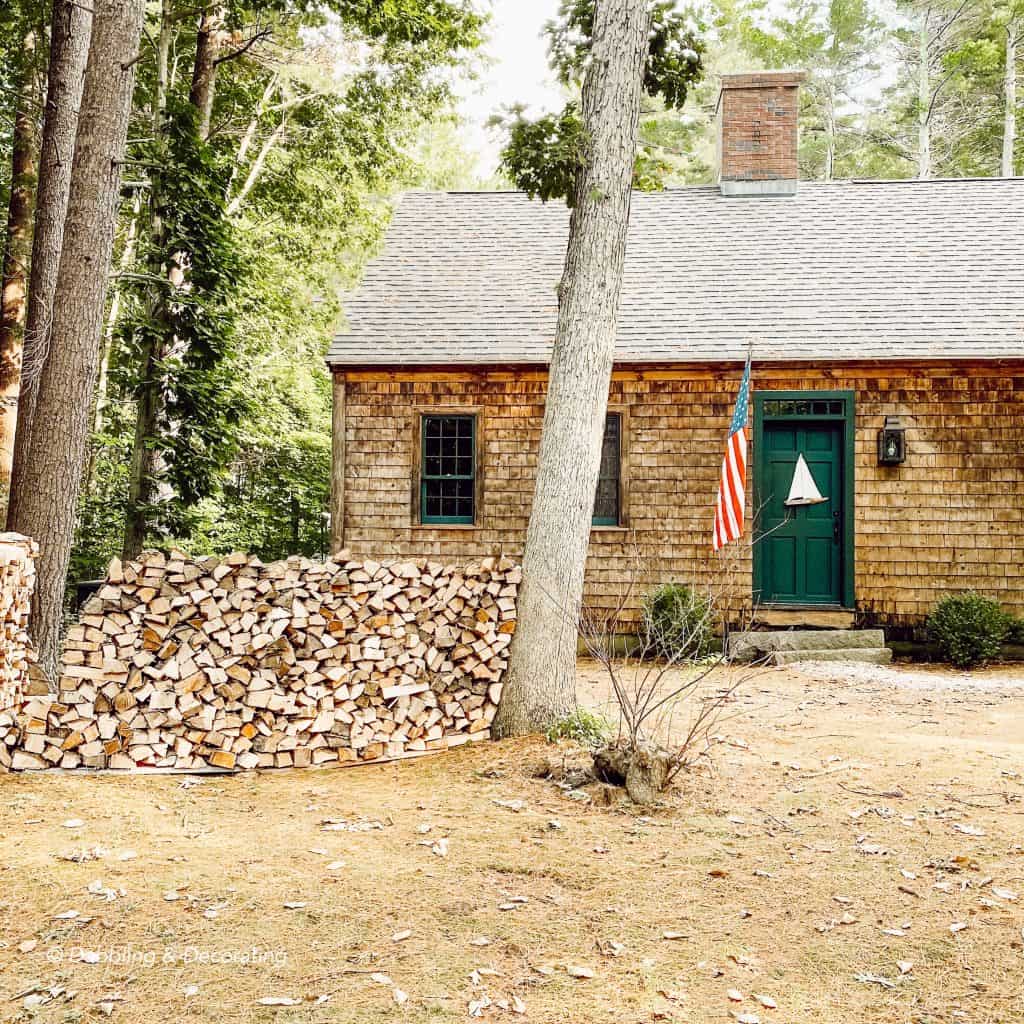 Clothesline Sheets
Taking advantage of the nice weather, I wash all the bedding and hang it on the clothesline, so when we next arrive, the sheets smell amazing and remind us of summer's end.
Do you like these blue and white clothesline floral sheets? They are available here through The Vermont Country Store.
All the while, Ella naps on the unmade beds…
Winterberry
Just before I pull out for Vermont, I like to cut a few of the winterberry branches from the backyard to leave for loved ones at the cemetery. And maybe a few to bring back home for me.
In My Mother's Home
To see all the changes we made to our Coastal Maine Home this summer and beyond, visit the blog series "In My Mother's Home" and follow along.
Vermont
Vermont is just as beautiful as Maine, and I'm so looking forward to autumn and winter at our home there. I hope you'll join us there too at summer's end!
Have you ever visited The Vermont Country Store in the fall? It's not thrifting, but it's just as quaint, selling the practical and hard to find since 1946. See and learn more in the The Best Country Stores in Vermont: A Fall Visit to The Vermont Country Store post.
You may also enjoy the Summer into Fall: Limelight Hydrangeas, An Old Crate & Fresh Blooms post.
That's it for me today on how I embrace summer's end friends; we'll be hitting the road shortly.
See you in Vermont!
Join us on our Vermont Foliage Home Tour here!
I'm so glad you dropped by today, and if you are new to my blog, welcome! I hope you enjoyed your visit with us here today at our Home in Coastal Maine.
I've created the above custom pin just for this post! Hearing from you makes my day; your comments mean so much to me! Please join me over on Instagram & Pinterest to see more!
YOU MAY ALSO ENJOY