Are you looking for easy thrifty and DIY decor ideas for spring? Get started today with these simple, thrifty budget-friendly, and DIY makeovers.
Welcome to the Thrifting with the Gals monthly blog hop as we share our thrifted finds and how we decorated with these finds throughout our homes.
"Thrifting with the Gals" started with a group of friends who met over on Instagram and formed a special relationship through a mutual love of home decorating. We share a passion for all things vintage, thrifty, and cozy.
Our styles are all very unique from Kristin's log cabin in the Northwoods of Wisconsin, Rachel's farmhouse in North Carolina, Robyn's beautiful French Nest in Florida, and of course myself thrifting for our homes from Vermont to Coastal Maine.
Meet the Thrifting Gals
And this month we have Jennifer from Cottage on Bunker Hill joining us as a guest host. Jennifer lives near me when we are in Maine and we are looking forward to meeting up in early May to do some thrifting at Sage Farm's Antiques. If you've never been and you're local, you should definitely check it out, it's one of my favorites!
Thrifty Spring Flips and DIYs
This month for me it was all about outdoor furniture flips and DIYs.
It's mud season here in Vermont, a time to slow down and prepare for spring just around the corner.
My first project was on My Favorite Second-Hand Table, a wallpaper table I found thrifting last summer.
I am totally crushing on this new furniture finishing solution, Restor-A-Finish. It's so easy to use and just look at the difference! Drop by the post and read all about it.
It's perfect for those thrifty spring flips and DIYs.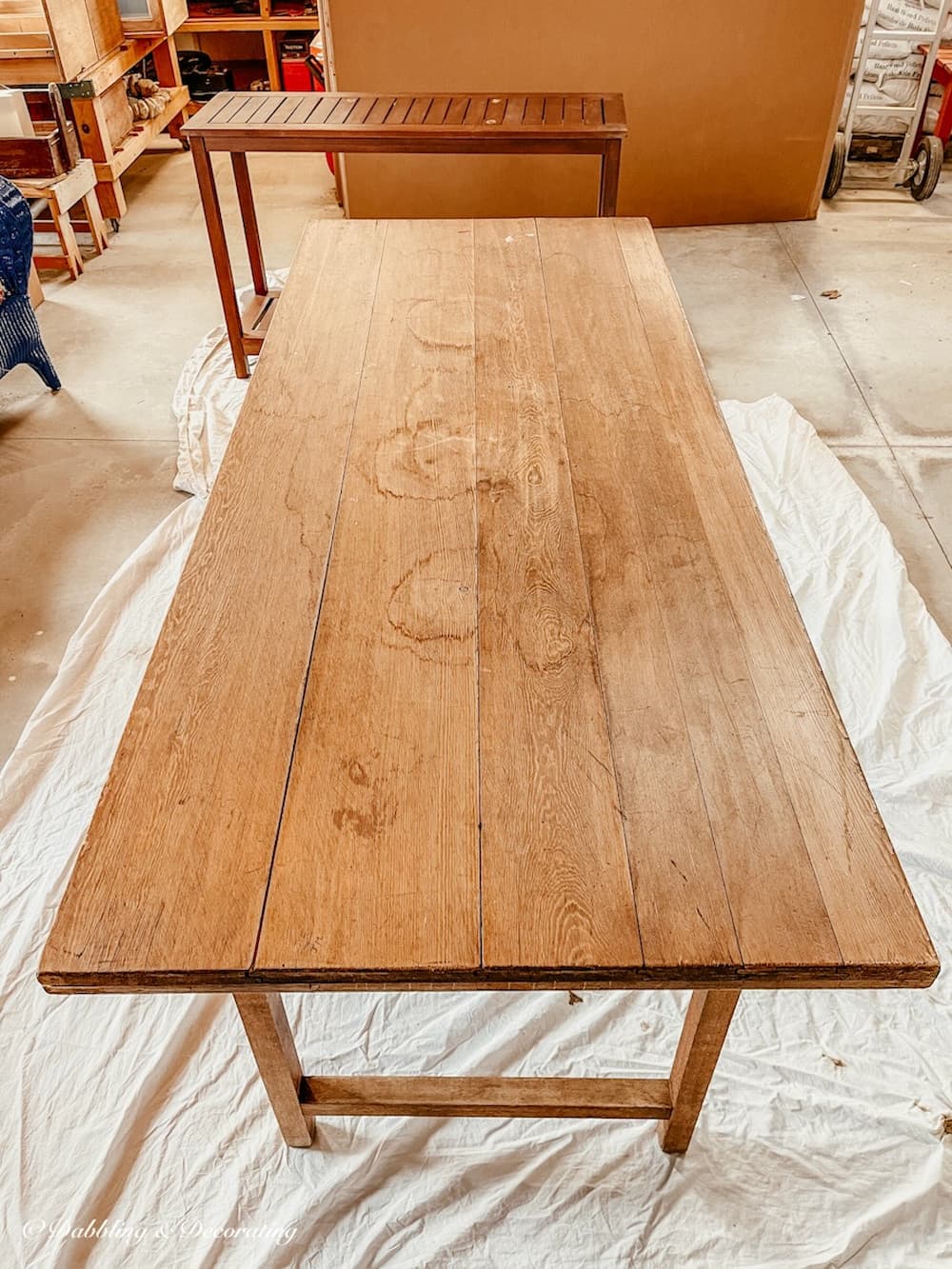 You may also enjoy the post, Thrift and Antique With Me Right into Mud Season.
I almost threw out these 2 thrifted wicker chairs this year, as they had become so ratty looking.
But with a few cans of spray paint, they were transformed, and will be heading to Maine with us this summer for our attic guest bedrooms.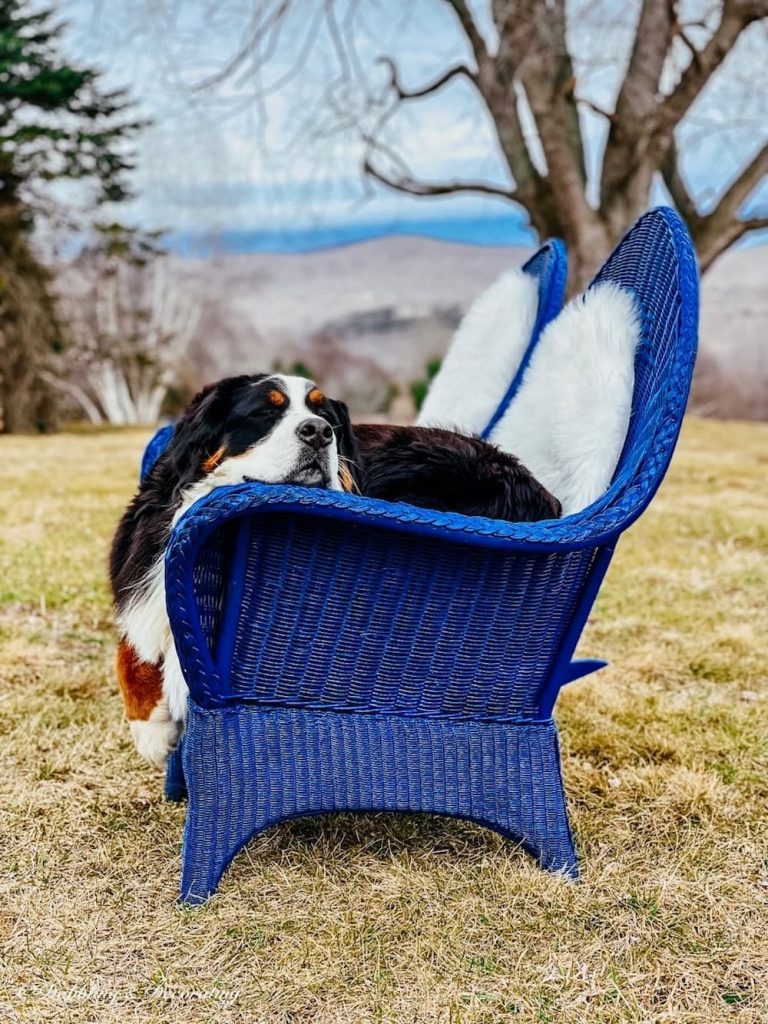 And you may also enjoy this collection of past thrifty spring flips and DIYs that you can start today.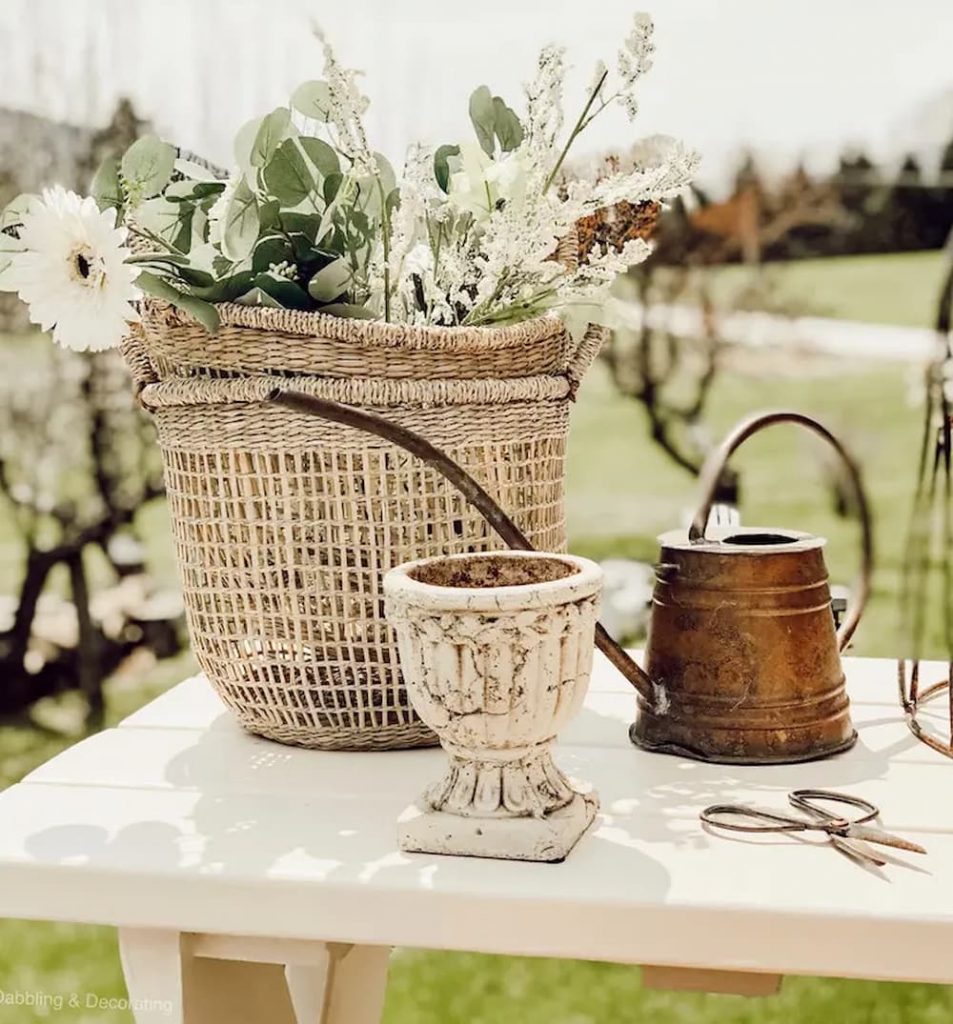 I found this old wardrobe closet on Facebook Marketplace for just $50.
Wait until you see how cute this spring flip and DIY turned out!
Check out this thrifty flip video for some small space closet wardrobe inspiration!
You may also enjoy this post, 15 Cool DIY Projects to Start this Summer.
5. Tulips
I've actually lost count now of how many tulips I have arranged this spring. You may like these 17 Simple Tulip Arrangements You Can Create Today.
You may also enjoy the post, 17 Best Summer Home Decor Accessories to Thrift.
On our first nice sunny and warm day of the season, I headed over to Stone House Antique Center in Chester, Vermont to look for a few things for our front porch this spring.
I had a great day thrifting, finding an old wooden trunk, a vintage crock, blue pillows, and an adorable lemonade set all for the porch.
The weather is starting to warm up around here and we're also seeing signs of new greenery outside between all the April showers.
The porch now has a new antique crock filled with a beautiful spring flower arrangement and we've been able to enjoy our new vintage lemonade set too.
Check it all out HERE.
I think I spoke too soon though, we had mini snowstorms all day on Easter and again all day on Tuesday.
But doesn't it look so beautiful contrasting with the green grass?
You may also enjoy the How We Designed & Built A Pea Stone Patio in 2 Days post.
I've also created a new category and series here on the blog, "What I'm Crushing On" where I share unique and creative ideas that inspire me throughout the week and I hope they do you as well!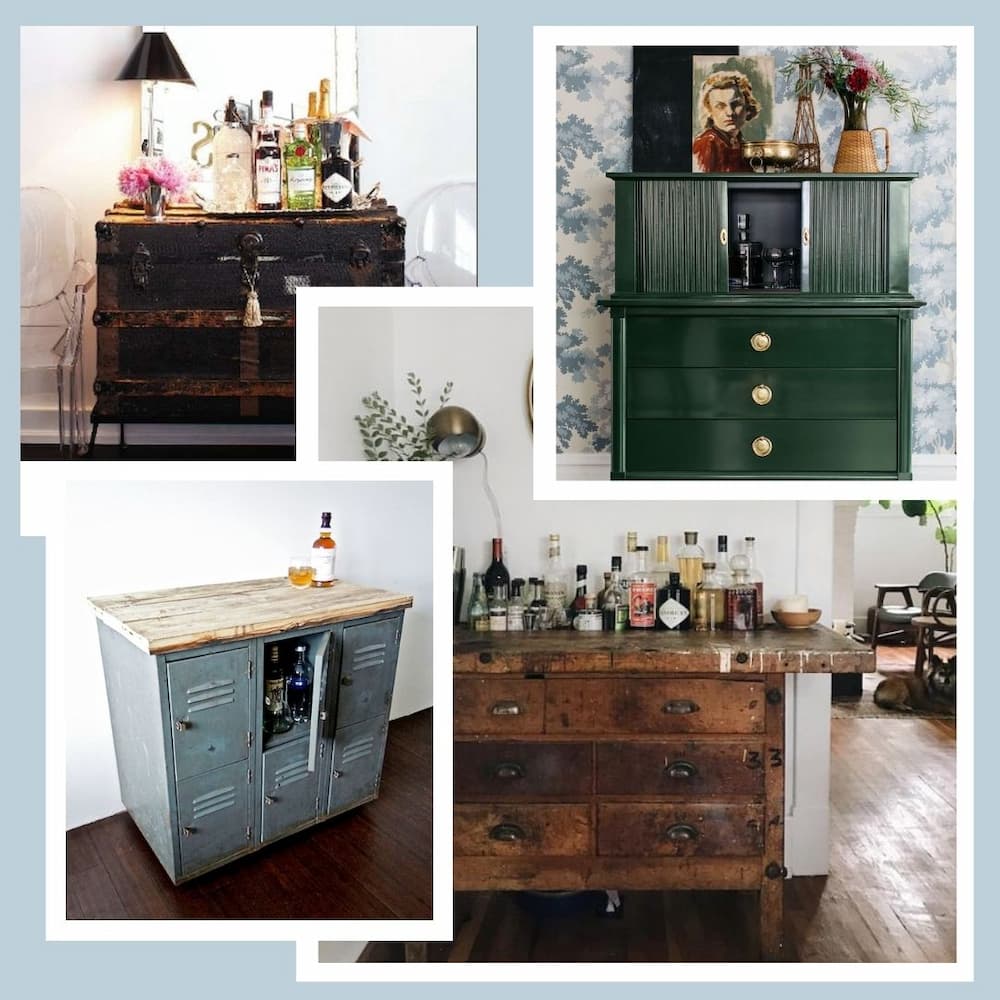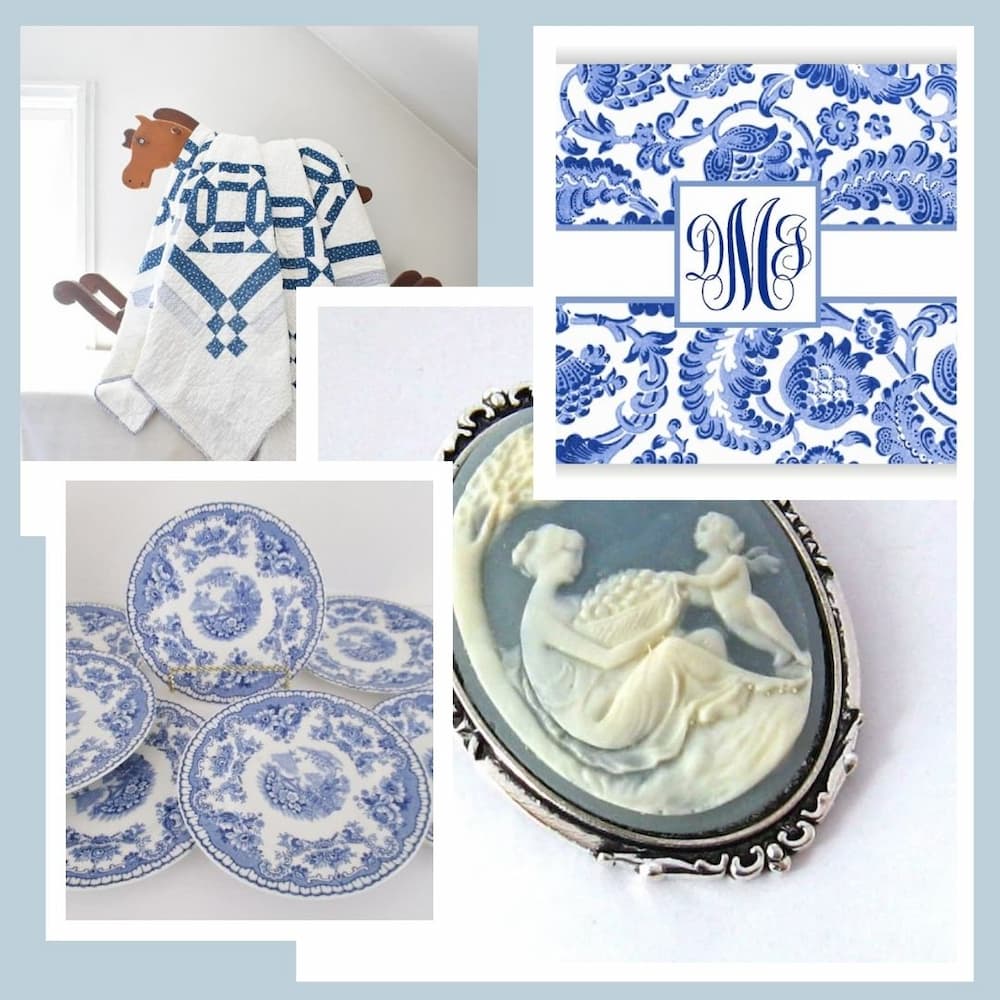 What does candle storage look like at your house? Let me show you how I transformed this old garden bag into the best ever, "candle caddy"!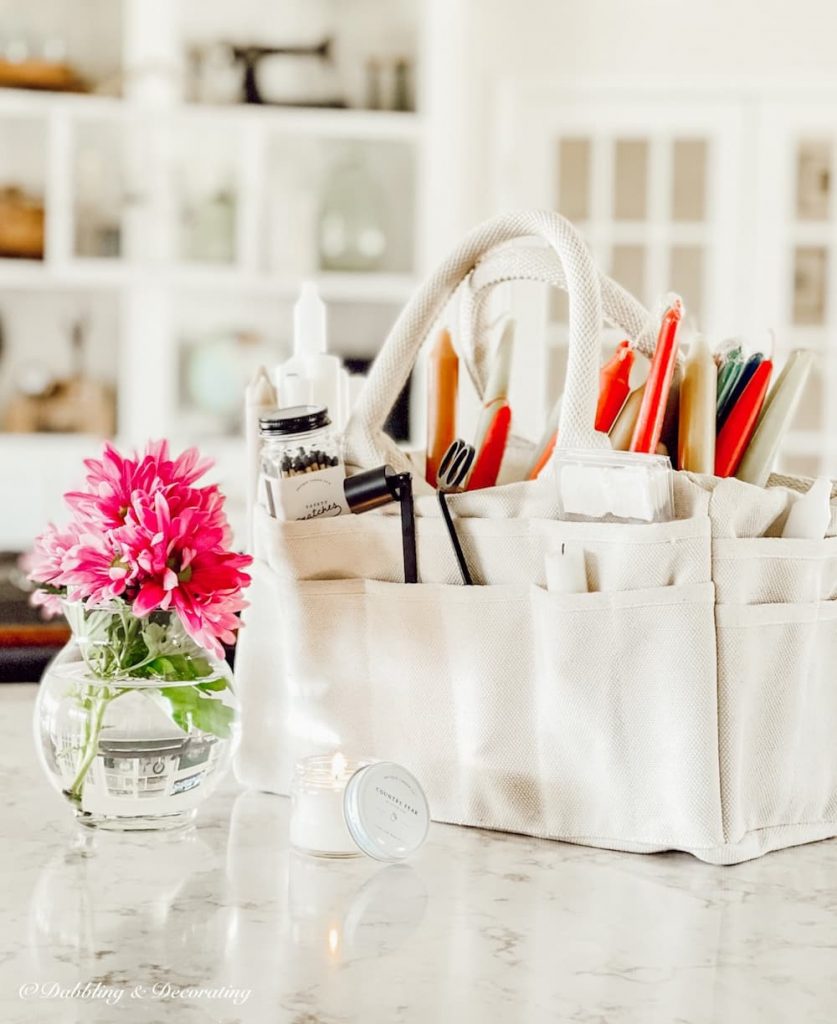 You guys have been asking for this post, so here it is!
Can't get out to go antiquing or thrifting? Let me share with you how to vintage shop online easily and affordably.
Along with a few tips & tricks.
And yesterday I found this large and gorgeous handmade dollhouse while out #thriftingwiththegals, stay tuned for lots more to come…
You may also enjoy How to Design a Backyard Fire Pit Conversation Set from our home in Vermont.
And Backyard Conversation Set and Fire Pit Patio Reveal.
I'm so glad you dropped by, and if you are new to my blog, welcome! I hope you enjoyed your visit with us here today at our Home in Vermont.
Be sure to also check out our Home in Coastal Maine where we spend summers and weekends when we are craving a walk on the beach or a visit with old friends.

I've created the above custom pin just for this post! Hearing from you makes my day and your comments mean so much to me! Please join me over on Instagram & Pinterest to see more!
Next up on today's "Thrifting with the Gals" tour is my friend Rachel over at The Ponds Farmhouse. Rachel is sharing all about her adventures thrifting in Wilmington, North Carolina with you today!
You Won't Want to Miss the Other Thrifting Gals Joining Me Here Today
Rachel | The Ponds Farmhouse Robyn | Robyn's French Nest
Kristin | White Arrows Home Jennifer | The Cottage on Bunker Hill
YOU MAY ALSO ENJOY