Doesn't everyone love cozy couch moments? Blankets, pillows, fire in the fireplace, a good book, snack, drink, and a movie?
A rainy day with your dog or cat?
We are all about it here at Dabbling & Decorating!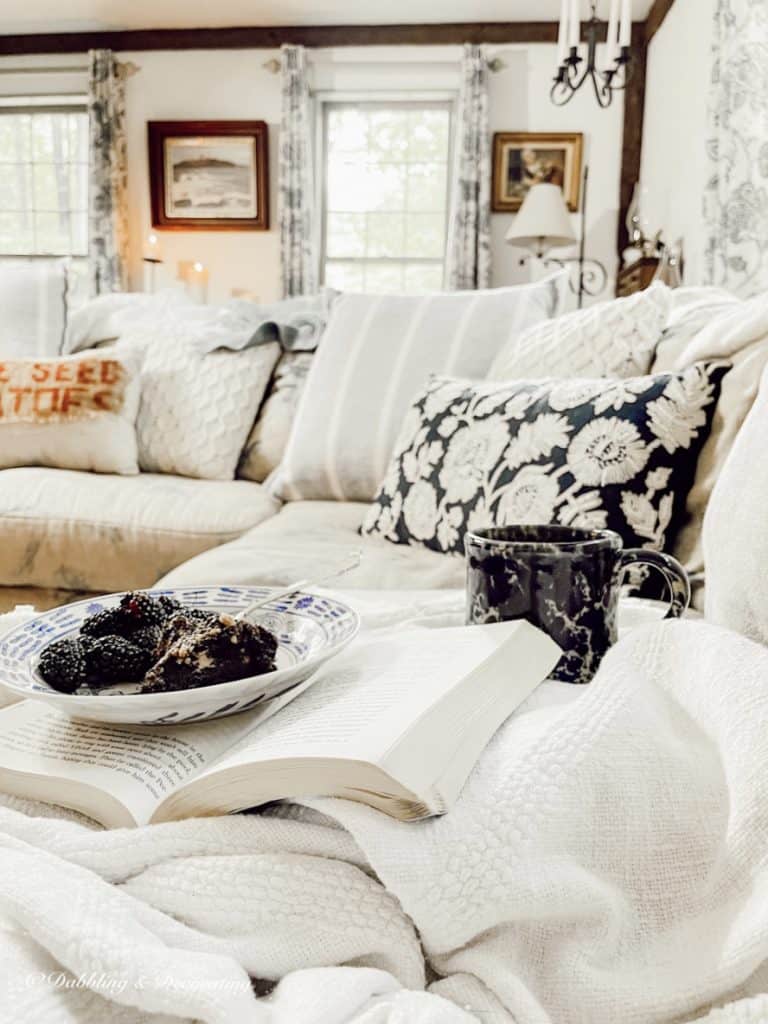 "This post may contain affiliate links which won't change your price but will share some commission.
Join me here today for some cozy couch moments as we get ready to enter into the cooler months of the year.
Fire in the Fireplace
The first thing I always do before those cozy couch moments is to light a fire in the fireplace. Whether it's a real wood fire or a Duraflame log like today.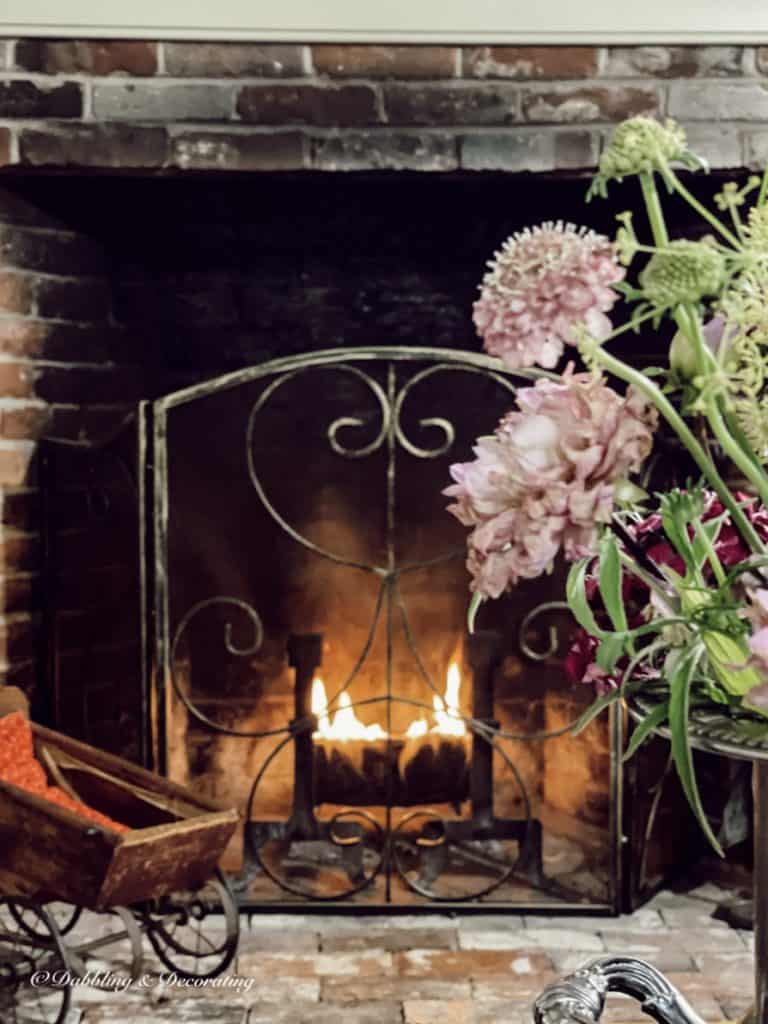 Snacks
Cozy couch moments always require snacks, don't they? What is your favorite snack to cozy up with at home?
I love a good dessert and a warm drink.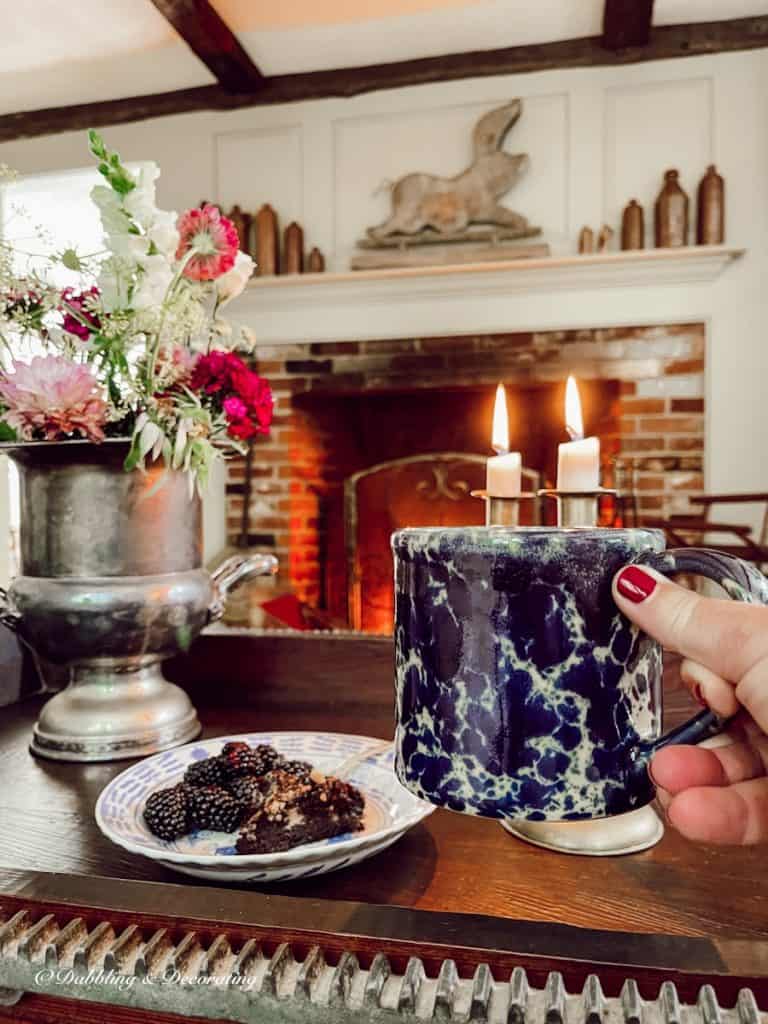 Chocolate cake, raspberries, and blueberry coffee by Green Mountain Coffee are amongst my favorites.
A vintage blue and white bowl for the dessert with my favorite Bennington Pottery mug from Vermont.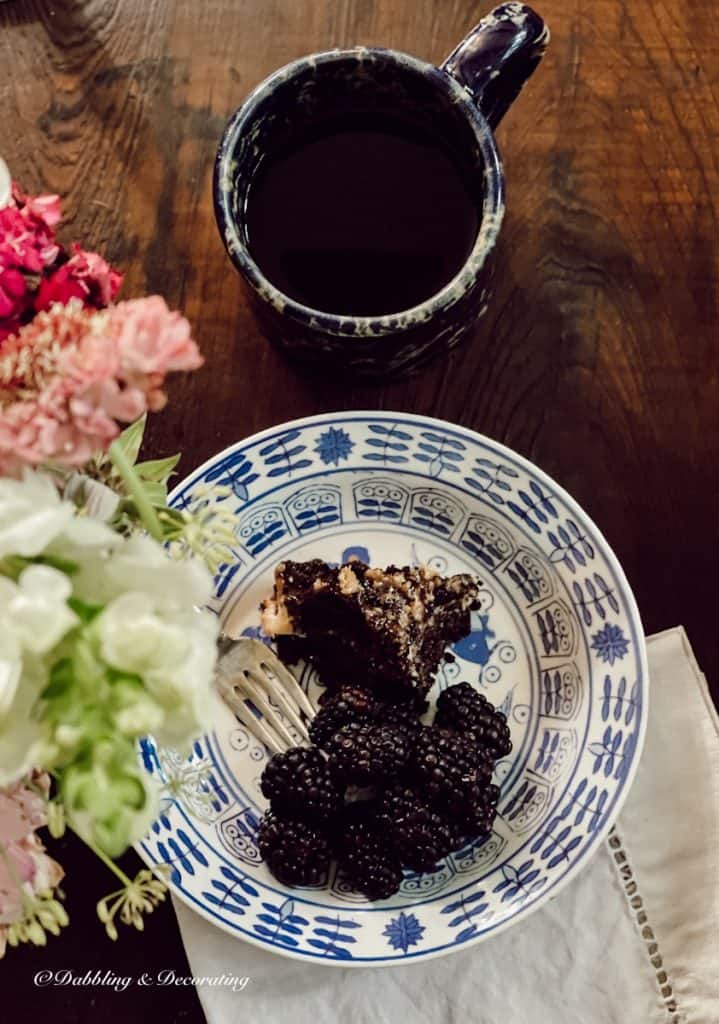 Cozy Couch Moments
Light a few candles, settle in with a good book, then move on to a movie.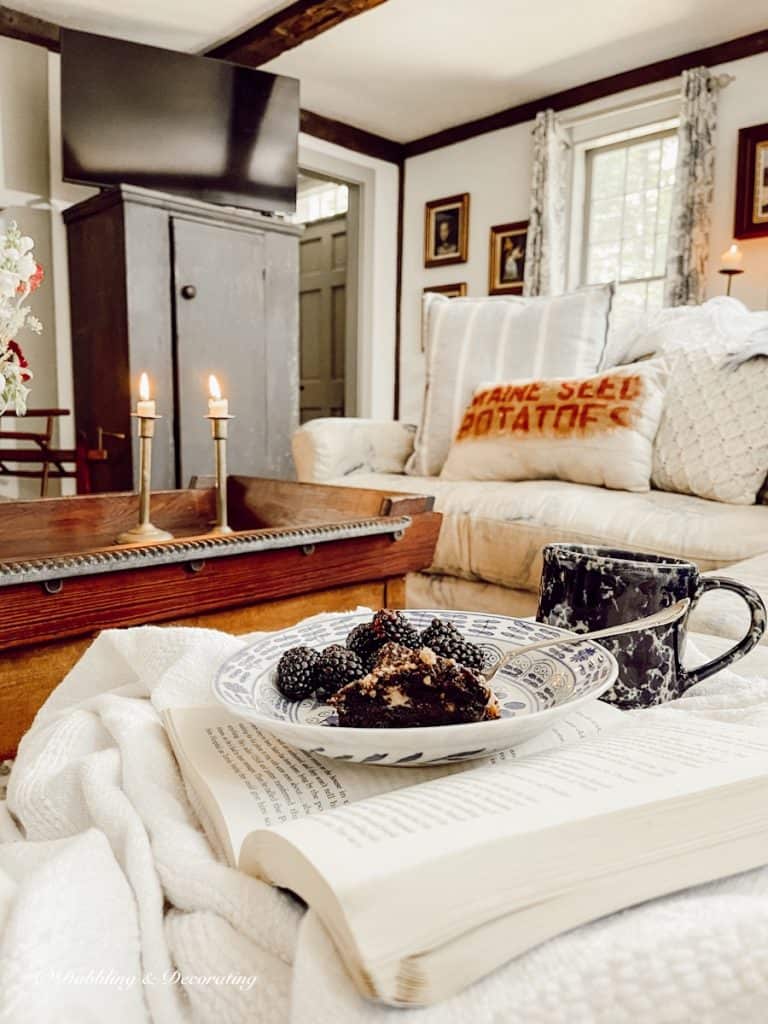 Cozy Decor
Cozy couch moments are always best with lots of pillows and blankets.
SHOP SOME OF MY FAVORITES HERE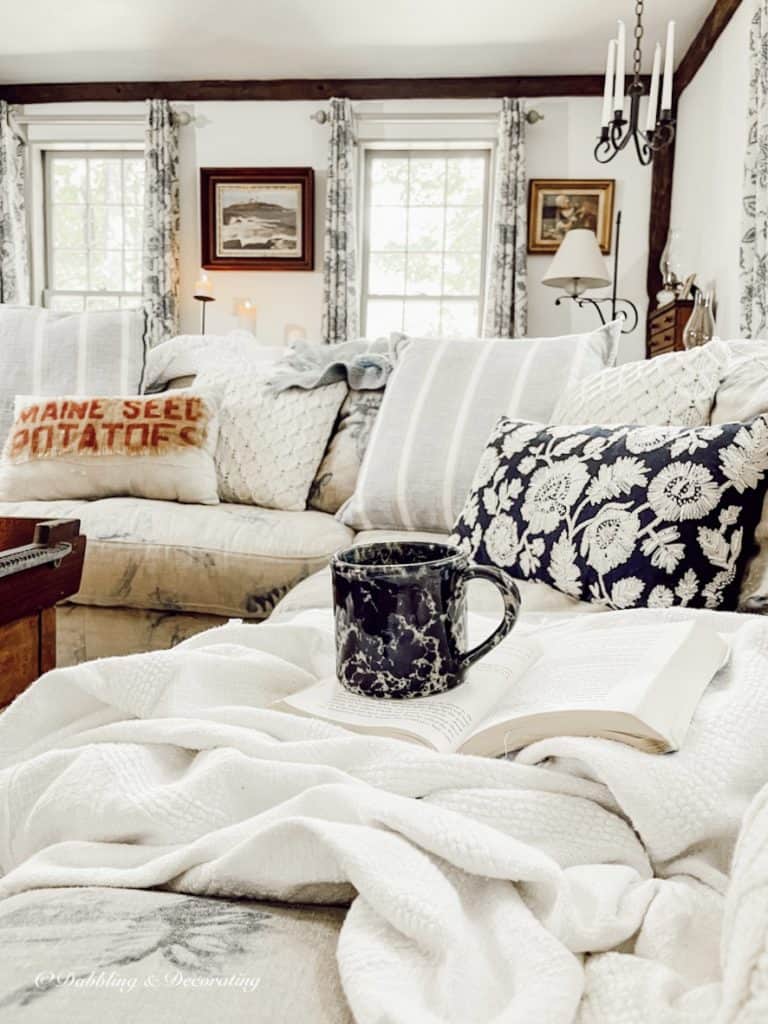 The cozy sectional couch we have at our home here in Maine is from Four Seasons Furniture. It has a washable light tan and navy blue linen slipcover on it.
I love being able to take it off for an easy wash and dry. Especially after cozy couch moments with food, drinks, and Ella, our Bernese Mountain dog…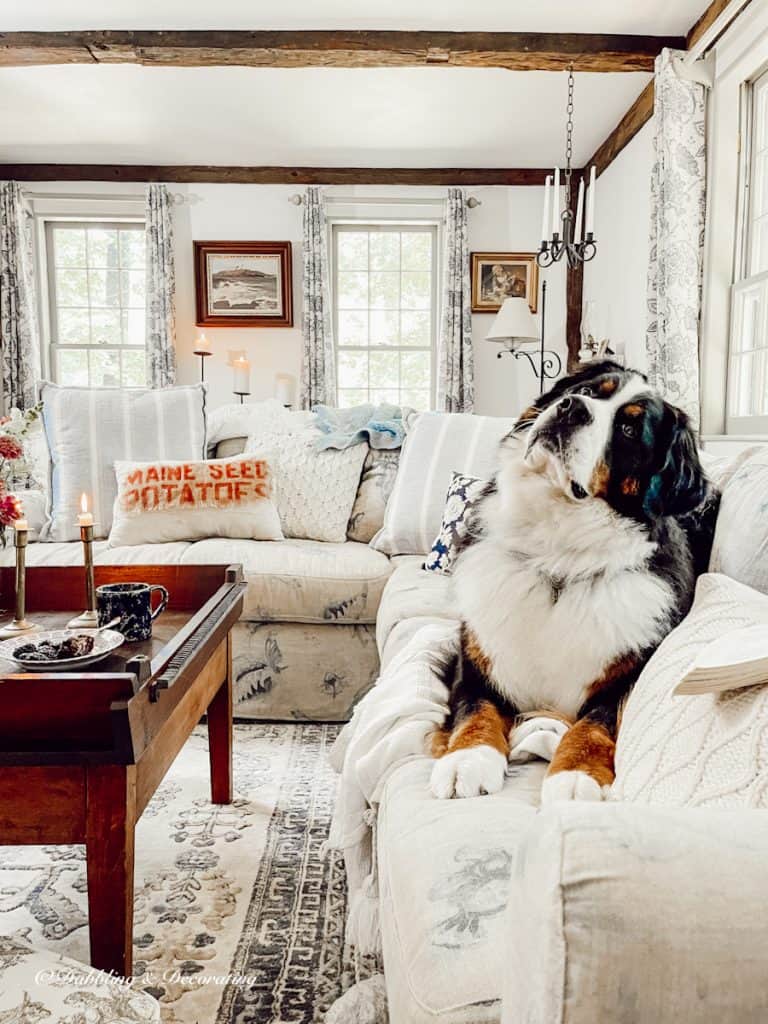 The coffee table top is an antique butter churn that my mother collected decades ago. It says No 2 Wizard Dairy Butter Worker MFD BY. Creamery PKG MFG Co. Chicago. ILL USA.. on the front side.
For more of this New England colonial-style living room, join us on this year's summer house tour.
Are you starting to think you need to take some time for a cozy couch kind of day or evening?
Check out my favorite cozy bedding from right here in Maine!
Morning coffee by the fireplace is always a fun idea, too.
And you are also going to love this cozy fireside table.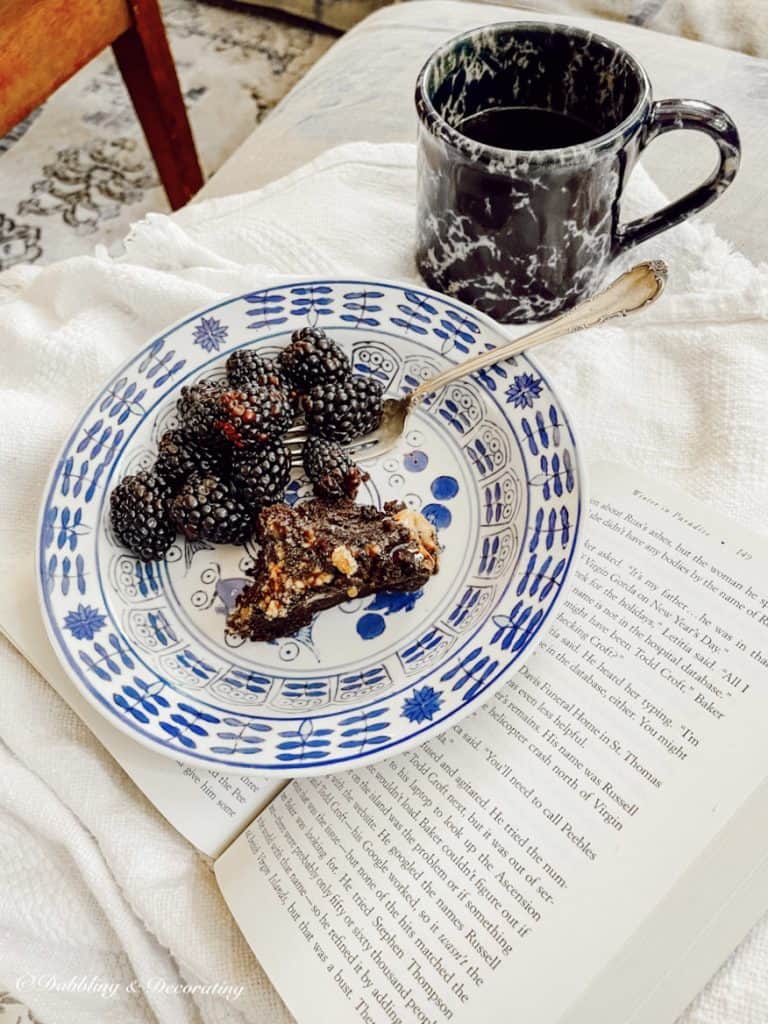 Almost everything else in this living room is collected from antique and second-hand shops. The rug is very affordable, a beautiful blue and white find from Boutique Rugs.
SHOP THIS COZY COUCH LIVING ROOM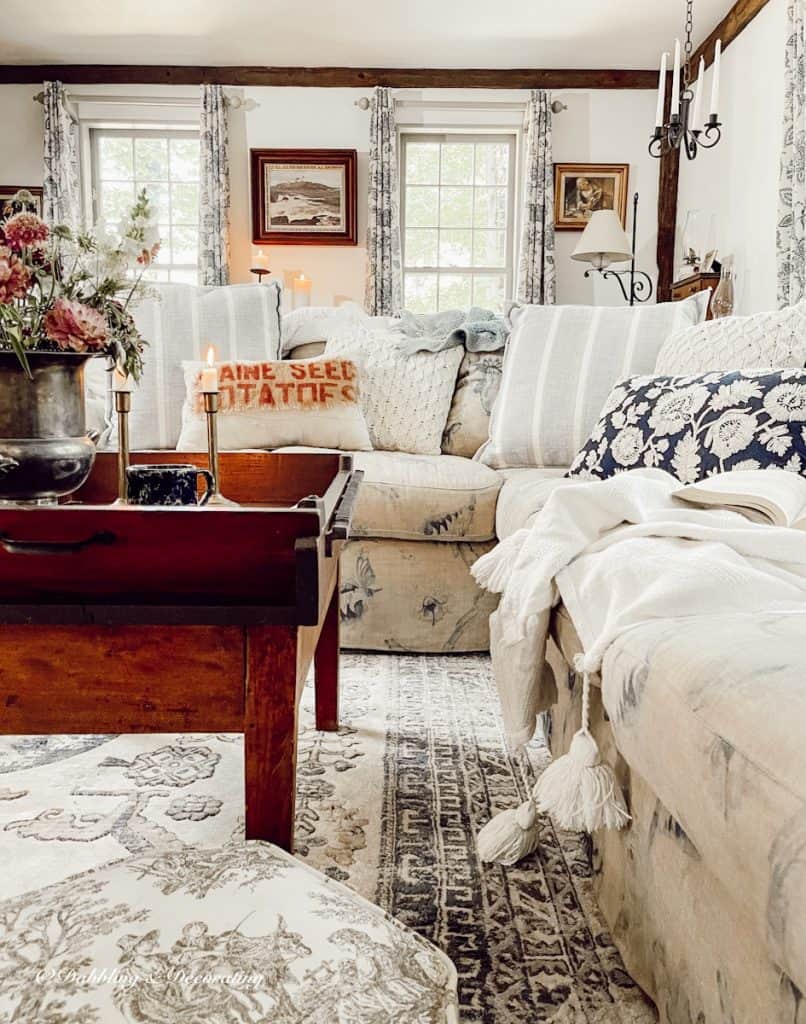 Cozy Couch Moments
Enjoy the COZY SNOW DAY AT HOME IN MAINE post, too.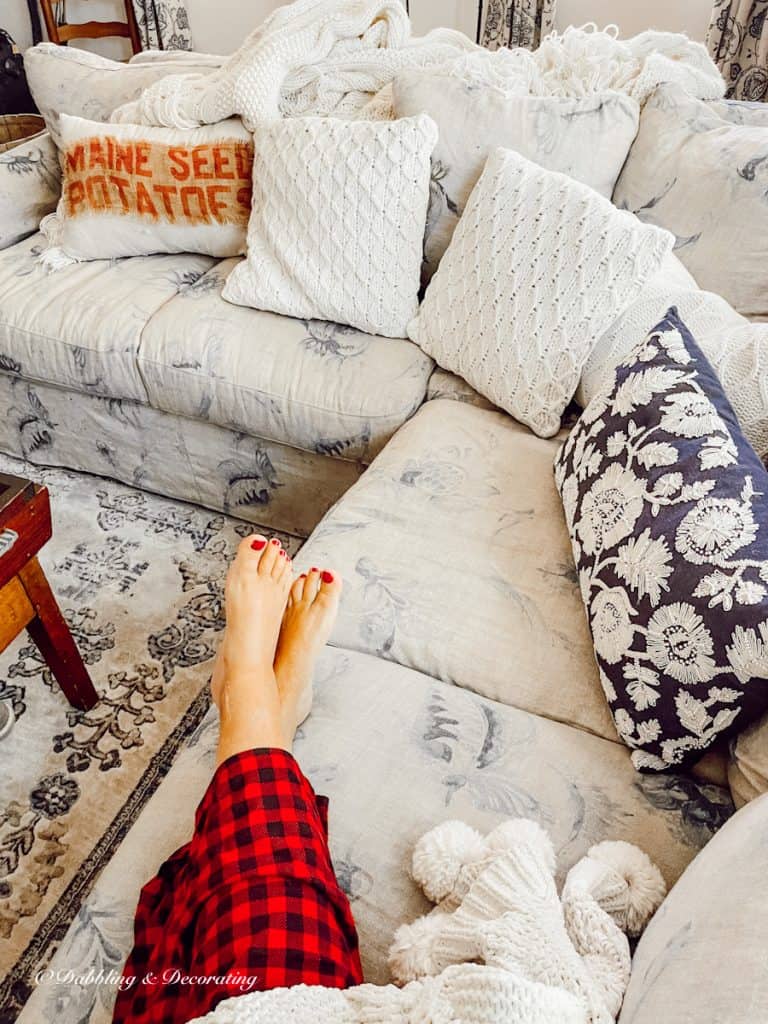 I'm so glad you dropped by, and if you are new to my blog, welcome! I hope you enjoyed visiting our Home in Coastal Maine with us today.
Be sure also to check out our Home in Vermont, where we spend winters enjoying the coziness of home in the Green Mountains of Vermont.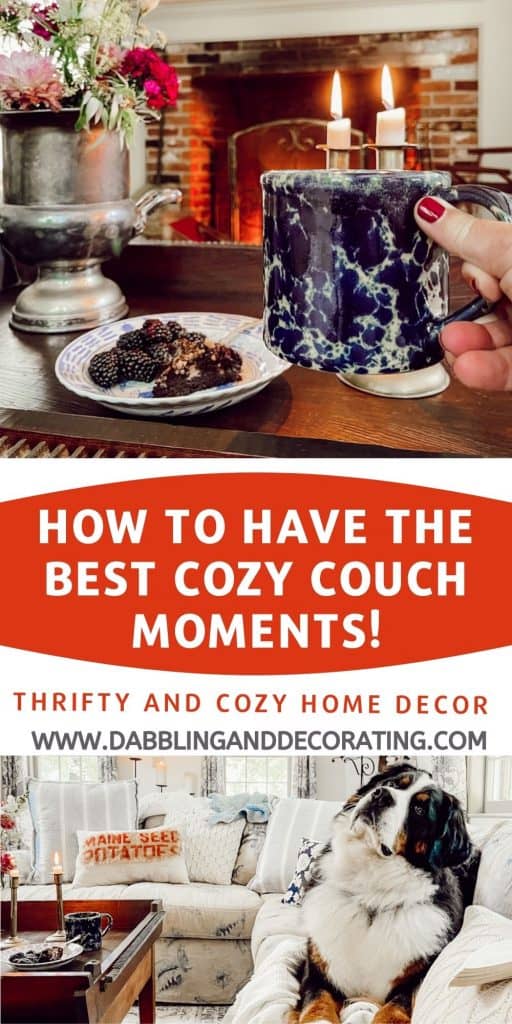 I've created the above custom pin just for this post! Hearing from you makes my day and your comments mean so much to me! Please join me over on Instagram & Pinterest to see more!
YOU MAY ALSO ENJOY