Old galvanized buckets make terrific planters both indoors and outdoors. Here are 7 bucket arrangements that you can easily recreate at home.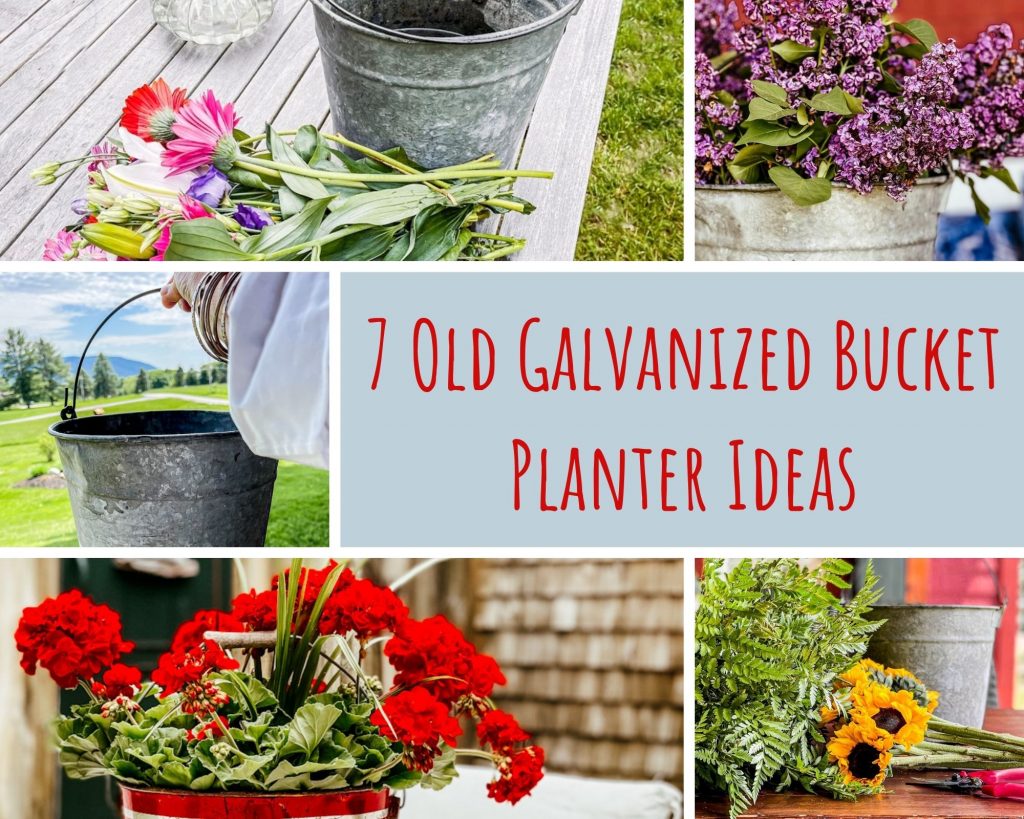 When Cindy from over at County Road 407 asked me to join her today to share galvanized bucket ideas along with 7 other bloggers, I couldn't wait to put together these 7 arrangements for you.
If you are joining me from Debra over at Common Ground welcome! Aren't Debra's watering can ideas just fabulous?
Old Galvanized Buckets
But once I thought about it, I realized I only have one galvanized bucket!
How could this possibly be?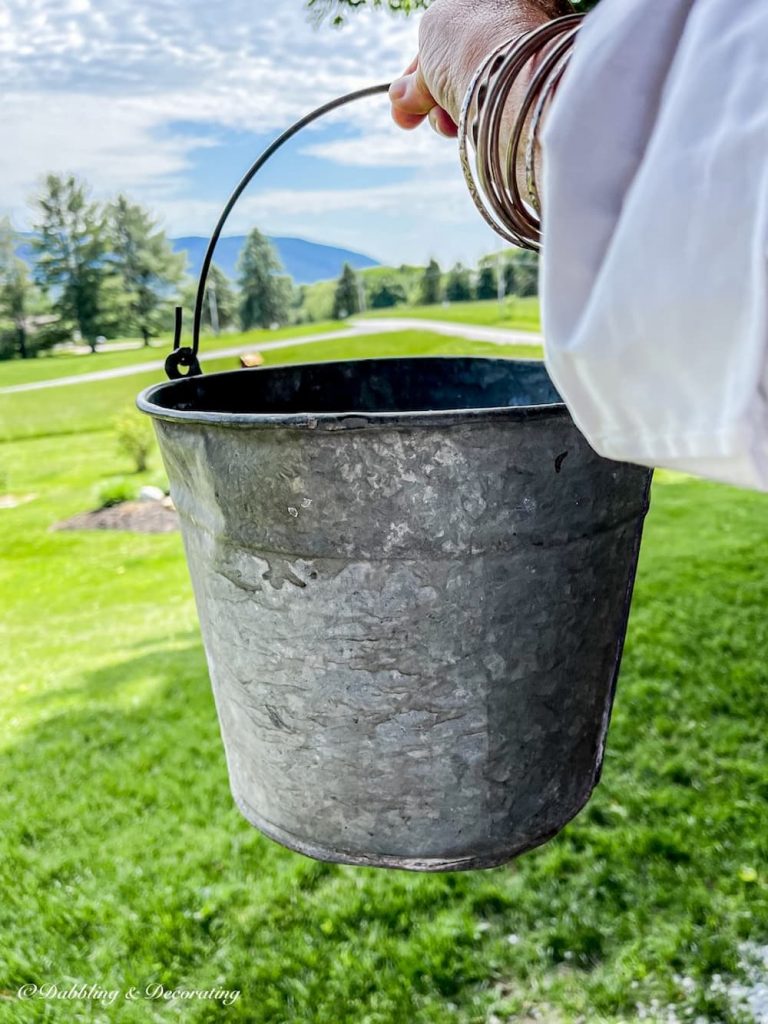 As someone who loves all things thrifty, vintage, and chippy how could I only have one small galvanized bucket?
But that's ok, as I came up with these 7 fun ways to create planters out of old galvanized buckets for summer flower arrangements around the home.
Super simple and easy! I hope you enjoy them.
1. Galvanized Bucket with Lilacs
As I write this, I am getting ready to head to our place in Maine for the summer. The Lilacs we newly planted this winter here in Vermont are currently blooming, but they only have a few days left I'm afraid.
So I thought I would cut the last of the lilac blooms to bring with me to Maine in this old galvanized bucket so we could enjoy them just a little bit longer.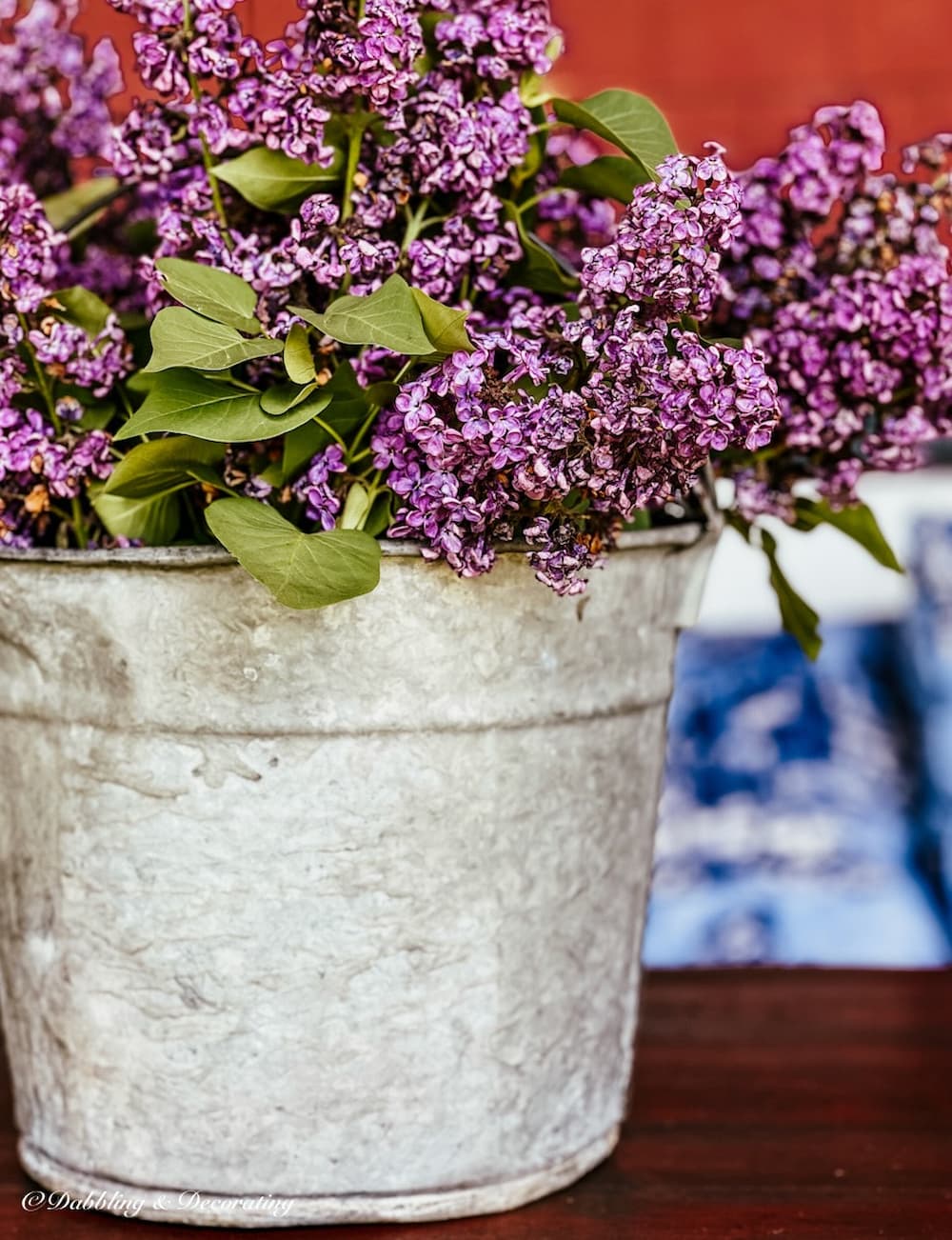 What joy you can get out of an old bucket with some fresh cut flowers am I right?
You may enjoy seeing more BOUNTIFUL BOUQUETS OF LILACS here.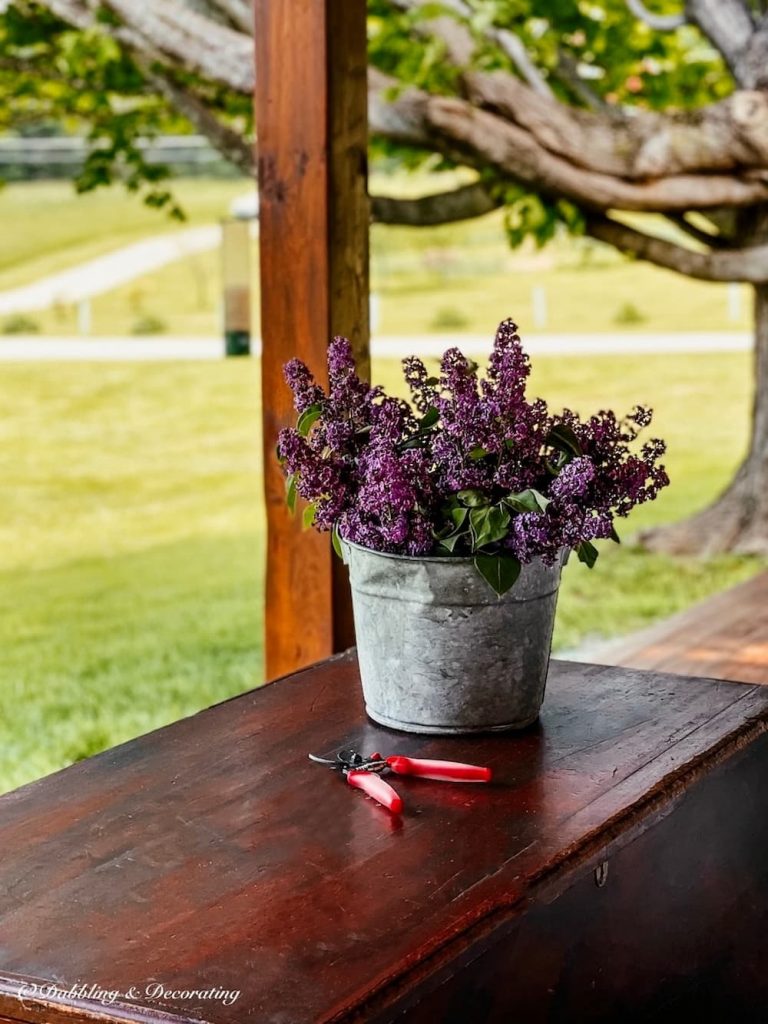 This post may contain affiliate links which won't change your price but will share some commission."
SHOP OLD GALVANIZED BUCKETS
Scroll and Click on Image to Shop

You may also enjoy this Very Vintage Weekend with Peonies in a wired basket.
2. A Bucket Full of Sunflowers and Ferns
It was like 90 degrees here in Vermont when I created this galvanized bucket full of sunflowers, which is so out of season for us this time of the year.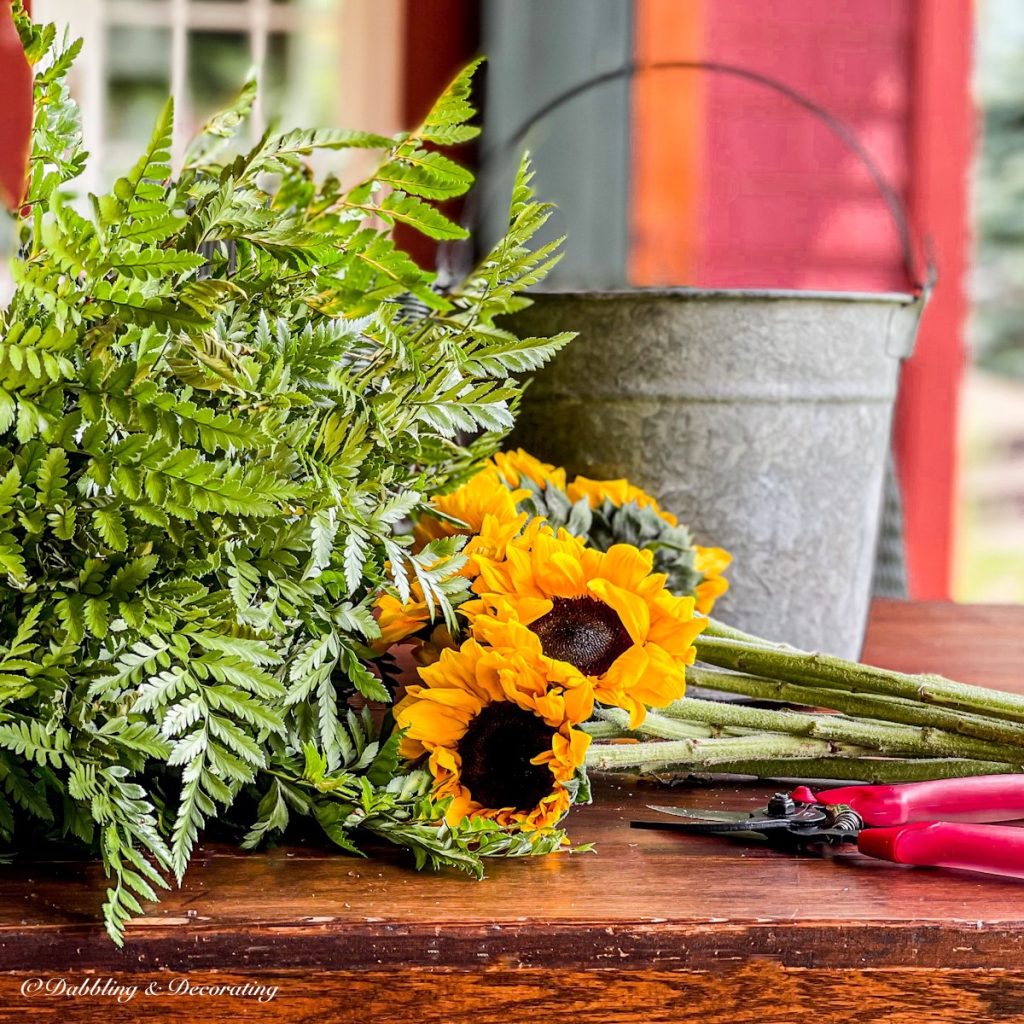 These bright yellow sunflowers were a smiling surprise at our local supermarket though.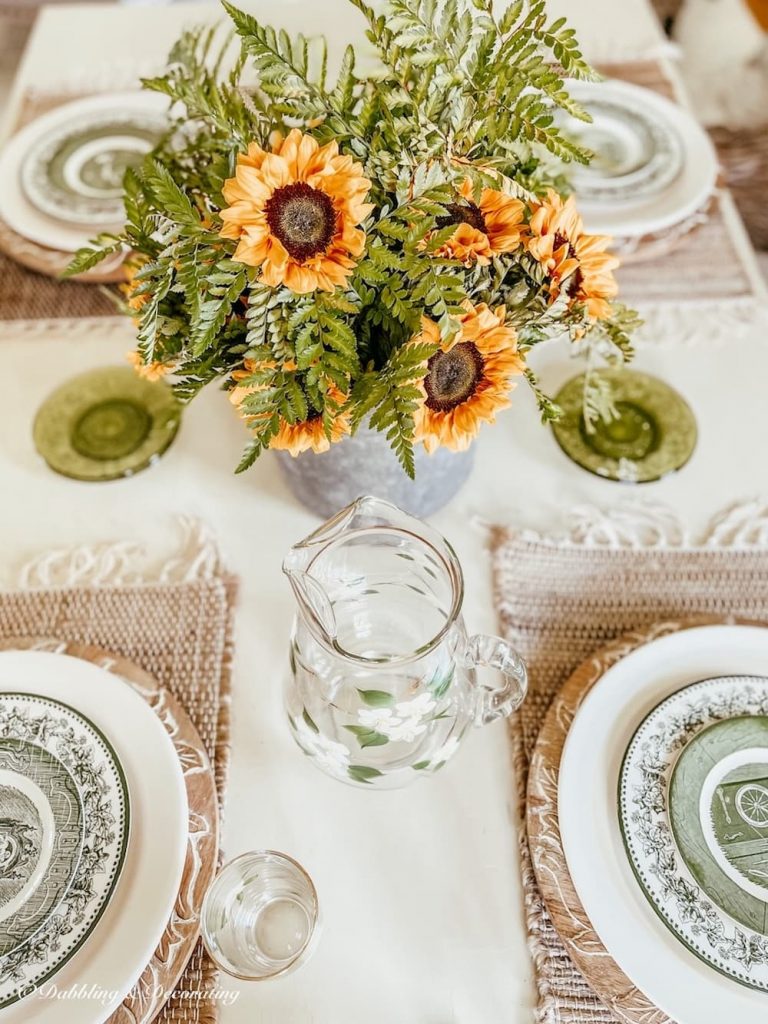 A perfect and simple bouquet for this old galvanized bucket.
You may also enjoy this VINTAGE HAUL FOR THE PORCH where I found this adorable lemonade set.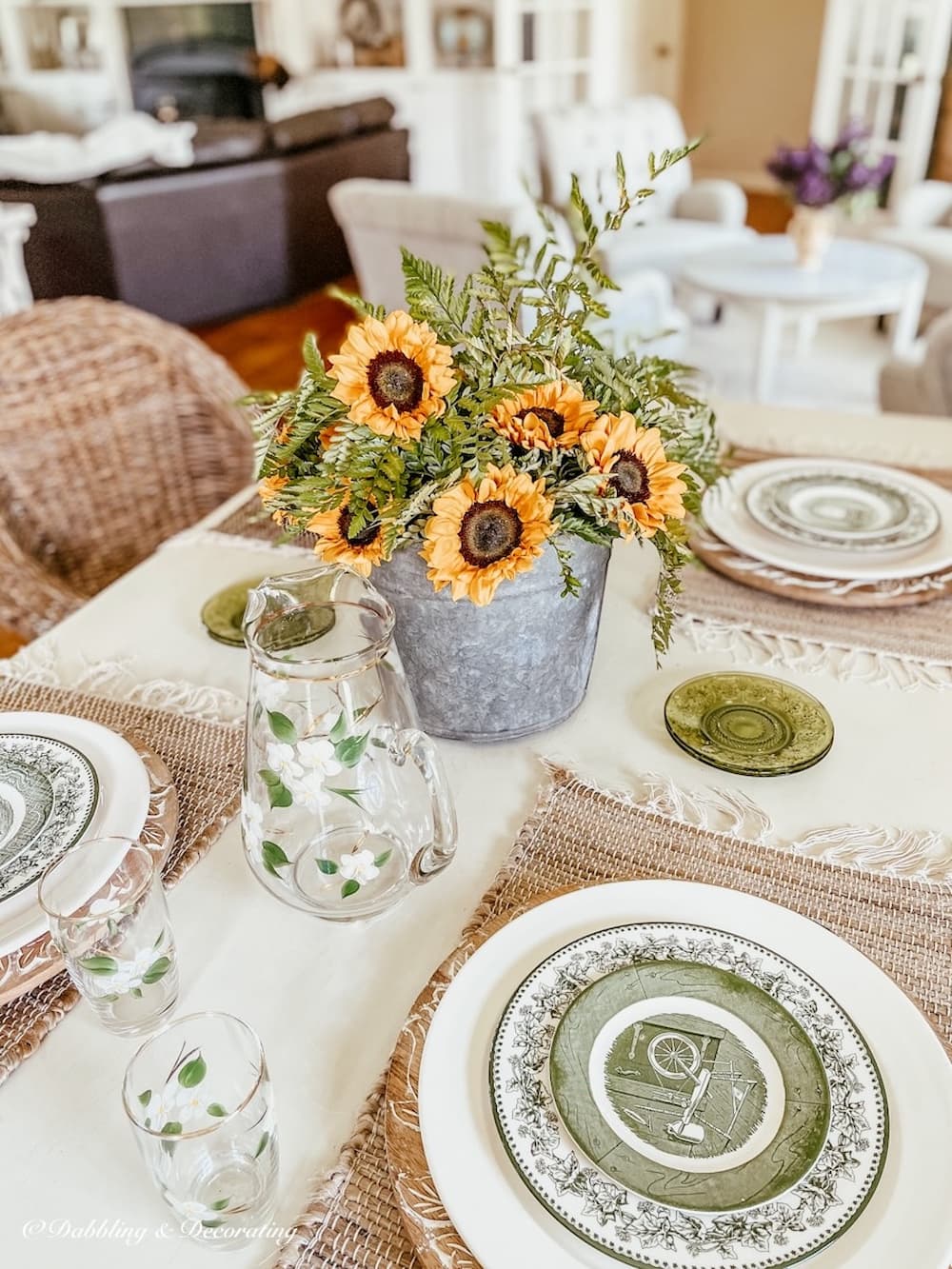 3. An Old Red Chippy Bucket with Geraniums
Yes, please!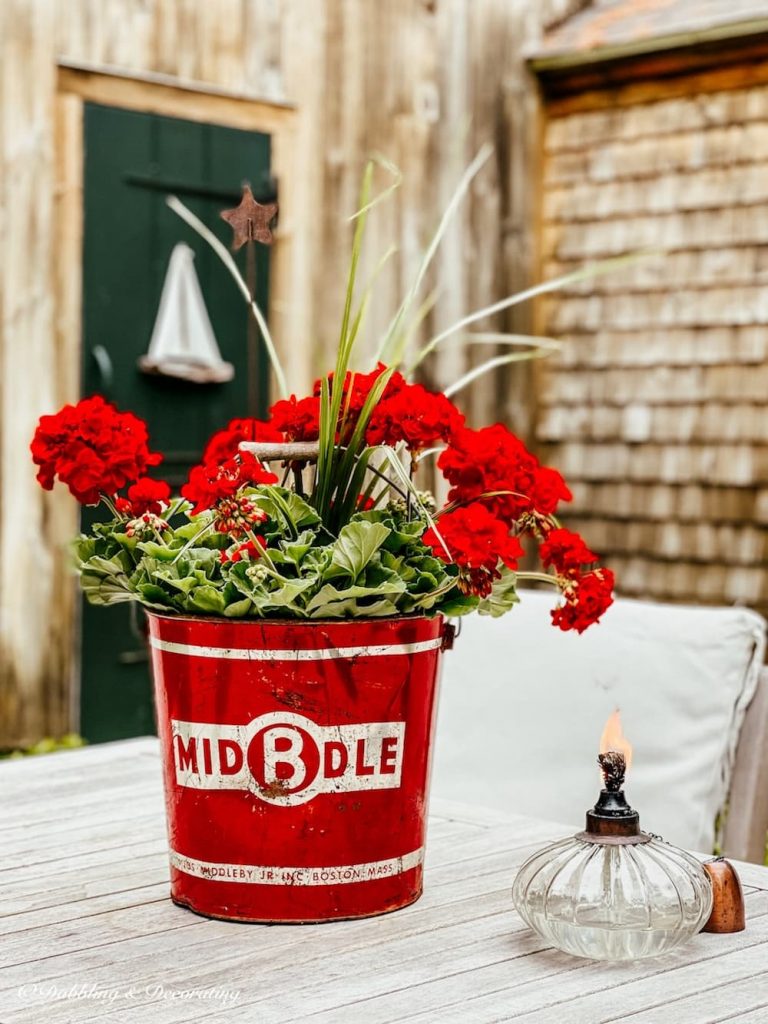 And to think I had forgotten all about this red bucket until I got to our home here in Maine.
Because this bucket is one of my favorite thrifted finds.
It looks so festive and adds all that jazz to our now weathered outdoor teak table in the summer.
You may also enjoy this year's COASTAL GRANDMOTHER SUMMER DECOR "IN MY MOTHER'S HOME".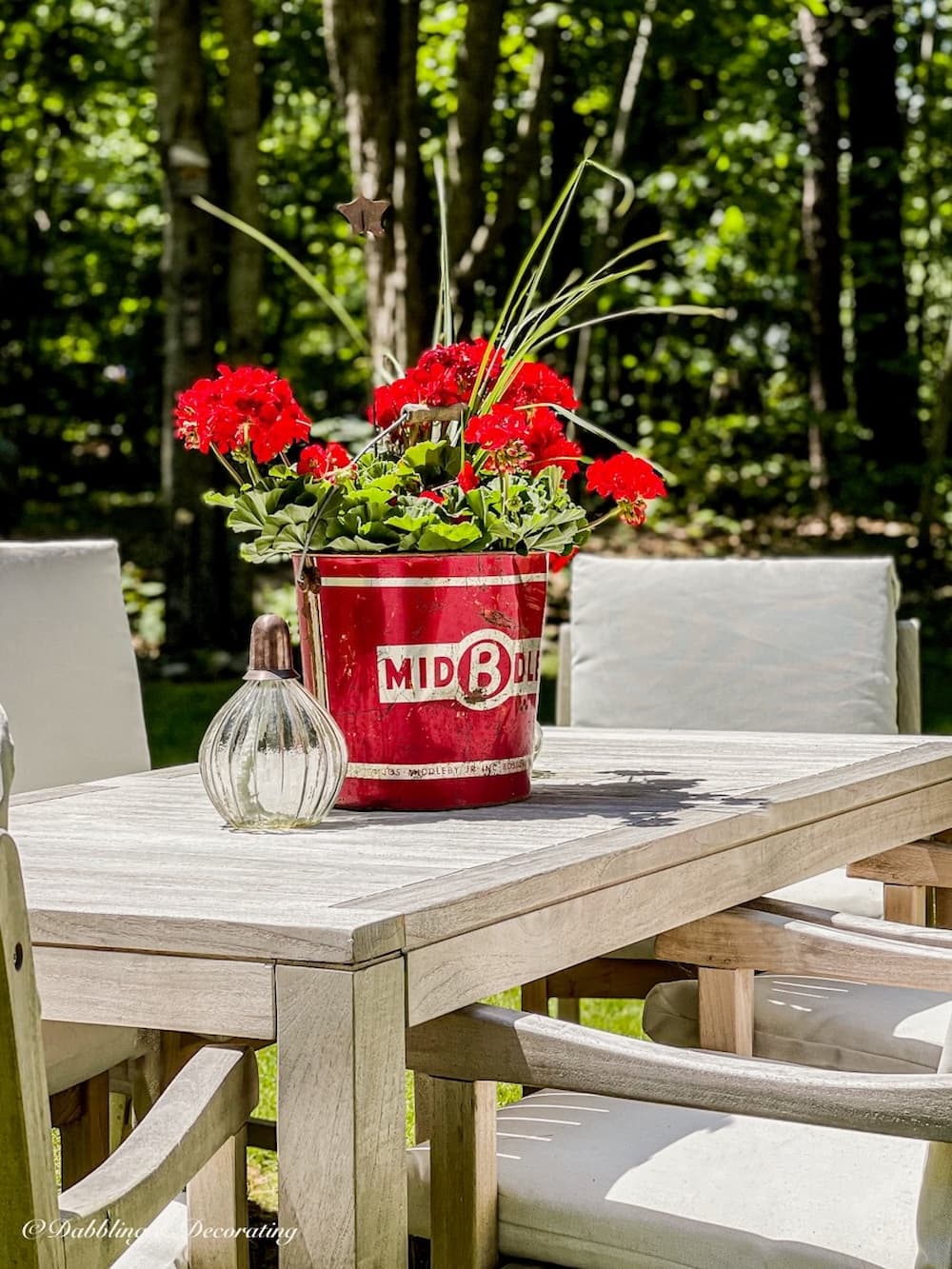 And it's the perfect accessory for the Patriotic holidays too!
You may also enjoy these RED GERANIUM TIME-HONORED WINDOW FLOWER BOXES.
4. Patriotic Bucket Centerpiece
You may enjoy seeing this bucket of greens on our Breakfast Patriotic Alfresco Table as the centerpiece with some simple fresh-cut backyard greenery and a few small rustic garden stakes.
This was the first outdoor table I decorated here in Maine using all my mother's collected antique dishwares.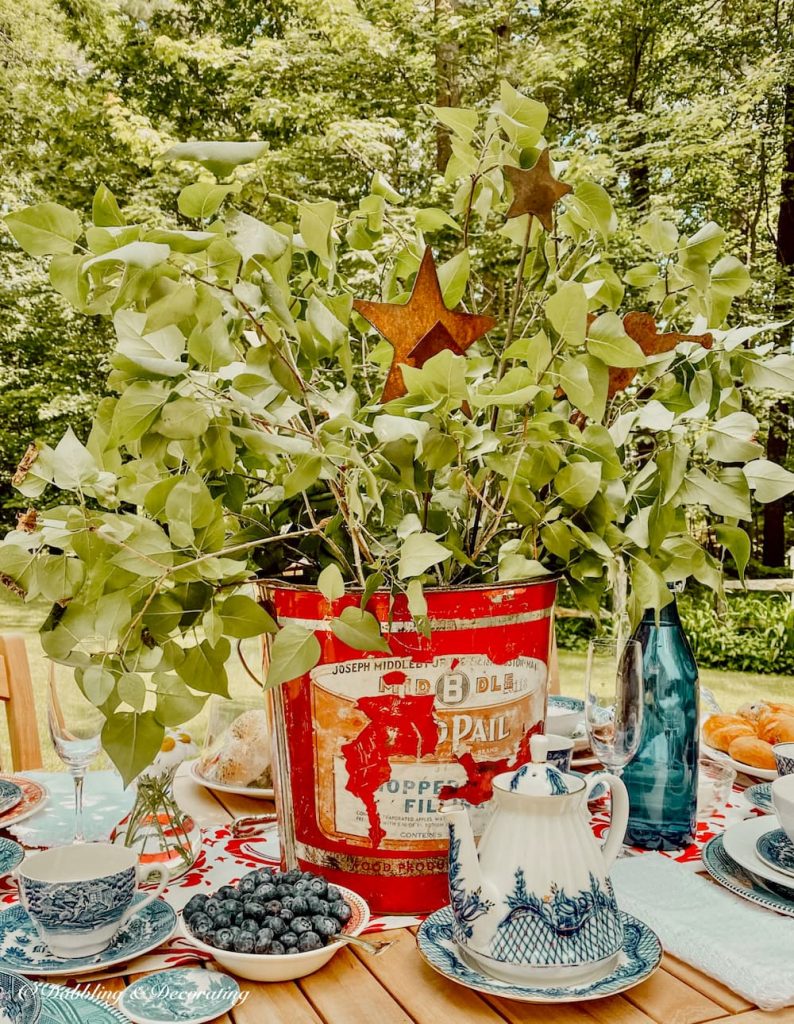 5. Bucket of Wildflowers
It is so easy to create flower bouquets with galvanized buckets, just fill them with water and plop the flowers right in.
From rustic sunflowers to beautiful wildflowers like these.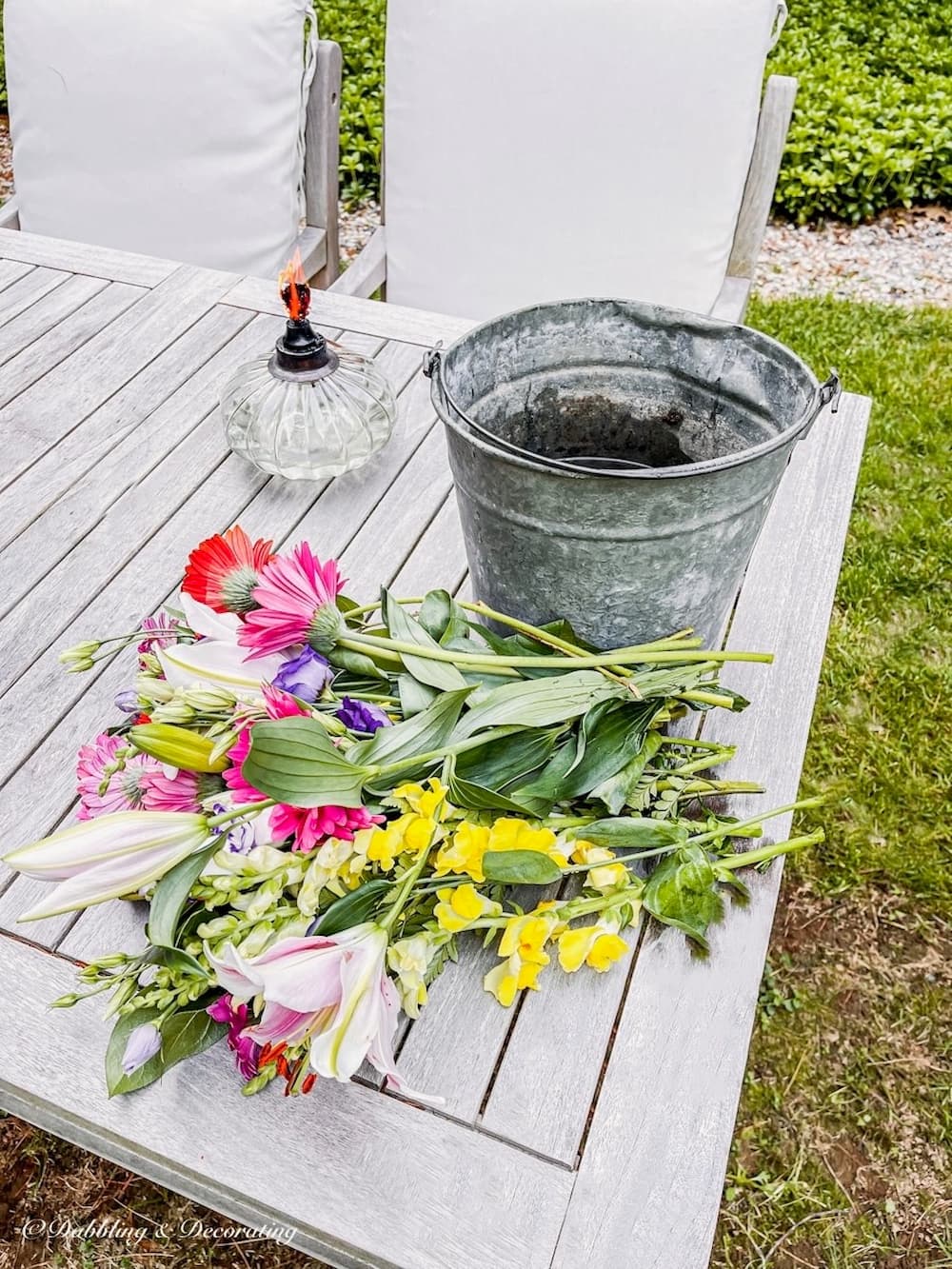 SHOP OLD GALVANIZED BUCKETS
Scroll and Click on Image to Shop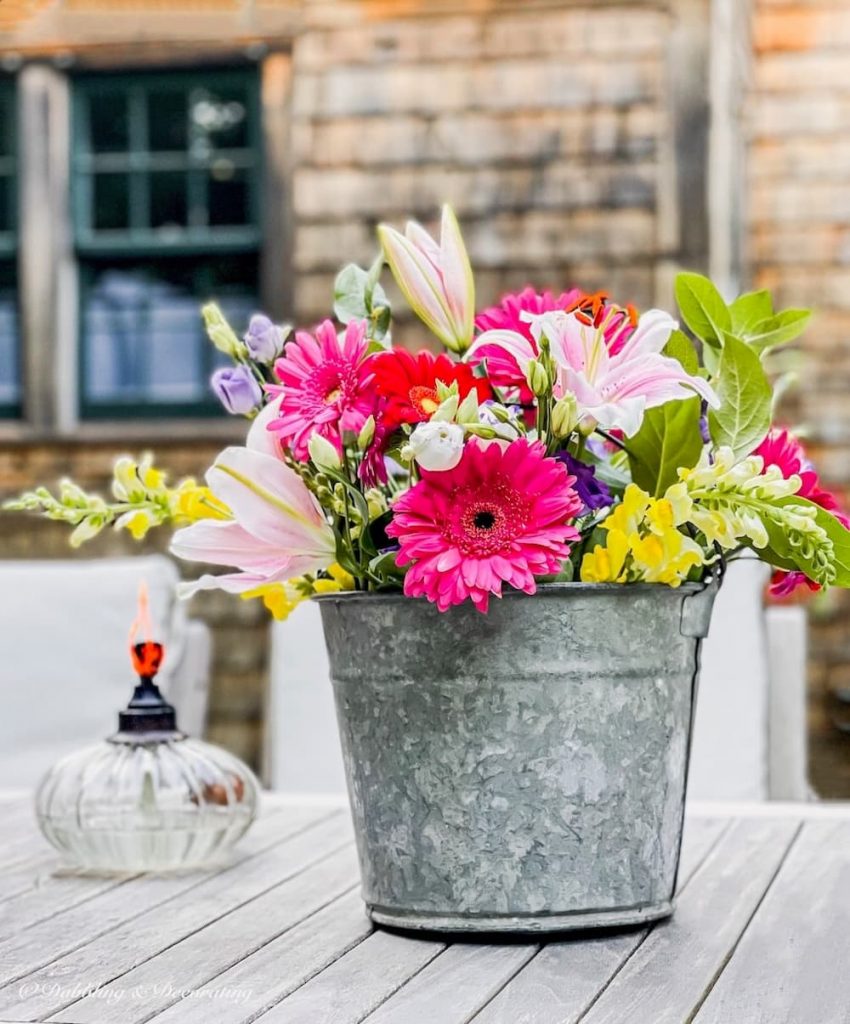 6. Red Galvanized Bucket of Wildflowers
And how about the same wildflowers in the vintage red galvanized bucket?
Which do you like better? Let me know in the comments below.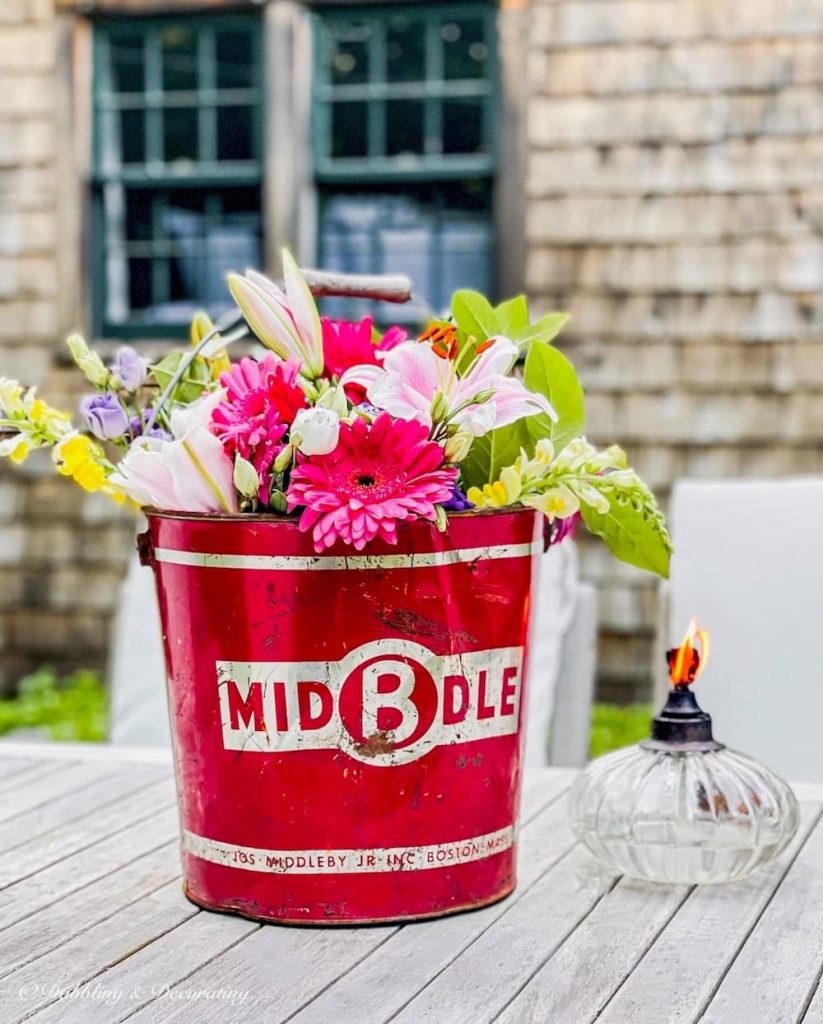 7. Coffee Table Hydrangeas Centerpiece
Last fall I added some dried hydrangeas to this galvanized bucket on the coffee table in our sunroom in Vermont.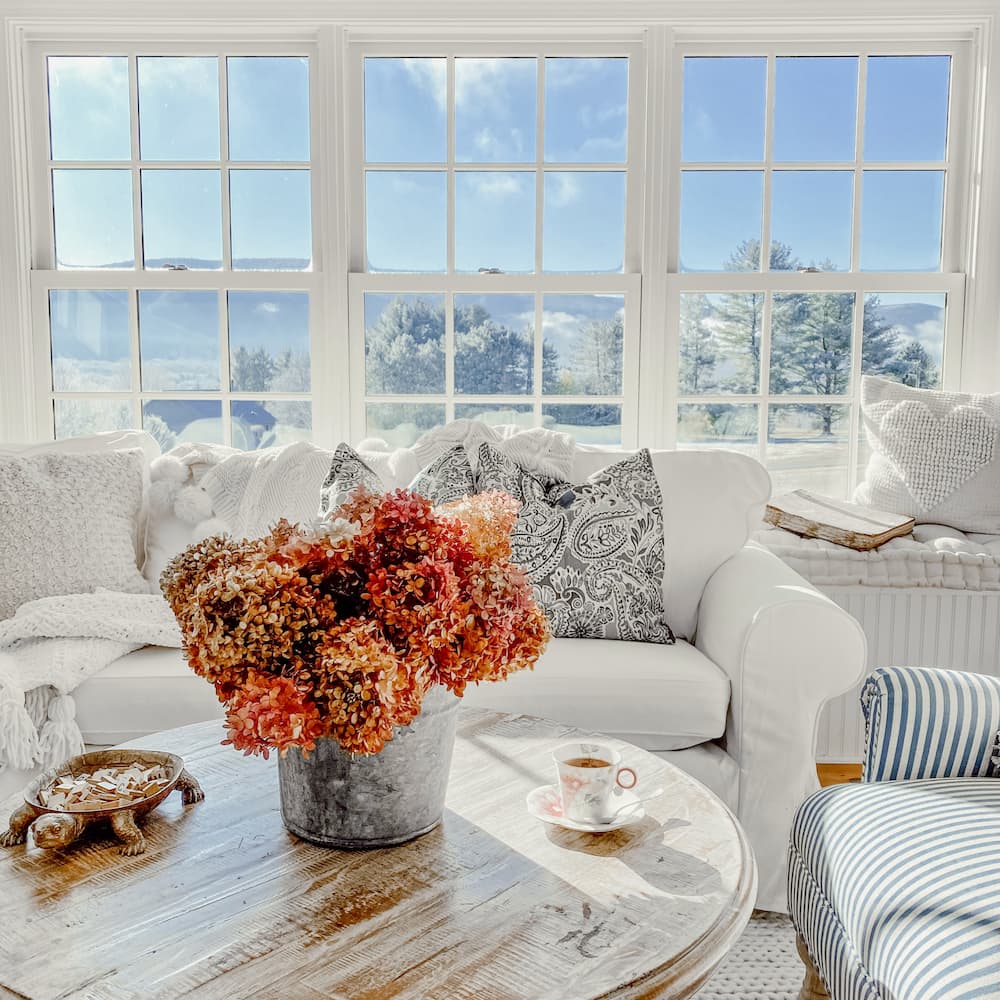 The texture of the old galvanized bucket with the hydrangeas brightens up this blue and white room as we said goodbye to summer.
You may see more of this Sunroom Decor in the Off-Season here.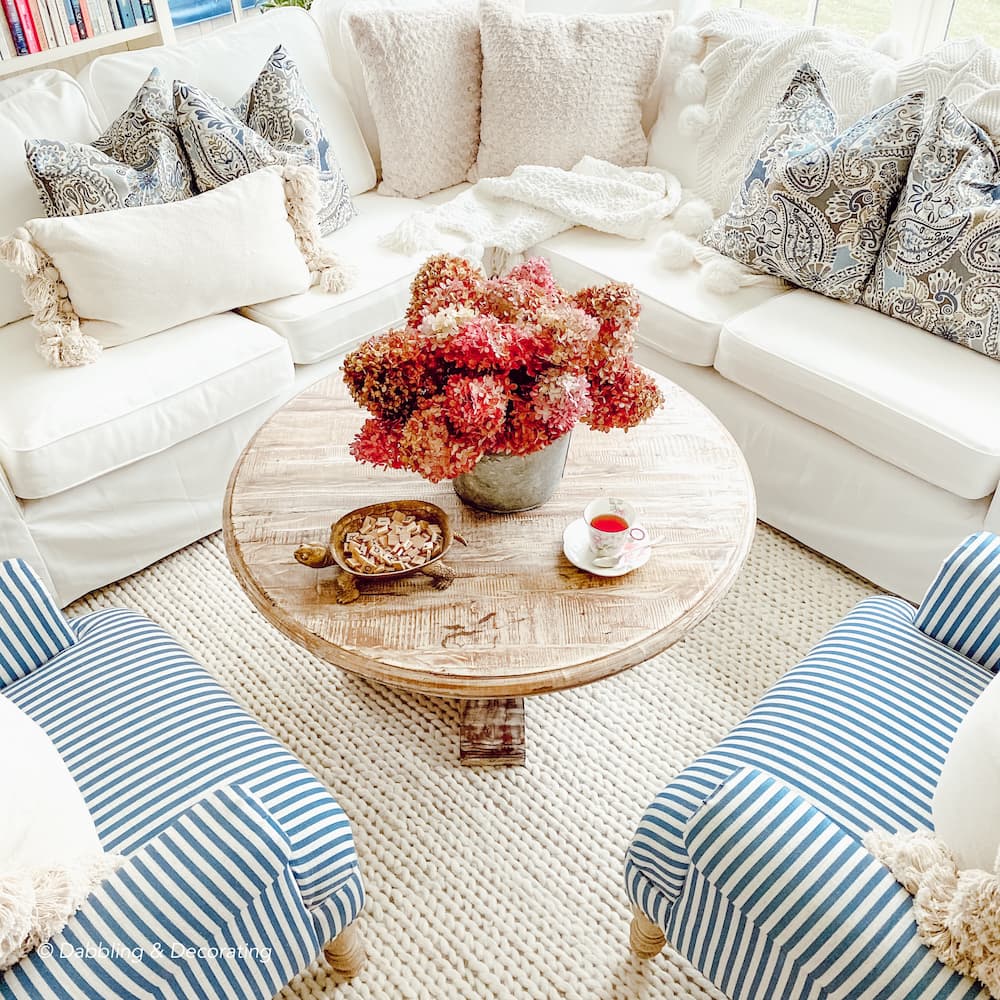 Wishing you a wonderful summer with buckets full of flowers!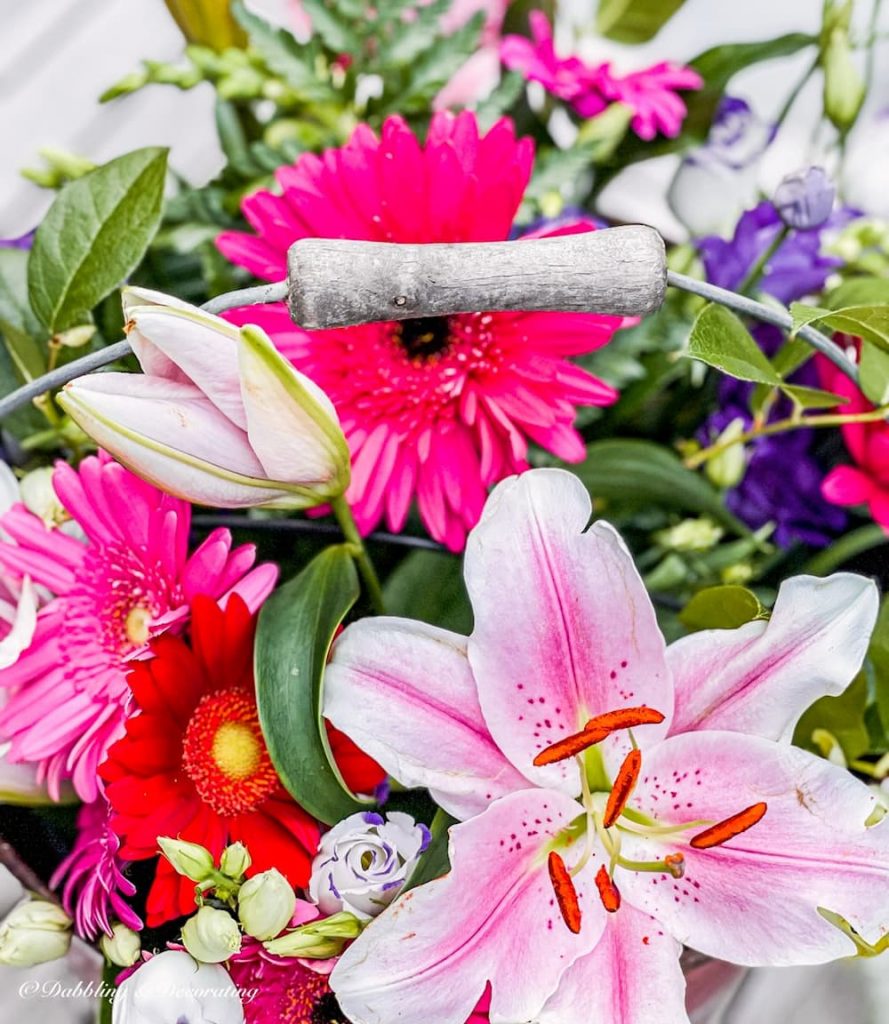 I'm so glad you dropped by, and if you are new to my blog, welcome! I hope you enjoyed your visit with us here today at our Home in Vermont.
Be sure to also check out our Home in Coastal Maine where we spend summers and weekends when we are craving a walk on the beach or a visit with old friends.
Please join me as a regular here at Dabbling & Decorating by signing up for my Saturday morning newsletter and never miss an update!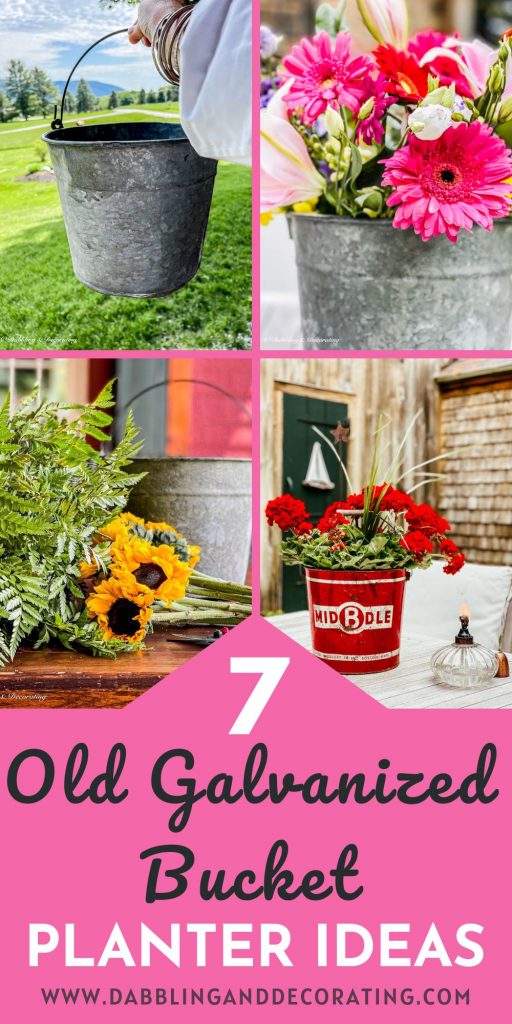 I've created the above custom pin just for this post! Hearing from you makes my day and your comments mean so much to me! Please join me over on Instagram & Pinterest to see more!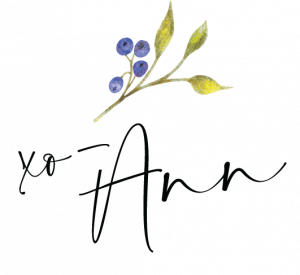 Next up on today's galvanized bucket tour is my friend Lora over at Lora Bloomquest, Create and Ponder who always has such creative ideas, wait until you see her vintage containers!
And be sure and drop by the other gals on today's tour here too!
You are invited to
the Inlinkz link party!