There's just something about a home library that speaks to me. I luv reading and collecting books that I can recommend and share with family and friends. And it's such a bonus to have one of the best independent bookstores in the country, Northshire Book Store right here in our small Vermont town. You may also visit Northshire Book Store online and enjoy the experience of our very own Vermont independent bookstore, where I have met authors like John Grisham, Erik Larson, and Jodi Picoult. Such a local treasure and the root of my inspiration to create our very own small home library.
Affiliate links may apply.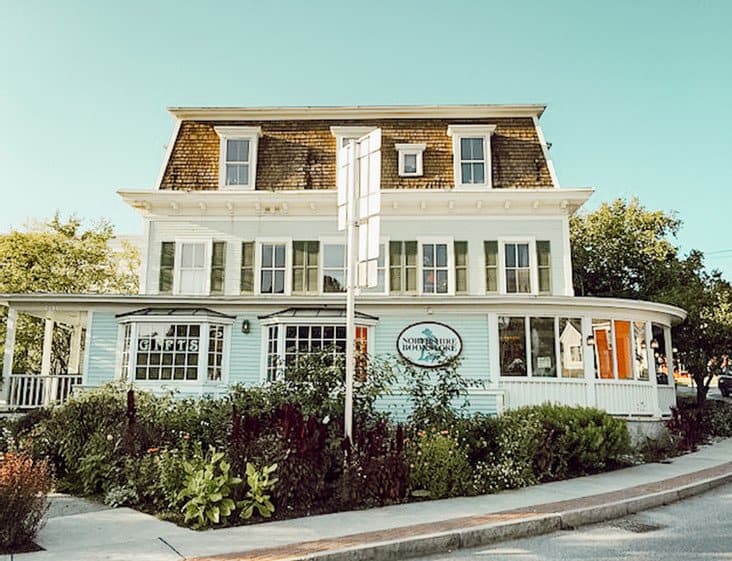 Home libraries don't need to be extravagant. Our Vermont home is not large, it's actually very small in size. However, it does have a sunroom off the master bedroom that came with wall to wall built-ins. A perfect room to create a cozy, small home library. I hope today's home library inspires you, friends!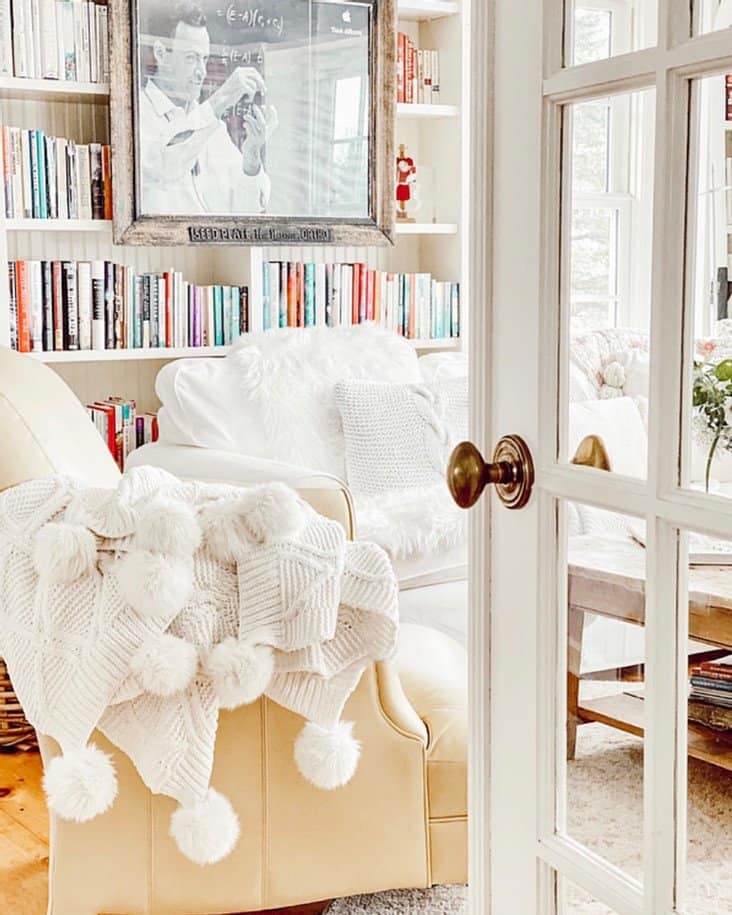 I came upon this poster of Richard Feynman while working at Apple inc. as an Education Account Executive a few years ago. And while antiquing in Rhode Island, I found this antique wooden frame with its authentic metal nameplate. They were a match made in heaven. The poster is from a series issued by Apple inc. in 1998 as part of their "Think Different" marketing campaign. I decided to make this the focal point of the home library.
I adore the look of art and framed pictures hanging on bookshelves. It adds such a brilliant character. And with Richard Feynman (1918-1988) being one of the great scientists and physicists of our time, I just felt like this was a perfect fit to be displayed as the rooms focal point.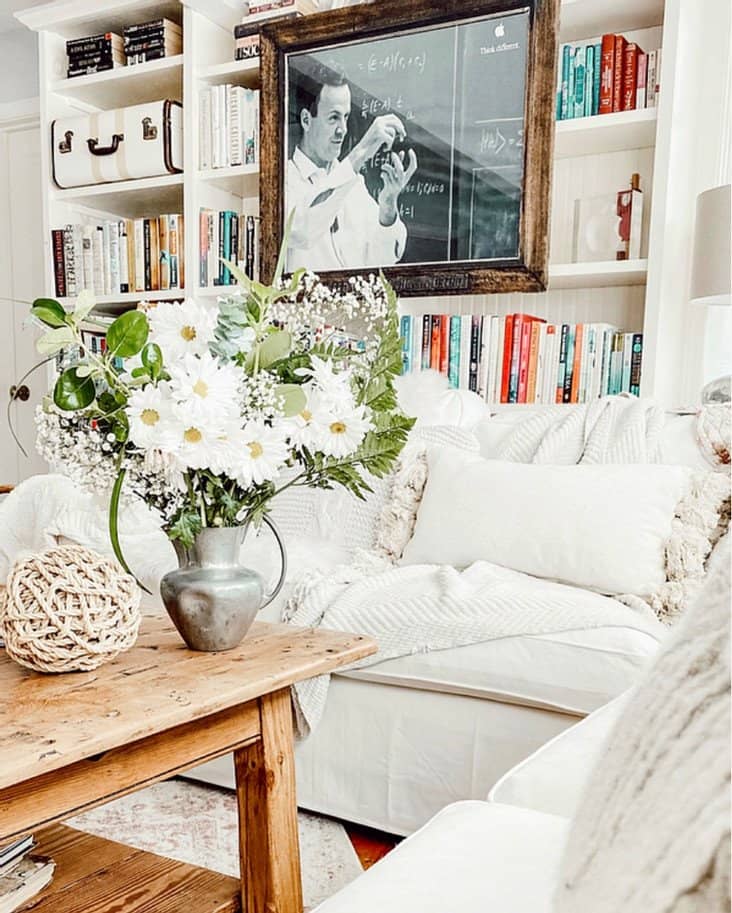 In the past, I had our books turned around so that the pages vs. the spine were showing. And I luved the look. However, I thought in recreating this small home library it was time to turn the books back around. It added so much more color to the room this way. And do I dare say more of a "messy and cluttered" look… Which is what I was going for. When I envision home libraries, I think of papers scattered, books open, computer devices, cozy reading nooks, and natural elements. A place to curl up and enjoy learning.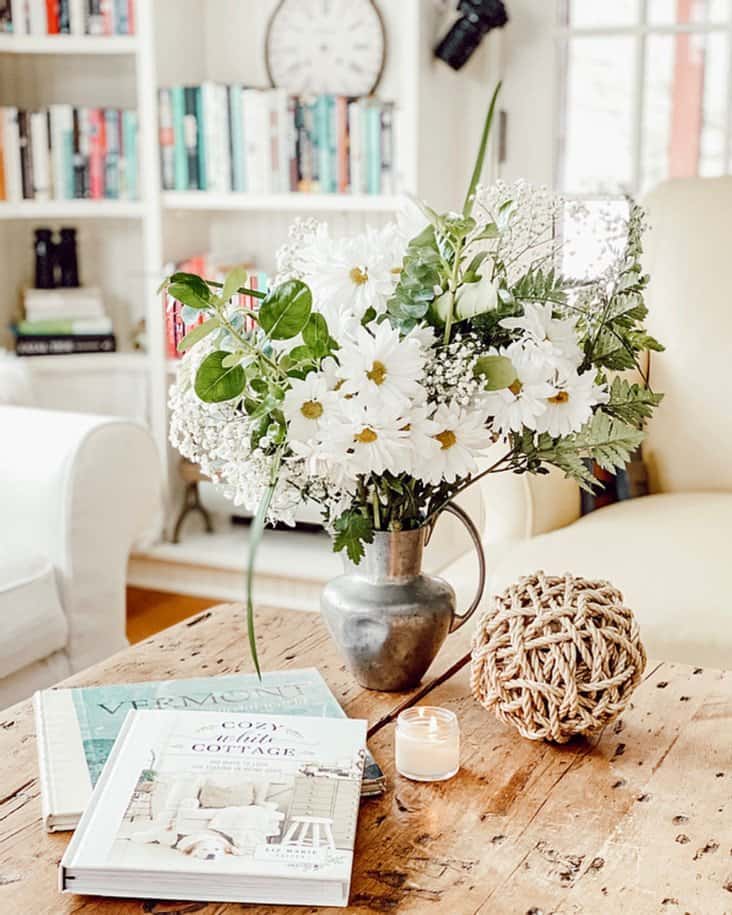 I am definitely what one would call a "life long learner". I enjoy learning new things and reaching out of my comfort zone.
I enjoy all kinds of books, with my favorites being historical non-fiction and a great psychological thriller.
I luv how books create a warm and inviting appearance when they are stacked random and out of order.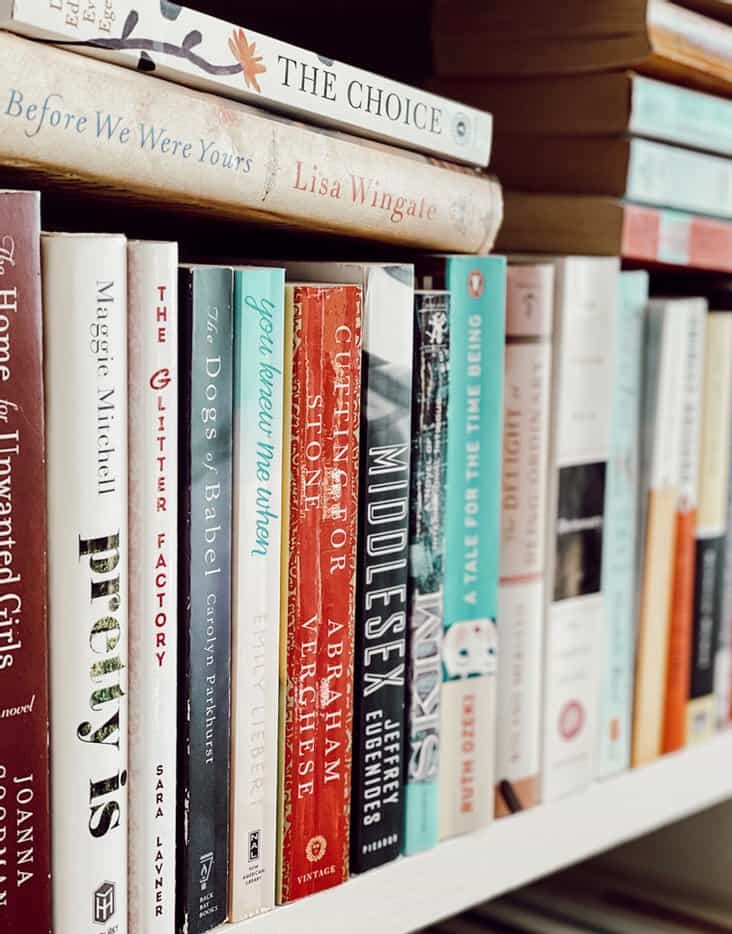 Pillows, blankets, and all the cozy deets are a must too for our small home library…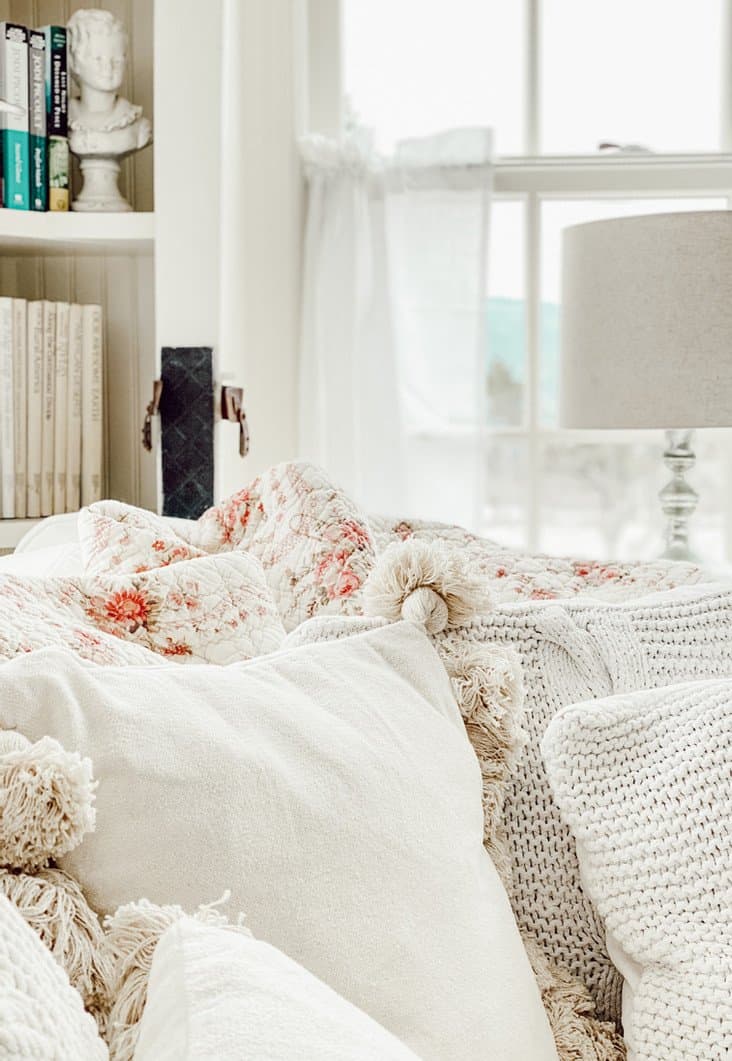 Keeping with the "messy, cluttered, and cozy" theme, we welcome a basket of Ella's dog toys…
In this photo too, you can see the look of books on the bookshelves with the pages facing outward. A before shot.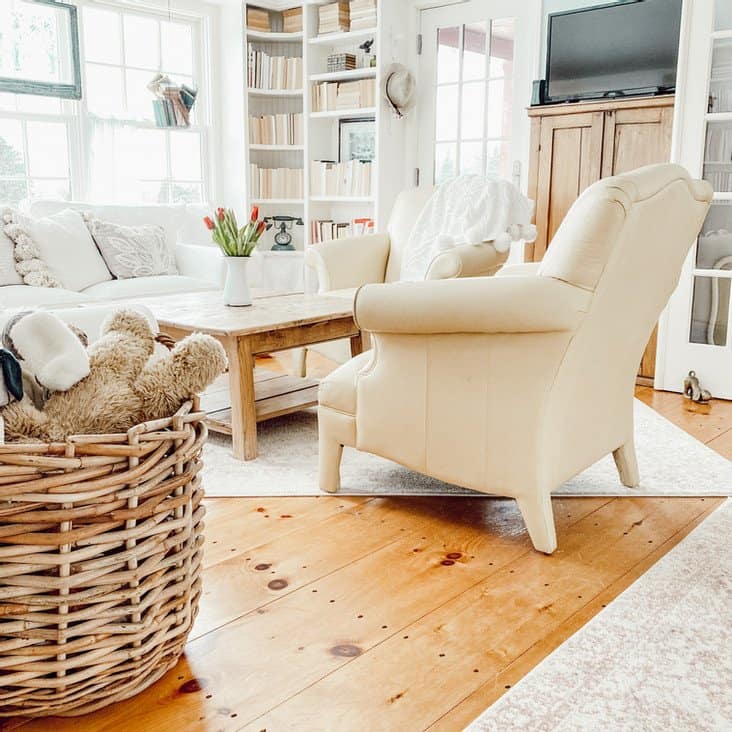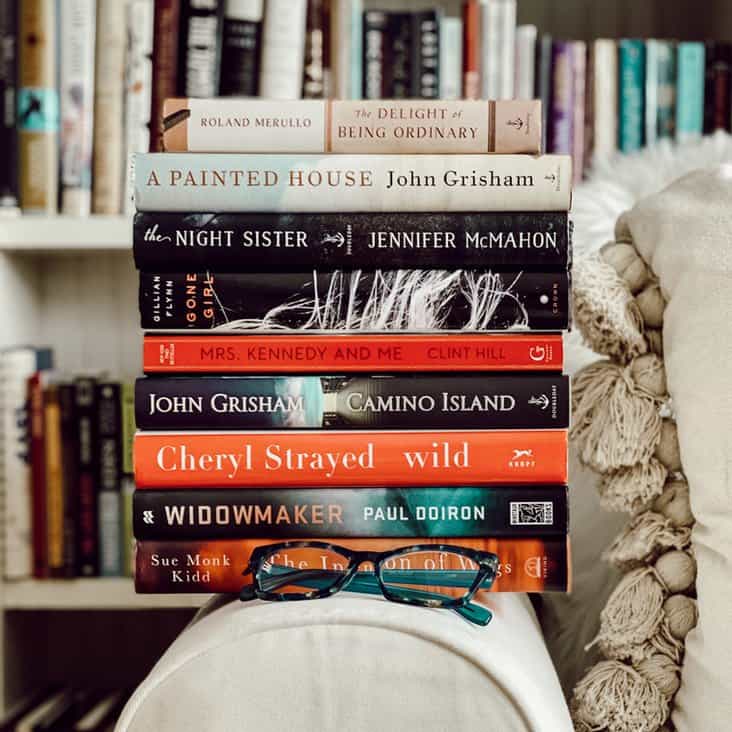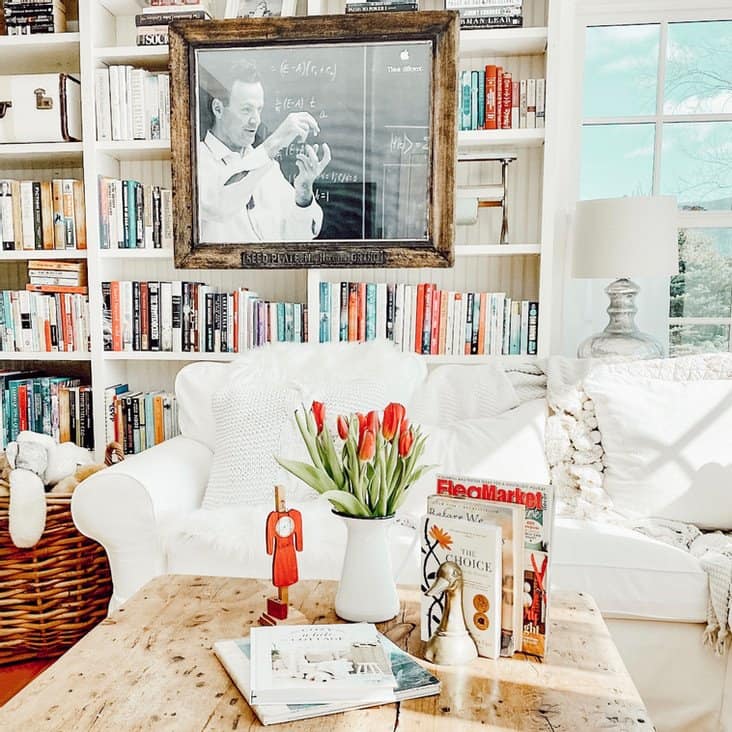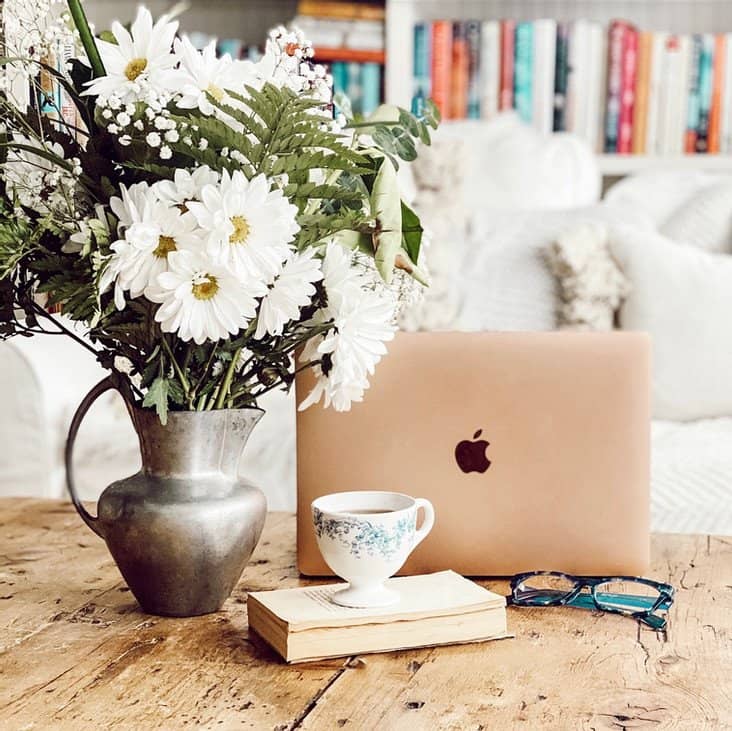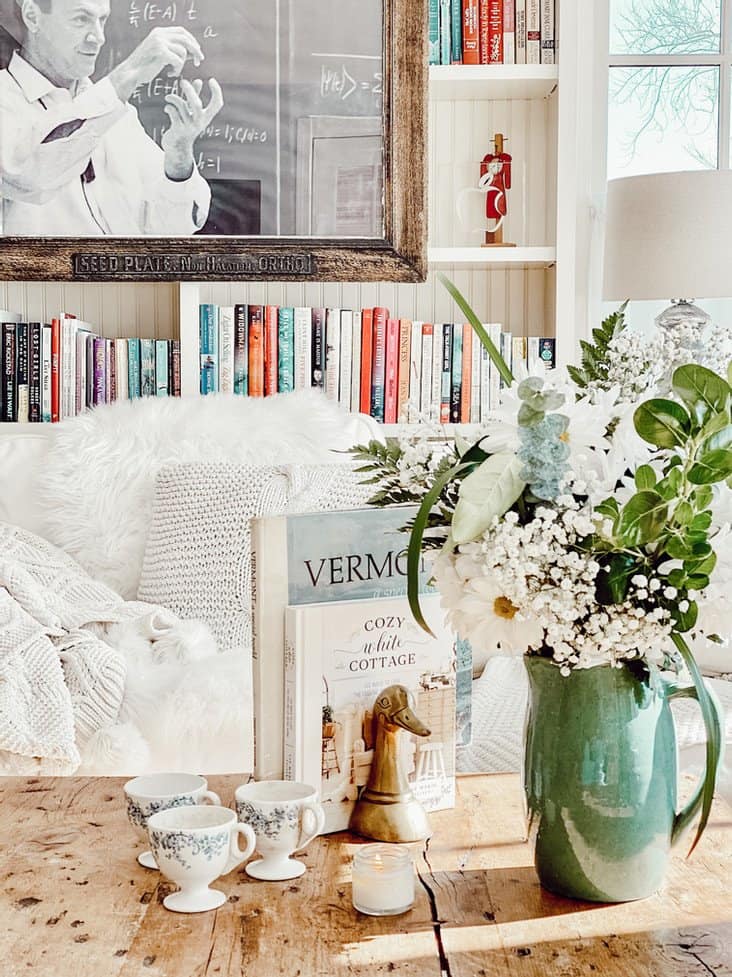 I am so happy that you dropped by today friends, and I sure hope you'll be back to visit with us again soon!
BE SURE TO SAVE THIS "SMALL HOME LIBRARY" POST TO YOUR FAVORITE PINTEREST BOARD!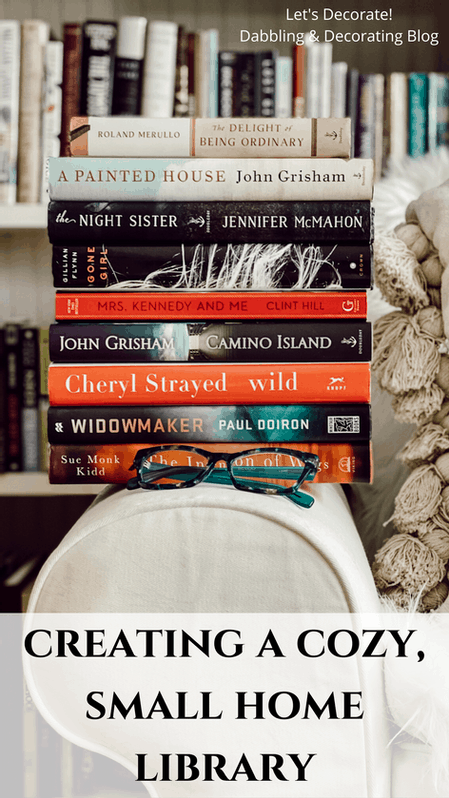 I've created the above custom pin just for this post!
Sharing is Caring!
I would luv to hear from you too~
Your comments mean so much to me and truly make my day…
Please join me over on Instagram & Pinterest to see more!
Styled by Ann
in Vermont