Decorating with old salvaged windows can add instant charm and cottage style to any home. Their rustic character, chippiness, and versatility make them so easy to work with as well.
Brass Candlesticks in the Window
While out "Thrifting with the Gals" a few weeks ago at a new shop in town, Finial & Parquet, this window display totally inspired me!
And this is what today's "Salvaged Windows Winter Decor Project" is all about.
You may also appreciate 16 Easy Spring DIY Ideas You Can Start Today!
Salvaged Windows
Where can I get quality reclaimed window frames?
You can find salvaged windows at:
Flea Markets
Habitat for Humanity ReStore
Etsy
eBay
Vintage Shops
Thrift Shops
Second-Hand Shops
Antique Stores
CraigsList
I have seen salvaged windows priced from $15 – $75 depending on the size and condition. I like to stick to around $20 for mine. Here are a few affordable options that I found on Etsy for you:
This post may contain affiliate links which won't change your price but will share some commission."
(click on any of the images to shop the products)

Brass Candlesticks
I found a collection of brass candlesticks on Etsy a few years ago and it was so worth the investment. I use these candlesticks every day in my decor. Here are a few affordable collections I found on Etsy for you:
(click on any of the images to shop the products)

What You'll Need for this Salvaged Windows Project:
Salvaged Window
Brass Candlesticks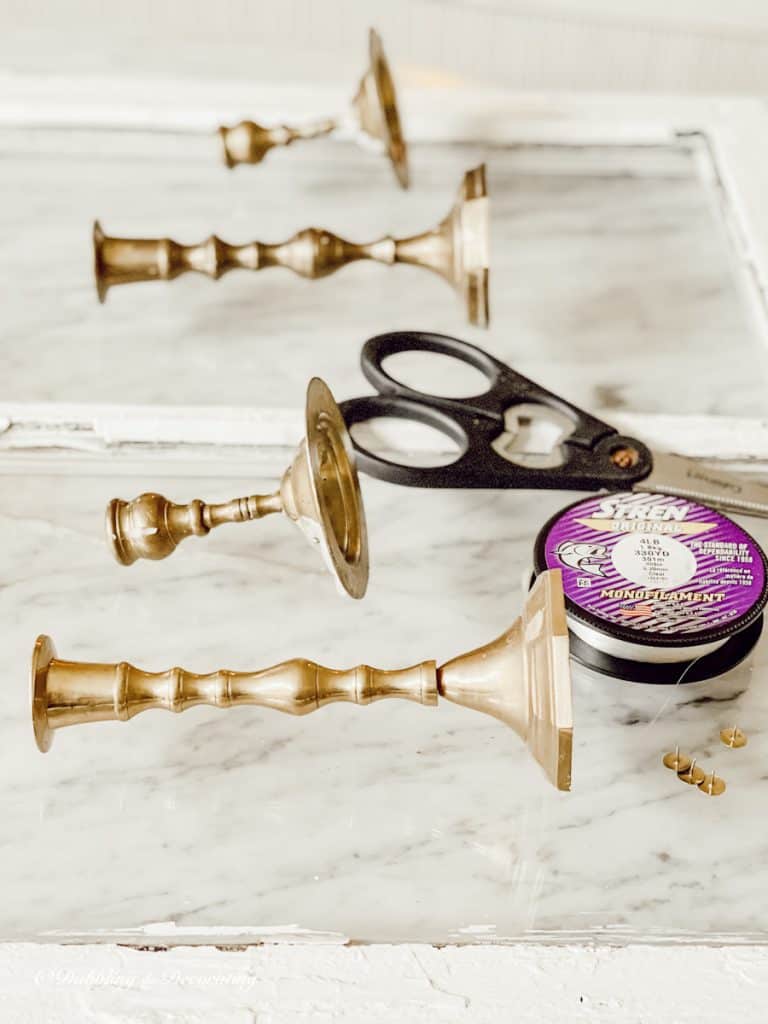 How to Hang Brass Candlesticks from Salvaged Windows
To get started lay out your old window and the candlesticks to where you think you will want them.
I used 2 two-paned windows.
Two different size brass candlesticks per glass pane worked well for me on this project.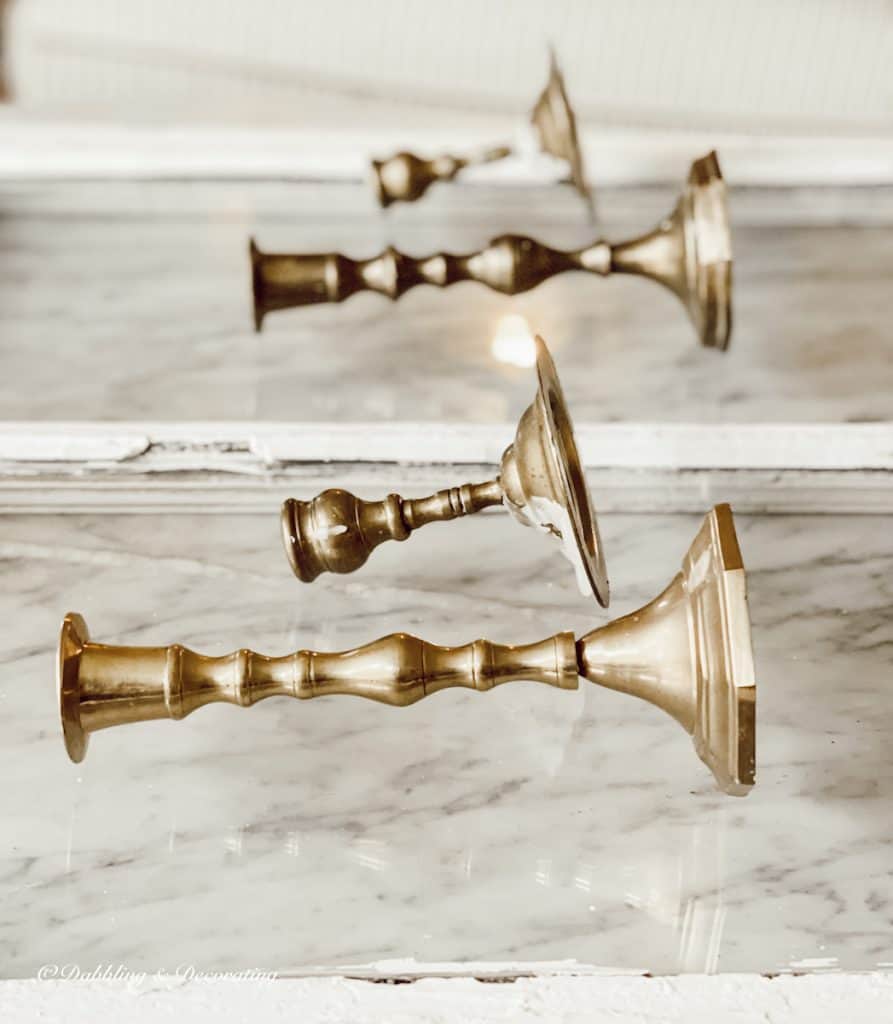 Tie the fishing line around the top of the brass candlestick tightly numerous times so that it is secure.
You may also enjoy the post, How to Decorate Bookshelves for a Vintage Christmas.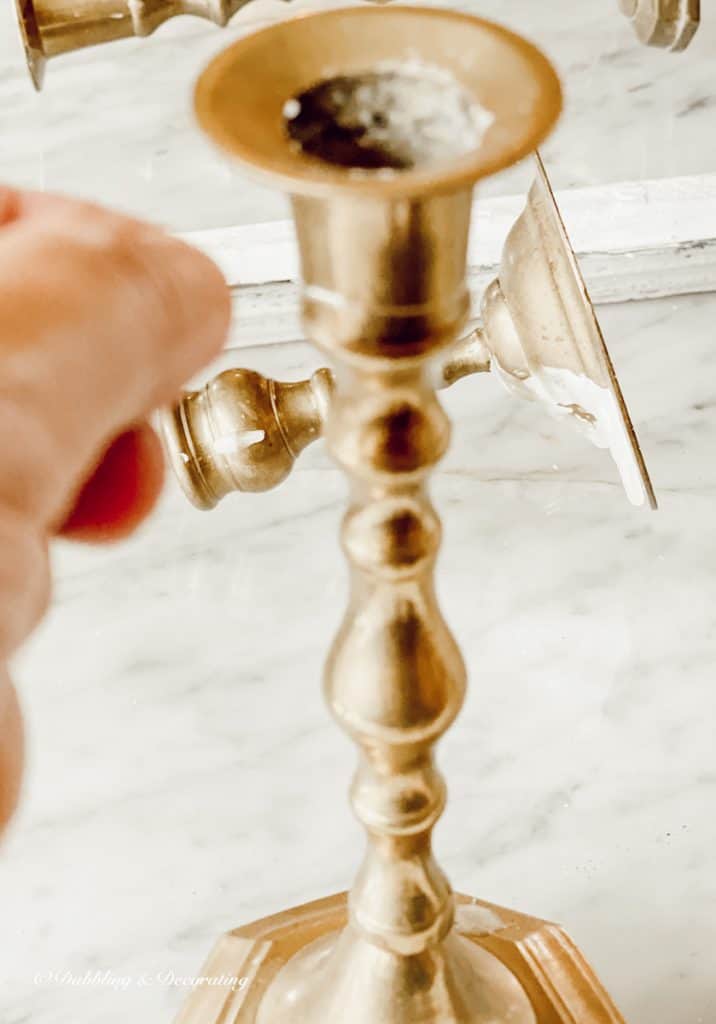 Add a thumbtack protruding out a bit to the top of the window.
Wrap the fishing line numerous times around the thumbtack and then hammer it in tightly.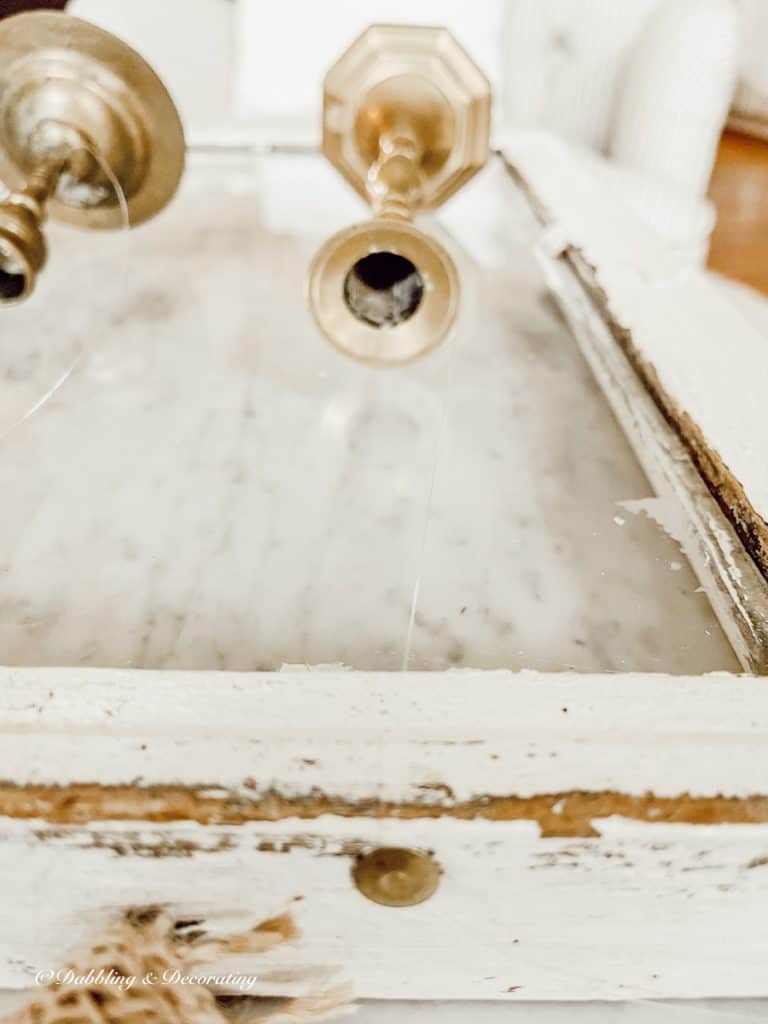 The candlestick will hang nicely and you can easily adjust it as you need to.
I loved this project, it was so simple and unique! It will give you such a big bang for your buck too!
How to Display Salvaged Windows
I displayed our two windows with brass candlesticks on each side of our built-in bookcases in our living room, then refreshed the bookshelves for our cozy winter at home.
You may also enjoy the post, Black Frames to Antique Gold Frames with Annie Sloan.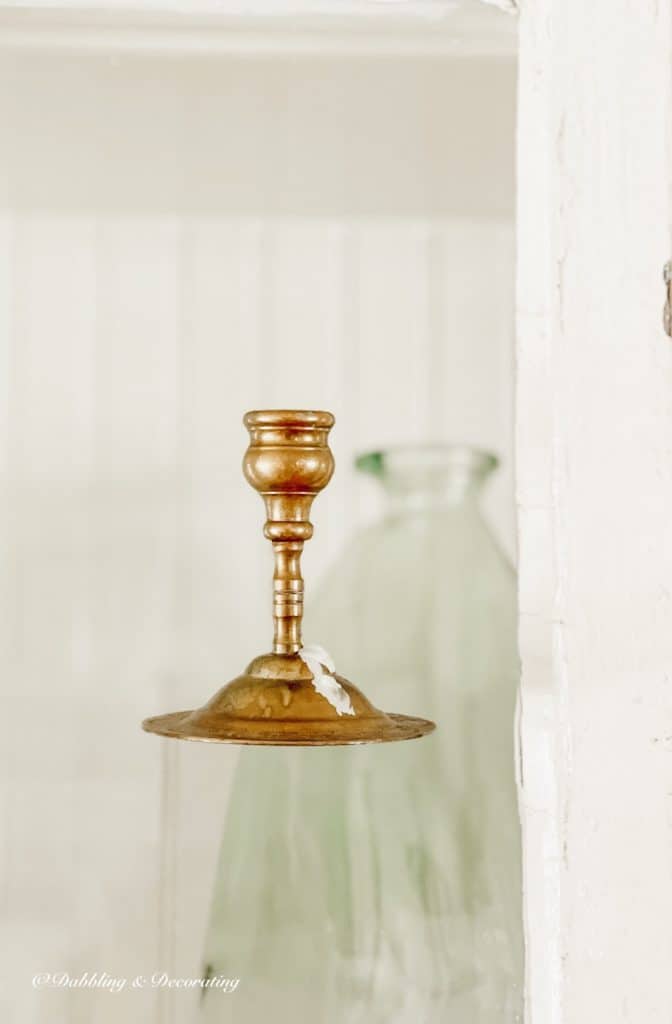 I wrapped the wire hanger on the salvaged window with burlap.
Which I may change out to a velvet green ribbon as we enter into this holiday season.
Green and gold are going to be my go-to colors for this holiday and winter season. See why on this post Vermont Fall Colours | Thrifting with the Gals.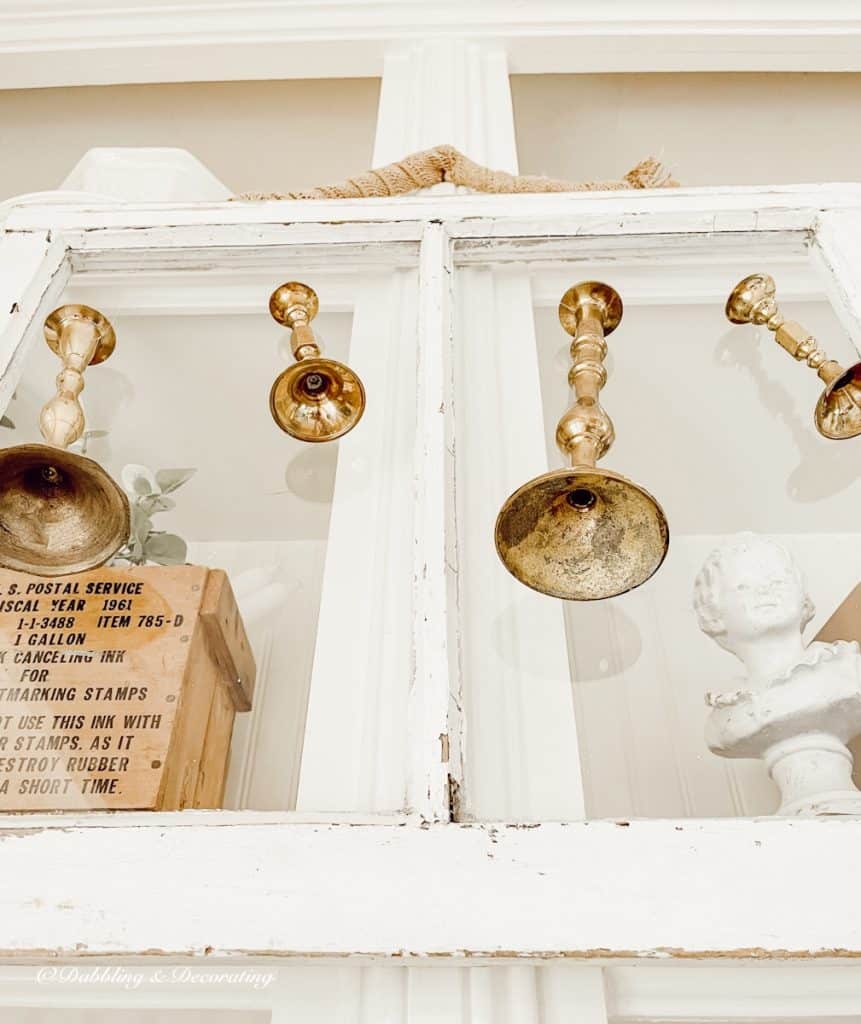 I didn't add actual candles into the candlesticks.
However, I think I might try it with some short, burned-down candles for the holidays.
You may also enjoy seeing these Cozy Winter Neutral Built-Ins all decorated.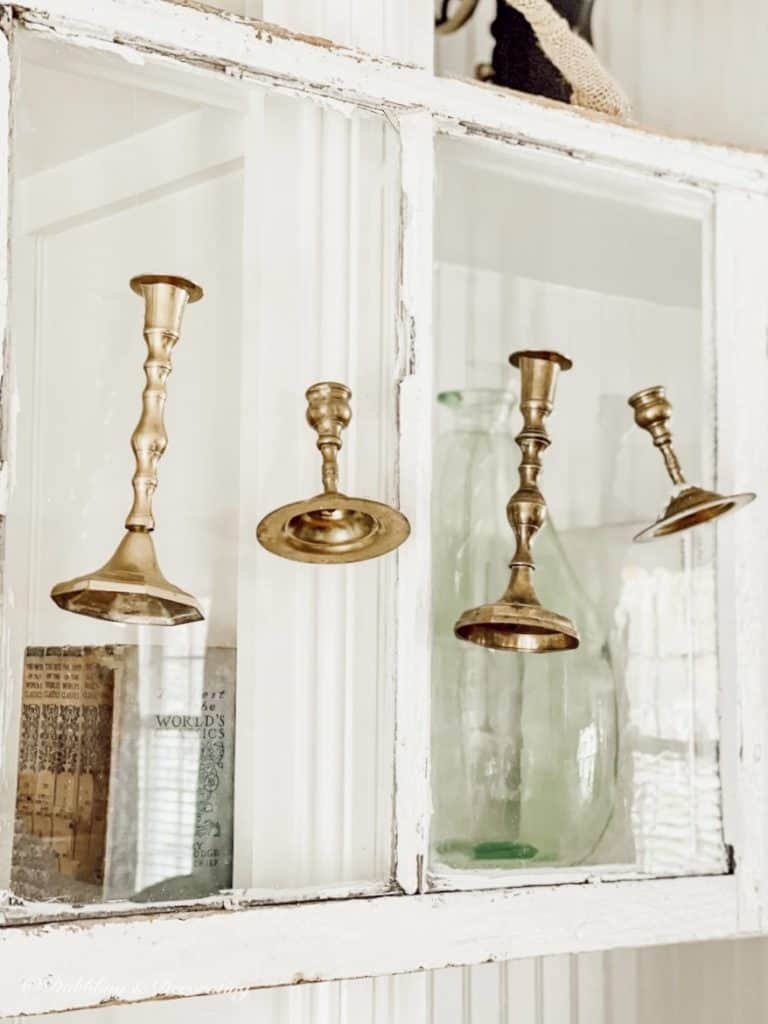 If you like this post you may also enjoy:
16+ Easy Salvaged Window Decorating Ideas
A Very Simple Vintage Plates and Windows DIY.
A Vintage Teacup and Old Window Spring Mantel.
Vintage Botanical Mantel with Old Windows.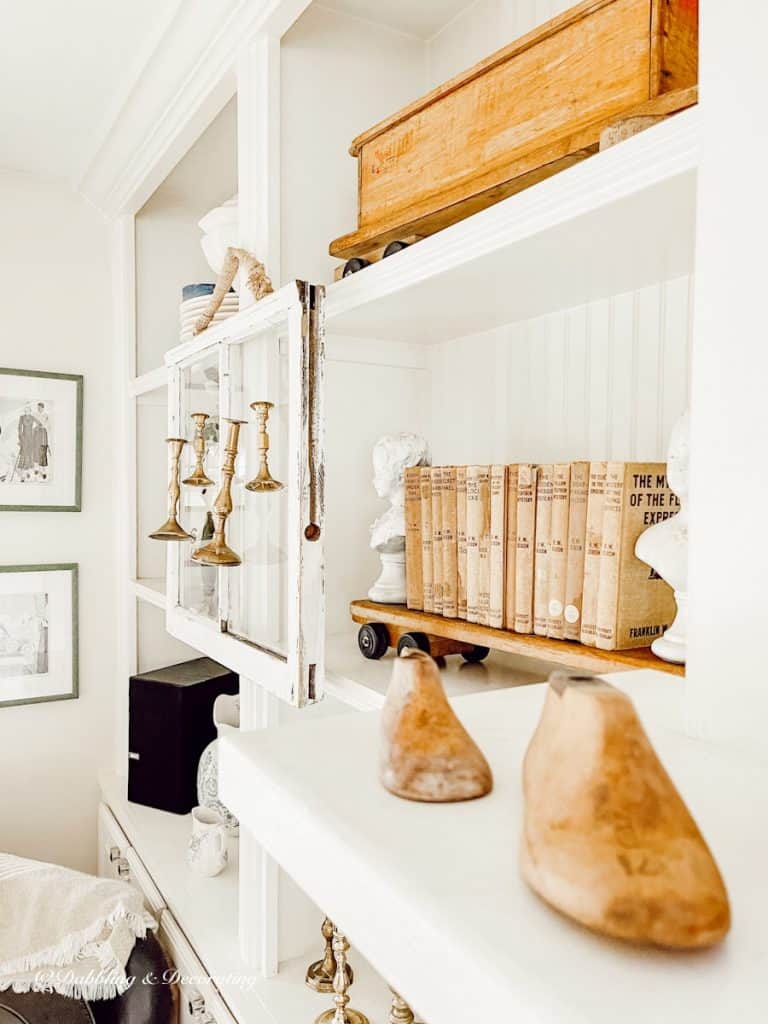 You may also enjoy This Season's Thrifting Trends and 11 Creative Ideas to Display Your Vintage Collections.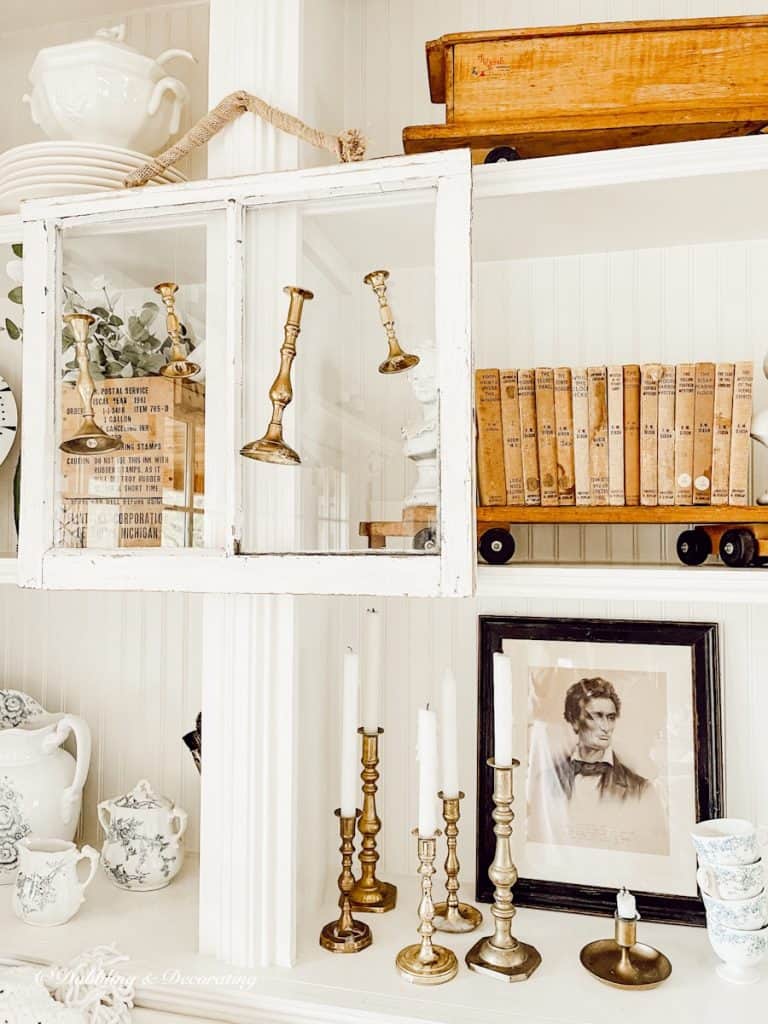 I don't know what I like more, the salvaged windows or the brass candlesticks…
How about you?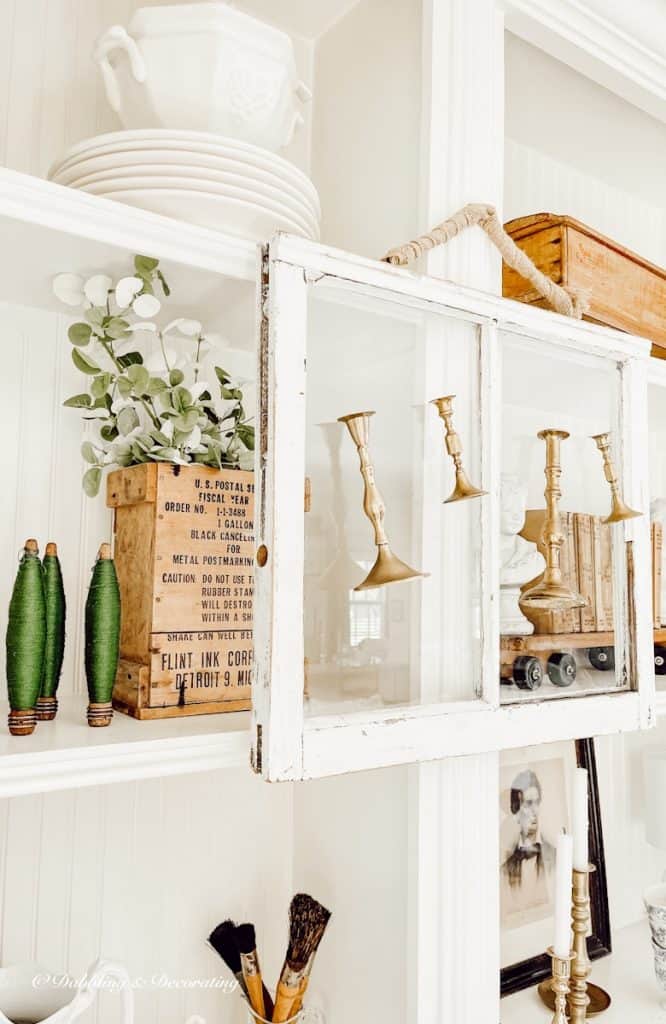 You may also enjoy Vintage Christmas Decor on Full Display.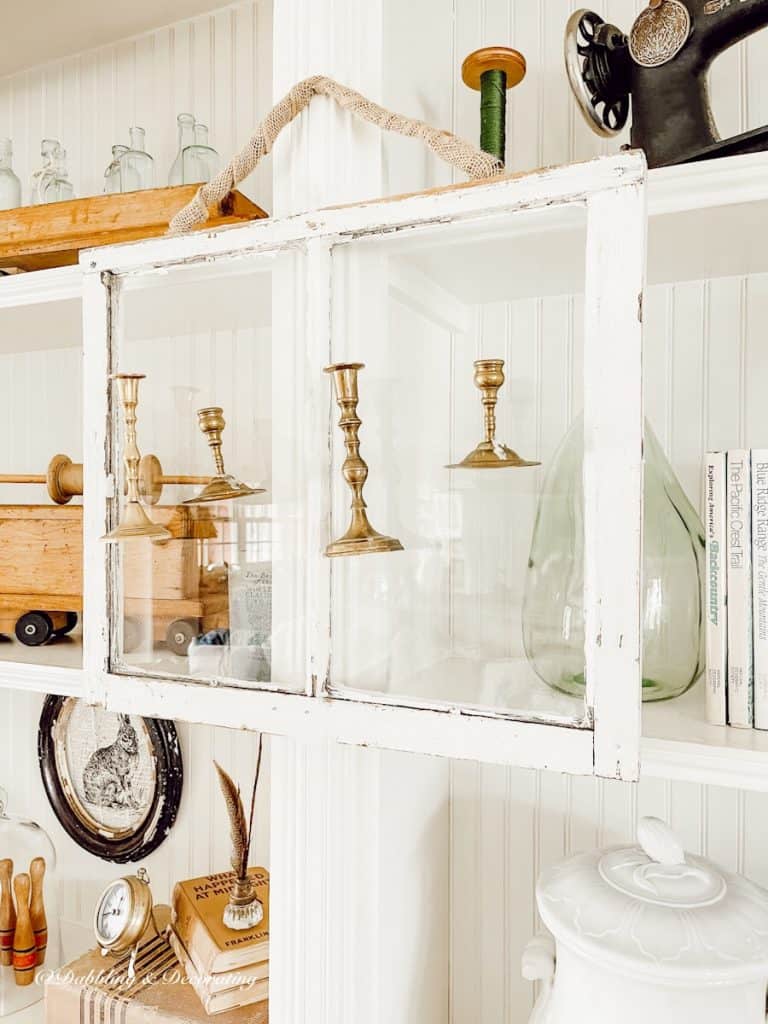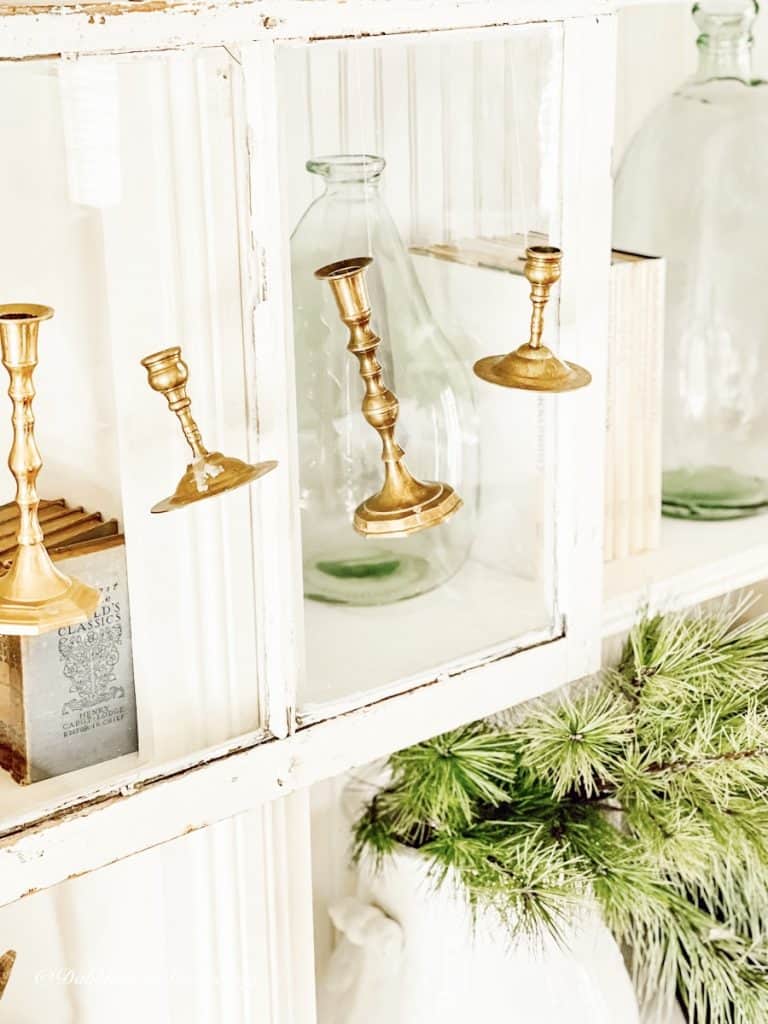 I'm so glad you dropped by, and if you are new to my blog, welcome! I hope you enjoyed your visit with us here today at our Home in Vermont.
Be sure to also check out our Home in Coastal Maine where we spend summers and weekends when we are craving a walk on the beach or a visit with old friends.
Please join me as a regular here at Dabbling & Decorating by signing up for my Saturday morning newsletter and never miss an update!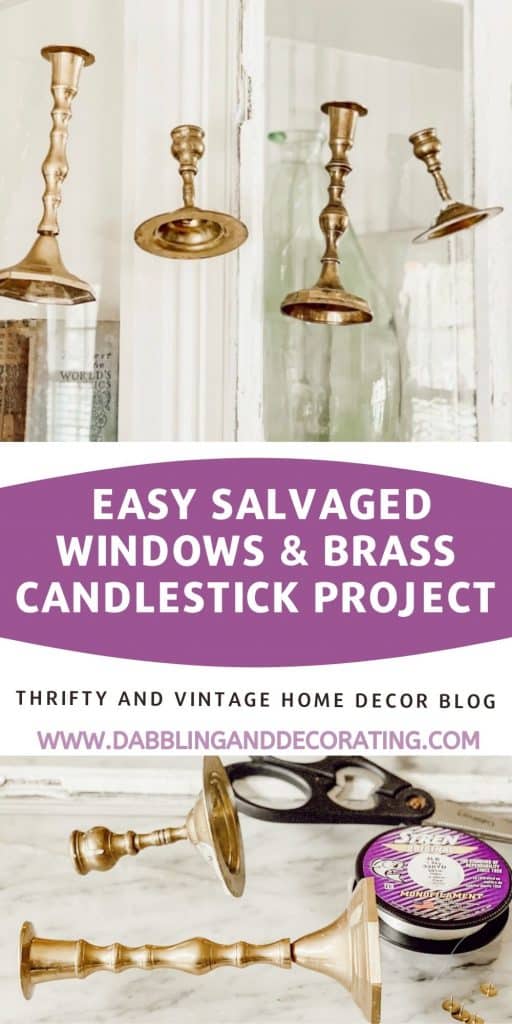 I've created the above custom pin just for this post! Hearing from you makes my day and your comments mean so much to me! Please join me over on Instagram & Pinterest to see more!
YOU MAY ALSO LIKE