Do you love a good vintage suitcase? I have collected three of them over the years and they have really become so shabby looking! I have used them as plant stands, side tables, under beds, etc… And they are now so tattered. Therefore, I've decided to spruce up this vintage suitcase with a little paint and style them, so that they will fit in my sunroom.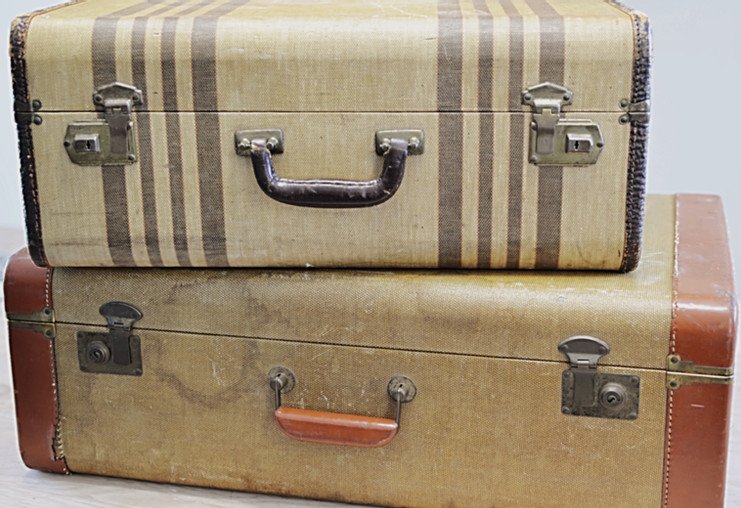 Here is the vintage suitcase before. Notice all the water stains and a few tears? Just eww! So shabby looking!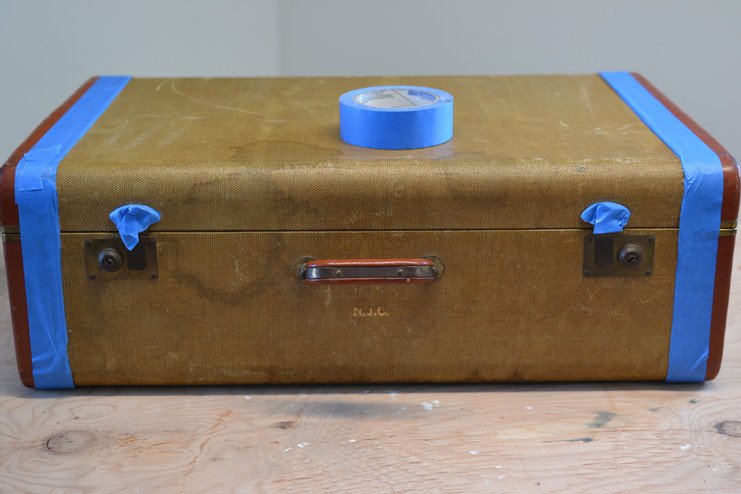 So I wasn't totally sure where I was going to go with this when I started. I just know I wanted the vintage suitcase to look clean and bright. I chose an antique white paint that I had on hand and taped the snaps and the leather. I thought the snaps and leather would pop against the antique white, maintaining that vintage feel.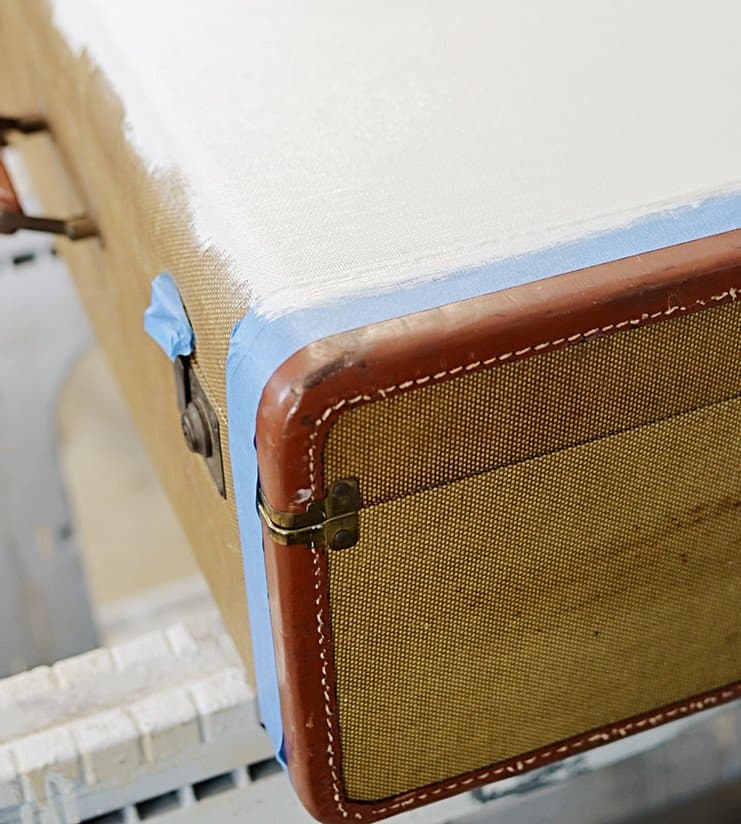 It wasn't necessary for any primer, as the vintage suitcase was already so dry, and absorbed the paint very quickly.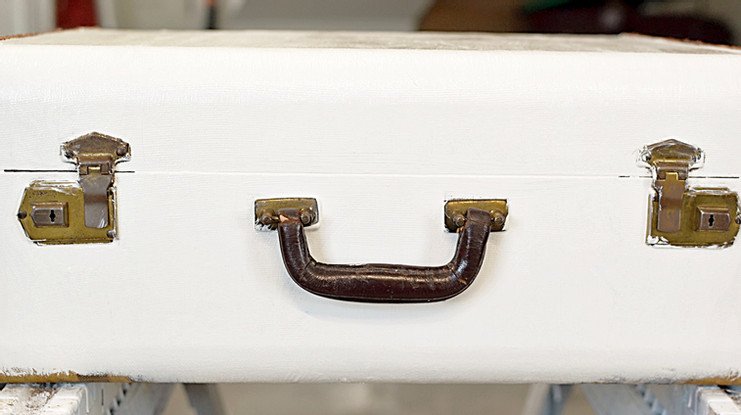 Here is the vintage suitcase after two coats of paint. I luv how the snaps and leather are popping against the white. But I think I will need some Oops to clean up the locks, as I decided that freestyle painting around them was easier than taping them up. I was very wrong…LOL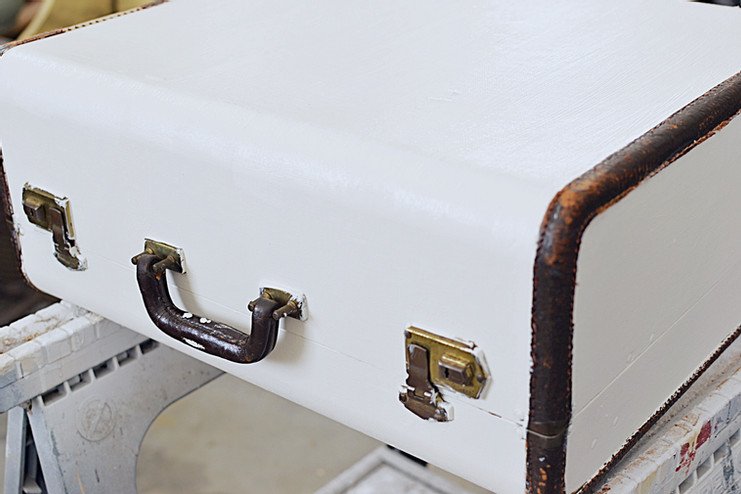 Here is one vintage suitcase completely painted white and I still need to clean up the handles. However, I am luving the bright, clean look of it! In the end, I put three coats of paint on both suitcases.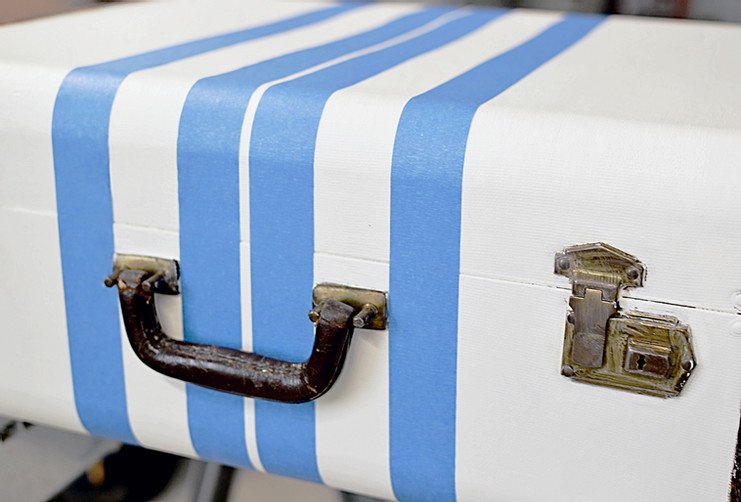 So I decided I wanted to add some pale yellow stripes to the smaller suitcase, which is the same paint color that I have on my walls. So I used painter's tape to create the space to paint two pale yellow stripes.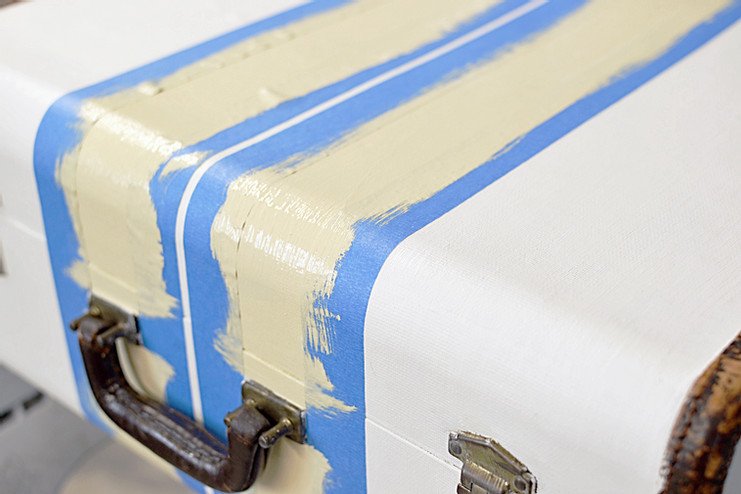 I waited about 24 hours after painting before I removed the tape and I started to position and decorate with them in my sunroom. I luv how they turned out!!!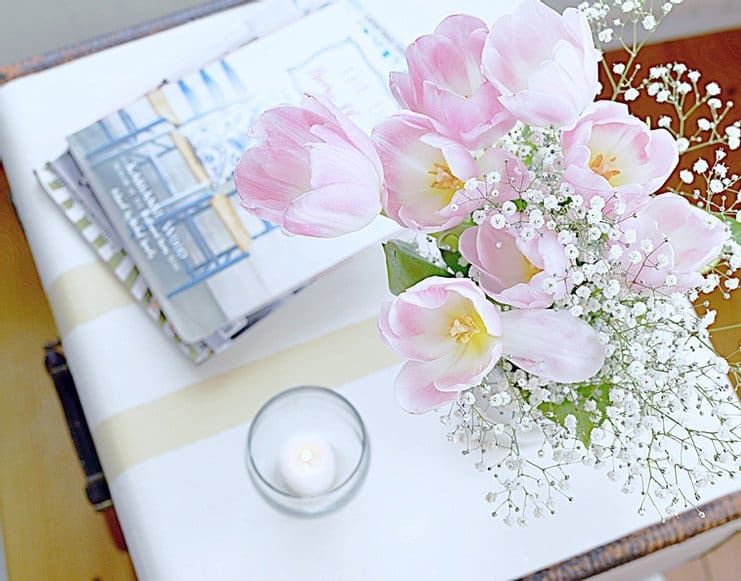 The vintage suitcase looks so clean and fresh while still maintaining that same vintage feel.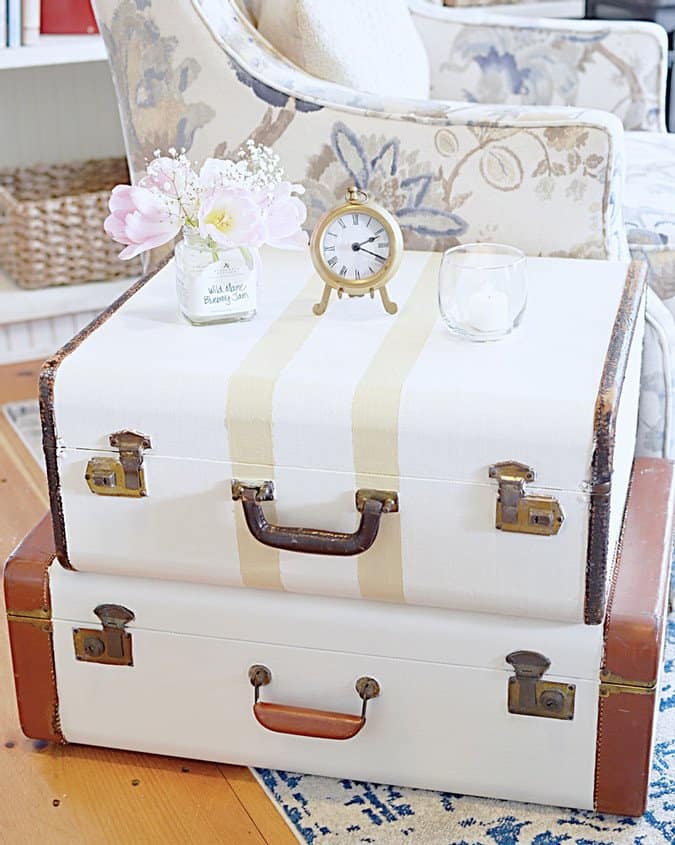 You may also like the post How to Make Beautiful DIY Farmhouse Baskets here.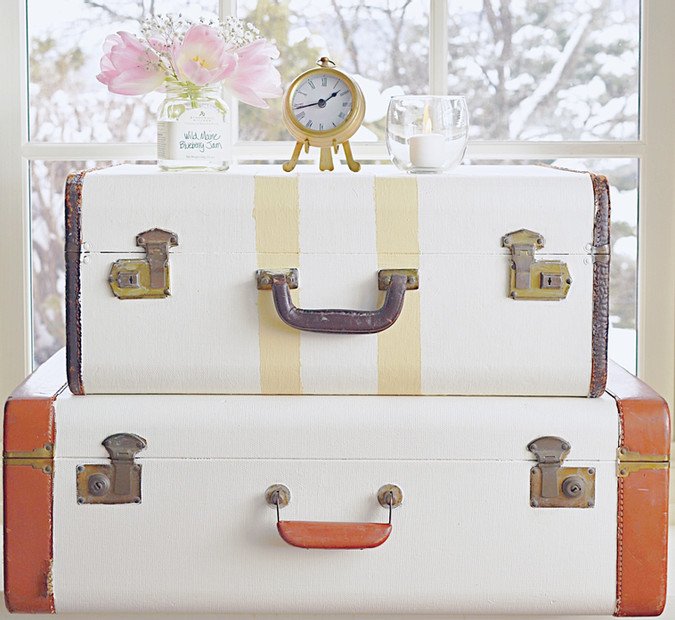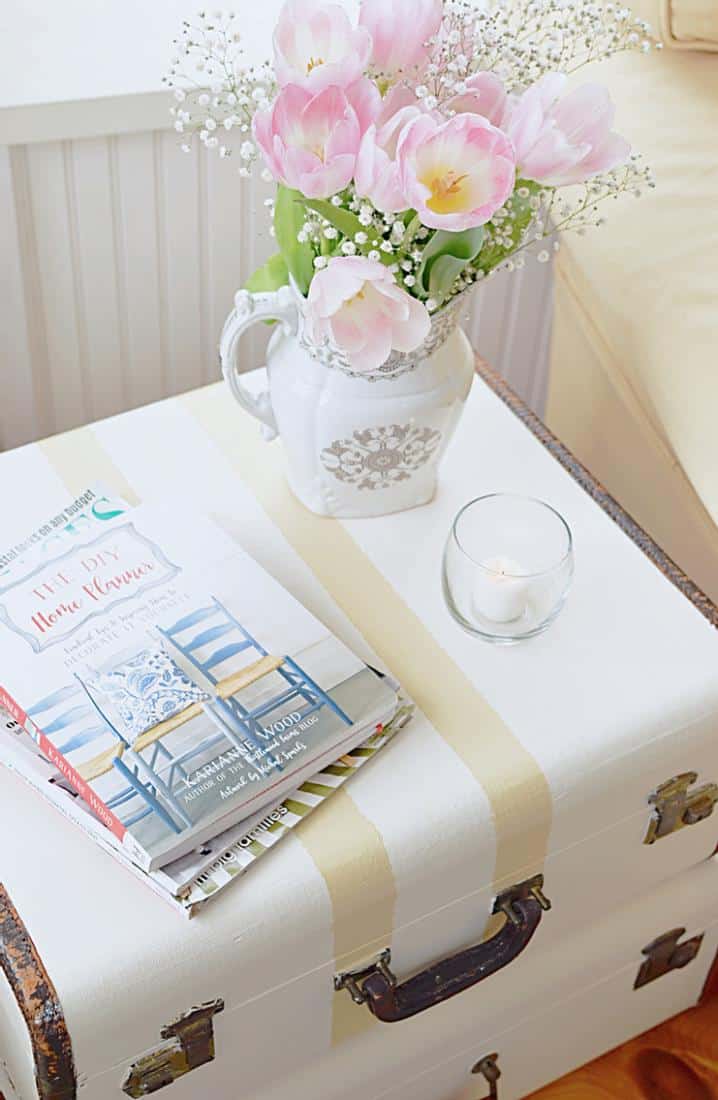 I'm so glad you dropped by today friend, and if you are new to my blog, welcome! I hope you enjoyed your visit with us here today at our home in Vermont.
Please join me as a regular here at Dabbling & Decorating by signing up for my newsletter below and never miss an update!
Pin It!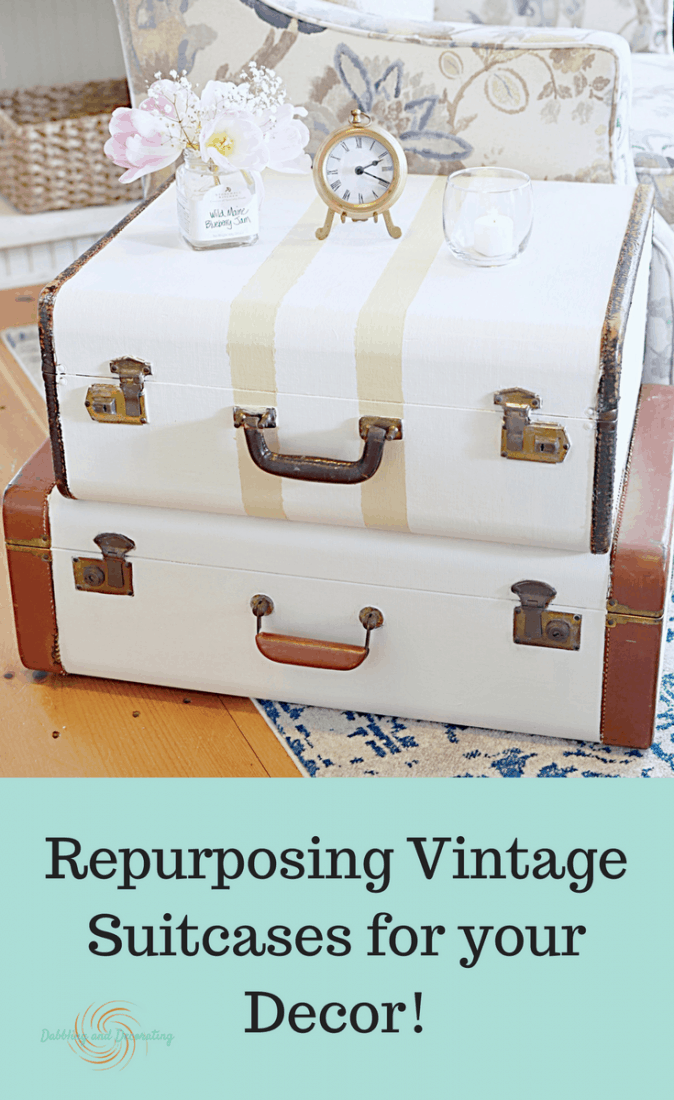 I've created the above custom pin just for this post! Hearing from you makes my day and your comments mean so much to me! Please join me over on Instagram & Pinterest to see more!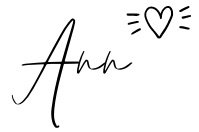 YOU MAY ALSO LIKE