Can't get out to go antiquing or thrifting? Let me share with you how to vintage shop online easily and affordably. With a few tips & tricks.
Here's my guide for you on where to buy vintage decor and second-hand treasures online from my favorite small shops to fabulous online auction sites. Be sure to bookmark or pin this post for your future reference!
The most popular and the largest online shopping that I know today is Etsy.
What is Etsy?
"Etsy is a global marketplace for unique and creative goods. It's home to a universe of special, extraordinary items, from unique handcrafted pieces to vintage treasures." Source: Etsy
When I'm looking for something specific I usually start with Etsy!
Like these 75+ Blue and White Vintage Gift Ideas for Women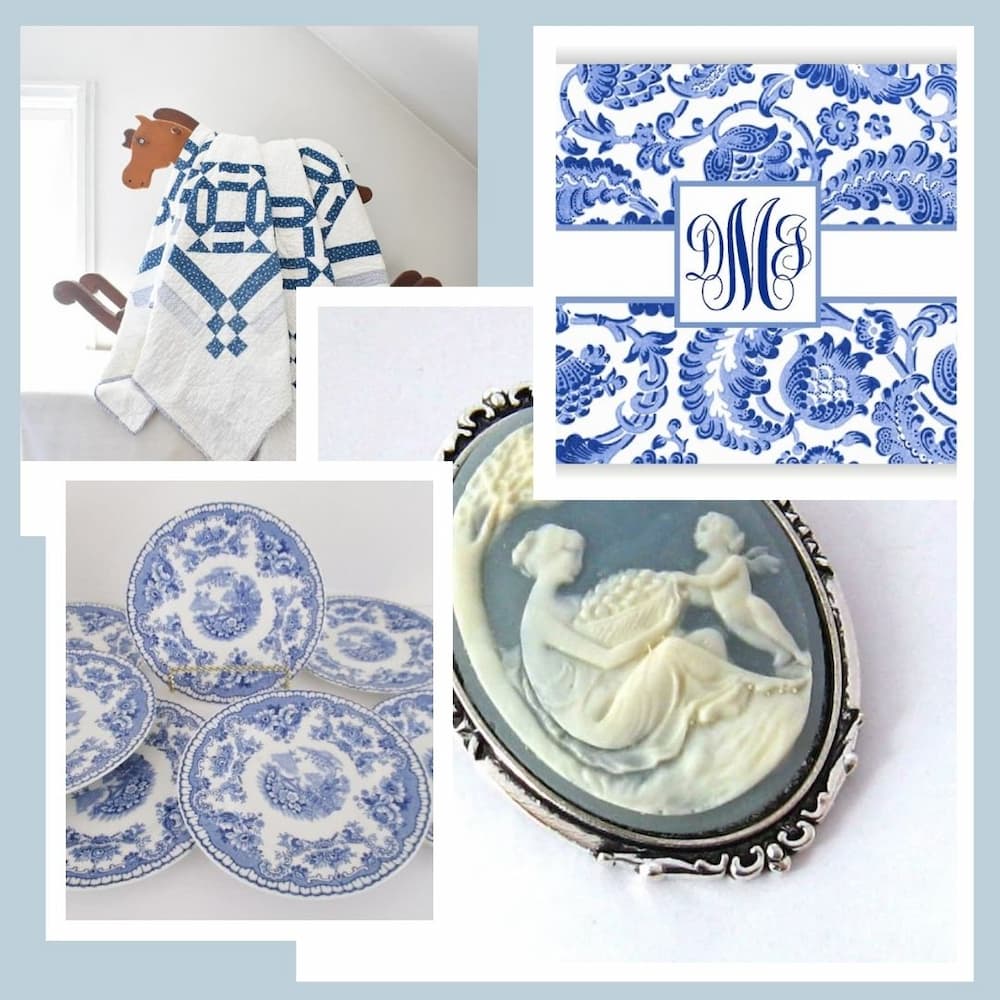 eBay of course is another popular online shopping site.
What is eBay? How does eBay work?
"eBay is an online shopping site that is best known for its auctions and consumer-to-consumer sales. It's also extremely popular for online merchants to use as a sales channel. eBay's available in many different countries. However, you can search for products available in your local area by entering the zip code. Alternatively, you can search for products available nationally or internationally." Source: Ecommerce Platforms
I will use eBay from time to time to find specific affordable pieces.
Auction Ninja has fabulous online antique auctions by estate liquidators.
You may find all their local estate sales HERE.
I also recently had the pleasure of being their "Guest Curation Blogger". You may see the feature HERE!
"You can go to an estate sale without leaving your house at this bidding site, all authenticated by experts with bids starting at a dollar."
"On this social media site, you can search by category for vintage items people are selling in areas close to your home."
Replacements LTD helps people create experiences that last a lifetime by providing the world's largest selection of vintage and new tableware and collectibles.
Need to replace that one-of-a-kind broken vintage dish, this is the place to go!
Small Vintage Shops Online You Need to Try!
Please let me know if you have any favorites that I may have missed here and I'd be happy to add them to this list.
I plan to keep this post updated so be sure to bookmark and pin it for your later reference.
Join me over on Instagram too for all the weekly thrifting along with our monthly blog hop on our blogs, for "Thrifting with the Gals" too.
You may also enjoy the 13 + Best-Loved Vintage Antiques and Uniques post.
Happy Thrifting!
I'm so glad you dropped by, and if you are new to my blog, welcome! I hope you enjoyed your visit with us here today at our Home in Vermont.
Be sure to also check out our Home in Coastal Maine where we spend summers and weekends when we are craving a walk on the beach or a visit with old friends.

I've created the above custom pin just for this post! Hearing from you makes my day and your comments mean so much to me! Please join me over on Instagram & Pinterest to see more!
YOU MAY ALSO ENJOY