This month, "Thrifting with the Gals" I started out with one of my favorite shops, Hutchins Antiques in Ogunquit, Maine looking for thrifted treasures. This second-hand shop is much larger than it looks from the outside and is a must if you ever find yourself in the area. Followed up with an amazing pizza and salad across the street at Cornerstone Pizzeria!
Hutchins Antiques is filled with all kinds of second-hand vendors and is my favorite place to shop for vintage tablecloths, nautical treasures, and dishwares. I found a wire basket filled with sand dollars and some pretty lavender glassware on this day.
I instantly thought of many ways to decorate with the seaside sand dollars.
And my favorite was these amethyst glasses. I fell absolutely in love with them. Do you like colored glassware?
But once I returned home and did a quick Google search, I discovered that these glasses aren't actually vintage after all and are available today on Amazon!
"This post may contain affiliate links which won't change your price but will share some commission."

But that's ok, they are still fabulous thrifted treasures to me!
Join me here, where I share more beautiful amethyst glasses and a round-up of my friend's favorite drink recipes! Stop by and bookmark it for later too.
When I was decorating this past spring with amazing purple lilacs, I discovered how gorgeous the color purple is paired with the dark hues of antique furniture.
Such a stunning combination.
An easy way to bring the outdoors in? Here I cut some lilac branches and plopped them into an $8 thrifted treasure. Who needs flowers…
SHOP SOME OF MY OTHER FAVORITE COLORED GLASSWARES

Today I stopped by a thrift shop that has been closed for quite a while due to the pandemic and just recently reopened.
And it's a bit of a special place for me because my mother used to manage York Community Services back in her day.
Do you have a Community Service combined with a Thrift Shop in your town?
We have a very similar program where we live in Vermont, the thrift shop helps to fund the local food pantry and family services. A reason I donate to these shops whenever I can!
Here is where I found this $25 old wooden table.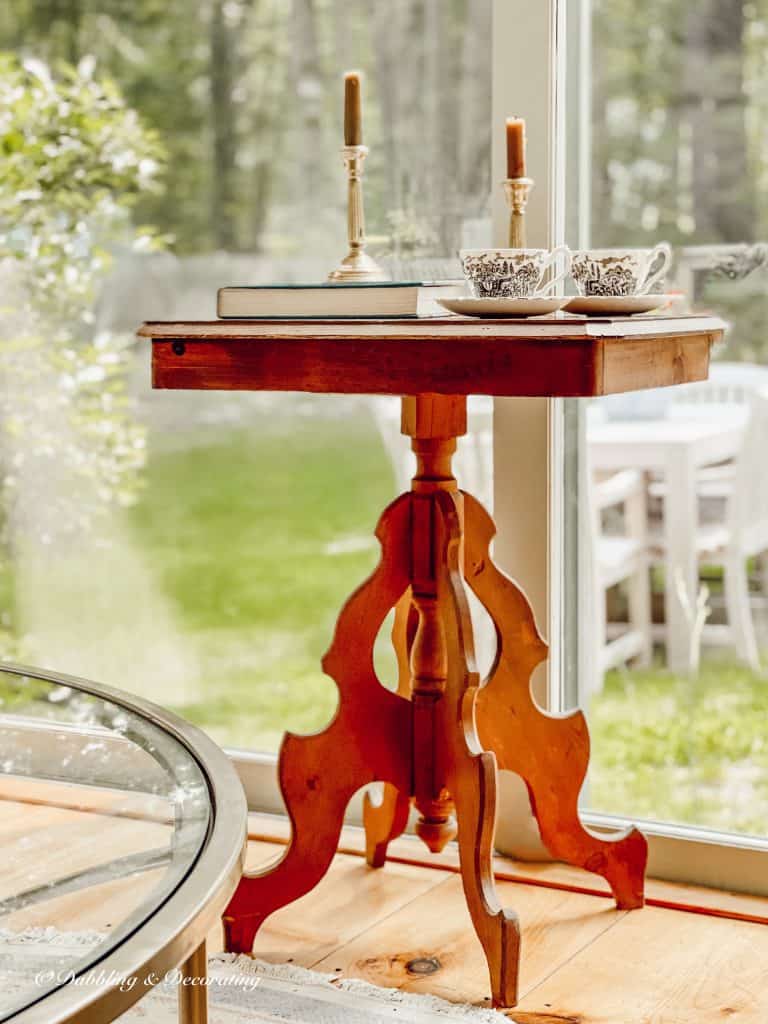 And this $35 vintage Singer sewing machine.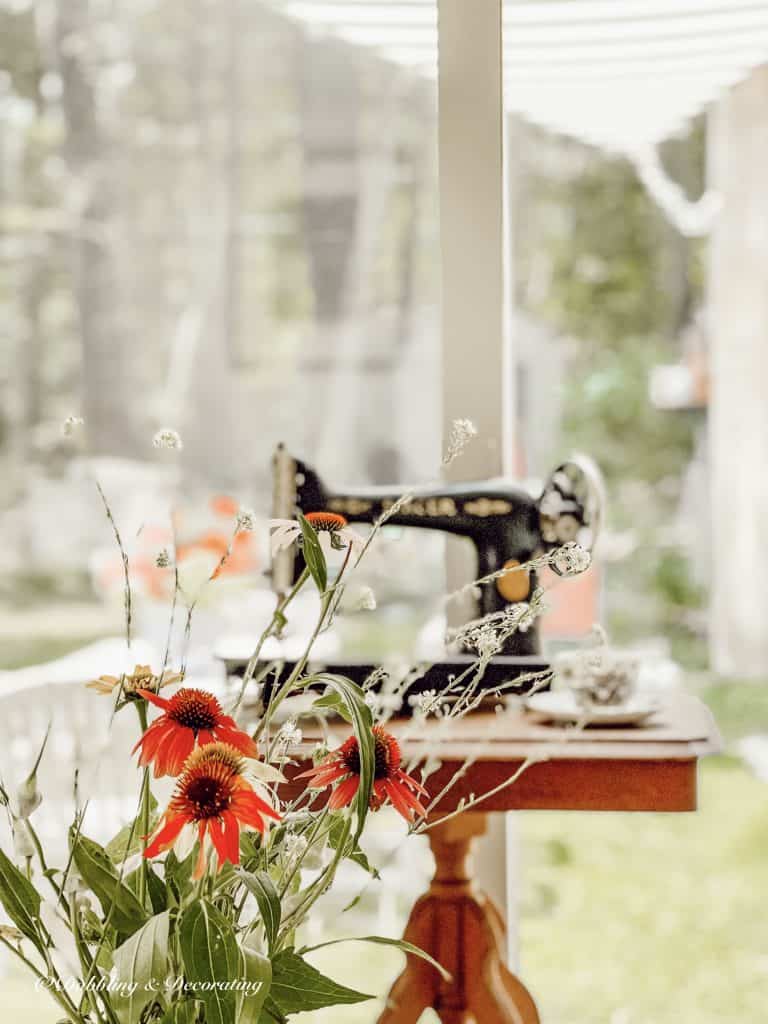 This old accent table is so warming between two guest chairs in the sunroom in Maine. And the vintage sewing machine is headed back to Vermont with me to be showcased on our white built-in shelves.
But it looks really cute on the thrifted table too doesn't it?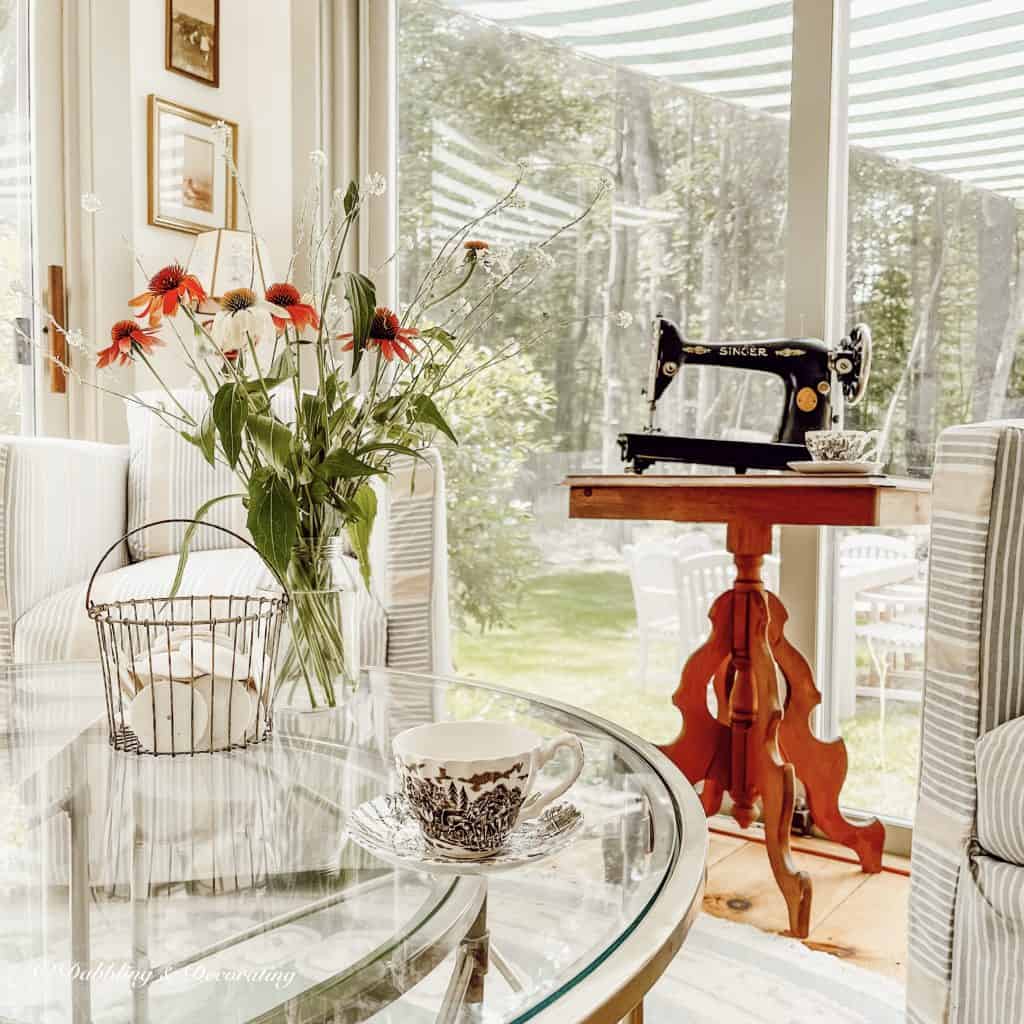 SHOP YOUR OWN VINTAGE SEWING MACHINE BEFORE THEY'RE GONE!

A Church Bazaar | Londonderry, Vermont
While thrifting for treasures on my way from Vermont to Maine I stopped by a leftover weekend church bazaar with signs everywhere, FREE!
I've never seen this before and am so glad I stopped! The church had a bazaar over the weekend, and whatever they didn't sell was free for the taking!
I found these two vintage pine cane chairs that quickly ended up in the trunk of my car for free!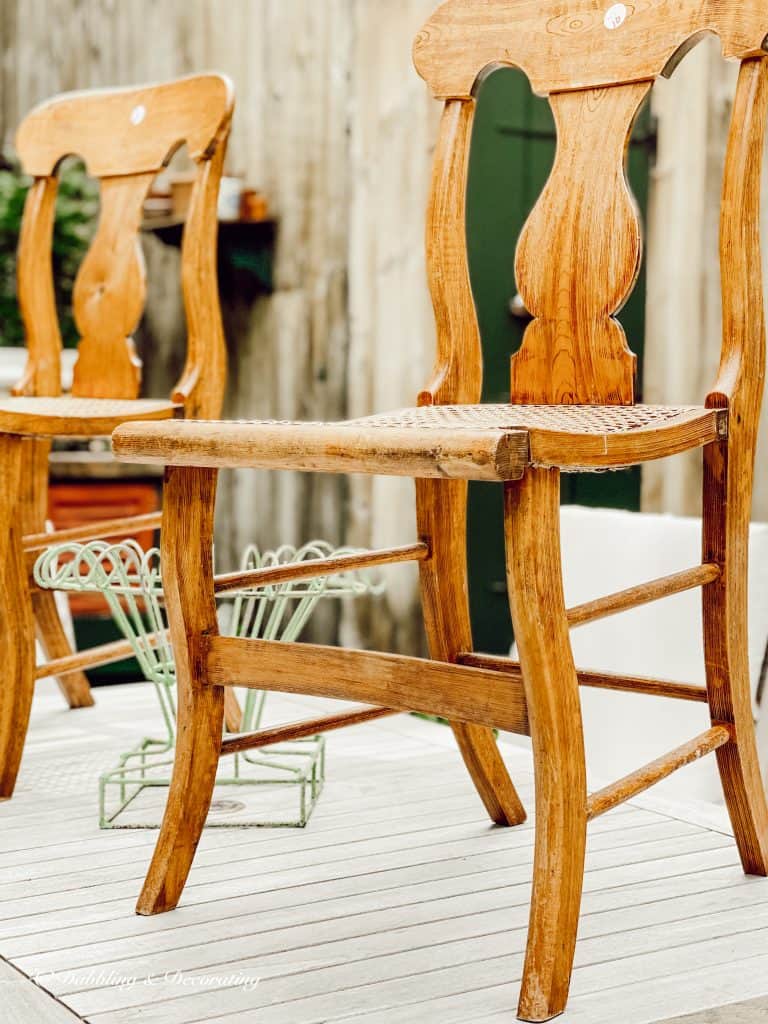 They were both sturdy and the cane on them was in fine shape too. I couldn't believe that nobody bought this thrifting for treasures for the going price of $20 and then $10 over the weekend at the church bazaar. What?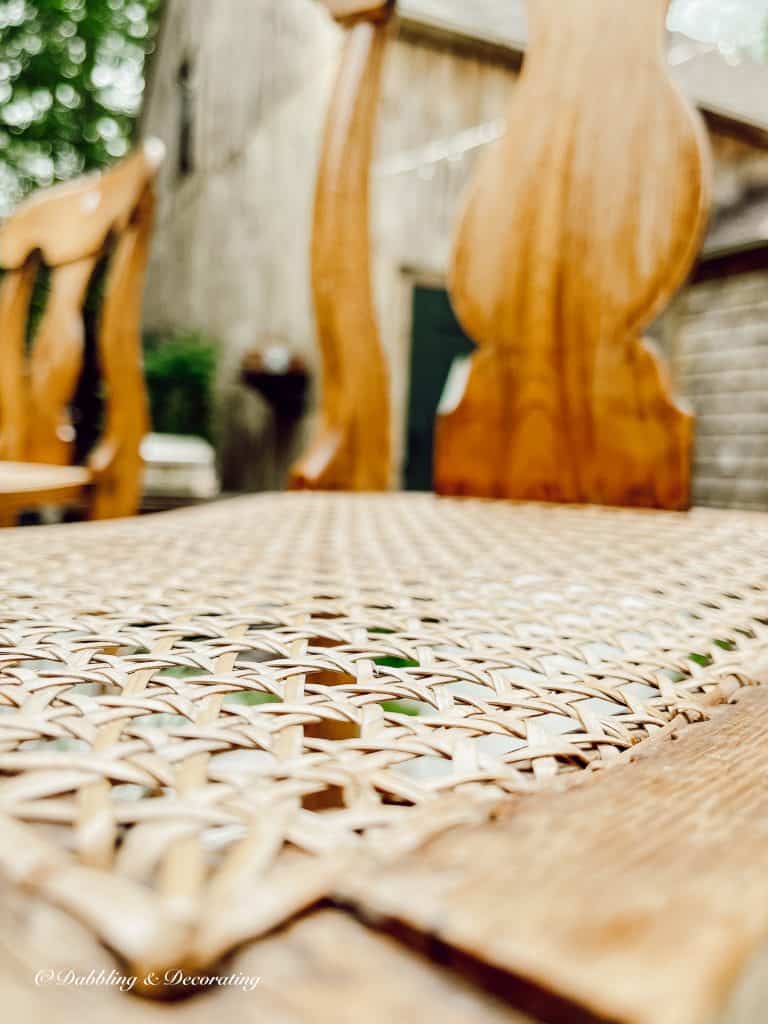 They look so cute in our dining room in Coastal Maine as side chairs framed underneath the windowsill and a large thrifted dining room pine table.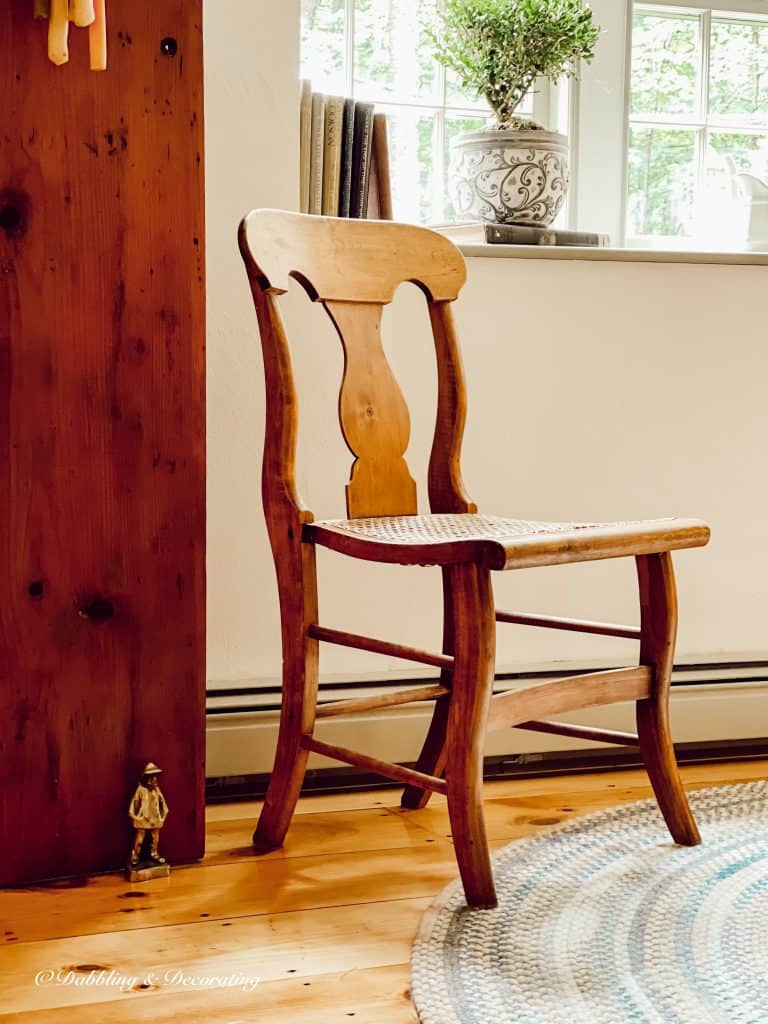 SHOP YOUR OWN VINTAGE CANE CHAIRS BEFORE THEY'RE GONE!

Ella and I headed out to Sage Farms Antiques in Saturday traffic and 90-degree temperatures thrifting for treasures at Sage Farms Antiques' weekend pop-up antique show, themed coastal.
This is where I found this antique work table or is it a drafting table?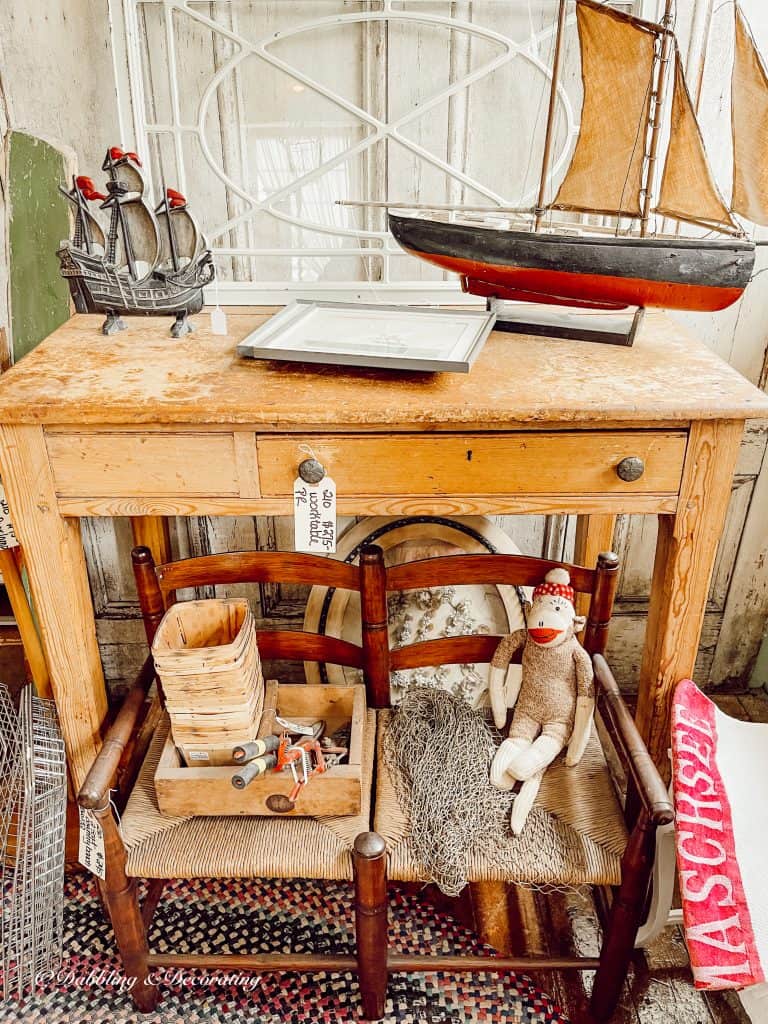 The table stands very tall, has a slight slant to it, and looks like it was a desk maybe at some time and was then transformed into a work table.
On the way home with it, I picked up some roadside weeds and wildflowers to accentuate this beautiful vintage piece. See more of my summer wildflower arrangements here.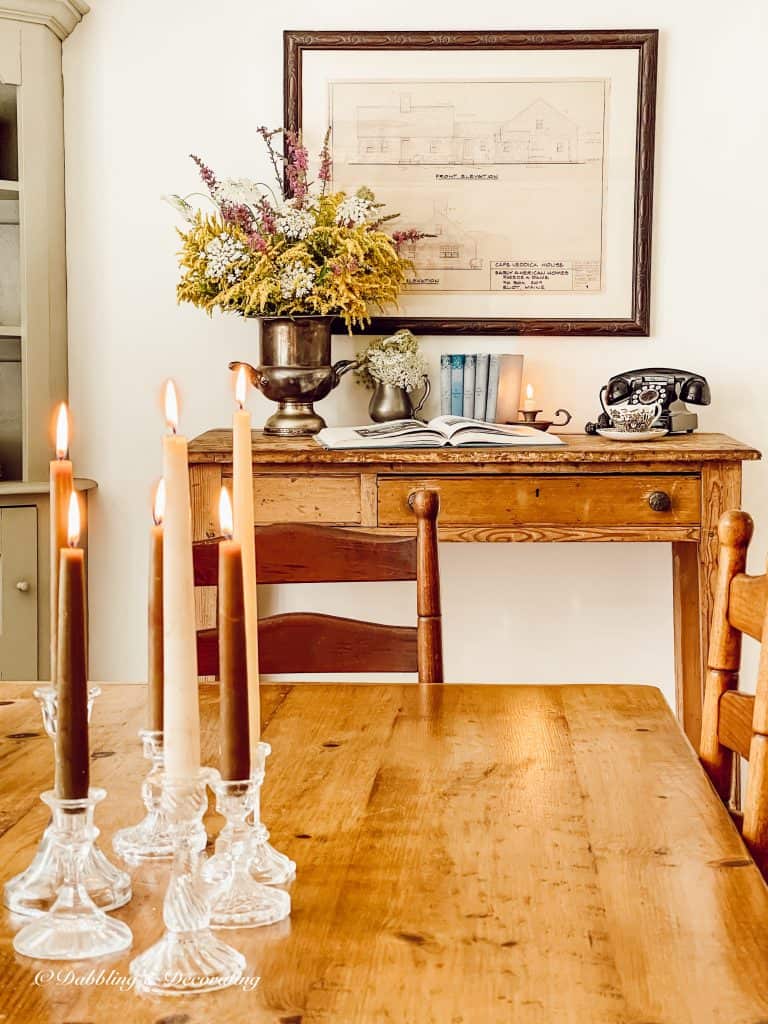 I immediately thought of our dining room paired with the old architectural drawings I found last summer and had framed. It fits perfectly, and I'm in love!
Now I'm on the hunt for a chair or stool to go with it. See more of this antique work table or drawing table here.
I picked up this old telephone there too…
SHOP YOUR OWN OLD TELEPHONES BEFORE THEY'RE GONE!

Hobbit Home Estate Sale
I also hit up the most fabulous Estate Sale this week with my girlfriend Lisa, hosted by Andrea over at the Nest Portsmouth.
It was at a hobbit house in Eliot, Maine. Room after room was just filled with collected treasures, it was overwhelming honestly. Check it all out in this video I took.
And there, I found this vintage rug, which sold for $20.
You may also enjoy 58+ Old Fashioned Bargains and 3 Summer Vintage Markets post.
You won't want to miss this Early Buy Event and Vintage Market at Sage Farm Antiques too!
I'm so glad you dropped by, and if you are new to my blog, welcome! I hope you enjoyed visiting our Home in Coastal Maine with us today.
Be sure also to check out our Home in Vermont, where we spend winters enjoying the coziness of home in the Green Mountains of Vermont.

I've created the above custom pin just for this post!  Hearing from you makes my day; your comments mean so much to me! Please join me over on Instagram & Pinterest to see more!
Don't Miss the Other "Thrifting with the Gals" Posts Today Too!
Rachel | The Ponds Farmhouse
How to Use Cheap Damaged Thrift Store Finds
Kristin | White Arrows Home
Stacy Ling | Bricks' and Blooms
Thrifting for the Garden at the Vintage Market
YOU MAY ALSO ENJOY