I am excited to be collaborating with the ladies of Friends Who Inspire on Instagram in creating and sharing our Halloween skeleton centerpieces this year. I had a few skeletons in my basement that I decorated with for last year's Halloween decor. When my neighbor was over visiting she asked where my skeletons were this year? And I told her that I thought so many people were decorating with skeletons this year, with so many creative ideas, I thought I would try something different. However, the more I got thinking about them, the more I wanted to design. So here's our female skeleton photographer with her vintage cameras and rotten apples serving up appetizers on our farmhouse table. I hope you enjoy it, friends!
First, I started by laying the skeleton out on our farmhouse table in the dining room as the centerpiece focal point. I found a wig, hat, glasses, and some vintage jewelry to dress her up with.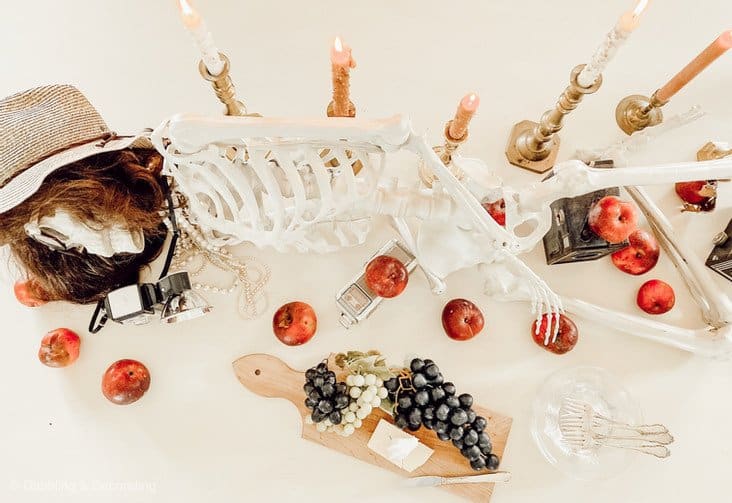 I collected up a few vintage cameras that I found at a flea market over this past summer and scattered some rotten apple's that I found around our neighbor's apple tree. I luv the color the apples provide and the vintage cameras add a bit of texture and fun to the centerpiece.
Drippy candles are a must for that creepy Halloween vibe too. Because I didn't want my vintage brass candlesticks to get melted wax on them, I created this drippy look by lighting another candle of the same color and dripping the wax from one candle to another. That way my brass candlestick's finish would not be ruined by the lighted centerpiece candles.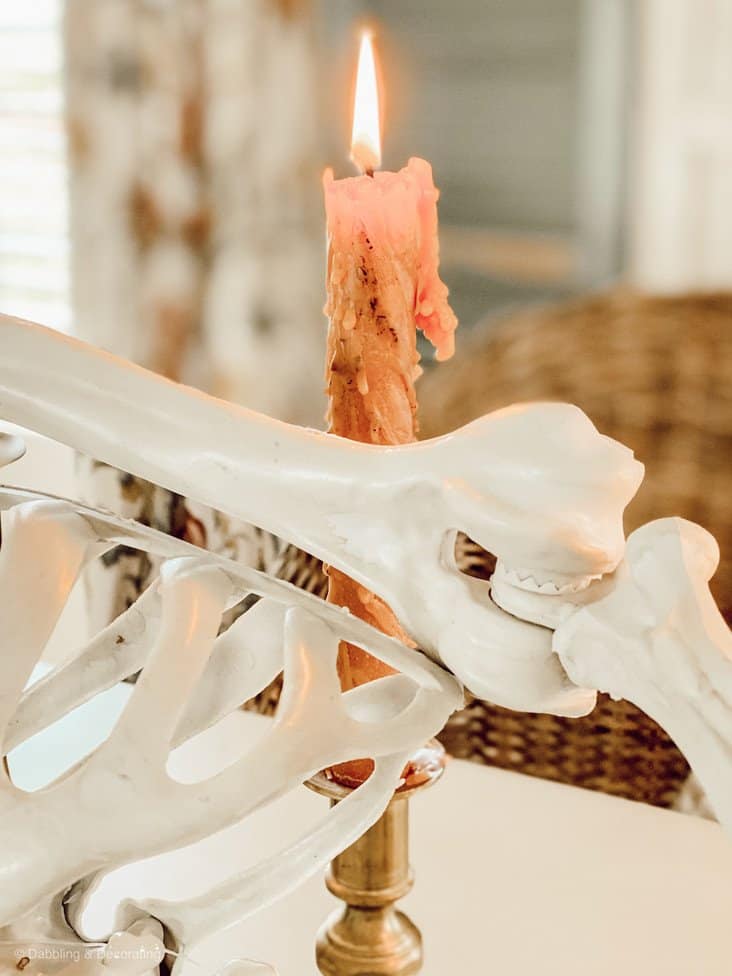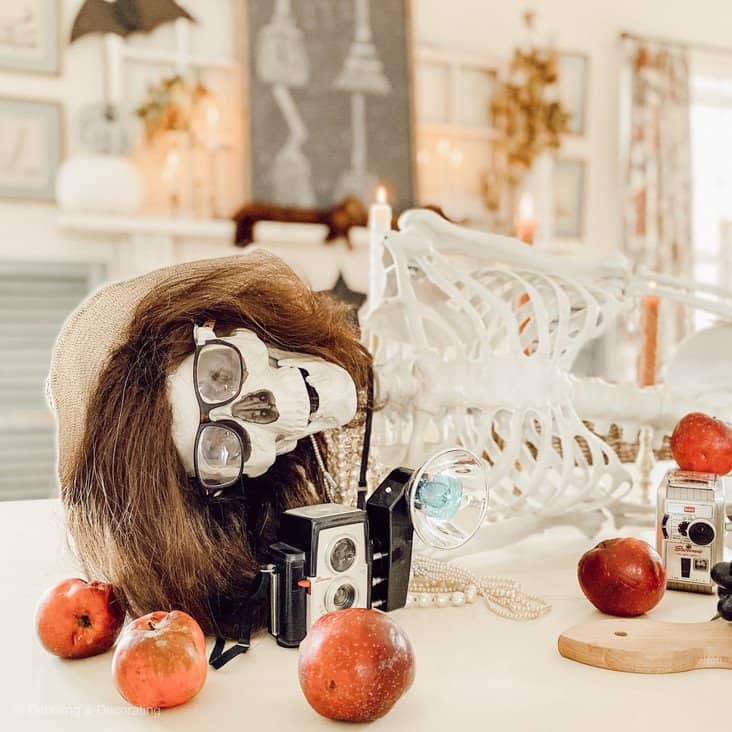 I brought out a small cutting board as a cheese platter with some plates. I think this would be such a fun Halloween centerpiece for a cocktail party or a small gathering of friends and family with the table filled with appetizers around the skeleton!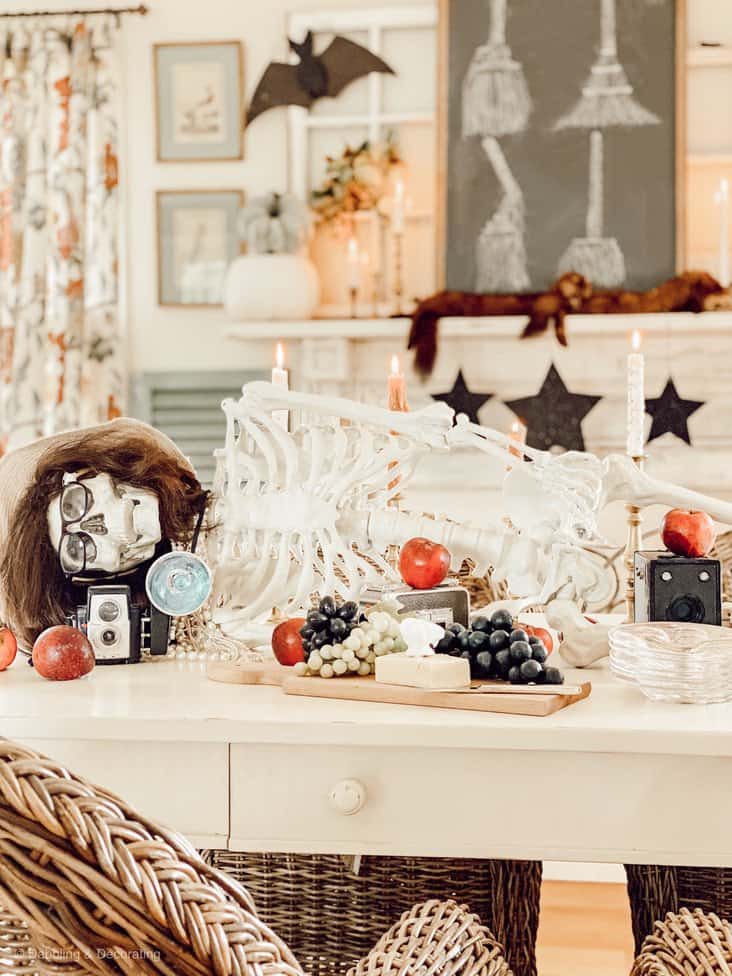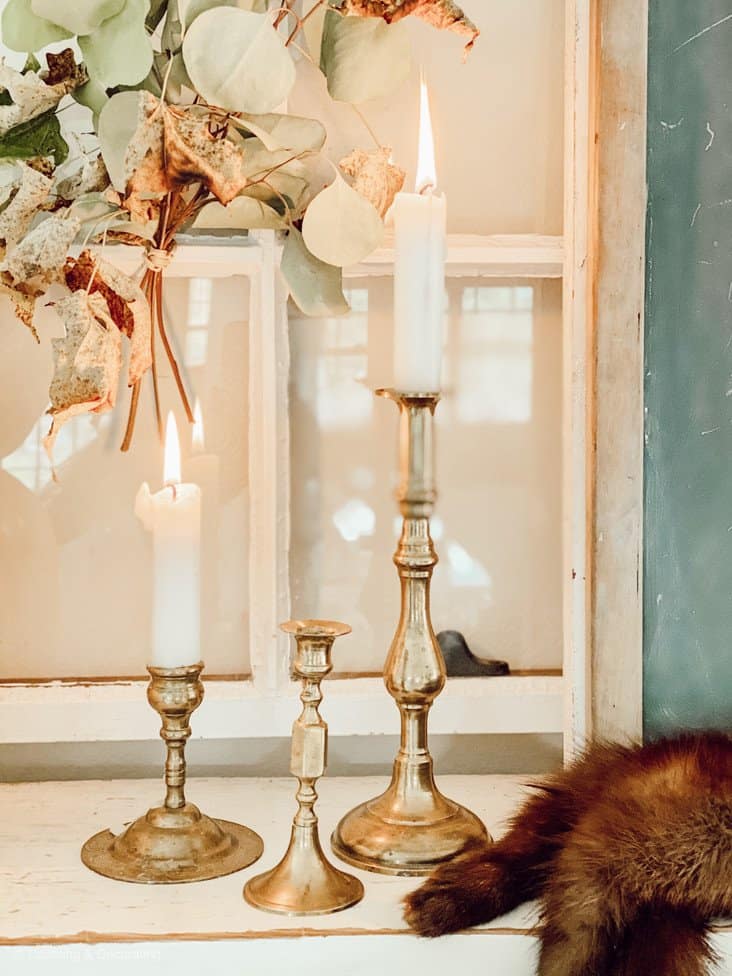 Next, I wanted to design the vintage mantel in the dining room to accentuate the Halloween centerpiece. I had my husband draw a few witch's brooms on a vintage chalkboard I found, and I pretty much left the rest of it the same as when I first decorated it for Halloween.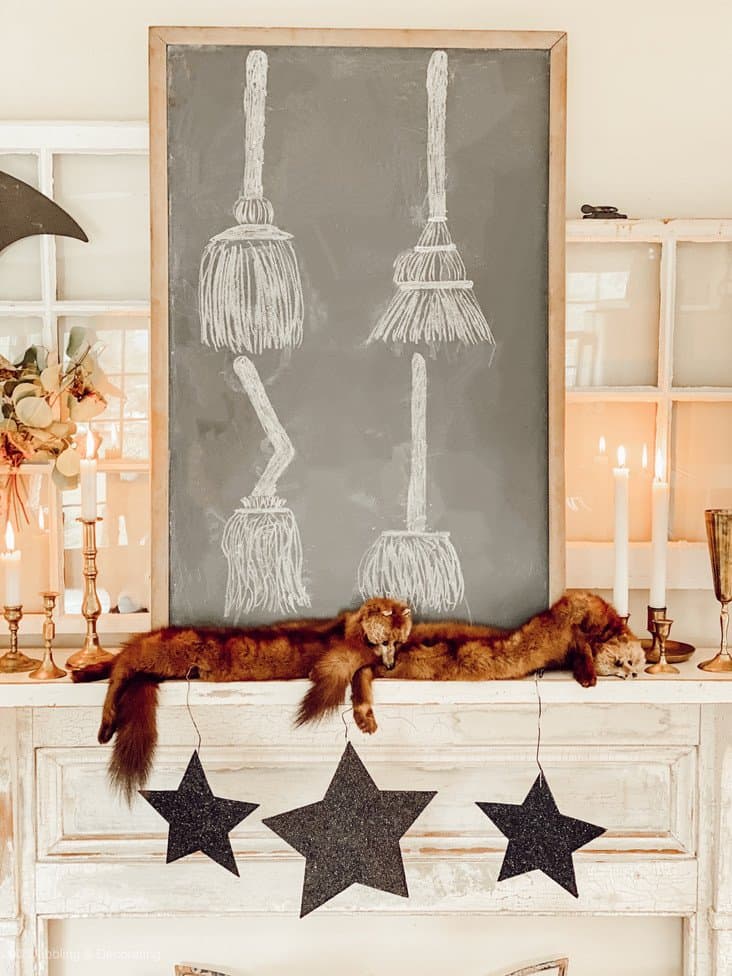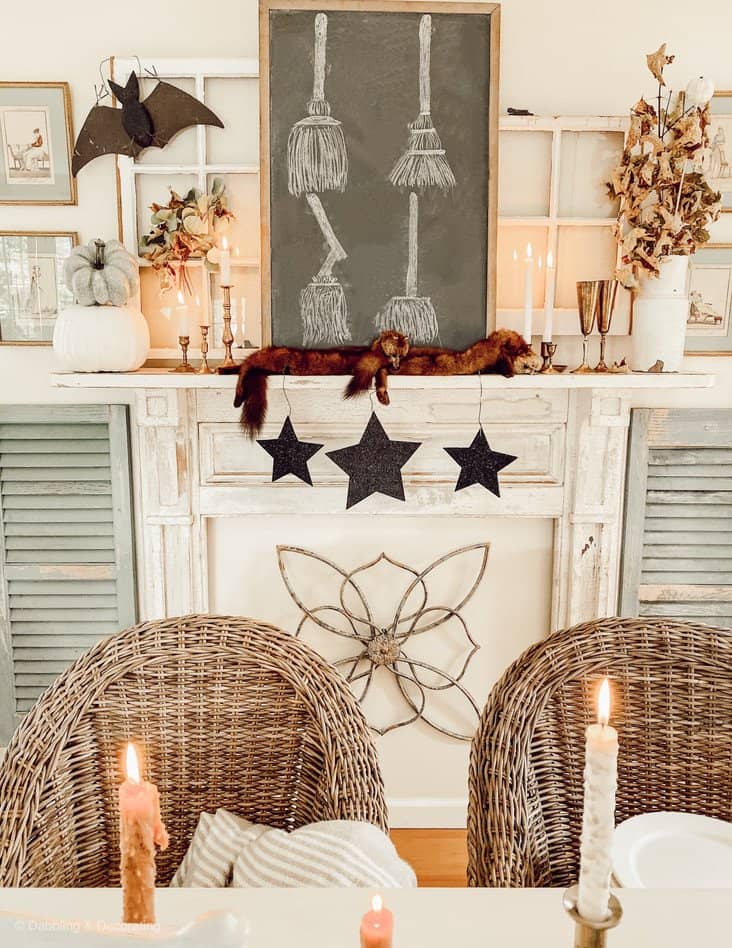 You may also enjoy these other Halloween decorating ideas!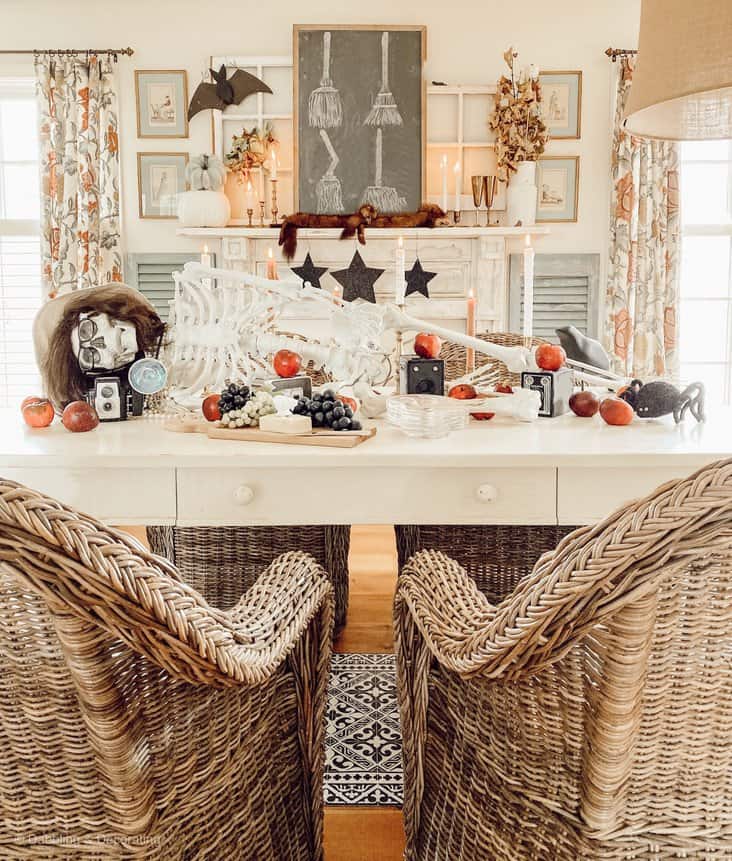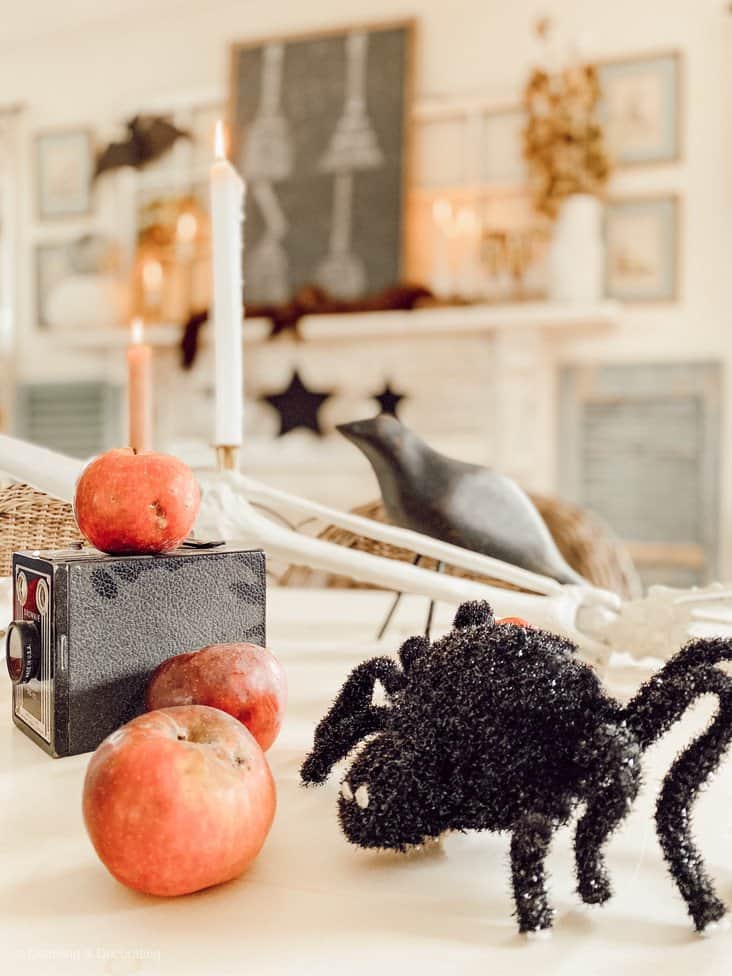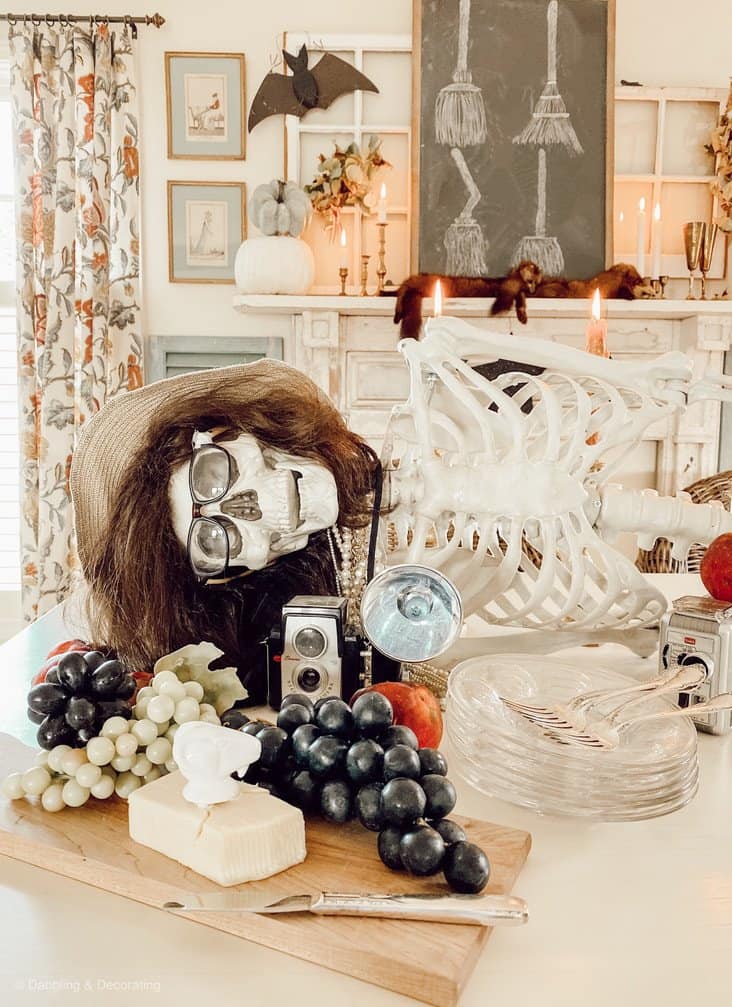 I'm so grateful you stopped by today, friend and I hope you found a little decorating inspiration along the way!
BE SURE TO SAVE THIS "HOW TO MAKE A HALLOWEEN SKELETON CENTERPIECE" POST TO YOUR FAVORITE PINTEREST BOARD FOR LATER.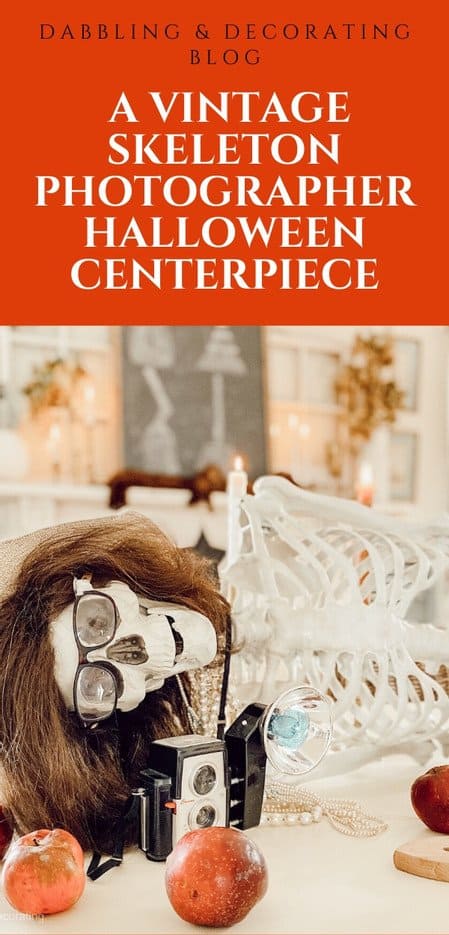 I'm so glad you dropped by today friend, and if you are new to my blog, welcome! I hope you enjoyed your visit with us here today at our home in Vermont.
Please join me as a regular here at Dabbling & Decorating by signing up for my newsletter below and never miss an update!