Did you know that the "Vintage Vibe Aesthetic" is super popular right now? And "Thrifting with the Gals" is all about it this month.
"Thrifting with the Gals" started with a group of friends who met over on Instagram and formed a special relationship through a mutual love of home decorating. We share a passion for all things vintage, thrifty, and cozy. Sharing our monthly finds along with tips and tricks on our blogs here every month. And over on Instagram stories daily.
Our styles are all very unique from Kristin's log cabin in the Northwoods of Wisconsin, Rachel's farmhouse in North Carolina, Robyn's beautiful French Nest in Florida, and of course myself thrifting for our homes from Vermont to Coastal Maine.
Meet the Thrifting Gals!
Welcome if you are joining me today from Cindy over at County Road 407! We are thrilled to have Cindy joining us this month as our guest host here with Thrifting with the Gals. I just love Cindy's unique vintage vibe aesthetic from her home in Texas.
My Vintage Vibe Aesthetic in Maine
I spent a few weeks at our home in Maine this month thrifting and getting the home ready for our summer stay. And that always means a stop at my favorite, The Cottage by the Brook, where I found this collection of $2.00 blue and white cups and saucers, a bundle of paintbrushes, and so much more. See it all HERE.
And once in Maine, I attended Sage Farm's Early Buy Evening Event with a girlfriend and also met up with another home decor blogger, Jennifer over at Cottage on Bunker Hill.
We had so much fun! We browsed, shopped, enjoyed refreshments, and music. We all picked up some beautiful vintage vibe aesthetics that you won't want to miss HERE.
You may also enjoy this DIY License Plate Hat Rack and Wall Decor that I found and made this summer.
A Coastal Vintage Vibe Aesthetic
One of the vintage pieces I picked up at the Early Evening Buy Event was this antique blue and white bowl.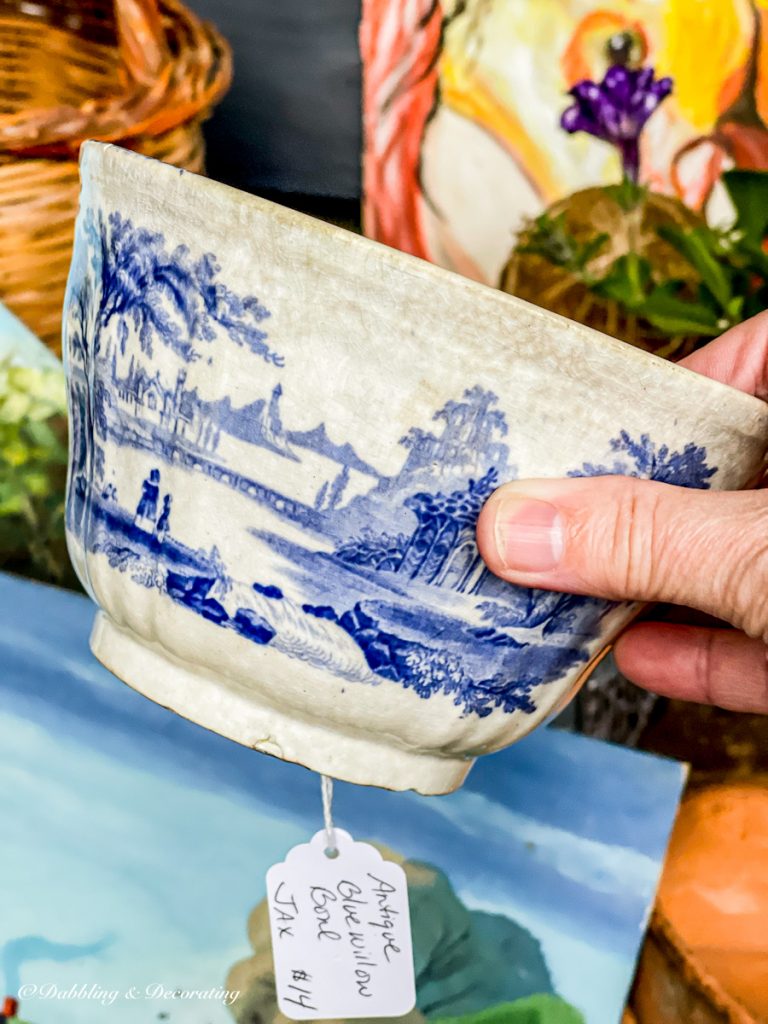 A walk on the beach later led to some full-throttle beachcombing, which inspired this BEACHCOMBING, BLUE MUSSELS, AND AN ANTIQUE BOWL aesthetic on our antique coffee table.
Simple and personal.
You may also enjoy Memorial Day weekend finds in the post, Baby Adidas, Petite Cobbler Rack, & Watercolor Ski Drawings.
Vintage Patriotic Aesthetics
With Memorial Day around the corner, you may also be interested in these 8 VINTAGE PATRIOTIC MEMORIAL DAY DECORATING IDEAS.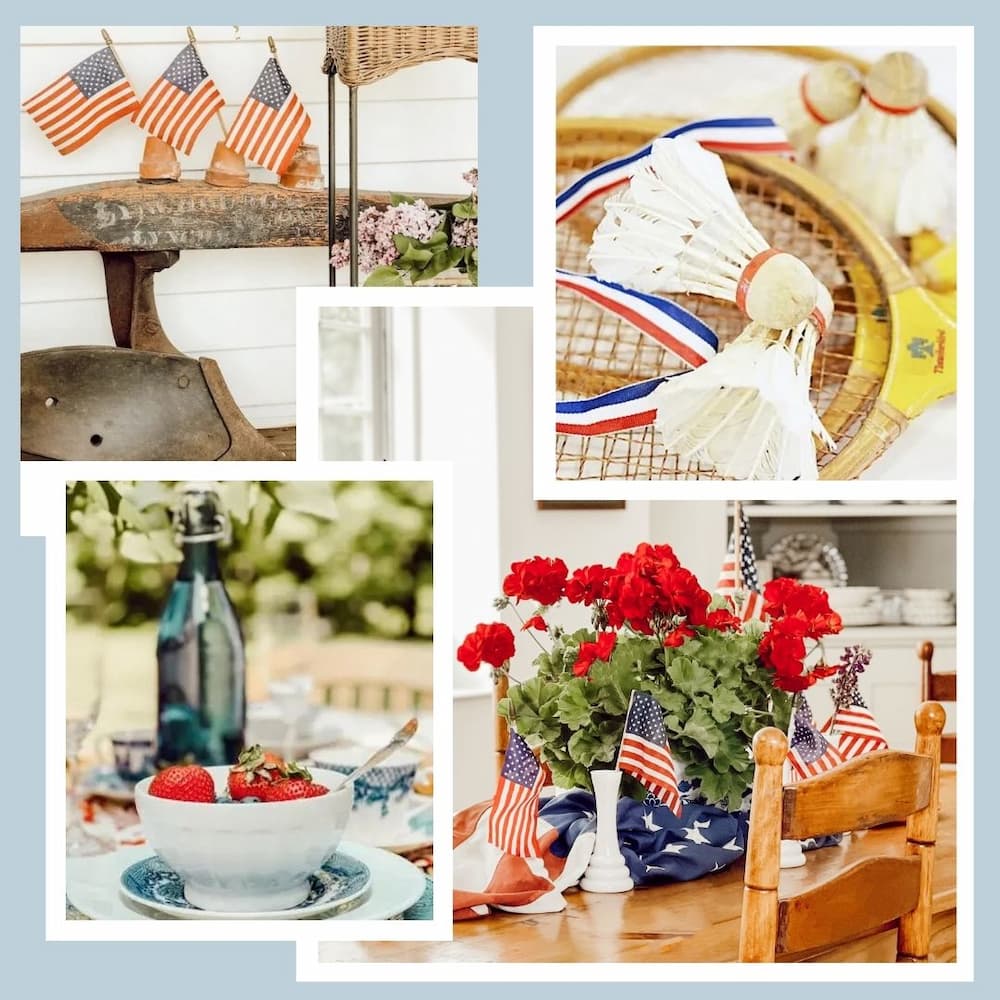 I found an old-fashioned picnic basket recently in our attic at our home in Maine. It was my mother's and she used to decorate with it in all kinds of different ways.
It really sparked the nostalgia and joys of decorating with picnic baskets so I rounded up a few of my favorites along with some vintage picnic blankets that I think you may enjoy in this post The Humble Joys of an Old Fashioned Picnic Basket.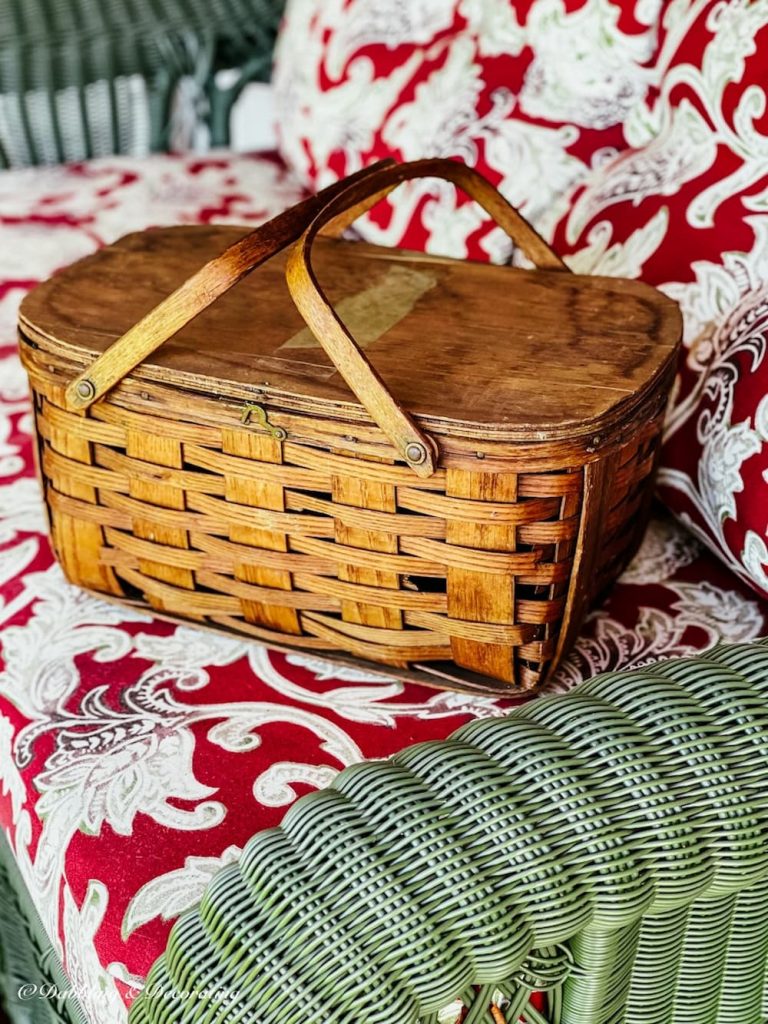 You won't want to miss the 13+ picnic ideas that I'm also sharing alongside the baskets and blankets from some of these inspiring bloggers.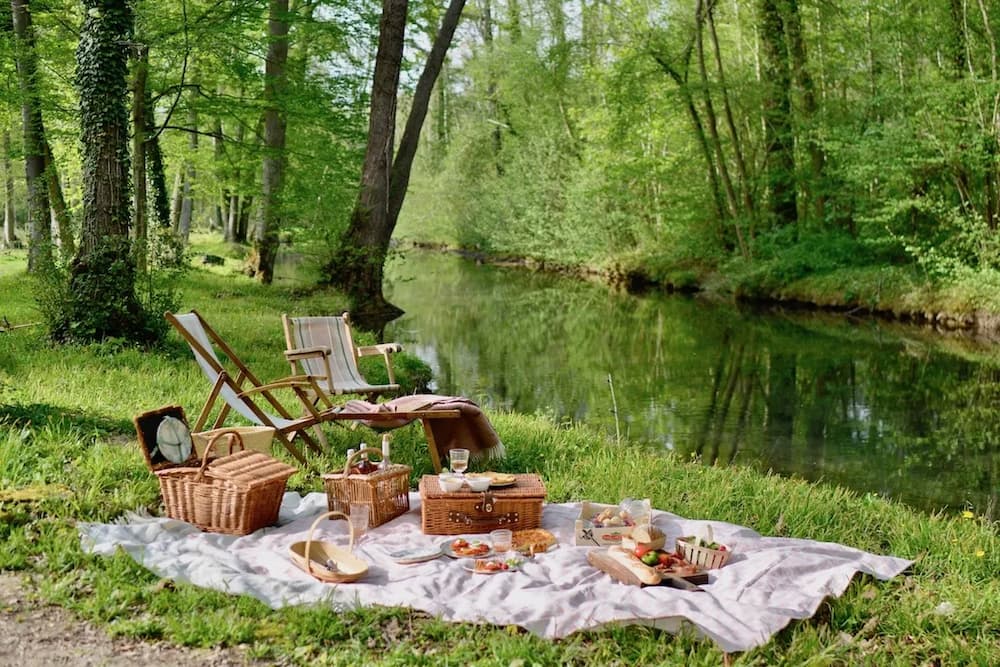 Do you love birdhouses? Old or new? Large or small? We found the biggest red birdhouse to match our home here in Vermont.
Let me share with you how we simply mounted our new feathered friend's new home HERE.
My husband had the idea to put it all to a Benny Hill tune, so be sure to check out the video there too.
On Sunday we saw our first blooming lilacs here in Vermont. I think this is one of my favorite flowers along with the hydrangeas.
We recently planted a mature lilac and hydrangea tree in our front year and it's going to be so exciting to see them both bloom this year.
However, since they really are still newbies, my neighbor was gracious enough to let me have some of their lilac clippings and I created a number of Bountiful Bouquets of Lilacs with them.
Like this old basket on the porch.
And this vintage McCoy vase in the kitchen.
See more Bountiful Bouquets of Lilacs HERE.
And I leave you with this today…
The best vintage vibe aesthetics to treasure are those that bring us fond memories of yesterday.
Here I hang my mother's handmade quilt out on our clothesline for the first time this spring. I am mindful of the fresh clean clothesline sheets from my youth and the care my mother took in the everyday.
As shall I.
I'm so glad you dropped by, and if you are new to my blog, welcome! I hope you enjoyed your visit with us here today at our Home in Vermont.
Be sure to also check out our Home in Coastal Maine where we spend summers and weekends when we are craving a walk on the beach or a visit with old friends.
Please join me as a regular here at Dabbling & Decorating by signing up for my Saturday morning newsletter and never miss an update!

I've created the above custom pin just for this post! Hearing from you makes my day and your comments mean so much to me! Please join me over on Instagram & Pinterest to see more!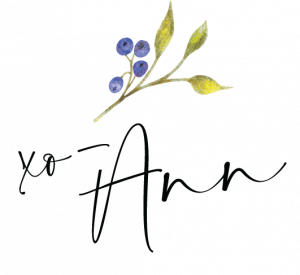 Next up on today's tour is Robyn from Robyn's French Nest. You will love Robyn's beautiful vintage vibe aesthetic from her farmhouse in Florida. Robyn is a champion thrifter and picker and styles the most beautiful dining room tables too.
Check out the other Gals Joining me on this Month's Tour:
YOU MAY ALSO ENJOY