A few years ago I took a photography class with a local professional, and the class project at the end was to create a picture story and publish it.  Something that was simple, yet creative. I chose mailboxes!  I had so much fun finding all the different mailboxes that were out there.  One mailbox was sitting in a trash can and another was pink and decorated to the nines.  There truly is creativity in your mailbox!
I have been decorating my mailbox for a few years now and always get so many compliments on it. Therefore, I thought I would share one idea with you here today. This is super easy and only takes about an hour to complete. And it will last you all winter long. It's not just for the holidays!
All you need to start is:
10 evergreen branches (I was able to cut these in my backyard).
Wire, purchased from your local hardware or craft store.
Wire cutters
Weed cutters (if you want to cut your own evergreens)
Twine purchased at your local hardware or craft store.
Your favorite ribbon, bow or scarf!
A pair of ice skates.  I found these at a local thrift shop for $3.00.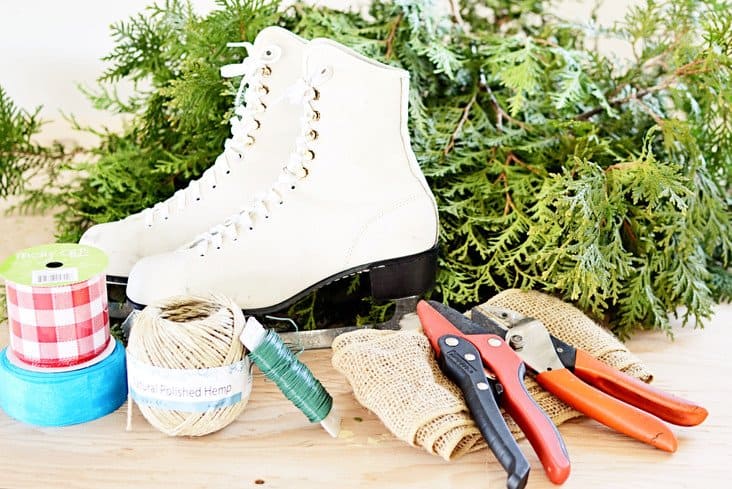 This is the "before" mailbox picture.  I painted the pole red to match our home a couple of years ago and that really accented the white mailbox.  To confess, I really don't like the color of our home, I never have.  However, the siding came with the house and is suppose to last a lifetime, and is nonpaintable!  Therefore, I am stuck with it for now.  Ok, pressing on…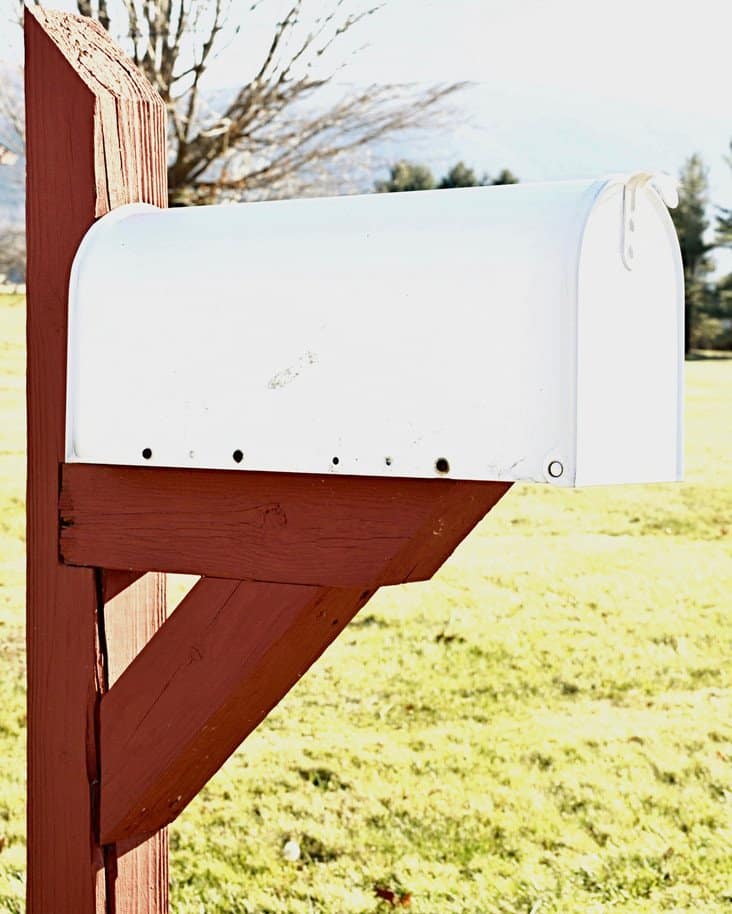 To begin, cut a very long piece of twine that will allow you to wrap it around your entire mailbox.  String the twine thru the shoelaces of each ice skate.  One skates higher than the other, so the ice skates will be uneven when they are hanging from your mailbox.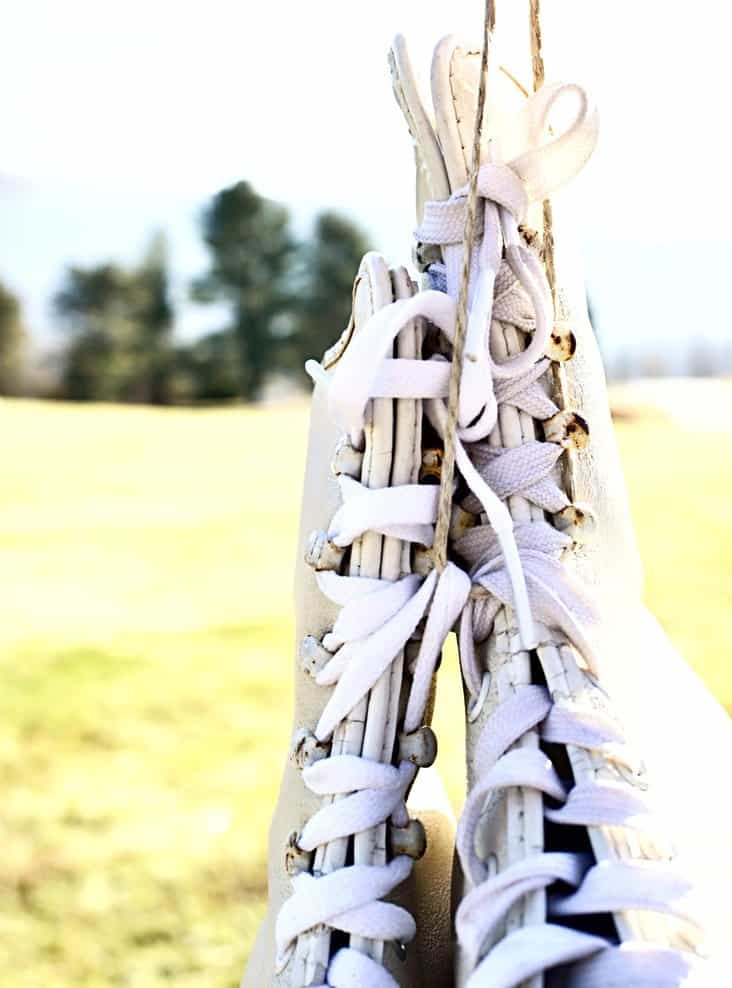 Tie the twine around the entire mailbox with the ice skates hanging off your preferred side.
Don't pull them up too high, as you are going to cover the mailbox with your evergreens.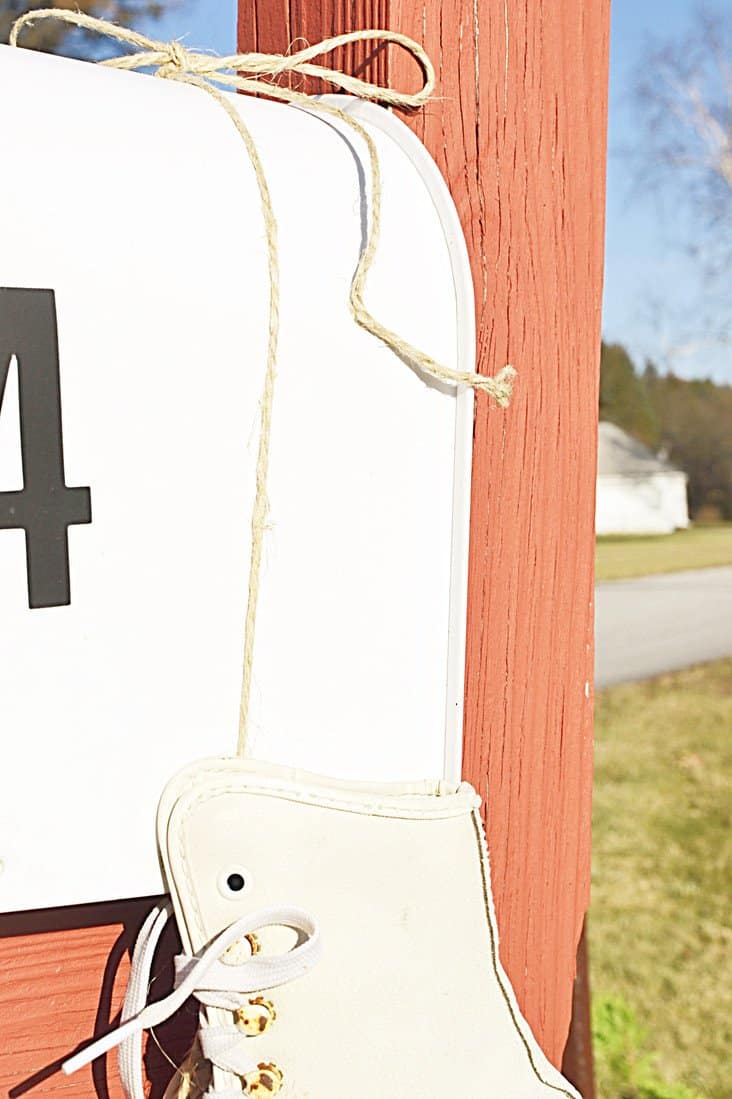 To start adding the evergreens, cut your wire about 6-8 inches long and start wrapping the wire around each cut evergreen, wrapping it around the twine that is tied around your mailbox. I also fill the top of the ice skates with the evergreens adding more fullness.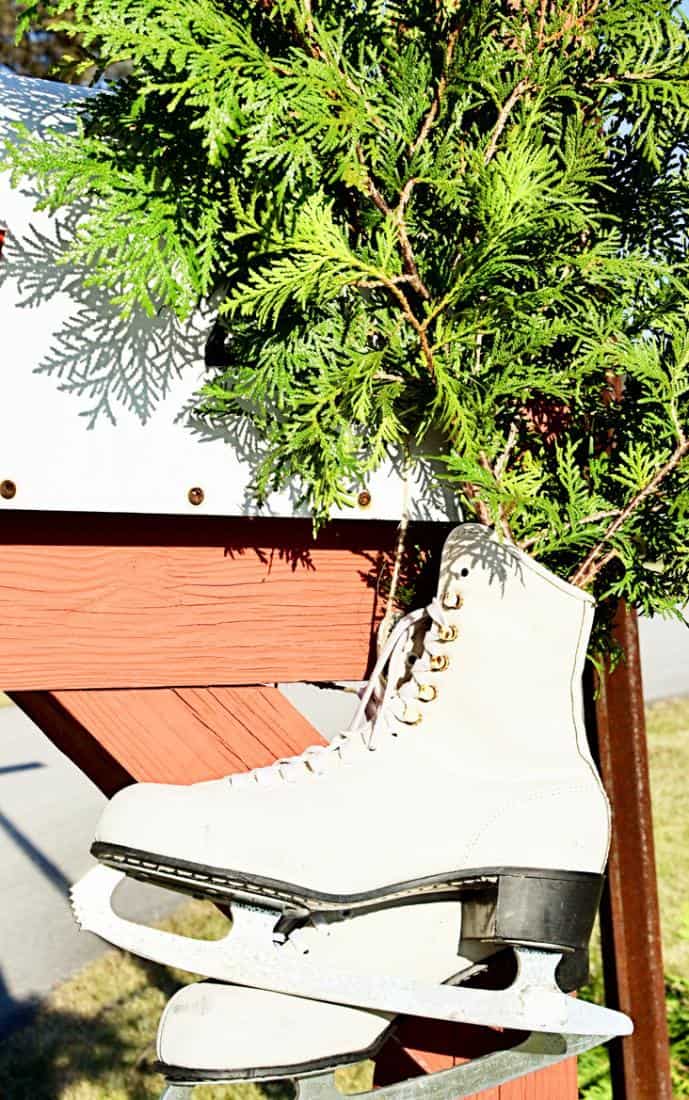 Clip off the bottoms of the evergreens once they are wired on to eliminate the bottoms, highlighting the greens only.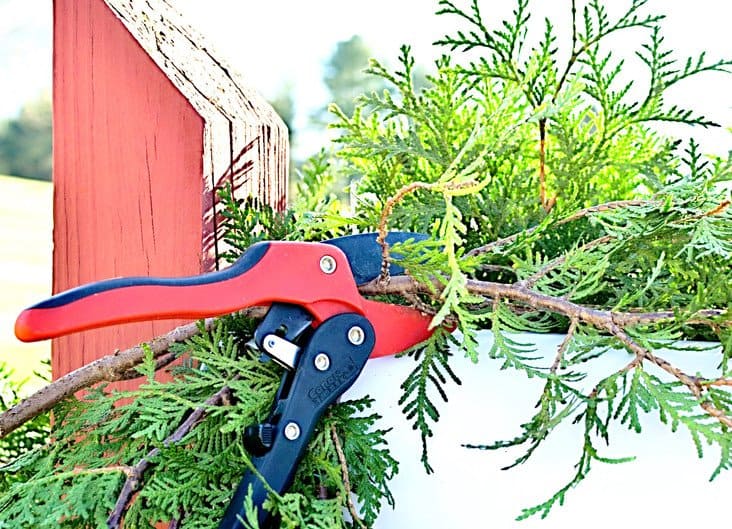 Add as many evergreens as you like to suit your desired fullness.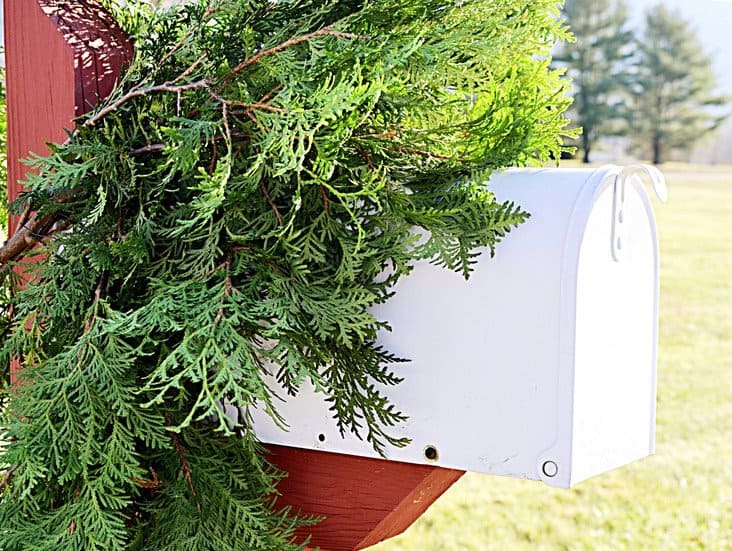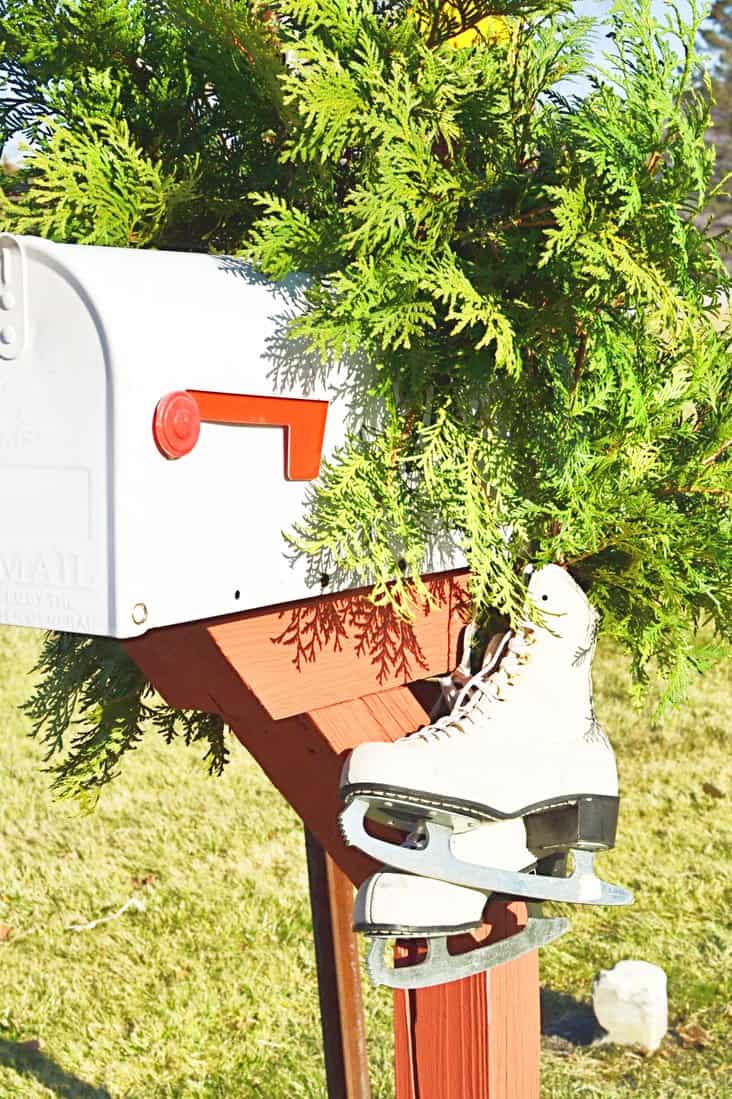 I added a burlap bow here, however you can add any kind of bow that fits your decor! Simply wrap it around the mailbox and tie it very tight. Mine have always lasted the winter months here in New England, so don't worry. However, I would choose something of quality. Last year I wrapped a plaid scarf around it, which also looks very festive!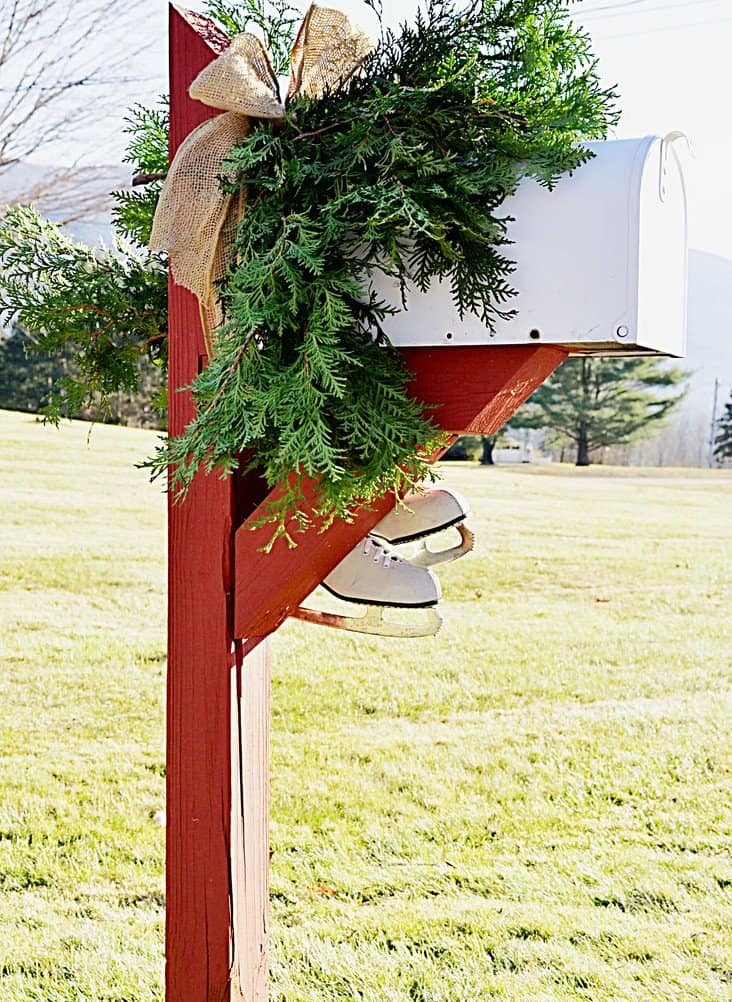 Here I added red plaid and teal bows to the skates. (This year's color theme)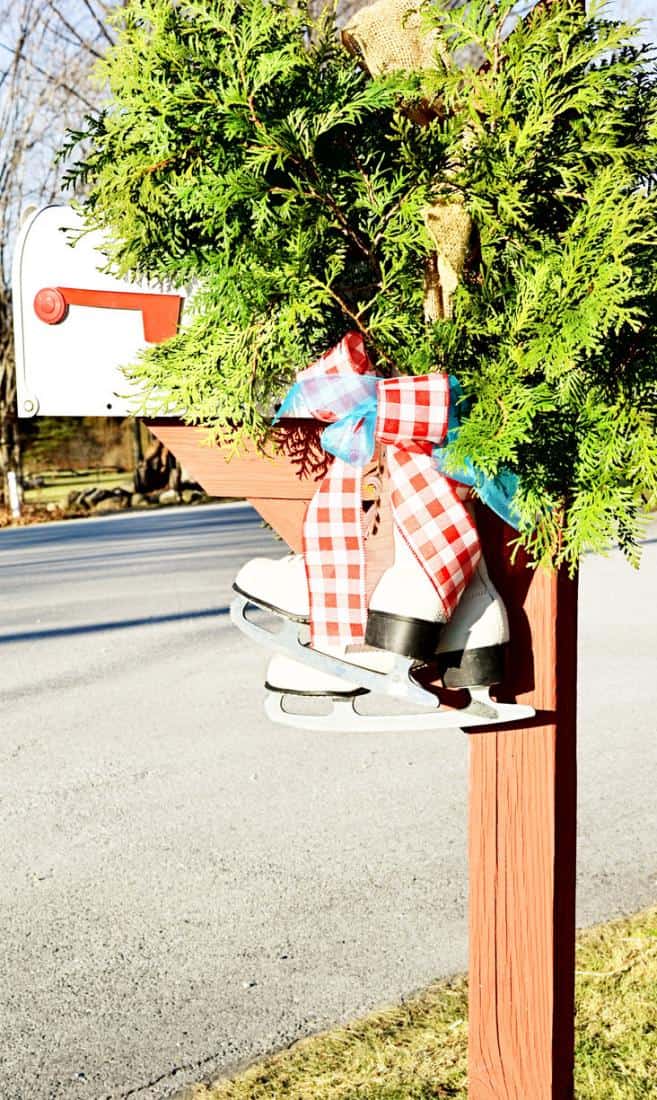 I'm so glad you dropped by today friend, and if you are new to my blog, welcome! I hope you enjoyed your visit with us here today at our home in Vermont.
Please join me as a regular here at Dabbling & Decorating by signing up for my newsletter below and never miss an update!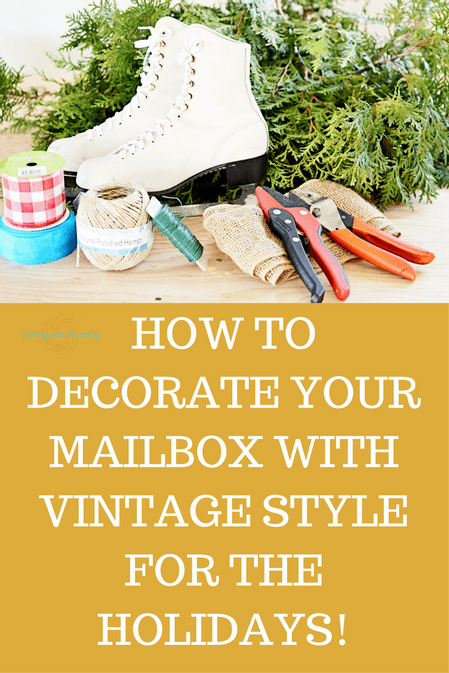 I've created the above custom pin just for this post!  Hearing from you makes my day and your comments mean so much to me! Please join me over on Instagram & Pinterest to see more!